So on my recent trip to South America I got to do some absolutely incredible things – traversing the Inca Trail, exploring the remote Galápagos and Easter Island. Llamas.
But one of the unexpected highlights of my entire trip came quite by accident in Puerto Maldonado, Perú on my Amazon Jungle Stay.
You see I was on a fantastic Contiki tour (one of the best Peru tour companies in my opinion) and was so excited by Machu Picchu I had kind of ignored the rest of the itinerary so when we landed in this remote airport – humid, hot, forest and birds in all directions I was a bit taken back compared to the rest of the country.
I mean isn't the Amazon only in Brazil?… Well it turns out it's not and off on a Peruvian Amazon Jungle Stay I was …and I loved every second of it! It is easily one of the most fun places to visit in Peru…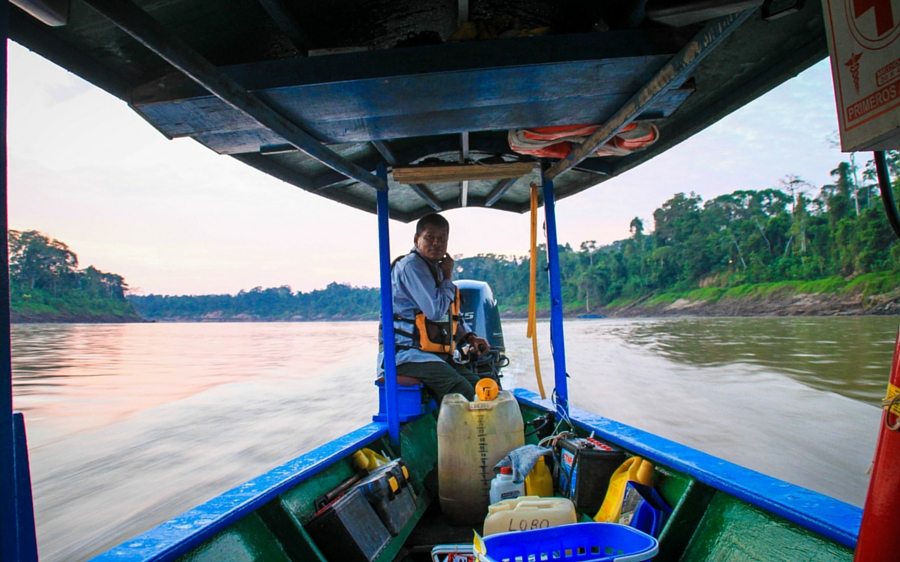 So after your flight to Puerto Maldonado from either Lima or Cusco (daily) we were transported by truck to the Infierno River Port (1 hour) where we boarded our boats for a forty five minute trip up river.
Then after a final 10 min walk into the jungle we arrived at Posada Amazonas – a gorgeous 30 bedroom lodge owned by the indigenous Ese-Eja community of Infierno and managed in partnership with Rainforest Expeditions, Posada Amazonas is located within the Ese-Eja's communal reserve, next to the Tambopata National Reserve.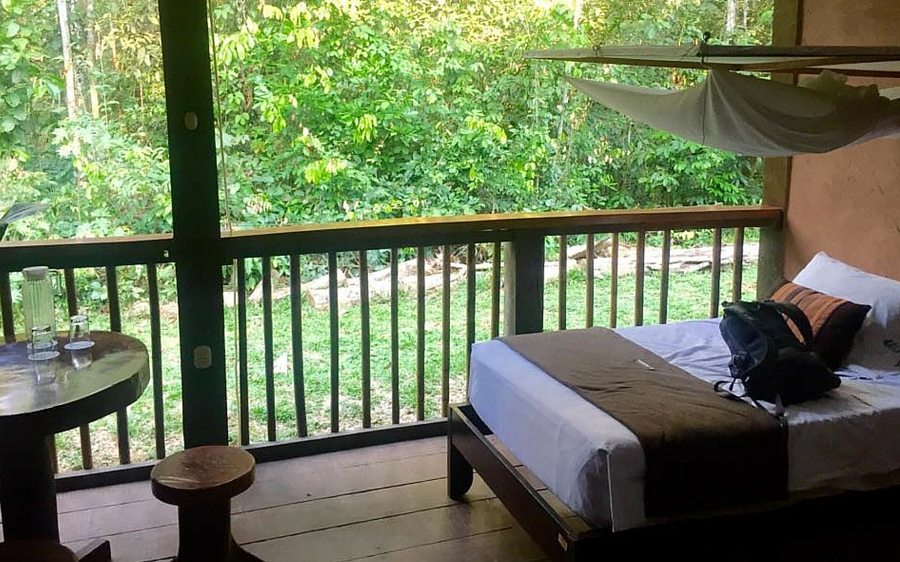 The rooms and lodges are built from traditional materials such as wood, palm fronds and clay giving it an amazing feeling – stylish but not 'resort'. The rooms overlooked tropical rainforest which allowed us to enjoy the experience 24/7.
Wild monkeys and birds were visible from the windowless verandah and the sounds of the forest filled the room – At night, after freaking out about being eaten by a cougar or an anaconda (and considering whether to use the tarantula whistle!), we were calmed into sleeping by the sounds of the night.
This 3 walls concept was an absolute highlight of my Amazon Jungle Stay (though did lead to some issues when a cheeky monkey chewed into a girls bag for a midnight snack) but of course there is much more to do here like …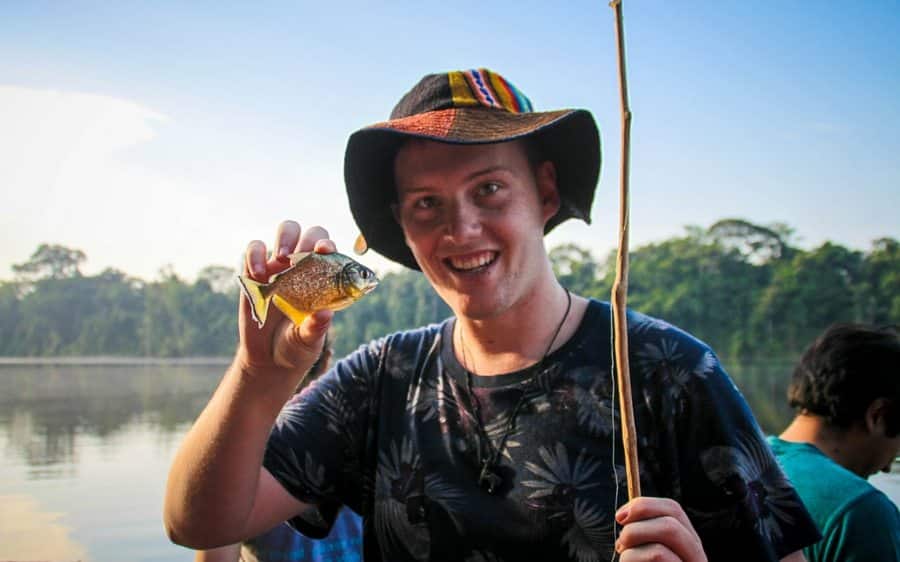 Piraña fishing !! … Yes this little dude is indeed a Piraña, but apparently a vegetarian (we did manage to get him to bite a leaf and left quite a chunk out of it!).. but we didn't test that theory!
To manage this we had to get up at 4am and went upriver to a cut off ox-box lake -Tres Chimbadas – (quite the hike) where we watched the sun rise over its placid water while being paddled on a catamaran, birds awaken, howler monkeys stretching and even spotted the the resident family of Giant River Otters out foraging in the distance… Amazing!
Also I was only one of 2 people to actually catch one of these guys!.. Guess my fishing skills must only be effective outside of NZ!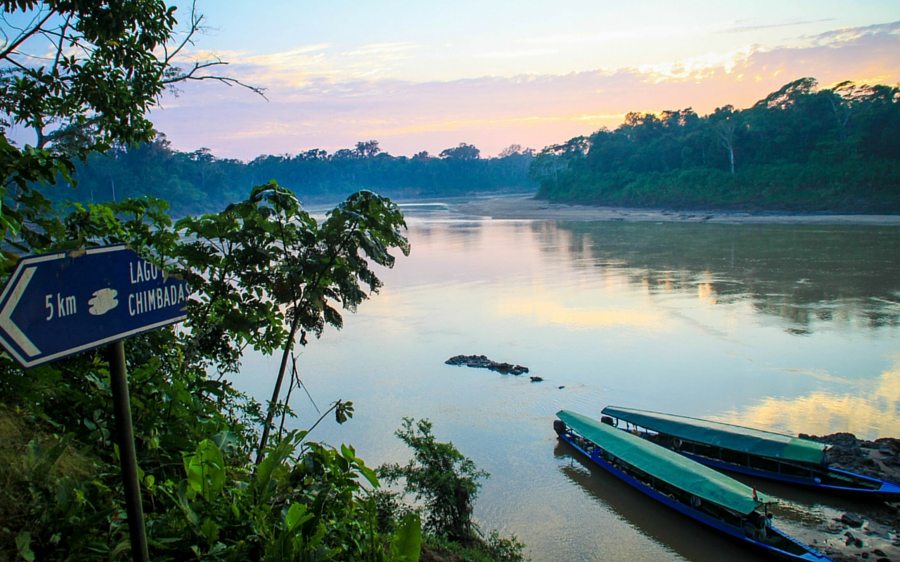 The Amazon River in Sunrise light – The Golden hour, the boats on the right where our mode of transport and did not seem at all stable but everyone managed so I guess it must be fine!
---
If you are travelling to Peru, you might also be interested in:
---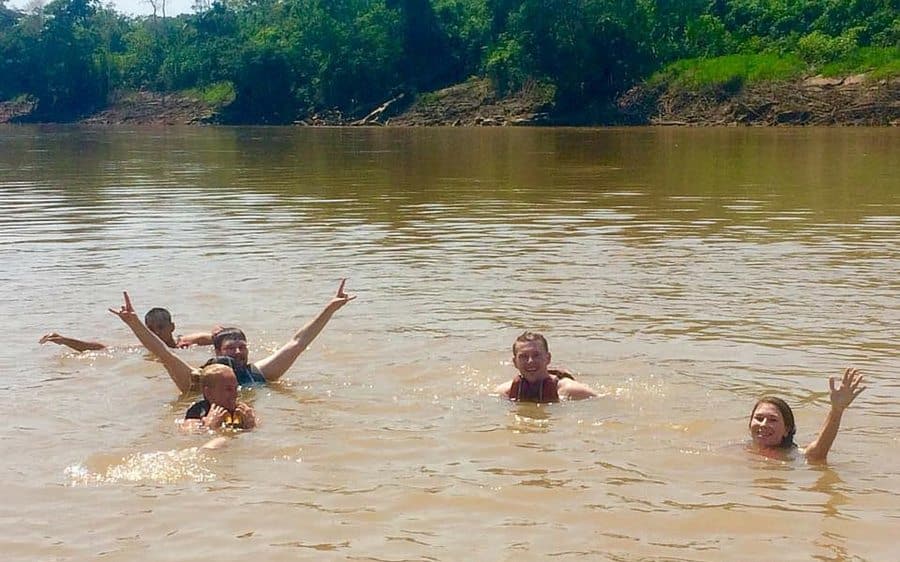 Next up on my Amazon Jungle Stay was some kayaking in the Amazon River followed by a dip in its cool, refreshing water.
I was a little concerned as we had been late night Caiman (kind of like an alligator) spotting in the same section of river the night before (under more stars than I ever remember seeing – stunned!) but do as the locals do I thought and we were fine…
The waters are actually amazingly clean just the fine river sediments are obviously all mixed in there but was honestly one of the best swims of my life!
Also in case you are wondering piraña's need still cut off water so are not found in the main river so I was safe on that account!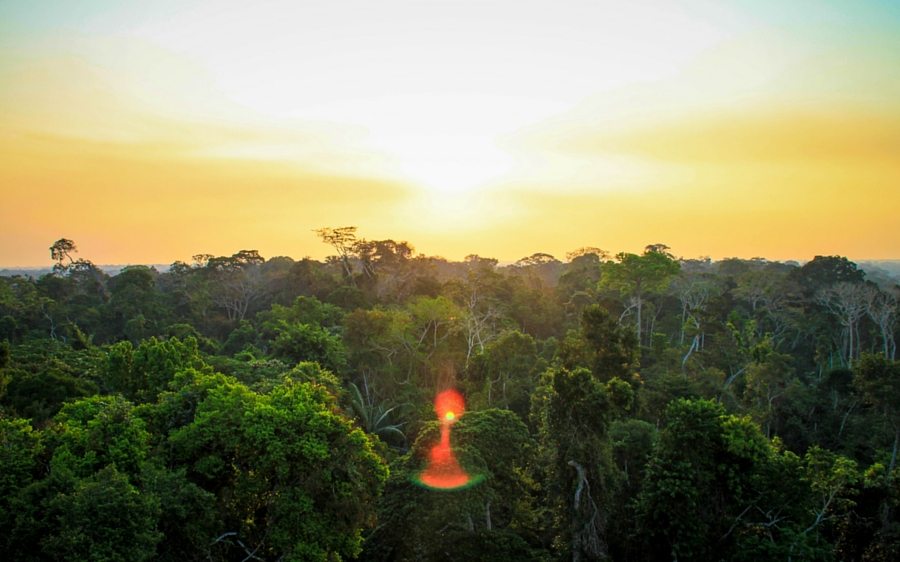 For sunset we climbed up their Canopy Tower, a 30 meter scaffolding canopy tower that gave you spectacular views of the vast expanses of standing forest and the Tambopata River.
We spotted toucans and parrots and even had a monkey try join us at these lofty heights!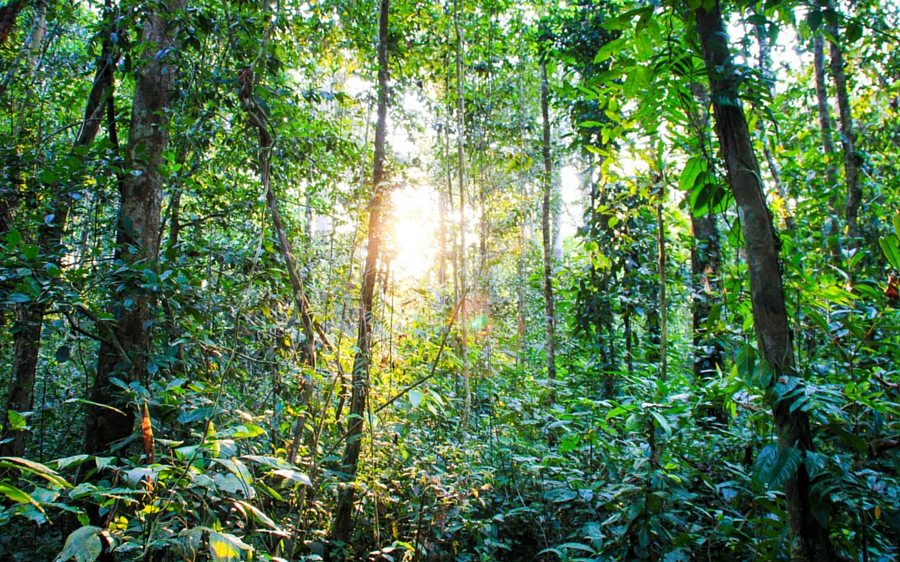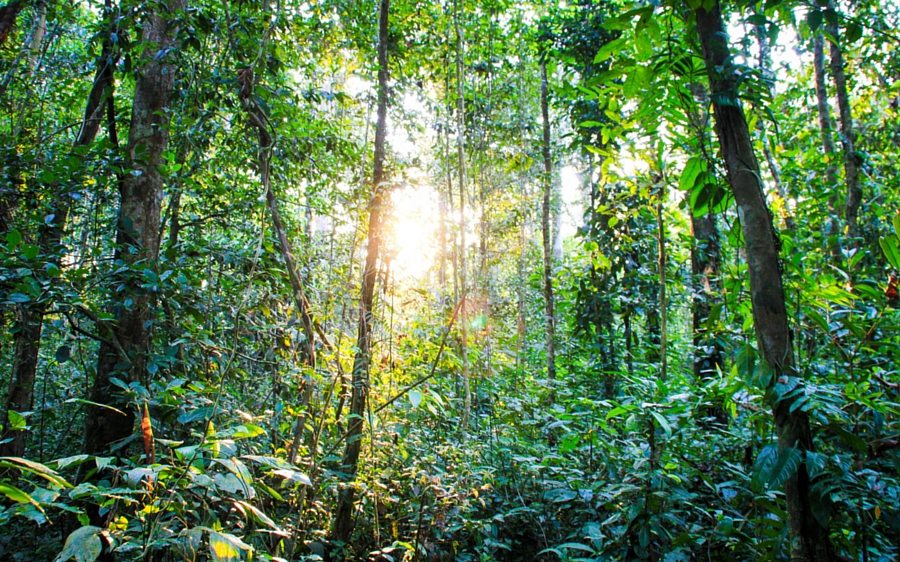 Despite being relatively close to Puerto Maldonado, the Posada Amazonas Amazon Jungle Stay offered amazing opportunities to see wildlife and experience the Amazon's rich ecosystem at first hand – Something I didn't know was possible in Peru.
During the short time there was able to spot snakes, hundreds of butterflies and insects, Howler Monkeys, Tamerins, Amazon Bamboo Rat, Giant River Otters, Caiman, Poison Dart frog, Toucan, a ridiculous amount of birds, a cheeky Squirrel and the Piraña .
Just a short taste and definitely leaves me wanting much much more and I am going to make it a personal goal to come back and spend much more time here!!
---
I participated in this Amazon Jungle Stay as part of Contiki's 14 day PERU UNCOVERED tour. If you do not have this time or the inclination to participate in a Peru tour, though I can highly recommend it, you can book or check the prices of Posada Amazonas Lodge here.
Stays are possible of 2 nights or more thought I would recommend 3 – 5. Of course if you want something a bit different there are plenty of other hotels or lodges in Puerto Maldonado to choose from!
Further Things To Consider Before Any Adventure
Now you're all set and prepared to explore our big wide world, why not sort out everything else out all in one go? If necessary for your travel plans make sure you have brought proper travel insurance, protected your privacy by getting a secure VPN, compared all the top hotel booking sites to find just what you're after, reserved an unbeatable rental car price and - of course - booked the best flight deals!
Or maybe just forget it all and go for a last-minute cruise or effortless tour instead?
Many budget travelers (including me) indulge in worldwide airport lounge access, so we can experience luxury while still slumming it in economy. Naturally, we would never leave home without a more general travel guide since we couldn't possibly cover everything here!
Just add an adventurous attitude and plenty of smiles - they go a long way - and that about covers it all! Now go out, find your own path and don't forget to share your best inspiration stories with me on Facebook, Twitter, and Instagram...I'd love to hear from you!