Minsk – somewhere so unheard of, that you might even wonder if it's a real place. Trust us, it is; and its lack of fame is what makes it such an interesting place to visit.
If you're the kind of traveler who seeks out completely unique experiences, the capital of Belarus should not be missed.
And lucky we know where to stay in Minsk…
Before we convince you on this time-warped city, even more, a word on politics and visas (sorry, we know it's not riveting, but these are things you need to know!). The spirit of the USSR has lived on in Belarus for long after its collapse and traditionally it has had quite strict visa regulations but recent changes make it a bit more welcoming.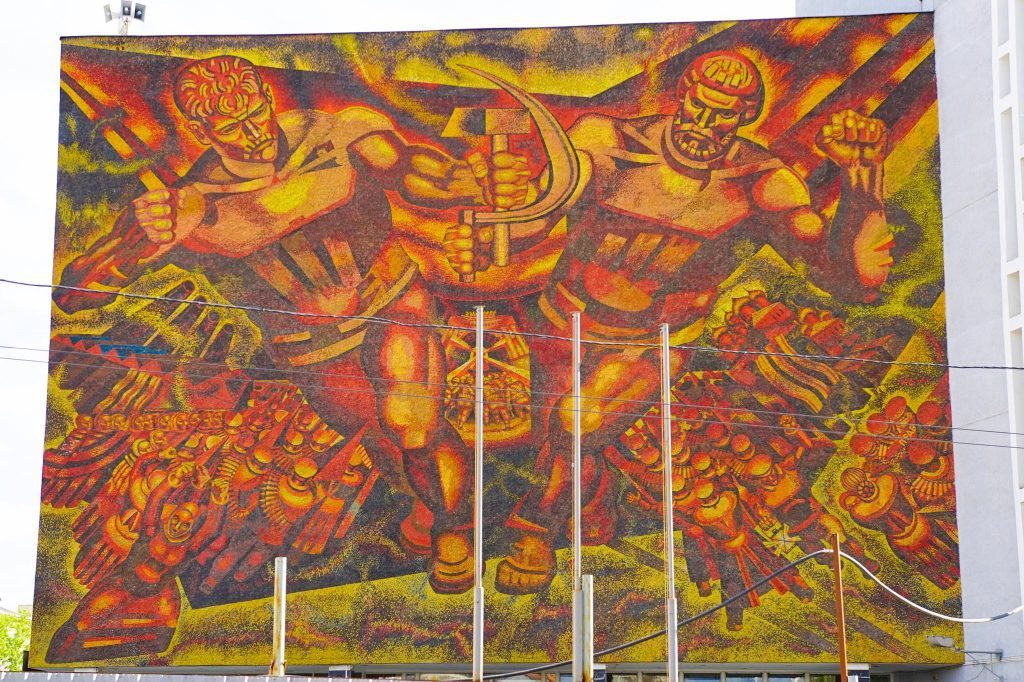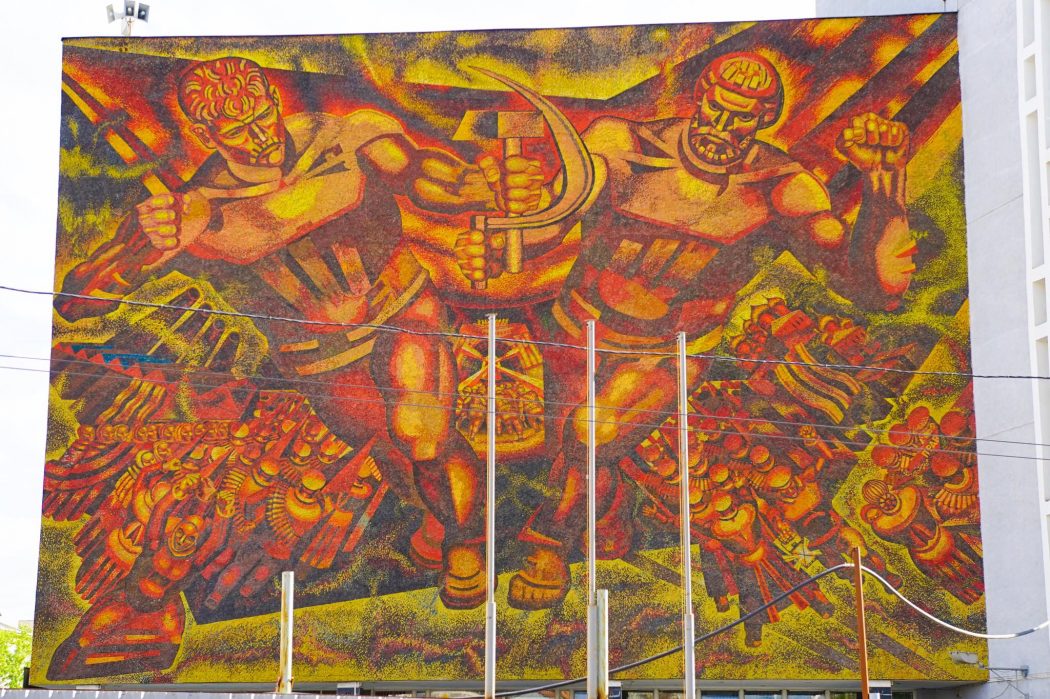 Since summer 2018, citizens of most countries are able to stay in Belarus visa-free provided they enter at Minsk National Airport and they're there as a tourist, not to work or study. Some element of control remains, however, as hotels, hostels and holiday apartments still need to register visitors with the internal affairs body if they're staying for more than five working days.
So, once you're done with all the paperwork, what on Earth are you going to do in Minsk? There are some pretty striking Stalinist architecture and some fascinating people-watching locations, like the Independence Avenue. Head to the Belarusian State Circus for a slightly surreal laugh, or visit one of the many imposing monuments. Don't forget to say 'hi' to Lenin as well.
It's definitely unlike anywhere you've ever been before; a lot of the best things to do involve gawping in wonder at the cityscape! In between that you can grab a coffee or just relax in one of the parks.
And what about the evenings? Luckily, there are over a hundred hotels to choose from. We've collected some of our favorites below, so you'll have plenty of choice for where to stay in Minsk!
And if you don't find what you are looking for… there are always so very unique vacation rental options in Minsk.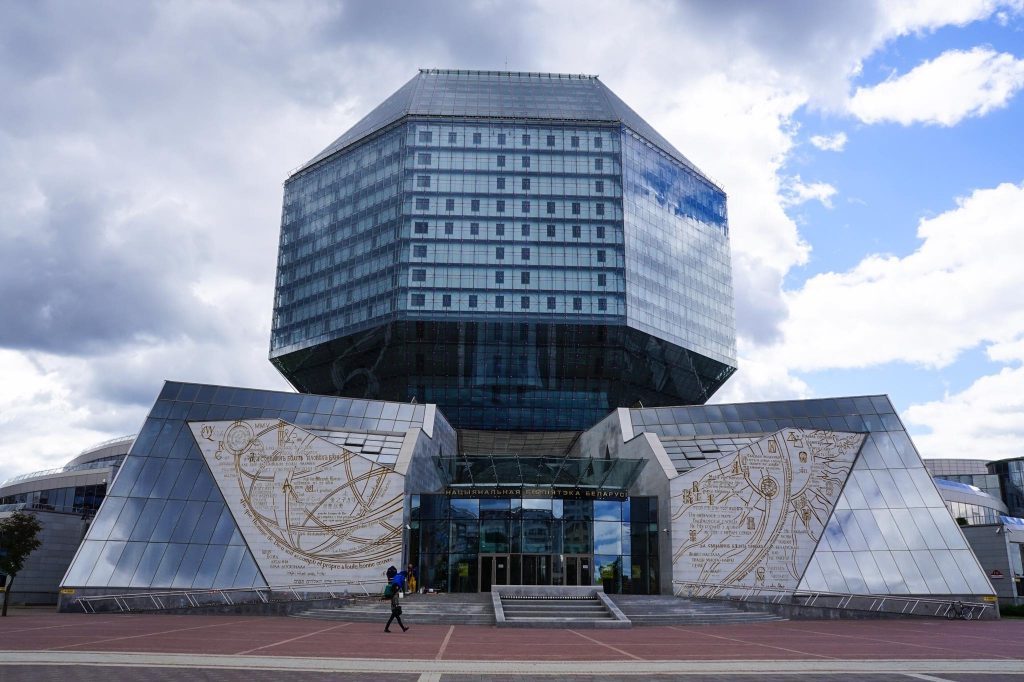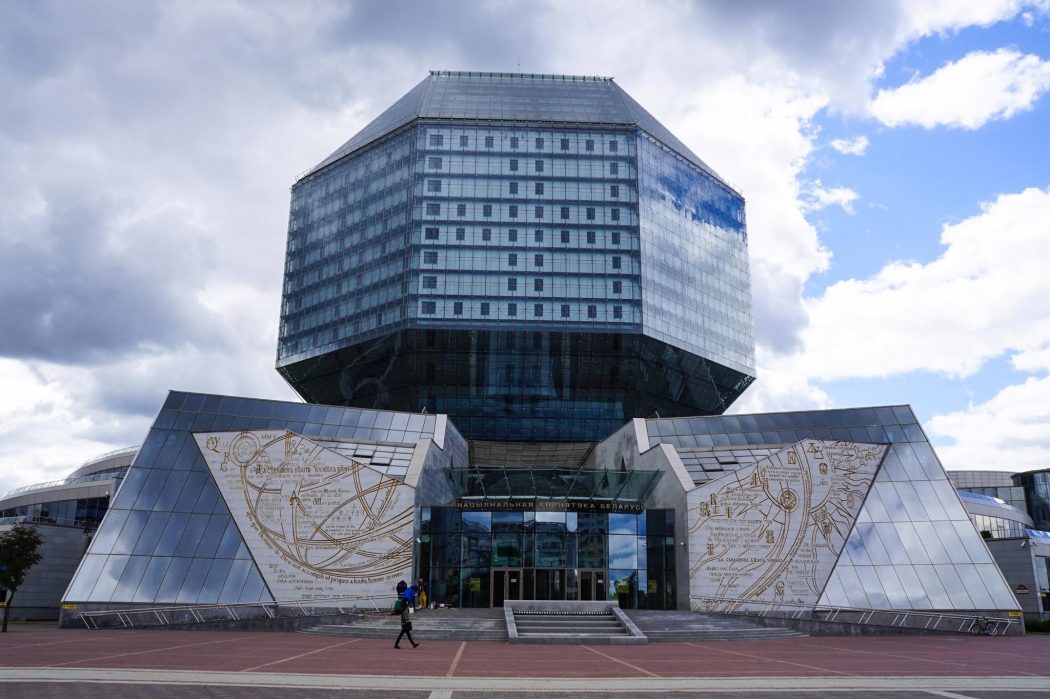 Where To Stay In Minsk: Everything You Need To Know Before You Book! 🇧🇾
This huge tower by the river is home to a spotlessly clean and comfortable hotel, less than a mile away from many of Minsk's landmarks – including the Holy Spirit Cathedral and the Island of Tears – and featuring a rather fabulous swimming pool.
Decorated with bright murals, the pool is on one of the 22 floors and is a great place to unwind at the end of the day.
If you don't feel like heading out in the evening, sample some Belorussian cuisine in the on-site restaurant and watch the sun go down over the city; otherwise, the surrounding Tsentralny District offers some great dining options. Rooms are spacious and fitted with all the amenities your luxury-loving heart desires.
We also loved how helpful the staff at the tour desk were.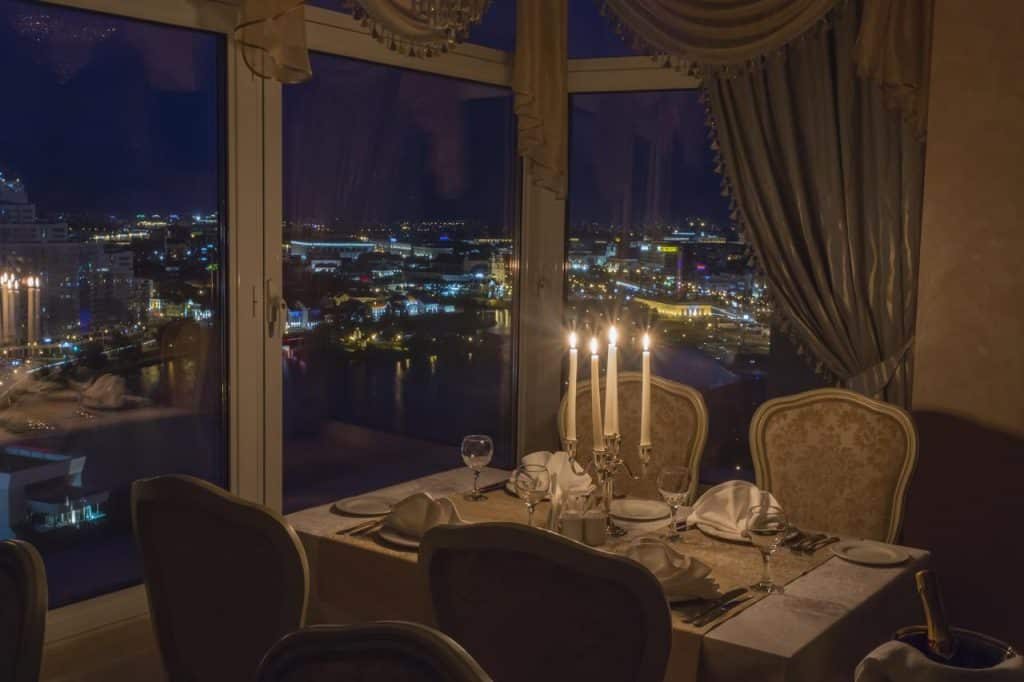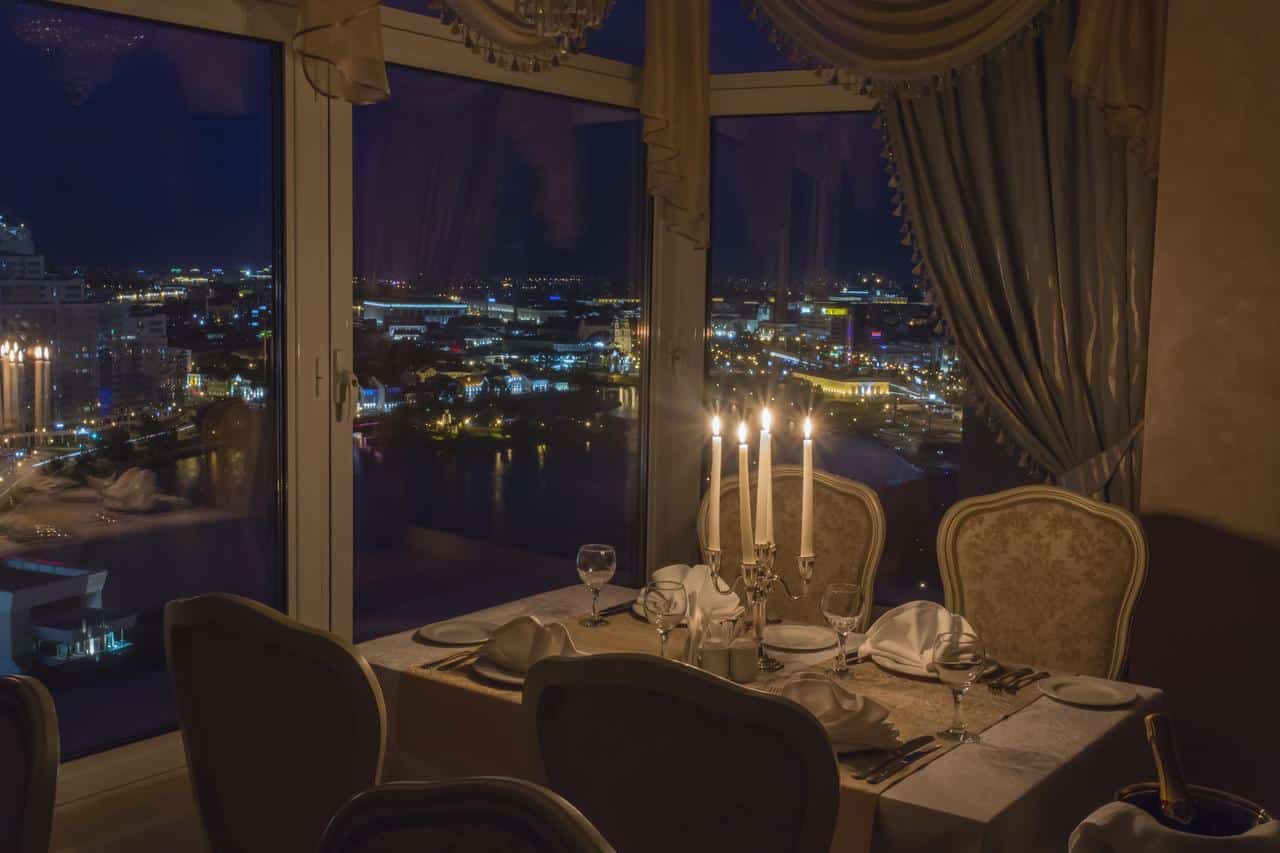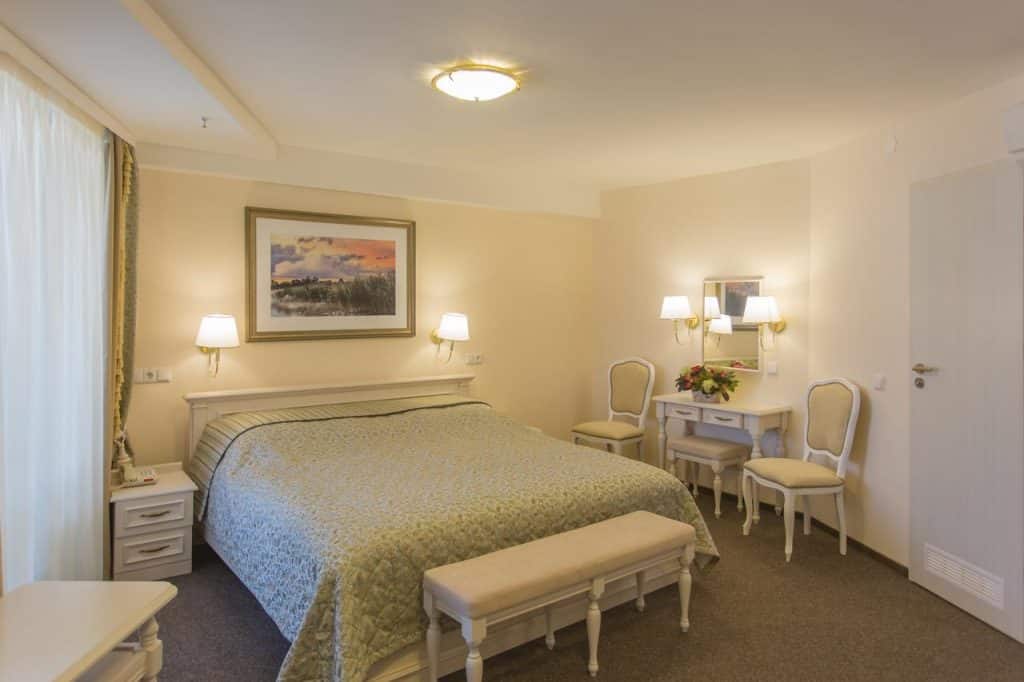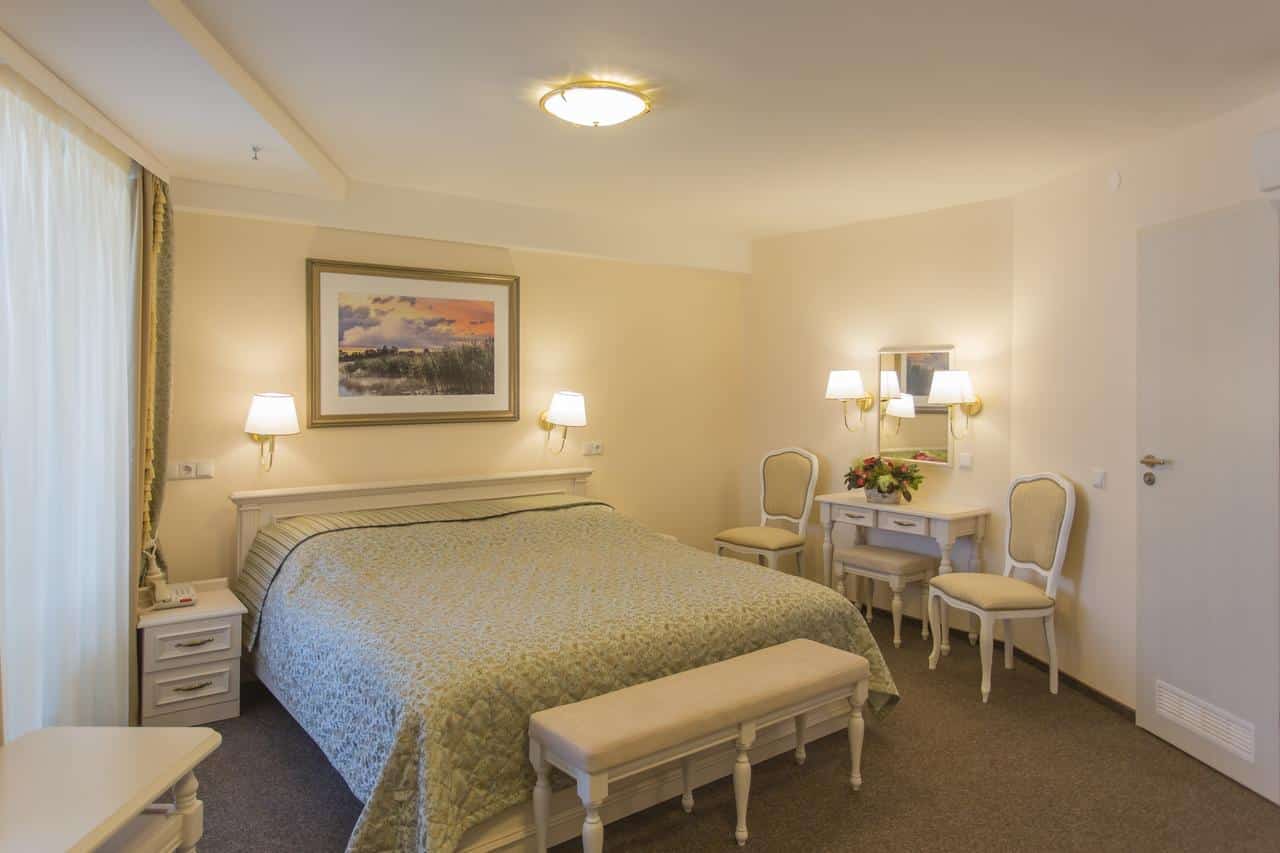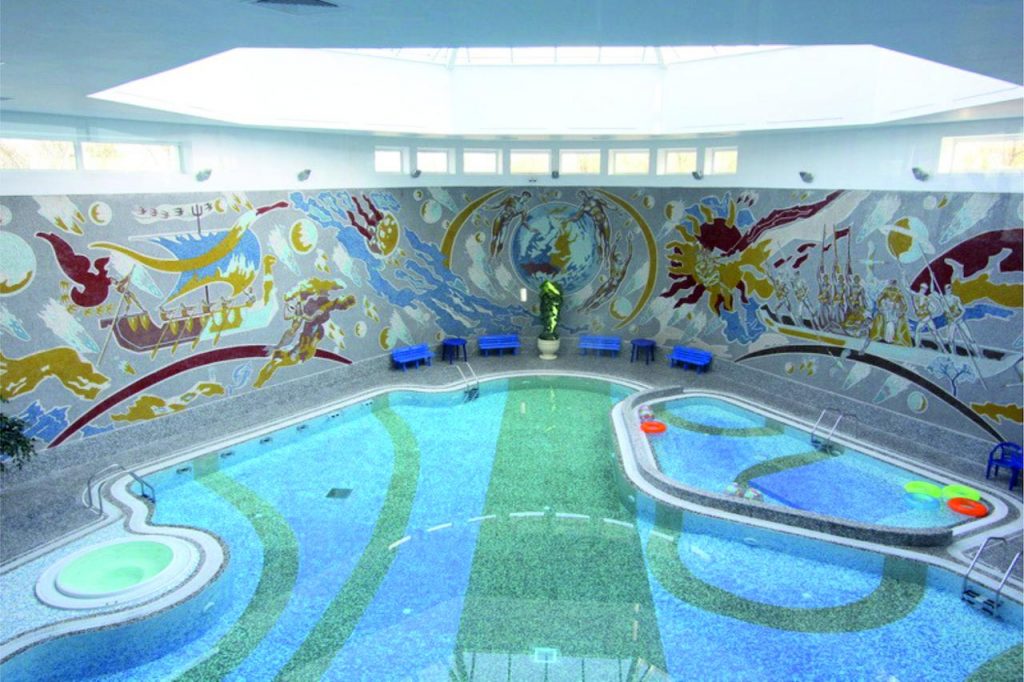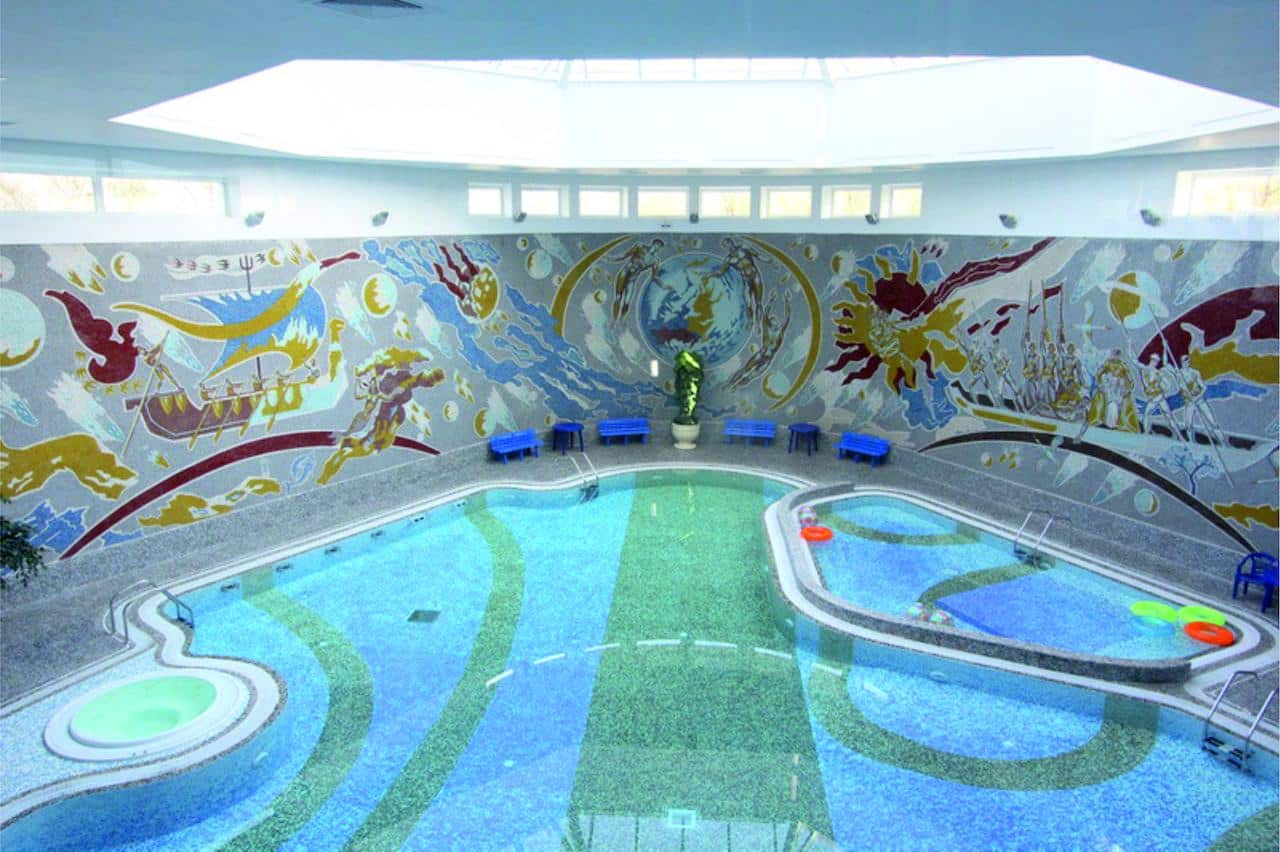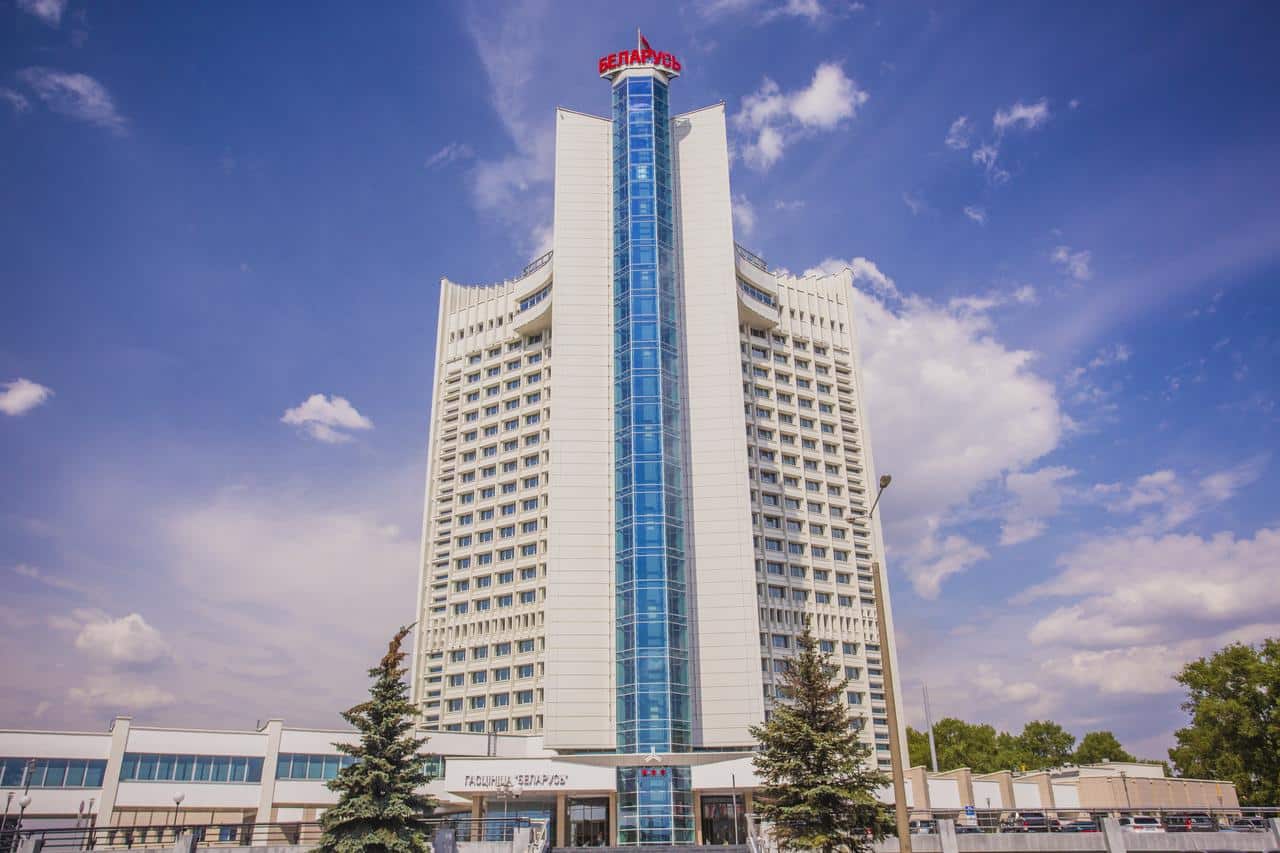 You can never go wrong with a Marriott and this expansive hotel complex on the riverbank is no exception. Another option in the popular Tsentralny District, there's plenty to do near the hotel but also more than enough to entertain you on-site as well.
From tennis and squash courts to a well-equipped spa with excellent Jacuzzi, you'll be able to explore Minsk from a stylish base.
We love the streamlined wood and white décor in the rooms, which are all en suite with walk-in showers. Most also have a balcony with a river view, so you can sip coffee and watch the world go by. The opulent Barrel Bar serves a mean cocktail and the Mediterranean Restaurant also doesn't disappoint.
It's only 10 minutes from the BelExpo National Exhibition Centre so is the perfect accommodation if you are in town for an event there.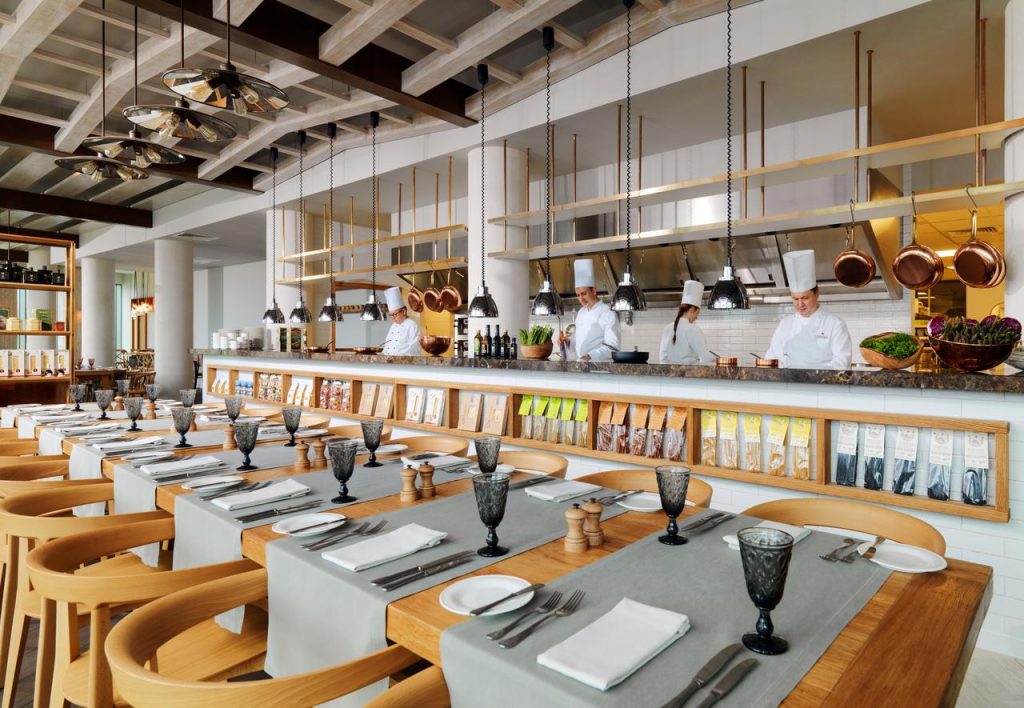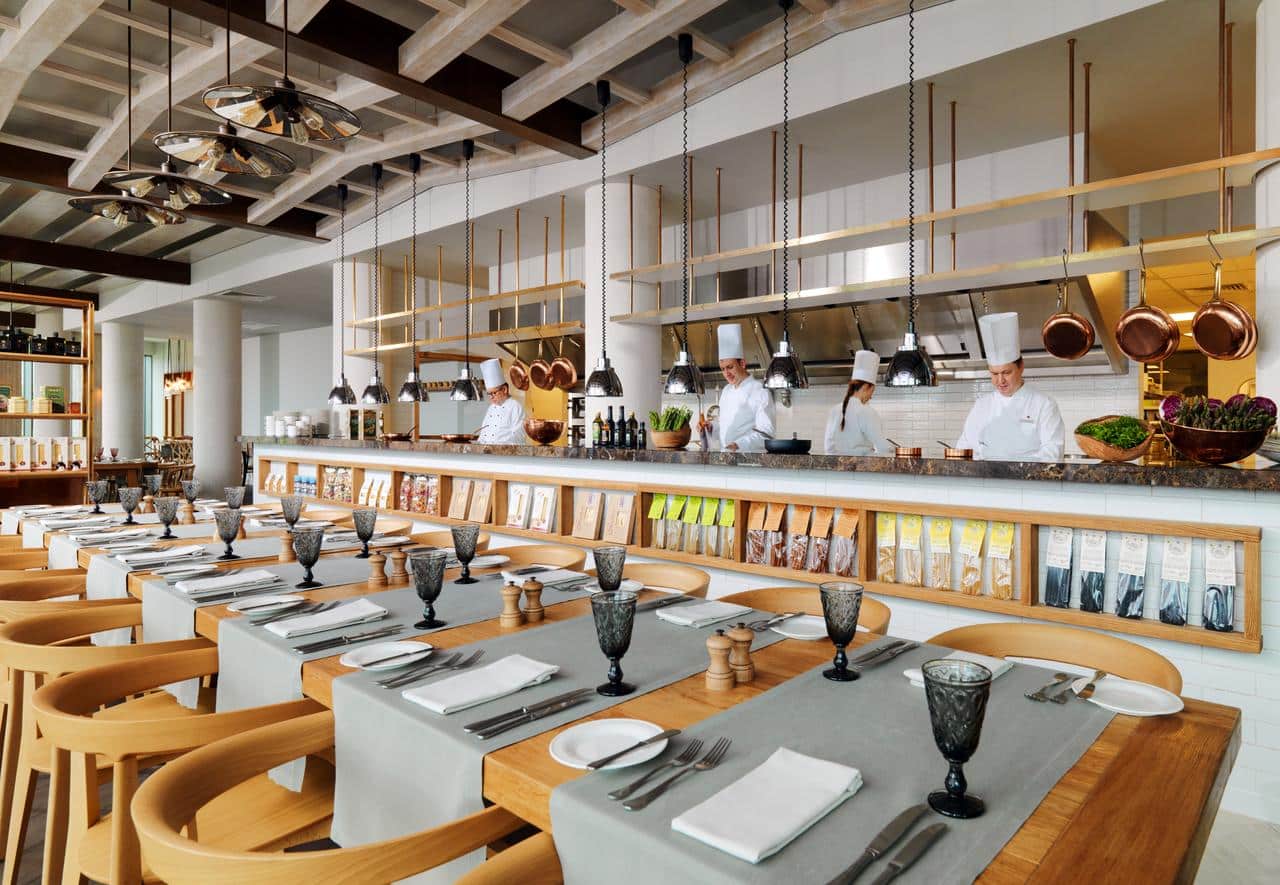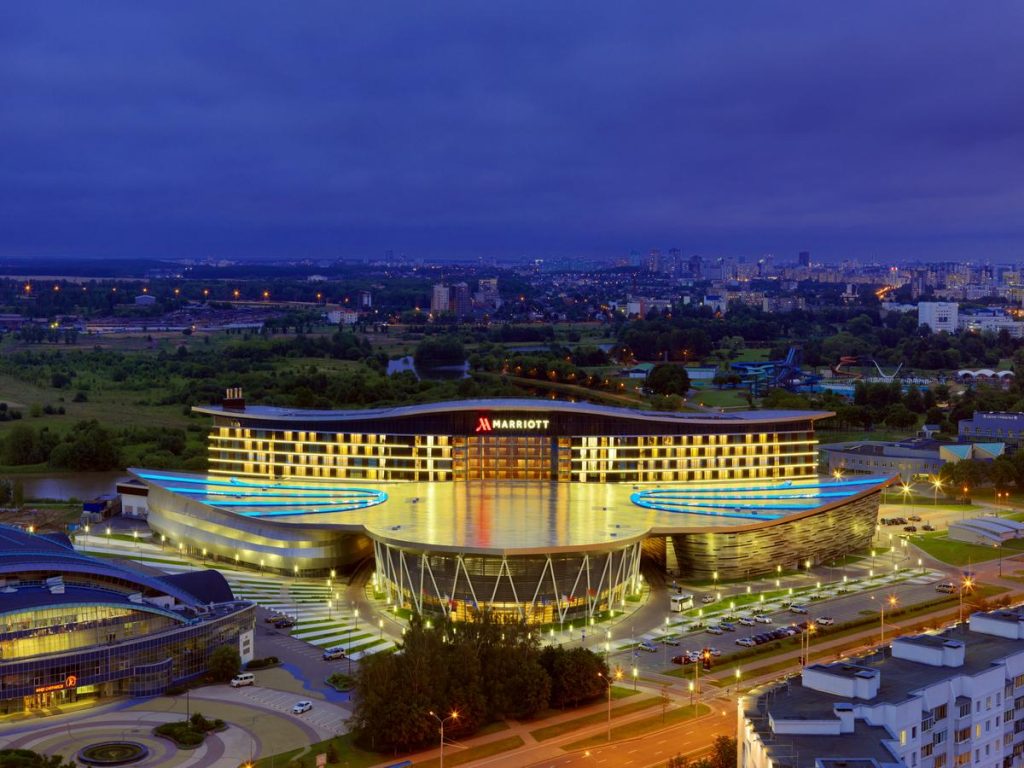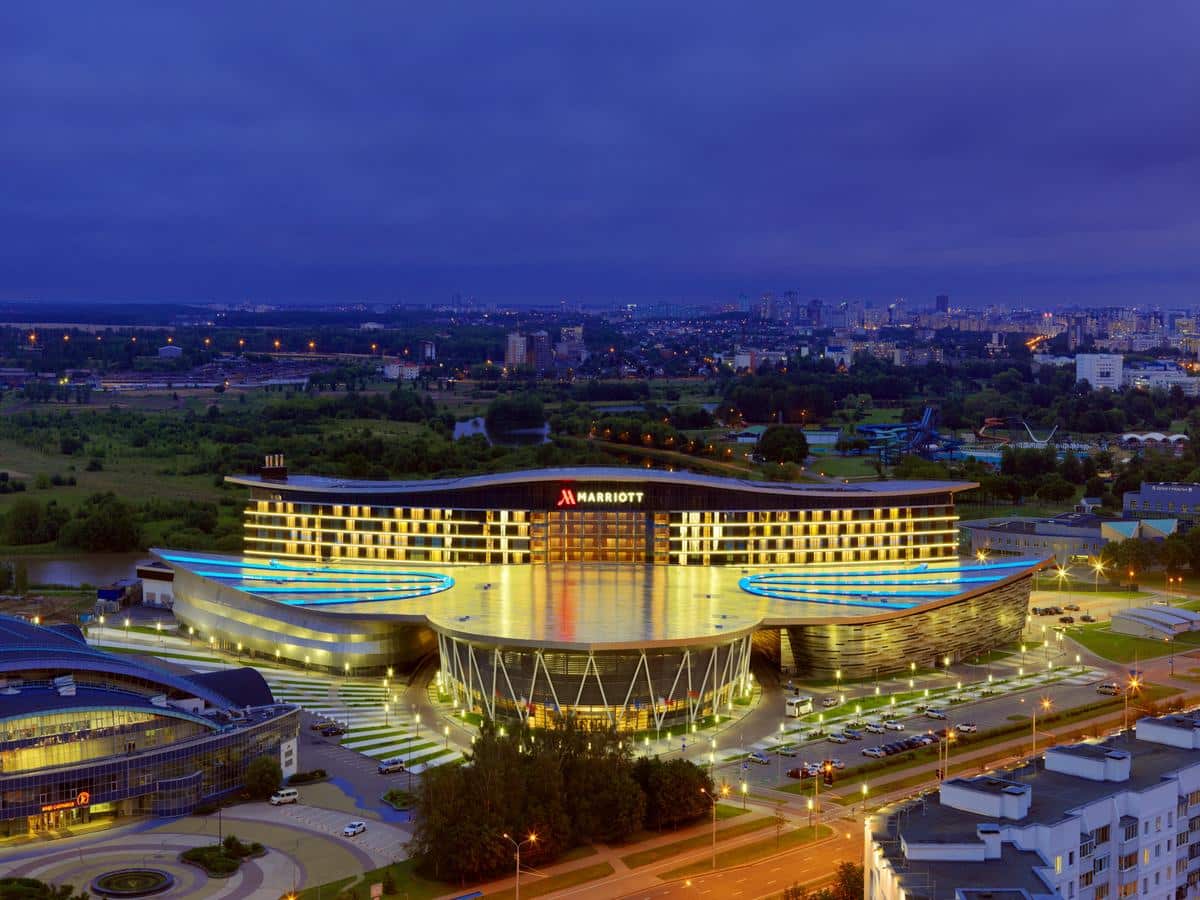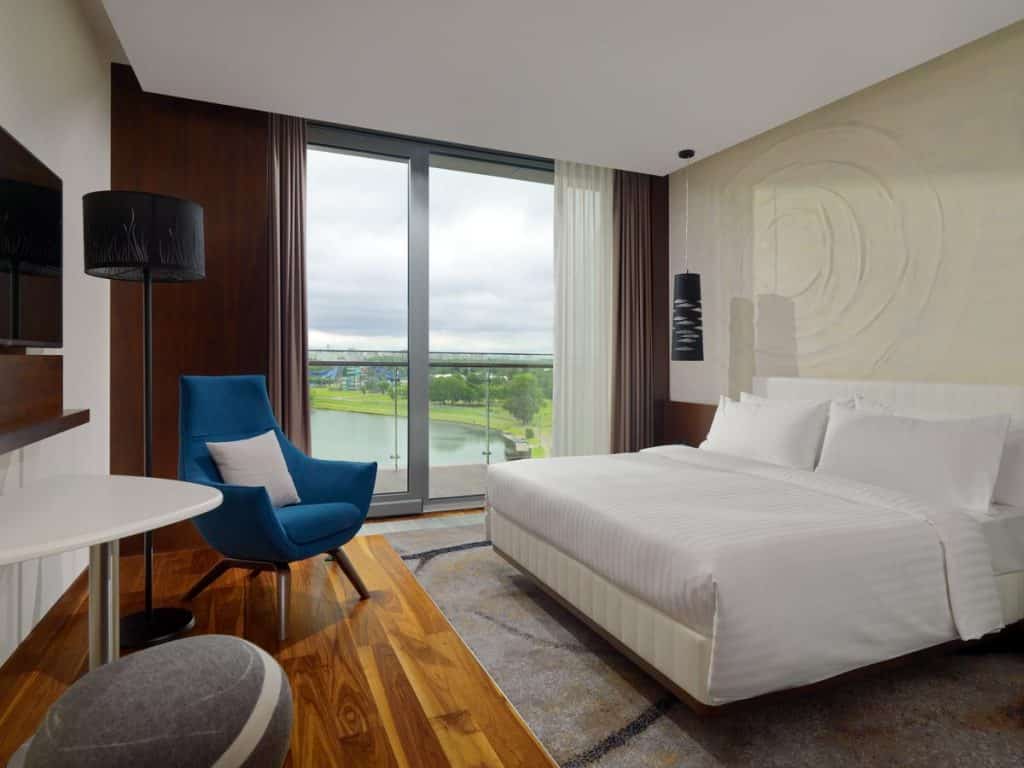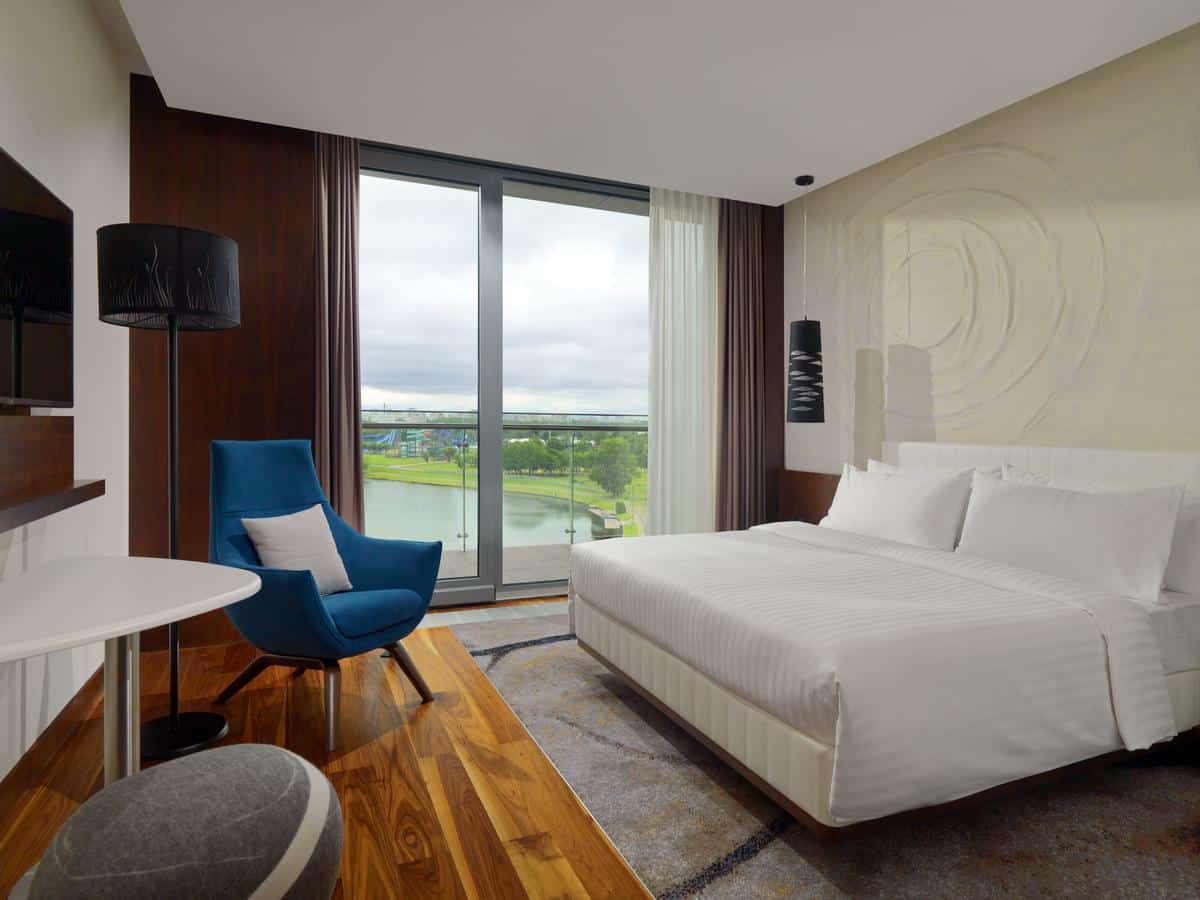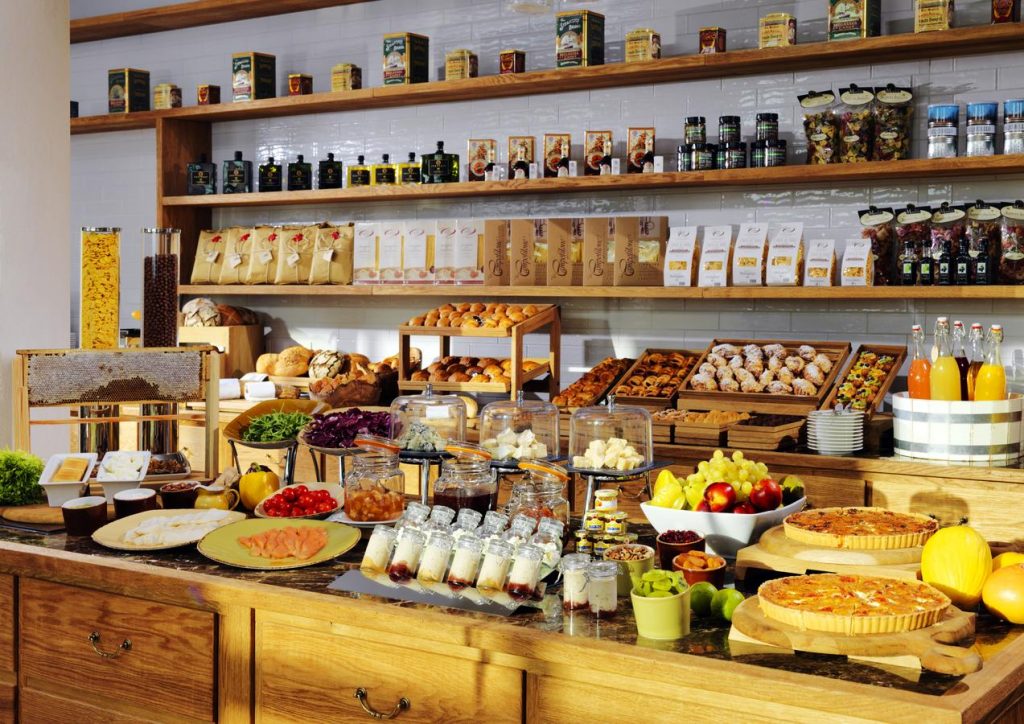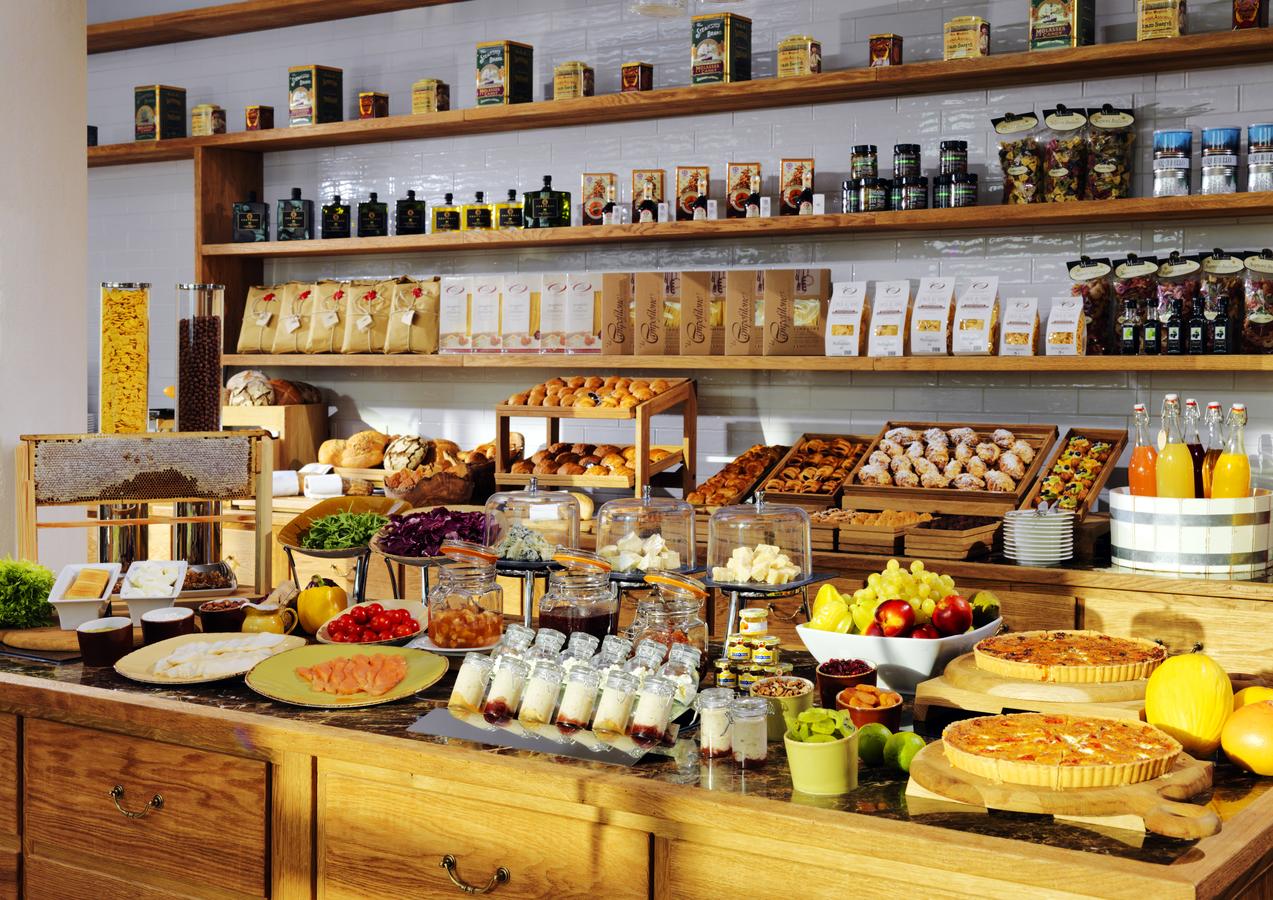 A slightly more contemporary option, while this stylish hotel is a little further outside of the city centre, its proximity to a metro station means you're never far away from the hub of things and the surrounding area of Frunzensky is also a fascinating place to explore.
Although the rooms are small, there's a fresh and modern design and they're very well-equipped. You'll feel very cosy here; and that's before we even talk about the incredibly friendly and welcoming staff, who are happy to share their knowledge of the city.
Good coffee and breakfast complete the picture of a hotel ready to boost Minsk's tourist experience.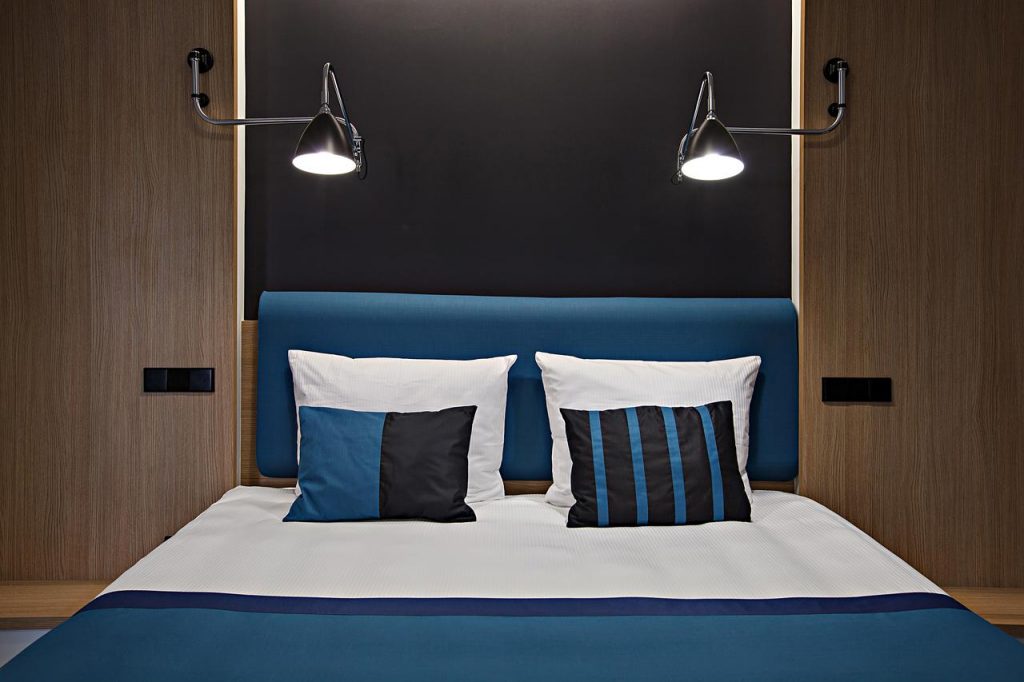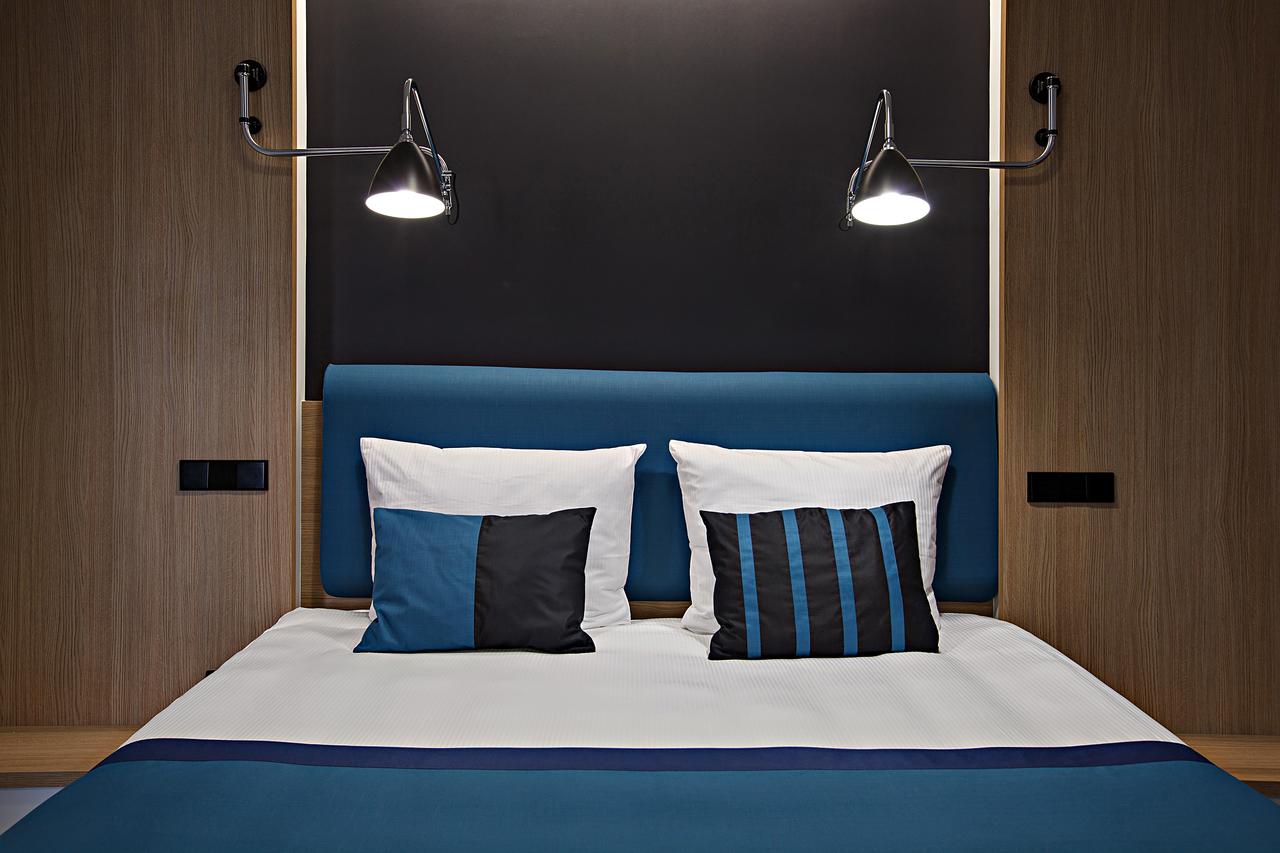 We want to make some jokes about how willing we are to stay at this hotel, but we won't (OK, we just did, but only one!). But seriously, with welcoming staff, trendy location and spacious, comfortable rooms, who wouldn't be willing to come here?
The imposing red building is set in an up-and-coming old industrial area, Leninsky, which is about as close as Belarus comes to hipster-ville.
There's some very quirky decoration in the rooms – some done up in greys and greiges, some in sea-blues and greens – and the hotel bar is plush and dimly-lit, just as a hotel bar should be!
All rooms are en-suite and fully equipped; it feels like you're in a 4 or 5 star hotel rather than a 3 star one. 15 minutes' walk and you're in the city centre, so this is definitely worth checking out.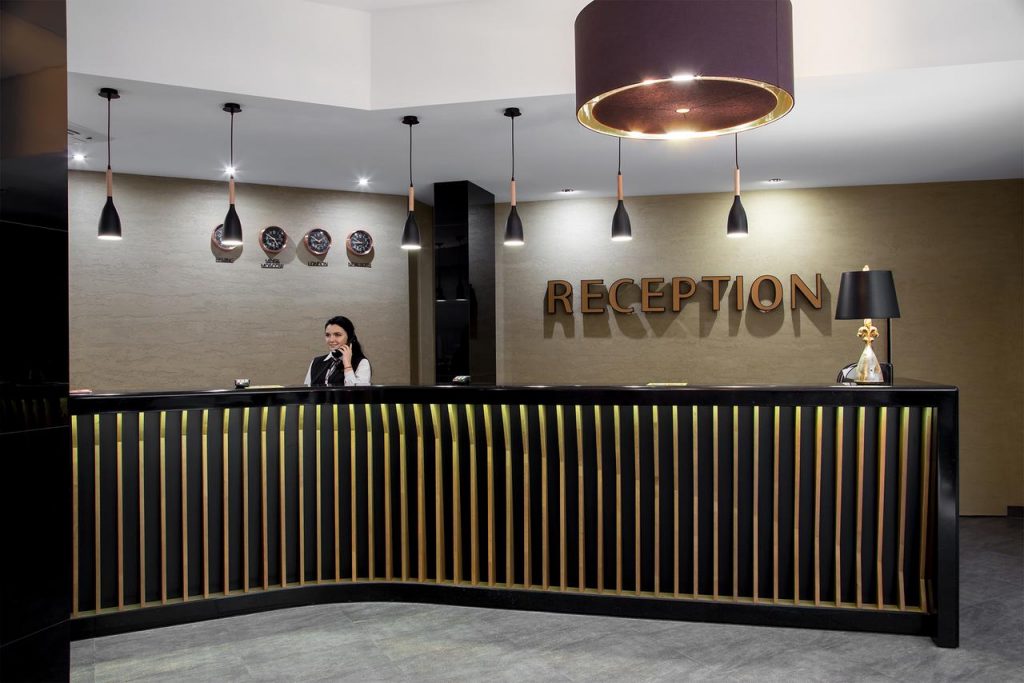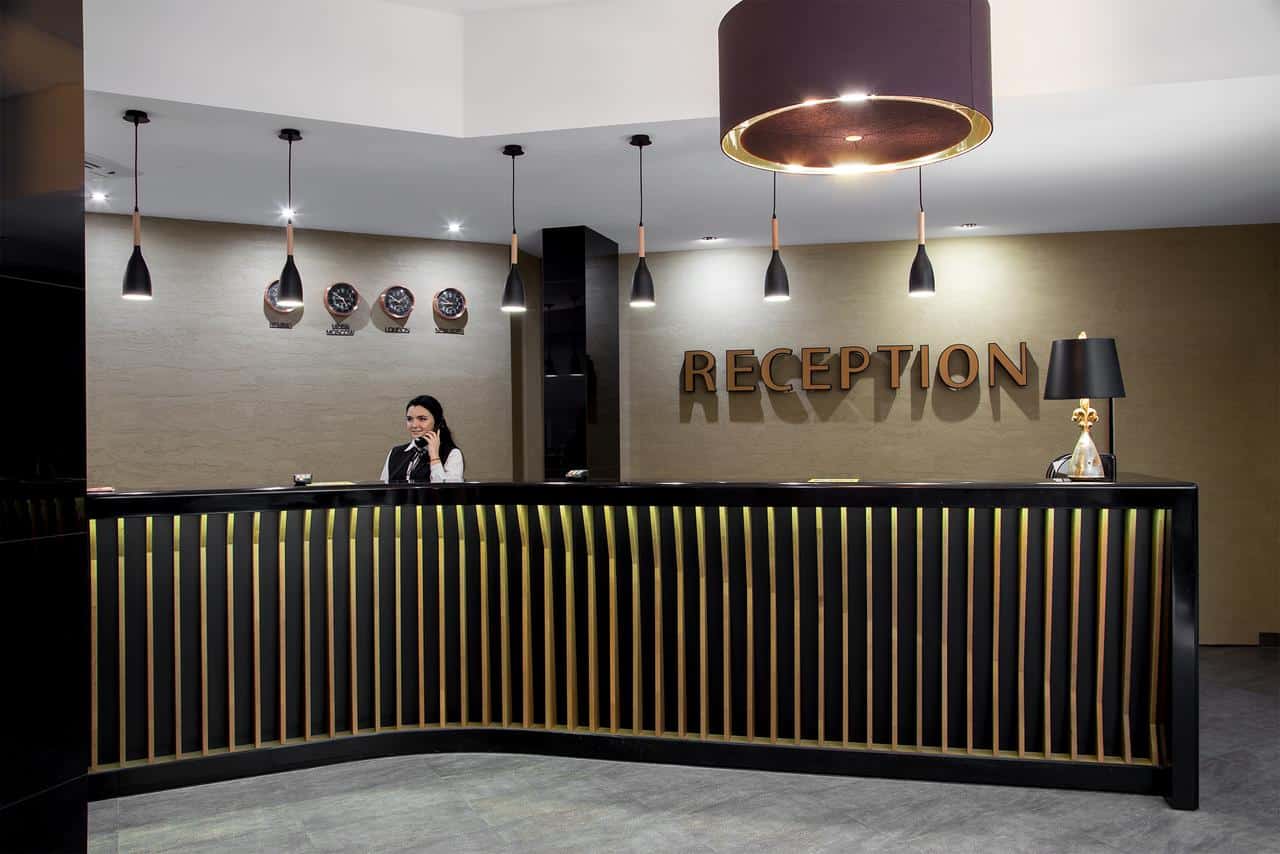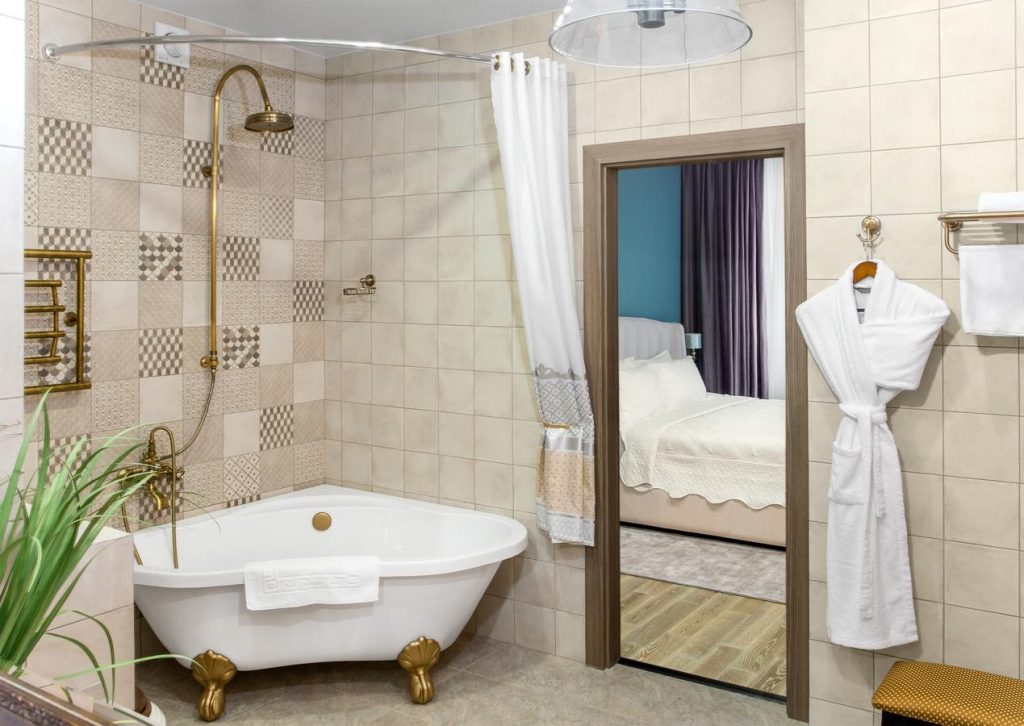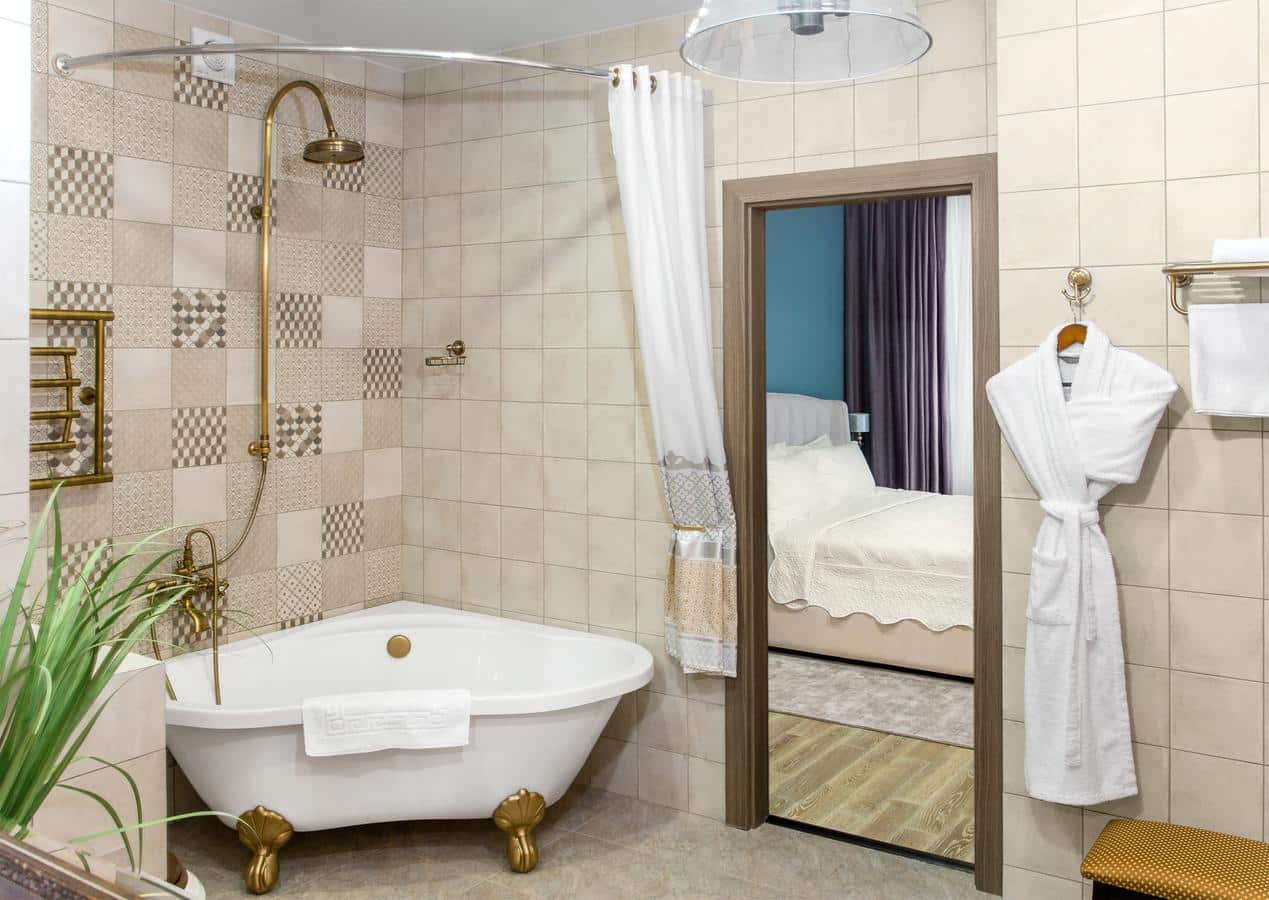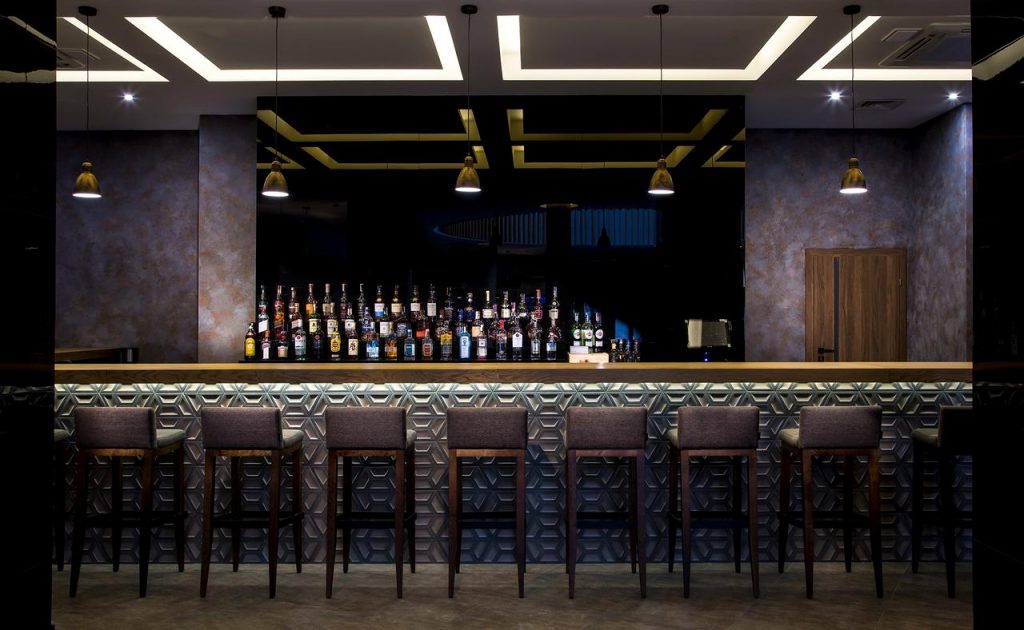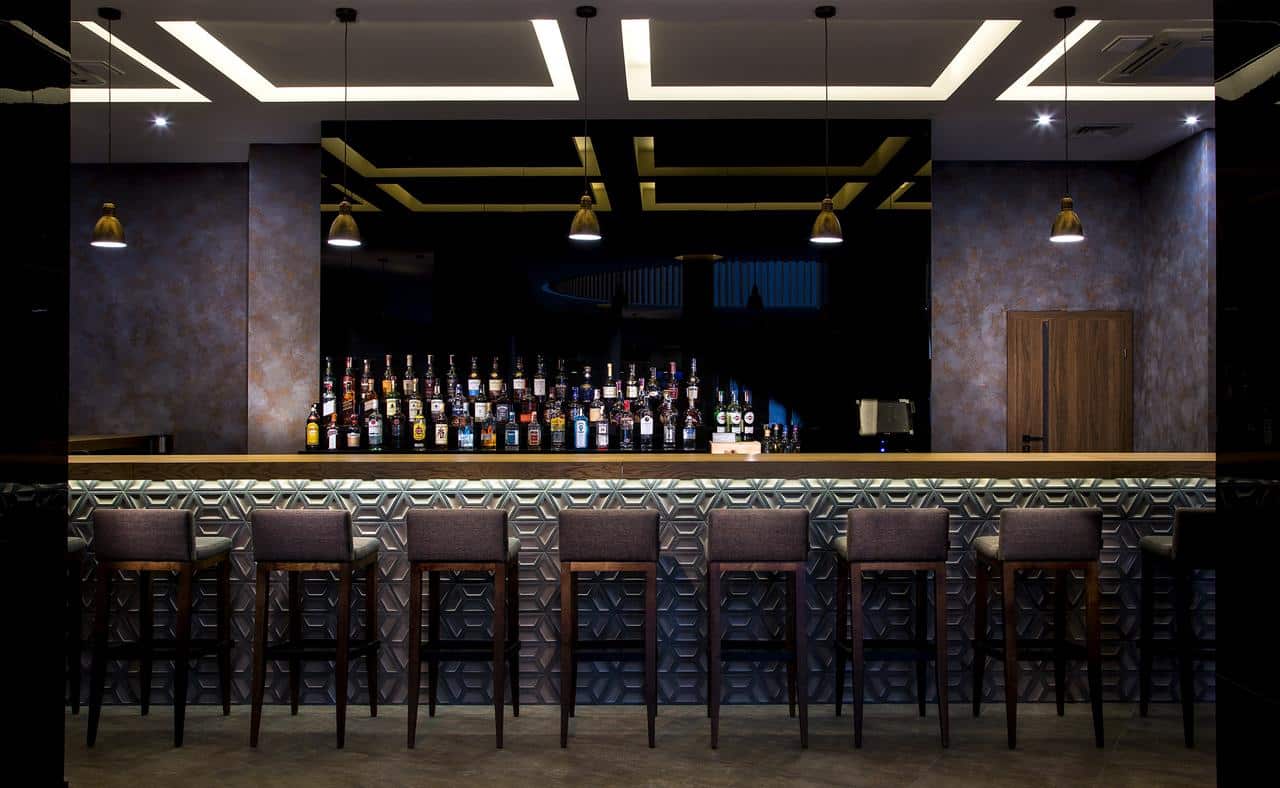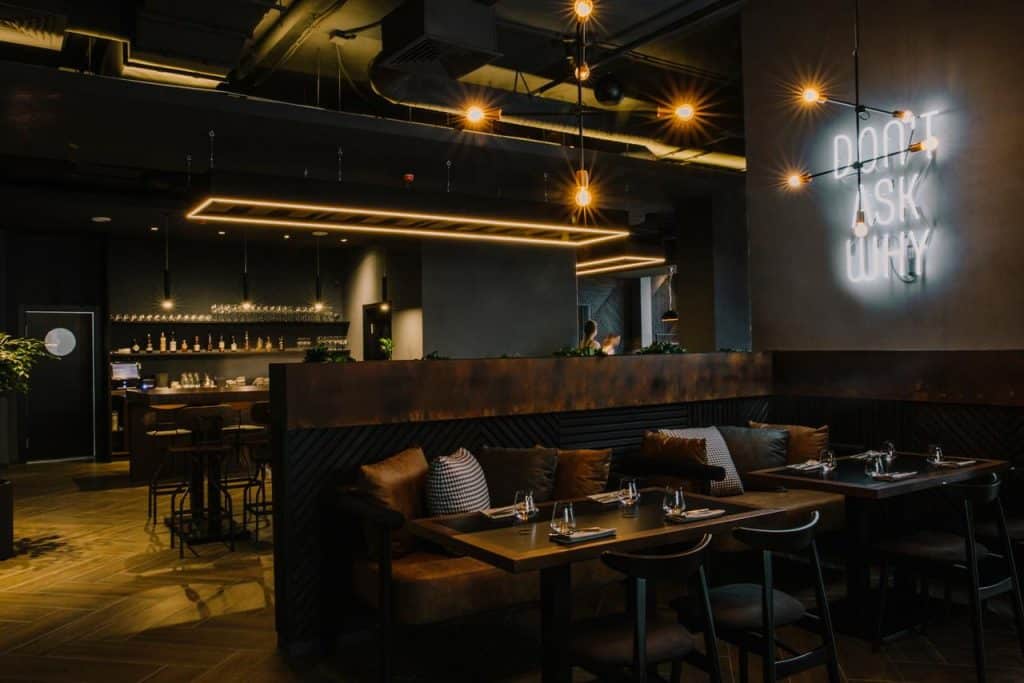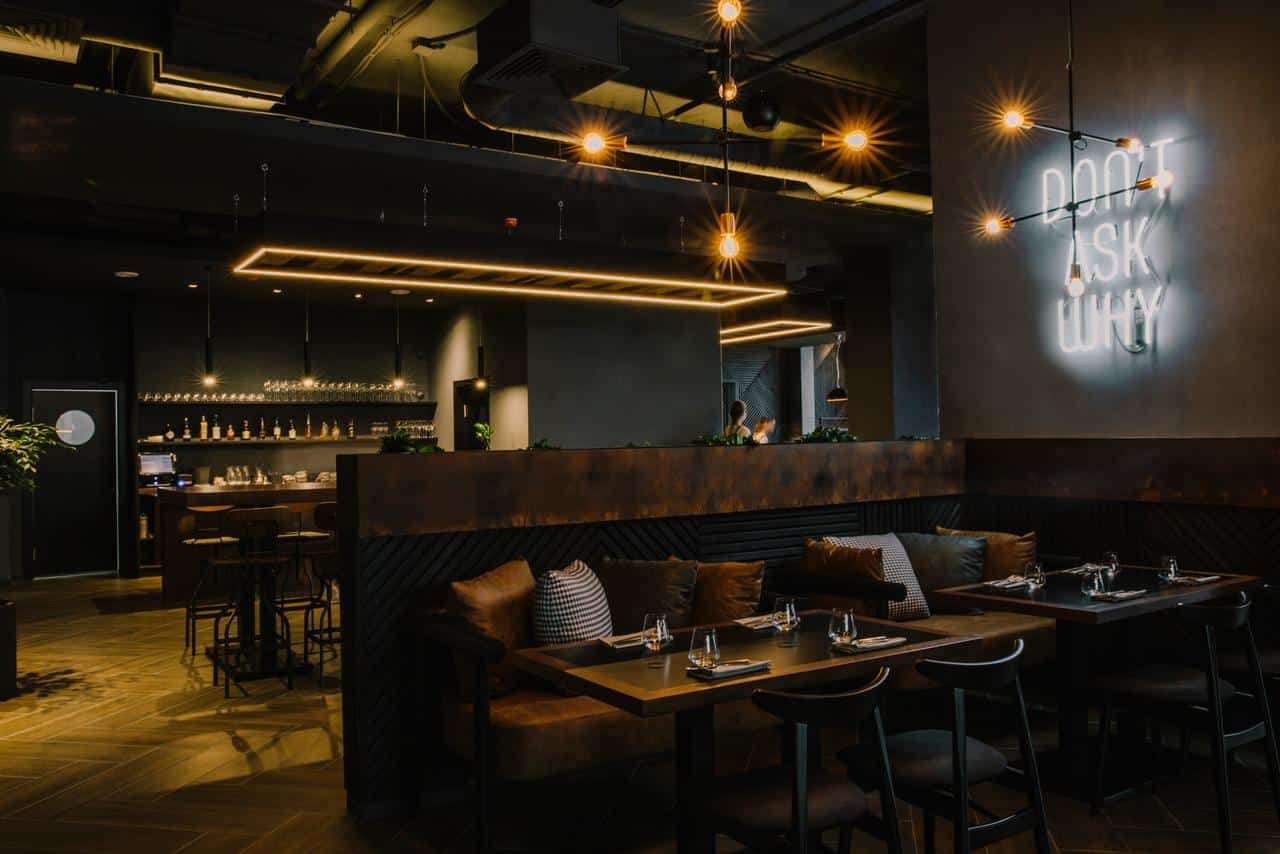 This is the perfect option if you like to visit new places but you're on a budget (and want to save your pennies for the food and drink).
With dorm rooms and family rooms that are pleasantly set up and extremely clean. It's got a homey and cheerful vibe – the shared kitchen is well-equipped and a good place to get chatting to other travellers.
There's good access to the centre of town with a nearby metro station and the area the hostel is in – Sovetsky District – has plenty of interesting architecture and museums. The State Circus and the War Museum are only a mile away and there's lots to see along the way.
A nice touch is the free coffee, which is a great way to start the way.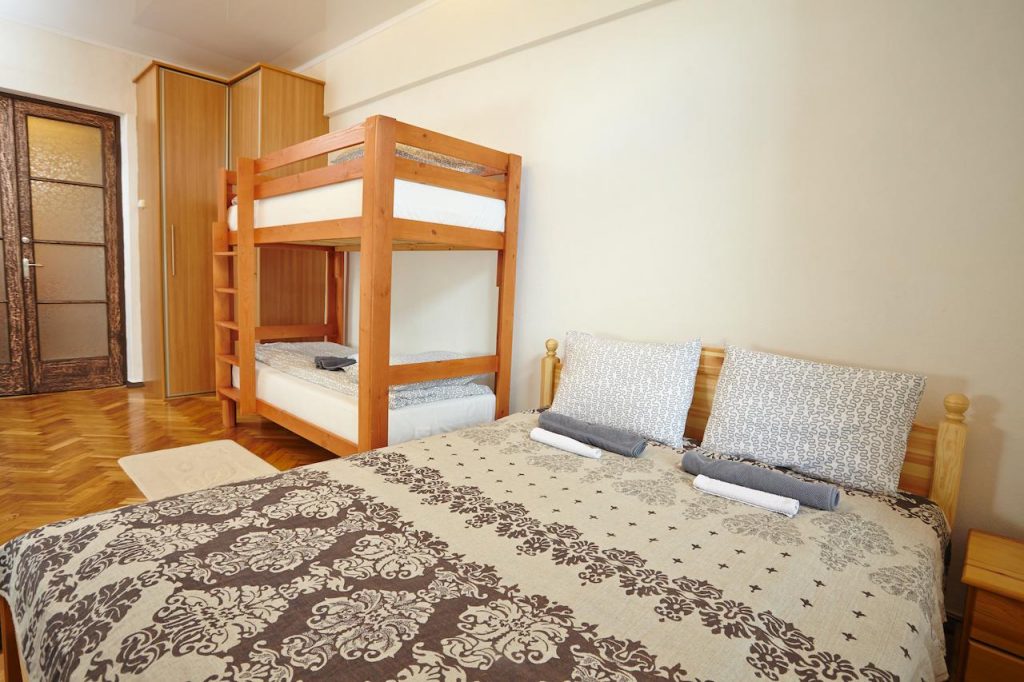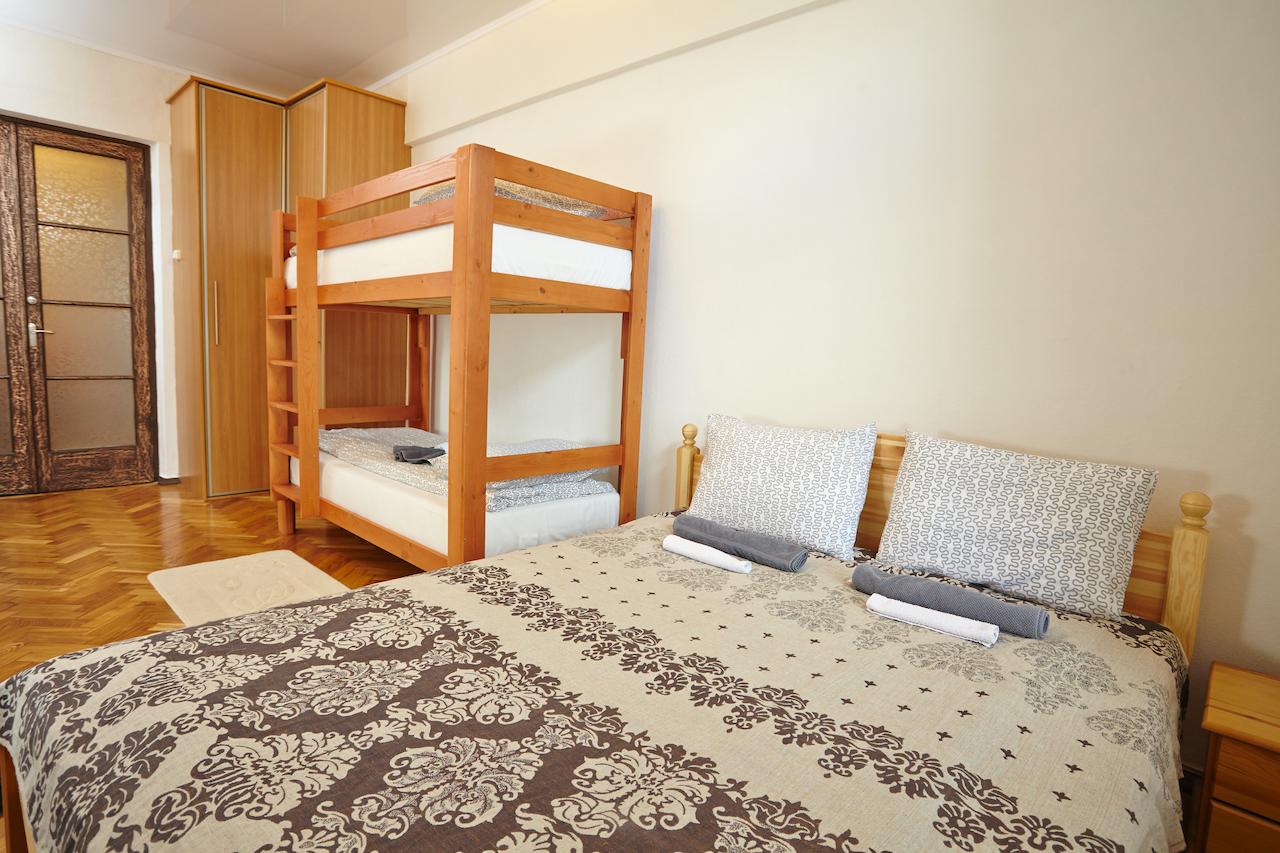 As the name might suggest, this is a luxury hotel right in the middle of Minsk, so you're just moments away from all the city has to offer. The train station is only 7 minutes away and the National Arts Museum is less than a mile away. When you're finished with a hard day's sightseeing, you can retreat to the comfort of the Hampton by Hilton.
With streamlined, colourful interior design, a well-equipped fitness centre and a seriously cool futuristic breakfast bar. It's an ideal place for a conference because of its ample business facilities.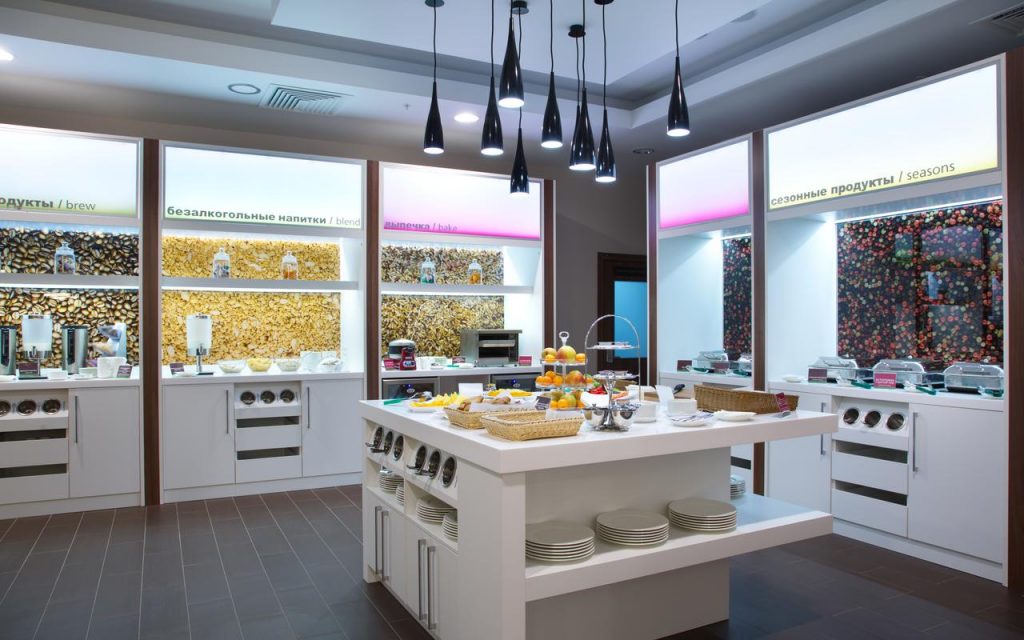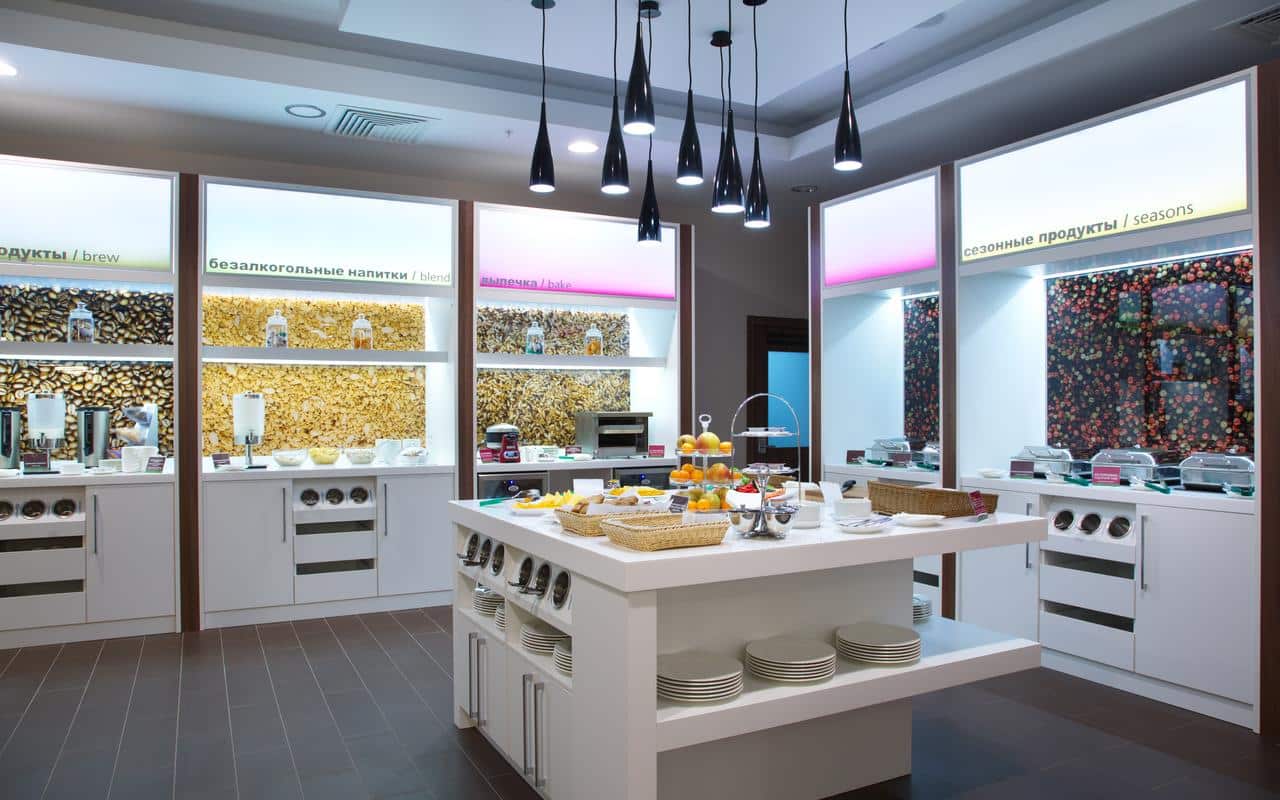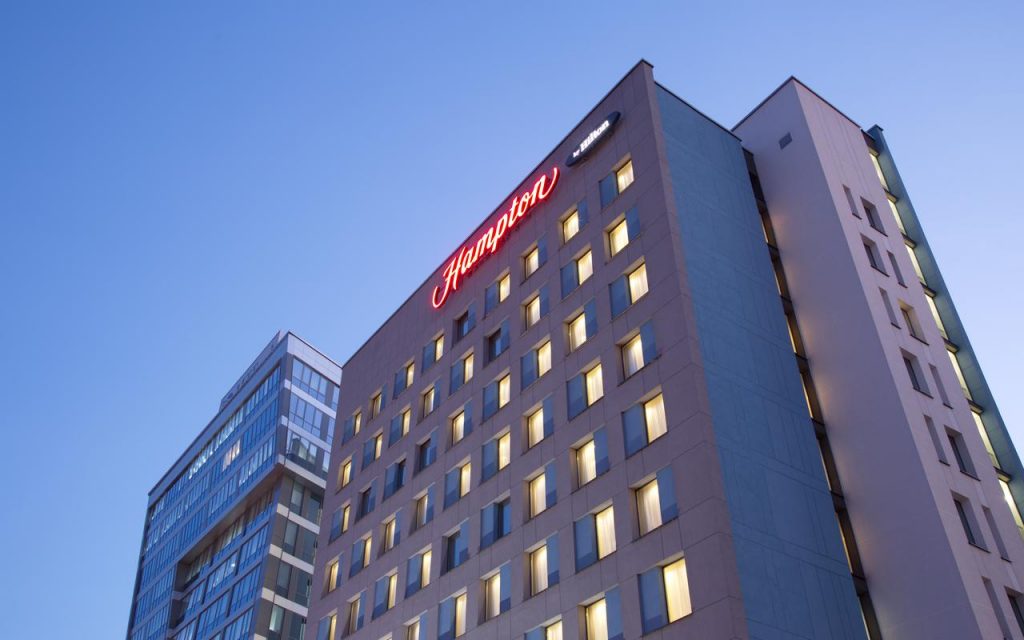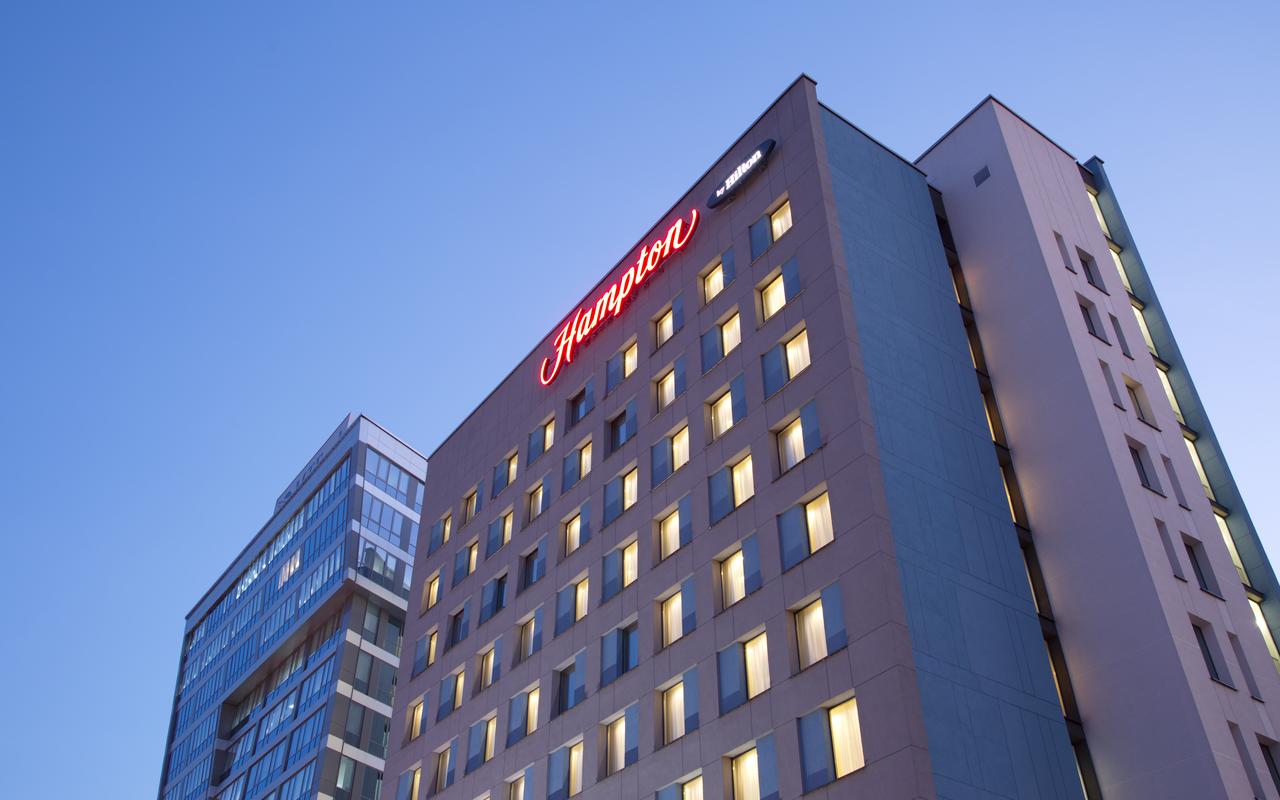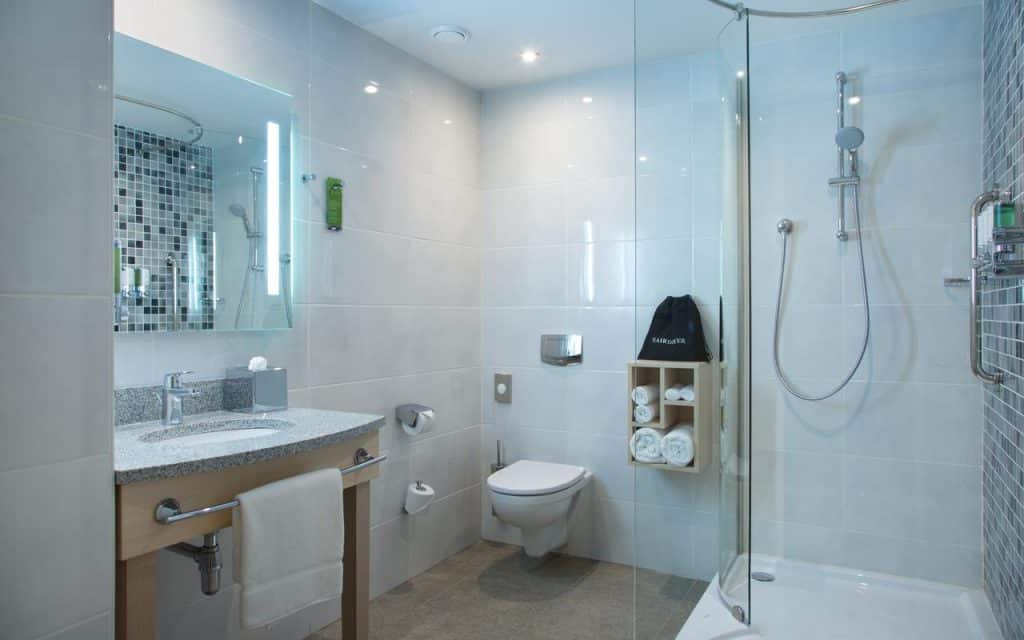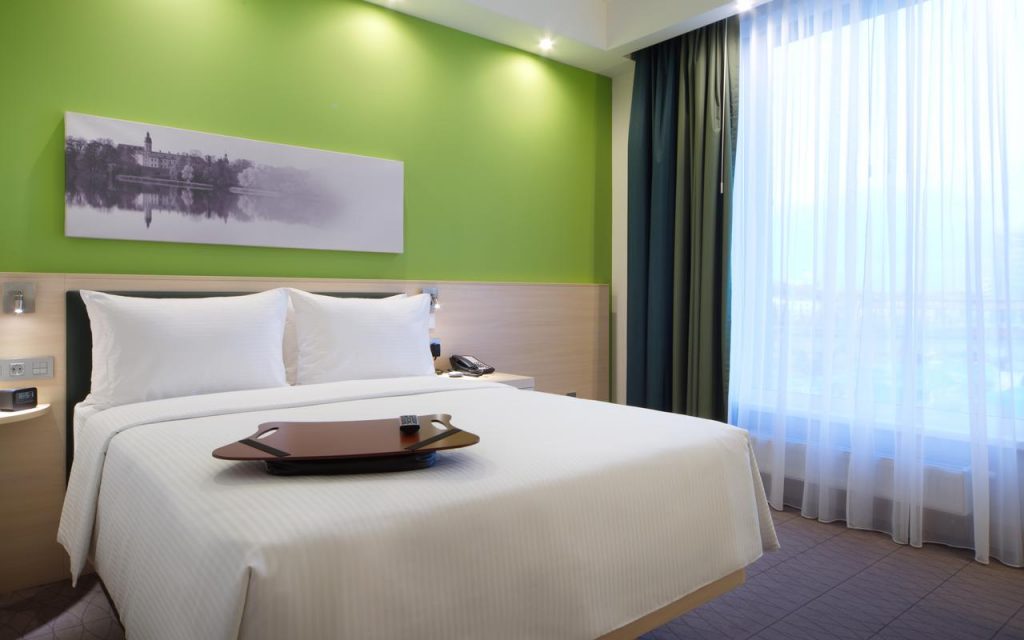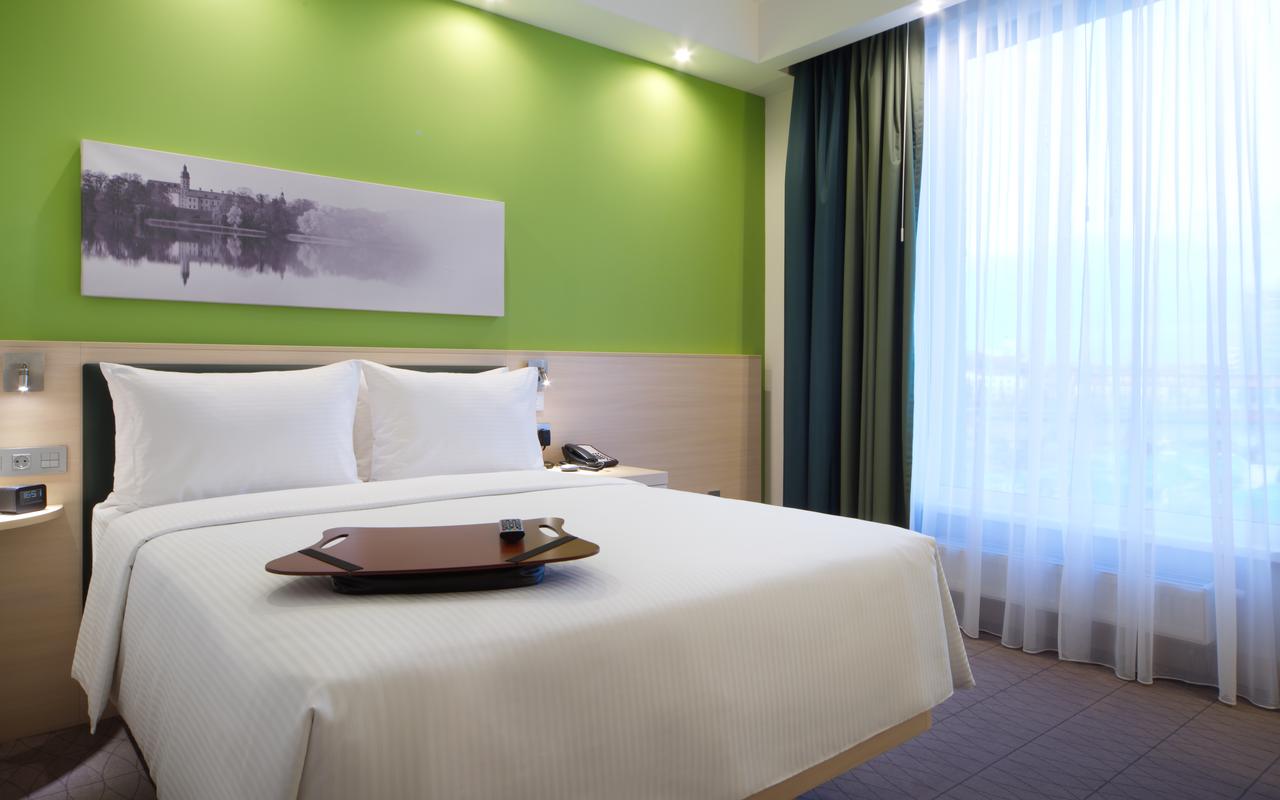 If you'd like your hotel to be as unique as the city you're staying in, this opulent boutique hotel with its gilded design and plush soft furnishings is the choice for you. The rooms are spacious and rather glamorous, offering flat screen TVs, kettles and free toiletries.
An on-site restaurant offers Belorussian and European food and there's also a bar for those late-night chats with fellow travellers. It's located in the Moskovsky District, with plenty of good nearby restaurants (an Italian one 3 minutes away stood out) and all the city's attractions nearby.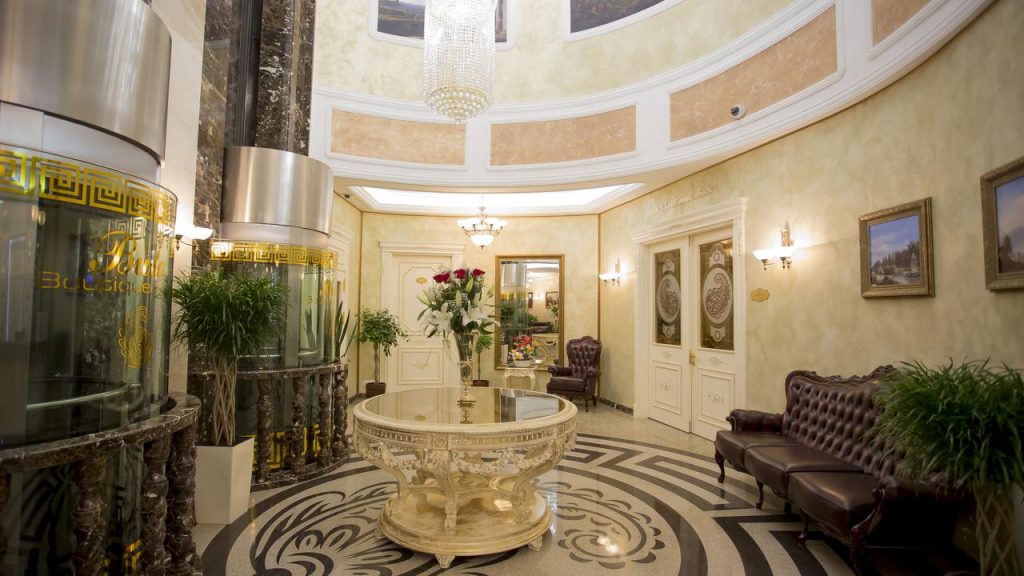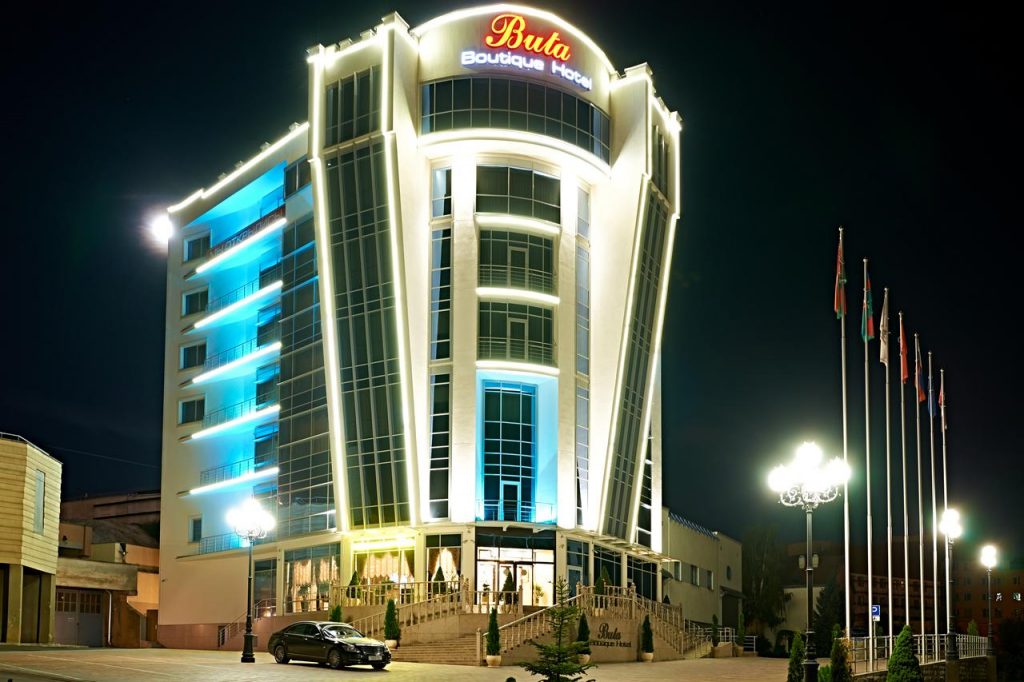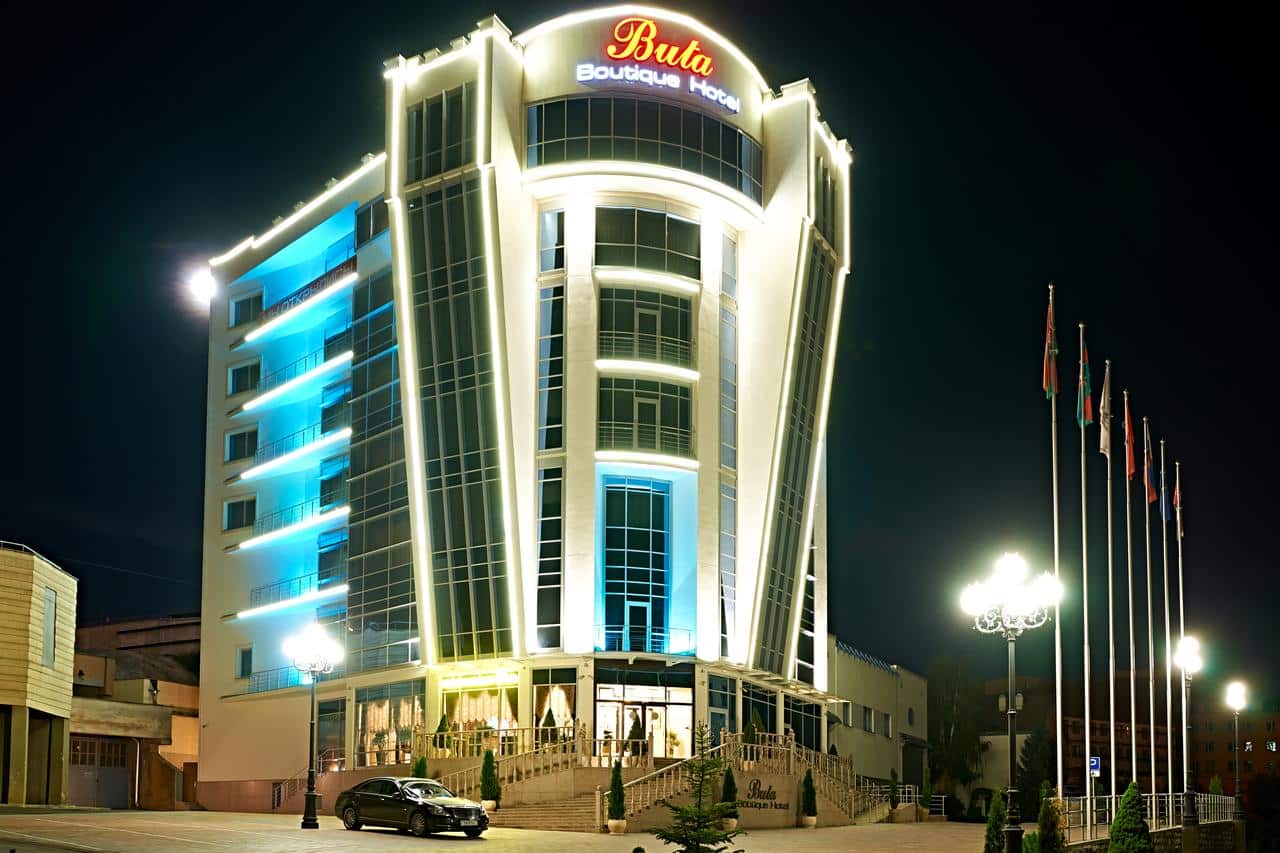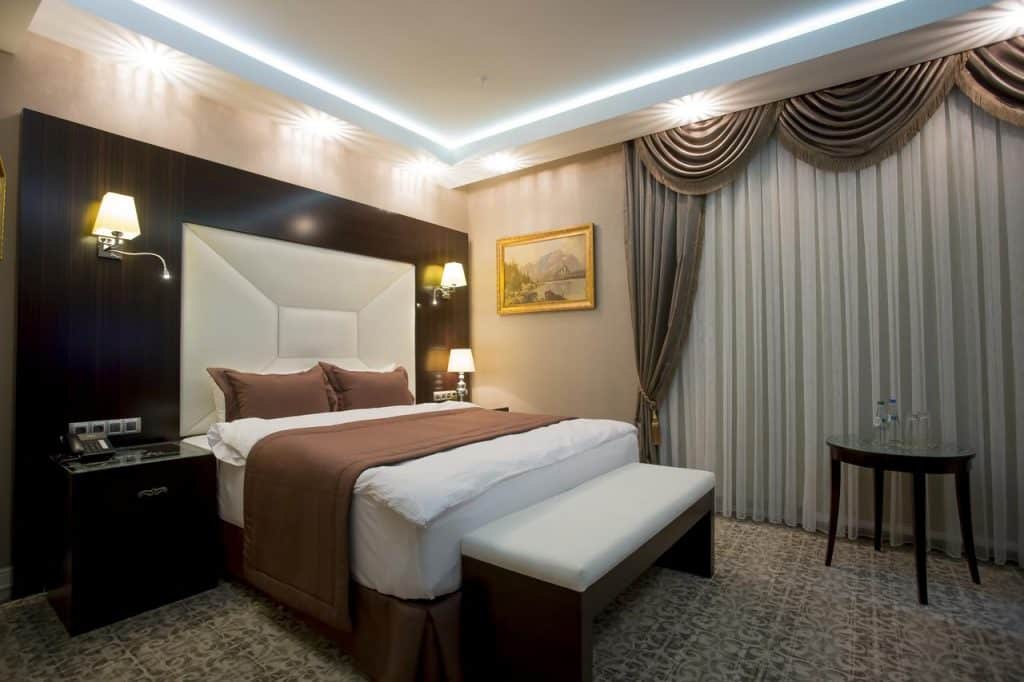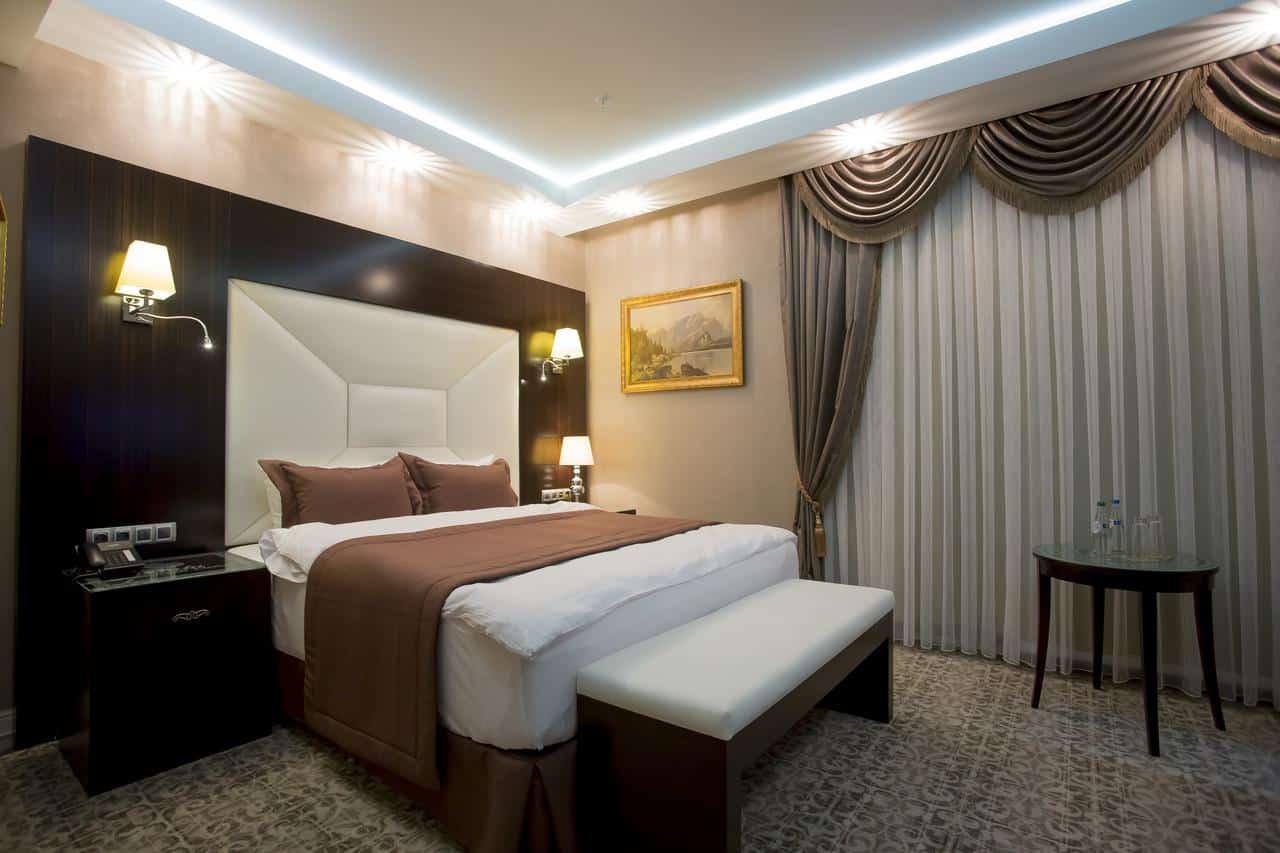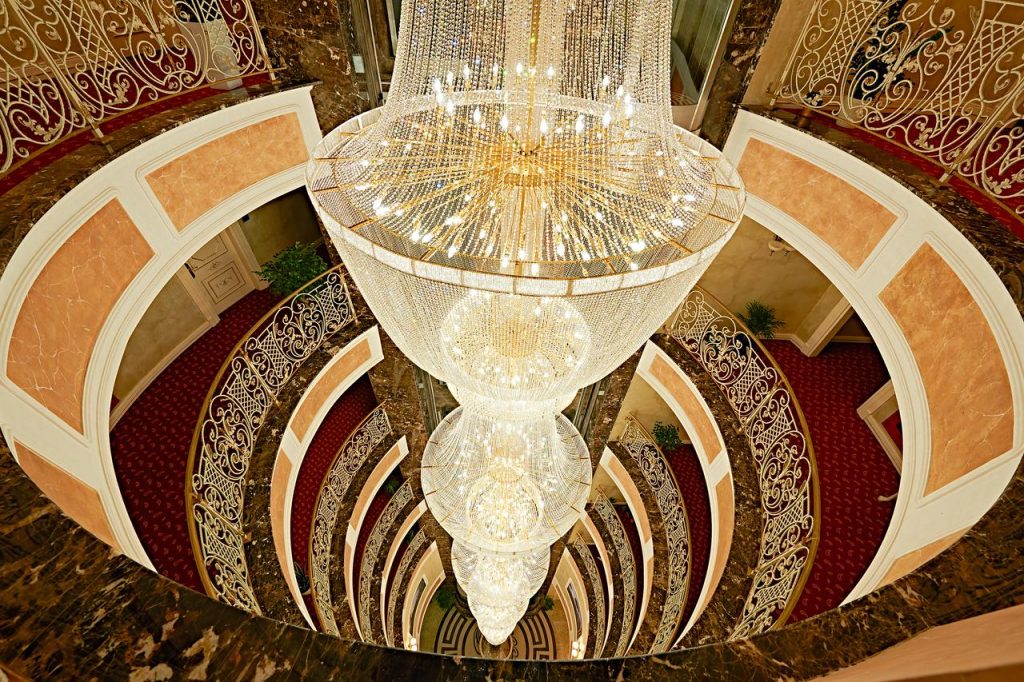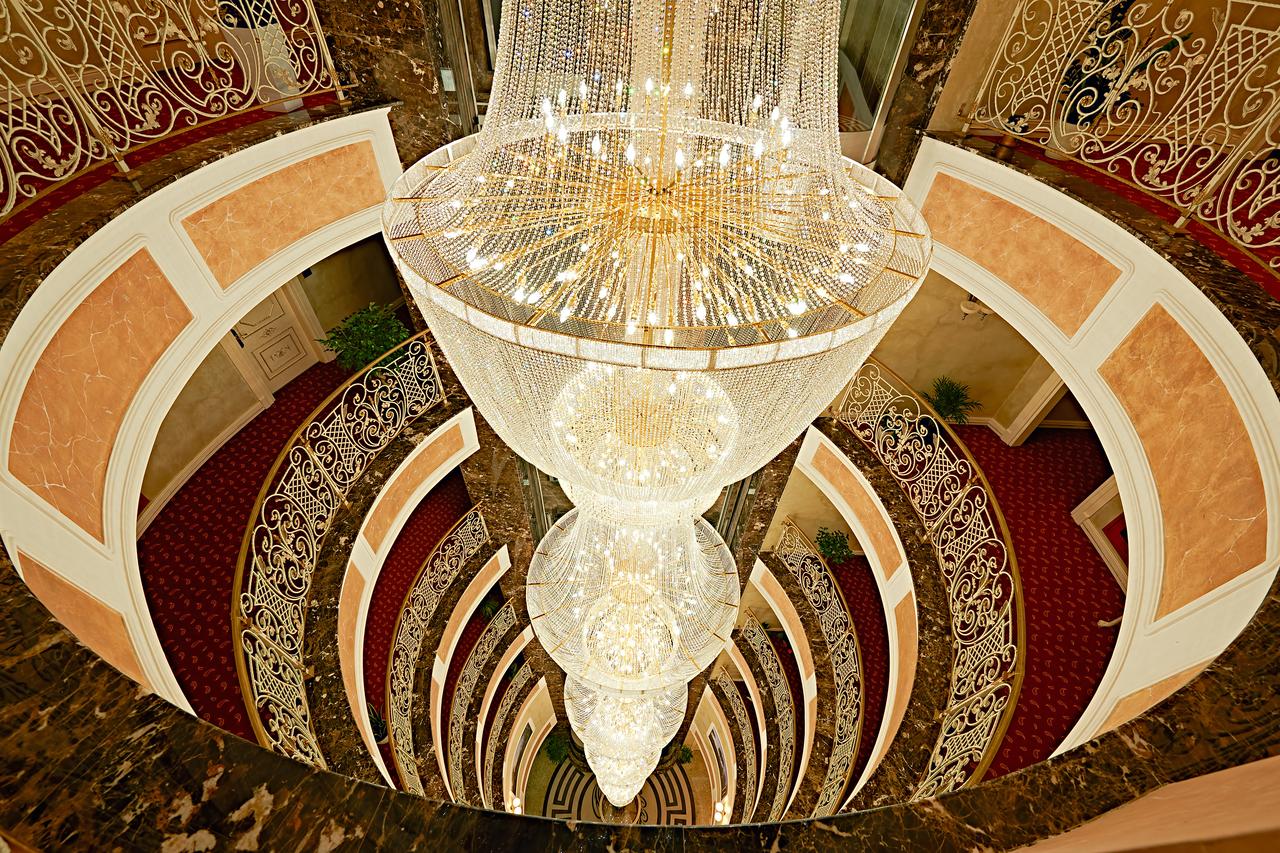 With its lovely spa, this is the perfect accommodation option if you like a bit of relaxation in between discovering a new place. A sizeable swimming pool, sauna and spa facilities – including hairdresser and massage – make this a city break with a bit of luxury thrown in.
Everything you need is on-site, from the spa to the mini-market to the restaurant and bar. If you do venture out, there's a nearby park where you can people-watch or go for a morning jog, and the city centre is very accessible.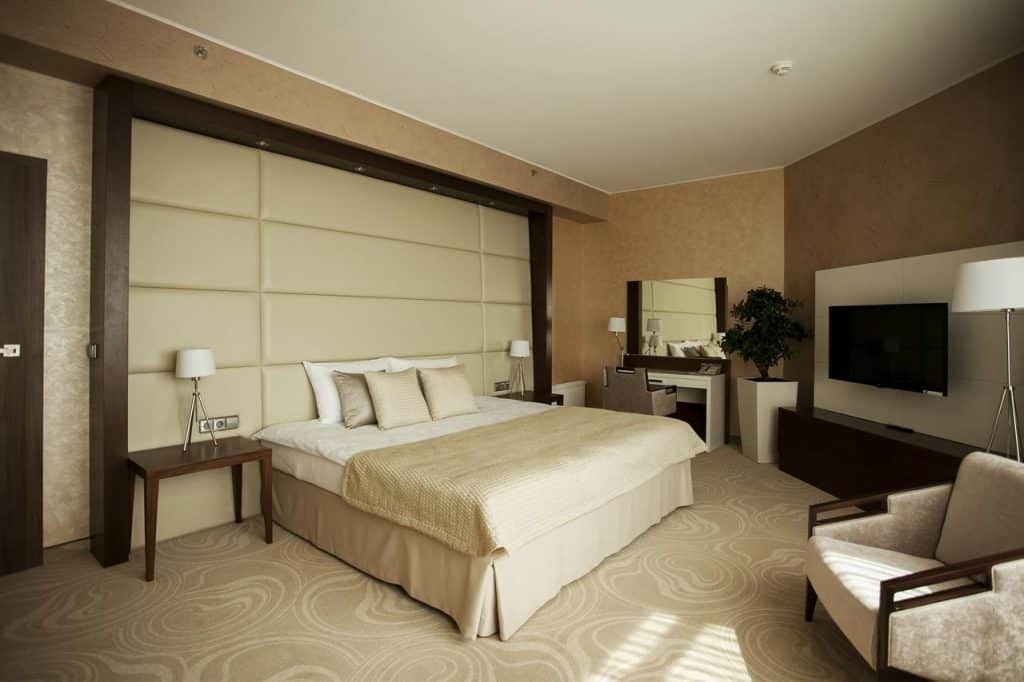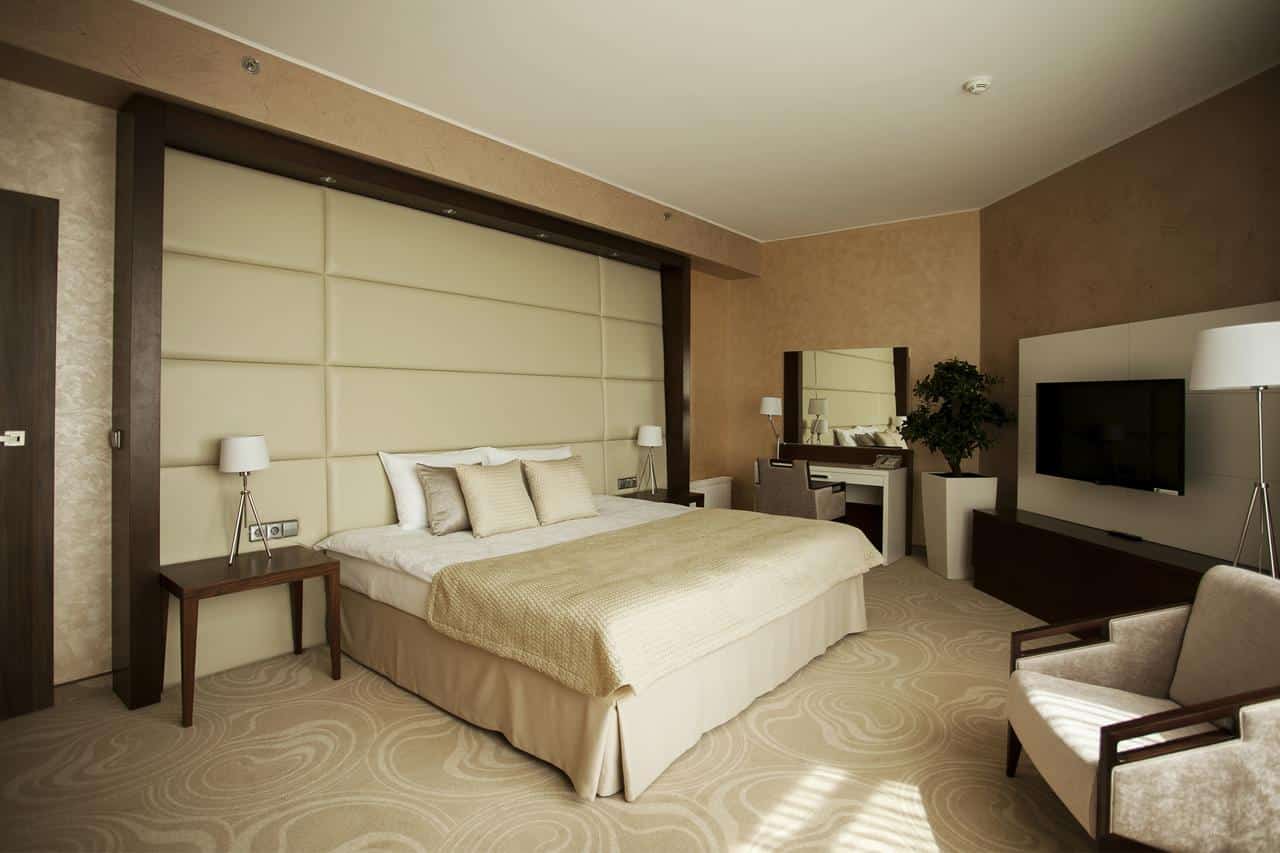 Last but definitely not least, is the grand old Hotel Minsk, centrally located right in the heart of the action – next to Gorky Drama theatre and near to a lot of parks for leisurely morning strolls. The neutral tones of the rooms make them oases of calm and the beds are super comfortable.
A spacious lobby with marbled floors and squashy sofas is a great place to sit and quietly chat, sipping a coffee and watching all the hotel activity. It's a particularly nice place to be if you're a solo traveller in Minsk down to its discrete and friendly service and safe feel.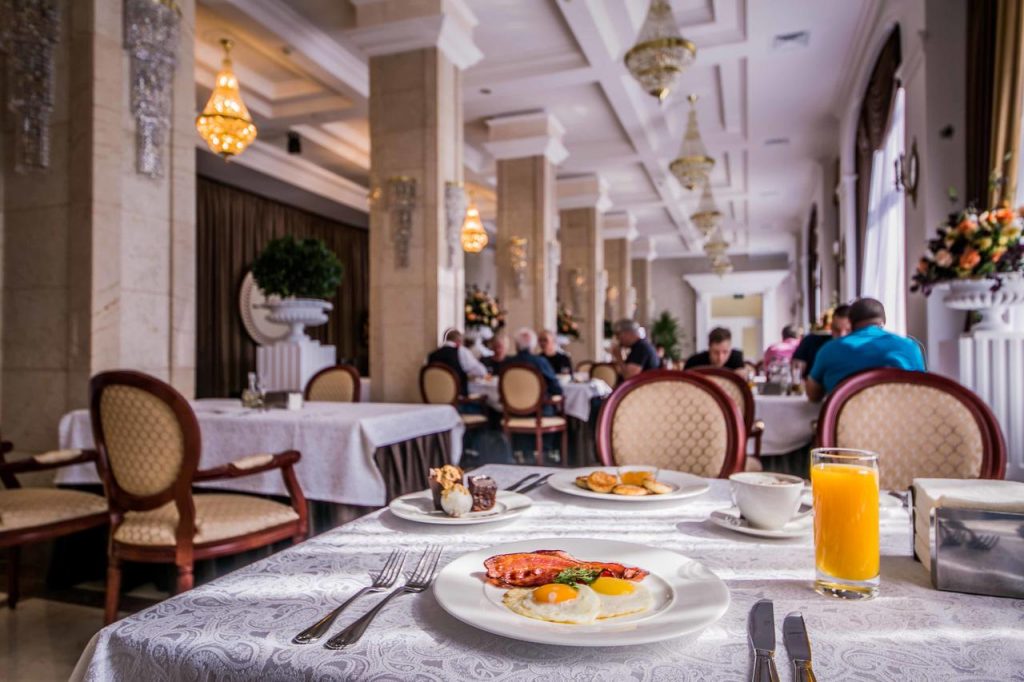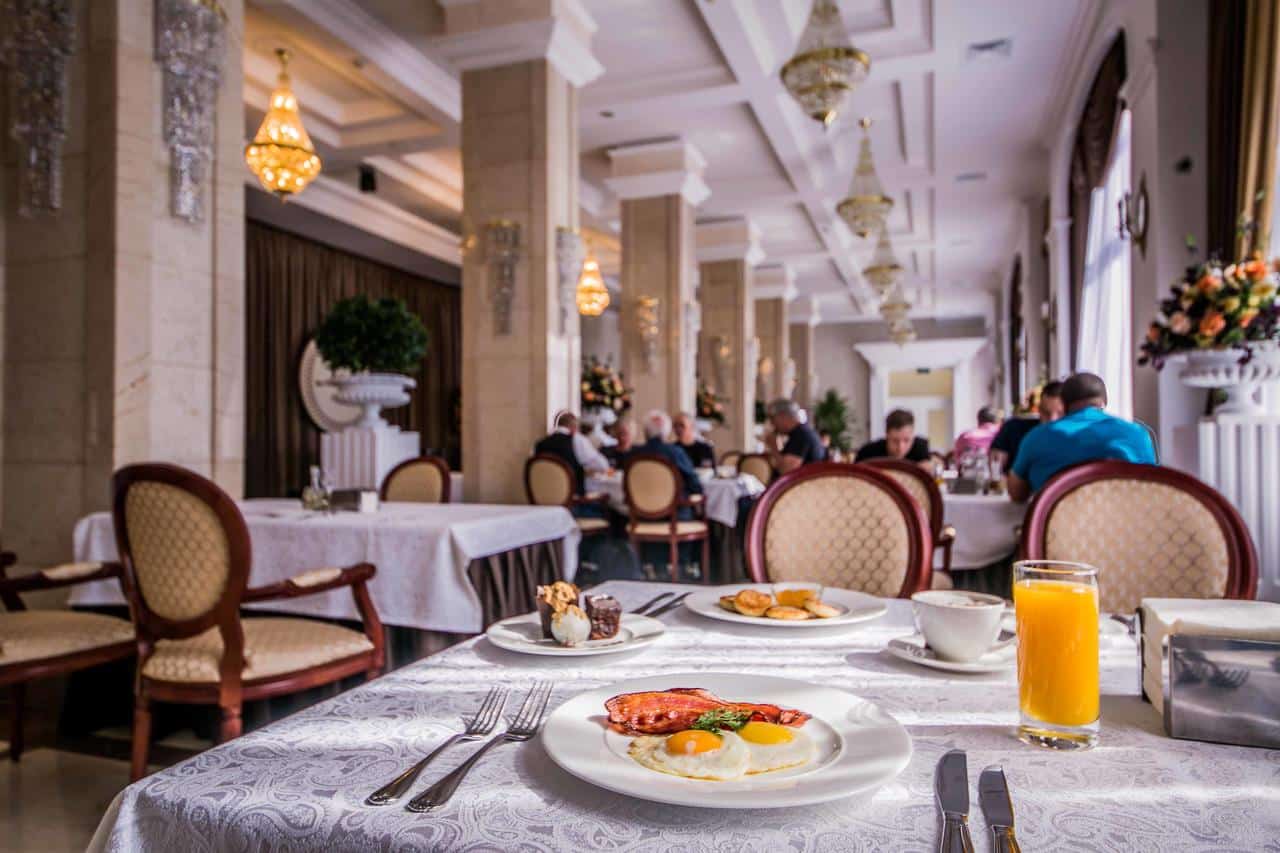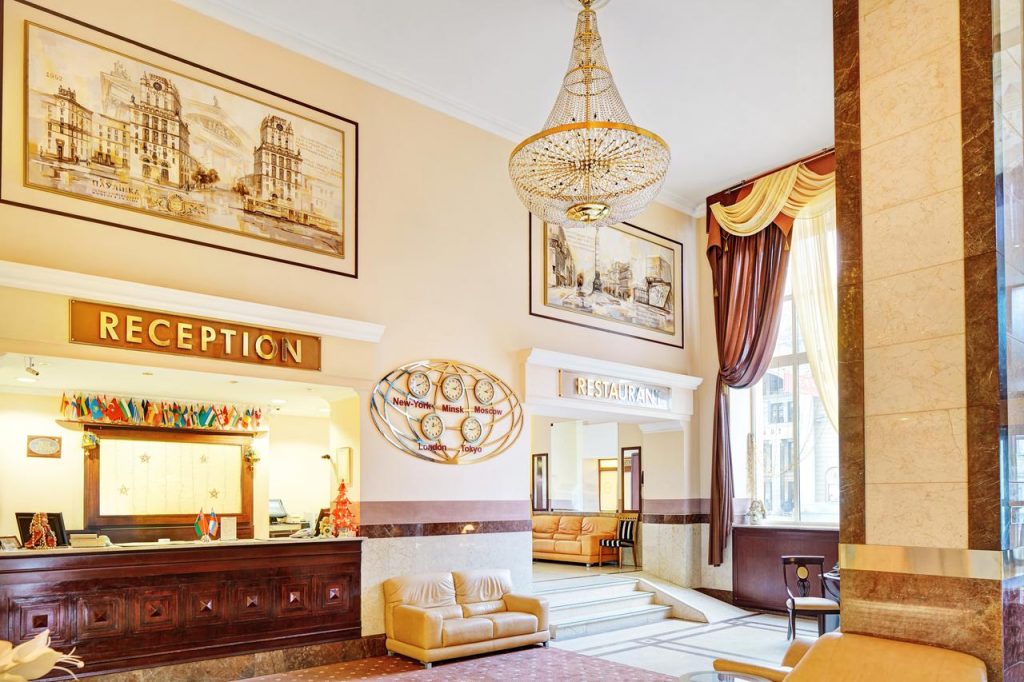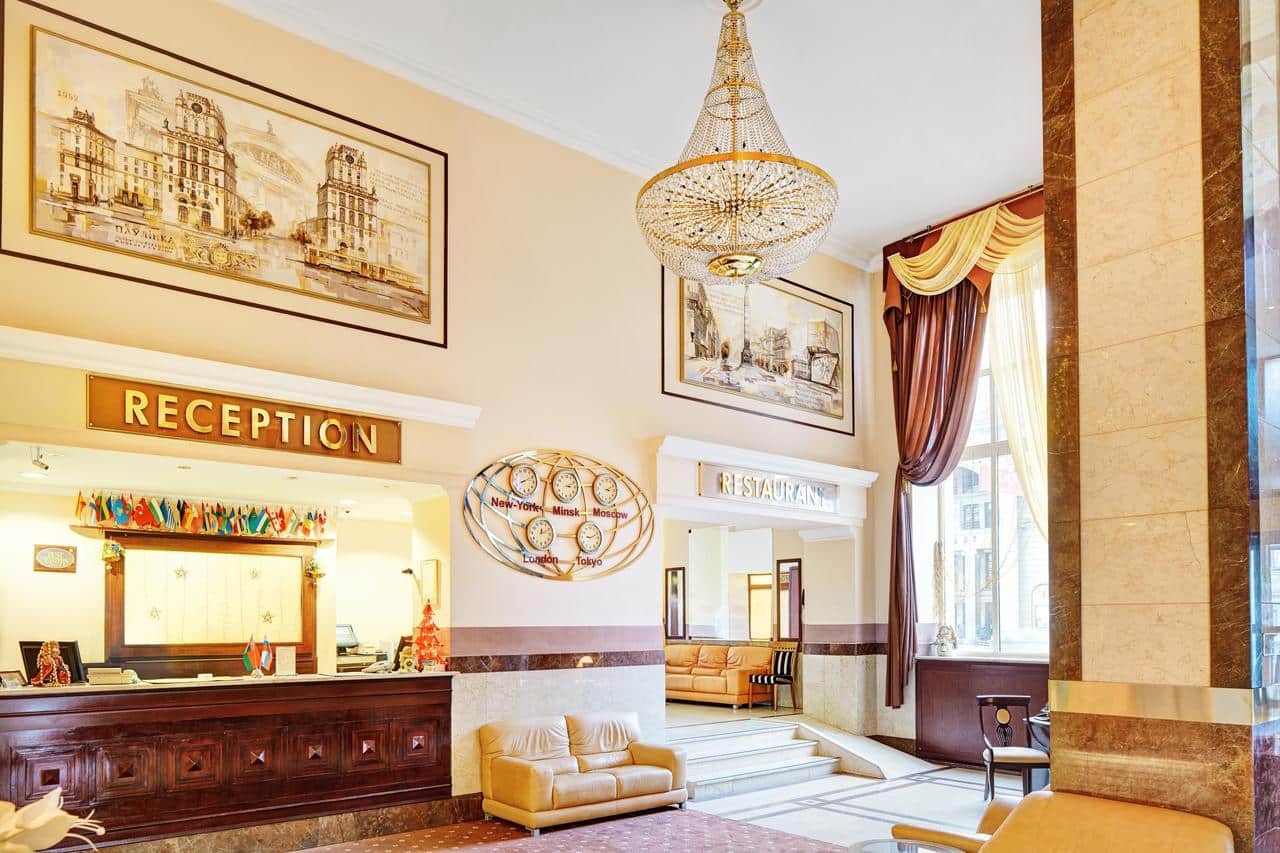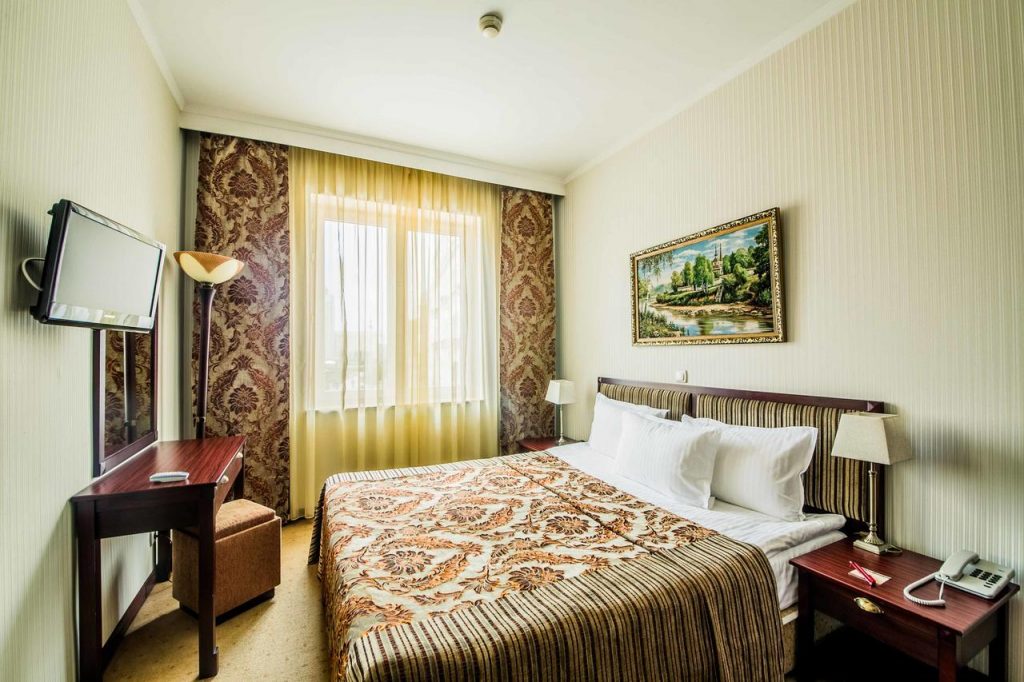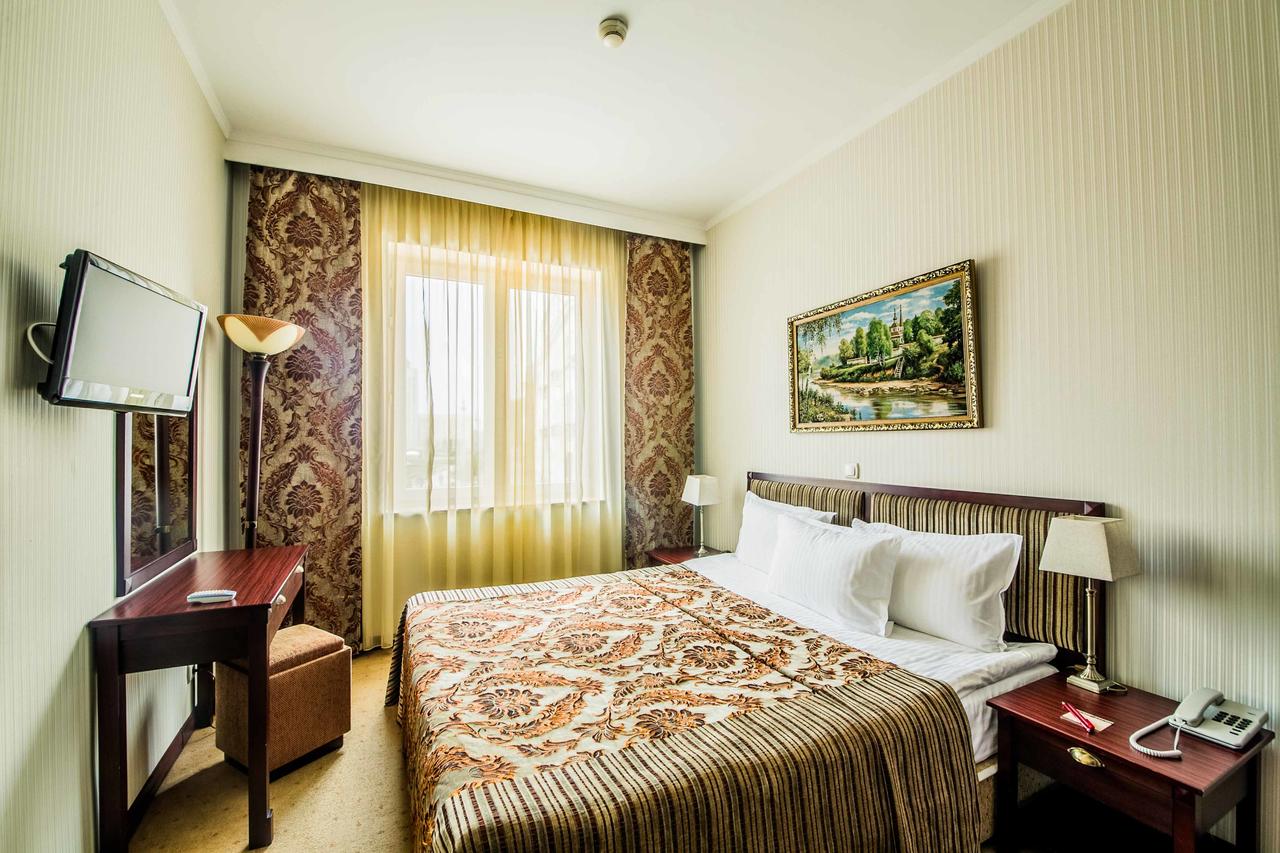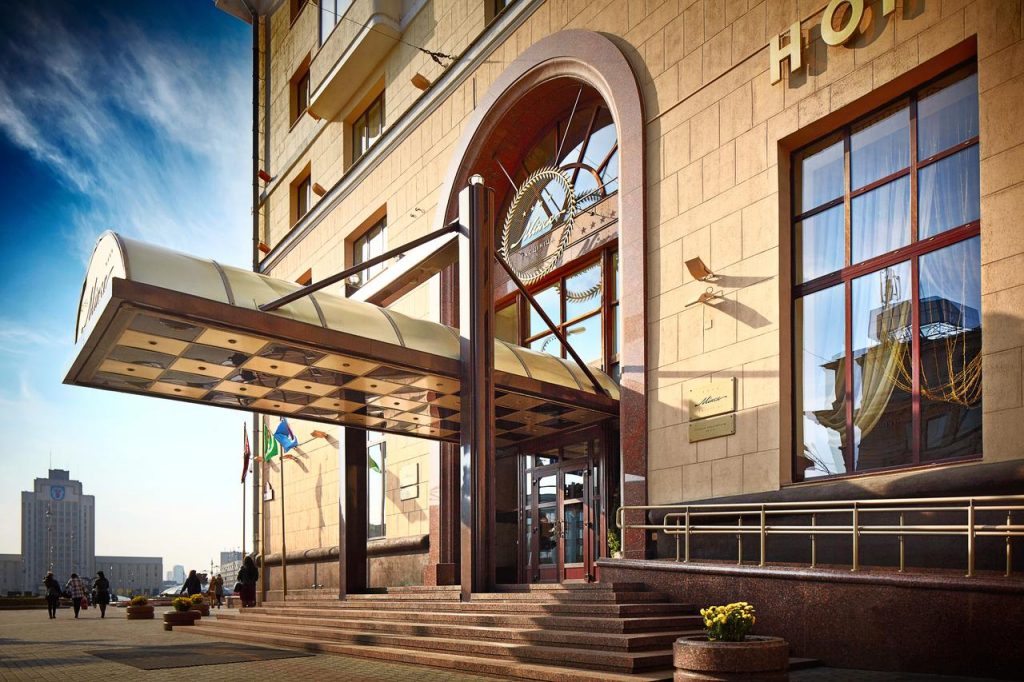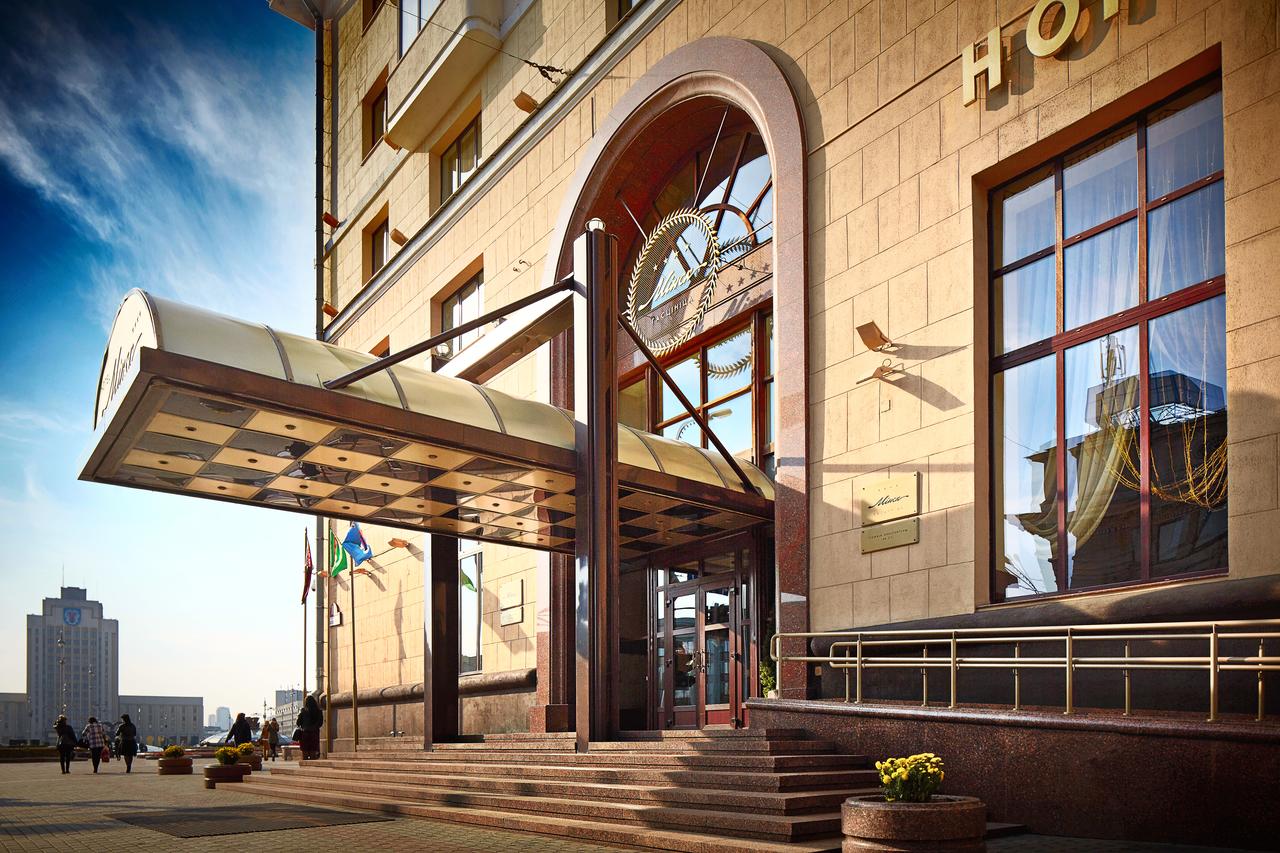 We love the grand architecture of this central hotel in a renovated building from around 1912. Enjoy a view of the park from the windows and being only moments away from landmarks such as the Holy Spirit Cathedral and the Palace of the Republic. The rooms are elegant and spacious and the staff are incredibly attentive.
Aside from the beauty of the building, we have to mention the food. Delicious breakfast, (including caviar!) and a range of food available at the on-site restaurant. There's even a hammam and sauna so you can fully chill out!
So don't worry about where to stay in Minsk – choose one of these options and have a trip to remember!