Austria, an incredible country in the heart of Europe uniquely characterized by its stunning alpine landscapes, rich cultural heritage, and mouth-watering cuisine, is home to some of the world's most spectacular natural beauties, with an impressive and one-of-a-kind collection of diverse natural wonders adorned by Mother Nature.
There is a lot to take in, but thankfully the best Austria tours are expertly crafted to show you only the best of the best…
This one-time European superpower shows off nature's incredible designs in its tremendous waterfalls, gigantic granites, beautiful breathtaking gorges, twisty rivers, twinkling mountain lakes, and unexpectedly bizarre tree formations in wild forests – the list goes on and on and on.
This breathtaking beauty has proven to be an ideal vacation destination for all types of adventures, from the majestic peaks of the Austrian Alps to the charming streets of Vienna, Austria's capital and the cultural capital of Europe.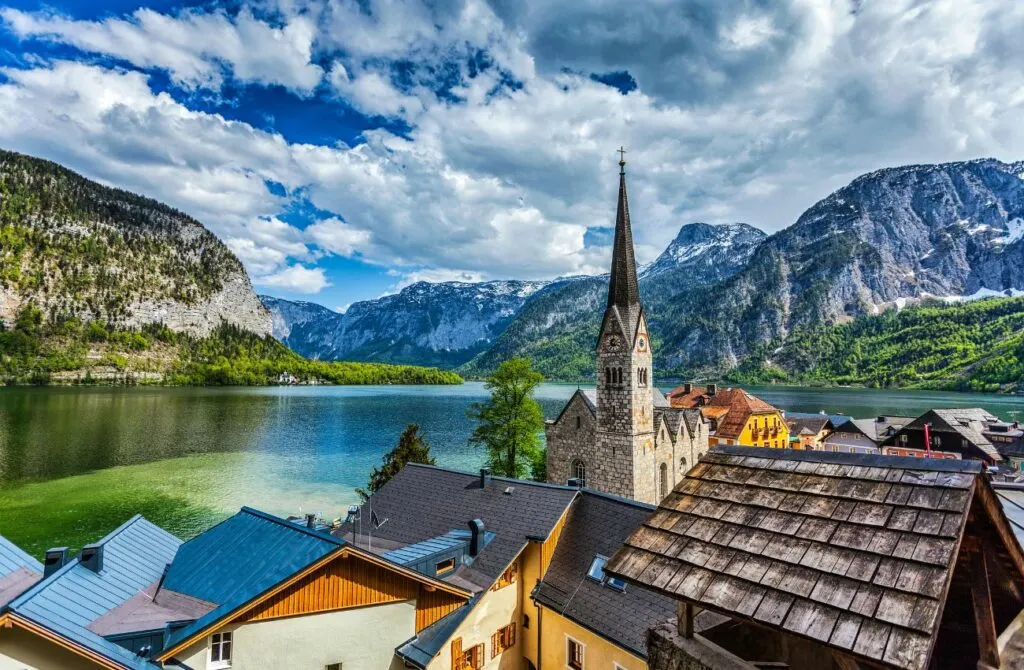 Whether you enjoy skiing or snowboarding in the winter, hiking and biking in the summer, or simply wanting to be completely immersed in nature, an adventure in Austria is sure to be a hit on the jackpot. It is a place you are actually likely already intimately familiar with because of the abundance of films set in Austria – but obviously, nothing can compare to visiting in real life…
When you are presented with endless possibilities of memorable moments in a destination, you begin to wonder where to even begin your trip planning and how to get the most out of your chosen destination. Worry no longer, because we will show you the six best tours to discover Austria, as well as reveal the one big secret to unlocking an ultimate adventure in Austria.
But before we get to the breakdown of these tours, let's tell you the secret to getting the most out of your trip to Austria. Have you ever gone out and about with friends on a road trip or just trawling in the city or by the beach on a hot summer day?
If yes, can you remember the great moments that went by? This feeling of enjoying being together with friends can be replicated in your travel journeys. Traveling in a group can be the most rewarding and best decision you have ever taken as your first step on an adventurous journey; it is the secret to unlocking your ultimate adventure.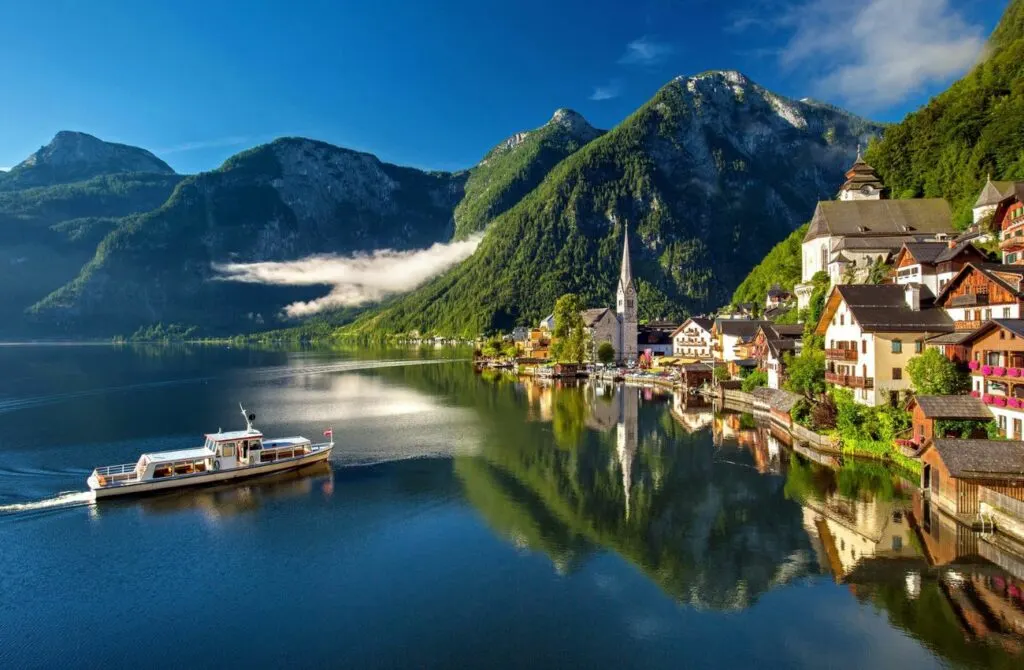 There are many reasons why you should join a group tour for an unforgettable travel experience. Your safety and well-being throughout your journey have a great deal in determining the outcome of your experience especially if you are a newbie in the travel space. This is where group tours can help you. They offer a safe and secure environment for you to go all out in search of that authentic experience.
Group tours are relatively cheaper than traveling alone in Austria. Finding an ideal location that is accessible from key tourist attractions, and taking care of your meals and transportation can be really costly compared to getting on a packaged group tour that includes all that you will need basically.
In addition, group tours offer an incredible opportunity to share your experiences with like-minded fellow travelers and even make long-lasting friendships along the way. Austria is so beautiful and charming and sharing every moment with people in your tour group is even more beautiful.
So, much as we have done for the best Poland tours and best Germany tours, here we are going to be talking about one of the best Austria tours (and their operators), so you can be inspired – and then choose with confidence. Some of the tours cover wider destinations in Europe including one or two countries that share borders. So expect to see Austria and Munich combined as one trip.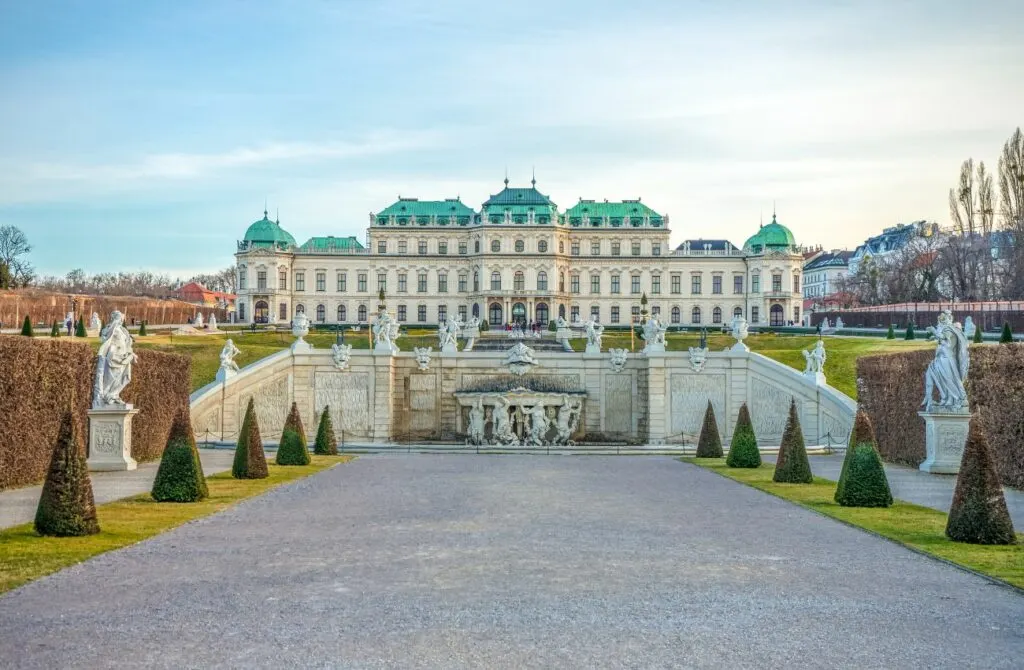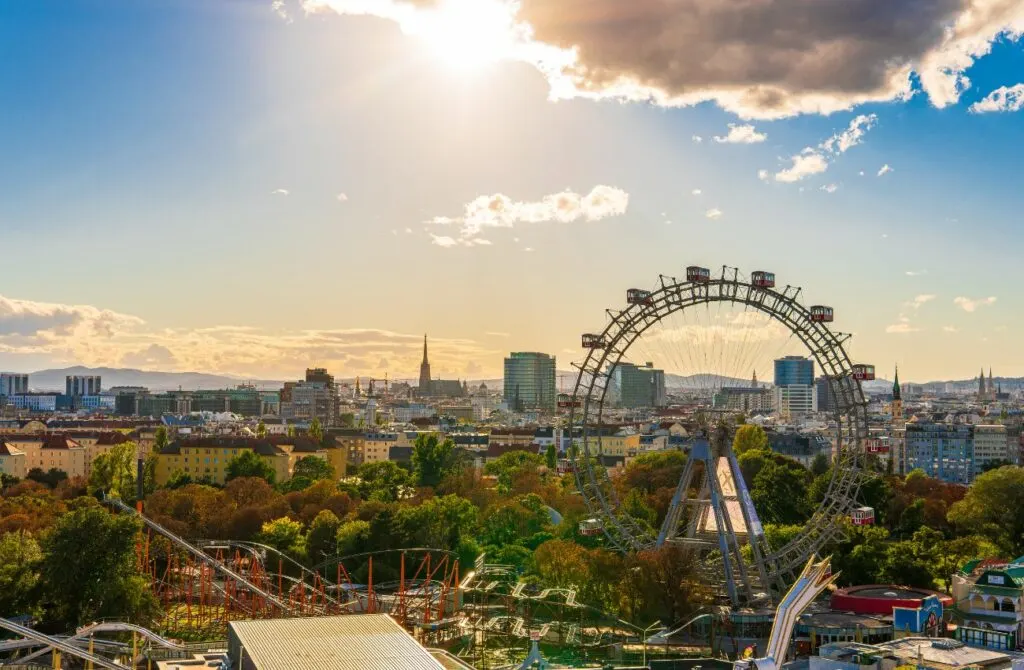 Europamundo is a tour operator operating in twenty-two different countries both in Europe and beyond taking over 125,000 travelers to the most remote corners of the world every year. They take pride in showing you the world through the destinations you will visit and the people you will meet as you aim at getting the most out of your adventure
Europamundo is the only tour operator company in the world affiliated with the United Nations World Travel Organisation (UNWTO). This is the forum where world leaders in tourism meet and discuss all things concerning the future of travel. See who is mingling with the big guys. Nha!
This tour takes you to three classic European destinations, each with its unique beauty and hospitality. You will begin your journey in Prague and complete it in Vienna but we will focus more on Austria. You will make your way to the old town of Prague where you will get a detailed introduction to the capital of the Czech Republic.
The inspiring sightseeing of the capital begins at the Old Town Hall where you will find the Prague Orloj which is a medieval astronomical clock mounted on the hall since 1410. This old piece of history is the 3rd oldest astronomical clock in the world. The tower in the Town Hall is open to the public and it offers unmatched views of this old city with a blend of modern architecture.
You will visit Salzburg, the city of Mozart. A leisurely stroll through history at Salzburg's historical downtown district is the best way to experience the city's vibrant flair and unique charm. Traveling between the sparkling lakes and rolling mountains of this World Heritage-declared city will be both adventurous and rewarding.
Continuing your journey in Vienna, you will embark on a thrilling city tour to the gardens of the spectacular Schön­brunn Palace which was the main residence of the Habsburg during the summer. This magical building has been showing its beauty for over 300 years. Today, travelers like you can learn about the lives of different Monarchs and their families who once lived in this gigantic palace.
There is so much more to do in Austria than we can possibly put across in this article. You can join this tour if you are between the ages of 16 to 99 years old. It is fully guided, takes a group of 50 and is family-friendly too costing $771 per person for 7 days. It includes your accommodation, meals and transportation.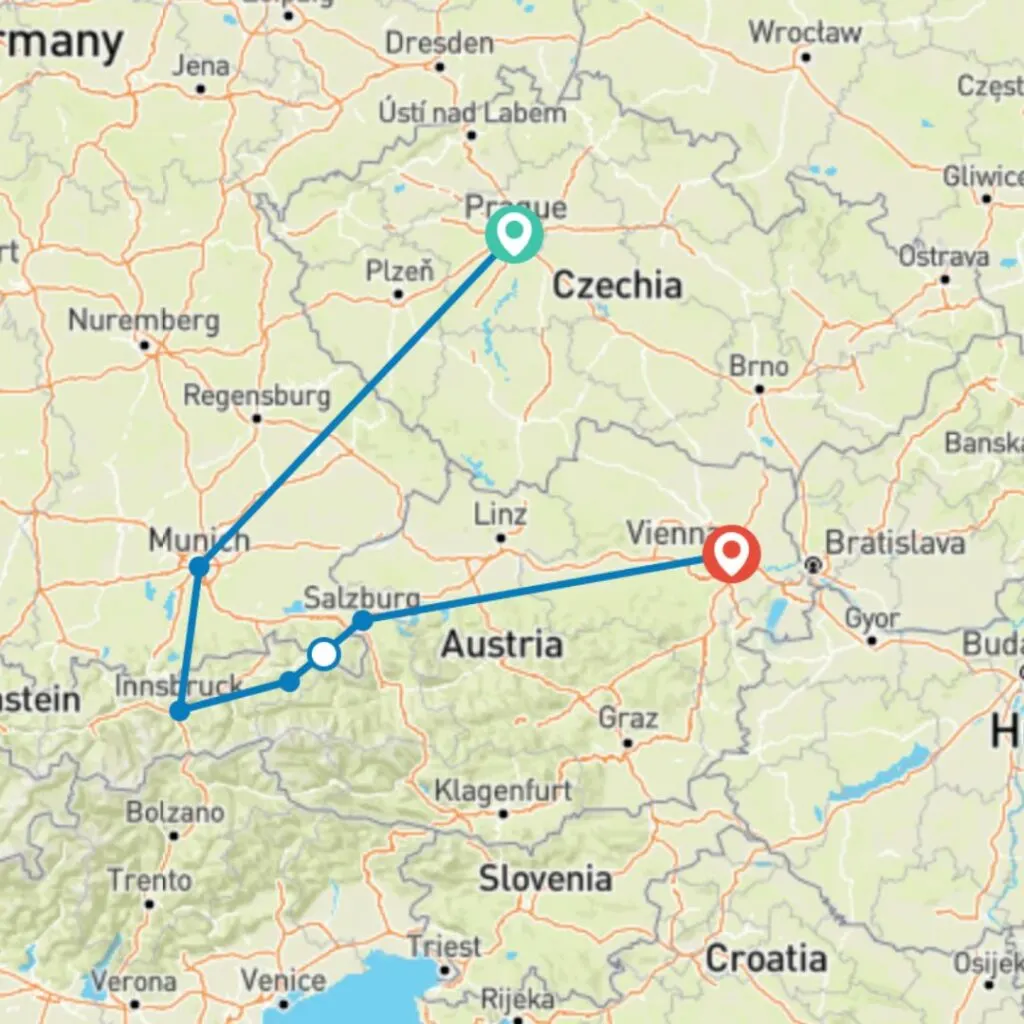 Have you ever experienced an A-Rosa cruise vacation on Christmas in the city of Vienna? It is always spectacular and awe-inspiring, right? This is the magic you expect from a vibrant city during Christmas. How about when you combine many vibrant cities for an awesome Christmas getaway? The feeling of relaxation and a city break is even better with a perfect combination of Engelhartszell, Durnstein, Vienna and Melk cities of Austria.
A-Rosa is a German Cruise Line sailing through the Danube River offering the best experiences to its clients. Part of these experiences is the spectacular Christmas celebration on the second-longest river in Europe crossing to three different cities in Vienna and grasping their groundbreaking natural beauty.
Visiting the picturesque Wachau Valley, an Austrian region just by the Danube River located west of Vienna and known for its sprawling hills, captivating vineyards and fortresses will unwind your body, relax your mind and ignite your festive mood.
Dürnstein in the Wachau region is a well-known tourist destination along the Austrian Danube, where the English King Richard the Lionheart was imprisoned in the 12th century. You will be guided to discover just how this beautiful wine terrace collides with the tradition of such middle-aged architecture; a must-see stop on your Christmas cruise.
Vienna has many wonderful places, each with its own Christmas market and enticing aromas of cinnamon and sweet treats! Traditional handicrafts tempt you to shop as Christmas music plays everywhere. And, in between all the lively excitement, this makes the perfect moment to take some time to just relax your heart out; it is Christmas time.
This tour takes a group of 206 people between the ages of 2 and 99 years old on a cruise ship (A-Rosa Donna) and costs $776 per person for 5 days. It is fully guided, family-friendly and offered in English and German. This includes your accommodation, meals and transportation.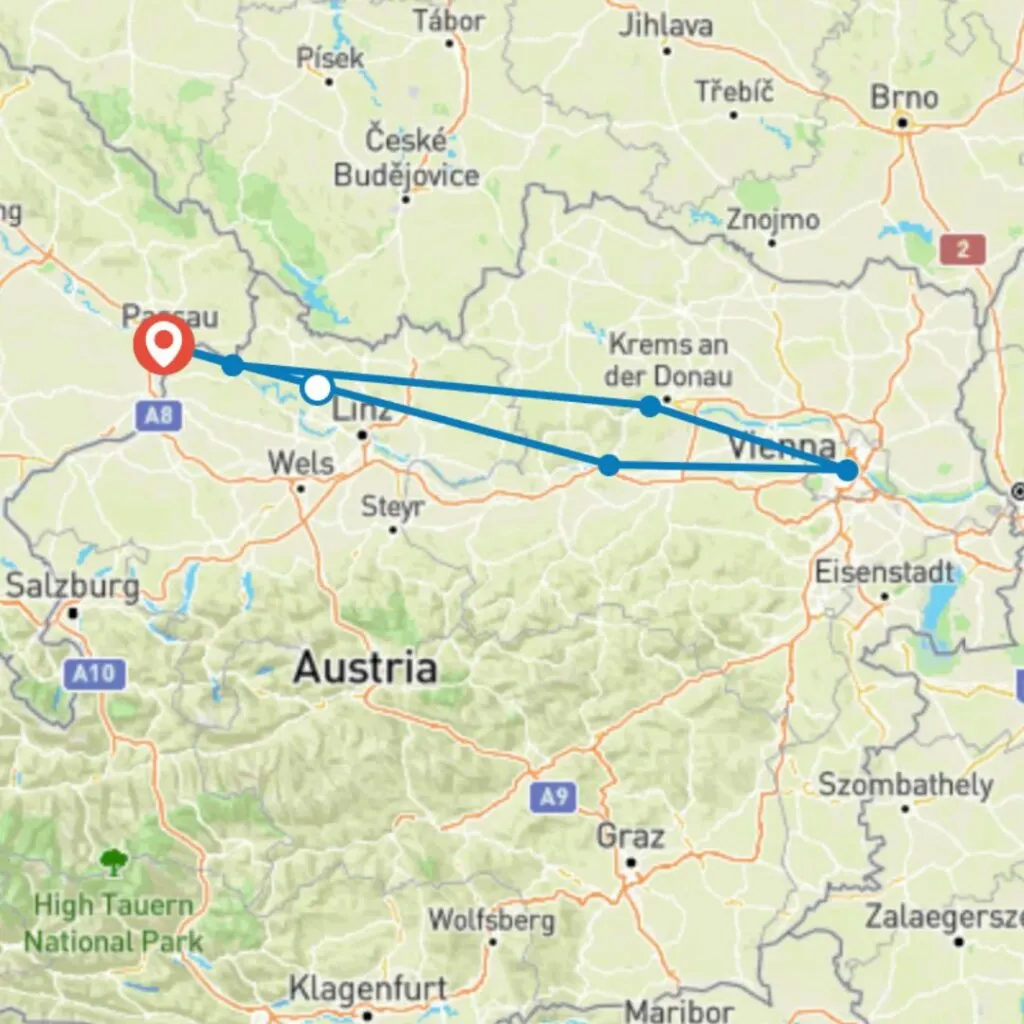 Trafalgar is a renowned tour operator connecting travelers with local families across all the places they take their guests for exploration. On a Trafalgar tour is where you will enjoy the hospitality of locals as you are welcomed into their homes with open arms and smiles.
These hospitable people will take you on a journey through time by telling you their stories while you learn about their cultures and traditions. In every destination, Trafalgar gives you more than just a place to rest your head, they give you the ultimate experience to enjoy unique "Stays with stories".
Their commitment to making travel a force for good can be seen throughout their operations. Traveling with Trafalgar means taking part in the fight against climate change and reducing our carbon prints as travelers.
This tour is inspired by "The Sound of Music" which is a musical film directed by Robert Wise that was released in 1965. It is based on the same-named stage musical from 1959, with music by Richard Rodgers and lyrics by Oscar Hammerstein II. On this tour, you will embark on bringing the astonishing beauty of the Alps and the familiar scenes from the silver screens of 1965 to life.
Following the scenes of the Sound of Music, you will visit Neuschwanstein Castle, which was built as a retreat for the shy King Ludwig II to leave public life. The interesting journey will take you through Bavaria to Oberammergau, where the Passion Play has been performed every decade since 1634. This impressive journey will be coupled with rewarding interactions with the locals.
The tour covers Munich in Germany giving you the chance for an incredible sightseeing journey. There are so many fun things on this tour and the best way to find out is by getting your backpacks and or handbags set and hitting the road for a thrilling adventure discovering the beauties revealed by the Sound of Music.
You can join the tour if you are between the ages of 5 to 99 years old. It costs $2426 per person in a group of 50 including your accommodation, meals and transportation for 9 days. The tour is fully guided and family-friendly too.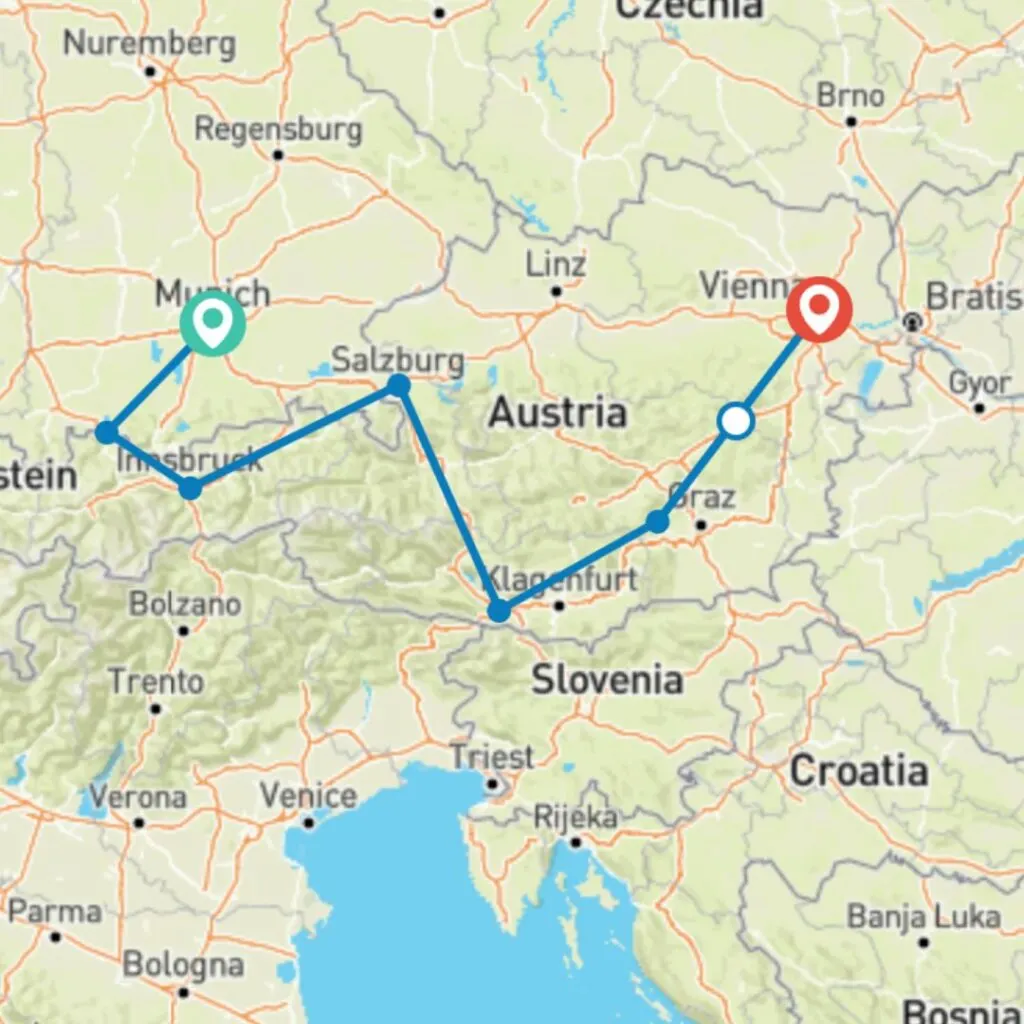 Uniworld Boutique River Cruise Collection is a family business that has been operating in the hospitality industry for over a century. A century of experience in the travel industry is more than enough to know the tiniest secrets to a perfect holiday getaway on the river. Operating by the principle that "No request is too large, no detail is too small." to better serve you as its guests who will live to remember the great little details of your experience.
It is mind-blowing to know that the butlers serving you at the Uniworld Cruises are trained to the same standards of excellent service delivery required by Buckingham Palace. Being served like a royal alone is an experience worth anything. And when it is coupled with treating you like family, the unmatched experience becomes even better. Well, this is how 'perfect' a century-old cruise line is proving to be.
This expertly crafted journey will offer you a mesmeric cultural exploration of four picturesque countries in Europe; Hungary, Slovakia, Austria, and Germany. The trip is ideal for both first-time river cruisers and seasoned travelers looking to experience a new facet of these lovable countries in the heart of Europe.
Local destination experts will lead the way on your unforgettable journey to see the "must-sees" and hidden beauties of each region. Each time during the journey, you will be offered fresh takes on classic sites, unimaginable insider knowledge of delightful off-the-beaten-path locales, and first-class access to amazing places only a select few will ever have the chance to experience.
Only a century-old business can make a private early-morning viewing of Kunstkammer Vienna's acclaimed art collection a reality.
You can spend the day relaxing onboard, with a drink on the Sun Deck and admiring the scenery as the ship makes its way along the Danube Bend and sets sail from Bratislava bound for Vienna. When you arrive in Vienna, you'll end the day with an entertaining private Mozart and Strauss concert at a stunning Viennese palace. The journey will continue through the other destinations in this same unique style.
This tour takes a group of 130 between 16 to 100 years old on the Cruise Ship, S.S. Maria Theresa. It costs $2903 for 8 days. It is fully guided and family-friendly too.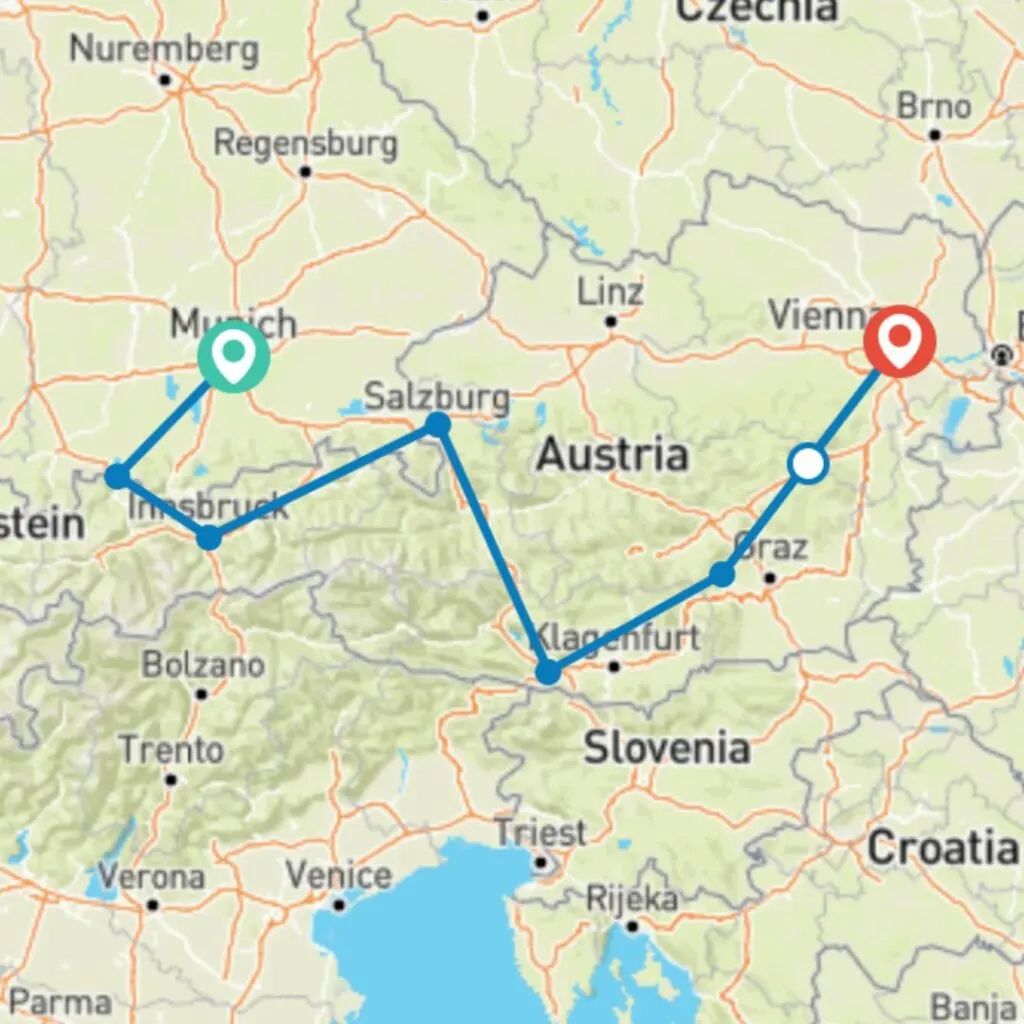 There are many travel companies in the world but not too many of those feel the urgency of traveling to preserve our planet. The challenge to make the discovery of new places that feed our memories a course for good for ourselves as travelers and for our planet is not taken by many.
Intrepid Travel is at the forefront of encouraging traveling responsibly, crafting mind-blowing experiences and serving the very communities that are giving so much to travelers like you.
Intrepid travel gives you the blend of an excellent vacation and giving back – all by being so mindful of your personal time. Time is unquestionably your most valuable commodity at all times, even when you are on vacation. If you choose a group tour, you may be concerned that you will spend all of your valuable time with a group and may not even have a little time for yourself.
You don't have to worry about finding time for yourself with Intrepid Tours. This is because there is always a mix of group and 'you' time on the tour. Intrepid Travel is very considerate of your personal time, so no worries.
This trip is highly adventurous as you get your wheels rolling through the most picturesque countryside in the heart of Europe, from Prague to Vienna. Get ready to start your 30 kilometers of cycling in Cesky Budejovice, the capital of South Bohemia in the Czech Republic's south.
As you cycle through this amazing place you can learn about beers and how they are made, in fact, taste the fascinating flavors upfront at a beer bar. Explore everything that has a beer attachment to it because you are in the home of Budweiser – the beer king since 1876.
From tasting beers to getting back on your bikes and heading towards Melk in Vienna cycling approximately 53 kilometers. Watch out for the Melk Abbey towering over the picture-perfect town. You are almost there with a sight of this marvelous piece of art.
When you arrive at this beautiful place you can explore the area where you'll find the colorful Baroque structure perched on top of a rock with a view of the sparkling Danube.
After long distances of cycling, you finally get to Vienna where you will take a deserved relaxation. Unwind your tired body at a nearby coffee shop or take a stroll on foot and admire the beautiful art display of this magical city.
The tour takes a group of 15 between the ages of 14 to 99 years old and costs $2740 per person. It includes your accommodation, meals and transportation for 8 days. It is fully guided and family-friendly but highly adventurous.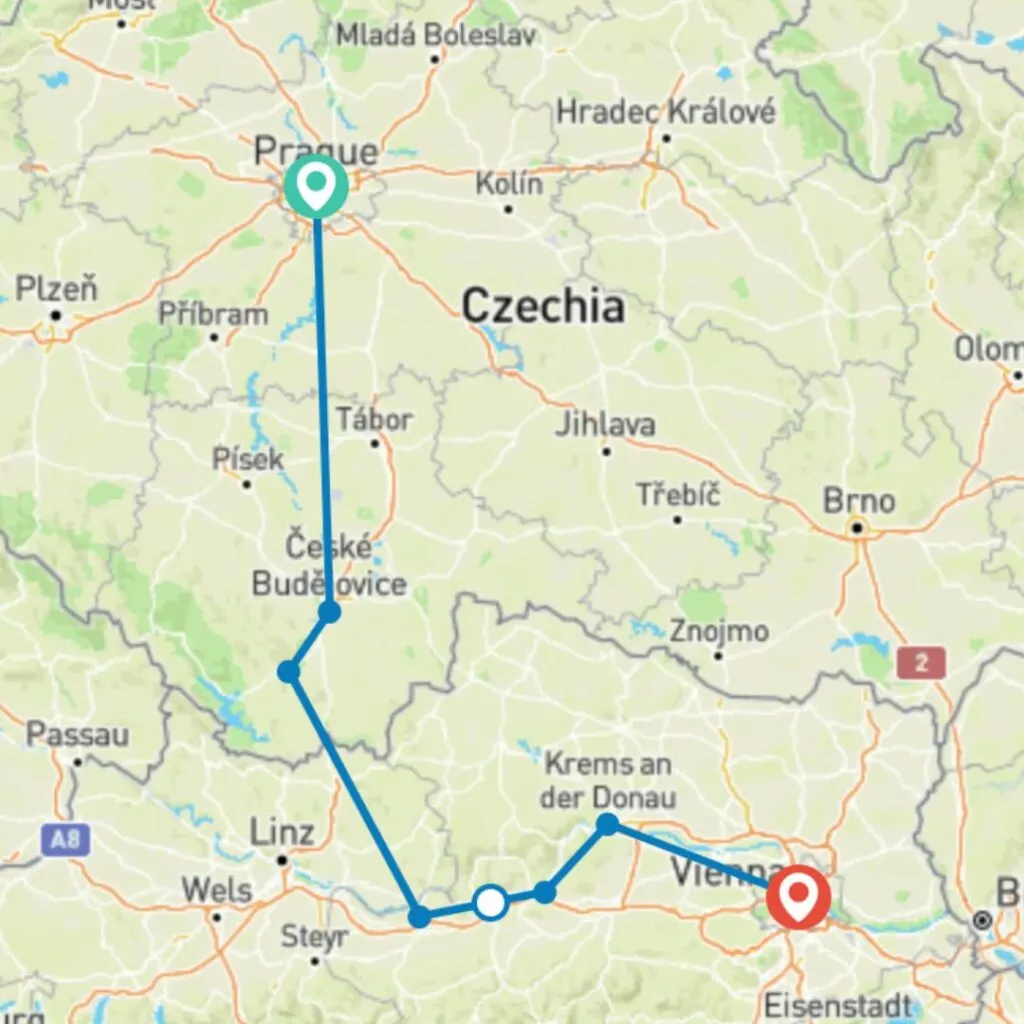 G Adventures is the world's leading small-group travel agency that takes pride in showing you the world through the lenses of the very communities that make your experience unique and thrilling. With over a whopping 30 years of experience in taking small groups to where not many travelers can reach, G Adventures have weaved its name as the perfect itinerary planner allowing you to book and travel with confidence.
G for good – a well-deserved name for a travel company that keeps its destinations at the heart of its operations, giving back to them as much as it can. This is what G Adventures is known for and this is what it does while taking you to remarkable places for a thrilling adventure.
On this tour, you will be taken on a historical exploration of the most picturesque cities in the heart of Europe, from Berlin in Germany to Vienna in Austria. This is the best way to celebrate Christmas.
Europe undoubtedly features vibrant and timeless cities all year round but Christmas time paints a new picture of even more fun and holiness of these cities. With Christmas markets popping up everywhere, it is only a good idea to set a foot on every one of them.
There shouldn't be any chance of letting a slice of the ambiance slip away. The Christmas markets in Gendarmenmarkt square will be a perfect spot to shop for handmade items which can be added to your collection of souvenirs.
You will agree with us that the Christmas markets in Berlin and Munich offer priceless scenery but have you tried the Christmas markets in Vienna? They are as sparkling and as glowy as golden Christmas balls with a touch of shine.
Strolling through the stalls with your tour guide leading the way and telling the stories and history of this magical place as you sip your perfectly made coffee will be the best Christmas gift you will ever give to yourself. The feeling is way worth it.
Vienna is magical but Salzburg is on another level. This city of music tells the story of one of the best composers this world has ever seen in every corner – Wolfgang Amadeus Mozart. So, what can you expect from this city on Christmas?
You got it right. Lot of music and authentic ambiance in vibrant markets selling the best Christmas gifts you can buy. Nothing beats the combination of deep cultural exploration and a Christmas experience in Europe. That feeling is upbeat and unmatched.
This tour takes a group of 18 between the ages of 12 to 99 years old. It costs $1749 per person for 7 days and includes your accommodation, meals and transportation. It is fully guided and perfect for a family getaway.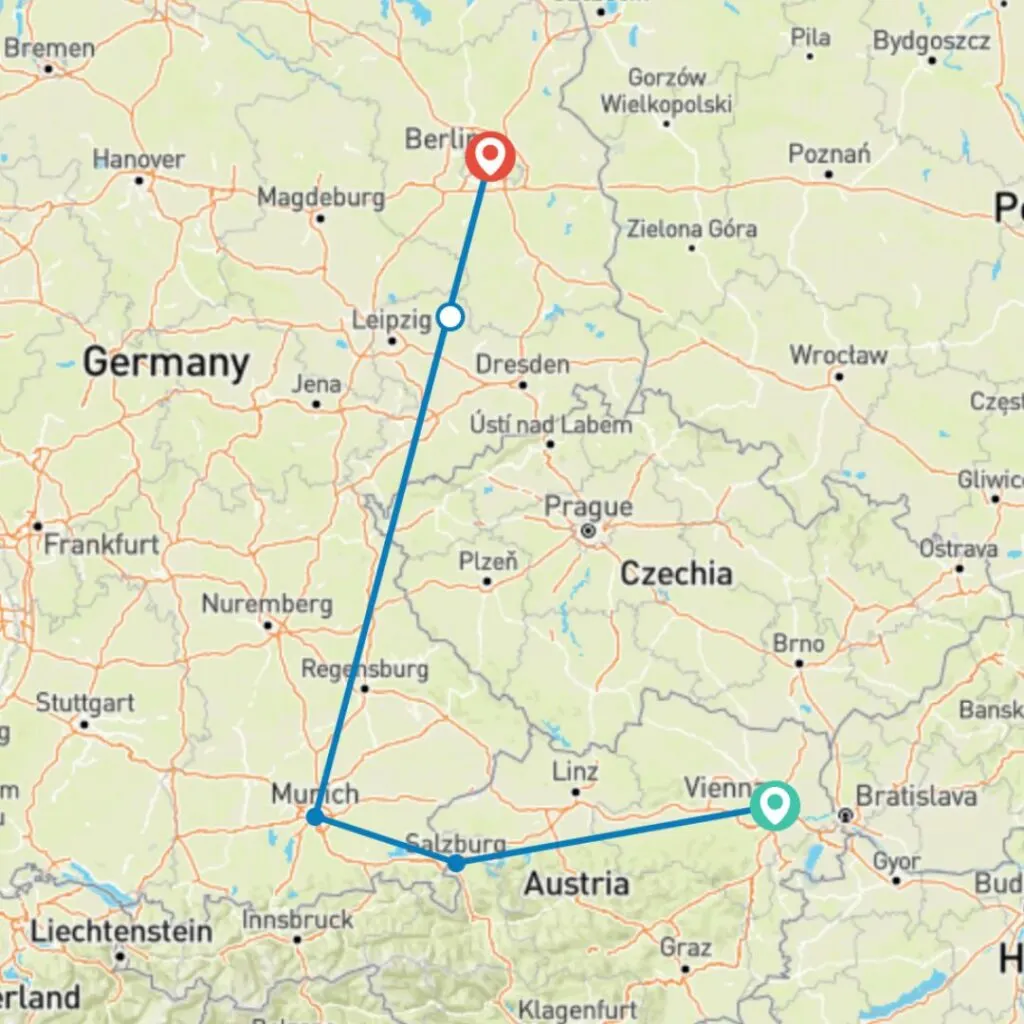 This is Austria, such a unique place for a holiday getaway. We have already given you a headstart. Choose any of these well-filtered tours and spoil yourself like never before. Happy travel!
If none of these tours work for you in Austria, please do not worry. There is a wide variety of tour options in the country, and we are confident that there will be something that fits your needs and interests.
Take a look at all the group tours in Austria now, which you can sort by private or group, maximum sizing, budget, dates and much (much more). The team at TourRadar is also always more than happy to answer any questions, provide further information or assist in any way in finding the perfect tour for you.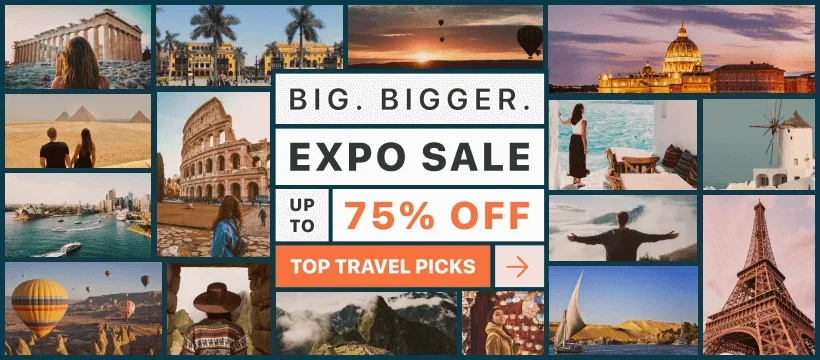 Staying Connected While Travelling
In today's increasingly connected world, staying online while traveling has become essential for a seamless experience. That's where eSIMs come into play, revolutionizing the way we access mobile networks during our global adventures. Say goodbye to hunting down local SIM cards at the airport; eSIMs provide instant activation the moment you land, sparing you the fortune usually spent on international roaming and allowing you to genuinely travel like a local (without getting hopelessly lost!).
With eSIMs, tasks like restaurant recommendations and reservations, up-to-the-minute public transport instructions, checking opening hours, and accessing further information become a breeze. And, of course, sharing your journey on social media is easier than ever. To stay connected wherever you roam, consider using either Airalo or Holafly. Airalo boasts the most extensive range of destinations worldwide, offering smaller data bundles tailored to your needs, while Holafly provides unlimited data packages and fantastic EU data deals.
So why wait? Embrace the future of travel connectivity with eSIMs and make your next journey effortlessly smooth.
Further Things To Consider Before Any Adventure
Now you're all set and prepared to explore our big wide world, why not sort out everything else out all in one go? If necessary for your travel plans make sure you have brought proper travel insurance, protected your privacy by getting a secure VPN, compared all the top hotel booking sites to find just what you're after, reserved an unbeatable rental car price and - of course - booked the best flight deals!
Or maybe just forget it all and go for a last-minute cruise or effortless tour instead?
Many budget travelers (including me) indulge in worldwide airport lounge access, so we can experience luxury while still slumming it in economy. Naturally, we would never leave home without a more general travel guide since we couldn't possibly cover everything here!
Just add an adventurous attitude and plenty of smiles - they go a long way - and that about covers it all! Now go out, find your own path and don't forget to share your best inspiration stories with me on Facebook, Twitter, and Instagram...I'd love to hear from you!