Guanajuato, a jewel in Mexico's heartland, pulses with color, culture, and a history stretching back centuries. As you wander through its maze-like alleys, the city's energy is palpable, weaving tales of ancient tales and modern marvels.
But for a visit to truly resonate, the place you choose to recline in after dusk is paramount. The best hotels in Guanajuato don't just offer a room; they promise an immersion, deepening your connection to this mesmerizing city.
Imagine this: after a day soaked in Guanajuato's wonders, you retreat to an oasis that mirrors the city's charm. A place where the walls echo with stories, where local artisans' touch shines through in every corner, and where every view frames the city's splendor.
Amidst these captivating experiences, it's worth remembering the significance of well-chosen accommodations. They have the potential to elevate your visit from a fleeting trip to a lasting memory, offering comfort and immersion in equal measure.
When compiling your list of things to do in Mexico, ensure that finding the perfect place to stay is at the top; a seamless blend of relaxation and inspiration.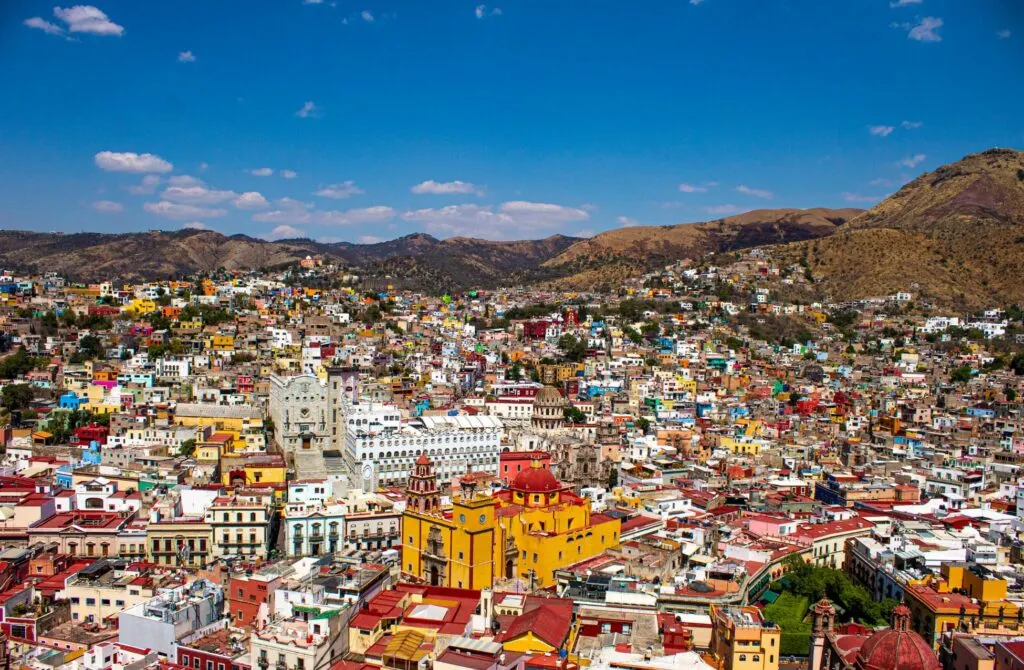 Here, your choice of stay becomes an integral chapter of your travel narrative. It's where you'll muse over the day's discoveries, relive moments of serendipity, and dream about the adventures awaiting tomorrow. And in Guanajuato, where history, art, and folklore converge, settling for anything less than perfect can detract from the symphony of experiences.
For those truly wishing to embrace the essence of Guanajuato, it's crucial to find that ideal blend of comfort, authenticity, and local flair in your accommodations, while also ensuring your stay captures the same fervor. Because in a city that thrives on passion, your stay should resonate with the same fervor.
Immerse yourself in the heart of Guanajuato, and allow its finest accommodations to set the stage for your inaugural cinematic experience with movies set in Mexico.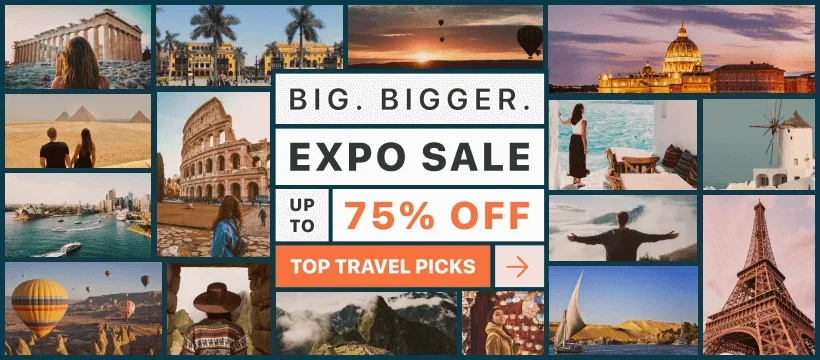 Luxury Hotels In Guanajuato
Guanajuato, a stunning city located in central Mexico, is undoubtedly a gem that invites you to discover its rich history, delightful gastronomy, and lavish hotels. Among the many extraordinary accommodations available, a few luxury hotels stand out for their magnificent designs, unparalleled amenities, and exceptional experiences they provide.
Villa Maria Cristina, an elegant 5-star hotel, is a prime example of Guanajuato's opulence. Nestled on the quiet outskirts of the city, this beautiful property offers a serene retreat while being just a stone's throw away from the bustling historical center.
As you step inside, you'll be welcomed by the hotel's tasteful design that seamlessly blends pre-revolutionary architecture with modern amenities. The luxurious guest rooms, each impeccably decorated, feature plush bedding, high-quality furnishings, and private terraces overlooking the enchanting city.
In addition to the indoor pool area where you can take a refreshing swim, Villa Maria Cristina offers a wealth of amenities such as a serene spa, enticing hot tub, and an exclusive rooftop bar with world-class beverages and mesmerizing views.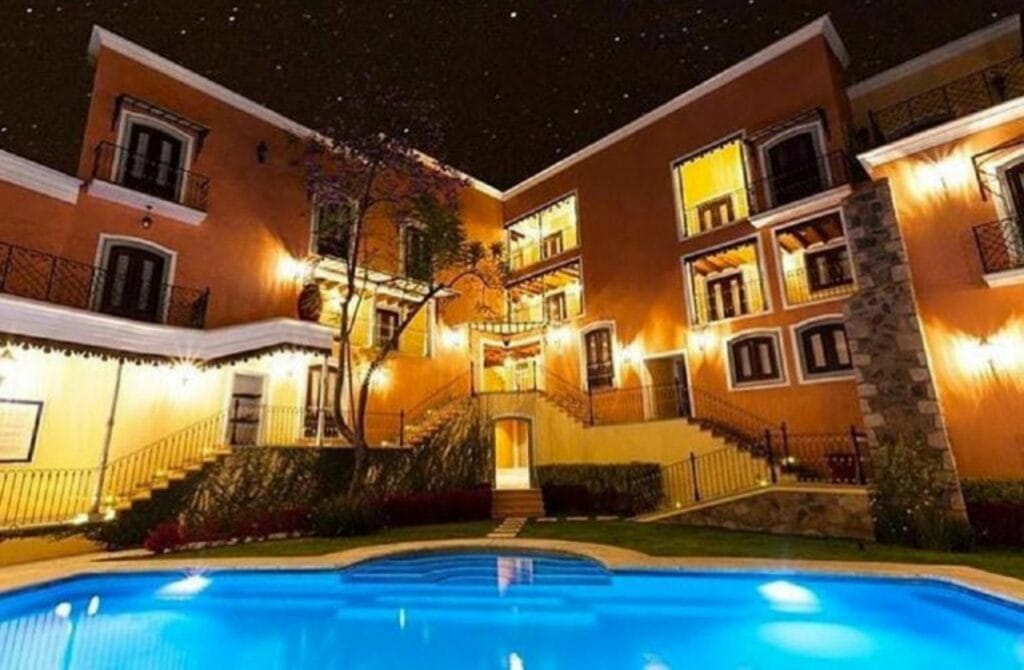 Another exquisite choice in Guanajuato is the Casa Del Rector Hotel Boutique, a captivating 5-star accommodation situated just steps away from Alhondiga de Granaditas Museum. This unique property boasts an intriguing fusion of historic and contemporary designs that will transport you to a different era.
With an outdoor swimming pool, free private parking, a lovely terrace, and a first-class restaurant, you'll be pampered with every modern comfort. As you unwind in the chic bar area, treat yourself to expertly crafted cocktails and scrumptious snacks as you mingle with other discerning guests.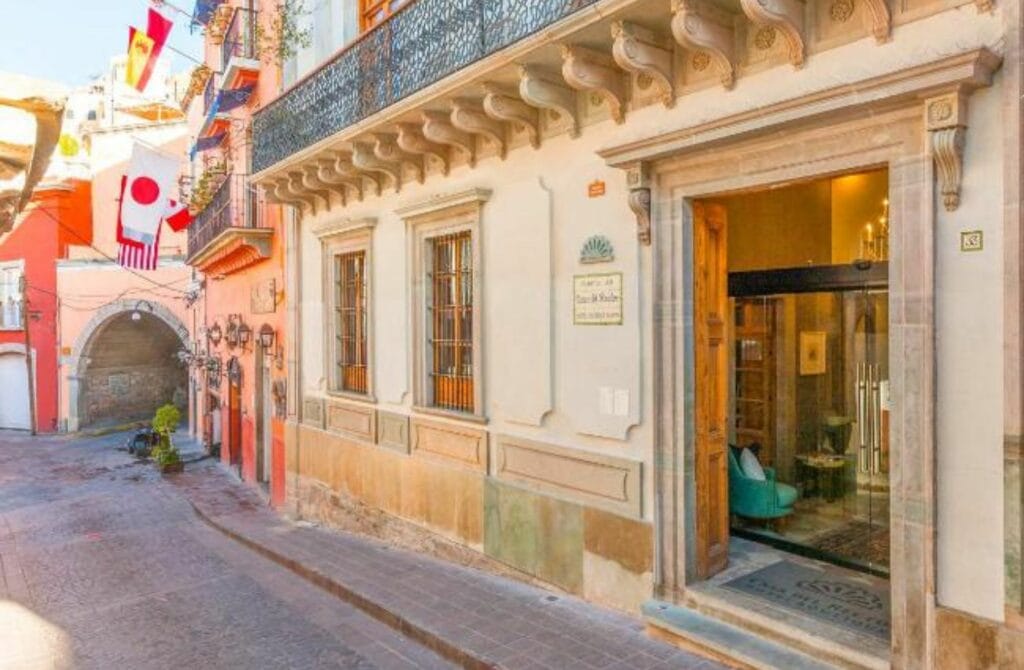 Hotel Ex-Hacienda San Xavier is yet another gem that this splendid city offers. Once a colonial hacienda, this luxurious hotel maintains its historic charm while offering all the conveniences you'll need for a pleasurable stay. Each spacious room is meticulously designed to provide you with a touch of elegance, featuring warm tones and sumptuous textures.
Whether you're relaxing by the pool, strolling through the meticulously maintained gardens, or indulging in a rejuvenating treatment at the spa, every moment spent at Hotel Ex-Hacienda San Xavier is a true delight.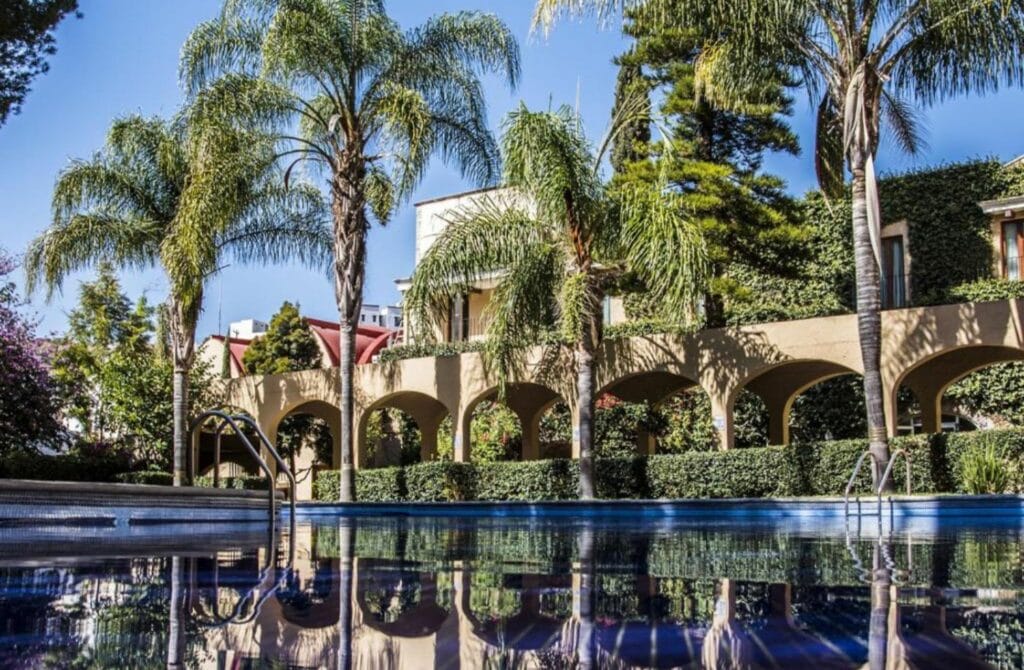 The breathtaking 1850 Hotel Boutique is located right in the historic center, granting you easy access to Guanajuato's notable landmarks and hidden treasures. Combining vintage architecture with contemporary design, the hotel offers only the finest amenities for your stay.
Each room is an ode to sophistication, adorned with plush furniture, avant-garde art, and several modern conveniences. Pamper yourself with the hotel's deluxe amenities, such as a relaxing spa, rejuvenating hydrotherapy treatments, and a trendy rooftop bar that allows you to take in the enchanting views of Guanajuato's skyline with your favorite drink in hand.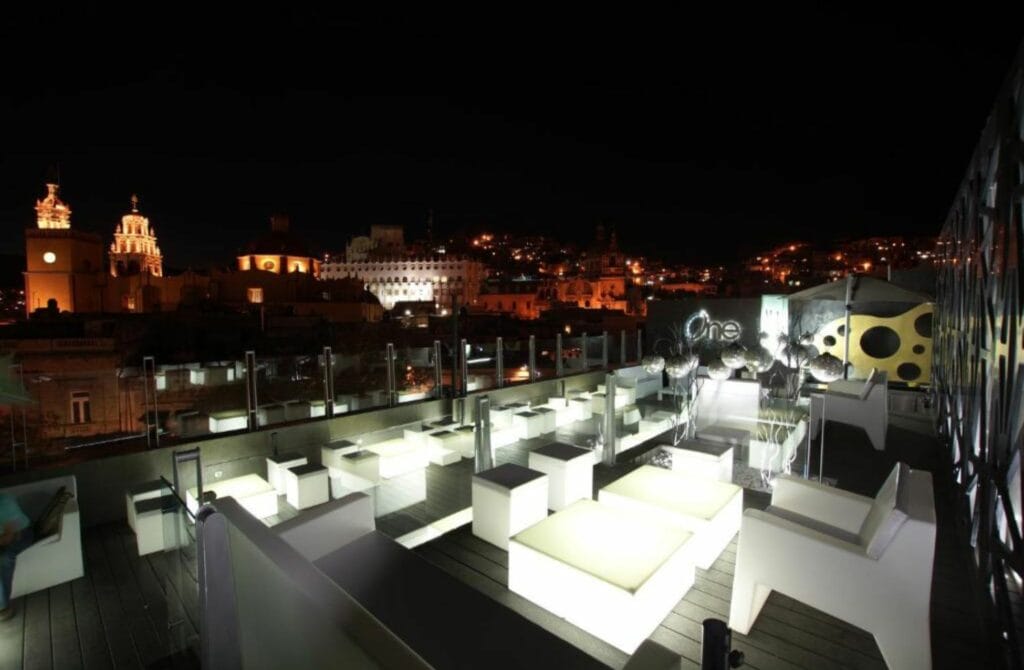 Indulging in Guanajuato's remarkable luxury hotels is an experience you'll never forget. With their impressive designs, top-notch amenities, and the captivating allure of this historic city, these extraordinary accommodations are sure to create memories that will last a lifetime.
Boutique Hotels In Guanajuato
The majestic city of Guanajuato, brimming with history, vibrant culture, and stunning architecture, offers a selection of exquisite boutique hotels nestled within its picturesque streets. Additionally, this captivating location has become a hub for various forms of artistic expression and is notably recognized for organizing dynamic cultural gatherings year-round.
Within the captivating plazas and quaint alleys, both visitors and locals have the opportunity to fully engage in a plethora of festivities that encapsulate the genuine spirit of Mexican heritage. These celebrations span a spectrum, encompassing enthralling art exhibitions and time-honored craft fairs, all the way to the ever-thrilling array of diverse Mexico tours.
Edelmira Hotel Boutique welcomes you into a luxurious sanctuary, which seamlessly blends the charm of yesteryear with contemporary flair. Ideally situated within the historic center, you'll find yourself just steps away from iconic sites like Plaza de la Paz and Teatro Juárez.
Immerse yourself in the exceptional design of Edelmira; each room elegantly adorned with modern amenities ensuring a memorable stay. Be sure to indulge in the breathtaking views at the rooftop bar, where the sunset hues embrace the city's enchanting skyline.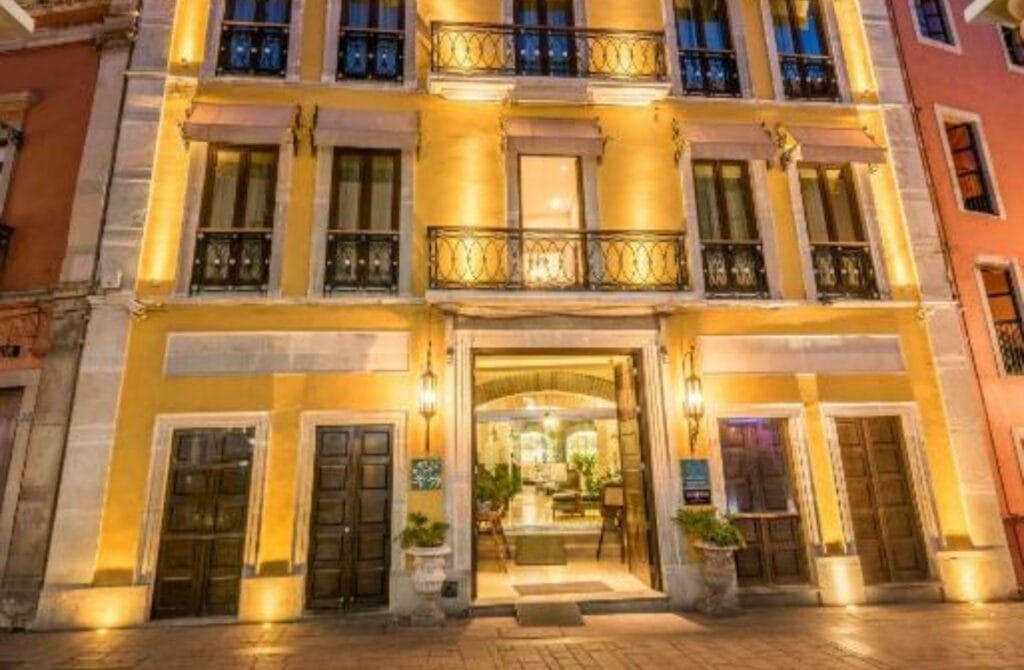 Nestled between Guanajuato's vibrant museums and historic Alhóndiga de Granaditas, La Casona De Don Lucas promises an unforgettable stay at the heart of the city. The hotel, housed in a striking 18th-century building, presents beautifully renovated guest rooms, each exuding warmth and comfort while maintaining their historic charm.
Immerse yourself in the rich tapestry of Guanajuato culture as you find yourself amid the buzzing energy of the Centro Histórico. With its unparalleled location and exceptional hospitality, La Casona de Don Lucas presents the perfect base for your explorations.
No matter which of these boutique hotels you choose, your Guanajuato experience will be one to cherish, as you dive deep into the city's enchanting history, marvel at the stunning architecture, and indulge in the exquisite comforts of your chosen accommodation.
Mid-Range Hotels In Guanajuato
In Guanajuato, Mexico, there are several mid-range hotels that offer a fantastic stay with just the right blend of comfort, culture, and convenience. Each of these hotels brings their own unique flair to your stay, making them perfect choices to explore the beautiful city of Guanajuato.
Hotel San Diego is a charming 3-star hotel situated in the heart of Guanajuato's historic center, just steps from the iconic Jardin de la Union and the stunning Teatro Juárez. Its location offers you unrivaled access to the city's prime cultural spots, like the Alhondiga de Granaditas Museum and the Pipila Monument.
You'll be delighted by its traditional Mexican design and lovely outdoor swimming pool, providing a tranquil oasis from the bustling city streets. Each morning, you can even enjoy a sumptuous, complimentary breakfast to energize you for a day of exploration.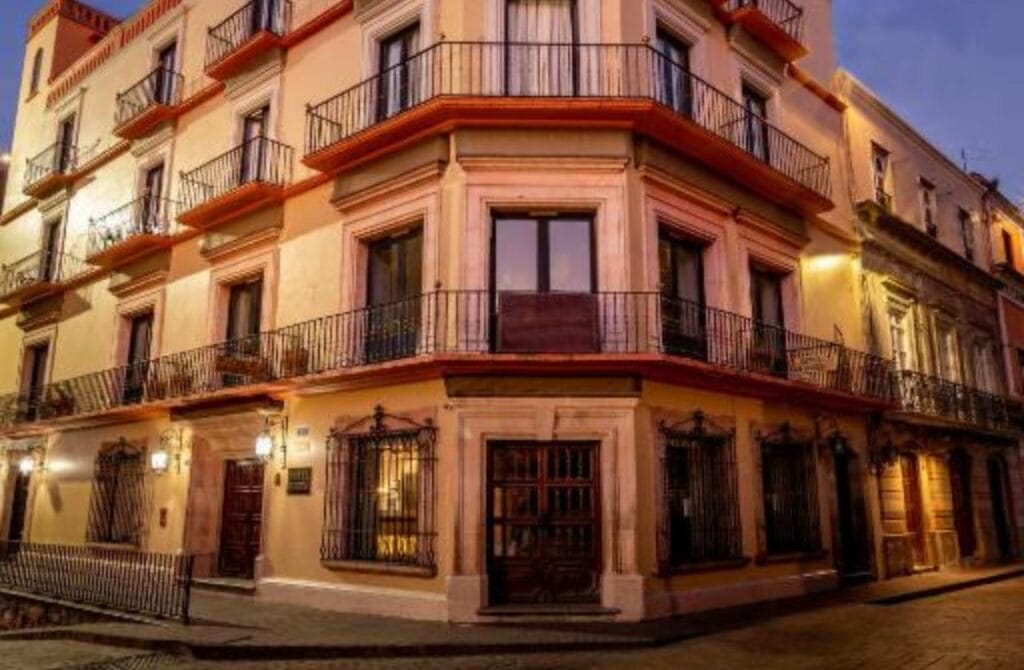 Hotelito Casa Dionisio welcomes you with its striking blend of contemporary architecture and historical charm. Nestled in the heart of Guanajuato City, this mid-range hotel offers breathtaking views of the colorful houses and picturesque streets that line the city's hillsides.
Enjoy the feel of a cozy, artistic retreat as each room boasts unique murals and handmade furniture, creating a warm, welcoming atmosphere. During your stay, be sure to explore the Centro Historico and take a day trip to the enchanting San Miguel de Allende, just a short drive away.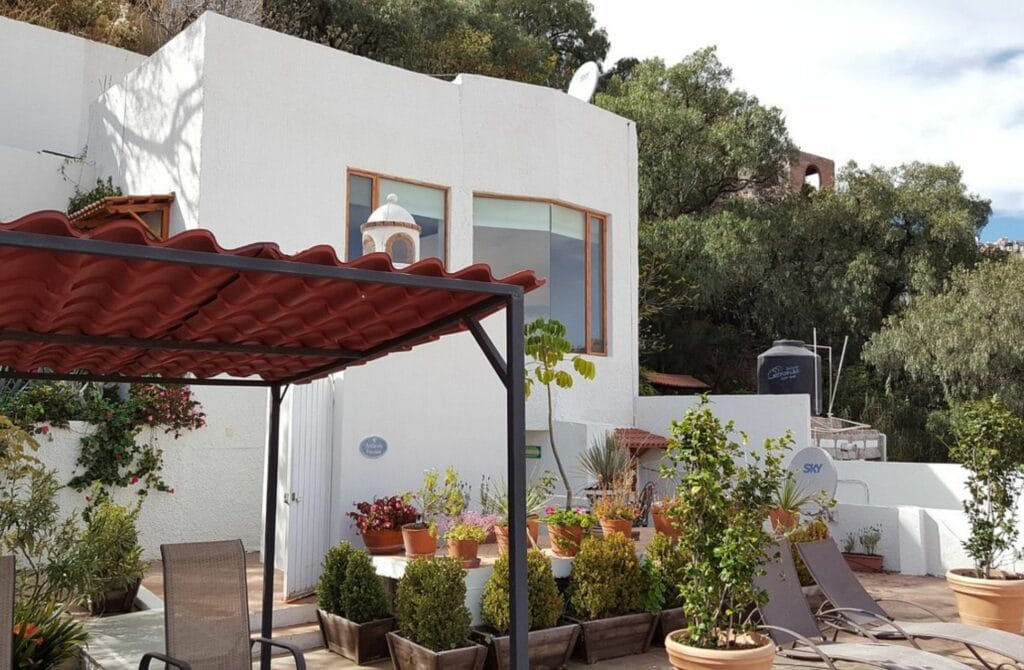 Antigua Trece Hotel Fusión is a delightful boutique hotel that marries modern design with traditional elements, making for a luxurious and comfortable stay in the city's historic center. Located near the Alhóndiga de Granaditas, this 3-star hotel is close to many of the top attractions in Guanajuato.
You'll be delighted to find tailored amenities like plush bedding and rainfall showers, making it easy to relax after a day of exploring the city. In the evenings, sip on a refreshing cocktail at the hotel's chic bar before heading out to enjoy the vibrant nightlife in the surrounding area.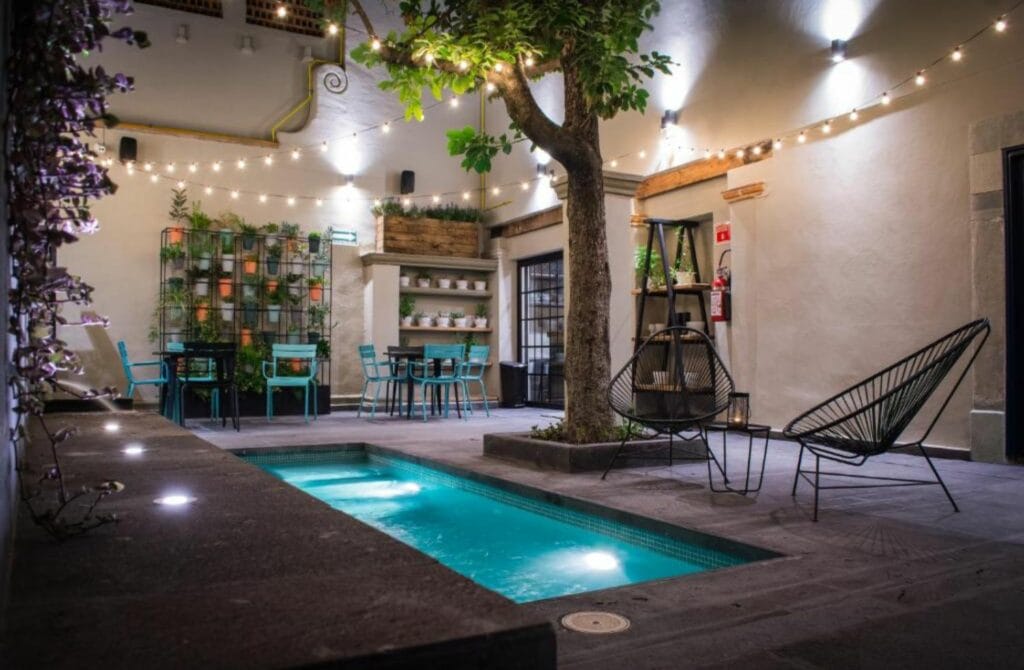 Each of these mid-range hotels provides a fantastic base for exploring Guanajuato, where the rich history, vibrant streets, and captivating culture are just waiting to be discovered. Enjoy stylish accommodations, exceptional amenities, and prime locations that will make your visit to this spectacular Mexican city an unforgettable adventure.
Budget Hotels In Guanajuato
Guanajuato, Mexico, is a vibrant and culturally rich destination that offers a plethora of accommodation options for travelers. If you are searching for comfortable and budget-friendly places to stay, look no further! Here are four fantastic low-budget hotels in Guanajuato that not only provide excellent amenities but also fully immerse you in the city's essence.
Hotel Meson Cuevano is a quaint hotel situated in the heart of Guanajuato's historic center. This charming place will sweep you off your feet with its warm ambiance and delightful aesthetic. Offering cozy rooms adorned with traditional Mexican décor, you are sure to feel right at home while staying here.
What sets this hotel apart is its close proximity to iconic landmarks, such as the Alhóndiga de Granaditas and Teatro Juárez. After a day of exploring and soaking in Guanajuato's rich history, nothing beats unwinding on the hotel's lush green patio or sipping a delicious cocktail at its rooftop bar while admiring the panoramic view.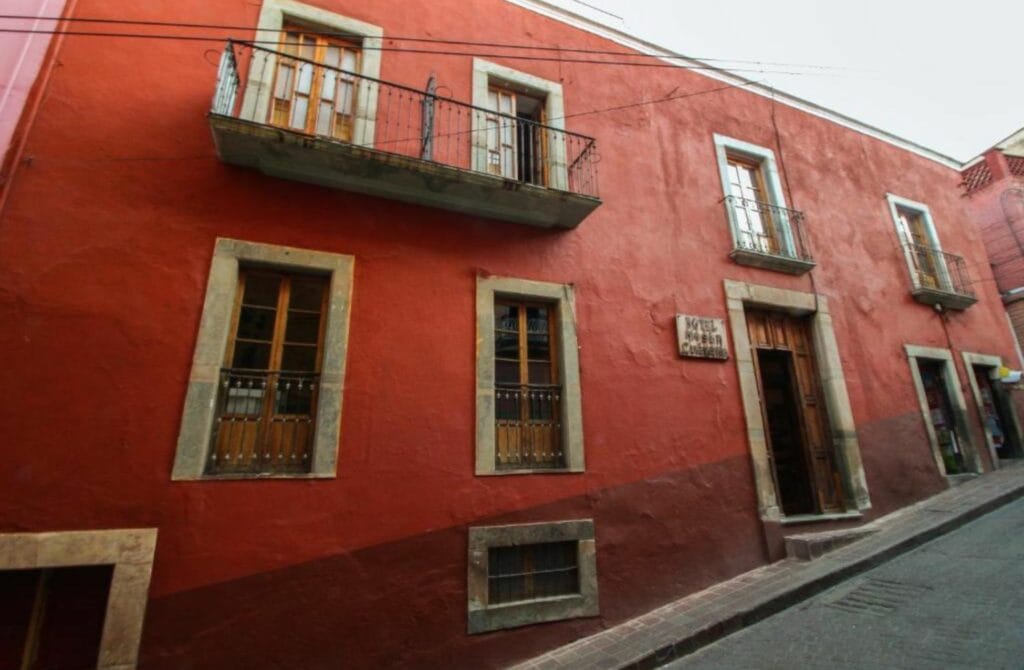 Another fantastic option is Hotel Luna, perched atop a hill overlooking the picturesque city of Guanajuato. This 3-star hotel features an outdoor pool, modern amenities, and chic, spacious rooms, all at an affordable price.
The splendid view of the city from your room's private terrace will leave you speechless; it's a sight you'll never get tired of gazing at during your stay. You don't even have to wander far to experience the best Guanajuato has to offer; the hotel's location is just a stone's throw away from significant landmarks and vibrant cultural spots.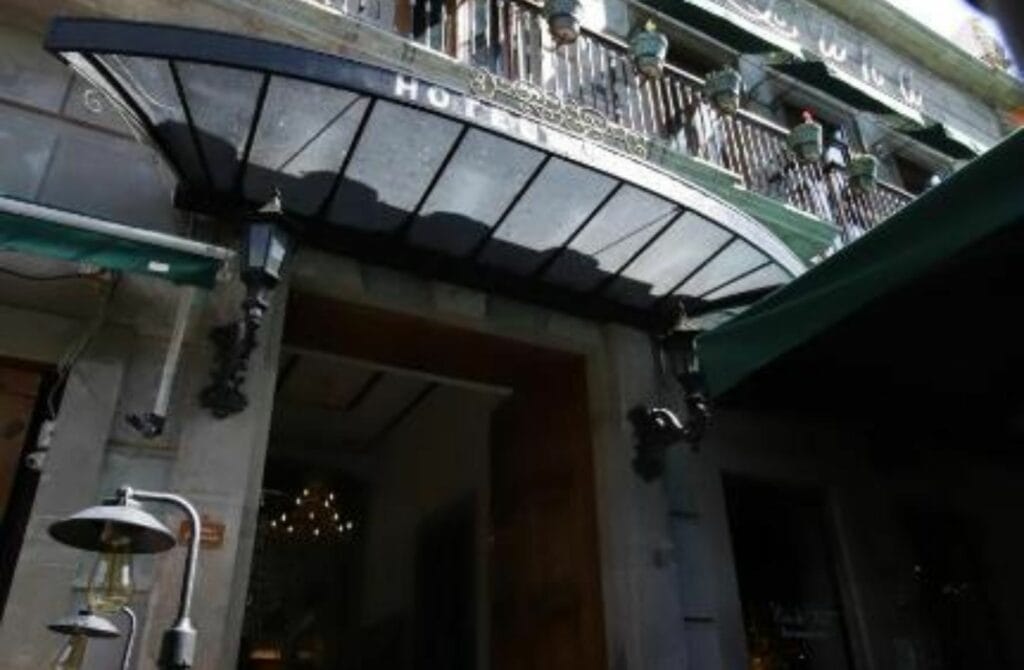 Finally, let us not forget Quinta Las Acacias Hotel Boutique, located near the city's outskirts in a quiet and peaceful neighborhood. This magnificent 19th-century mansion-turned-hotel boasts an incredible fusion of French and Mexican architectural style, creating a breathtaking atmosphere that stimulates your senses.
The perfectly manicured gardens and antique furnishings take you on a journey back in time, and the hotel's warm, attentive staff ensures a pleasant stay. It is an ideal place for those who prefer a tranquil retreat while remaining within easy reach of Guanajuato's lively attractions.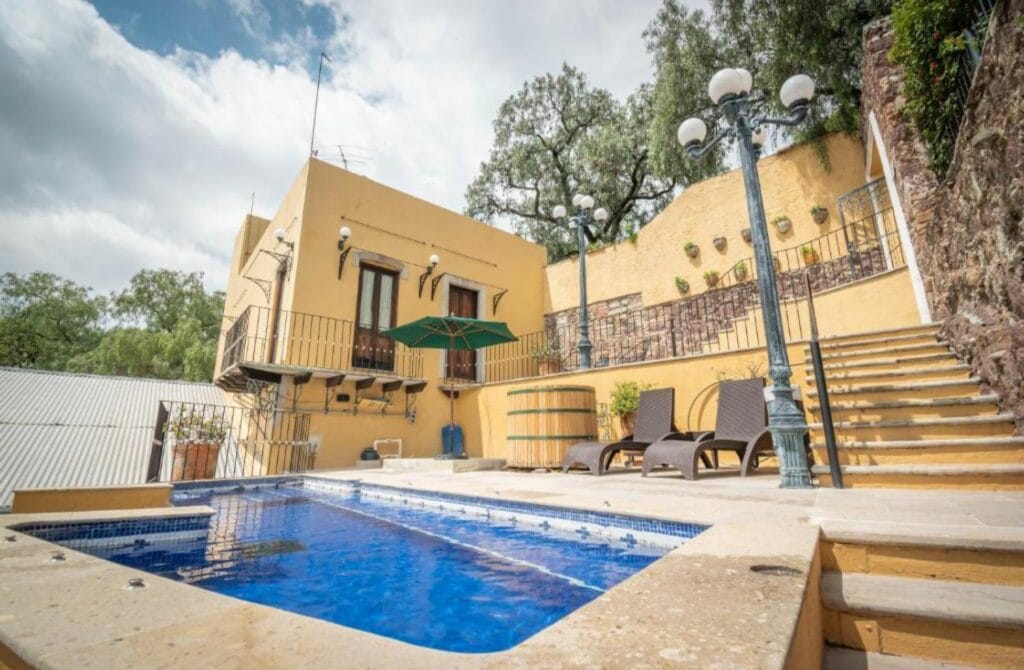 Each of these unique budget hotels offers different yet equally appealing experiences, ensuring that your visit to Guanajuato is nothing short of extraordinary. So, take your pick and book your stay today!