Mexico City has a lot to offer for both national and international filmmakers. The country has modern cityscapes, along with a strong sense of history with many ancient ruins. It is also very rich in culture. So it will come as no surprise that there are so many wonderful movies set in Mexico City.
There are few cities in Latin America that house as much history and culture as Mexico City. Once the imposing Aztec city of Tenochtitlan, the birth of the amazing city dates back to the 13th century.
While many things made the ancient city what it was, its people have held strong over the centuries. The inhabitants of Mexico City are known for their solidarity and their charisma.
Even after centuries of oppression and tragedy, their culture still thrives: people in Mexico City still know —for example— how to cook like their ancestors used to.
Although this is true for many places in South America, Mexicans are perhaps some of the proudest about their roots, and they wear their pride visibly. One can see it in their art and their cuisine, but also in their demeanor.
Mexico City is a hub for artists from all around the world. So, it isn't a surprise that many of the artists we hold in the highest regard come from this city. It's a place filled with stories that seem like they are made to be told.
CDMX is a place with many problems, but whose people work actively to make it better. It is, simply, a place you have to see.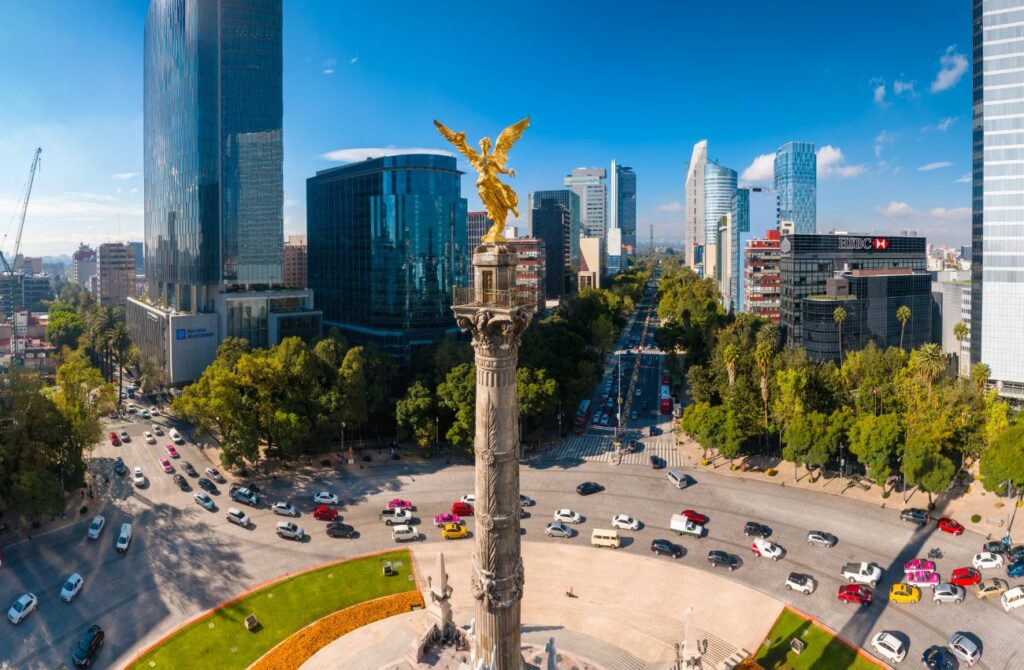 These Mexican City films have narratives that rely on their settings as much as their main protagonists, and as a result, spectators get a glimpse of this iconic country through the director's eyes.
To honor the concept of cinematic travel, we have also assembled lists of our favorite films shot in some of our all-time favorite travel destinations: Indonesia, Hong Kong, Amsterdam, Tokyo, Ireland, Chicago, and Italy.
Wondering where to watch? It depends on where you live in the world and which streaming services you have. We link to the streaming service we watch on in each case - be it Netflix, Amazon Prime, Apple TV+, or elsewhere.
You can get one month free of Amazon Prime (or a 6-month trial for students) of Amazon Prime and also get immediate access to FREE Two Day shipping, Amazon Video, and Music. While you won't be charged for your free trial, you'll be upgraded to a paid membership plan automatically at the end of the trial period - though if you have already binged all these, you could just cancel before the trial ends.
Apple TV+ also has a one-week trial, and Hulu has a one-month trial (which can be bundled with Disney!). Another option might be using a VPN to access Netflix titles locked to other regions. Netflix is now available in more than 190 countries worldwide and each country has a different library and availability. US Netflix is (understandably) one of the best.
While we wish everything could just be in one place - for now, it seems these are the best streaming platforms to watch on.
The Young and the Damned is one of the many masterpieces made by Spanish director Luis Buñuel. After his time working with Salvador Dalí in France, producing several foundational surrealist films, he emigrated to Mexico City, where he spent the rest of his life.
During his time in the city, Buñuel continued to make some great films while developing his style.
The film follows El Jaibo (Roberto Cobo), a young delinquent in Mexico City, as he manages to escape from juvie. Consumed by anger, he will do all he can to find who of the other children living in the streets played a part in his imprisonment. All the while, El Jaibo will terrorize the people on Mexico City's streets.
The Young and the Damned is a clear example of what makes Buñuel's work so memorable. It's a tragic tale about poverty and the cycle of abuse, told in a poetic and surrealist manner that makes its message all the more poignant.
As one of the first films to ever take on sad societal issues, such as children living in the streets, the film does a great job at showing the inequities that still are part of Mexico City.
Nowadays, Guillermo Del Toro has become one of the biggest film directors to ever come out of Mexico—together with Alfonso Cuarón and Alejandro González Iñárritu.
While his 2017 film The Shape of Water earned him both the Best Director and the Best Picture award at the Oscars, he has received lots of critical praise since his first film's release. The horror drama Cronos was his feature debut, and it still holds up as one of the most captivating fantasy stories told in Mexican cinema.
The film follows the search for a lost device invented by an alchemist back in the sixteenth century. This device is known as "Cronos" and it can give its owner the gift of eternal life (albeit with some unforeseen consequences).
When Jesús Gris (Federico Luppi), an old man who owns an antique store, finds the device, it instantly latches to him, injecting a mysterious solution into his body. Cronos will see him start to enjoy the benefits of the device.
All the while Dieter de la Guardia (Claudio Brook), a wealthy dying man, will try to steal the device by sending his cunning nephew, Angel (Ron Perlman).
Midaq Alley, by Jorge Fons, is considered one of the best Mexican films ever made. It tells a complex story that deals with love (particularly LGBT love) and the societal problems that abounded Mexico City during the nineties.
It follows three people who live near a cantina in the streets of the city. Susanita (Margarita Sanz) is the owner of an apartment complex. There lives Alma (Salma Hayek in her first internationally praised role), a girl who wants to fall in love. And by the complex there a little cantina owned by Don Ru (Ernesto Gómez Cruz).
All their lives will become entangled in the comings and goings of love and passion.
The film is based on a novel by Naguib Mahfouz, an Egyptian novelist who, in 1988, won the Nobel Prize for Literature. While the book is set in the famous bazaar in Cairo known as Khan el-Khalili during the forties, the film takes place entirely in 1990s Mexico City.
It may seem like a very daring change, but it bore good fruit: Midaq Alley earned forty awards and nominations. Most notably, it won Best Picture at the Ariel Awards, the biggest award ceremony in Mexico.
Los Caifanes, by Juan Ibáñez, follows two young lovers as they wander around Mexico City at night, discovering the many wonderful things the city has to offer.
When a high-society party is shut down, Jaime (Enrique Álvarez Félix) invites Paloma (Julissa) to spend the night with him.
They jump into an abandoned car to have some intimate time, but soon they find out it belongs to the Caifanes: people at the border of the law who love to have a good time.
This is a perfect film to become familiar with what a night out in the city can be like. It does a great job of portraying the culture of Mexico City and its people. You'll get to see their particular way of meeting new people and speaking amongst each other, as well as many cultural practices that still have relevance to this day.
The sixties were an incredible time to be alive and be Mexican: the city was blooming with artists, musicians, and dancers. One could find amazing entertainment anywhere.
While modern Mexico City bears resemblance to that of the sixties, some things could only happen in those crazy years. Los caifanes does a great job at showing just that.
From Academy Award winner Bruce Beresford comes this captivating biographical film telling the story of Pancho Villa.
For those unaware, Villa was a key figure during the Mexican Revolution, a civil war that sought to depose the legalized dictatorship of Porfirio Díaz and managed to reinstitute democracy in the country. He was known to be a talented tactician and a very resourceful person.
While an interesting history lesson, this doesn't seem like the plot for a movie. But the role that Villa played in this revolution is much more interesting than it seems at first: in order to gather funds for his fight, he convinced early-Hollywood executives to come to Mexico City and film a movie about his war effort.
That's how the lost film The Life of General Villa was made, which starred Villa as himself.
And Starring Pancho Villa as Himself tells the story behind the production of this out-of-the-ordinary film. Set in 1923, the film follows Villa (played by Antonio Banderas) as he comes up with his bizarre plan to fund the Revolution.
We see how executive producer Frank Thayer (Eion Bailey) travels to Mexico with a film crew and, with the help of the foundational film director D.W. Griffith (Colm Feore), starts documenting the life of Villa.
Dance of the 41 is a captivating film directed by David Pablos. It portrays one of the biggest scandals in Mexico City's history when in 1901 a group of gay men from the city's high society was discovered holding a private ball.
While half of them were formally dressed in elegant tuxedos, the other half were dressed in drag. Since the dance became a topic of public talk, it is considered to be the first time that Mexican society openly spoke about gayness and queerness in general.
Perhaps the scandal wouldn't have been such a big deal if it wasn't for the fact that the son-in-law of the president was present there. Porfirio Díaz was a president who spent over thirty years in power.
When it was discovered that his son-in-law, Ignacio de la Torre y Mier (Alfonso Herrera), took part in the dance, the government did all that it could to silence the story.
The film dives deep into the point of view of Ignacio and wonders about what would have been like to have to go through such a traumatic experience as this one.
One More and We'll Go, by Noé Santillán-López, tells the story of a small-town Mariachi group who rejoices as they find out they have been classified to perform at a national competition in Mexico City.
However, they are dismayed when they find out they are missing a member to participate in the competition. Everything they worked on seems to be about to fail.
Desperate, they decide to enlist Martin (Oliver Nava), the son of their leader, Roberto (Marcial), who is a member of a punk rock band. The two have a strained relationship, with Martin hating his Mariachi family heritage and constantly rebelling against his father.
The film will see the two of them becoming closer as they travel toward Mexico City, with their final performance being the highlight of the film.
This hilarious road-trip comedy was a surprise hit upon its release. Perhaps what's best about One More and We'll Go is that it offers a deep dive into Mariachi culture that is told through the eyes of the locals.
The film will leave you wanting more Mariachi songs in your life.
The Mongolian Complot, by Sebastián del Amo, is a charming film that will remind you of some of the best crime thrillers you've ever seen. That's because the film is an adaptation of one of Latin America's most important works of crime literature.
The novel by Rafael Bernal, which bears the same name as the film, is a literary classic published back in 1969 and served as an inspiration for many crime stories.
The story goes as follows: Detective Filiberto García (played by Damián Alcázar) is informed about a plot to assassinate a famous international politician upon his upcoming arrival in Mexico City. He's tasked with unraveling the scheme and saving the politician's life.
To do this he'll have to investigate the Chinese community of the city and find out if the communist government is behind the plan. However, the film holds a twist that, even to this day, still manages to surprise.
One of the latest and best-regarded entries in the James Bond franchise, Spectre sees the British spy tracking down the members of the elusive organization known as Spectre. Daniel Craig gives one of his best performances as the iconic character in his second-to-last appearance as James Bond.
Acting against Craig is the wonderful Christoph Waltz, who brings to life a legendary franchise character: Ernst Stavro Blofeld (who you may know as the man in the chair who always appeared petting a cat in the old Bond films).
Most relevant for this list is the first part of the movie, which takes place in Mexico City. As Bond chases a terrorist who plans to plant a bomb in one of the government buildings, he has to go through the Day of the Dead parade.
This beautiful celebration marks a national holiday when people from all over Mexico bring offerings to their dead and celebrate life in their honor. While the city is not the biggest part of this Bond film, its depiction of the parade is astonishing.
The release of the movie coincided with the long-awaited return of Day of the Dead parades in Mexico City, which hadn't been held for several years. While there are hundreds of stunning James Bond filming locations used across the franchise, Mexico City as seen here has to be one of the best!
Days of Grace, by Everardo Gout, is a captivating film dealing with some of Mexico's darker aspects. From narcotraffic to organized crime, the country has many societal issues that stem from its place in the world economy and its tragic and bloody history.
While movies, particularly those from Hollywood, tend to sensationalize these problems, some Mexican directors have taken to addressing the country's issues with honesty and a critical eye.
The film is centered around one of the most important things for people in Latin America: football. Set during three Football World Cups (2002, 2006, and 2010), the film explores the relationship between the criminal world and the entertainment milestone of these competitions.
In case you didn't know, it's proven that crime lowers every time a World Cup is held.
The film stars the great Mexican actor Tenoch Huerta, who is set to appear in the role of Namor in the upcoming MCU film, Black Panther: Wakanda Forever.
He plays officer Esparza, a policeman moving up the ranks, who ends up being part of Commander Jose's (José Sefami) team. He will learn that walking the line between being a good cop and a corrupt one isn't that easy.
The Chambermaid, by Lila Avilés, is a powerful film that follows a maid trying to find herself and where she belongs in the world. Some viewers will find a certain resemblance between this film and that made in the same year by Alfonso Cuarón (Roma).
While the bare bones of the plot are similar, Avilés takes a different route towards portraying the maid, particularly because she's a young woman. This leads to a whole new array of possibilities about where to take the character next.
The film's protagonist is Eve (played by Gabriela Cartol), a young maid who has been working for a couple of years in one of the most prestigious hotels in Mexico City.
During her work there, we see many vignettes of things that happen to her and, little by little, we get to know Eve better. The Chambermaid is a powerful character study filled with humanity and compassion.
With his feature film debut, Alonso Ruizpalacios showed that he would become a force to be reckoned with when it comes to forward-thinking and all-around great Mexican cinema.
Güeros is considered one of the latest big steps forward in the film industry. And it's no surprise: its captivating story comes through in a surprisingly moving way thanks to the strength of the actors' performances and Ruizpalacios' distinctive directing style.
The film won several awards, including the Ariel for Best Picture. The film is set in 1999, during the student riots that shook Mexico City. While not a completely free university, the National Autonomous University of Mexico is known for being open to all public, only asking for a minimal tuition fee and lots of grants for those who can't afford it.
This has been the same for quite some time, but in 1999 the university announced that tuition would be raised. Suffice it to say, the chaos and destruction that the student riots unleashed were enough for this measure to be taken back.
Güeros follows Tomas (Sebastián Aguirre), a misbehaving young boy who is sent as a punishment to say with his older brother Sombra (Tenoch Huerta).
He arrives at the apartment, but nobody is there. He tries his best to survive by himself but ends up leaving the apartment and going to support his favorite folk-rock musician, who was hospitalized.
In order to reach him, Tomas will have to get through the raging riots safely.
Another great film coming from the mind of Alonso Ruizpalacios. This time, instead of dealing with a time of much social unrest in Mexico City, the director chose to tackle something more action-focused.
Museum is a heist film that's told by making full use of the director's narrative and directorial techniques. Set in the days before Christmas in 1985, the film follows two young men planning a heist. Their objective? To rob the famous National Museum of Anthropology of Mexico City, stealing cultural artifacts from the Mayan culture that they could sell on the black market.
Among these artifacts is the jade mask of K'inich Janaab' Pakal, also known as "the Great", one of the most important pieces that can be seen in the museum.
Contrary to what you may expect, the film's protagonists are not your usual robbers. Nervous Wilson (Leonardo Ortizgris) and hateful Juan (Gael García Bernal) are two veterinary students living in Satellite City, an iconic housing complex in Mexico City.
The film will see them successfully robbing the museum, but, unlike most heist films, the actual drama and tension derives from what happens next: how will they manage to sell these invaluable pieces of history?
Even though this film is Fernando Eimbcke's directorial debut, it brought him lots of attention from the film industry due to his sweet characters and amazing filmmaking.
In fact, he was congratulated by many of his compatriots, namely Guillermo del Toro and Alfonso Cuarón, who found the film to be one of their favorites in recent years.
The story of the film is a quaint one. It follows two young boys, Flama (Daniel Miranda) and Moko (Diego Cataño). One night, Flama decides to invite Moko over since his parents are away. Their night of fun suddenly turns into something else when the light goes out in the whole block.
Duck Season shows a side of Mexico City that tourists usually don't get to witness: that of the many apartment complexes where many kids spend their whole days—when not at school.
The film is set in a very particular complex known as Tlatelolco. This complex was built in the sixties next to one of the oldest archeological sites in the zone.
Further Things To Consider Before Any Adventure
Now you're all set and prepared to explore our big wide world, why not sort out everything else out all in one go? If necessary for your travel plans make sure you have brought proper travel insurance, protected your privacy by getting a secure VPN, compared all the top hotel booking sites to find just what you're after, reserved an unbeatable rental car price and - of course - booked the best flight deals!
Or maybe just forget it all and go for a last-minute cruise or effortless tour instead?
Many budget travelers (including me) indulge in worldwide airport lounge access, so we can experience luxury while still slumming it in economy. Naturally, we would never leave home without a more general travel guide since we couldn't possibly cover everything here!
Just add an adventurous attitude and plenty of smiles - they go a long way - and that about covers it all! Now go out, find your own path and don't forget to share your best inspiration stories with me on Facebook, Twitter, and Instagram...I'd love to hear from you!