Poland has a lot to offer for both national and international filmmakers. The country has modern cityscapes and a strong sense of history with unique architecture including medieval castles! Poland is also highly diverse in culture and has beautiful wild landscapes. So it will come as no surprise that there are so many wonderful movies set in Poland.
Among northern countries that one can find in Europe, there's something exceptional about Poland. Perhaps it's the unique history, the way that its people fought against adversity, again and again, not winning every time but always persevering.
Maybe it has to do with the Polish outlook on life: being used to facing hard situations yet never losing hope. Poland is a country where the ups and downs of the past haven't been forgotten, but also a place that is always looking toward the future.
Poland is also a country where one can find both the new and the old. There are cities like Warsaw, which have become a hub for hip and trendy subcultures, places where the youths of the world can truly be themselves. Here the nightlife is blooming, and you could meet people around the globe.
The country is also home to charming windows to the past, like Kraków, which look like they were taken right out of a painting. These offer the chance to enjoy a quieter experience, one that is full of history and traditions.
One of the best things about this country is that it's very open to foreigners. If you travel to one of its major cities, you'll be received with great joy and shown all the things Poland has to offer.
From its delicious Slavic cuisine to its foundational pilsner beers. Their history goes as far as thousands of years B.C. to some of the most impressive constructions made during the Medieval period.
If Polish people can be called something, it would be "proud". They have always been proud of their country and have tried to share the things they enjoy with the world, whether it be through books or films (the success of Netflix's The Witcher is only the last example of this).
If you're looking for the best movies to watch before visiting Poland, look no further! From historical dramas and heart-wrenching stories to gripping thrillers and hilarious comedies, these films will give you a glimpse into the country's rich culture and history.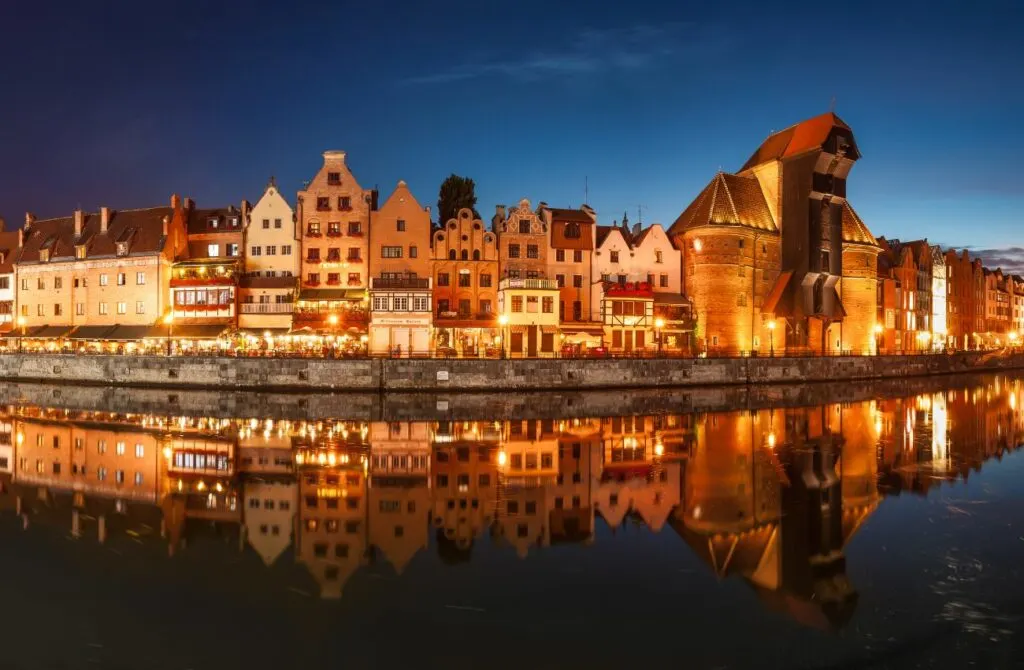 These Mexican films have narratives that rely on their settings as much as their main protagonists, and as a result, spectators get a glimpse of this iconic country through the director's eyes.
To honor the concept of cinematic travel, we have also assembled lists of our favorite films shot in some of our all-time favorite travel destinations: Indonesia, Hong Kong, Amsterdam, Tokyo, Mexico City, Chicago, and Italy.
Wondering where to watch? It depends on where you live in the world and which streaming services you have. We link to the streaming service we watch on in each case - be it Netflix, Amazon Prime, Apple TV+, or elsewhere.
You can get one month free of Amazon Prime (or a 6-month trial for students) of Amazon Prime and also get immediate access to FREE Two Day shipping, Amazon Video, and Music. While you won't be charged for your free trial, you'll be upgraded to a paid membership plan automatically at the end of the trial period - though if you have already binged all these, you could just cancel before the trial ends.
Apple TV+ also has a one-week trial, and Hulu has a one-month trial (which can be bundled with Disney!). Another option might be using a VPN to access Netflix titles locked to other regions. Netflix is now available in more than 190 countries worldwide and each country has a different library and availability. US Netflix is (understandably) one of the best.
While we wish everything could just be in one place - for now, it seems these are the best streaming platforms to watch on.
A movie by Krzysztof Kieślowski is the only right choice to begin a list of the best movies set in Poland. One of the country's most acclaimed directors, Kieślowski has been recognized as one of the most important filmmakers of his time, both in his native Poland and worldwide.
His films, known for their strong messages about unity among cultures against adversity, have inspired many people worldwide. The Double Life of Veronique was Kieślowski's first film to gain mainstream attention.
Set in 1990, the film tells the story of Weronika (Irène Jacob) a young adult woman who lives in the city of Warsaw with her close family and boyfriend. One day, out of the blue, she decides to leave the city and go away to Kraków in order to visit her ill aunt.
She finds peace there: she auditions for a place in the local choir and feels hopeful about her chances. Just as she returns from the audition, Weronika sees a woman who looks just like her taking pictures.
Everything is going as planned; she reunites with her boyfriend and gets a solo part in the choir's concert. However, something quite abrupt will take place in the show, revealing the film's intriguing twist.
Schindler's List is one of the most famous movies set in Poland, if not the most famous. Directed by Steven Spielberg, this beautiful film is based on a real-life story chronicled in the book Schindler's Ark, by Thomas Keneally.
It tells the story of Oskar Schindler, a German industrialist who, during World War II, fought against the extermination of Jewish people by negotiating with the Nazis and getting the prisoners to work for him in his factories.
With his efforts, Schindler helped to save over a thousand Jewish refugees from the grasp of the Nazis.
The film is set in the city of Kraków, where Schindler (Liam Neeson) established his first enamelware factory. It shows that, at first, the industrialist's interests weren't really to save the Jewish people trapped in the ghetto, but rather to make as much money as he could by taking advantage of their cheap labor.
However, as the treatment of Jewish people got harsher, Schindler became more committed to the cause. One of the most interesting aspects of the film is how it shows that Schindler had to play the part of a member of the Nazi Party for several years to stay in the Nazi's good graces.
While Schindler's List is the first movie on this list to tackle the subject of the Holocaust, it won't be the last. Most of the best films set in Poland and produced in the country take place during World War II and deal with the atrocities that Jewish people had to endure during that time.
Understandably, such a great cultural trauma is bound to have consequences in the years to come. And it's good that people are still making movies about the Nazis. In this day and age, when even something as momentous as the Holocaust is put into question, they are more necessary than ever.
Written and directed by Agnieszka Holland, one of Poland's most talented female directors, Europa Nelson is a captivating drama that, even though it's hard to believe, it's based on a true story.
The film was based on the autobiography of Solomon Perel, a young Jewish boy who managed to escape the grasp of the Nazis by pretending to be one of them. You'll find it hard to believe how lucky and smart Solomon was, for the situations that he had to go through seem completely unreal.
However, as hard as it is to believe, everything shown in the film occurred. Holland won the Academy Award for Best Adapted Screenplay for her work writing the script.
Europa is set in 1939 when the Nazis invaded Poland, and World War II began. As Solomon's (Marco Hofschneider) family find themselves amid the Nazi attack, they send Solomon and his brother Isaak to run away towards the eastern border.
The two boys reluctantly do so but suddenly find that the Russians had also invaded their country. After living in a Soviet orphanage for a while, Solomon learns that his parents are still alive in the ghetto built in his hometown of Łódź. That's when he decides to go disguised as a member of the Hitler Youth.
While many of the films in this list do a great job at portraying Poland's history, it's also important to look at the country's present. Not many movies are made about the day-to-day life of young people in Poland.
That's why All These Sleepless Nights is such a great film. It's a captivating movie that mixes genres: it's both a documentary and a fiction film, with many events being captured by Michał Marczak, its director, and many others being staged afterward.
The film focuses on the lives of two friends and roommates, Krzysztof Baginski and Michal Huszcza, as they spend over a year and a half partying and trying to meet girls.
When Krzysztof finally meets someone he likes, a girl known as Eva, they move in together, and so does the camera. We see their first months together, from the honeymoon phase to their breakup.
All These Sleepless Nights is a must-watch for anyone interested in Poland's nightlife. You'll get to see how young people party in Warsaw, how they dance and what music they listen to. But you'll also experience some intimate moments with them that will leave you as emotional as they are.
Spoor is a crime film also made by Agnieszka Holland. This time, Holland's inspiration for her movie came from Drive Your Plow Over the Bones of the Dead, a best-selling Polish mystery novel written by Olga Tokarczuk.
After working with Tokarczuk in the adaptation, the two women wrote a truly chilling film that shouldn't be watched by those who scare easily.
In the lonely mountains of the Kłodzko Valley lives an old woman (Agnieszka Mandat) with her dogs. She doesn't get along with people, although she does give help whenever it's asked of her, but she does get along with her dogs.
One day, she returns home to find her dogs missing. Her first subject is her neighbor, a local hunter who she doesn't get along with: she confronts him but he denies knowing where the dogs are.
The day after that she learns that her neighbor was found dead. She's investigated by the police, but they don't find anything pointing to her being the killer.
This disturbing series of events blows over and isn't thought about until later in the year the police chief is found dead. Who did it? Nobody knows.
The only thing for certain is that the tracks of a big animal surround his corpse. The film's title, Spoor, refers to the tracks that an animal leaves behind while being hunted.
The Boy In The Striped Pyjamas, by Mark Herman, is a tragic tale about the friendship that blooms between two boys who are separated by the fence at the edge of a concentration camp.
Based on a book by Irish novelist John Boyne, the film is a strange experience: while it does deal with a very hard subject matter with very good intentions, it doesn't do so very well.
The book and the film have been criticized for being factually incorrect and overly romanticized. This is all the more troubling when you consider that neither Boyne nor Herman is Jewish.
Despite that, the film does offer some good things. No one can deny that the message that the film tries to preach is good and that it at least does it very effectively.
The Boy in the Striped Pyjamas' story goes as follows: Bruno (Asa Butterfield) is a young boy who has recently moved to rural Poland with his father (David Thewlis), a high-ranking member of the SS.
His house just so happens to be by a concentration camp where his father works. Mistaking it for a farm, Bruno gets closer and meets Shmuel (Jack Scanlon), one of the children living there.
Their innocence will mark their friendship as Bruno tries to help Shmuel in any little way he can. You should be warned that the film does end with a pretty tragic ending.
It's not every day that you get to see a comedy film about the Holocaust, particularly not one that is as touching and emotional as Jakob The Liar. The part of Jakob, the main character, is played by Robin William.
Like always, he does an amazing job at bringing comedy and lightness to even the darkest situations.
Jakob the Liar tells the story of the titular Jakob, a Jewish man who lives in one of the many city ghettos where Jewish people were forced to live during the Nazi occupation of Poland. Life is, naturally, hard there, and Jakob does everything he can to help his fellow neighbors, but it seems like it's never enough.
After he overhears a rumor of Soviet troops being headed towards their location, he tells the people in the ghetto this news, and this lifts their spirits somewhat.
This event gives Jakob an idea: little by little, he'll tell the others false rumors to give them hope. It may not be true, but it also may be the only thing that allows them to survive.
The film sees Jakob's rumors becoming so widespread that the Gestapo starts to search for their source amongst the people of the ghetto. Not wanting others to suffer due to his actions, Jakob turns himself in.
Jakob the Liar features two endings in the same film and one of them is sure to put a tear on your cheek.
Ashes and Diamonds is a drama film directed by Andrzej Wajda. The last part of his war trilogy, the film bears a loose connection with A Generation and Kanal. However, this final trilogy installment is considered the better of the three.
The film is an adaptation of a novel published ten years earlier by Jerzy Andrzejewski. The piece heavily criticized the anti-communist movement that arose in Poland after the occupation of the country by the Nazis, and the posterior liberation by the Soviets.
However, the film takes a subtle approach, trying to capture the human individuals that took part in both sides of the conflict.
The film begins with two resistance soldiers plotting to kill one of the members of the Polish communist party. They try to execute the plan but kill two innocent people. The two soldiers return to their general with the tragic news, yet he's unphased: he tells them to go back and try again.
They see their chance in an upcoming war banquet and head there, committed to executing their mission properly this time. As you may imagine, not everything goes as planned, and their arrogance will be their doom.
Also by Andrzej Wajda comes this war drama film. This time, however, it's not based on a book but on a real-life event in the rural Polish town of Katyn.
Katyń tells the gruesome story of the massacre perpetrated by the armies of the Soviet Union after they managed to capture a big part of Poland's territory for themselves. This tragic event occurred in 1940, when the war had just started, and meant the death of over twenty thousand Polish soldiers.
With this captivating film, Wajda chose to tell the story of this event not through the eyes of its perpetrators nor through the eyes of those who were killed.
Katyń focuses instead on those who suffered the most due to what the Soviet Union did, those who have been left behind: the wives, mothers, and children of the men who died.
The story, set in 1940, goes as follows: as Andrzej (Artur Żmijewski) is captured by the Soviets and deported to the Soviet Union, his wife Anna (Maja Ostaszewska) and daughter Weronika (Wiktoria Gąsiewska) are left behind.
The two of them barely get back to their home in Kraków. The years go by, and Anna doesn't have a single notice about Andrzej's fate. She can only look at the list of people that were massacred in Katyn, hoping not to see her husband's name there.
In 1943, she is visited by one of Andrzej's friends from the camp, who delivers her his diary. Thanks to his meticulous account, Anna now has solid proof of the Soviet Union's crimes and can exact her vengeance.
The Innocents is a French film based on events that took place throughout Poland during the occupation of the country by the Soviet Union.
Before watching this film, be advised that the topics that it tackles could be triggering for many people.
That being said, The Innocents deals with the sexual abuse perpetrated by Soviet troops during their occupation of Poland. What's more, it deals with a real-life instance of this abuse that took place in a convent (the accounts of Madeline Paulinac, called Mathilde Beaulieu in the film, are proof of this).
Set in 1945 Warsaw, the film follows Mathilde (Lou de Laâge), a young doctor working with the Red Cross. One day, she's approached by a nun known as Sister Teresa (Eliza Rycembel), who asks for her help back in her convent.
She agrees to help the sister and travels with her there without really knowing what's happening. Upon reaching the convent, she finds that one of the nuns has just given birth. As she helps her with postpartum care, she learns that several more of the nuns are also pregnant.
While no one can reveal the truth, she eventually figures out that the Soviet troops have abused these nuns.
A list of the best films set in Poland wouldn't be complete without including one of the country's most successful directors in recent years.
After a long-time directing very well-received documentaries, Paweł Pawlikowski finally started making fictional films with the 1992 Serbian Epics. But it wouldn't be until the release of 2004 My Summer of Love that he'd find international success.
Ever since then, each of his films has won many international awards, and he is now considered one of the best filmmakers of this day and age.
Set in 1962, Ida tells the story of a woman named Anna who has a crisis of faith just as she's about to become a nun. This crisis doesn't come out of anywhere, though.
As she visits her aunt, her last surviving relative, she learns that she has been living a lie all this time: she isn't Anna but Ida Lebenstein, the descendant of a Jewish matrimony that the Nazis killed. The nuns who had raised her in the convent didn't know about this, although Ida believes they may have suspected it.
Her aunt prompts her to discover her past and travel to the place where her parents used to live. Throughout their trip, she's constantly insisting that Ida should try new things and abandon the idea of being a nun.
Ida will explore other options, and her faith will be tested. This beautiful and spiritual film won many awards from all around the globe, including the Academy Award for Best Foreign Language Film.
Staying Connected While Travelling
In today's increasingly connected world, staying online while traveling has become essential for a seamless experience. That's where eSIMs come into play, revolutionizing the way we access mobile networks during our global adventures. Say goodbye to hunting down local SIM cards at the airport; eSIMs provide instant activation the moment you land, sparing you the fortune usually spent on international roaming and allowing you to genuinely travel like a local (without getting hopelessly lost!).
With eSIMs, tasks like restaurant recommendations and reservations, up-to-the-minute public transport instructions, checking opening hours, and accessing further information become a breeze. And, of course, sharing your journey on social media is easier than ever. To stay connected wherever you roam, consider using either Airalo or Holafly. Airalo boasts the most extensive range of destinations worldwide, offering smaller data bundles tailored to your needs, while Holafly provides unlimited data packages and fantastic EU data deals.
So why wait? Embrace the future of travel connectivity with eSIMs and make your next journey effortlessly smooth.
Further Things To Consider Before Any Adventure
Now you're all set and prepared to explore our big wide world, why not sort out everything else out all in one go? If necessary for your travel plans make sure you have brought proper travel insurance, protected your privacy by getting a secure VPN, compared all the top hotel booking sites to find just what you're after, reserved an unbeatable rental car price and - of course - booked the best flight deals!
Or maybe just forget it all and go for a last-minute cruise or effortless tour instead?
Many budget travelers (including me) indulge in worldwide airport lounge access, so we can experience luxury while still slumming it in economy. Naturally, we would never leave home without a more general travel guide since we couldn't possibly cover everything here!
Just add an adventurous attitude and plenty of smiles - they go a long way - and that about covers it all! Now go out, find your own path and don't forget to share your best inspiration stories with me on Facebook, Twitter, and Instagram...I'd love to hear from you!