Finland has a lot to offer for both national and international filmmakers. The country has modern cityscapes, as well as a strong sense of history. Finland is also well known for its stunning wild scenery. So it will come as no surprise that there are so many wonderful movies set in Finland.
What comes to mind when you think about the country of Finland? Some people associate it with wide expanses of snow and lush pine forests. Others think about their world-famous public services: Finnish education marks the highest standards in the world.
Perhaps some aren't even passingly familiar with the country. The truth is that Finland has lots to offer, much more than people usually think including in smaller towns like Oulu, Tampere, Turku, and Rovaniemi.
One of the northernmost countries, Finland is the land of nature (and wild camping!). Their traditional cultures and folk tales prove so. The Finns have always embraced the gift that was their land. How could they not? It's a place filled with magical experiences to be had out in the wilderness.
If you happen to visit during the winter, you'll experience the nights without an end that are characteristic of that season. But you'll also get to witness the aurora borealis, also known as Northern Lights, a wonderful play of glowing auroras that lights up the whole night sky with enchanting colors.
Still, these are harsh conditions to live in. Many would say that, on paper, Finland sounds like an inhospitable place. But this list of films will convince you otherwise.
You'll see that, although living in the North is hard, it's also one of the most rewarding experiences in the world. Dive deep into these films set in Finland and find out what this marvelous country has to offer.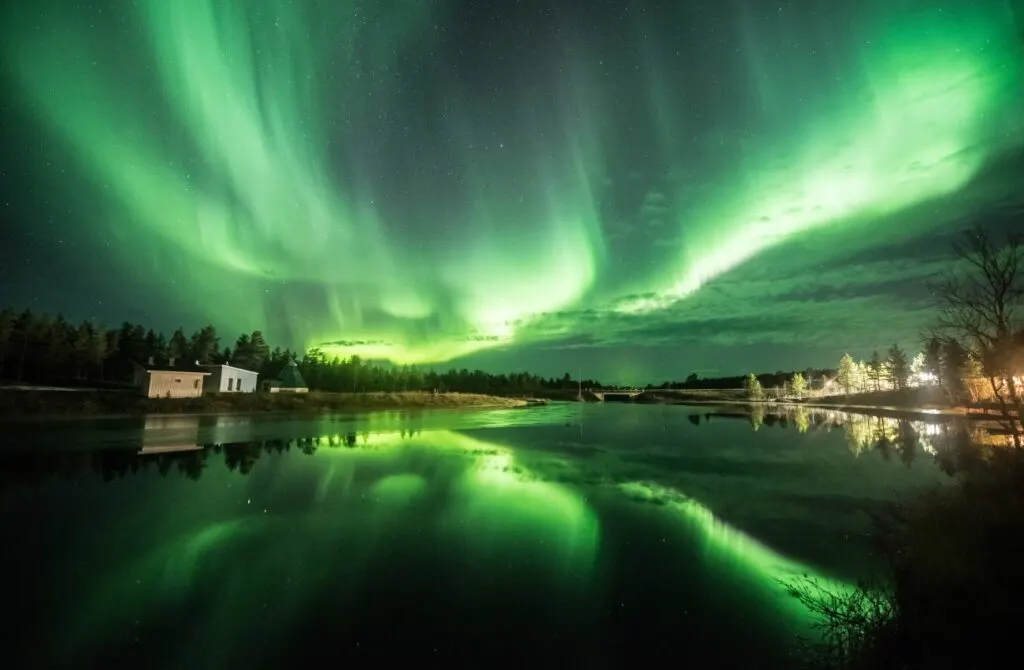 These Finnish films have narratives that rely on their settings as much as their main protagonists, and as a result, spectators get a glimpse of this iconic country through the director's eyes. To honor the concept of cinematic travel, we have also assembled lists of our favorite films shot in some of our all-time favorite travel destinations: Indonesia, Hong Kong, Amsterdam, Tokyo, Mexico City, Poland, and Italy.
Wondering where to watch? It depends on where you live in the world and which streaming services you have. We link to the streaming service we watch on in each case - be it Netflix, Amazon Prime, Apple TV+, or elsewhere.
You can get one month free of Amazon Prime (or a 6-month trial for students) of Amazon Prime and also get immediate access to FREE Two Day shipping, Amazon Video, and Music. While you won't be charged for your free trial, you'll be upgraded to a paid membership plan automatically at the end of the trial period - though if you have already binged all these, you could just cancel before the trial ends.
Apple TV+ also has a one-week trial, and Hulu has a one-month trial (which can be bundled with Disney!). Another option might be using a VPN to access Netflix titles locked to other regions. Netflix is now available in more than 190 countries worldwide and each country has a different library and availability. US Netflix is (understandably) one of the best.
While we wish everything could just be in one place - for now, it seems these are the best streaming platforms to watch on.
Klaus Härö is a key figure in modern Finnish cinema. He has spent the last twenty years producing some of the best films to come out of the country.
Each time a movie of his comes out, it's chosen as Finland's submission for that year's Academy Awards. While none of his films have won an Oscar, they are the recipients of many awards from all over the world.
Mother of Mine is considered his best feature film. The story follows an elderly man known as Eero (Esko Salminen) who is returning to his family home in Finland. There he finally confronts his mother about his past, asking her what happened during World War II. The thing that prompts him to finally do this is the fact that he just took part in his Swedish mother's funeral.
If the film's plot sounds confusing, that's because one needs a little background about Finnish history to understand. During World War II, thousands of Finnish children were sent off to Sweden to protect them from the war effort. That's why many Finnish people who were young at that time have two mothers: their mom from Finland and their mom from Sweden.
Mother of Mine will show Eero's departure from his home country and his time living in Sweden, but it'll also come back to his present conversation with his mother as she reflects on the harsh past they have lived.
Steam of Life, by Joonas Berghäll and Mika Hotakainen, is a great film to learn about one of the most famous traditions in Finland: that of the male saunas. For those who aren't familiar with the "löylys", these are small rooms where one can sit while being surrounded by hot steam that is meant to make you sweat profusely.
It's much better than it sounds on paper. Particularly in a place as cold as Finland. In a country where one has to thread through deep snow and rainy weather to get from one place to another, saunas are a godsend.
The documentary dives deep into the tradition of saunas in Finland. It will teach you many key things to know before going to one. One of the most interesting tidbits of information has to do with the fact that while the practice of saunas has existed in many cultures, its oldest known record actually comes from Finland.
As such, they are considered an intrinsic aspect of Finnish culture. That's why it's not only a place for relaxing, but a place to make friends: part of meeting a new acquaintance —whether it be in or outside of work— is to go to a sauna with them and spend some time together in the heat.
Written and directed by Aku Louhimies, one of the most influential modern Finnish directors, Frozen Land is a tragic story about how one little misdeed can cause much misfortune.
The film is based on one of Tolstoy's posthumous works, The Forged Coupon, which tells the story of a young student who changes the value written in a bond coupon, setting off an unexpected chain of events that ends up with a person being murdered.
The film takes Tolstoy's captivating idea and adapts it to fit a modern Finnish setting, where very different social themes come into play.
Frozen Land follows Niko (Jasper Pääkkönen), a young boy who has a troubled relationship with his father. Just a couple of days before New Years, his father is fired from his job, so he retaliates by kicking Niko out of his home.
Desperate and alone, he decides to change the value written on a banknote from five euros to five hundred. He uses this forged note to buy a Walkman and then goes on with his life.
However the many unfortunate consequences that this banknote has upon Niko's town end up catching up to him in the most roundabout way.
While Frozen Land was one of Aku Louhimies' first forays into the art of cinema —and a very good one at that—, The Unknown Soldier stands as his best film ever.
This captivating war drama is told with such honesty, portraying every gritty aspect that's inherent to war, lots of critics didn't like the movie at all.
The film is one hundred percent a pacifist manifesto, meaning that anyone who isn't against war will be very disappointed with Louhimies film. It may not have resonated that much with critics, but it did with audiences: the film became one of the most successful to be produced in the country.
Adapting a classical Finnish novel of the same name (that was published back in 1954), the film follows a machine gun company that is fighting to invade the Soviet Union during World War II.
This is a fact that many people aren't familiar with: during this war, Finland allied itself with the Axis forces, meaning the Nazis. Supposedly they did so to fight back against the invasion of the Soviet Union, and they did break their allegiance before the war even ended, but this is still a sore spot in the history of Finland.
Together with Klaus Härö and Aku Louhimies, Pirjo Honkasalo is one of the best Finnish directors ever. Her films are known for dealing with issues that are central to the Finnish experience.
She has tackled all kinds of topics and in every one of her works, whatever its subject be, she manages to portray deeply human and touching characters. Honksalo's films have been the subject of much praise by critics, winning tens of awards, both in Finland and in other parts of the world.
Adapting a 1981 novel of the same name, Concrete Night follows a young teenager by the name of Simo (Johannes Brotherus). While he lives with his mother and brother in the big city of Helsinki, he can't help but feel alone. And now that his big brother is set to go to prison, he'll be more alone than ever.
The film will see him dealing with this impending loss by going out with his brother to explore the city. But Helsinki, while a beautiful city on its own, doesn't hold any good things for the young men.
Concrete Night is considered Honksalo's best film to date. It's a moving film that touches on moving albeit very saddening topics. But it's also a necessary depiction of the lives of mistreated youths in Finland's cities.
The Worthless is a Finnish masterpiece, and it's no surprise when considering who made it. The Kaurismäki brothers are some of the most talented filmmakers in the country, and they have put their talent to good use.
The two of them have made over fifty films, each directing or writing some of the funniest comedies and most captivating thrillers in the nation. This film sees Mika, the older brother, taking the role of director, while Aki collaborated with him in the process of writing the film.
The film sees the lives of three people intertwine in a dangerous chase. After a dispute with a group of dangerous gangsters, petty criminal Manne (Matti Pellonpää), his former girlfriend Veera (Pirkko Hämäläinen), and his friend Harri (Juuso Hirvikangas) will find themselves running away through the Finnish countryside.
They carry with them a valuable plaque that can be their ticket towards freedom. But they aren't just being chased by criminals,the Finnish police are also chasing theme.
The Worthless offers an enchanting depiction of these three wanderers in search of their freedom. The trio will give their all to escape and find a better life somewhere else, away from their problems.
This Finnish masterpiece could go toe to toe with the best American crime movies.
Hanna is a severely underrated film that brings Hollywood action to Finland. Directed by Joe Wright (who you may know for directing the 2005 adaptation of Pride and Prejudice), the film follows Hanna Heller (played by the talented Saoirse Ronan), a young teenager who has spent all her life being trained to be the ultimate assassin.
"Who would do this kind of thing to a child?", you may ask. As the secrets unravel, Hanna will understand more about her identity and her reason to be. She has been trained by none other than her father, Erik (Eric Bana), a retired member of the CIA who has been keeping a secret that could bring the whole organization down.
When the agency comes looking for Erik, he'll let his daughter loose against the people that have been chasing him. However, she'll soon realize that her father isn't the good guy she always thought him to be.
Hanna is set mostly in the wild expanse that is northern Finland. It's there that Hanna has grown up and it's there where her father has trained her.
This great action film does a great job of showing the Finnish landscape as something to be feared whenever Hanna fights against other people, while never losing reverence for the amazing sights Finland has to offer.
A Man and a Woman is a Korean dramatic romance that takes place in the city of Helsinki. It tells the story of two Korean strangers who meet after dropping their children off at a student camp.
These two main characters are Sang-min (Jeon Do-yeon), the strong and enduring mother, and Ki-hong (Gong Yoo), a husband who is trying to keep his family from falling apart.
They don't know much about each other, but after they are trapped in an inn due to a snowstorm, they share a short yet passionate encounter in a sauna hidden away from people's eyes. After that, they both go on with their lives.
Months later they find each other back in South Korea. Then they find they have more in common than they thought: they are both struggling with strained marriages due to issues related to their children.
While Ki-hong's son is dealing with very severe depression, Sang-min daughter is mentally handicapped and has a hard time finding her place with the other children.
The film will see them try to deal with their feelings for each other, all the while trying to juggle dealing with their crumbling marriages and taking care of their children.
Borrowing Matchsticks, by Leonid Gaidai and Risto Orko, is a classical comedy film. Produced in 1980, the film was made in collaboration between the Finnish government and Soviet Russia.
It's a situational comedy that will make you familiar with life in the Finnish countryside. As shown in the film, it takes a lot of work to live there, but the people and their loved ones make it all worth it.
Perhaps what's best about the film are its silly but charming characters: the rough exterior of this rural folk is paired with a heart of gold.
Set sometime in the 19th century, the film tells the story of Antti (Yevgeny Leonov), a Finnish farmer who lives happily with his grumpy but lovable wife, Anna-Lisa (Rita Poster).
One day, she finds that they don't have any more matches—meaning that they can't cook any food. So, she sends Antti to ask his neighbor who lives on the other side of a lake for a match.
The catch of the film is that, on his way there, Antti becomes distracted by an old drunk friend. As they get drunk together, Antti completely forgets about the matches and goes on a hilarious adventure through the countryside with his friend.
The White Reindeer, by Erik Blomberg, is a classical dramatic film that was met with much praise upon its release. The film is set in the Finnish Lapland, a vast expanse of snowy forest that makes up most of the country's territory.
The film's supernatural elements were based on ancient Finnish mythology—as well as some other local religions before the arrival of Christianity.
The story goes as follows. After Aslak (Kalervo Nissilä) marries Pirita (Mirjami Kuosmanen), he must leave his wife in order to bring reindeer meat for her to eat. As Pirita is left alone, she visits a shaman who lives nearby, searching for a cure for her loneliness.
However, what the shaman gives her is something nobody could have expected: Pirita finds herself transformed into a white reindeer who must feed on blood to stay alive.
The White Reindeer will see Pirita's neighbors trying to get close to her and help her, but her hunger will best her compassion. Everything will take another turn for the worse when Aslak returns from his hunting trip.
This captivating fairy tale won many awards when it was released, including an award at the Golden Globes and one at Cannes. Perhaps what's most surprising about this Finnish classic is that to this day it still is a great movie.
This charming film tells the story of the titular Olli Mäki, one of the most famous Finnish boxers ever.
During his time active, Mäki's skills in the ring were unmatched: he climbed the ladder as an amateur and ended up competing on the official Finnish Olympic Boxing team.
After that, Mäki reached greater heights when he became a professional lightweight boxer, eventually winning the 1964 European Boxing Union title.
The Happiest Day in the Life of Olli Mäki begins in 1962 when Mäki (Jarkko Lahti) attends a wedding in his hometown of Kokkola and reunites with Raija (Oona Airola), a childhood friend who's all grown up.
They chat for a bit before Mäki has to go to Helsinki to prepare for his next fight. Even on the way to the Finnish capital, Mäki is sure that he'll marry Raija.
The titular "happiest day" in his life is, in fact, the day that he asks her to marry him. It just so happens to be the same day that Mäki faces his most dangerous rival, Davey Moore, in the biggest event in the history of Finnish sports.
Inspector Palmu's Error, by Matti Kassila, is another film that's considered a classic by anyone who grew up in Finland. While the British have Sherlock Holmes and the French have Arsène Lupin, the Finnish have the wonderful Inspector Palmu.
Based on the series of novels by the prolific writer Mika Waltari, the film became a phenomenon upon its release. Every Finnish adult and child was going to the cinema to watch the adventures of Palmu. In fact, it was such a success that four sequels were made where the returning cast took on new and more exciting adventures.
In 2012, a poll was conducted where Finnish film critics were asked which was the best Finnish movie ever made and Inspector Palmu's Error came out on top.
After hosting a dinner party focused on the theme of "crime", a wealthy and famous tycoon is found dead in his swimming pool. How did he die? The police say he slipped on a bar of soap.
The avid inspector Frans J. Palmu (Joel Rinne) thinks that something suspicious is up, so he goes to the tycoon's state in order to investigate.
The film will see him interviewing each person present at the dinner party, and looking for clues around the house. As he gets closer to the answer, everything takes a turn for the worse when another member of the tycoon's family is found dead.
As it was said before, Aki Karusimäki is a filmmaking genius and The Man Without a Past is his masterpiece.
After years of directing many great films, Karusimäki decided to cement his name in the history of cinema with a trilogy of films exploring different aspects of his country.
The Man Without Past is the second —and best— in the trilogy: it's preceded by Drifting Clouds and followed by Lights in the Dusk. The film won the Grand Prix award at Cannes and earned Finland its first-ever Academy Award nomination.
Much like Kieślowski "Three Colors", the director's "Finland" trilogy manages to capture so many particular things about the country that it stands as a must-watch for anyone who wants to be familiar with it.
The story follows a man known only as "M" (Markku Peltola) who has just arrived in the city of Helsinki. After being beaten up and awaking up in a hospital, he decides to start his life again.
The Man Without a Past will see him exploring the city while trying to find a place for himself among all the people.
Staying Connected While Travelling
In today's increasingly connected world, staying online while traveling has become essential for a seamless experience. That's where eSIMs come into play, revolutionizing the way we access mobile networks during our global adventures. Say goodbye to hunting down local SIM cards at the airport; eSIMs provide instant activation the moment you land, sparing you the fortune usually spent on international roaming and allowing you to genuinely travel like a local (without getting hopelessly lost!).
With eSIMs, tasks like restaurant recommendations and reservations, up-to-the-minute public transport instructions, checking opening hours, and accessing further information become a breeze. And, of course, sharing your journey on social media is easier than ever. To stay connected wherever you roam, consider using either Airalo or Holafly. Airalo boasts the most extensive range of destinations worldwide, offering smaller data bundles tailored to your needs, while Holafly provides unlimited data packages and fantastic EU data deals.
So why wait? Embrace the future of travel connectivity with eSIMs and make your next journey effortlessly smooth.
Further Things To Consider Before Any Adventure
Now you're all set and prepared to explore our big wide world, why not sort out everything else out all in one go? If necessary for your travel plans make sure you have brought proper travel insurance, protected your privacy by getting a secure VPN, compared all the top hotel booking sites to find just what you're after, reserved an unbeatable rental car price and - of course - booked the best flight deals!
Or maybe just forget it all and go for a last-minute cruise or effortless tour instead?
Many budget travelers (including me) indulge in worldwide airport lounge access, so we can experience luxury while still slumming it in economy. Naturally, we would never leave home without a more general travel guide since we couldn't possibly cover everything here!
Just add an adventurous attitude and plenty of smiles - they go a long way - and that about covers it all! Now go out, find your own path and don't forget to share your best inspiration stories with me on Facebook, Twitter, and Instagram...I'd love to hear from you!