When we think about wild and unspoiled countryside, Finland must be one of the first places to spring to mind. The name conjures up images of dense, green forests, stunning snowscapes, and, of course, the breathtaking Northern Lights.
Luckily for any prospective wild campers, these images are pretty much exactly right! Finland really does have some of the most wonderful nature in the world, whatever the season.
Winter, spring, summer, or autumn all have a distinctive flavor, and all are a joy to discover (although only the very experienced and/or brave would want to camp in the Finnish winter!).
We loved exploring the trendy urban areas of Finland: Helsinki, Tampere, Turku, and Oulu all had so many amazing things to do. But, the raw, seemingly less endless nature of Finland was what sold us on this quirky country.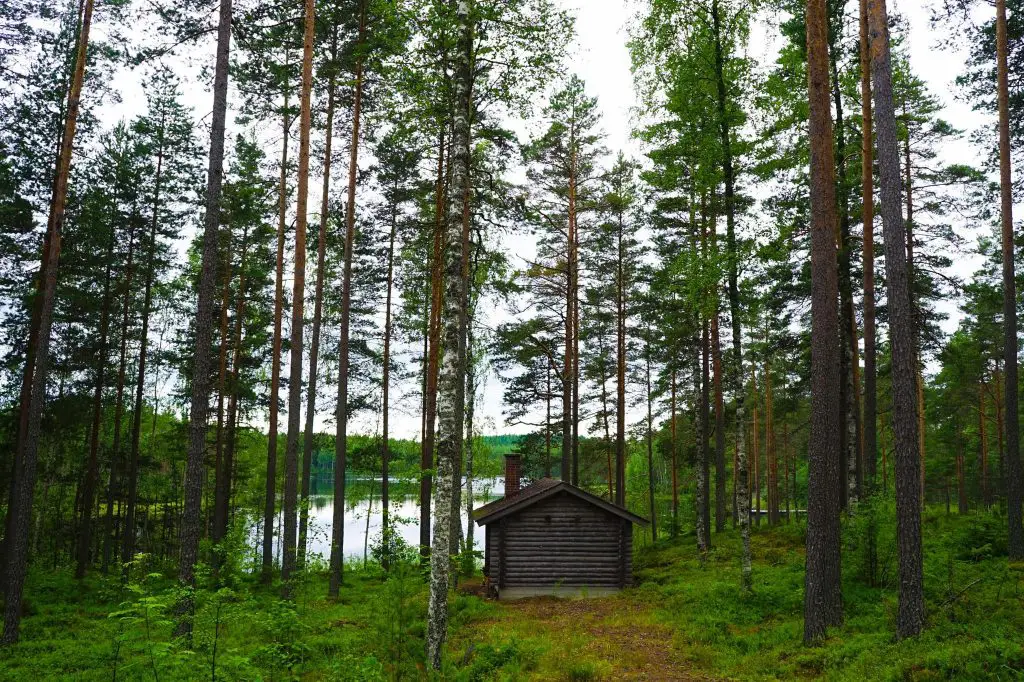 The National Parks, the lakes, the boundless walking trails, and the right to roam make it the dream destination for wild camping. What, you mean you can simply pitch a tent anywhere and experience the great outdoors independently? Yup, that's exactly what we mean!
Perhaps you're enticed by this prospect but a little nervous about what it might actually involve. Don't worry, that's why we're here with all the information you need to know about wild camping in Finland. We also used to be exclusively about the hotels – especially the glorious Lapland Hotels – but wild camping is an accommodation option that has us hooked.
If you want to get hooked too, there's no better place to start than the wild beauty of Finland. Just make sure you have a good tent to take with you!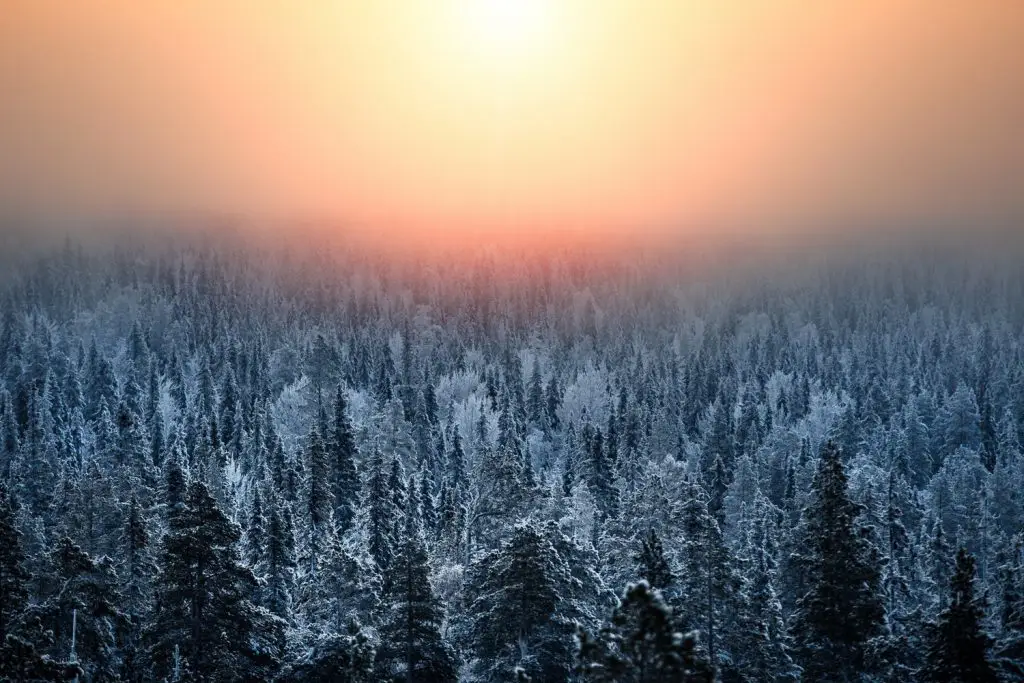 Why Go Wild Camping In Finland: A History
Much like in other Nordic countries like Sweden, Iceland, and Norway, Finland holds its 'Everyman's rights' (Jokamiehen Oikeudet) dear. This means that everyone living in or visiting Finland has the right to enjoy and explore the countryside, including foraging and fishing.
This extraordinary privilege extends over the entire country, from the mysterious Northern forest covering 75% of the country to the hundreds of lakes and islands, to the vast snowy expanses of Lapland.
While Everyman's Rights don't reflect one specific law, they have developed over centuries and are highly regarded throughout the country. It has even now been copied by Baltic countries like Estonia and is in place in Scotland. Rough camping in New Zealand and Austria is also a possibility, but the rules are different.
For you, this means that you are able to camp wild practically anywhere that seems feasible. It also means that the state has supplied thousands of shelters throughout the countryside that are free to use. They might be only roofs and fireplaces at their most basic, this makes your wild camping in Finland experience a little bit easier.
It's clear that this is a country where people still have a very strong connection to the natural world, which is why it's one of our favorite places to go wild camping. You'll find the landscape as open and as respectful as the people who inhabit it. Anyone you pass on your explorations will be happy to give you advice, point you in the right direction, or share their foraged berries.
You can always pack some Karelian Pies to reciprocate the gesture and ensure you make new friends!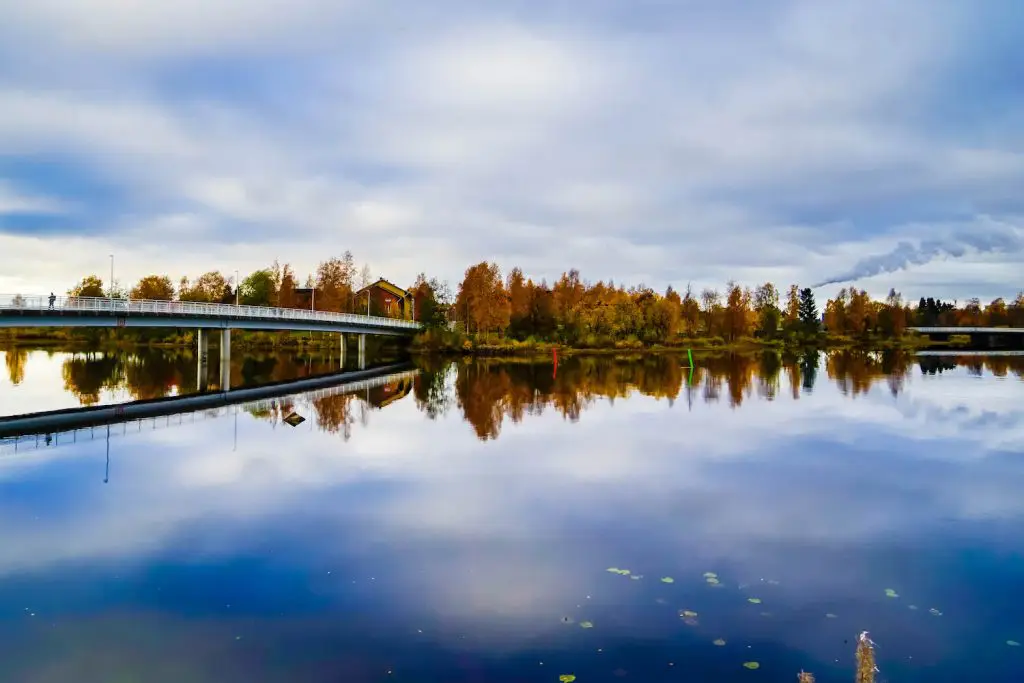 Wild camping in Finland gives you a chance to truly experience something different from the norm. After all, the reason we travel is to get away from the day-to-day; well, you can't get much further away than a tent under the stars.
There are so many places here that you simply wouldn't come across unless you're wild camping. Finland is a country with few cities and a lot of wilderness, so often, the way to discover new things is to get off the beaten track.
You could explore one of the 40 national parks located around the country. Nuuksio National Park, for example, is only 45 minutes away from Helsinki's center, so it is the perfect place to come camping if you're on a city break. You can visit hidden gems like Liminka Bay and the Kvarken Archipelago on the Western coasts. You can wander around the gorgeous Hossa National Park; or hike through the rugged crags of Lapland with a base outside Rovaniemi.
There are so many reasons to go wild camping in Finland that it would be impossible to list them all. Suffice to say that you'll see views you've never imagined and get close to the natural world in a way that simply isn't possible anywhere else.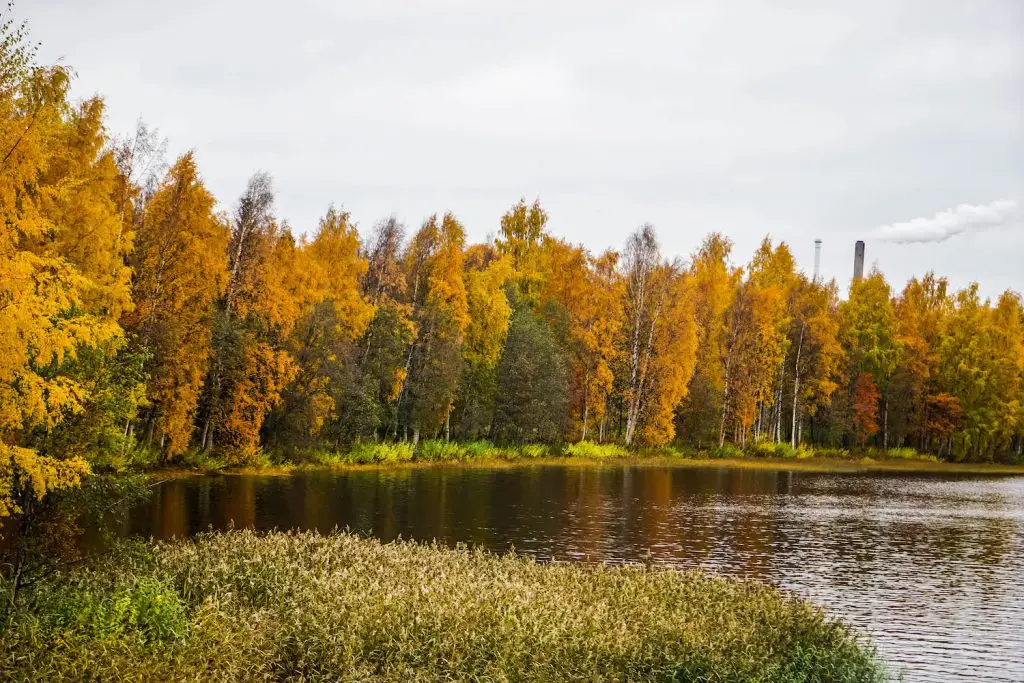 Finland Wild Camping Rules To Follow
In all Nordic countries, it's clear that Everyman's Rights come with responsibilities. While Jokamiehen Oikeudet is not explicitly defined in any legal documents, everyone is clear on what they mean and what those benefiting from it are responsible for.
In its most basic form: be respectful, leave no trace. The arctic landscape and ecosystems in Finland are delicate and precious. It's an honor to be able to enjoy them freely, so we should all be aware of how we need to behave to protect them. The glacial rocks on the coast and slow-growing vegetation are particularly sensitive in Finland, so learn to recognize these and treat them well.
Fires are only permitted in designated areas, so keep an eye out for signs. There are often prefabricated fireplaces, particularly around the national parks, so wild campers shouldn't need to light a fire in any old place.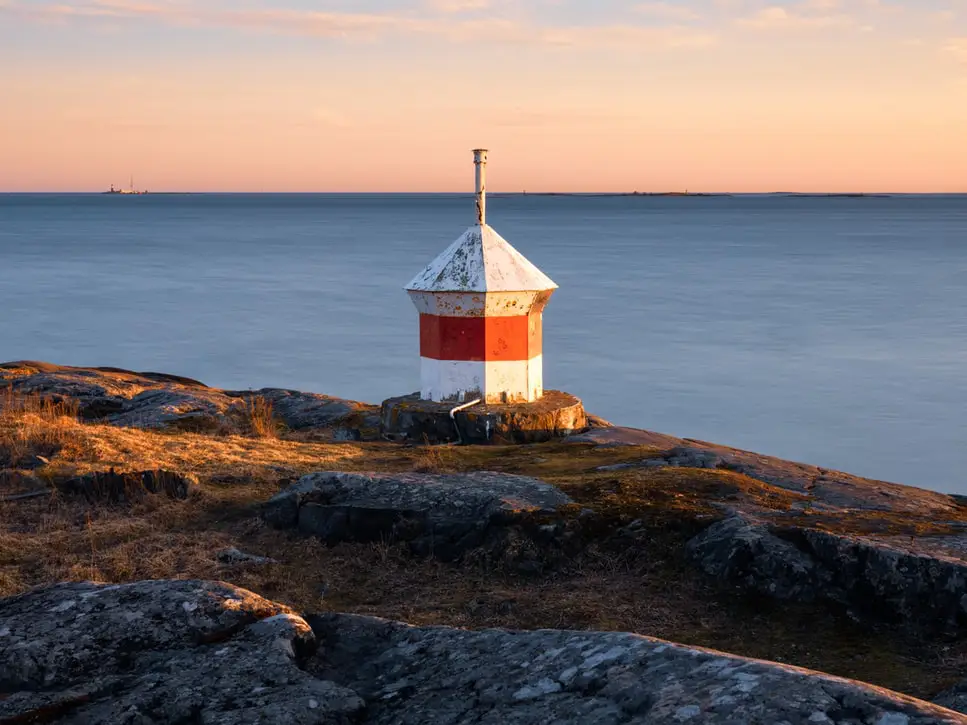 Respecting the environment also means no dropping rubbish, disturbing wildlife, or going through spaces that have crops growing or animals grazing. Obviously, we'd recommend avoiding litter as much as possible in general (think re-usable containers, for example) but whatever you have, take it with you when you leave.
Surprisingly, this includes things like vegetable peel and fruit seeds, as they actually take a while to decompose. Any toilet 'waste' should be carefully buried over 50 meters away from buildings or water sources, and anything that doesn't decompose should also be taken with you.
Everyman's rights stretches to include privately-owned property, but always remember that you are a guest, so behave like a good guest! You should avoid "significant damage" or "unreasonable disturbance" – so no getting drunk and singing around the fire! Don't pitch up too near a property. There's so much space in Finland; it's hard to see why you would want to do this!
A lot of these rules are really common sense, and the law inherently trusts people to make their own judgments about what is appropriate and what isn't.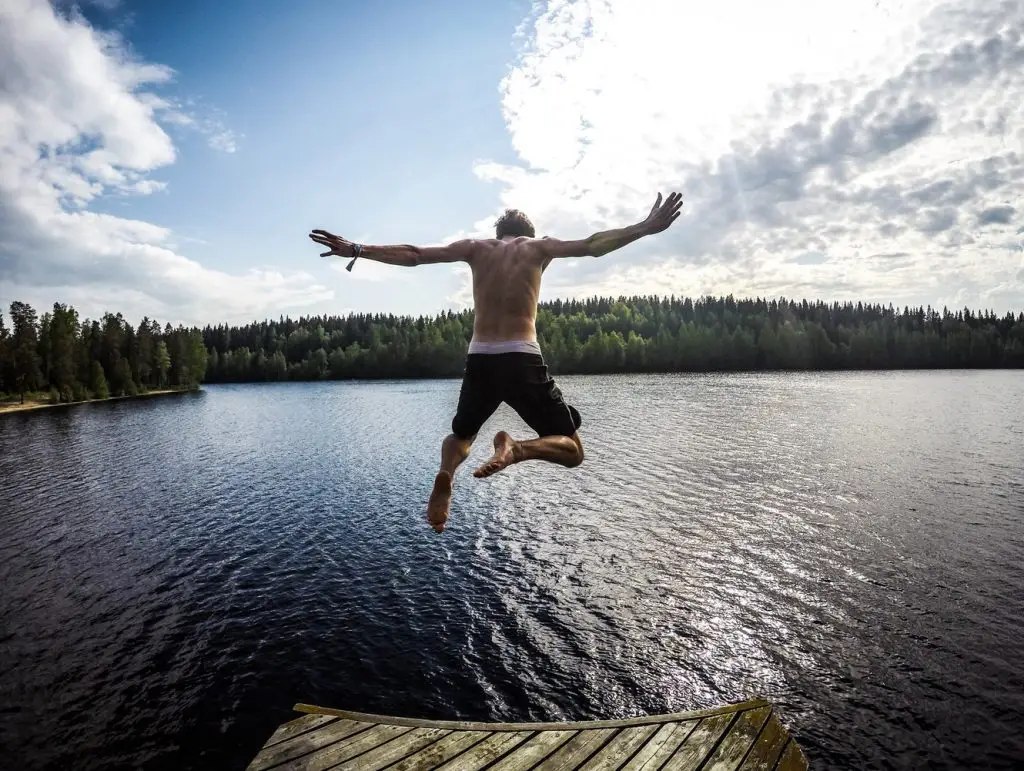 Getting To And Around Finland
Finland is becoming increasingly accessible, which is good news for those of us who have fallen in love with this country.
Helsinki is the main airport, and there are direct flights here from plenty of destinations in Europe, North America, and even Asia. Lapland's main airport is Rovaniemi, which is where more flights will go in winter; Oulu, Turku, and Tampere-Pirkkala airports also have some international flights.
Given its location, Finland is also easy to reach overland, although the only international trains are to and from Russia. You can get there by bus from Russia, Sweden, and Norway. For a grand entrance, sail into Helsinki on a ferry and feel very glamorous (before you head out into the woods and away from hot running water!).
The main way to get around Finland is the comprehensive bus system. It gets you more places than the train network, although the buses aren't the fastest because there are very few motorways here. Trains are quick and generally comfortable, with reasonable prices. If you plan to use a lot of them, the Eurail Pass is also an option to consider.
For your ideal wild camping experience, having the freedom of a car is a great idea. While petrol and rental can be expensive, it's worth it for the flexibility you have to explore different places without having to plan ahead. It's worth noting that during winter, roads can be icy and that you'll need to watch out for reindeer and elk dashing out in front of you.
Don't let these warnings put you off; however – driving in Finland is convenient and means you'll see a lot of scenery.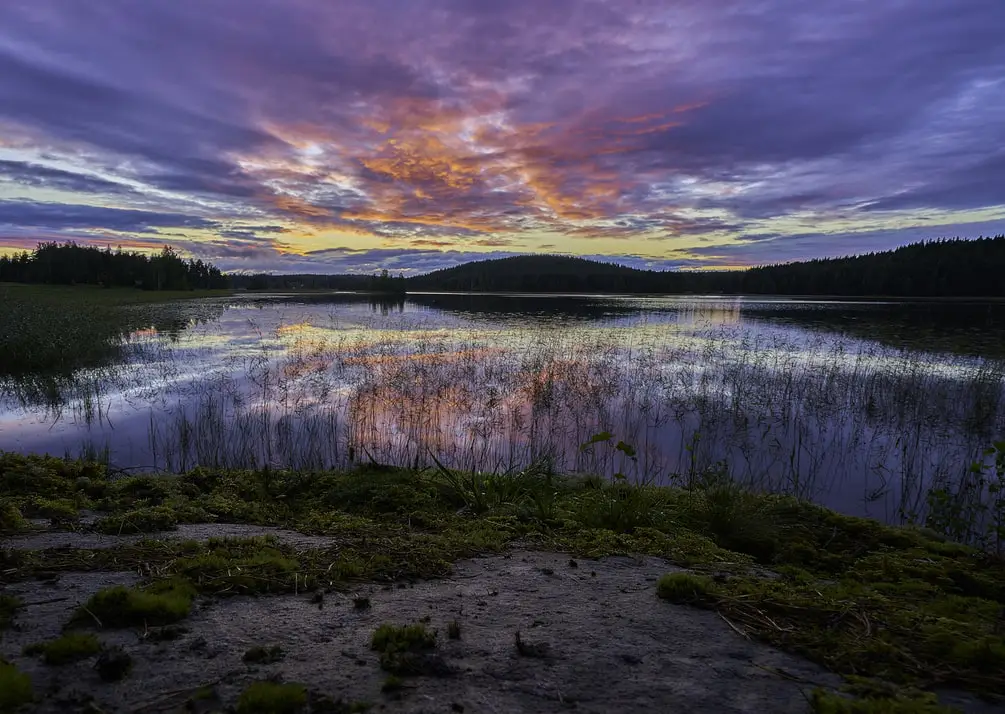 Tips For Wild Camping In Finland
We're sure this goes without saying, but our first trip would definitely be: be prepared! Temperatures can be very low here, even in spring and summer, so ensure you've checked the weather forecast and planned appropriately. Good sleeping bags and tents are a must.
Enjoy all the outdoor recreation options in Finland. This is a country that values the outdoor experience, so take advantage of that. If you get a permit, try your hand at fishing; jump into that chilly lake to go swimming; hike through the forest to somewhere new. Go foraging, an activity that's engrained in the culture of Finland, and feast on vivid blueberries. If you have the right to the land in this country, why not enjoy it to the maximum?
We'd also recommend having at least a skeleton plan for your wild camping experience in Finland. Sure, it's romantic to go wherever the wind may take you (and we've been expounding the benefits of being free to do what you want), but you don't want to end up with nowhere to sleep. Decide which areas you want to visit, roughly how long you want to be there, and get tips from fellow travelers.
Embrace the experience of Everyman's Rights, have fun, and tell us all about it! And if it gets too cold… there is always the incredible Lapland Hotels…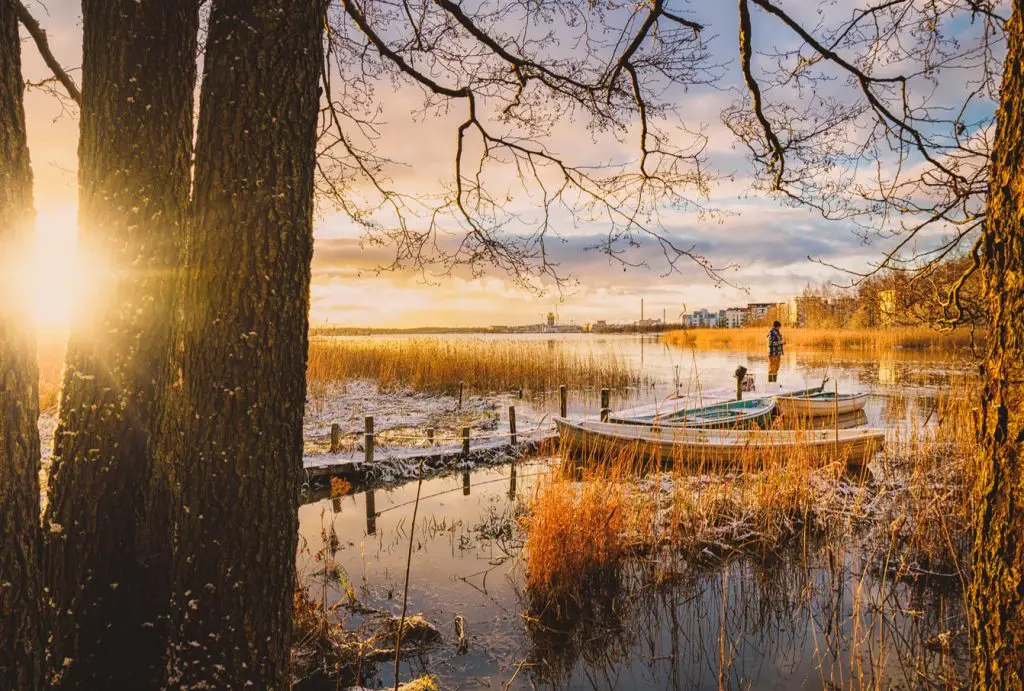 Staying Connected While Travelling
In today's increasingly connected world, staying online while traveling has become essential for a seamless experience. That's where eSIMs come into play, revolutionizing the way we access mobile networks during our global adventures. Say goodbye to hunting down local SIM cards at the airport; eSIMs provide instant activation the moment you land, sparing you the fortune usually spent on international roaming and allowing you to genuinely travel like a local (without getting hopelessly lost!).
With eSIMs, tasks like restaurant recommendations and reservations, up-to-the-minute public transport instructions, checking opening hours, and accessing further information become a breeze. And, of course, sharing your journey on social media is easier than ever. To stay connected wherever you roam, consider using either Airalo or Holafly. Airalo boasts the most extensive range of destinations worldwide, offering smaller data bundles tailored to your needs, while Holafly provides unlimited data packages and fantastic EU data deals.
So why wait? Embrace the future of travel connectivity with eSIMs and make your next journey effortlessly smooth.
Further Things To Consider Before Any Adventure
Now you're all set and prepared to explore our big wide world, why not sort out everything else out all in one go? If necessary for your travel plans make sure you have brought proper travel insurance, protected your privacy by getting a secure VPN, compared all the top hotel booking sites to find just what you're after, reserved an unbeatable rental car price and - of course - booked the best flight deals!
Or maybe just forget it all and go for a last-minute cruise or effortless tour instead?
Many budget travelers (including me) indulge in worldwide airport lounge access, so we can experience luxury while still slumming it in economy. Naturally, we would never leave home without a more general travel guide since we couldn't possibly cover everything here!
Just add an adventurous attitude and plenty of smiles - they go a long way - and that about covers it all! Now go out, find your own path and don't forget to share your best inspiration stories with me on Facebook, Twitter, and Instagram...I'd love to hear from you!