My obsession with Finland is not exactly news to most. I love everything about this gorgeous, albeit curious, country from its unique culture, beautiful cities like Helsinki, Tampere, and Turku, expansive nature including that of fairytale-esque Lapland – and, yes, even its distinctive gastronomy.
There are many noteworthy dishes of Finland, but from my travels, the one that most stuck out had to be the peculiar Karelian Pie typically consisting of a thin rye crust crumpled around a rice porridge filling. Practically unknown to the rest of the world, but ubiquitous across Finland – and to a smaller extent, Estonia and northern Russia, the Karelian Pie stands out not just for its distinctive looks but intriguing history.
Karelia today is a region of northwestern Russia that borders eastern Finland but was historically Finnish speaking and part of the Grand Duchy of Finland in the Russian Empire.
The history is rather long and complicated, but basically, the entire region was ceded to the Soviet Union in 1944 at the end of WW2, causing considerable bitterness amongst Finns with the loss of their second-largest city, Viipuri, and resulted in roughly an eighth of Finland's total population becoming displaced refugees… with little hope of ever returning to their Karelian homeland.
One way the Karelian spirit has lived on in Finland is through the popularity of its namesake pie whose characteristic elliptical shape, ruffled wave edges, and golden filling being a fixture of many supermarkets, cafes, and households. While traditionally, the Karelian Pie had a mostly rye dough, today it is often made more supple with a mixture of wheat or white flour, and more indulgent filling mixtures often featuring rice, potato, carrots, yams or even berries with kaffir lime…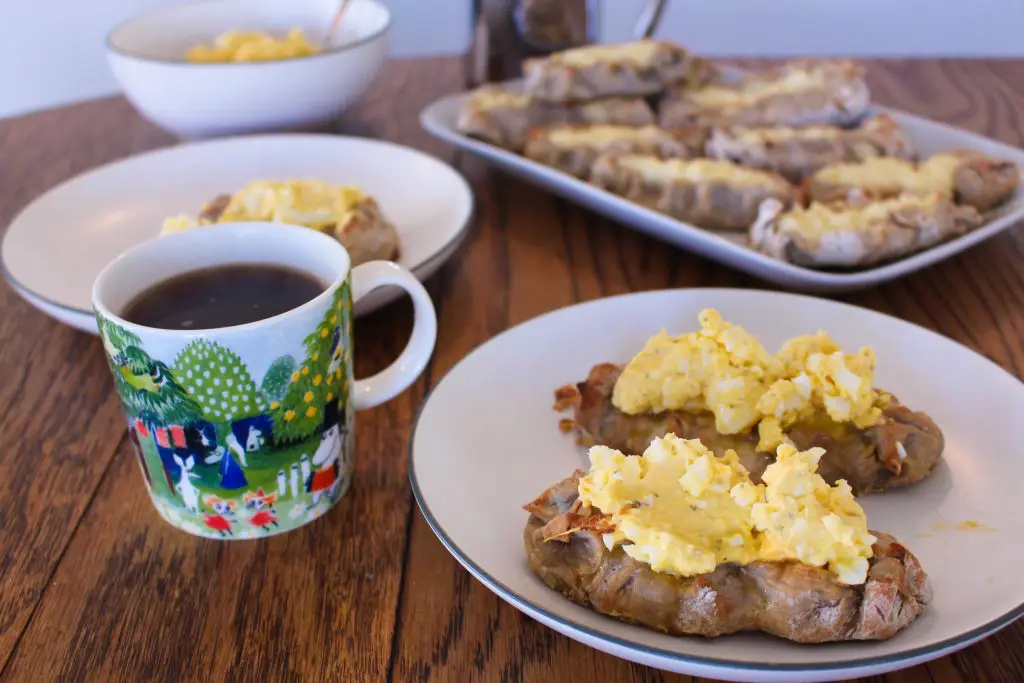 An authentic Karelia pie should contain no less than a half rye flour base – which we have done here, but have opted for the far more common rice porridge filling. Originally the pie was filled with barley, rye, oats and pea flour – but you won't find many like this these days.
Technically the name karjalanpiirakka should only be used for those Karelian Pies made according to traditional techniques, and in a specific geographic location, so modern variants or those sold in supermarkets are often called rice pasties or potato pasties. This heritage-affirmed status is similar to that of Champagne or the Cornish Pasty, meaning I really should call this recipe something else. But I'll roll the dice with the EU lawyers here.
Many a cold winters day in Finland, I sought solace in a warm, nostalgic cafe with a fresh cup of black coffee and a warm Karjalanpiirakka covered in melting egg butter to cheer me up. Quintessentially Finnish, this feeling of content was one I was eager to recreate at home to share with friends and family. A daring addition to any breakfast table, but just as suited for lunch or served with soup at dinner.
While the crimping edges might require years of practice – overall, I found this Karelian Pie recipe to be fun, somewhat easy to make, and perfectly provided the salty, creamy-centered delight I was craving for.
Yes, I said salty – it's not sweet!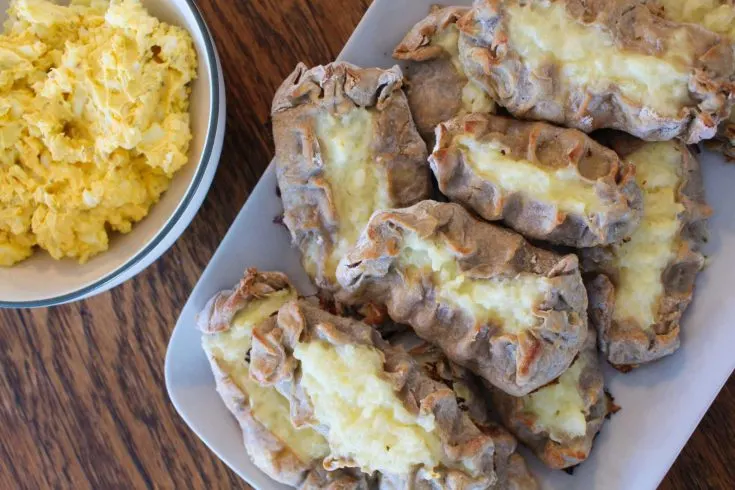 Yield:

6 servings
Karelian Pie Recipe (Karjalanpiirakka) With Egg Butter
Total Time:
1 hour
30 minutes
An easy-to-follow Karelian Pie recipe, eaten throughout Finland. Enjoy this hearty traditional pastry consisting of a largely rye flour dough crimped around a rice porridge filling.
Ingredients
Rice Porridge Filling
1 cup short-grain rice
2 cups full-fat milk
2 cups water
2 tbsp butter
1 tsp salt
Dough / Crust
½ cup water
1 tsp salt
1 cup rye flour
¼ cup all-purpose flour
⅓ cup hot milk, for brushing
⅓ cup melted butter, for brushing
Egg Butter
3 hard-boiled eggs
3 tbsp butter
2 tbsp finely chopped chives (optional)
1 pinch white pepper (optional)
1 pinch ground ginger (optional)
Instructions
Make The Rice Porridge Filling
Add the water and the rice in a medium-size pot. Place on high heat and bring to a boil. Cover, and let simmer over low heat for 15-20 minutes. Stir often.
When most water is absorbed, add milk and continue on simmer until rice has a smooth, thick texture. This can take up to another 20 minutes.
Add salt and butter, mix and let cool thoroughly.

Make The Dough
Preheat the oven to 500ºF (260ºC) and line two separate baking trays with baking paper. Set aside.
Combine the rye and white flours in a bowl, with salt and water, to make a firm dough.
On a heavily floured board, split the dough into 12 equal parts and squash each of the dough balls into a flat circle.
Roll each of the dough out in one direction forming an oval-shape - about the size of your hand. The thinner the dough, the crispier your rye crust.
Spread 3 tablespoons of the rice filling evenly into the middle of each dough crust - leaving a little space around the edge.
Fold the two opposite 'longer' sides of the oval pastry over its filling. Crimp the sides towards the center, creating 'waves' with your fingers. Be sure to leave the rice mixture exposed.
Place on baking trays. Combine a mixture of melted butter and hot milk together, then brush on to crust. This ensures a slightly golden and crunchy texture later.
Put in oven and bake for 10 to 15 minutes, brushing once during baking. When golden, remove from oven and brush again.
Cover with a cloth and let them rest/cool.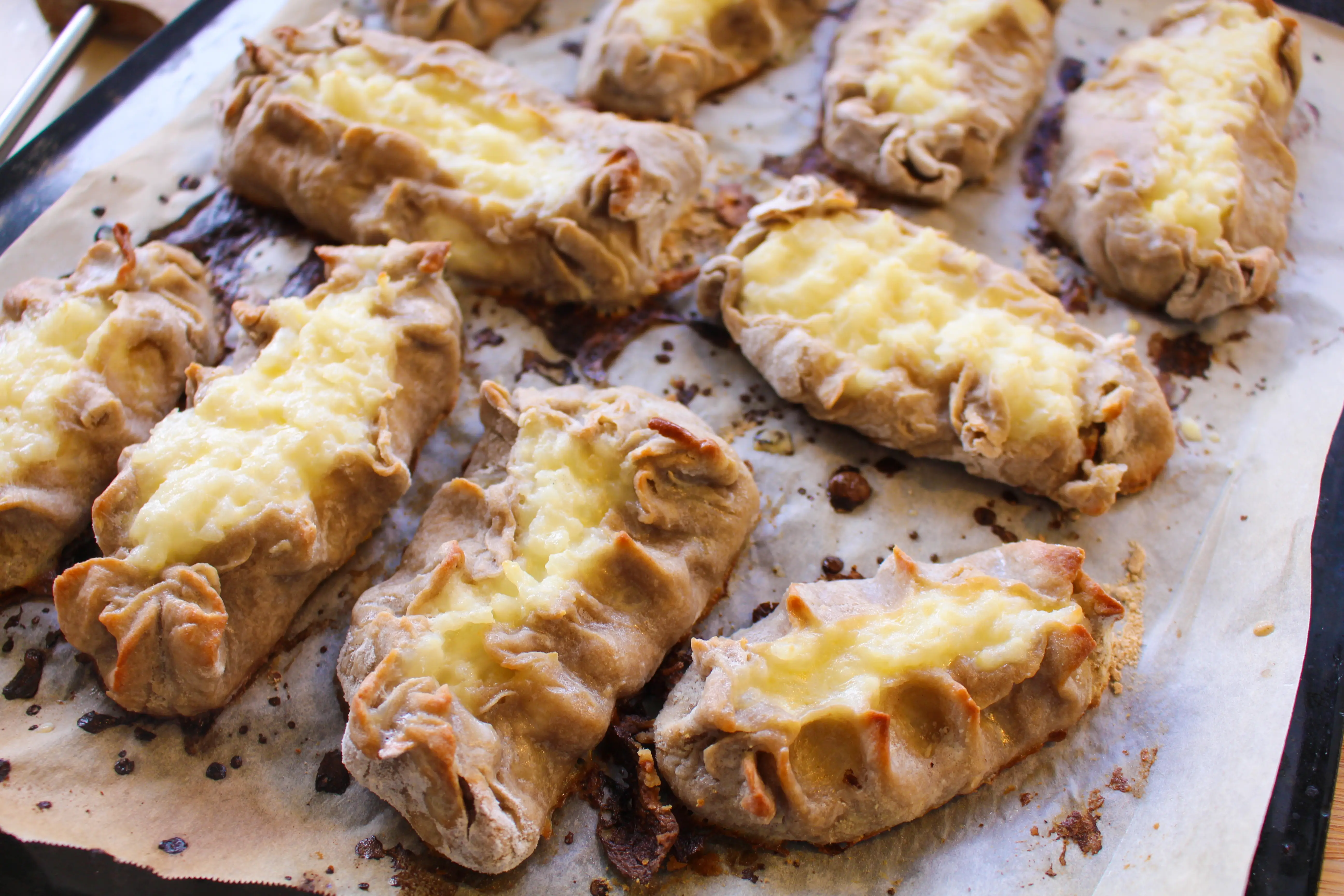 Make The Egg Butter.
In a small bowl, cream the butter and gently mix eggs until spreading consistency.
Season with salt, white pepper, ground ginger, or chives - if desired.
On cool pastries, top with egg butter and serve at room temperature.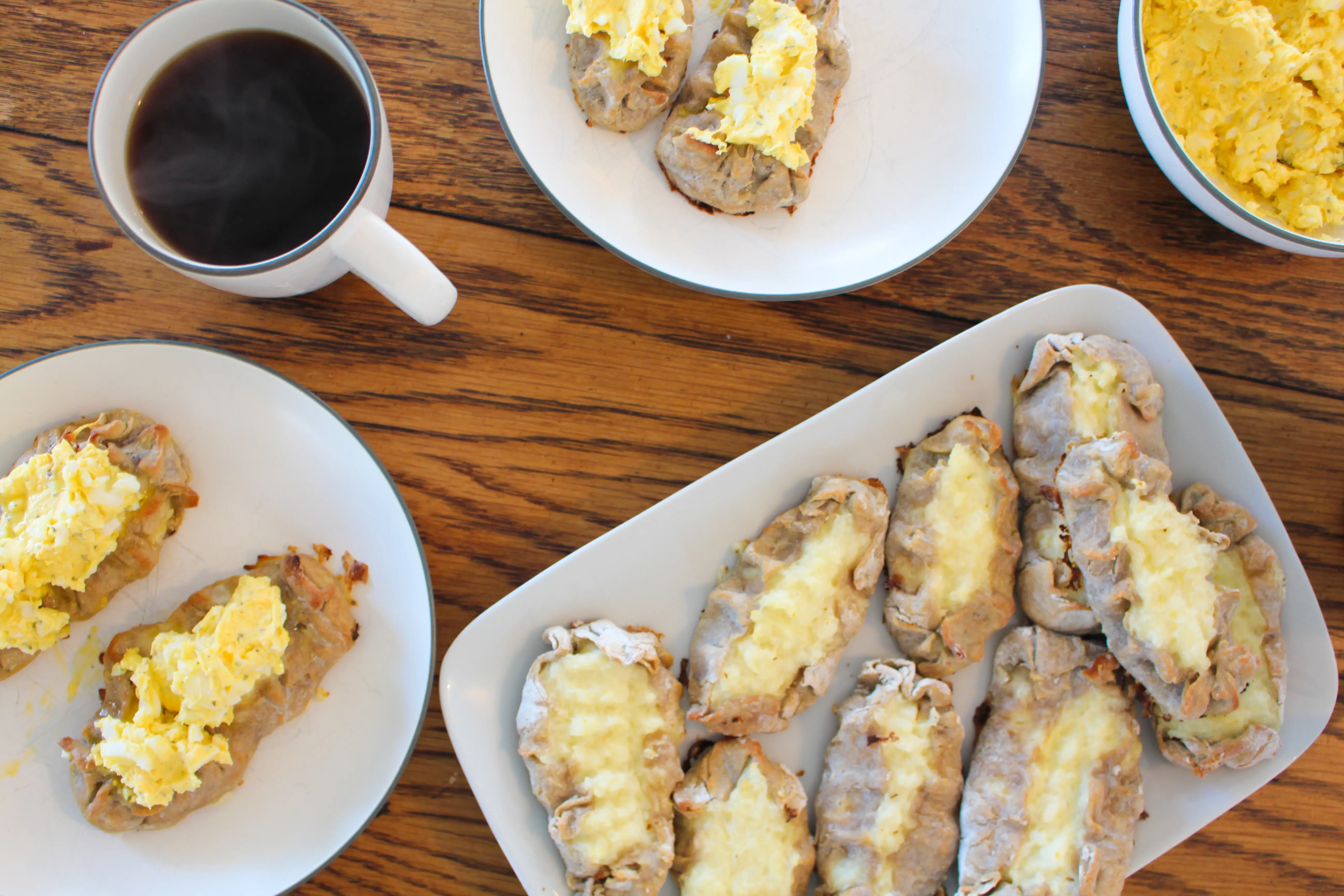 Notes
Finns have a specific type of rice for their porridge called Puuroriisi. Still, in the (likely) chance, you can't find that any short-grained white rice that thickens easily, like Arborio or Calrose, works perfectly. Once you feel confident to experiment with this recipe, consider adding berries and vanilla flavors to the rice porridge to make a sweet dessert option. Other popular fillings include mashed potatoes, meat, fish, and cheese.
Rye flour is not carried by all grocery stores and may be challenging to find. No other flour will give you the characteristic rye flavor and texture, but in a pinch, you can also use whole wheat flour. Buckwheat flour is also a good option as it has a similar nutty flavor and the dark color we are after, while also being loaded with nutrients.
When the Karelian Pie is finished baking, you can also dip directly in a pan bath of the butter/milk mixture instead of brushing. Many Finns tell me this is the best way.
Yes - 500ºF (260ºC) is correct! Karelian Pies need a very hot oven, and may take longer than you would think as rye flour cooks slower than regular flour.
Making the 'wrinkles' on Karelian Pies is tough. Don't be hard on yourself if they don't look like the perfect store brought ones. Mine certainly don't! They still taste delicious, and there are almost as many ways to crimp Karelian Pies as there are people who make them!
Nutrition Information:
Yield:
6
Serving Size:
1
Amount Per Serving:
Calories:

375
Total Fat:

25g
Saturated Fat:

15g
Trans Fat:

1g
Unsaturated Fat:

8g
Cholesterol:

153mg
Sodium:

1017mg
Carbohydrates:

29g
Fiber:

2g
Sugar:

1g
Protein:

10g
Calculated nutrition information isn't always accurate.
[/sc]