Located only an hour away from Auckland's bustling downtown, Rotoroa Island is now open to the public for the first time in a century with unique fauna, a curious history, and panoramic vista galore.
The latest jewel in Auckland City's already spectacular crown, Rotoroa Island, is also one of Auckland's best-kept secrets. Compared to international Waiheke Island or much-loved Rangitoto, Rotoroa Island lies practically empty. While things will inevitably change as the word gets out, for now, Rotoroa offers its fascinating stories, inviting beaches, regenerating bush, and even the rare (and flightless) Takahe to the dedicated few that make it here.
Rotoroa Island is a place where interested explorers can delve into a rich natural and cultural history, spot wildlife on empty trails, swim, picnic, or even stay overnight. A visit here is also a first-hand experience of successful conservation in New Zealand. It's hardly any further from Auckland City than the suburb we locals call Waiheke Island, but it feels like an altogether different world.
Tranquil, unpretentious, a place for healing and relaxation – and a unique chance to escape Auckland for a day. Or more…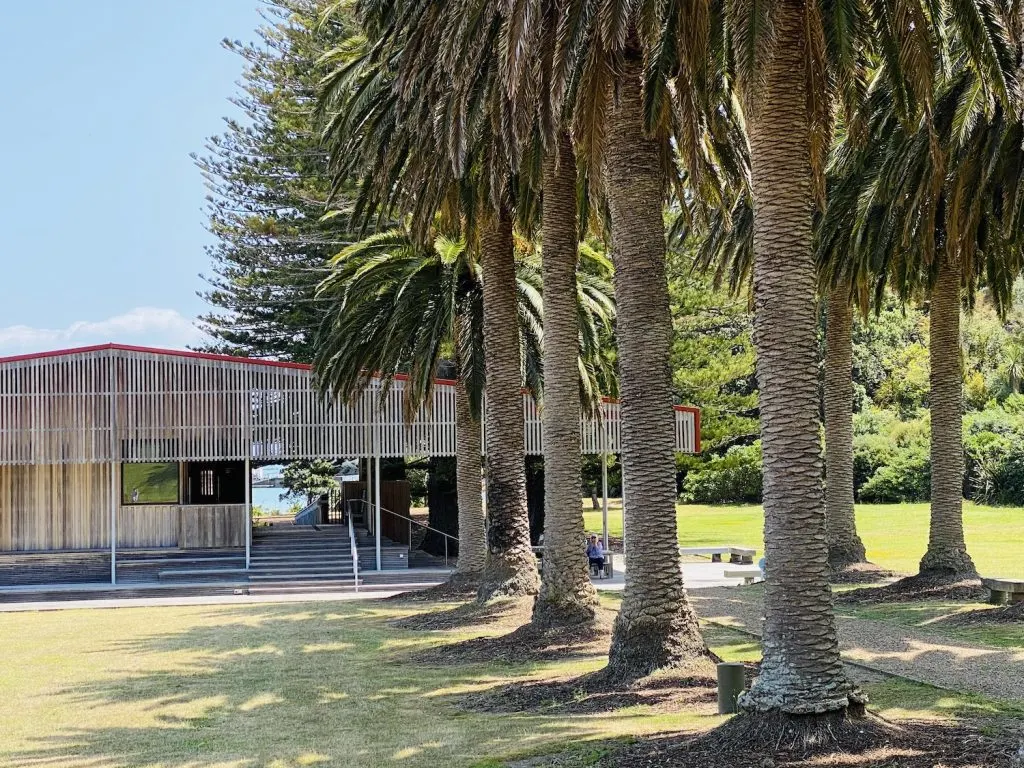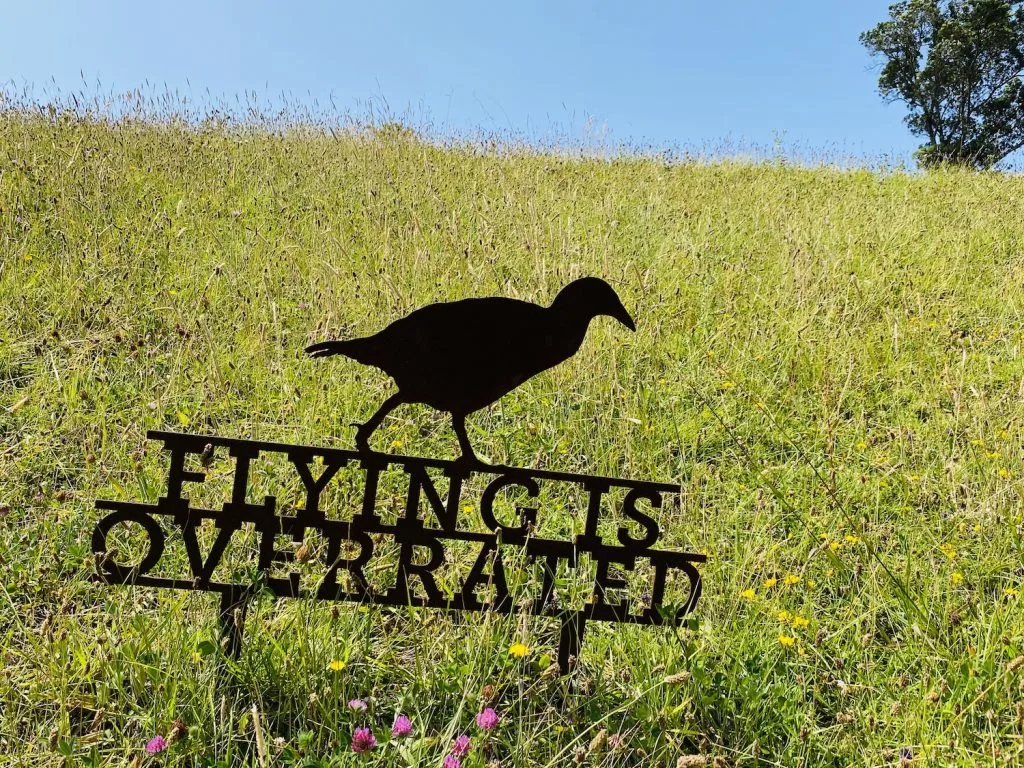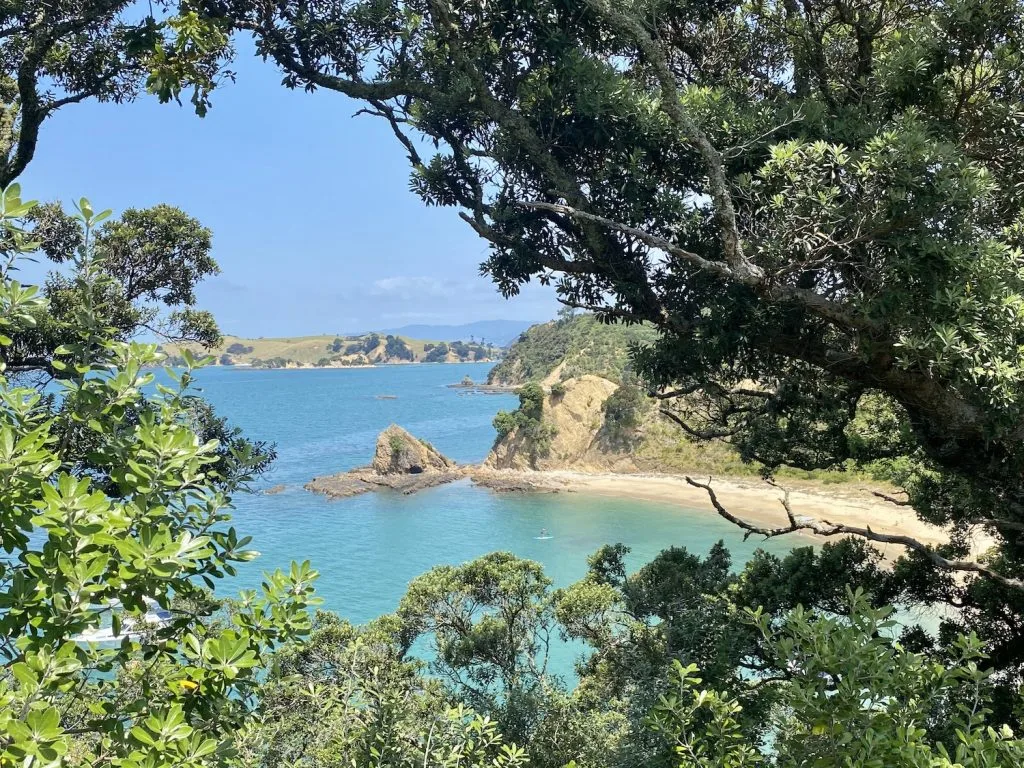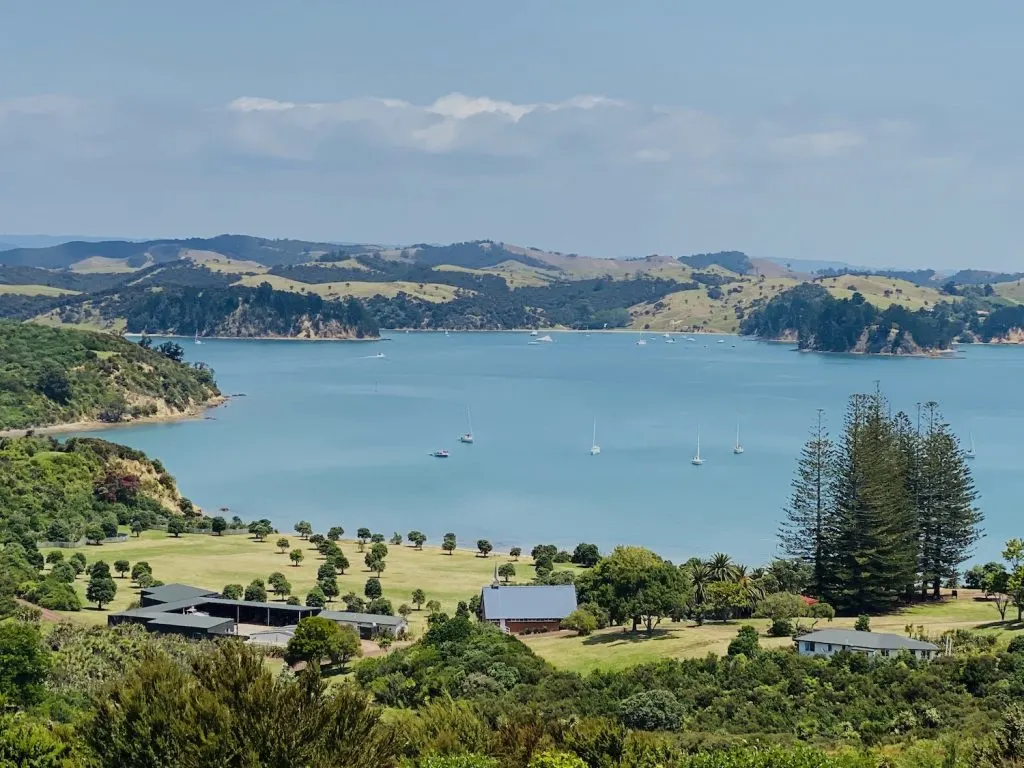 Rotoroa Island Day Trip: A Hidden Gem In Auckland's Hauraki Gulf 🥾
What Makes Rotoroa Island So Special?
Rotoroa Island is located at the eastern end of (more famous) Waiheke Island in the Hauraki Gulf of New Zealand. It covers around 82 hectares (200 acres) – making it the perfect size to explore on a day trip.
It has a long history, which is well covered in a small museum as you arrive on the island. On your visit, you should delve into this fascinating backstory, but most famously, Rotoroa Island was used as an alcohol and drug rehabilitation facility for the past century.
Rotoroa Island was acquired by the Salvation Army, a Christian church, and an international charitable organization for £400 in 1908. They were expanding from nearby Pakatoa Island, and with this acquisition, they now could split the sexes with men being treated on Rotoroa and women on Pakatoa. The Rotoroa Inebriates Institution was opened to patients in 1911, and alcoholics were brought out from the city and expected to go cold turkey.
What they arrived in Rotoroa Island, they found they were required to work on the farm established where with a dairy herd, pigs, vegetable gardens, and even a butchery. While the program changed over time, in the beginning, it was little more than an idea that instilling work ethics and detoxing would set these men right. With no treatment or dealing with the disease, its little wonder than many of the patients returned to the 'mainland,' only to quickly relapse and return.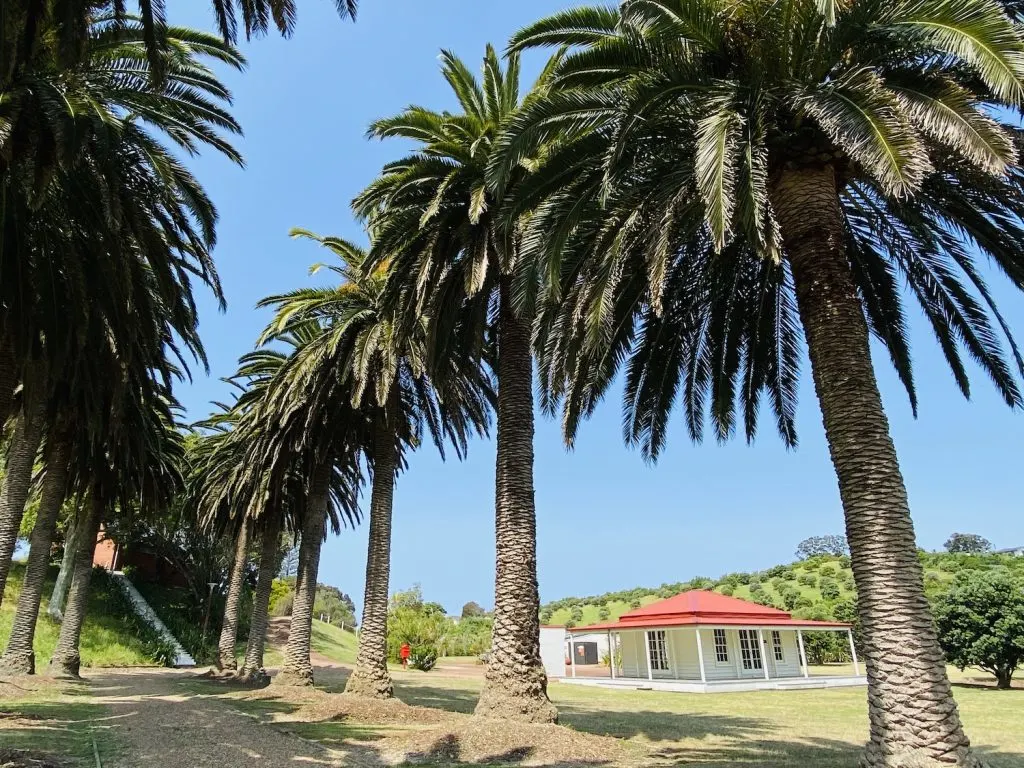 This arrangement continued for nearly a century – albeit with significant reforms in the 1960s. Such changes saw the Island used more humanely by those who had already detoxed and wished for a space to recover and reconsider. That was until 2005 when the Rotoroa facility was closed.
Not that the Salvation Army didn't wish to continue its work, it just turns out operating from a disconnected island in a harbor was no longer the best way to help their patients. There was then the question of what to do with the Island, as the Salvation Army didn't wish to sell Rotoroa Island. Interestingly – they had sold Pakatoa Island next door in 1949, which is now for sale again as one of the few privately-owned islands in New Zealand. If you feel like buying it, please invite me.
A solution to the Rotoroa Island problem was found in 2008 when a rather wealthy NZ family, the Plowman's, negotiated to form a conservation park on the Island. It was agreed they would lease the Island, rather than buy it, and they quickly began a revegetation project which eventually saw over 400,000 native plants planted.
The historic chapel, schoolhouse, and jail used as part of the treatment facility were also renovated, and a visitor center built. The Island was then gifted to Auckland in 2010 and opened to the public in the following year. Since then, work has continued on the regeneration of Rotoroa Island back to a more natural state with some creative license.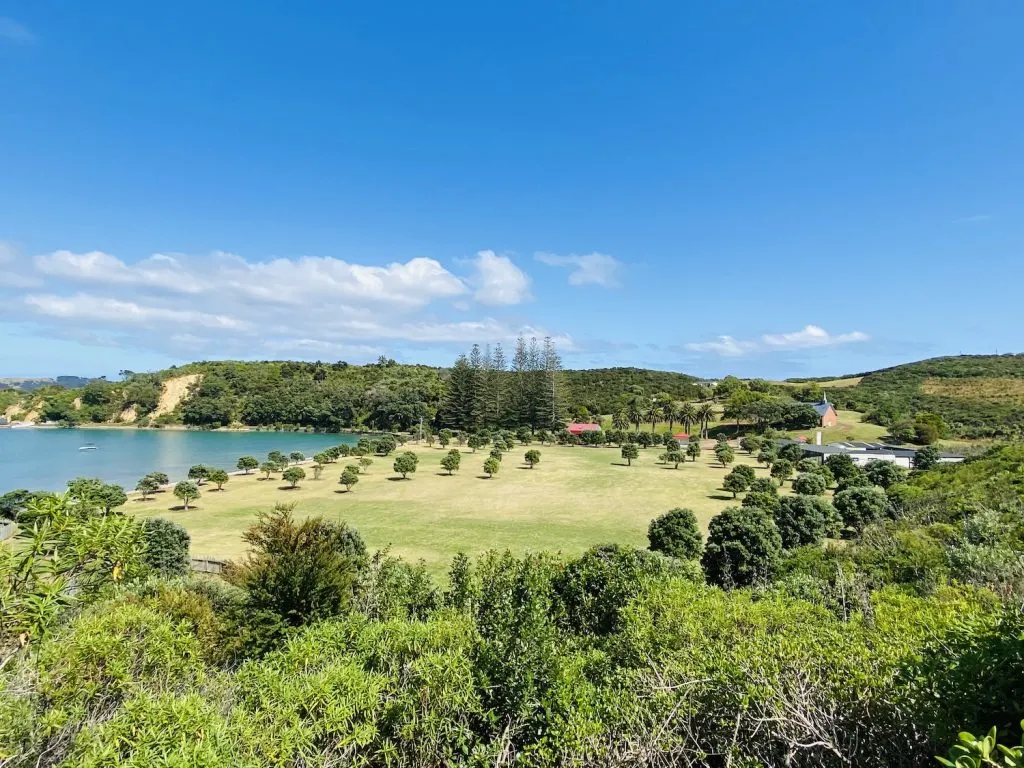 The Pohutukawa groves at Home Bay, where you arrive, is not natural. Nor are the Kauri and the Three Kings Islands kaikomako, which were planted as a safeguard considering they are threatened on the mainland. Otherwise, regeneration is aimed at returning the Island to how it was before human arrivals in New Zealand. Weeds and pests have been removed, and much of the first plants have now achieved complete canopy closure.
Its rapid transformation truly is extraordinary and can be attributed to a determined group of volunteers, and the fertile, productive soils of the Island. On a visit, you will find dense native bush (that somewhat miraculously survived destruction by humans) and open farmland that has yet to be replanted. It is a mammoth undertaking, and what makes a day trip to Rotoroa so unique – the chance to see this process in action. The various stages, the effort or indeed – to be a part of it should you wish. Volunteers are always welcomed if you organize in advance.
Along with the regeneration of native bush, Rotoroa Island has seen an increase in endemic wildlife through transplanting. As a result, Kiwi, Takahe, Weka, Tieke (saddlebacks), Popokotea (whiteheads), and Oi (Grey-faced petrels) now call this Island home.
While your chances of spotting a kiwi on a day trip are relatively low, you should easily spot one of the four residents, Takahe. They are a large, flightless bird up to 50cm in high and weighing up to 3kg – and don't seem to mind humans very much. Rotoroa Island is one of the few places in New Zealand. The birds themselves have a fascinating history – being declared extinct in the past until somewhere discovered deep in the South Islands Murchison Mountains (close-ish to Milford Sound).
While the regeneration of Rotoroa Island back to a more natural state is a work in progress, it is already a remarkably unique island and a true definition of a hidden gem. Sure, it is not quite the Komodo Islands or the Galapagos – but its also only a short ferry trip away. So, why would you not visit it!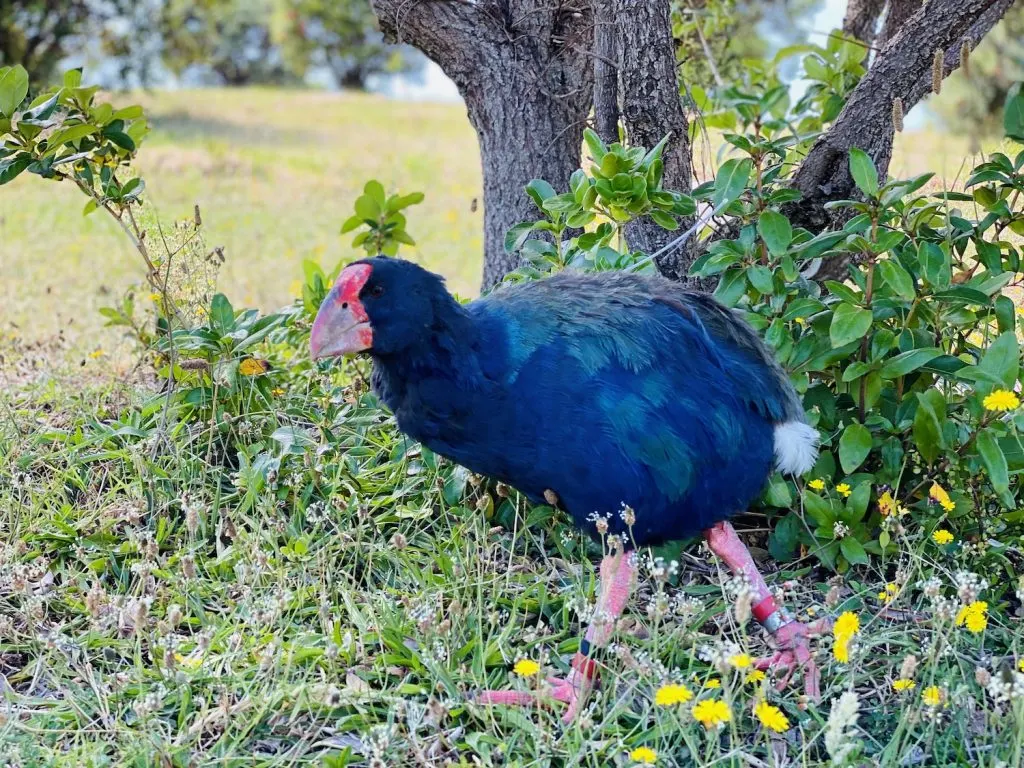 How To Get To Rotoroa Island On A Day Trip
Assuming you don't own a boat, Rotoroa Island is best accessed on a day trip via ferry from Auckland's Ferry Terminal.
The ferry runs by 360 Discovery Cruises operates once or twice daily, depending on demand and the season. It generally includes stop at Waiheke's Orapiu pier on the way and continues to Coromandel township after, before doing the return route in the afternoon.
The timetable does seem to frequently change, with more sailings in the peak summer months and on Saturdays, Sundays, and Public Holidays. Personally, I'd go on a weekday and just make sure to plan around the timetable as there will be fewer people. I would also take the earliest ferry and return on the latest, as there is a lot to do on this Island – and you wouldn't be the first person to want to stay longer. The beaches, the history, the bush, the glorious views. Why would you want to return to the mainland?
Another recommendation…
Stay the night. There are gorgeous converted houses now set up as lux baches for visitors to spend a night. Or more. And there is also The Superintendent's House, a shared dormitory-style accommodation option for those on a budget. All Rotoroa Island accommodation options tend to book out months in advance, so plan ahead if you want to stay over.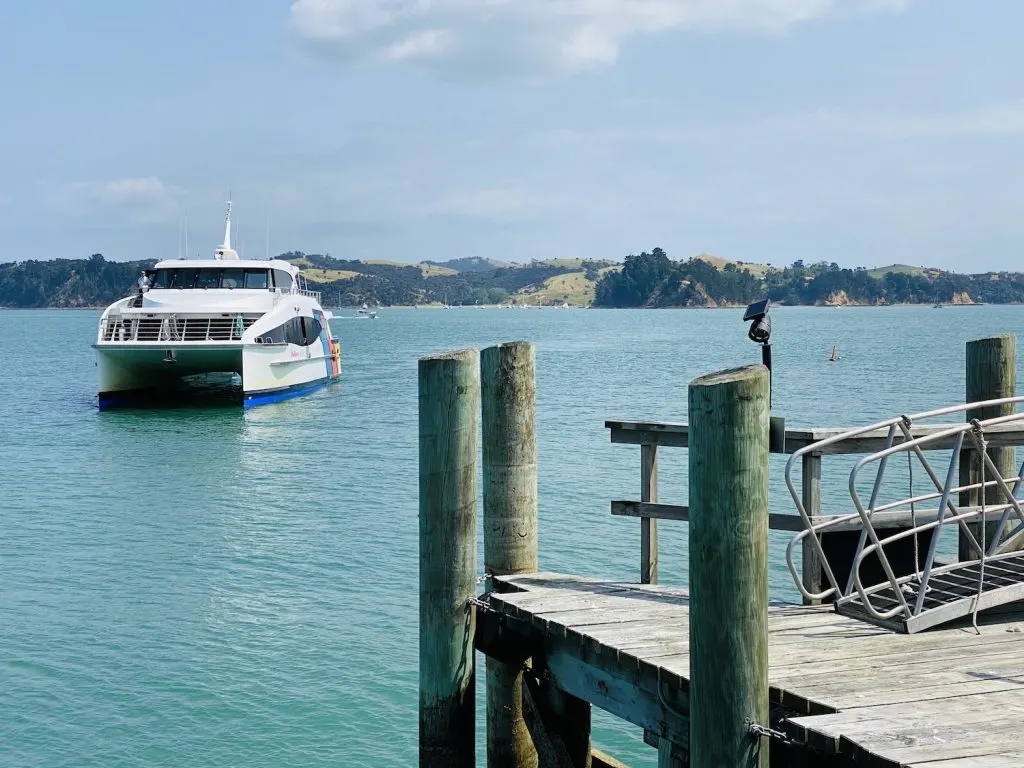 The Walks On Rotoroa Islands
There are a great many walks on Rotoroa Island to consider depending on your physical fitness and energy levels. All are very doable on a single day trip as the drop off point is directly in the middle of the Island. If you wish to complete all hikes, it would probably be around 4 hours – though allow ample breaks for fauna sightings, swimming at one of the beaches, picnics, etc.
I recommend starting with the Southern Tower Loop Track. Start in an anti-clockwise direction to give yourself great views over the Island immediately to help find your bearings. This is also the opposite of what most tourists do, meaning you'll have the island to yourself – and perhaps spot a Takahe out and about.
Head to the lookout at Ruthe Point, then South tower and the spectacular Chris Booth sculpture. Yes, as if Rotoroa Island didn't have enough already – there is even world-class art here. This impressive and rather unexpected piece, comprising three post-tensioned arcs of boulders strung together, was commissioned in memory of Jack Plowman, father of island benefactor Neal Plowman.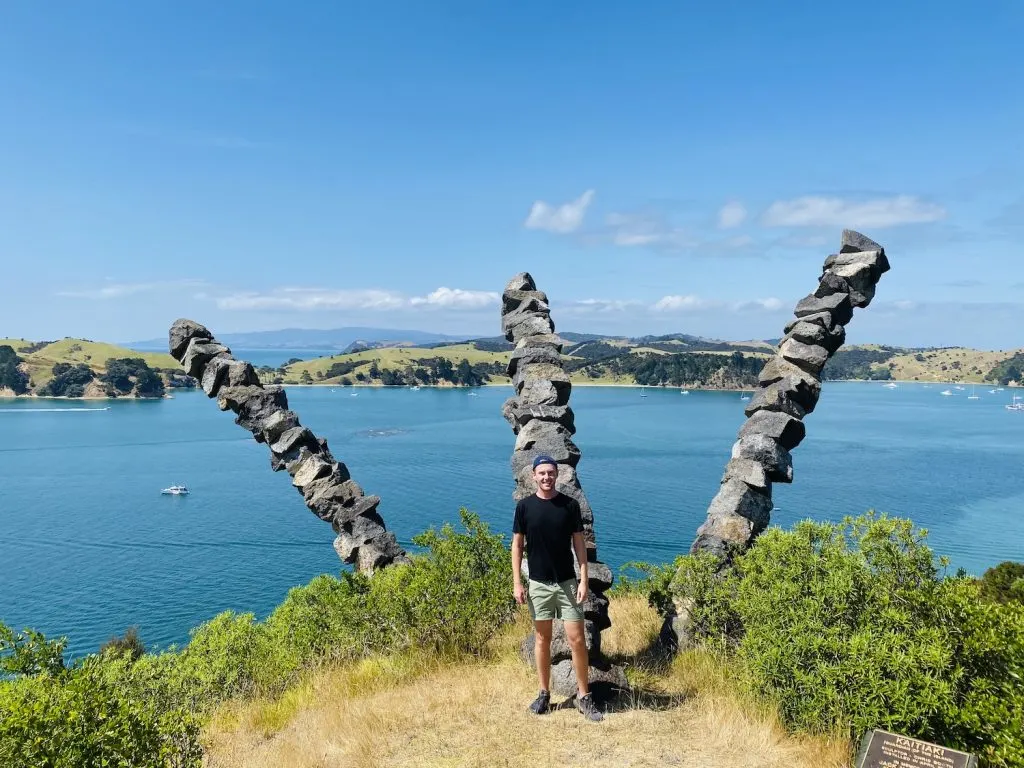 After marveling at its gravity-defying form, inspired by wind-bent branches of a nearby pohutukawa tree, continue down the train to Men's Bay, and take a dip if you like. I personally recommend heading to the next beach along – Ladies Bay. It's just a little more sheltered, but both beaches are incredible and up there with the best of kiwi beaches along with those of Ruakaka, Coromandel, or Northland.
After your swim, head up the hill for the North Tower Loop track, sopping off at the cemetery, lookouts, and old-growth bush. Should you feel up to it, the Cable Bay and Mai Mai Bay side tracks are well worth the effort – but ask the ranger on arrival about wind conditions as these are often exposed. Finally, don't forget to allow enough time to get back to Home Bay in time with your ferry. The museum is also located here, meaning you can kill time here, or looking around the historic chapel, before your trip home. Whatever you do, please don't miss your ferry back to Auckland from Rotoroa Island as there are no accommodation options available on the day, so you will have to shell out for a costly water taxi.
Make sure to grab a map on arrival on from the ferry beforehand. It's not a big island – but you wouldn't want to get lost. It also has all the bathrooms, facilities, recommended picnic stop areas. Not to mention the best places for Takahe spotting. This will ensure you see all the top highlights of Rotoroa in one go. Too easy!
Should you want to be extra prepared, these are the six main walks on Rotoroa Island. You can do as many or as little as you like:
Home Bay Track – (20 minutes return from the wharf)
North Tower Loop Track – (45 minutes return from Exhibition Centre)
Southern Loop Track – (75 minutes return from Exhibition Centre)
Mai Mai Bay Lookout Track – (20 minutes return off North Tower Loop Track)
Mai Mai Bay Track – (10 minutes return off North Tower Loop Track)
Mai Mai Bay Track – (30 minutes return off North Tower Loop Track)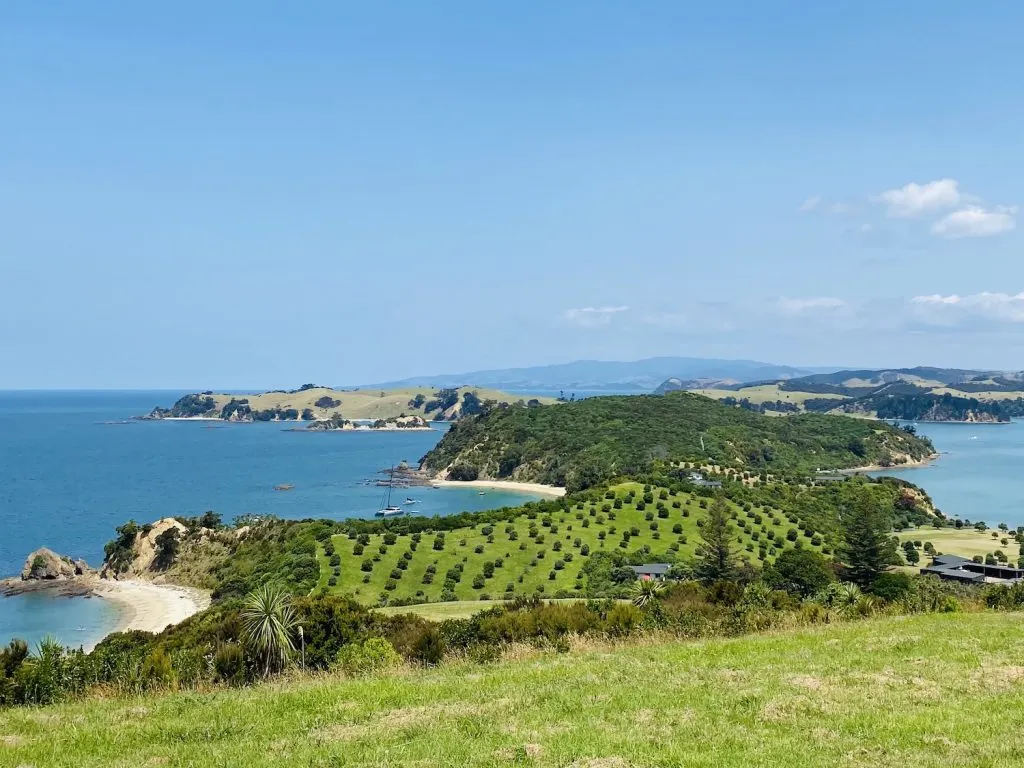 Things To Pack For A Rotoroa Island Walk
There are no shops on Rotoroa Island, so you are going to need to bring everything you need with you. Make sure you are well prepared. You can't pop into a clothing store or supermarket should you forget anything.
Sunscreen and a Hat. New Zealand sun has relatively high UV levels, alongside Australia and high-attitude destinations like Peru. Don't be fooled by a cloudy day, and always wear sunscreen.
Wet Weather Gear. Four seasons in a day are very much Auckland, and even a day of blue sky can deteriorate rapidly. Since you are isolated on an island, you need to prepare for every eventuality. The cover is minimal while walking some trails in Rotoroa, and the prevailing wind direction can leave you rather exposed.
Swimming Gear. In the warmer months, you should absolutely go for a swim on Rotoroa Island. There are four or five main swimming spots to choose from. Ask the conservation volunteer on arrival for recommendations based on the prevailing wind on the day.
Good Footwear. The trails are relatively easy by New Zealand standards, but jandals/flip-flops will not suffice. There are a few hills to climb up and some steep sections of the path.
Food. You'll need to bring all of your snacks and lunch, as there is nowhere to buy food on Rotoroa. Drinking water is available at Home Bay, but best not to rely on it. You can get a (rather terrible) coffee on the way over in the ferry and some average snacks. I'd recommend going to the Countdown Metro close to the Auckland Ferry Terminal. If you are feeling somewhat decadent, Amano is one of my favorite Auckland cafes and is only a few blocks away with incredible coffee and baked goods that will happily pack for takeaway.
A rubbish bag. It seems sensible, but just to re-iterate that Rotoroa Island is a pest-free island and there are no rubbish bins facilities here. Do not leave even your food scraps here for animals to forage. Leave this remarkable Island precisely as you found it so future generations can experience its wonders for themselves.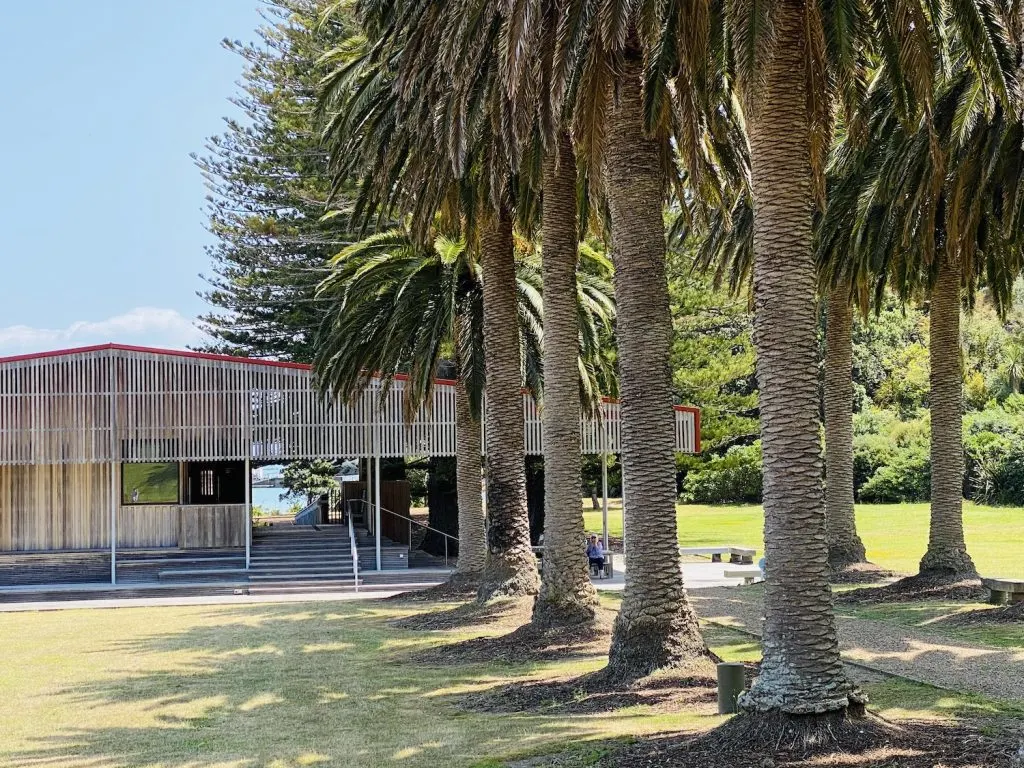 Other Important Information For Rotoroa Island Walks.
Toilets? The Rotoroa Island ferry has bathrooms, but there are also toilets at four toilets on the Island. One at Home Bay when you arrive, one each at Ladies Bay and Men's Bay and one at the top of Cable Bay.
Can I Stay the Night on Rotoroa? Rotoroa Island hosts a variety of holiday homes that can be reserved in advance. They are very popular with Auckland locals, however, so you'll need to plan months out. Camping isn't allowed anywhere at all on the Island, and wild camping in New Zealand is not particularly easy in general. Staying at the on-site accommodation will enable you to experience Rotoroa Island at night and without any day-tripper crowds. Not only is it magical – but it is an essential long-term funding source for conservation on the Island.
While My Cellphone Work? The amount of people who seem concerned about staying connected here is somewhat mind-boggling, but in short: yes, if it works in Auckland. This is not Hong Kong or Singapore; however, and coverage can be patchy. You will likely get on the peaks of the hills and at Home Bay, but I found it very hit and miss. Best to plan to be without.
When To Visit? There is no best season to visit Rotoroa Island – as long as you are dressed appropriately. As you can imagine, a rainy day is less than ideal. Auckland frequently has stunning blue skies in winter – perfect for a Rotoroa day hike without the heat. In the middle of summer, Rotoroa can be very, very hot. Swimming is best considered from December to March or April. One other magical time to try visit time is during the Pohutakawa Bloom in November or December – its almost as magical as Sakura in Kyoto Japan, but far less touristy.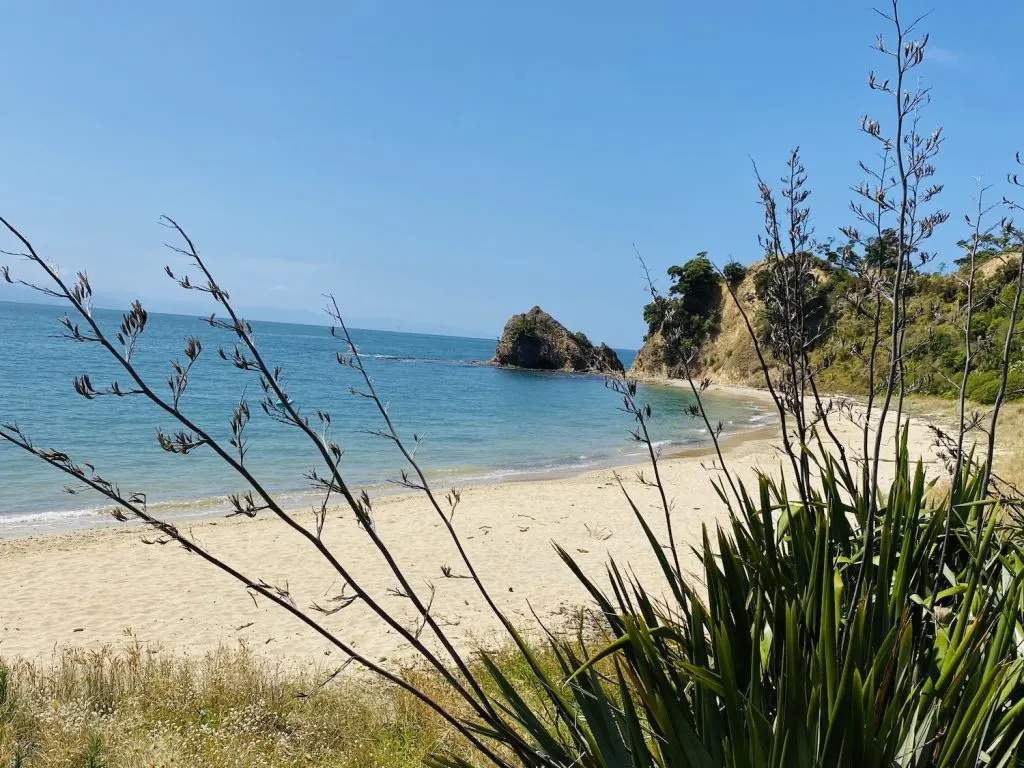 Where To Stay In Auckland
LUXURY SO/ Auckland
The trendiest artistic and musical melting pot in town. A luxurious urban hotel with avant-garde design, local energy, and magnificent views. –> Treat Yourself!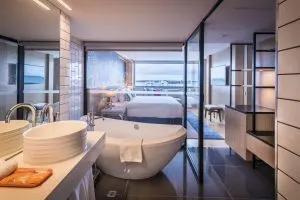 MID-RANGE M Social
A 190-room designer hotel overlooking the vibrant Princes Wharf with wallet-friendly prices, glass-enclosed bathrooms, and harbor views. –> Find the best price!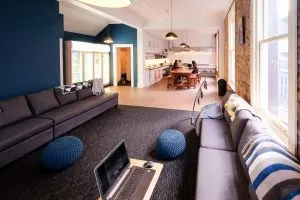 BUDGET Haka Lodge
Enjoy a warm welcome, comfy beds, and free unlimited wifi at this upmarket backpacker lodge located on hip-and-cool Karangahape Road. –> Book now!