Amsterdam has a lot to offer for both national and international filmmakers. The country has modern cityscapes, as well as a strong sense of history with 16th-century architecture and romantic canals. So it will come as no surprise that there are so many wonderful movies set in Amsterdam.
When you think of Amsterdam, you probably think of the red-light districts, ancient churches with tall bell towers, and picturesque canals dotted with wooden homes. But there's so much more to this city than meets the eye. This Dutch city is also one of the artsiest places in Europe.
Here art galleries and museums are commonplace, with plastic and musical artists sharing their works either there or on the very streets. To put it simply: it's a haven for culture and art lovers. And it has been for quite some time.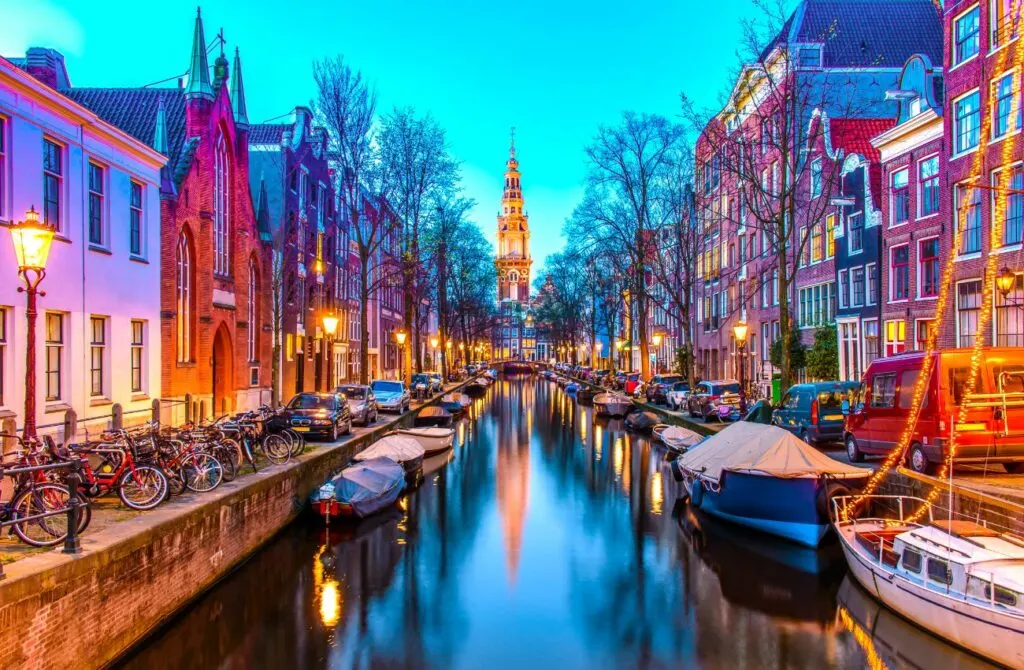 Amsterdam is rich in history, having been home to many famous figures, such as Erasmus, Rembrandt, and Vincent van Gogh.
Yet you don't need to be an art-enthusiast to fall in love with Amsterdam: its quirky architecture, narrow cobblestoned lanes, and hidden canals give this city an otherworldly feel. Whether it is by visiting Amsterdam or by admiring it through film, you must experience this feeling!
Amsterdam is one of the most beautiful cities in the world, so it's no surprise that it regularly features a setting for movies and television shows. There are several films about this beautiful city that will make you fall in love with this stunning place.
These Amsterdam films have narratives that rely on their settings as much as their main protagonists, and as a result, spectators get a glimpse of this iconic country through the director's eyes. To honor the concept of cinematic travel, we have also assembled lists of our favorite films shot in some of our all-time favorite travel destinations: Ireland, Tokyo, Chicago, Italy, Boston, Hawaii, and Scotland
Wondering where to watch? It depends on where you live in the world and which streaming services you have. We link to the streaming service we watch on in each case - be it Netflix, Amazon Prime, Apple TV+, or elsewhere.
You can get one month free of Amazon Prime (or a 6-month trial for students) of Amazon Prime and also get immediate access to FREE Two Day shipping, Amazon Video, and Music. While you won't be charged for your free trial, you'll be upgraded to a paid membership plan automatically at the end of the trial period - though if you have already binged all these, you could just cancel before the trial ends.
Apple TV+ also has a one-week trial, and Hulu has a one-month trial (which can be bundled with Disney!). Another option might be using a VPN to access Netflix titles locked to other regions. Netflix is now available in more than 190 countries worldwide and each country has a different library and availability. US Netflix is (understandably) one of the best.
While we wish everything could just be in one place - for now, it seems these are the best streaming platforms to watch on.
A list of the best films set in such a picturesque city as Amsterdam deserves to start with a film that manages to capture the beauty in this place, the people that lived there, and the works it inspired.
If you are an art-lover, you may be familiar with the title of this film. Girl With A Pearl Earring tells the story behind Johannes Vermeer's famously captivating 1665 painting of a young woman looking over her shoulder.
It's based on a novel by the same name by Tracy Chevalier. While the plot may be fictional, there's no denying that the story told through this film (and the book) is truly beautiful. As such, it won numerous awards and nominations, highly praised for its brilliant acting and picturesque depiction of the city.
Set in 17th century Holland, the film begins not with Vermeer, but with Griet (Scarlet Johansson), a young woman trying to make ends meet as her painter father goes blind.
Seeing that they may end up bankrupt, the family decides to send Griet to work as a maid for one of her father's colleagues, Johannes Vermeer (Colin Firth). The two of them bond over the art of painting, since Griet has learned a few things from her father.
One day, one of Vermeer's patrons, a sleazy man who mistreats his servants, visits their home and declares himself interested in Griet. As Vermeer has grown fond of the girl, he declines his patron's request to have her work in his house.
He does however accept to paint a portrait of the girl. This incident prompts Vermeer to paint the famous "Girl with a Pearl Earring".
While Vermeer is a very famous Dutch painter, the number one spot for the best painter in the Netherlands is reserved for someone else. Widely regarded as one of the best to ever live, Rembrandt van Rijn was a fascinating artist who revolutionized painting.
For one, he was skilled in painting and several other plastic media, producing many highly regarded prints and drawings. However, he also showed his versatility in his paintings: he portrayed all kinds of subject matters in very different styles.
One of the most interesting revolutionary things that Rembrandt brought on was the first series of self-portraits: he painted himself on several occasions as he aged, something that had never been done before.
His contributions to the culture of his country were so significant that he is considered to have inaugurated the Dutch Golden Age of the arts.
Rembrandt, by Alexander Korda, is a biographical movie depicting his life. With the excellent Charles Laughton as the painter, the film follows his rise to fame as he escapes poverty with his paintings.
But it also sees Rembrandt going bankrupt at the end of his life. While money may have left him, we see that he never stopped painting, and the paintings he made during this time have been some of his best-regarded.
It's a captivating story that'll come in handy whenever you see his works in Dutch museums.
Where hasn't James Bond been to? Since the globetrotting spy agent has been seen all over the world, his films are a great way to get acquainted with different countries and cities that one may not see in many Hollywood movies.
In Diamonds Are Forever, Bond visits the great city of Amsterdam and spends quite some time there. The scenes of this film were shot in the Dutch capital city, and some of its most iconic buildings are recognizable in the background.
It may seem like a strange choice to include a James Bond movie on this list, but Amsterdam is one of the main characters in this movie. The canals are constantly featured, and they make the city come alive.
Diamonds Are Forever was directed by Guy Hamilton and stars perhaps the most iconic incarnation of Bond, that of Sean Connery.
It sees him chasing after one of his most mischievous villains Ernst Stavro Blofeld (played by Charles Gray), who just so happens to have an opulent office overlooking Amsterdam's canals.
While he seems to be able to kill Blofeld at the beginning of the movie, Bond soon realizes that something is not quite right and travels to the Dutch capital to investigate a lead: the killing of several diamond smugglers.
If you haven't had the chance to watch this awesome movie, it should be one of the first on your to-be-watched list. In this sequel to 2001's Ocean's Eleven, Danny Ocean and his crew are back for another heist—this time in Amsterdam.
Like the first installment in the Ocean's franchise, Ocean's Twelve was directed by modern cinema pioneer Steven Soderbergh. You may be familiar with some of his dramatic features (like Erin Brokovich), but rest assured that he's also made some of the most thrilling action and comedy films ever.
Ocean's Twelve follows where the last one left off, with Danny Ocean's crew trying to make use of their stolen money without being discovered. Yet that's just what happened: they are tracked down and forced to return the money with interest.
Since they spent most of the money they made, they haven't got enough to repay. So, they decide to pull off another heist to pay for the first one.
This time, the heist takes them to the city of Amsterdam, where they will find their objective, a series of stock certificates, already stolen by another thief. Ocean's Twelve will take the crew through the city as they try to track down the thief that got ahead of them.
Like the first film, this one features a star-studded cast composed, most notably, of George Clooney, Matt Damon, Brad Pitt, Julia Roberts, and Catherine Zeta-Jones.
Kidnapping Freddy Heineken, by Daniel Alfredson, is a thrilling drama that will keep you on the edge of your seat. If you're a fan of true stories brought to film, you'll love this one.
This film is based on a true story: the real kidnapping of Freddy Heineken in 1983. You may gather who Freddy was by his surname – he was the heir to the Heineken brewing company.
The film follows this event from the perspective of the kidnappers, rather than from the victim, offering a chance to see through their eyes and motives. Kidnapping Freddy Heineken was based on an investigative investigation published as a book in 1987 by Peter R. de Vries. This thrilling drama stars Anthony Hopkins, Sam Worthington, and Jim Sturgess.
Set in the city of Amsterdam, particularly on its cobblestone streets and charming alleys, the film follows five friends who try to make some money by kidnapping Freddy and asking for a ransom. The thing is, none of them have much experience when it comes to crime, so this situation quickly turns sour.
Seeing that the kidnapping may have been a bad idea, some of them will start to crack. Kidnapping Freddy Heineken is one of those thrillers where taking your eyes away from the screen is not an option.
This classic British comedy isn't talked about enough outside the United Kingdom. Hawks tells the story of two men bound to die due to terminal illnesses.
The two of them aren't particularly keen on each other, having just met in the hospital. In fact, they only know each other's surnames: Deckermensky (Anthony Edwards) and Bancroft (Timothy Dalton).
Their illness' brings them closer when they decide to spend their last days doing what they want most in life: visiting Amsterdam. However, their dream is not as cute as it may sound.
They want to travel to the city, not because of its beauty, but rather to visit a very famous brothel there. This is a raunchy film, with much use of foul language and lots of sexual jokes. However, it does make for a great watch, particularly if you, like the main characters, dream about traveling to Amsterdam.
During their trip they'll find themselves in several hilarious situations, meeting very colorful characters that will help them in their journey. Funnily enough, the film was based on a short story written by Barry Gibb, one of the members of the famous disco group the Bee Gees.
This action-packed and hilarious comedy film stars Samuel L. Jackson and Ryan Reynolds as the title characters (the hitman and his bodyguard).
Directed by Patrick Hughes, who had worked before on the latest Expendables films, The Hitman's Bodyguard follows a high-level protection agent known as Michael Bryce (Reynolds). After the murder of one of his most important clients, Michael finds himself working for the least important of people, wishing to be a great bodyguard once again.
When the opportunity of a new high-stakes job arises, he takes it immediately. However, this new opportunity isn't as good as it seems: he is tasked with guarding notorious criminal Darius Kincaid, played by Jackson, from an Eastern European dictator.
Since Darius is the only one who can attest to the crimes against humanity committed by the dictator, he will be hunted relentlessly to silence him.
The film takes this comedic pair all through the Netherlands, with the final sequence taking place in Amsterdam.
The Hitman's Bodyguard is filled with jokes, action sequences, and suspense that will keep you on the edge of your seat until the very end.
This surprising hit gave way to a new film franchise, with a sequel by the name of Hitman's Wife's Bodyguard being released in 2021.
When this coming-of-age romantic film came out, it took the world by storm. People were expecting the movie to be successful since the book of the same name written by beloved author John Green had already sold quite well.
But no one was expecting this film to have quite a reception by young teens as it did. The Fault In Our Stars, directed by Josh Boone, turned out to be a charming portrayal of teen love in the direst of circumstances, told with great care and through awesome performances by its main cast.
It's a must-watch for any fan of coming-of-ages and romances, as well as for anyone planning to visit Amsterdam.
The Fault in Our Stars follows a teenage cancer patient who falls in love. Hazel Lancaster (Shailene Woodley) meets Augustus Waters (Ansel Elgort) in a support group for cancer patients. Although they are both living with terminal illnesses, they refuse to give up on life and enjoy every moment they have together.
While the two of them meet in Indianapolis, the film sees them traveling to Amsterdam to track down their favorite author, Peter Van Houten (Willem Dafoe), who wrote a book about a girl dealing with cancer.
In their search for Van Houten, the two of them will become closer and closer. Their performances are definitely the best part of the movie. They will surely make even the most taciturn of viewers cry.
The Goldfinch was also based on a very successful book. Written by acclaimed dark-academia author Donna Tartt, the novel sees a young boy dealing with the loss of his mother after a terrorist attack and his relationship with a famous painting by Carel Fabritius known as "The Goldfinch".
The film, directed by John Crowley, stays faithful to the book, even in the less-advantageous aspects: while The Goldfinch is a beautifully shot film, its book-like narrative doesn't quite function on the big screen.
Even though its story may not be the best told, the film does a great job portraying the city of Amsterdam as the film's main character.
The Goldfinch follows Theo Decker (played by Ansel Elgort), a young boy who finds himself amidst a terrorist attack on the Metropolitan Museum of Art, in New York.
During this bombing Theo's mother is killed. But there's another momentous thing that takes place at this moment: a mysterious dying man tells him to steal the homonymous painting and take his ring.
As you may imagine, these things are going to be the key to the film's secrets, particularly when Theo gets to Amsterdam.
Regarded as one of the best films set in Amsterdam, Turkish Delight is a captivating experience that proved to be a resounding success even though it was aimed only at adults.
The film marks the directorial debut of Dutch filmmaker Paul Verhoeven. Even though some people may be unfamiliar with his name, most people have seen his movies.
After directing several Dutch drama and thriller films, he emigrated to the United States and made some of the best sci-fi films ever made. He's the mind behind such classics as RoboCop, Total Recall, and Starship Troopers, among other great films.
In fact, Verhoeven is recognized as probably the best Dutch director in the country's history.
Turkish Delight isn't only memorable due to its director. This film was also the debut of Rutger Hauer, one of the most successful and best-regarded Dutch actors. You may be familiar with his splendid performance as replicant Roy Batty in the original Blade Runner.
The film's plot follows a miserable sculptor by the name of Eric Vonk (Hauer) who is trying to escape his disturbing dreams. Soon we find out that he's drowning himself in alcohol and women because he can't forget an ex-lover, Olga Stapels (Monique van de Ven).
The film then turns to his life with Olga, when he was a successful sculptor working for the queen. Their tragic love story takes center stage, and it's one of the most captivating romances ever put to film.
There isn't much to say about this famous diary that hasn't been said before. Left behind by a young Jewish girl after being captured by the Nazis, the diary chronicles the years she and her family spent hiding from the regime in a secret apartment in Amsterdam.
It has been printed and distributed a thousandfold since it's one of the most impressive and touching documents of the Nazi regime ever made due to the fact that it's told from the perspective of a young girl.
It's a unique piece of writing, and a key part of Amsterdam's history. When you think of Amsterdam, you probably think of Anne Frank—the Holocaust victim who wrote her story in a diary that's now become one of the most powerful symbols of the value of young lives.
In this film, 12-year-old Anne lives in an attic with her family for two years as they hide from Nazi persecution in World War II Europe.
This film, The Diary of Anne Frank (1959), is not directly adapted from Anne's diary, but rather from a play that was put together in 1955 and gathered much praise (even winning a Pulitzer award).
When put to film by George Stevens, this adaptation was met with a great reception by audiences and critics alike. It won several awards, including three Academy Awards.
Black Book marks Paul Verhoeven's return to Dutch cinema and dramatic features. As such, it was highly awaited both by Dutch and international movie-goers. What's most impressive is that it managed to meet these high expectations and even exceed them.
Upon its release, it quickly became one of the most watched films in the country, becoming a fan favorite of the country as a whole. In fact, many Dutch people consider Black Book to be the best Dutch film to ever be made.
Set in 1944, the film follows a young and beautiful Jewish singer known as Rachel Stein (played by Carice van Houten, one of the most memorable female leads in Dutch cinema) as she tries to flee the Nazi occupation of the Netherlands.
She and her escape group are found out, and most are killed outright, but Rachel survives. Alone on hostile soil, she has no other choice but to pretend to be someone else.
When she is given the opportunity to become part of the Dutch resistance group, she enlists. This singer-turned-revolutionary ends up fighting in a war of espionage against the Nazis.
As you may imagine, Black Book deals with some of the darkest moments in Amsterdam's history. But it still manages to be one of the most entertaining films you'll ever watch.
Since most of the film was made by Dutch people, the subject matter is treated with care and accuracy, and Rachel's character becomes iconic, representing all the other Jewish men and women who fought for their right to be.
Staying Connected While Travelling
In today's increasingly connected world, staying online while traveling has become essential for a seamless experience. That's where eSIMs come into play, revolutionizing the way we access mobile networks during our global adventures. Say goodbye to hunting down local SIM cards at the airport; eSIMs provide instant activation the moment you land, sparing you the fortune usually spent on international roaming and allowing you to genuinely travel like a local (without getting hopelessly lost!).
With eSIMs, tasks like restaurant recommendations and reservations, up-to-the-minute public transport instructions, checking opening hours, and accessing further information become a breeze. And, of course, sharing your journey on social media is easier than ever. To stay connected wherever you roam, consider using either Airalo or Holafly. Airalo boasts the most extensive range of destinations worldwide, offering smaller data bundles tailored to your needs, while Holafly provides unlimited data packages and fantastic EU data deals.
So why wait? Embrace the future of travel connectivity with eSIMs and make your next journey effortlessly smooth.
Further Things To Consider Before Any Adventure
Now you're all set and prepared to explore our big wide world, why not sort out everything else out all in one go? If necessary for your travel plans make sure you have brought proper travel insurance, protected your privacy by getting a secure VPN, compared all the top hotel booking sites to find just what you're after, reserved an unbeatable rental car price and - of course - booked the best flight deals!
Or maybe just forget it all and go for a last-minute cruise or effortless tour instead?
Many budget travelers (including me) indulge in worldwide airport lounge access, so we can experience luxury while still slumming it in economy. Naturally, we would never leave home without a more general travel guide since we couldn't possibly cover everything here!
Just add an adventurous attitude and plenty of smiles - they go a long way - and that about covers it all! Now go out, find your own path and don't forget to share your best inspiration stories with me on Facebook, Twitter, and Instagram...I'd love to hear from you!