Hong Kong has a lot to offer for both national and international filmmakers. The country has modern cityscapes, as well as a strong sense of history and is highly cosmopolitan with a diversity of Western and Asian influences. So it will come as no surprise that there are so many wonderful movies set in Hong Kong.
If there's one thing that anyone who has been to Hong Kong can tell you, is that it's a very energetic city. It seems like the city is changing every second: always developing, looking towards the future. That also goes for the people.
Hong Kong is a cosmopolitan city where people from all over the world come together. There are many great things that the city offers to foreigners, with the main one being that it's a hub for business as well as the arts. And let's not forget the out-of-this-world shopping malls.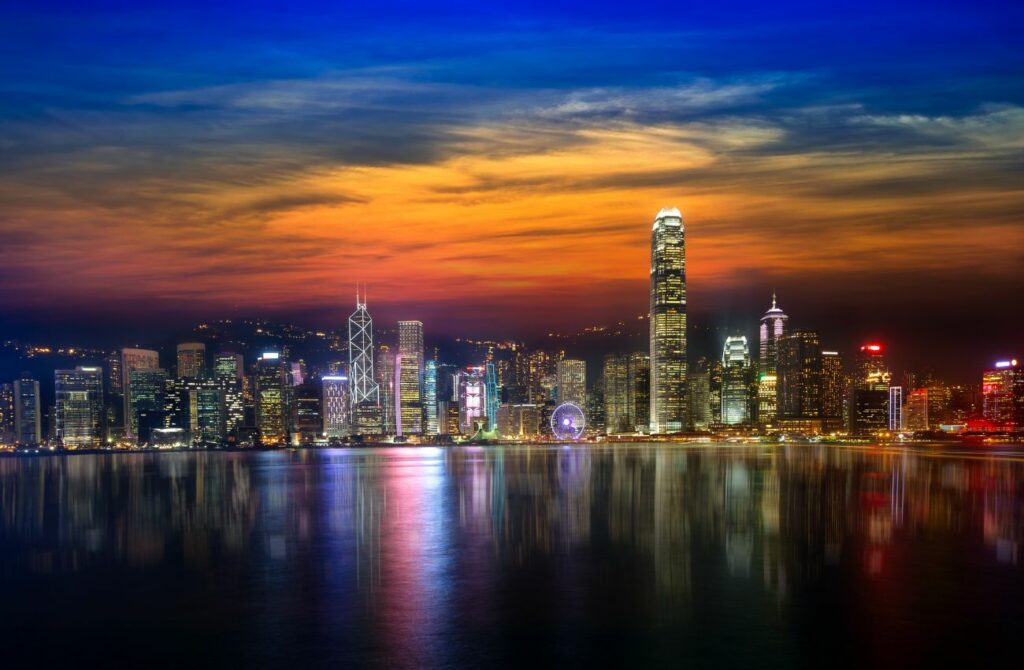 But it also offers a unique experience when it comes to Chinese cities. Ever since the First Opium War in 1841, the city had been under the reign of the United Kingdom. That was until 1997 when it was transferred back to China.
As you may imagine, the time under British rule and the posterior reincorporation to China has strongly affected the lives of the citizens of Hong Kong. It isn't a surprise that lots of them have turned to the arts, filmmaking, in particular, to tell their stories.
This list will give you a nuanced look at the city of Hong Kong. By the end, you'll be more familiar with the things that its people love and hate, with their experiences and their dreams.
These Hong Kong films have narratives that rely on their settings as much as their main protagonists, and as a result, spectators get a glimpse of this iconic country through the director's eyes. To honor the concept of cinematic travel, we have also assembled lists of our favorite films shot in some of our all-time favorite travel destinations: Romania, Italy, Tokyo, Amsterdam, Australia, Japan, Alaska, and Israel.
Wondering where to watch? It depends on where you live in the world and which streaming services you have. We link to the streaming service we watch on in each case - be it Netflix, Amazon Prime, Apple TV+, or elsewhere.
You can get one month free of Amazon Prime (or a 6-month trial for students) of Amazon Prime and also get immediate access to FREE Two Day shipping, Amazon Video, and Music. While you won't be charged for your free trial, you'll be upgraded to a paid membership plan automatically at the end of the trial period - though if you have already binged all these, you could just cancel before the trial ends.
Apple TV+ also has a one-week trial, and Hulu has a one-month trial (which can be bundled with Disney!). Another option might be using a VPN to access Netflix titles locked to other regions. Netflix is now available in more than 190 countries worldwide and each country has a different library and availability. US Netflix is (understandably) one of the best.
While we wish everything could just be in one place - for now, it seems these are the best streaming platforms to watch on.
A Simple Life is one of the most moving films to ever come out of Hong Kong. And it's no surprise, taking into account who directed it: Ann Hui is one of the best filmmakers from Hong Kong.
Her films, which deal with the societal issues that affect people from the city, have all been thoroughly acclaimed by critics. She has won over twenty awards ever since her first film, Boat People, was released in 1983.
It is known that Hui approached A Simple Life with the intention of it being her last movie and it's evident that she put all her passion and effort into this last project —after the success of the film, Hui realized that there was still a place for the movies she made in the modern film industry and has directed three more films ever since.
The film tells a sad story, dealing with the process of growing old and the pains and suffering old folk have to endure. But this story is told with much love and compassion. A Simple Life is sure to fill your heart with hope and your eyes with tears.
The film tells the story of Roger (played by Andy Lau), a film producer who lives by himself in a beautiful Hong Kong house. Since he's a very busy man, he counts on Chung (Deanie Ip), his family's maidservant, to clean and take care of his home.
One day, he returns home from work to find Chung lying unconscious on the floor. There he finds that the woman has had a stroke and her health is in bad shape. This situation leads Roger to spend more time with her and try to help her recover from her sickness.
If you ask any film critic what is their favorite movie set in Hong Kong, this will be the answer. In the Mood for Love, by Wong Kar-wai, is a captivating film about love and love loss. It's a film about the deep and troubling feelings that are despairing and yearning. To put it simply: this film is mesmerizing.
For those unaware, Wong is an internationally praised film auteur, considered by many to be the greatest filmmaker of all time. Most of his films are set in the beautifully vibrant city of Hong Kong, and all of them could be easily featured in this list, but In the Mood for Love is the one where the city comes most strongly to life.
The city becomes something out of this world when seen through the eyes of Wong and his breathtaking style. It's perhaps the most iconic representation of Hong Kong. One that will stick to your imagination and never leave.
Set in 1962, during the British occupation of Hong Kong, the film tells the story of two neighbors who find out their spouses have an affair together. We never see their spouses: they are busy people who spend most of the day away from their homes, leaving the protagonists alone.
There's Chow (Tony Leung), a journalist who wants to become a serial writer, and there´s Su (Maggie Cheung), a secretary at a small shipping firm.
The two of them find themselves left alone by their spouses again and again. They cross paths while coming down the stairs or while going out for street-made ramen. Little by little, they notice their spouses' patterns and quickly comes the time when they have dinner together and discuss their situation.
Perhaps the most interesting part of the film is that this two become closer, to the point where they start to develop feelings for each other. Their struggle with this unrequited love becomes the main focus of In the Mood for Love.
This indie film was a total surprise for both critics and audiences alike. Soundless Wind Chime, by Hung Wing Kit, tells the story of a man who tries to find his old lover all the while reflecting on their past relationships.
Although the film's story is told in a poetically mysterious fashion, it's partly based on Hung's real-life story as a gay man in Hong Kong. Ever since his first feature film, I Am Not What You Want, Hung has been regarded as one of the strongest queer voices in the city.
With this 2009 film, Hung earned many awards from all over the world and received much praise for his portrayal of a gay relationship that goes beyond language, class, and time.
Soundless Wind Chime follows Ricky (Lu Yu Lai), a young man who has just emigrated from mainland China to Hong Kong and is now working delivering food. He doesn't make much money, but whatever little he makes he uses it to support his aunt, who he lives with.
One day, he is robbed by another immigrant: Pascal (Bernhard Bulling), who is a Swiss man who steals from unsuspecting pedestrians and lives an unhappy life with his abusive boyfriend.
Chance will see the two men meet again and strike up a relationship, helping each other out through tough times. The latter part of the film takes place years later and sees Ricky trying to find Pascal in Switzerland.
Most horror lovers are probably familiar with the very big and successful horror movie industry in Japan: films like Ring, Ju-On, or Dark Waters are regarded as some of the best in the genre. But that's not all that Asian horror cinema has to offer.
The city of Hong Kong houses many revolutionary filmmakers who have been producing chilling horror movies for decades. That is the case with Fruit Chan and Dumplings.
Written by the famous Hong Kong novelist Lilian Lee, the film tells a dark story about the unhealthy obsession with beauty and the darker sides of Asian culture.
Set in one of Hong Kong's astonishing public housing buildings, the film follows Li, a retired actress whose good looks are fading away. It wouldn't be a problem for her, if it weren't for her husband, who has turned to other women—particularly, to his masseuse who is much younger than Li.
When Li hears a rumor that Aunt Mei, a chef who lives nearby, knows the secret to eternal youth, she doesn't hesitate to visit her. In order to help her, Aunt Mei cooks Li some dumplings.
After she eats them, Li realizes that, while it does affect her looks, it isn't strong enough for her. This will lead Li to learn Aunt Mei's dumpling recipe, a secret so dark that will turn her life on its head.
This often-forgotten superhero film came out before the genre became what it is today. Push, by Paul McGuigan, is a film that, had it been released a couple of years later, would have had much success. As it was, it sadly didn't receive much attention.
Dealing with themes similar to those of The Boys, this film sees a group of superhumans who are trying to run away from the Division, a secret and covert government agency that wants to turn them into super-soldiers.
It features a very cool portrayal of telekinesis that will make you think of the movie Chronicle. If that isn't enough, it stars Captain America himself, Chris Evans.
Set during the early eighties, the film follows Nick (played by Evans), a man who spent most of his life running away from the Division. Hiding in the less popular places in Hong Kong, he now lives his life as a gambler who uses his telekinetic powers to cheat, even though it gets him in big trouble.
One day, he is visited by agents from the Division who are looking for someone. Later that day, he is visited by the very person the agents were looking for: Cassie (Dakota Fanning).
Cassie is a young woman who can see the future, and is the only surviving test subject of an experiment to enhance superhuman powers. Recognizing a prophecy he was told about by his father, Nick decides to help Cassie.
There're very few films as thrilling and as action-packed as Infernal Affairs. The collaboration between Hong Kong action filmmakers Andrew Lau and Alan Mak caught the city by storm with its captivating plot, stunning action sequences, and surprising emotional depth.
This film marks a departure in the way that movies were made in Hong Kong since it showed movie producers that one could make an internationally successful film that was made from and for the people of the city.
The story of the film follows two men whose lives become entangled in the struggle between police and crime lords.
There's Lau (Andy Lau), a young member of the Triad crime syndicate who has been tasked to infiltrate the Hong Kong police force. And there´s Chan (Tony Leung), a young police trainee who, after being fired, becomes a part of the Triad—but, secretly, he is an undercover member of the police.
The two of them will try to hide their real identities while the leaders of their respective organizations try to find out who the spy is.
You may find the plot of the film familiar and that's because in 2006 it was remade by Martin Scorsese. The remake, The Departed, was a critically acclaimed film that enjoyed lots of success, even winning both the Best Picture and Best Adapted Screenplay at the Oscars.
However, in many people's opinion, nothing beats the original. If Infernal Affairs leaves you wanting more, you'll be happy to hear that, after the film's success, two sequels were made: Infernal Affairs II and Infernal Affairs III.
Every action movie fan should be familiar with the name of John Woo. Since the 1970s, Woo has been directing some of the most impressive action movies ever made.
From A Better Tomorrow to The Killer, his characteristic style that mixes both the chaos of shoot-outs and the calm of slow-motion has been a staple of Hong Kong's action cinema. His success in the city even got him to work in Hollywood, directing classics like Face/Off and Mission: Impossible 2.
Hard Boiled was the last film that Woo directed in Hong Kong and it stands today as one of his best. It tells the story of an inspector from the Royal Hong Kong Police known as "Tequila" Yuen (Chow Yun-fat).
After failing to arrest a group of gangsters, Tequila's partner Benny is killed and he exacts revenge against the shooter, killing him. This gets him kicked out of the case. But Tequila won't give up: he tracks down the men behind the gang, finding out that an assassin by the name of Alan (Tony Leung) is working as an undercover cop.
The movie will see Tequila going all out trying to frustrate the gang leader's plan, eventually teaming up with Alan to take him down.
Widely considered one of the best martial arts movies ever made, Enter the Dragon, by Robert Clouse, is a thrilling adventure featuring the incredible performance of Bruce Lee.
In case you weren't aware, you should know that this was the film that made martial arts popular, effectively founding the martial arts movie genre and influencing tons of other works of art.
Surprisingly enough, the film wasn't met with that much acclaim by critics, who negatively compared Lee's character to James Bond. Luckily, the mixed (and honestly racist) reception of the film didn't stop people from watching it: in fact, it's the most successful action film ever made.
Enter the Dragon follows Lee, a martial artist living in Hong Kong, who suddenly finds himself entangled in a plot to bring down a powerful crime lord known as Han (Shih Kien).
The film is centered around a martial arts tournament that Han will hold on his remote private island off the coast of the city. Lee is approached with the request to join the tournament by a British agent.
At first, he isn't sure, but then finds out that the man who killed his sister works for Han, and he decides to take part in the fight against the crime lord.
City Of Glass offers a beautiful romance that couldn't happen without the beautiful city of Hong Kong. The film was directed by Mabel Cheung, who's considered one of the most important and relevant female directors in the city, having directed the classic Chinese romance set in New York, An Autumn's Tale.
What makes Cheung's films so special is that she deals with topics that are truly representative of what being a citizen of Hong Kong is. Most notably, the cultural divide between the British inheritance of older citizens and those who have only lived in the city after it was reincorporated into China.
All of her films are great tools to get to know Hong Kong better, but City of Glass manages to capture the modern beauty of the city like no other.
The film follows David (Daniel Wu) and Susie (Nicola Cheung), two young folks who meet during both of their parents' funerals. Just after the year 1997 began, Raphael and Vivien (their parents, respectively) died in a car accident in the city of London.
At their funeral, their children find out that Raphael and Vivien were dating when they were younger and that, even though they went on to marry other people, they still loved each other. This leads David and Susie to explore their secret romance throughout the city of Hong Kong, falling in love in the process.
Both directed and written by American director Emily Ting, Already Tomorrow In Hong Kong follows two American strangers as they walk through the city of Hong Kong, exploring its nightlife while getting to know each other and, eventually, falling in love.
The film bears a clear resemblance to Richard Linklater's "Before" trilogy, which sees two lovers walking around different beautiful cities while they discuss life and philosophy.
But this isn't in no way a bad thing: films like these do a wonderful job at showing the audience what a city is all about during the night. Few cities can serve as a backdrop for a captivating romance and, while Linklater choose Vienna, Paris, and the coast of Greece, Ting showed that Hong Kong is one of those cities too.
The two lovers meet on the street by a bar. As Ruby (Jamie Chung) is trying to find out how she'll reach the bar where her friends are —after she went to the wrong bar—, Josh (Bryan Greenberg) overhears that she doesn't know how to get there and offers to walk her there.
While walking to the bar, the two of them get to know each other, sharing their life stories and their favorite places to be in the city. But when they get there, Josh confesses that he has a girlfriend and Ruby gets mad at him.
The film sees them meeting again one year later and giving their relationship another try. The chemistry between Jamie Chung and Bryan Greenberg is unmatched. It's the best part of the movie. And that has to do with the fact that the two of them are actually a couple in real life.
The World of Suzie Wong, by Richard Quine, is a quintessential sixties romantic comedy. Originally a best-selling novel by Richard Mason and then a famous stage play, the story of Suzie Wong was told many times in very different mediums. But it wasn't until this film that it garnered the attention it deserved.
While some of the ways the film portrays Asian culture may seem a little outdated in this day and age, the film did a lot to bring Asian women to the screen back when it came out.
At first, the role of Suzie was going to go to a white actress, but the producers ended up casting inexperienced yet talented actress Nancy Kwan. Her role in this film marked a turning point in the representation of Asian women in film.
The World of Suzie Wong follows Robert, (William Holden), an American man who moves to the city of Hong Kong in order to become a full-time painter. During his trip there on the Hong Kong ferry, he meets a wealthy woman known as Mei Ling.
From the beginning, he falls in love with her and is disappointed when he realizes he'll probably never meet her again. However, one day he sees her coming out of a hotel near the place where he's staying.
Going to investigate, he finds out that she isn't a wealthy woman, but a prostitute named Suzie Wong. This doesn't stop Robert, who goes on to become very close with Suzie, falling even more in love with her.
Further Things To Consider Before Any Adventure
Now you're all set and prepared to explore our big wide world, why not sort out everything else out all in one go? If necessary for your travel plans make sure you have brought proper travel insurance, protected your privacy by getting a secure VPN, compared all the top hotel booking sites to find just what you're after, reserved an unbeatable rental car price and - of course - booked the best flight deals!
Or maybe just forget it all and go for a last-minute cruise or effortless tour instead?
Many budget travelers (including me) indulge in worldwide airport lounge access, so we can experience luxury while still slumming it in economy. Naturally, we would never leave home without a more general travel guide since we couldn't possibly cover everything here!
Just add an adventurous attitude and plenty of smiles - they go a long way - and that about covers it all! Now go out, find your own path and don't forget to share your best inspiration stories with me on Facebook, Twitter, and Instagram...I'd love to hear from you!