There are many locations for stories across the United States that are able to portray beauty in such an elegant and naturalistic way. Still, it is hard to find a state that is as beautiful or more beautiful than the last great frontier, which might help to explain the diversity of amazing movies set in Alaska.
There is so much beauty in the scenery and wilderness throughout this isolated state. The wildlife, forestry, and the cold setting all deliver in painting the picture for a perfect setting. The following films are our pick of movies set in Alaska that succeed in using their setting in the most perfect ways imaginable and have immortalized the spirit of Alaska on film.
We love this because one of the reasons why we watch movies is that they are an excellent way to travel to different places while staying at home – and to determine if a destination elicits that oh-so-important spirit of wanderlust in us before ever investing in a ticket there.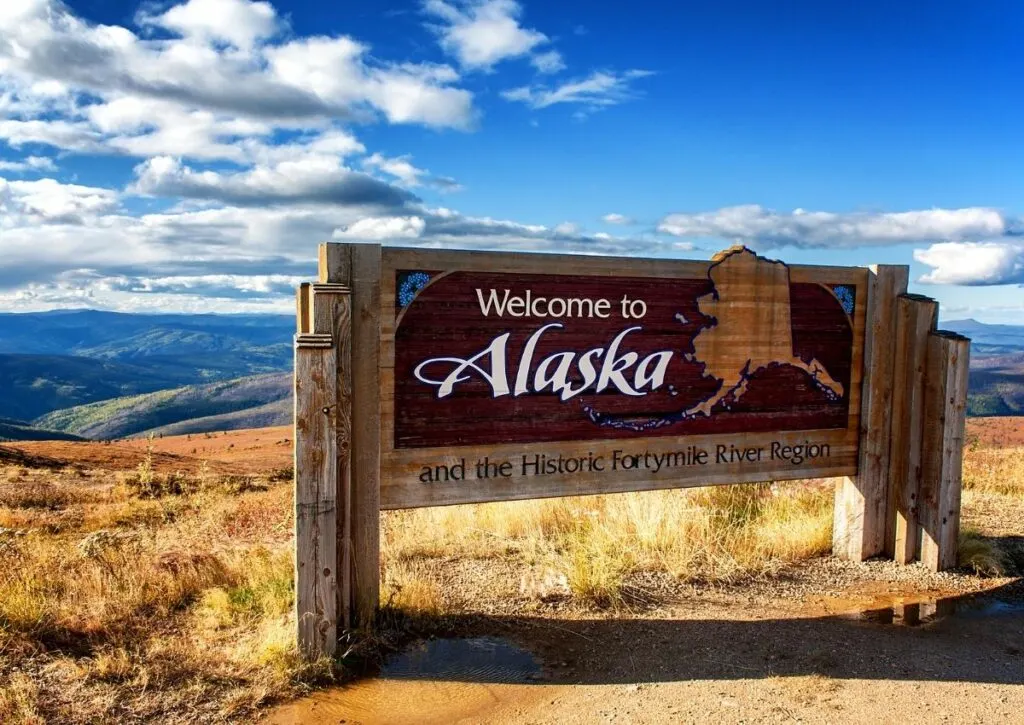 This is what motivated us to visit France, Japan, and Switzerland– among many other places. Then there are those glorious moments you can step out in a real-world location and feel spontaneously transported back inside to an iconic movie scene (thus the abiding popularity of visiting Harry Potter filming locations in Scotland or Savoca, where the Godfather was filmed in Italy).
In Alaska, of course, such magical places exist too and in the following paragraphs, we will take a dive into some of Alaska's best films and the amazing locations where they take place.
Wondering where to watch? It depends on where you live in the world and which streaming services you have. We link to the streaming service we watch on in each case - be it Netflix, Amazon Prime, Apple TV+, or elsewhere.
You can get one month free of Amazon Prime (or a 6-month trial for students) of Amazon Prime and also get immediate access to FREE Two Day shipping, Amazon Video, and Music. While you won't be charged for your free trial, you'll be upgraded to a paid membership plan automatically at the end of the trial period - though if you have already binged all these, you could just cancel before the trial ends.
Apple TV+ also has a one-week trial, and Hulu has a one-month trial (which can be bundled with Disney!). Another option might be using a VPN to access Netflix titles locked to other regions. Netflix is now available in more than 190 countries worldwide and each country has a different library and availability. US Netflix is (understandably) one of the best.
While we wish everything could just be in one place - for now, it seems these are the best streaming platforms to watch on.
Never Cry Wolf is not based in Alaska, but it is filmed in the beautiful state, and it follows a scientific researcher who must explore the prospective threat of wolves in the north as part of a government investigation called The Lupus Project. He'll have to spend six months alone in the woods to accomplish so. He learns about the genuine, useful, and good nature of the wolf species as a result of these occurrences.
This film is based on Farley Mowat's book and actual tale. This story of a pristine environment and its local community being encroached upon by outsiders, development, greed, and changing times is enhanced by gorgeous cinematography.
Charles Martin Smith gives an outstanding performance in this beautifully told story. Brian Dennehy, Zachary Ittimangnaq, and Samson Jorah give outstanding performances as well. It enchants you with its beauty and tranquility and immediately makes you want to take a journey to Alaska. A pleasant respite from civilization in the company of wolves in their natural environment, it almost feels like a documentary in a sense – one of the more beautiful films filmed in Alaska.
White Fang is a raucous, realistic, and thrilling film adaptation of Jack London's famous novel about a child and his half-wolf companion and their adventures in the Yukon during the gold rush. It is another (and final film on this list) film that doesn't necessarily occur in Alaska, but it was filmed in Alaska and entirely highlights the state's beauty.
It's not groundbreaking; in fact, the plot is identical to that of many other films; it's the manner in which it was brilliantly conceived, produced, and presented that made it a success and a standout. Jack and White Fang's bond is realistically developed and fulfilled. You buy into their bond.
The several stories that eventually come together offer you a better understanding of both the boy and White Fang. This film has no fat; it moves along methodically, knowing what it has to do. Each scene is significant and serves only to advance the plot. There's a lot of comedy, horror, and everything in between in this film. It's a well-told great adventure story and remains still today one of the best movies set in Alaska ever.
Insomnia is Christopher Nolan's first non-independent feature film and his sole Americanized remake of a foreign film. While Nolan is one of the most well-known directors today, Insomnia demonstrates that he could craft a superb criminal thriller even eighteen years ago, with explosive, nuanced performances from Al Pacino and the late, great Robin Williams.
Nolan uses Alaska as a backdrop to create a distinct and eerie look, with the misty colors heightening the sense of unease. The way it uses the nature of Alaska gives off the same cold feeling and aesthetic that films like The Revenant do. You truly can feel this environment come through the screen.
The editing is especially excellent in portraying the main character's mental condition degradation as the case progresses. Everything else feels inadequate, including the premise, supporting characters, and even Nolan's directing. It's more than enough to create a continuously fascinating thriller, but it falls short when compared to better recent thrillers like Prisoners or SF-based Zodiac.
Snow Dogs is probably the silliest premise for a film on this list. It follows the story of a dentist from Miami who inherits a team of sled dogs in Alaska and is given the task of figuring out how one trains a group of sled dogs and is forced to then figure out how to race them.
While this film is not one that I would consider objectively good, I think that it is one of the best lighthearted and fun movies set in the great state of Alaska. While this doesn't focus on the state's scenery like many other films on this list will do, it does really try to focus on what life in small-town Alaska is like, and I think it does a rather stellar job at this.
Brother Bear is an animated film about when an impetuous young man called Kenai is mysteriously converted into a bear; he is forced to actually tread in the footsteps of others until he learns some important life lessons. His brave and often zany trip brings him to a forest full of animals, including Koda, the adorable bear cub, Rutt and Tuke, the humorous moose, woolly mammoths, and rowdy rams.
The story's overall structure and conclusion appeal to me. The positive moments are strong, but they are offset by some really juvenile situations full of baby humor that doesn't always work. I still appreciate this film, but what I find most impressive is how well they manage to convey the majesty of the Alaskan landscape into animation.
It's one of those cases where I'll like it more than others objectively better Disney films due of the tale, music, and memories.
Grizzly Man is director Werner Herzog's documentary film on Timothy Treadwell and his thirteen years in a National Park in Alaska in an attempt to rescue grizzly bears. The video is full of one-of-a-kind visuals and a glimpse into the mind of a guy who gave his life for the sake of nature.
One of the most complex and intriguing documentaries ever made, Werner Herzog analyzes whether Timothy Treadwell had any right to do what he did, despite his love for the bears, and illustrates exactly how complex he was as a human in this film. Treadwell's mental state is revealed by the fact that he recorded these recordings alone in the forest with no guarantee that anything would come of them.
And, while Herzog handles it with care and respect, I admire how he doesn't hesitate to challenge Treadwell. This is one of the most incredible movies set in Alaska and really shows the side of the wilderness in one of the most effective ways possible.
This Sean Penn directed film is an adaptation of Jon Krakauer's book of the same name and follows Christopher McCandless, a great student and athlete at Emory University, as he abandons his things, donates his whole $24,000 savings account to charity, and hitchhikes to Alaska to live in the wilderness after graduating in 1992. It's a film that is filled with adventure, scenery, tense moments and is the perfect film about self-discovery.
Into The Wild is just a really terrific film; it might even be a life-changing one. It covers so much ground in a two-and-a-half-hour story and does so on such an effortless level. It was moved along extremely swiftly and drew you in from the get-go without ever truly letting go.
Those super emotional and intimate moments between Chris and Ron packed the biggest emotional punch throughout the entire story.
The Proposal is another very silly premise for a film, but it is easily the best romantic comedy set in Alaska. The film follows Margaret Tate, an intimidating book editor, who pushes her put-upon assistant, Andrew Paxton, to marry her when she hears she's at risk of losing her visa status and being deported. The film follows the couple as they travel to Alaska to visit his family before he proposes.
What this film does best is the chemistry that it captures between Sandra Bullock and Ryan Reynolds. They play off one another in a perfect way and in perfect fashion. They authentically feel like one of the best cast couples in a rom-com since the 1990s.
With that being said, this has got to be one of the funniest and overall best rom-com of the 2000s and is on par with many of the great rom coms that came throughout the previous decade of the 90s. Through and through a fantastic film encapsulates small-town life in Alaska so well.
On the Ice is about three pals who go seal hunting on the ice, but a fight breaks out, and one of them is killed. Out of dread and terror, the two surviving buddies, Qalli and Aivaaq, describe the death as an accident. Because the Inupiat community in remote Utqiagvik, Alaska, is small, this loss is felt strongly. Qalli is torn between dealing with his personal remorse and grief and crafting a web of falsehoods to deal with his father's suspicions and inquiry into the events of the day.
I enjoy looking for films that use on-location shooting and non-professional performers to depict reality. In this film, we have a huge cast in a little village in one of the most remote locations on the planet. Everyone knows everyone else, secrets hurt many individuals, and death impacts everyone.
Some of the lines were forced, but the local language felt like it was penned by someone from Barrow, Alaska, rather than a LA screenwriter. The tale is nothing new, but the setting and cultural context make for interesting viewing. In my opinion, I think that this is one of the rare films that perfectly nails the state and remote feeling of Alaska.
The Grey is a film that is about a party of oil drillers who is stuck in the most distant wilderness of Alaska after a devastating plane accident, with little hope of being rescued. The few survivors, headed by Ottway, an experienced hunter, will face the relentless persecution of a pack of massive wolves while exposed to the bitter cold and harsh living circumstances.
Now, it's possible that I'm reading too much into things, but I couldn't quit thinking about Moby Dick. The film is about man vs. nature and fate and God, which is a major topic in Melville's work. While Neeson's character isn't Ahab, he does share Ahab's preoccupation with persevering to the final end. In that vein, I adored the conclusion.
Many others thought it was unsatisfactory, but I thought it was perfect for the topic. It's not necessarily about where you end up in life; it's about the experiences that lead you there. This is one of the colder feeling films in Alaska, and nearly every aspect of it is pulled off splendidly.
Alastair Fothergill and Keith Scholey document the life of an Alaskan brown bear named Sky and her cubs Scout and Amber over the course of a year. Their story begins when the bears come out of hibernation at the end of the winter.
With the passage of time, the bear family must work together to gather food while remaining safe from other predators, particularly other bears. Although their world is thrilling, it is also dangerous, and the cubs' survival depends on their ability to stay together as a family. It might just be my fascination with bears and them as a species, but this documentary absolutely wowed by this documentary, and it instantly made me want to travel to visit the great Alaskan wilderness.
Bears impresses viewers with the quality of the cinematography filmmakers Alastair Fothergill and Keith Scholey manage to obtain almost from the start, as we witness an avalanche careen down a slope in slow motion. From the mist-shrouded mountains to the luscious green meadows, there is so much beauty on exhibit in this documentary that the vistas alone are worth the price of admission.
It doesn't hurt that there are gorgeous bear cubs in the center of it all. It really highlights the beauty of Alaska in the most heavenly ways possible, and is easily one of the most memorable movies set in Alaska.
The Call Of The Wild is yet another film that is an adaptation of author Jack London. It follows Buck, who is a big-hearted dog whose happy household existence is flipped upside down when he is plucked from his California home and transferred to the exotic Yukon wilderness during the 1890s Gold Rush. Buck had the adventure of a lifetime as the newest rookie on a postal delivery dog sled team—and subsequently as its leader—finding his real place in the world and becoming his own master.
This is a well-made, joyful family film that pays tribute to the old, classic narrative while also adding new elements. As characters who will aid Buck on his trip, the cast members are all providing strong performances. The headliner, of course, is Mr. Harrison Ford, who once again demonstrates that becoming older does not mean you've passed your prime.
His portrayal of John Thornton is sophisticated, nuanced, and powerful; nonetheless, his narration is a touch redundant. Much has been made about the distracting nature of CGI dogs. They were at first, but after getting absorbed into the universe, you just forget about them.