We love this because one of the reasons why we watch movies is that they are an excellent way to travel to different places while staying at home – and to determine if a destination elicits that oh-so-important spirit of wanderlust in us before ever investing in a ticket there.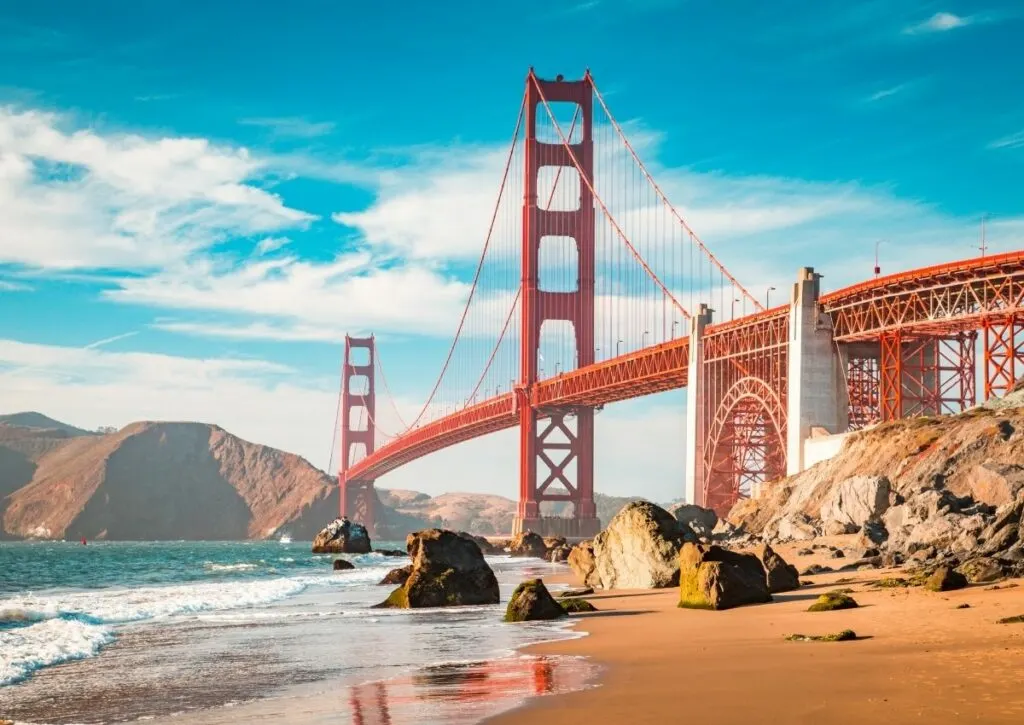 This is what motivated us to visit Peru, Morocco, and Alaska– among many other places. Then there are those glorious moments you can step out in a real-world location and feel spontaneously transported back inside to an iconic movie scene (thus the abiding popularity of visiting Austira and Salzburg for The Sound of Music feels or Ischia in Italy where the The Talented Mr Ripley was filmed).
In San Francisco, of course, such magical places exist too and in the following paragraphs, we will take a dive into some of San Francisco's best films and the extraordinary places where they take place.
Wondering where to watch? It depends on where you live in the world and which streaming services you have. We link to the streaming service we watch on in each case - be it Netflix, Amazon Prime, Apple TV+, or elsewhere.
You can get one month free of Amazon Prime (or a 6-month trial for students) of Amazon Prime and also get immediate access to FREE Two Day shipping, Amazon Video, and Music. While you won't be charged for your free trial, you'll be upgraded to a paid membership plan automatically at the end of the trial period - though if you have already binged all these, you could just cancel before the trial ends.
Apple TV+ also has a one-week trial, and Hulu has a one-month trial (which can be bundled with Disney!). Another option might be using a VPN to access Netflix titles locked to other regions. Netflix is now available in more than 190 countries worldwide and each country has a different library and availability. US Netflix is (understandably) one of the best.
While we wish everything could just be in one place - for now, it seems these are the best streaming platforms to watch on.
Vertigo is widely considered among the many masterpieces from director Alfred Hitchcock. It is about the neurotic ex-police detective 'Scottie' Ferguson (played by James Stewart). He is manipulated into believing that Madeleine Elster, the mystery woman he is pursuing (played by Kim Novak), has died after falling from a mission bell tower.
From the Mission District to Nob Hill, this is one of the best movies set in San Francisco and covers a lot of ground in the city. Scottie's renowned point of view from Fort Point in the Presidio, just next to the Golden Gate Bridge, where he observes Madeleine plunge herself into the bay, is worth noting. This film does an excellent job of demonstrating the beauty and wide appeal of San Francisco.
Watching a Hitchcock film is a lot like watching a play unfold before your eyes; you're frequently reminded that it's all fake. Even though the experience is fantastic, it never completely convinces you that similar things might happen to you, that individuals like this could exist in real life. On the other hand, Vertigo feels astonishingly real, almost confessional, because it's evident that it's Hitchcock's most personal picture, the one that comes closest to showing his inner struggle.
Scottie is Hitchcock, and Vertigo is a fragment of Hitchcock's soul that has been subjected to a never-ending examination. It was a bold decision, and it exposed him to be a bit better human person than Scottie since his protagonist never recognized the hurt he did women. In contrast, as the film shows, Hitchcock was completely conscious of what he was doing.
Of course, he continued to disregard his wife in order to pursue a dream. Vertigo is never interested in offering solutions. It just depicts a problem and wants us to be concerned.
This classic 1970s action thriller stars Clint Eastwood at the height of his career as "Dirty" Harry Callahan, a San Francisco detective on the hunt for a serial murderer known as Scorpio.
Dirty Harry was shot all across San Francisco, including Golden Gate Park, City Hall, and the Bank of America Building, to name a few. It is best suited to looking at these landmarks through the film and then visiting the Bay Area and seeing how it has changed, and in some cases even stayed the same.
One of those iconic, contentious works of art whose fame both embodies and muddles how it truly works. As nasty and exhilarating as you've heard, this is the real deal. Inspector Callahan, played by Clint Eastwood, isn't as scowling or animalistic as in the inferior sequels, but it's his grounded, inward approach to his wrath that makes him all the more scary. His rage hardly rises to the surface, but even the smallest glances are horrific.
Above all, Dirty Harry is a grade-A horror film with some of Don Seigel's best performances.
The narrative of Frank Morris, played by Clint Eastwood, who was accused of armed robbery and condemned to life in prison, is told in Escape from Alcatraz.
After escaping from a succession of other prisons, Morris is transported to Alcatraz, a maximum security jail from which escape appears to be impossible. This film, based on the actual account of inmates Frank Morris, Clarence Anglin, and John Anglin's escape, gives viewers an insight into the history of one of San Francisco's most prominent tourist sites while simultaneously using one of America's most significant landmarks as an opportunity to open up the past through the lens of film.
The tone is darkened by rock-solid prison-movie depravity, Jerry Fielding's shrill soundtrack, and the racially distorted speech of the 1970s, just when you thought it couldn't get any worse. The thundering waves of San Francisco Bay scream terror, and Eastwood is as alive as ever. One scene, in particular, involving a carpenter detail and a hatchet, is so intense in its nausea-inducing terror that it left me slack-jawed and staring at the screen long after it was gone.
Although there are a few shaky scene transitions and an overall lack of reality in the film's fanciful representation of certain convicts, the film's fundamental message is well-articulated. With all a guy possesses, he is capable of doing anything.
Mrs. Doubtfire is a renowned identity-swapping film; Robin Williams plays Daniel Hillard, a father who copes with the loss of custody of his children by posing as Mrs. Euphegenia Doubtfire, a housekeeper. Hillard gets hired by his estranged wife after disguising himself as a woman, and comedy follows. You can still visit the house that was used in Mrs. Doubtfire as it sits on Steiner Street in the historic Pacific Heights district of San Francisco.
Even if it might be claimed that the tale isn't entirely plausible in certain aspects, it is emotional and genuine and one of the most heartwarming movies set in San Francisco. What counts most, though, is the amount of joy, laughter, and warmth that it generates. Naturally, the late Robin Williams deserves the most credit for genuinely knowing how to bring this high-concept comedy to life.
It doesn't have a ton of realism involved, but it does deliver laughs in some of the most entertaining ways possible.
The Princess Diaries is about the recent death of her long-absent father, who, unknown to her, was the crown prince of Genovia, a socially awkward but clever 15-year-old girl being raised by a single mother who finds that she is the princess of a small European kingdom. She must choose between maintaining her life as an adolescent in San Francisco or ascending to the monarchy.
Many people are surprised to learn that Mia Thermopolis (Anne Hathaway) lives in an old firehouse in the Excelsior District rather than one of San Francisco's elite districts. Anthony R Grove High School on Lyon Street in the wealthy Marina District and Phoenix Terrace off Pacific Avenue in Nob Hill were also used as filming sites.
The Princess Diaries is one of the quintessential teen comedies and best coming of age films since the turn of the century. It is cleverly written, consistently funny, and ultimately heartfelt. It's one of these rare films that seems to become exponentially better each time that you watch it.
Every time that I have watched it, I've walked away with a different level of appreciation for it and even a deeper appreciation for comedic filmmaking.
Will Smith and his son Jaden play a father and son battling to live as they bounce through multiple San Francisco shelters in an adaption of entrepreneur Chris Gardner's memoir.
It covers all the aspects of fatherhood and trying to do the most for your child while being dealt a hand in life that makes covering the basic necessities feel impossible. Glen Park Station, Golden Gate Park, Chinatown's Ross Alley, Russian Hill's Taylor Street, and the Financial District's Pine Street are among the locations that are used throughout this film to demonstrate the beauty of San Francisco.
In the correct measure, The Pursuit Of Happyness is a well-made and thrilling film. When it comes to Chris and the Will Smith performance, the film succeeds in its goal of making you happy. Will Smith's portrayal is neither melodramatic nor forced; he could have easily provided a more exaggerated performance to delight spectators, but he found the right tone for the role, and it is honestly one of the best performances in his career.
His scene in the mob celebrating a conquest is stunning and euphoric on every level, and alone earns its spot on our list of best movies set in San Francisco.
Zodiac is a suspense thriller about a real-life serial murderer that plagued the Bay Area in the 1960s and 1970s. It is arguably one of the greatest films in director David Fincher's filmography, and it comes out during one of the greatest movie years, 2007.
Robert Graysmith, a reporter for the San Francisco Chronicle, is the primary character in the film, and he is played by Jake Gyllenhaal. When Graysmith tries to become engaged with the investigation, his colleagues don't take him seriously because he's a cartoonist for the newspaper. As a result, Graysmith is compelled to try to find the Zodiac killer on his own, which leads to a creepy situation. It paints San Francisco as an eerie place through its tone, setting, and cinematography.
David Fincher as a filmmaker, is as close to a perfectionist as you can get. In all of his films since Se7en, he points not to waste a second on-screen or a line of dialogue. Now, I'm in no way insinuating that every film he makes is perfect, but he tries to make the best product with whatever he's got.
Zodiac is such an interesting topic of discussion, and it's the extremely well-rounded cast that delivers great performances that help create such a fascinating film through its grotesque and vivid environment.
Milk is a biographical film about Harvey Milk, who was the first openly homosexual person elected to public office in California. Milk lived in the Castro area of San Francisco before his election. Milk becomes a gay rights activist and later a member of the San Francisco Board of Supervisors in order to confront the violence and civil rights concerns surrounding homosexuality.
The film pays tribute to Milk's efforts to homosexual rights and was released around the same time as Proposition 8, California's prohibition on same-sex marriage, was approved, only to be overturned in court. Unlike some of the films on this list, it doesn't showcase San Francisco and the surrounding Bay Area through vivid imagery or cinematography, but it helps create an atmosphere through the tone that it sets.
As much as the scenery of San Francisco my attention, it's the man at the forefront who gets me in the heart. This is in the same realm as Zodiac as one of the great San Francisco movies of all time. Sean Penn is fantastic in this, channeling Milk's demeanor and mentality.
Despite the fact that I've always known of him as a historical person, I was mainly unaware of the facts, which made this enlightening truly emotional.
Facebook is now one of the most powerful entities in the digital business, and a film about it shouldn't work, but man, it is easily one of the great films of the last twenty years even if is only about a website that started operated out of a Harvard dorm room in 2004.
The Social Network tells the story of Facebook's beginnings, including legal conflicts between creator Mark Zuckerberg and his Harvard classmates, as well as managerial disagreements among Facebook contributors. Despite the fact that many scenes in the movie are placed in Boston, it also depicts the company's migration to Palo Alto. It gives readers an intimate glimpse at the Bay Area business world's present entrepreneurial start-up culture.
This is yet another David Fincher film. It does a fantastic job of creating a drama that is so engaging from the very beginning and does not lose the audience's interest until the final credits begin to roll. It is a film that never loses focus, and it never comes off as something that feels flat, and I think by today's standards, it is rare to find that in a drama-based film.
It shows off David Fincher as one of the greatest directors to ever live, and every performance and aspect of this film is top-notch.
The Oakland Athletics had the third-lowest salary in Major League Baseball in 2002, making it tough to entice big-name players to play for them. Billy Beane, the team's general manager, re-evaluates the league by examining player data, or sabermetrics, in ways that have never been done before in order to lift the A's out of their rut.
Despite Oakland's limited resources, Billy Beane's use of sabermetrics enabled the A's to reach the playoffs in 2002 and 2003. Moneyball: The Art of Winning an Unfair Game, based on Michael Lewis's book, has led to other MLB clubs' widespread application of sabermetrics. Sports are engraved into the cultures of their cities and regions that they are located in, and Moneyball is a sports film that expertly demonstrates this notion.
Sports films often tend to miss the mark for me. Sometimes they don't feel authentic in their approach and are so over the top in their dramatics that it takes me out of the film completely, but Moneyball feels entirely different. It is grounded in reality and deals with the films of moving on from our past and beating all odds. It is better over every watch, and it sparks a new love for the Bay Area and the culture that surrounds it every time I watch.
Fruitvale Station portrays a white police officer fatally shooting unarmed 22-year-old African-American man Oscar Grant following a brawl on BART. Grant is portrayed as a caring father and boyfriend who is attempting to build a better life for himself and his family in the devastating film, which is named after the BART station where Grant was shot.
Although Grant is not presented as perfect, and the film includes footage of Grant doing time in prison for drug selling, the film's ultimate purpose is to present a more truthful image of who Oscar Grant was. His death sparked nationwide protests and discussions, and it is a prime illustration of the tensions that exist between young black guys and white police officers. Unfortunately it's a film that is still as relevant today as it was when it first came out.
It takes a detailed look at the last day of Oscar Grants' life. He is an everyday guy with a family, just trying to make ends meet. It doesn't come across as a narrative about social injustice and racial inequality for much of the film. But then those last twenty minutes kick in, and man, oh man, it hits you hard. To see another story about an innocent black man killed by police officers in America.
No matter how many stories like this are told or how many times it happens, it is always a punch in the heart. I wish everyone would see this hidden gem because it is the perfect introduction to the works of Michael B. Jordan and Ryan Coogler.
Jobs follows Steve Jobs, Apple's co-founder and revolutionary genius who was dubbed "the boss from hell" on several occasions. His overly high expectations of everyone around him caused friction in his relationships with his family, friends, and workplace.
The film, directed by Ashton Kutcher and released over two years after Steve Jobs' death, portrays Ashton Kutcher as Jobs, a Reed College dropout with a world-changing vision, and it does a remarkably sound job of portraying his life and achievements in the Bay Area.
Jobs is another film that is similar to The Social Network, where it feels like a film that shouldn't entirely work. Stories that are centered around these larger-than-life figures like Jobs and Zuckerberg aren't ones that feel necessarily grounded in reality, but through fierce direction and writing, it ends up working remarkably well. It's a story that has a lot of passion and heart involved, and that is what makes such an extraordinary film.