Costa Rica's film industry has only been growing in recent years. With internationally recognized filmmakers, such as Paz Fábrega and Miguel Gomez, the country has produced thoughtful and entertaining movies set in Costa Rica for all tastes. The island has a variety of natural landscapes that have served through the years as the settings of many stores.
The gorgeous beaches and volcanoes appear on screen as characters themselves, inspiring the audience to learn more about nature and its wonders. If you enjoy the combination of amazing acting, beautiful cinematography and outstanding locations, then Costa Rican cinema is for you. Costa Rica has also increasingly been chosen by Hollywood filmmakers to tell their stories, so the island has been featured in box office successes by renowned directors, like Robert Rodriguez and Steven Spielberg.
In this article, we will go over some of the best films set in Costa Rica, that will allow you to learn more about the country's nature and culture and will most likely leave you with a desire to travel there yourself.
We love this because one of the reasons why we watch movies is that they are an excellent way to travel to different places while staying at home – and to determine if a destination elicits that oh-so-important spirit of wanderlust in us before ever investing in a ticket there.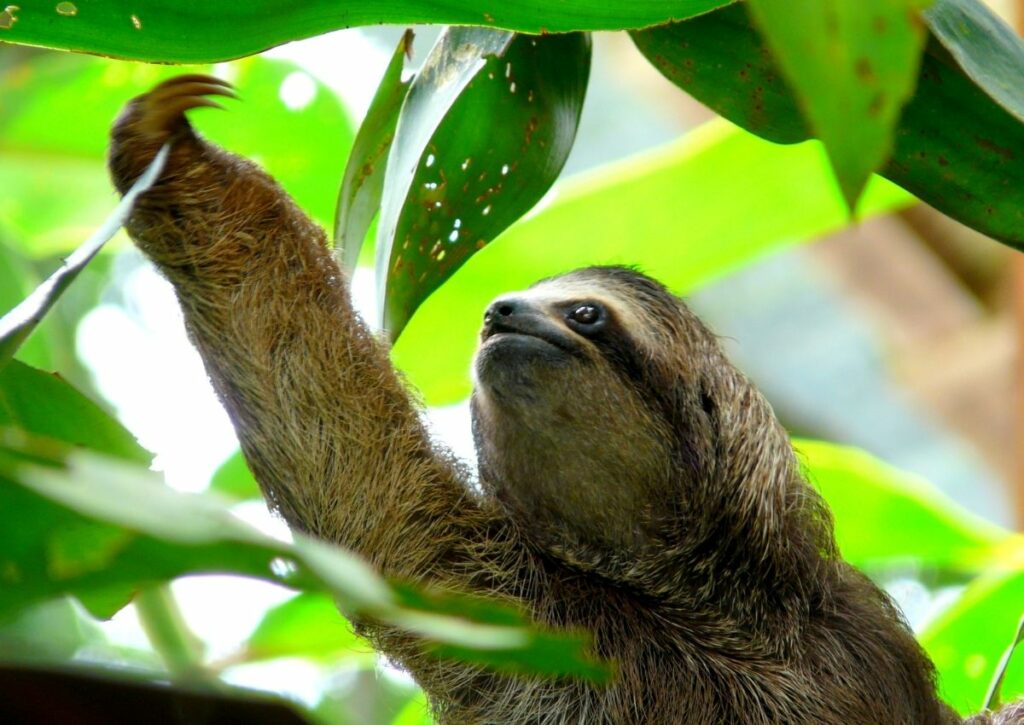 This is what motivated us to visit San Francisco, Portugal, and Iceland– among many other places. Then there are those glorious moments you can step out in a real-world location and feel spontaneously transported back inside to an iconic movie scene (thus the abiding popularity of visit Bruges after watching the Belgium film, In Bruges, or exploring the real-world Hobbiton set in Matamata).
In Costa Rica, of course, such magical places and expereinces exist too – such as Territorio de Zaguates, volunteering with wildlife in Costa Rica or the other countless Costa Rica ecotourism holiday options.
In the following paragraphs, we will take a deep-dive into some of Costa Rica's best films and the amazing places where they take place.
Wondering where to watch? It depends on where you live in the world and which streaming services you have. We link to the streaming service we watch on in each case - be it Netflix, Amazon Prime, Apple TV+, or elsewhere.
You can get one month free of Amazon Prime (or a 6-month trial for students) of Amazon Prime and also get immediate access to FREE Two Day shipping, Amazon Video, and Music. While you won't be charged for your free trial, you'll be upgraded to a paid membership plan automatically at the end of the trial period - though if you have already binged all these, you could just cancel before the trial ends.
Apple TV+ also has a one-week trial, and Hulu has a one-month trial (which can be bundled with Disney!). Another option might be using a VPN to access Netflix titles locked to other regions. Netflix is now available in more than 190 countries worldwide and each country has a different library and availability. US Netflix is (understandably) one of the best.
While we wish everything could just be in one place - for now, it seems these are the best streaming platforms to watch on.
About Us [Entonces nosotros](2016), by Hernan Jimenez, tells the story of a couple trying to save their relationship by going on a trip. Diego, played by Jimenez himself, is a hopeless romantic and believes he can make things work with Sofía, played by Noelia Castaño. However, a chance encounter with an old friend will force some truths to come up, and the couple will be driven to rethink their entire relationship.
About Us can be considered one of the best romantic comedy movies set in Costa Rica, but it's definitely more of a comedy than a romantic tale. This is a film that asks the question of what to do when love dies -it's not a classic boy-meets-girl romance. In that sense, we could say it dives into what happens after a romantic comedy ends and the credits roll. What happens when feelings start to fade away? Can the first spark be reignited? Or is it better to accept when things come to an end? However, this is not a sad film. While being reflective and bitter at times, the comedic timing is top notch. It leans on Woody Allen's style, but in a Costa Rican way.
The locations are a gorgeous company to this intricate story. The beauty and freshness of the Costa Rican beaches contrasts with the turmoil that agitates the couple. While being in a paradisiac land, their relationship is far from heavenly. The beach where they go to is called Santa Teresa, located in the Nicoya Peninsula. Lots of surfers are drawn to this coastal town, with waves ranging from moderate to strong. During the season of tropical rains, the waves are at their best for experienced surfers, but it's not advised to surf during this time if you're a beginner.
As shown in the film, Santa Teresa possess all the charm of a small town with all the fun of a big city. The tropical beaches, the hotels and the local people make for an unforgettable destination.
Miguel Alejandro Gomez creates a beautiful yet sad coming-of-age story in El cielo rojo ("The red sky") (2008). Gomez was born in Costa Rica, but his family moved to Switzerland when he was very young. As an adult he returned and became a filmmaker.
The film focuses on a group of teenagers who have just finished high school and are not sure of what they want to do with their lives. In these uncertain times, they decide to focus on what they know: girls and parties. However, crucial events will happen to them that will force them to reconsider their (sometimes non-existent) life plans.
Berny gets dumped by his girlfriend, so instead of going to university in Los Angeles he wants to stay and mend thing with her. Nestor is and idealist who wants to fix the country, so his plan is to become the president someday. Manuel is constantly being harassed by his mother to choose a career and enroll in college.
Through it all, the boys help each other with the decisions they must make. The comedy in this film is great, with its script being its best asset. The actors seem to have fun while playing the characters, which creates a comfortable atmosphere and makes the experience more enjoyable for the audience.
El cielo rojo critiques some aspects of the Costa Rican politics at the time, specially going over the insecurity and the use of illegal drugs. But, all in all, the film mostly shows the teenagers having a good time, bonding, and making tough decisions.
Paths of Love [Los caminos del amor] (2019) is a documentary film, by Patricia Howell. It follows Guadalupe Urbina's life, work and impact. Urbina is a Costa Rican artist, and one of the most important singers in Central America. She was the youngest of ten siblings, and grew up listening to traditional Costa Rican music on the radio and through her father, as well as singer songwriters like Joan Baez, who heavily influenced her own music.
In 1986 she participated in compilation record La Paz del Mundo Comienza en Centroamérica ("World Peace Begins in Central America"). Over the years she has collaborated with many international artists; she participated in the Amnesty International Concert, along with Sting, Springsteen, Peter Gabriel and more.
When she was young, she was interest in the oral traditions of her province Guanacaste, and in later years she has used her investigation on the region's folk to create a disc. The film centers on her figure, but it's not just a biographic retelling, instead it presents her and her music's message, about love, the meaning of life and death and our relationship with nature. It shows the impact her music has had on many generations of Costa Ricans.
The film stops by different villages, and on each of them their different traditions, music, culture and natural landscapes are shown, as well as their interaction with Urbina's art. Paths of Love is a great film to get in touch with Costa Rica's art and culture. It allows for a discovery of the unique traditions in each village and it leaves us with a beautiful message about love and life.
Land of Ashes [Ceniza negra] (2019), by Sofía Quirós, is a coming-of-age story set in the Caribbean. This was the first Costa Rican film to be presented at Cannes. Our protagonist, Selva ("Jungle"), is a thirteen-year-old girl who lives in a coastal town. After her mother's disappearance, her grandfather is the only relative that can take care of her. However, he doesn't want to live anymore. Selva must decide if she will help her grandfather fulfill his death wish, even thought that would mean she would be all alone. Through it all, their cheeky neighbor Elena will help them understand more about the world and their place in it.
Land of Ashes is an exploration of life and death. Snakes become a recurring motif for the cyclical. It's through them that Selva learns that dying is no different from shedding one's skin. The film incurs into magical realism during some scenes in which Selva tries to contact her mother. It recollects some of the local legends and myths to construct a sweet story about the different stages of life.
The film was mainly shot in the Limón district. The two main harbors of the country are in this district, making it one of the most important for international trading. As we can see in the movie, the landscapes are breathtaking, with stunning beaches and dense vegetation. In this district you will find the Tortuguero National Park, a national park dedicated mainly to the preservation and appreciation of marine turtles.
If you go to this region, make sure to try the local delicacy, the Pan Bon, a delicious bread filled with an assortment of nuts.
Jurassic Park (1993) is famously set in an island in Costa Rica. Directed by Steven Spielberg and starring amazing actors, such as Sam Neil, Laura Dern and Jeff Goldblum, this film has quickly become a modern classic. The plot is based on a novel by Michael Crichton.
A scientist retrieves dinosaurs' DNA from mosquitos frozen in amber. He makes clones of several species and sets them lose on an island in Costa Rica to create a theme park. He invites four visitors to see his creation, but things take a turn for the worst when some employees attempt to steal dinosaur embryos.
The film is many people's favorite for good reason. The special effects still hold up to this day, the performances are excellent, the score is absolutely iconic, and Spielberg creates tension on screen like no one else. But it is specially the first time that the dinosaurs appear on screen that people seem to remember the most. On by one the characters turn around to discover an enormous brachiosaur walking past them, while the theme song increases in volume and we finally see it's not just one, but a herd of dinosaurs. There aren't many films that can still create the same sense of wonder as this piece, and that's why it's still worth watching.
The real location where Jurassic Park was set is Isla del Coco, in Costa Rica however none of the scenes were actually filmed in Costa Rica. Instead footage of Isla del Coco was used in the opening sequence to represent Isla Nublar and most of the on location shooting took place in Hawaii.
Isla del Coco may not be filled with ancient reptiles, but it's still a place full of wonder and beautiful natural landscapes to explore. It's been declared a National Park by the Costa Rican government, over forty years ago, which has allowed for an almost pristine conservation, and it's been declared a Natural World Heritage by UNESCO.
There are more than two hundred waterfalls, the tallest one with a fall over one hundred and forty meters. In its waters, lives the highest concentration of hammerhead sharks, as well as unique fish species displaying the most varied array of colors.
Cold Water from the Sea [Agua fría de mar] (2010) is an international co-production, directed by Paz Fábrega. Fábrega's work has always been interested in the feelings of loneliness and vulnerability typical of the youth, and this film is no different.
The protagonist's, Mariana and Rodrigo, travel to the beach because Rodrigo must sell a property in the area. One night they find a little girl, Karina, sleeping alone in some bushes. They decide to take her in for the night and help her return home the next day. However, in the morning she's gone.
Fábrega handles the tones of the story perfectly. The silences allow for a reflective atmosphere, while the scenes with the children are whimsical and fun. Karina has a wild imagination that sometimes seems even ominous. But it's especially during Mariana and Karina's conversations that we feel something transcendental is happening. The beach appears like a perfect location to make this connection, between girl and woman.
Cold Water from the Sea was shot in the Marino Ballena National Park. It was declared as the eight best place for cetaceans' sightseeing and it was the first marine park in Central America. In addition to whales, its waters are populated by dolphins, stingrays, sharks and many different types of fishes, as well as seventeen coral species.
In this park, there is an extremely humid tropical forest, with a wide variety of vegetation and many species of birds. It's definitely the place to visit if you are interested in learning more about nature and discovering the Costa Rican wildlife.
Also by Paz Fábrega, Journey [Viaje] (2015) is one of the best recent movies set in Costa Rica and tells the tale about two hopeless romantics, who don't believe in traditional relationships. Luciana and Pedro meet at a party and instantly sense a connection. Luciana agrees to join Pedro on a journey to the Volcan Rincón de la Vieja National Park, where he must go to finish his thesis.
Together they explore the beautiful landscape, while discussing their perspectives on different subjects, such as modern love and relationships. In lots of ways, this film echoes the classic romance film Before Sunrise (1995), with two young characters discussing why traditional relationship structures may not work for them anymore, all while they get to discover a new place and continue to fall in love.
The National Park is perfect for those looking to connect with nature. There are many unique phenomena to observe, due to the presence of the volcano, such as the boiling mud and water, that create steam in the atmosphere. In the span of two hours, you can travel through different ecosystems, since there are dry forests, humid forests, and cloud forests.
The famous waterfall La Cangreja is inside the park, known for its particular shade of blue. The different trails allow you to choose which areas you want to visit, as well as the level of difficulty.
By now, it's not controversial to affirm that Spy Kids 2: Island of Lost Dreams (2002), by Robert Rodriguez, is a modern cult classic. What many may not know, it's that the scenes in the island were actually filmed in Costa Rica.
After defeating Fegan Floop and his evil thumb henchmen in the first part, Carmen and Juni Cortez must now investigate a mad scientist who lives secluded in an island. The scientist Romero, played by Steve Buscemi, had been experimenting with animals' DNA and ended up creating bizarre new animals. After an accident the creatures become enormous and escape Romero's control, running loose around the island. While all this is happening, the Cortez' are being chased by their rivals, the Giggles siblings. Without their ingenious gadgets, the spy kids must find a way to survive the monsters and escape the island.
In this film, there's a famous scene in which the Cortez' siblings fall down a volcano to the scientist's lab. This is the Arenal Volcano, which can be accessed through the Volcán Arenal National Park. This volcano is still considered active, but it hasn't erupted in the last ten years, and is closely monitored for any signs of activity. In spite of the Arenal being the most famous volcano, there's another one in the same National Park, the Chato Volcano. The Cahto's peak has crumbled creating an emerald lagoon at its top. This is a sight you won't want to miss, as it's a one of its kind phenomenon.
If you haven't yet watched the Spy Kids saga, you're missing out on lots of fun and adventure. While the film creates an aura of mystery around the island, knowing it is in fact the Costa Rican jungle and beaches you're seeing you'll be able to not only appreciate the story, but also the beautiful settings. The film has amazing actors in it, such as Antonio Banderas and Danny Trejo, and offers entertainment for the whole family.
The Heat After The Rain [El calor después de la lluvia] (2016), by Cristóbal Serrá Jorquera, is a story about grief and relationships. Juana is a thirty-year-old woman, who's still grieving the loss of her unborn son. She decides to take part in the Romería, a religious pilgrimage that happens every year on August in the Cartago province. This is a real event, during which more than a million believers each year walk to the Basilica of Our Lady of the Angels.
The Basilica was built where, allegedly, a young woman named Juana Pereira, found in 1635 an image of the Virgin Mary, Our Lady of the Angels. She was believed to have performed many miracles in the region. The real Basilica was destroyed during an earthquake at the beginning of the twentieth century, but it was rebuilt in its current byzantine style and proportions in 1912.
While walking to the Basilica, Juana runs into her ex-boyfriend Gustavo, who wants to talk about their relationship and apologize. The scenes during the Romeria are very well executed and the director is able to capture the sufferings and needs of the pilgrims. Juana wants to reconnect with herself and overcome past tragedies, something that the religious rite may help her with but not fully.
After the real Romería, a second, metaphorical Romería begins, as she resolves her conflicts with Gustavo and with her own perceptions of love and relationships.
A film about self-discovery, overcoming adversities and finding peace, One Step From Me [A un paso de mi] (2021), by Jose Mario Salas Boza, is an emotional journey that will leave you reflecting about life.
The story starts when Tatiana (played by Johanna Solano), a journalist, is asked to write blog posts about inner peace. Having recently broken up with her boyfriend, she doesn't feel like the person to talk about this subject. By recommendation of her friend, she decides to travel to Costa Rica, to reconnect with her own identity and try to discover what inner peace even is. For those who enjoy films such as Eat, Pray, Love, this is a perfect watch.
Tatiana travels across many regions of Costa Rica, each with their own beauty and charm. In the film, we can see Costa Rica's capital, San José, considered one of the most cosmopolitan cities in Latin America. The city offers a wide range of activities, with many interesting museums to visit, like the Contemporary Art Museum or the Jade Museum, and great nightlife to enjoy. Tatiana also visits the beaches of Tamarindo. Located along the North Coast, this is a great destination for visitors who want to relax or even to practice water sports like surf. One of the highlights of the film is the Punta Leona Hotel, an amazing hotel with beach views and an immense pool.
With a simple story and a slow pace, One Step from Me tells a moving story, that anyone can relate to and learn from. All the locations become important to Tatiana's journey and will certainly inspire the spectator to visit Costa Rica.