With stunning vistas, dynamic cities, and some of the most gorgeous coastline on planet earth, it is any wonder there are so many movies set in Portugal. Even long before tourists became intrigued by Portugal, directors from all over the world had already discovered this beautiful European country under the sun.
It was around the 50s and 60s of the last century that Portugal got to see more and more film sets within its borders. Mainly because at the time it was actually very cheap to shoot a movie in Portugal. But directors were also attracted to the diversity of landscapes, the impressive architecture, and by the people and its traditions. In this article, we will discuss the best of these movies set in Portugal so that you can watch them and be inspired by the Portuguese landscapes and culture.
We love traveling via cinema because it allows us to determine if a destination elicits that oh-so-important spirit of wanderlust in us before ever investing in a ticket there. And the beauty of Portgual in cinema will surely have you searching for the next flight out.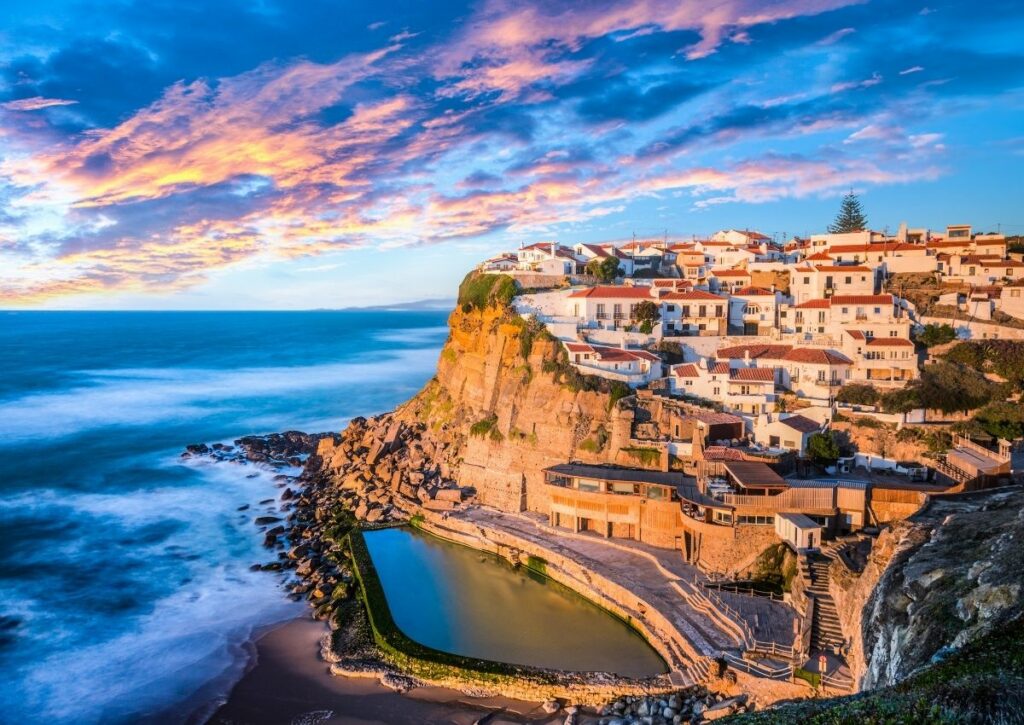 It is seeing such magical places in film that then motivated us to visit Costa Rica, Ireland, and Japan – among many other places. And who doesn't love those glorious moments where you arrive at a real-world location and feel spontaneously transported back inside to an iconic movie scene (thus the abiding popularity of visiting the not-quite-so-post-apocalyptic Australia ofMad Max or James Bond's Skyfall).
In Portugal, of course, such magical places exist too like Lagos, Lisbon, and Porto – to say nothing of the 17 UNESCO World Heritage Sites In Portugal!
In the following paragraphs, we will take a dive into some of Portugal's best films and the amazing places where they take place.
Wondering where to watch? It depends on where you live in the world and which streaming services you have. We link to the streaming service we watch on in each case - be it Netflix, Amazon Prime, Apple TV+, or elsewhere.
You can get one month free of Amazon Prime (or a 6-month trial for students) of Amazon Prime and also get immediate access to FREE Two Day shipping, Amazon Video, and Music. While you won't be charged for your free trial, you'll be upgraded to a paid membership plan automatically at the end of the trial period - though if you have already binged all these, you could just cancel before the trial ends.
Apple TV+ also has a one-week trial, and Hulu has a one-month trial (which can be bundled with Disney!). Another option might be using a VPN to access Netflix titles locked to other regions. Netflix is now available in more than 190 countries worldwide and each country has a different library and availability. US Netflix is (understandably) one of the best.
While we wish everything could just be in one place - for now, it seems these are the best streaming platforms to watch on.
Casanova Variations is a French / Austrian / German fantasy drama film written and directed by Michael Sturminger and starring John Malkovich, Fanny Ardant and Veronica Ferres.
It tells the story of Casanova, who is nearing the end of his life and is busy completing his memoirs and seducing his Irish maid. Through a flashback we catch a glimpse of the once-great lover in his heyday. We see him with a woman who gives birth to his daughter without his knowledge. This girl then falls in love with Casanova and gives birth to his son, who is actually her brother.
Casanova Variations was filmed in various locations around Portugal's capital, Lisbon and has since gone on to become one of the best movies set in Portugal. The most well-known location is arguably the Teatro Nacional de São Carlos, which translates to National Theatre of Saint Charles. It is an opera house that first opened its doors in 1793. The theatre is located in the historical center of Lisbon, in the Chiado district.
That Good Night is a British / Portuguese drama film directed by Eric Styles and starring John Hurt, Sofia Helin and Max Brown.
It tells the tale of Ralph, who was once a famous writer, and is now in his seventies and terminally ill. Before he dies, he wants to reconcile with his long-abandoned son Michael. In order not to be a burden to his devoted young wife Anna, he does this in secret. Ralph, however, ruins all hopes of reconciliation when he gets into a fight with Michael's girlfriend Cassie.
That Good Night was filmed on location in the Algarve, the southern region of Portugal, home to white sandy beaches, golf resorts and cliff faces. Filming locations include the municipality of Loulé where filming was done on the coast, the small village of Monte Seco, and the city of Tavira.
Tombs of the Blind Dead is an Spanish / Portuguese horror film written and directed by Amando de Ossorio and starring Lone Fleming, César Burner and María Elena Arpón. It is the first entry in Ossorio's Blind Dead series of films.
The movie is about a group of Spanish Templars who, in the thirteenth century, torture and murder a large group of innocent civilians. When a uprising takes place the enraged people hang the Templars, after which ravens pick their eyes out. Since then, there has been a legend that the Blind Templars crawl out of their graves at night, wander about and look for new victims only by listening. Flash forward to the 70s, where a young woman decides to camp out alone in the Templars abbey only to find out how real the legend actually is.
Filming on Tombs of the Blind Dead took place in both Spain and Portugal. The torture scenes that open the movie were filmed at Igreja de Santiago de Palmela, a historically significant church located inside the original fence of the Castle of Palmela, located in the village, parish and county of the same name. (If you watch the English language version of the film these scenes happen around halfway through.)
The library scenes where the professor tells the backstory of the Templars was filmed in and around the Faculty of Medicine, which is part of The University of Lisbon. Other locations where exteriors for the film were shot include Estoril, a town in the Municipality of Cascais, on the Portuguese Riviera, and Sesimbra, a picturesque fishing town set in a sheltered bay located in the municipality of the same name.
Stalin's Couch is a French / Portuguese film directed by Fanny Ardant and starring Gérard Depardieu, Emmanuelle Seigner and Paul Hamy. It premiered at the Lisbon & Sintra Film Festival in 2016.
The movie is about Josef Stalin, who spends three days resting up in a castle in the middle of the forest with his mistress Lidia. There is a couch there just like the one Freud had in London and Stalin proposes a psychological game to Lidia. Meanwhile, the young artist Danilov arrives, who has been commissioned to create a monument in Stalin's honor.
Stalin's Couch was filmed on location mostly in Portugal. The mansion Stalin stays at is actually the Buçaco Palace, a luxury hotel located in the mountain range of Serra do Buçaco, in the municipality of Mealhada. Also some exterior shooting on Stalin's Couch took place in Serra do Buçaco, while addition filming was done in and around the Curia Palace Hotel, located in the municipality of Anadiam which lies in the historical Aveiro district.
Love Letters of a Portuguese Nun is a West German / Swiss film directed by Jesús Franco and starring Susan Hemingway, William Berger and Ana Zanatti. The movie is about Maria, who gets sent to a convent in Serra d'Aire to save her soul. There she is forced to atone for her sinful thoughts and carnal desires while undergoing various penances by the cruel Mother Superior Alma and the perverted Father Vicente.
Unaware that they have given up their Christian faith and are serving Satan, Maria becomes entangled in a dangerous web of strange satanic rituals, torture, forced sex and orgies.
Love Letters of a Portuguese Nun was filmed on location in Portugal and has endured for over half a century as one of the best movies set in Portugal. Filming was done at the Castle of Sintra, located in the town of Sintra on one of the peaks of the Sintra Mountains, and at the Palace of Sintra, often referred to as Town Palace.
Additional shooting was done at the Palácio dos Condes de Castro Guimarães, originally an aristocrat's summer residence that later became a museum, located in in the Municipality of Cascais. And at the Jerónimos Monastery, a former monastery of the Order of Saint Jerome located near the Tagus River in the parish of Belém.
The Ninth Gate is a neo-noir thriller film directed, produced, and co-written by Roman Polanski, and starring Johnny Depp, Emmanuelle Seigner and Lena Olin.
The movie revolves around the book detective Dean Corso, who goes in search of rare books. One day he is hired to check the authenticity of the 17th-century book The 9 Gates of the Empire of Shadows. Only three copies of this satanic book have survived worldwide, but only one of them is said to be authentic. Whoever uses it right should be able to summon the Devil in person.
To compare the three books and its nine mysterious engravings, Corso travels from New York to Toledo, Paris and Sintra in Portugal. Murder and death appear to haunt him, as do two enigmatic women. The one, Mrs. Telfer, also hunts for the book. The other is a very strange woman, who always seems to protect him.
The Ninth Gate was partly filmed on location in Portugal. The most well-known Portuguese location is Chalet Biester, a mansion which was once home to Ernesto Biester, a wealthy 19th-century merchant and playwright. It is located inside Pena Park in the city of Sintra. Filming also took place in and around the Central Palace Hotel, which is located in Sintra's historical city center opposite the Royal Palace. You can also spot Praca da Republica, which is one of Sintra's most well-known streets.
On Her Majesty's Secret Service is a British James Bond film directed by Peter R. Hunt and starring George Lazenby, Diana Rigg and Telly Savalas. It is the sixth in the James Bond series of films.
In the movie special agent James Bond prevents a young woman, Tracy Draco, from committing suicide. Her father is the leader of a powerful crime organization and he wants Bond to protect her by marrying her. In return, he will receive information that will lead him to his nemesis Ernst Stavro Blofeld. Bond promises to kill Blofeld, but falls in love with Tracy. When he discovers that Blofeld wants to destroy humanity with a deadly virus, he faces a difficult choice: be loyal to his country or marry Tracy.
Spoiler alert: In On Her Majesty's Secret Service James Bond does end up marrying Tracy, and the wedding scenes were filmed in Portugal. To be more precise the wedding was set in Estoril, a town in the Municipality of Cascais, on the Portuguese Riviera. The town is both nationally and internationally well-known as a major luxury tourist destination.
Scenes for the wedding were filmed at the Palácio Estoril Hotel, and in the gardens of the Estoril Casino, which is one of the biggest casinos in Europe. Fun fact: During a stay at the Palácio Estoril Hotel years earlier writer Ian Fleming became inspired to create special agent James Bond.
Lisbon Story is a German / Portuguese drama film directed by Wim Wenders and starring Rüdiger Vogler, Patrick Bauchau and Vasco Sequeira. It premiered at the Cannes Film Festival in 1995.
The movie tells the story of director Friedrich Monroe, who is having trouble finding a suitable ending for his film about Lisbon. He enlists the help of his friend and sound engineer Phillip Winter. When Winter arrives a week later, Monroe has disappeared and has left the film behind. Winter is fascinated by the city and by the singer Teresa and starts recording the sound for the film. At the same time, Monroe is roaming the city with a camcorder. When the two men finally meet, Winter convinces Monroe to finish the film.
Lisbon Story, like many of the best movies set in Portugal, was filmed mainly in and around Portugal's capital Lisbon. It's basically a visual love letter to the city, and captures Lisbon's charm of its narrow streets in its oldest neighborhoods perfectly. It also features many, if not all, of the city's iconic sites. So much we're not even going to start naming them all, instead we will tell you a little about the film's backstory.
Wenders had the idea for this movie based on his own failed attempts at making a documentary about Lisbon. It also pays homage to the city because Lisbon was named European Capital of Culture in the year 1994. The movie features a few cameos by Portuguese people of interest, like the actor Henrique Canto e Castro and director João Canijo. The music in the film was performed by the Portuguese folk band Madredeus, with enchanting vocals by Teresa Salgueiro, who became part of the story.
Tabu is a Portuguese independent drama film directed by Miguel Gomes and starring Teresa Madruga, Laura Soveral and Ana Moreira.
The movie is about Aurora, an elderly Portuguese lady, and her Cape Verdean maid. They both live next door to Pilar, whose aim in life is to do good, but she fails to get any credit for her efforts. She certainly will not get it from the suspicious Aurora, who prefers to spend her little savings in the casino in Estoril during the few years she has left to live. When Aurora dies, Pilar discovers a mysterious letter that leads her on the trail of an old lover of Aurora.
A large part of this black and white classic was filmed on location in and around Lisbon. The funeral scenes were filmed at Cemitério de Carnide, a cemetery in the parish of Carnide, located on the outskirts of Lisbon. The park scenes were filmed in Parque das Nações, near the Water Gardens.
The casino scenes were filmed at the Estoril Casino, located in the Portuguese Riviera, in the municipality of Cascais.
Night Train to Lisbon is a drama film directed by Bille August and starring Jeremy Irons, Mélanie Laurent and Jack Huston. It is a co-production among Germany, Switzerland and Portugal. The movie revolves around teacher Raimund Gregorius (Irons), who encounters a mysterious Portuguese woman on the Kirchenfeldbrücke in Bern. Through her he gets to know the fascinating book by Arztes Amadeu de Prado, which makes him decide to take an adventurous trip to Lisbon. In his search for the author of the book, he ends up in a web full of political and emotional intrigue.
If you are only going to pick one of these best movies set in Portugal to watch before taking the trip to Lisbon and Portugal, this is it. After watching it you will feel like someone just gave you a guided tour through Portugal's capital. Night Train to Lisbon was filmed mainly on location in Lisbon, and features many famous landmarks from the city ike the Santa Apolónia Station which is the oldest railway station in Portugal. And the famous Bica de Duarte Belo Street, which is often mentioned when listing the most beautiful streets in the world.
Also seen in the film is the Belém Tower, a 16th-century fortification that served as a point of embarkation and disembarkation for Portuguese explorers and as a ceremonial gateway to Lisbon. And the Convent of Our Lady of Mount Carmel, a former Catholic convent located in the civil parish of Santa Maria Maior. While in Lisbon you will be able to book a guided tour that will bring you to all the shooting locations of Night Train to Lisbon.
And there you have it – our choice for the best movies set in Portugal. We hope we have inspired you to give some of these flicks a look. If you do, don't be surprised if that in turn will make you want to book that trip, and enjoy Portugal's historic cities, beautiful landscapes, world-famous cuisine, and sunny beaches.