Spain is one of those countries everybody wants to visit when traveling to Europe. And who can blame them, as there are beautiful beaches and monuments to visit. If you are a Cinephile, you might have another reason to plan your trip after watching these extraordinary movies set in Spain.
One of the reasons why we watch movies is because that is a perfect way to travel to different places while being at home. It is what inspired us to visit Australia, France, and Hawaii – among many other places. Some other times you can visit different locations and feel like you were inside the movie (thus the popularity of visiting Middle Earth / New Zealand or James Bond's Skyfall).
This list will reveal for you those special filming locations in Spain!
Wondering where to watch? It depends on where you live in the world and which streaming services you have. We link to the streaming service we watch on in each case - be it Netflix, Amazon Prime, Apple TV+, or elsewhere.
You can get one month free of Amazon Prime (or a 6-month trial for students) of Amazon Prime and also get immediate access to FREE Two Day shipping, Amazon Video, and Music. While you won't be charged for your free trial, you'll be upgraded to a paid membership plan automatically at the end of the trial period - though if you have already binged all these, you could just cancel before the trial ends.
Apple TV+ also has a one-week trial, and Hulu has a one-month trial (which can be bundled with Disney!). Another option might be using a VPN to access Netflix titles locked to other regions. Netflix is now available in more than 190 countries worldwide and each country has a different library and availability. US Netflix is (understandably) one of the best.
While we wish everything could just be in one place - for now, it seems these are the best streaming platforms to watch on.
With that said, let's go see some beautiful Spanish landscapes.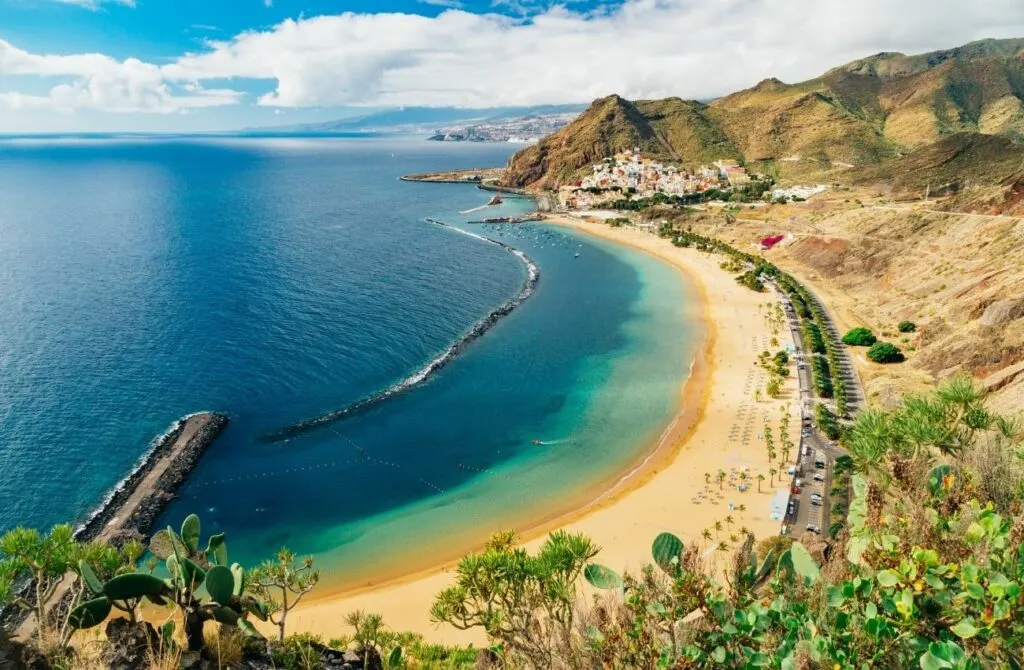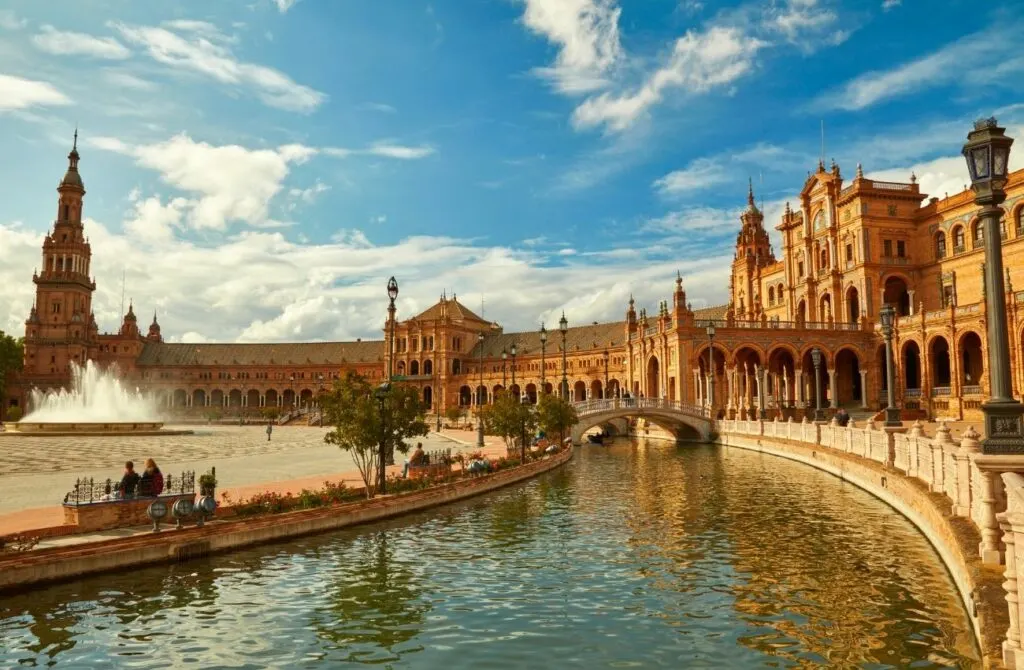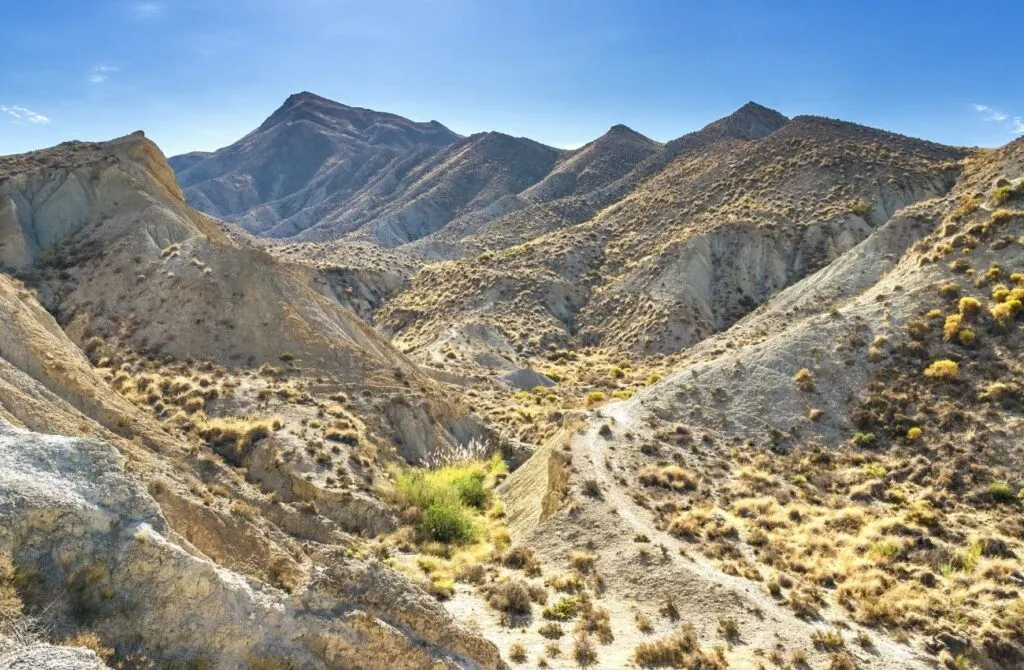 Almost half of this amazing movie was filmed in Almeria. And the landscapes selected by Steven Spielberg are just amazing.
We know that while planning a trip, visiting a desert is not one of the first things that you would include in your itinerary but Tabernas desert in Almeria is a location worth visiting. As we will see later, Steven Spielberg wasn´t the first filmmaker who thought Tabernas desert would be a good movie set.
If you have already seen this iconic film do you remember Hatay's palace where Marcus is captured while meeting with Sallah. ? Well, that is not a real palace, and it is definitely not located in the Middle East. It's actually Almería Art School – an iconic Spanish landmark.
If you like Middle Eastern architecture but you think flying there is too expensive, visiting Almeria could be cheaper and it certainly takes you back to the time Spain was under Muslim control.
Something characteristic of Spain's stunning landscapes is the beaches, which were also included by Steven Spielberg in the Indiana Jones set. The famous scene in which Henry destroys a plane scaring some poor seagulls was filmed in Monsul beach, Almeria.
Indiana Jones and the Last Crusade is a great representation of Spain, as you can see beautiful landscapes and great architecture.
Ok, this is technically not one of the best movies set in Spain – but we think it deserves honorable mention that one of the most famous sagas in film history was seduced by Spain's architecture – and who can blame them.
Can you think where in Star Wars: Episode II – Attack of the Clones Spain featured? Kudos to you if you know already that the capital city of Naboo was inspired by Seville's Plaza de España.
You could say that the Plaza de España is not recognizable in the movie as they used CGI to adapt the monument to the Star Wars universe, but if you look at a picture of Theed and a picture of Seville's Plaza de España, you can't deny they are the same place.
The scene was no longer than 2 minutes, but the crew stayed two-whole days in Seville to shoot the scene and they also used a lot of Spanish extras for this part of the movie. So we are going to count it!
The Good, The Bad, And The Ugly are one of those amazing movies that remind us that you don't need a lot of special effects and CGI to create an iconic film. A good script, some great actors, a solid soundtrack, and locations that transport you to the movie universe, are enough to make one of the greatest films of all time.
As we said before, Indiana Jones was not the first movie that was filmed in Taberna's Desert. Sergio Leone decided Almeria's desert would be a perfect fit for a western movie and he was not wrong. In fact, Taberna's desert is also known as Little Hollywood, thanks to all the western movies that have been filmed there.
Spain is known for being a mountainous country, something Sergio Leone took advantage of while looking for places to film his iconic 1966 movie. The sad hill cemetery, which appears in the last scene of the movie, was filmed in Burgos.
Fun fact: After filming the movie, the set was forgotten for 49 years, until a group of local people decided to restore the site. If you are inspired by these films set in Spain to visit, you shouldn't miss a trip to the set of The Good, The Bad, And The Ugly.
Photogenic Spain sets the scene for the 6th Fast and Furious trailer which starts with a beautiful aerial shot of Tenerife, the biggest island of the Canary Islands and undoubtedly one of Spain's most famous cities near the beach.
The Fast & Furious 6 crew took advantage of the fact that a highway was being built in the Canary Islands, so they decided to shoot the scene where a tank destroys a bridge on the highway. This is not a tourist spot of the islands, but if you want to drive from one island to another, you will need to drive past this highway.
Just like Fast & Furious Tokyo Drift made us want to travel to Japan, Fast And Furious 6 made us want to visit Tenerife (…and Hong Kong). Say what you will about the franchisee, but their location scouting is always on point!
This is an odd case on this list of films set in Spain as some scenes from the Mission Impossible 2 movie take place in Seville, but they were actually filmed halfway around the world in Australia.
Even though the movie does not show any real landscapes from Seville, it manifests some of the folklore of the city. Remember the scene when some girls in red dresses are dancing? Well, that is flamenco. A music genre that originated in Andalucía and if you visit that part of the country, you should defiantly visit a flamenco club.
Fun fact: The movie also shows a religious ritual that is taking place in Seville. That ritual is not accurate at all, which generated a lot of criticism in Spain.
We return once again to the Canary Islands, but this time to Fuerteventura. Directed by Ridley Scott, Exodus: Gods and Kings was filmed on many of the islands but there's no doubt the most beautiful location was Fuerteventura where we can find desert and sea just a couple of kilometers from each other. Needless to say, the iconic scene where Moises rips the sea in two, was filmed on this island.
The film also took place in El Chorrillo (Almeria), a landscape which we are not in a rush to visit, but it's a great addition to the set of this movie. It is interesting to know that El Chorrillo was also the set for Game of Thrones. So, it may not be the most beautiful landscape in Almeria, but it surely is a special place for cinephiles and Game of Thrones fans.
James Bond is one of those guys who lives his life to the fullest so, after catching some bad guys he needs to relax. And what a better way to have a luxury vacation than going to Cadiz.
In Die Another Day we can see James Bond flirting with Hally Berry's character in a hotel in Caleta's beach, which is located in Cadiz. In the background, we see what looks like a fort, which is San Sebastian's Castle, one of the most touristic places in the city.
Cadiz certainly is a place where you can find a mix of cultures, as you can find Muslim and Spanish architecture. But for 007 producers you can find Cuban architecture as well, as they filmed in Cadiz but they pretend it was Cuba. A poor stand-in to be sure, but it would have been almost impossible to film in Cuba with current sanctions.
A bit of a shame really, however, as such an iconic James Bond filming location is not entirely truthful.
Biutiful is a movie that narrates the life of a criminal while showing us a part of Barcelona that we don't usually see.
This is an interesting movie as we usually think of La Sagrada Familia or La Rambla while talking about Barcelona. Well, González Iñárritu focused his film on a different part of the city. Important to say that the movie focuses on immigration problems and insecurity. That's why the locations might look dirty and unattractive. That is just an exaggeration, as the locations are worth visiting while planning a trip to Barcelona.
The film shows immigrants selling replica handbags in the street. That street is called Paseo de Gracia, which is one of the biggest avenues of the city. While walking through Paseo de Gracia you can find modern architecture buildings and stores selling luxury brands. It's a little bit similar to the Champ- Élysées in Paris.
Biutiful also transports us to Santa Coloma de Gramanet, which is the 9th biggest city of Catalonia. Santa Coloma is not the typical place you would visit in Barcelona, but if you are staying for a couple of weeks, of course, it is worth visiting.
We've been talking a lot about deserts and beaches, so it's time to bring a movie that was filmed in the mountains.
Pan's Labyrinth is a movie that takes place a couple of years after the Spanish civil war. The film is a perfect combination between a fairy tale and the reality of a post-civil war country. While watching how the story develops, we are seeing the Guadarrama mountain range in the background.
Of course, this is not a commonplace to go while visiting Spain. But if you like adventure, as well as hiking and climbing, this is a perfect place to visit. In the Guadarrama mountain range, we can find the Peñalara, which is the highest mountain of this range, with an elevation of 2 428 meters.
It seems Ridley Scott is a fan of the beautiful landscapes of Spain, as this is the second time he appears on this list. Just like Exodus, Kingdom Of Heaven is a movie related to religion. The film takes place in the crusades of the 12th century.
We see Orlando Bloom fighting to defend a city from a raid from the Muslims. Some of these fights take place in Loarre Castle, Huesca. Loarre Castle is located in Loarre, a city of Huesca province. This is one of the oldest castles in Spain. As we can see in the movie, this was an important location that helped the kingdom of Aragon conquest Huesca.
The movie also takes place in the Palacio de Portocarrero, which is in Cordoba and is famous thanks to its beautiful gardens.
Another film set in Spain for nature lovers – are you seeing a trend here? Spain is simply stunning, and filmmakers are quick to take advantage of it. As you should expect, if we talk about nature, we must mention Andalucía.
Arnold Schwarzenegger and the movie crew filmed some scenes in the Peñon de Bernal. A rocky massif that stands out from the rest of the landscape. If you like climbing, this is a perfect spot.
If you prefer visiting villages with roman architecture, Conan The Barbarian has recommendations as well. Some of the scenes of the movie were shot in the woods outside Segovia. You could plan a hike in the woods and then return to the city to see one of the best works of Roman civil engineering in Spain, Segovia's aqueduct – a UNESCO World Heritage site.
Fun fact: Filming of Conan The Barbarian was stopped for a few hours after the civil guard attempted a coup. The set was full of weapons and explosives, something the authorities did not like a lot, considering the political environment the country was experiencing at the moment.
Knight And Day is one of those action movies that has all you want. Great action scenes, a beautiful city in the background, and Tom Cruise as the main character.
Remember the scene when Tom Cruise and Cameron Diaz are running from the bad guys while trying not to get killed by some bulls? Well, the scene was filmed in Seville's Casco Antiguo, which is the ancient district of Seville. This is a must if you plan a trip to Seville.
It is important to say that the festival shown in the movie is called San Fermin, which is basically what you can see in the movie, some bulls running in the streets while the people are running away from them. What is not accurate from the San Fermin we see in the movie, is that the festival takes place in Pamplona, a city in the north of the country.
This is one of those movies that should be more famous than it is. Have you seen the memes of how Christian Bale is fat in some movies and super skinny in others? Well, in The Machinist he weighed only 54 kilograms.
The whole movie was filmed in Spain, specifically in Barcelona. Even if the landscapes of the film are not the more touristic of the city, seeing so many places can give you an idea of how the life of a part of the population of Barcelona is.
Hint: It is not all glamour and days at the beach.
In one of the scenes of the movie, we see Christian Bale's character, Trevor Reznik, an industrial worker with chronic insomnia, walking in an amusement park with his girlfriend. This amusement park is real and is located in Tibidabo's mountain. Tibidabo amusement park is the oldest amusement park in Spain and the third oldest in Europe (after Bakken and Tivoli Gardens – both in Denmark). Thanks to its privileged location, the park also works as a lookout for the city.
If you are one of those tourists that loves visiting places that are not so famous, then, you would love the next set of the movie.
In the middle of the film, we see how Trevor is running away from the police and after entering a metro station, Trevor decides to escape through the sewers.
Yeah, it does sound weird, but the old sewer system of Barcelona is open to the public and is a perfect place to go if you want to know how a sewer system works or how to be more educated about environmental activities.
We cannot end this list without talking about the beautiful landscapes of the capital city of Spain. So, we will talk about Sex And Lucía, in which most of the movie was filmed in Madrid.
One scene of the movie takes place in the Plaza Emperador Carlos V, which is a famous roundabout of Madrid. Undoubtedly this is a beautiful place to visit, especially if you love museums, as you can find, just a couple of blocks away, the National Anthropology Museum, as well as the Reina Sofia National Art Museum.
Sex and Lucía also shows to the audience the Jardin de las Vistillas, which is a great representation of the different parks you can find around the city of Madrid. Big parks with statues that work as a water source and, of course, the city of Madrid as a background.
Jardin de las Vistillas is a great park to visit, but if you are planning a trip to Madrid, El Retiro Park should be on your list of places to visit.
And there you have it – a wondering collection of movies set in Spain. Did you know these movies were filmed in Spain? Are these the landscapes you usually think about when talking about the country? If you are Spanish, do you think these movies are a good representation of your country?
As we just saw, Spain is a country that has it all. Great beaches, ancient architecture, and beautiful landscapes like the desert and the mountains. Are these movies a correct representation of this country? And if you haven't visited Spain yet, does the list encourage you to take the next flight to the beautiful Mediterranean country of Spain?
For us, the answer is yes, and we hope it's the same for you!
Staying Connected While Travelling
In today's increasingly connected world, staying online while traveling has become essential for a seamless experience. That's where eSIMs come into play, revolutionizing the way we access mobile networks during our global adventures. Say goodbye to hunting down local SIM cards at the airport; eSIMs provide instant activation the moment you land, sparing you the fortune usually spent on international roaming and allowing you to genuinely travel like a local (without getting hopelessly lost!).
With eSIMs, tasks like restaurant recommendations and reservations, up-to-the-minute public transport instructions, checking opening hours, and accessing further information become a breeze. And, of course, sharing your journey on social media is easier than ever. To stay connected wherever you roam, consider using either Airalo or Holafly. Airalo boasts the most extensive range of destinations worldwide, offering smaller data bundles tailored to your needs, while Holafly provides unlimited data packages and fantastic EU data deals.
So why wait? Embrace the future of travel connectivity with eSIMs and make your next journey effortlessly smooth.
Further Things To Consider Before Any Adventure
Now you're all set and prepared to explore our big wide world, why not sort out everything else out all in one go? If necessary for your travel plans make sure you have brought proper travel insurance, protected your privacy by getting a secure VPN, compared all the top hotel booking sites to find just what you're after, reserved an unbeatable rental car price and - of course - booked the best flight deals!
Or maybe just forget it all and go for a last-minute cruise or effortless tour instead?
Many budget travelers (including me) indulge in worldwide airport lounge access, so we can experience luxury while still slumming it in economy. Naturally, we would never leave home without a more general travel guide since we couldn't possibly cover everything here!
Just add an adventurous attitude and plenty of smiles - they go a long way - and that about covers it all! Now go out, find your own path and don't forget to share your best inspiration stories with me on Facebook, Twitter, and Instagram...I'd love to hear from you!