Big mountains, rocky beaches, volcanic black deserts, frozen lakes, fields full of snow and ice, and impressive glaciers galore… Iceland's scenery has a lot to offer for filmmakers all over the world.
And those beautiful, unique and sometimes rugged backdrops have been the backdrop for many (if not all) of the movies set in Iceland, while its story is not always set in Iceland at all. Even Hollywood seems to now be in on the open secret and discovered that Iceland is a close-to-perfect shooting location nowadays.
Especially the town of Vík in South Iceland which has been visited by numerous big Hollywood film crews in just the past few years. And it is these emblematic natural elements that have attracted (and continue to attract) storytellers throughout the history of modern cinema and today the spirit of Iceland has been immortalized in distinct films resulting in a wonderfully convoluted and exceptional array of movies set in Iceland.
We love this range because one of the reasons why we watch movies is that they are an excellent way to travel to different places while staying at home – and to determine if a destination elicits that oh-so-important spirit of wanderlust in us before ever investing in a ticket there.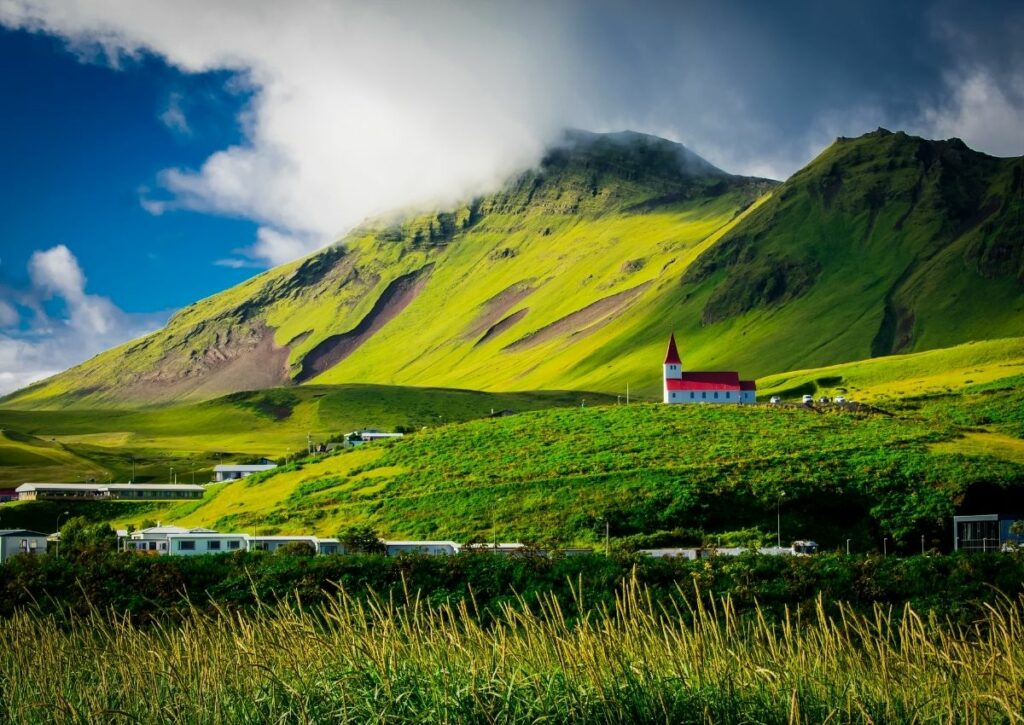 It is this 'travel via cinema' that first motivated us to visit Portugal, Greece, and Philadelphia – among many other places. We love chasing the high from those glorious moments you can step out in a real-world location and feel spontaneously transported back inside to an iconic movie scene (and judging by the abiding popularity of visiting Middle Earth / New Zealand or James Bond's Skyfall, we are not the only ones!)
In Iceland, of course, such magical places exist too, many of which are considered iconic landmarks of Iceland – and some which can even be experienced via freedom camping!
In the following paragraphs, we will take a dive into some of Iceland's best films and the extraordinary places where they take place.
Wondering where to watch? It depends on where you live in the world and which streaming services you have. We link to the streaming service we watch on in each case - be it Netflix, Amazon Prime, Apple TV+, or elsewhere.
You can get one month free of Amazon Prime (or a 6-month trial for students) of Amazon Prime and also get immediate access to FREE Two Day shipping, Amazon Video, and Music. While you won't be charged for your free trial, you'll be upgraded to a paid membership plan automatically at the end of the trial period - though if you have already binged all these, you could just cancel before the trial ends.
Apple TV+ also has a one-week trial, and Hulu has a one-month trial (which can be bundled with Disney!). Another option might be using a VPN to access Netflix titles locked to other regions. Netflix is now available in more than 190 countries worldwide and each country has a different library and availability. US Netflix is (understandably) one of the best.
While we wish everything could just be in one place - for now, it seems these are the best streaming platforms to watch on.
Sons of the Soil is a Danish silent film directed by Gunnar Sommerfeldt and starring Philip Bech, Gudrun Indriadottir, and Elisabeth Jacobsen. The movie is about Örlygur Borg's two sons, Ormar and Ketill, who live in Iceland. They are both in love with the beautiful Rúna, and this causes friction and eventually a fight between the two brothers.
Sons of the Soil was filmed on location in various places in Iceland. Not much is known in terms of actual locations. But since it is the very first motion picture to be shot in Iceland, and it has supposedly been responsible for kick-starting Icelandic cinema, we felt it definitely deserved a spot on this list.
A View To A Kill is a British James Bond film directed by John Glen and starring Roger Moore, Christopher Walken, and Tanya Roberts. It is the fourteenth entry in the James Bond series of films.
In the movie, a special chip that is identical to a British design has been stolen from the Russians. The chip can withstand the radiation of a nuclear explosion. The British Secret Service suspects Max Zorin of stealing the chip and James Bond is sent to investigate. He discovers that Zorin produces many chips and has devised a diabolical plan to take control of the entire chip production.
Only the pre-credits scene of A View to a Kill was filmed in Iceland but hey, it's James Bond so we have to include it, right? The openings scenes of the movie are supposed to take place in Siberia, but it is actually Jökulsárlón, a large glacial lake located on the southeast tip of the huge Vatnajökull Glacier and the tiny fishing town of Höfn on the southeast coast of Iceland.
Fun fact: Roger Moore was never present on location; it was his stunt double that made the trip to Iceland to film the scenes.
Lara Croft: Tomb Raider is an action-adventure film directed by Simon West and starring Angelina Jolie, Noah Taylor, and Jon Voight. The movie is a co-production between the United States, the United Kingdom, Japan, and Germany. It is based on the Tomb Raider video game series.
The film is about Lara Croft, a woman born from a wealthy background who travels the world in search of rare objects. Her latest target is the two halves of an ancient object that gives its owner ultimate power. But in order to find it, she must first defeat a powerful and dangerous secret society.
A very small part of Lara Croft: Tomb Raider was filmed on location in Iceland. While that sequence is only about three minutes in length, it does feature one of Iceland's most popular tourist attractions: the Jokulsarlon Glacier Lagoon. It is a glacier lagoon filled with icebergs and has become such a popular attraction due to its stunning beauty. The lagoon is sometimes also referred to as just Jökulsárlón or Glacier's-River-Lagoon. In the film, Angelina Jolie takes a boat ride on the river, and if you visit the area you can do the same, as boat tours are organized daily for visitors and tourists.
On a side note, in the movie, this location is supposed to be a remote village located in Siberia.
Eurovision Song Contest: The Story of Fire Saga is an American romantic musical film directed by David Dobkin and starring Will Ferrell, Rachel McAdams, and Pierce Brosnan.
It tells the story of Lars and Sigrit, an ambitious musical duo from Iceland. When given the chance to represent their country in the Eurovision Song Contest, they consider it as a chance of a lifetime. And they finally have the opportunity to prove that all dreams are worth fighting for. But as it turns out there are some bumps on the road.
In the film, the musical duo called Fire Saga is proud Icelanders who hail from Húsavík, a town in Norðurþing municipality on the north coast on the shores of Skjálfandi bay. A lot of filming was actually done in this town which was historically a fishing village before it turned into a tourist attraction, even before this film came about.
The television studio as seen in the film is actually the University of Iceland, a public research university located in Reykjavík. Gullfoss, one of Iceland's most iconic and beloved waterfalls, can be seen in the opening scenes of the film. Additional filming was done in Iceland's capital Reykjavík and while the film has mixed reviews, the on-location filming makes it one of the best films set in Iceland in our books.
The Fate of the Furious is an American action film directed by F. Gary Gray and starring Vin Diesel, Dwayne Johnson, and Charlize Theron. It is the eighth installment in the Fast and Furious series of films.
In the movie, Dom and Letty are on their honeymoon while Brian and Mia are retired. The crew makes an effort to live a normal life, but when a mysterious woman tries to seduce Dom into the world of crime he can't resist the temptation. The betrayal of those closest to them will put the crew through trials like never before. From the coast of Cuba and the streets of New York to the icy plains of the Arctic Barents Sea, the team will have to travel the globe to stop an anarchist from spreading chaos and bring home the man who makes them one big family.
One of The Fate of the Furious most iconic chase scenes was filmed on Lake Myvatn, a shallow lake situated in an area of active volcanism in the north of Iceland, not far from Krafla volcano. The production crew shot these scenes in the depths of winter so the frozen ice would hold all of the vehicles.
The prison scenes were filmed in Akranes, a port town, and municipality on the west coast of Iceland. Some additional shooting was done in and around this town as well.
The Secret Life of Walter Mitty is an adventure comedy film directed, co-produced by, and starring Ben Stiller. It also stars Kristen Wiig and Adam Scott.
The movie follows Walter Mitty (Stiller), a photo editor who works for LIFE Magazine. He is harassed daily by his colleagues because he is constantly daydreaming behind his desk. This also prevents him from reaching out to the woman of his dreams, who also happens to work for LIFE Magazine. Walter gets a chance to prove himself when the negative of an important photo gets lost and he must find it.
The Secret Life of Walter Mitty takes place in the USA, Greenland, Iceland, and the Himalayas, but was shot on location in the USA and Iceland only. The cinematography alone is so stunning it is impossible not to call this one of the best movies set in Iceland. The Icelandic filming locations include Stykkishólmur, a town and municipality located in the northern part of the Snæfellsnes peninsula, and Grundarfjörður, a town in the north of the Snæfellsnes peninsula.
The longboard riding scenes were filmed in Seyðisfjörður, a town in the Eastern Region of Iceland. Additional shooting was done inside Vatnajökull National Park, one of three national parks in Iceland, and in Höfn, a fishing town in the southeastern part of Iceland.
Captain America: Civil War is an American superhero film based on the Marvel Comics character Captain America. It was directed by Anthony and Joe Russo and stars Chris Evans, Robert Downey Jr., and Scarlett Johansson. Captain America: Civil War is a sequel to Captain America: The First Avenger (2011) and Captain America: The Winter Soldier (2014).
The film is about Steve Rogers (Evans), who leads a new team of Avengers that are trying to protect humanity. After a new international incident wreaks havoc, political pressure mounts to build a system where the heroes can be held accountable for their actions. A governing body is set up to review when to use the team's services. The new status quo causes a rift between the Avengers, while also protecting the world from a new and horrific enemy.
Captain America: Civil War was filmed in the United States, Germany, Puerto Rico, Norway, and Iceland. The scenes in Iceland were shot in and around the village of Vik, the southernmost village in Iceland. It is a very small village with only about 750 inhabitants.
Die Another Day is an American / British James Bond film directed by Lee Tamahori and starring Pierce Brosnan, Halle Berry, and Toby Stephens. It is the twentieth film in the James Bond series of films.
The movie tells another tale about secret agent James Bond (Brosnan), who gets betrayed and captured during a mission in North Korea. After escaping, he travels from Hong Kong to Cuba and back to London with a mission to expose the traitor and prevent a war. The chase eventually leads him to a palace located in Iceland. It is there that Bond discovers a new hi-tech weapon with unprecedented powers.
Die Another Day is the second Bond film on this list, and this time Bond is not supposedly in 'Siberia', but actually in Iceland, where he takes part in a high-speed car chase across a frozen lake, involving 4 Aston Martins and 4 Jaguars. These ingenious car chase scenes were filmed in two different locations. Most of the filming was done at Jökulsárlón, a large glacial lake located in the southern part of Vatnajökull National Park, and arguably the most famous lake of Iceland.
The film's production crew actually constructed a dam that blocked the lagoon's exit to the sea. It took a few days for the still water to freeze allowing the stunt team to drive on the frozen lake. Some shooting was also done at Vatnajökull, the largest and most voluminous ice cap in the country, and Europe for that matter. Additional scenes for the movie were filmed at Höfn, a fishing town in the southeastern part of Iceland.
Thor: The Dark World is an American superhero film based on the Marvel Comics character Thor, directed by Alan Taylor. The film stars Chris Hemsworth, Natalie Portman, and Tom Hiddleston. Thor: The Dark World is a sequel to Thor (2011).
The film is about Thor (Hemsworth), who after the events of The Avengers (2017) tries to restore order to the cosmos. But an ancient race of Dark Elves led by the vengeful Malekith wants to plunge the universe into darkness. When even Odin and Asgard are no match for this enemy, Thor will have to face his most perilous and personal battle, which will reunite him with Jane Foster and force him to make the ultimate sacrifice for the salvation of our world.
Thor: The Dark World was filmed mainly in the United Kingdom and Iceland. The black sand landscapes of Svartalfheim, and the Realm of the Dark Elves were both filmed at Landmannalaugar, a place in the Fjallabak Nature Reserve located at the edge of Laugahraun lava field, in the Highlands of Iceland. It is known for its natural geothermal hot springs and surrounding landscape.
Some of Asgard's landscapes were filmed at Ásbyrgi, a glacial canyon and forest in the north of Iceland, and at the Dettifoss waterfall, located in the Vatnajökull National Park. Additional shooting was done at Skógafoss, a waterfall located on the Skógá River in the south of Iceland at the cliff marking the former coastline, and in and around Iceland's capital Reykjavíak.
Interstellar is an American / British science fiction film co-written, produced, and directed by Christopher Nolan and starring Matthew McConaughey, Jessica Chastain, and Anne Hathaway.
Interstellar tells the story of a future where governments and economies around the world have collapsed. Food is scarce, NASA no longer exists and the 20th century is the major culprit. When a mysterious wormhole in space-time opens up, it's up to a group of remaining NASA researchers to explore and bring hope to humanity.
Interstellar was partly filmed in two locations in Iceland. The first of them was Svínafellsjökull, an outlet glacier of the large Vatnajökull ice cap. Svínafellsjökull is one of the country's most popular places for glacier hiking because of its incredible formations and awesome views. The second location is Máfabót, an island located in South and situated north of Veiðiós. In the movie, both locations represent two different planets.
This concludes our list of the best movies set or filmed in Iceland. We hope watching some of the films on this list will inspire you to visit this mystical island full of snow-covered volcanoes, impressive mountains, and ice-covered fields. While being there you will surely enjoy Iceland's stunning natural beauty, but until that airline ticket is in your hands, enjoy some of these great movies to prepare you for your trip!