What is not to like about Greece? Beautiful deep blue seas, sunny weather, and ancient archaeological sites, Greece is indeed the land of mystical mythology.
It is therefore not surprising that Greek landscapes have been used as the backdrop for some memorable movies set in Greece, being utilized by both nationally and internationally.
After all these emblematic elements that have attracted storytellers throughout the history of cinema and as a result today, the spirit of Greece has been immortalized in different films gifting in a wonderfully complex and rich array of movies set inGreece from which to choose the 'best' from.
We love watching films made in foreign (to us) locations as that they are an excellent way to travel to different places while staying at home – or to determine if a destination elicits that oh-so-important spirit of wanderlust in us before ever investing in a ticket there.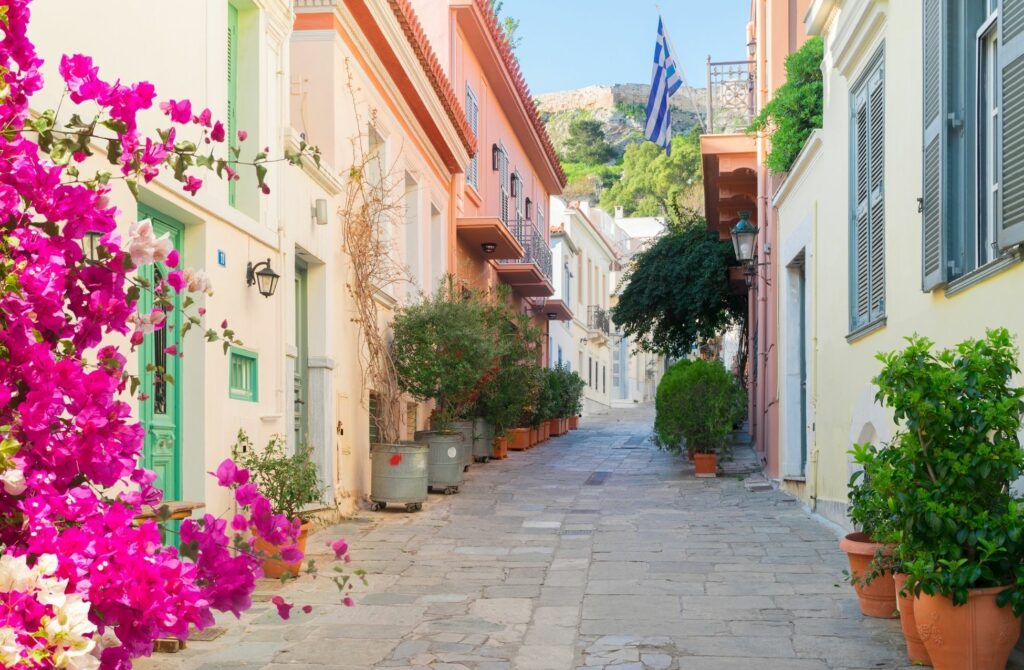 It is this wanderlust that first motivated us to visit Chicago, France, and Mexico – among many other places. Then you can also have those remarkable moments you can step out in a real-world location and feel spontaneously dispatched back inside an iconic movie frame (thus the enduring universality of visiting Middle Earth / New Zealand or James Bond's Skyfall).
When it comes to Greece, these films will have you counting the days until you visit the famous landmarks of Greece for yourself.
In the following paragraphs, we dive into some of Greece's best cinematic pieces and why they deserve to be watched, as well as some of the locations featured and the reasons to visit them. From auteur pieces to Hollywood hits, we share with you a list of titles to get to know this magical country and discover its enigmatic secrets and many (many) islands via cinema.
And who knows, watching some of these movies set in Greece might even inspire you to choose this ancient sun-soaked country as your next holiday vacation – as if you didn't have it on your mind already!
Wondering where to watch? It depends on where you live in the world and which streaming services you have. We link to the streaming service we watch on in each case - be it Netflix, Amazon Prime, Apple TV+, or elsewhere.
You can get one month free of Amazon Prime (or a 6-month trial for students) of Amazon Prime and also get immediate access to FREE Two Day shipping, Amazon Video, and Music. While you won't be charged for your free trial, you'll be upgraded to a paid membership plan automatically at the end of the trial period - though if you have already binged all these, you could just cancel before the trial ends.
Apple TV+ also has a one-week trial, and Hulu has a one-month trial (which can be bundled with Disney!). Another option might be using a VPN to access Netflix titles locked to other regions. Netflix is now available in more than 190 countries worldwide and each country has a different library and availability. US Netflix is (understandably) one of the best.
While we wish everything could just be in one place - for now, it seems these are the best streaming platforms to watch on.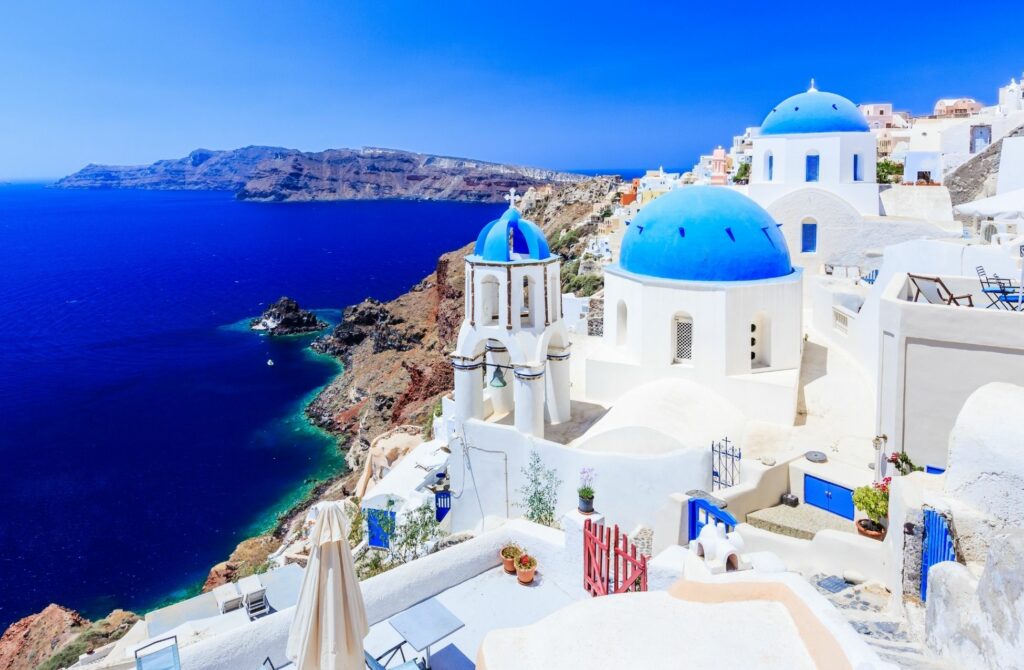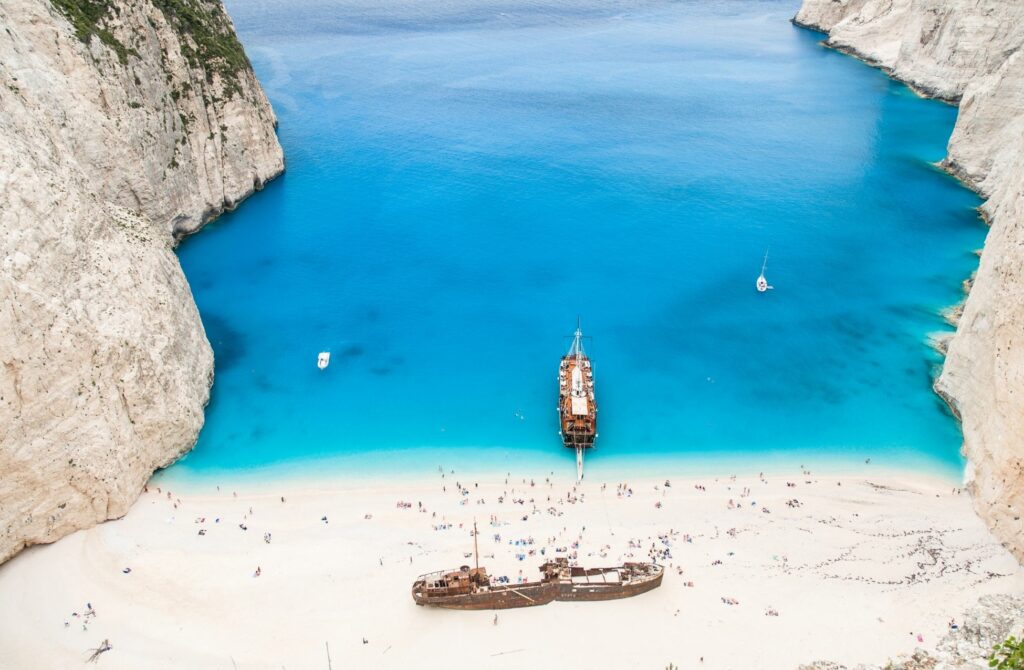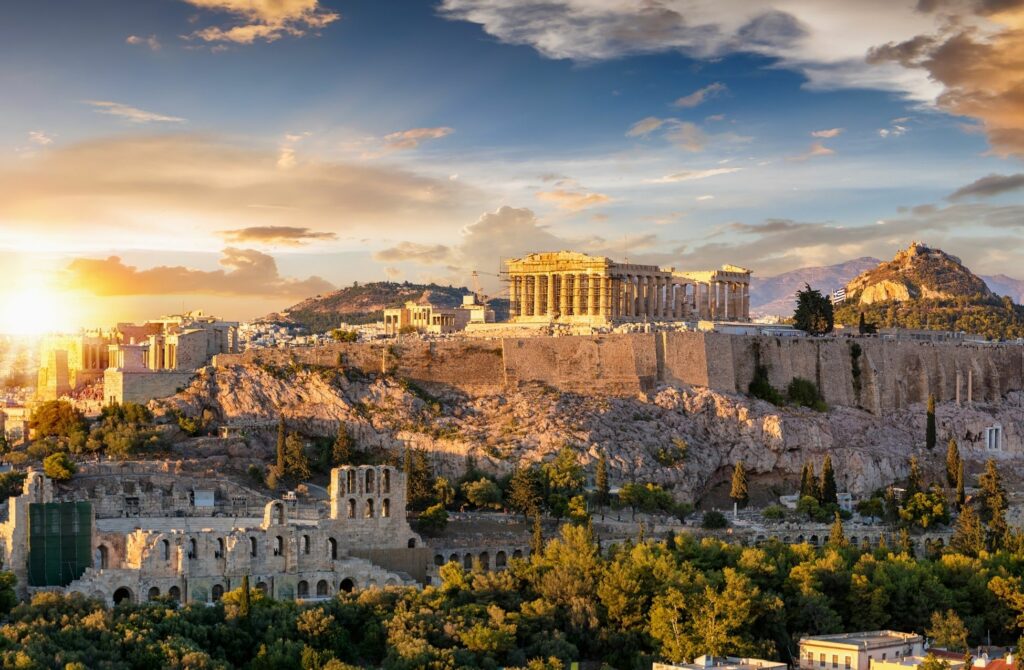 The Bourne Identity is an American action-thriller film directed by Doug Liman and starring Matt Damon, Franka Potente, and Chris Cooper. The film is based on Robert Ludlum's novel of the same name published in 1980. The movie is about a drowning man (Damon) getting rescued by an Italian fishing boat. Once onboard he realizes he is suffering from amnesia and does not know who he is.
There are two bullets in his back however and he soon comes to the conclusion that an attempt was made on his life. To his own surprise, he seems to master various fighting techniques, and with the help of Marie (Potente), he sets out in Switzerland in search of his identity. He soon discovers that he was involved in a mysterious plot involving an assassination attempt.
The Bourne Identity was filmed in the Czech Republic, France, Italy, and Spain. The final scene of the movie, the scooter rental scene, was filmed in Greece, on the island of Mykonos. The rental shop is located at Sea Satin Market in Little Venice, beneath the island's famous windmills. Mykonos is an island that is part of the Cyclades and is lying between Tinos, Syros, Paros, and Naxos.
A Touch of Spice is a Greek film directed by Tassos Boulmetis and starring Markos Osse, Georges Corraface, and Tamer Karadagli. T
he movie is about young Fanis of Greek descent (Osse) who grows up in Istanbul, where his grandfather teaches him to cook from an early age. The crisis in Cyprus forces him and his Greek family to move to Athens, where Fanis (Corraface) becomes an astrophysicist and is also known for his cooking. Almost every year his grandfather promises that he will come to visit. But that never happens. When Fanis learns that his grandfather is ill, he decides to return to Istanbul.
A Touch of Spice was filmed in both Greece and Turkey. The Greek scenes were filmed in Athens, the capital and largest city of Greece. The market and store scenes were filmed in Laurium, sometimes called Lavrio, a town in the southeastern part of Attica.
A Touch of Spice is widely regarded as one of the most important Greek films of the early twenty-first century, mostly because of its outstanding acting, design, and music.
Mamma Mia! is an American musical comedy film directed by Phyllida Lloyd and starring Amanda Seyfried, Meryl Streep, and Pierce Brosnan. It was written by Catherine Johnson based on her book for the musical of the same name.
The movie is about Donna, an independent, single mother, who runs a small hotel on an idyllic Greek island. Sophie, the feisty daughter she raised alone, is about to get married. For the occasion, Donna has invited her two old best friends: the practical and no-nonsense Rosie and the wealthy divorced Tanya from her former backing band 'Donna and the Dynamos'. But what she doesn't know is Sophie has secretly invited three guests herself as well.
Mamma Mia! features some beautiful Greek scenery. For instance the Skopelos Church of Agios Ioannis Kastri, which became quite famous because of this movie. The church is located in the region of Kastri, about 7 kilometers east of Glossa, northern Skopelos. It stands on top of a rock and provides a stunning view of the coasts of Skopelos and Alonissos.
Other scenes, among them the wedding procession, were filmed on the island of Skopelos, an island in the western Aegean Sea. Some scenes were filmed at Kastani beach, which is also located on the island. Filming also took place in Damouchari, a village which is located on the eastern side of the Pelion peninsula, a few kilometers south of Agios Ioannis.
Before Midnight is an American romantic drama film directed by Richard Linklater and starring Ethan Hawke en Julie Delpy. The film is a sequel to both Before Sunrise (1995) and Before Sunset (2004). In the film, we meet up again with longtime lovers Jesse (Hawke) and Celine (Delpy), who on the last night of their idyllic Greek vacation, reminisce about their lives together and what different choices might have brought them.
Before Midnight features a lot of Greek locations, too many to list them all actually, so we will go over just a few of them. Filming took place in Kardamili, a town by the sea 35 kilometers southeast of Kalamata. The opening scenes were filmed at Kalamata International Airport.
The Westin Resort Costa Navarino can also be seen in the movie, it is located in the historical district Trifylia. Some of the street scenes were filmed in Pylos, a town and a former municipality in Messenia, Peloponnese.
The Two Faces of January is a thriller film and a co-production between the United Kingdom, the United States, and France. The film is written and directed by Hossein Amini in his directorial debut and stars Kirsten Dunst, Viggo Mortensen, and Oscar Isaac. The movie tells the story of stylish American couple Chester and Colette MacFarland (Mortensen and Dunst), who are in Athens in 1962 where they encounter the young Greek-speaking American Rydal (Isaac) during a trip to the Acropolis.
He works there as a guide and secretly a scammer of tourists. When the couple invites him to dinner at their exclusive hotel, he is brought in to help move the body of a seemingly unconscious man. Rydal unwittingly gets entangled deeper in the duo's grim web and tries to get out of it. But that is complicated by the love he feels for Colette.
The Two Faces of January was filmed in both Turkey and Greece. The Greek locations include Athens, the capital and largest city of Greece, and Chania, a city that is the capital of the Chania regional unit, and lies along the northwest coast of the island Crete. Filming also took place in Heraklion, the largest city and the administrative capital of the island of Crete and capital of the Heraklion regional unit.
Boy On A Dolphin is an American romance film directed by Jean Negulesco and starring Alan Ladd, Clifton Webb and Sophia Loren. The movie is notable because for it being the first Hollywood production to be filmed in Greece, and for it being the English language debut of Sophia Loren.
The film revolves around Phaedra (Loren), a professional diver who discovers the wreck of a sunken ship. In the ship, she finds, among other things, a statue of a boy who is sitting on a dolphin. Together with her friend Rhif she tries to sell the statue to Dr. James Calder (Ladd), an American archaeologist who works for a Greek museum. When the museum fails to raise the money, Rhif turns to Victor Parmalee (Webb), a wealthy American art collector interested in the statue and other treasures from the wreckage. Meanwhile, Phaedra has grown very fond of Calder and together they must try to stay ahead of both Rhif and Victor and save the valuables from the ship.
Filming on Boy on a Dolphin took place in various locations in Greece. Among them Athens, the capital and largest city of Greece, Hydra, one of the Saronic Islands located in the Aegean Sea, and the island of Delos, located near Mykonos, and near the center of the Cyclades archipelago. Additional scenes were shot at Corinth, the successor to an ancient city, and a former municipality located in Corinthia, Peloponnese, and on the island of Rhodes and Poros.
The Big Blue is a French film in the French Cinéma du look visual style, directed by Luc Besson. The movie stars Rosanna Arquette, Jean-Marc Barr and Jean Reno. The movie tells the story of Enzo and Jacques, two friends who know each other from their native village, and who both have a deep passion for diving.
One day, Jacques' father dies while diving. Years later, Jacques is tested by scientists, who find that when he dives into icy water, his body seems to react like a dolphin's. Johanna, present at the experiments, falls for the mysterious dolphin man and follows him to Italy. Enzo, now a world diving champion, has challenged Jacques to a competition because he knows that he is the only diver in the world who can beat him.
The Big Blue was filmed in Italy, France, Peru and of course Greece, which we will be focusing on for the sake of this article. The pebble beach that can be seen in the movie is Agia Anna beach, located on the island of Amorgos located in the Cyclades Region. The shipwreck scene was filmed at the Kalotaritissa Bay, a bay also located on the island of Amorgos.
The bar that is featured in the movie is located on the same island and is called Le Grand Bleu. It is a small friendly cafe bar located by the sea near the port of Katapola. Additional scenes were shot on Ios, a Greek island in the Cyclades group in the Aegean Sea.
The 300 Spartans is an American war film directed by Rudolph Maté and starring Richard Egan, Ralph Richardson and David Farrar. The film depicts the Battle of Thermopylae. In 480 BC, a Persian army led by Xerxes invades Greece. Despite the overwhelming superiority of the Persians, the army of the Greeks manages to hold out in the narrow pass at Thermopylae.
The Persians suffered heavy losses, but in the end, the Greek army is inclined to withdraw. A group of 300 Spartans, led by King Leonidas, are left behind to hold out to the last man. What follows is a heroic battle between the heroic Spartans and the massive invasion force of the Persian Empire.
The 300 Spartans was filmed with the help of the Greek government. Most of the filming took place in Perachora, an inland settlement in Loutraki-Perachora-Agioi Theodoroi, Corinthia, in the region of Peloponnese. Additional scenes were shot in Athens, the capital and largest city of Greece, and in Loutraki, a seaside resort on the Gulf of Corinth, located in Corinthia.
Lake Vouliagmeni can also be seen in the movie. It is a small brackish-water lake fed by underground currents seeping through the mass of Mount Hymettus located to the south of Vouliagmeni.
For Your Eyes Only is a British James Bond film directed by John Glen in his directorial debut. The film stars Roger Moore, Carole Bouquet, and Chaim Topol. In the film, a British ship is sunk near Greece and the world powers embark on a frenetic search for the ship's super-secret cargo: the control system of a nuclear submarine. Special agent James Bond (Moore) is tasked with being the first to locate the wreckage with the help of the mysterious Melina (Bouquet), and thus prevent a global disaster.
For Your Eyes Only was partly filmed in Greece, and a lot of famous Greek landmarks can be spotted in the movie. For instance the Agia Triada Monastery, a Greek Orthodox monastery, and museum, located in the Akrotiri peninsula in the Chania regional unit, on the island of Crete. The stunning red bell tower of the Tower of Saint Spyridon can clearly be seen in the film. This bell tower with a Venetian design is the pinnacle of Saint Spyridon, and is located at the Square of the Saint on the Island of Corfu.
Other scenes were filmed at Achilleion, a palace located in Gastouri, on the Island of Corfu. This palace was built for the Empress Elisabeth of Austria.
The Guns Of Navarone is a British / American war film directed by J. Lee Thompson from a screenplay by Carl Foreman, and starring Gregory Peck, David Niven and Anthony Quinn. The movie revolves around six soldiers, who during World War II are tasked with destroying the huge German guns on the Greek island of Navarone at any cost. Built into an impregnable rock, these cannons control a strategic strait in the Aegean Sea.
The Guns of Navarone features many Greek locations. Some scenes were filmed in Lindos, an archaeological site, a fishing village and a former municipality on the island of Rhodes. St. Nicolas Bay, also located on Rhodes, can be seen in the movie. Today the region houses a luxury hotel and resort.
Other scenes were shot at Mandraki Harbour, which is the main harbor of the island of Rhodes, and where once stood the Colossus of Rhodes statue.
And with that, we end our list of ten great and memorable movies that were (partly) filmed in Greece. As you have read there are all kinds of different movies on this list, and we are sure there is at least one that must seem worth a watch to you.
We hope watching these films will ultimately inspire you to take the trip to this beautiful country full of stunning landscapes, glorious masterpieces of ancient times, nice food and drinks, and a vibrant nightlife.