Certain locations for films highlight perseverance, dedication, and staying true to your roots. And movies set in Philadelphia, Pennsylvania, hit on those themes more than most.
People from Philadelphia love their city, are passionate about their history, and recognize how unique their city is. It is often the birthplace of Independence in the United States, and they wear their heart on their sleeve.
They often are not afraid to back down for the challenge. It often results in a feel-good story about a group or, in many cases, a single individual. Philadelphia continues to be one of the more fun and grounded places to have the story's setting take place and is most famous for the Liberty Bell, cheesesteaks, its revolutionary history in general, and being the "City of Brotherly Love".
It is these endearing traits – among others) – that have attracted (and continue to attract) storytellers throughout the history of modern cinema and today the spirit of Philadelphia has been immortalized in different films resulting in a wonderfully intricate and excellent array of movies set in Philadelphia.
We love this because one of the reasons why we watch movies is that they are an excellent way to travel to different places while staying at home – and to determine if a destination elicits that oh-so-important spirit of wanderlust in us before ever investing in a ticket there.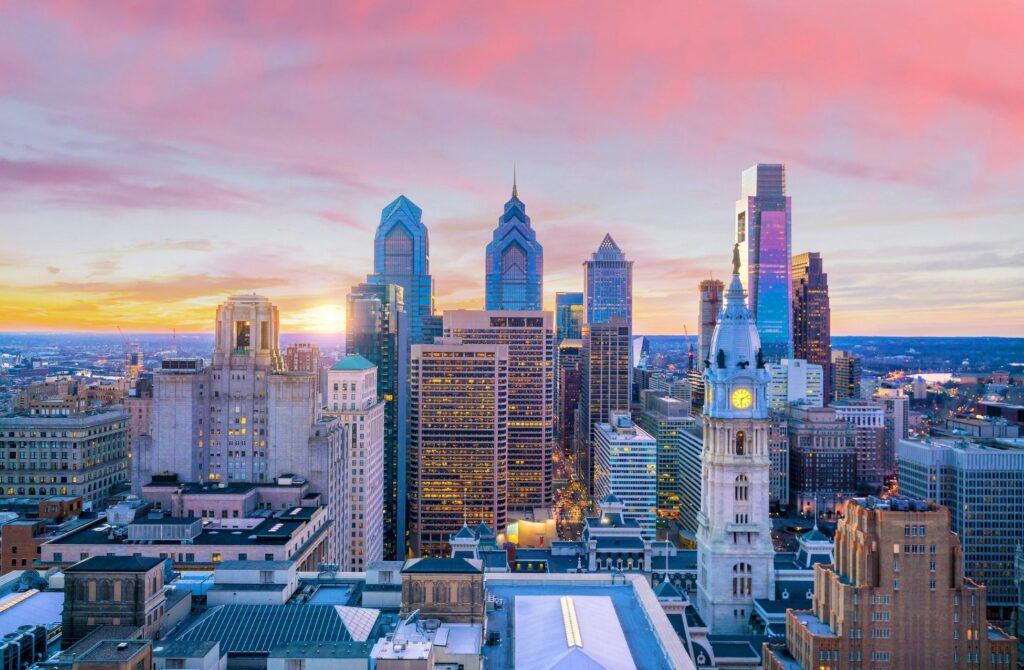 This is what motivated us to visit Cuba, Atlanta, and Montana – among many other places. Then there are those glorious moments you can step out in a real-world location and feel spontaneously transported back inside to an iconic movie scene (thus the abiding popularity of visiting Middle Earth / New Zealand or James Bond's Skyfall).
While movies set in Philadelphia may not be quite as grandiose and iconic, there is a lot of love about the offering here and therefore we expect the city will likely continue to be beloved by film fans in the many years to come.
Wondering where to watch? It depends on where you live in the world and which streaming services you have. We link to the streaming service we watch on in each case - be it Netflix, Amazon Prime, Apple TV+, or elsewhere.
You can get one month free of Amazon Pride (or a 6-month trial for students) of Amazon Prime and also get immediate access to FREE Two Day shipping, Amazon Video, and Music. While you won't be charged for your free trial, you'll be upgraded to a paid membership plan automatically at the end of the trial period - though if you have already binged all these, you could just cancel before the trial ends.
Apple TV+ also has a one-week trial, and Hulu has a one-month trial (which can be bundled with Disney!). Another option might be using a VPN to access Netflix titles locked to other regions. Netflix is now available in more than 190 countries worldwide and each country has a different library and availability. US Netflix is (understandably) one of the best.
While we wish everything could just be in one place - for now, it seems these are the best streaming platforms to watch on.
Rocky is one of the most infamous sports dramas that has ever made its way to the silver screen. Since its initial release in 1976 and won three Oscars (Best Picture, Best Director, and Best Film Editing), it has spawned a slew of sequels, including the series Creed decades later.
The film follows a struggling boxer known as Rocky Balboa (played by Sylvester Stalone), who comes across the chance to fight for the world heavyweight championship. Rocky and the films that have followed have become the poster films for Philadelphia and were filmed in numerous locations around the city, with the most famous being the shot of Rocky training at the steps of the Philadelphia Museum of Art, which has become one of the more visited tourist destinations in Philadelphia.
The film focuses on Rocky's struggles and how his life has been a complete and utter disaster. The grief and loneliness he feels are palpable; the entire film gives the impression that Rocky has the potential to be a great boxer, but he has never been given a chance he so desperately desires.
As he transforms from a loser to a hero, his entire journey is enjoyable, and you find yourself rooting for him like he is one of your buddies trying to catch his big break. Sylvester Stallone's acting captures all of Rocky's frustrations brilliantly and efficiently – it feels like he was born to play this role. It's an uplifting, energetic, and timeless film that continues to get better with age and speaks to every generation watching it.
This film is essentially what the title says. It follows an investment banker and a street con artist who trade places and live through each other's lives for a period of time. If you have not seen it, it is in a similar tone to a film like San Diego's Freaky Friday or 2020's film Freaky.
However, in recent years it has felt like a much more important film because it was the moment that really announced the arrival of Eddie Murphy. This was one of his first acting credits to get rave reviews and helped lead to him being one of the kings of pop culture in the 1980s and 90s. This film also features many hot spots in Philadelphia, including Rittenhouse Square, The Clothespin Sculpture on Market Street, and Fidelity Bank.
Trading Places is an enormous blast. It's a modern reworking of The Prince & the Pauper, complete with profanity, drugs, and plenty of titillation. Another arrow in its caustic bow is how well it expresses severe societal satire. This is one of the best and funniest comedies of the 1980s, with two fantastic comedians at the peak of their game (Eddie Murphy and Dan Aykroyd) who demonstrate some superb chemistry, Jamie Lee Curtis in a career-defining role, and three old guard performers providing a classy, solid backing.
The film Mannequin certainly is not for everyone. In short, it is about a younger artist searching for love and purpose. In that search, he creates a mannequin so perfect he falls in love with it and then works at the store where the mannequin is featured, and that mannequin comes to life. Just typing that out sounds like an insane premise, and while it doesn't totally work all the time, I think some aspects work in a way that is ahead of its time.
For a film made in the 1980s and had some similar concepts that films like Her and Ex Machina will have in the 2010s (although those films execute those ideas in a more futuristic and overall better way). This is yet another film that, while it doesn't nail that spirit of Philadelphia, does a remarkable job showing off the city's beauty by filming in locations such as the Fashion Outlets, Macy's Center City, and The Dorchester.
While it might not be one of the best movies set in Philadelphia it is undoubtedly one of the greatest comedies of the 1980s. It's a lot of fun. Andrew McCarthy and Kim Catrall have incredible chemistry, Meshach Taylor provides one of the best comedy performances I've ever seen, and James Spader is insanely great in this. I'm honestly baffled as to why this is so hated on, and it remains one of the more underrated comedies from the 80s.
Filmmaker Martin Scorsese's The Age of Innocence is one of his only films (if not his only film) that deals with a love triangle trope.
This story follows a young lawyer (played by Daniel Day-Lewis) who falls in love with someone recently divorced, all while he is still engaged. It's an adaptation of Edith Wharton's novel of the same name and is definitely a different type of Scorsese. This might be considered a bit of stretch as a Philadelphia film, following New York City's high society. Still, a crucial moment happens to be filmed in the Philadelphia Academy of Music.
As mentioned previously, this is when Scorsese went all-in on romance, and the glove couldn't have fit any better. Saul Bass' Hitchcockian vision, Bernstein's ecstatic soundtrack, and Ballhaus' sparkling photography The Age of Innocence has as much visual opulence as Scorsese's more well-known works.
The secret to its allure is that the luxury is only on the surface. The wicked heights of criminals in his earlier writings are matched by high-society snobbery, highlighting the unethical character of social law instead of criminality. This achieves the maestro of Little Italy crime-goal dramas of making the spectator feel the irreparable brutality of a repressive society without a single gunshot or street fight.
Courtroom dramas have become a more popularized genre in the last ten to fifteen years. Still, a lot of them don't live up to one of the more well-done and famous ones of the 90s, Philadelphia.
Philadelphia follows Andrew Beckett (played by Tom Hanks, who also won an Oscar for his efforts), who is a man with HIV and got fired by his law firm, and Joe Miller (played by Denzel Washington), who is a homophobic lawyer who is the only one that is willing for fight for his side. It is finely directed by Jonathan Demme, who followed up his masterpiece Silence of the Lambs with this gem of a film. It was filmed in a plethora of locations throughout the city, and if you go visit downtown, it is very likely that you will come across many of those locations.
This is a film that is absolutely crushing upon every single rewatch. Many point out that it hasn't aged the best. However, I think that even in today's society, it still holds a place among pop culture as a significant role in the LGBTQ+ community and was one of the major films in the 90s that allowed for that community to be seen in a portrayal of this magnitude. It feels like even watching it today, it still has that weight.
Of course, it helps that it has such fine performances and direction and a triumphant score from Howard Shore.
This is another Philadelphia-based film that feels way ahead of the curve in terms of the sci-fi films that would come about in the 2000s, 2010s, and so on. It is about a man from the future who is sent back in time to learn about a man-made virus that had devastated the planet for decades and significantly decreased its population.
To an extent, it's very similar to films like Interstellar, Looper, and even V for Vendetta. Much like the film Philadelphia, this is one that is shot in various locations throughout, so if there is a certain sequence or piece of scenery that catches your eye, it is more than likely that you can pay a visit to it during your trip to the City of Brotherly Love.
Gilliam's universe is as well-built and pulpy as any excellent Tim Burton film. While it falls short of the profound achievements of the French short that inspired it, it nonetheless performs well as a mainstream blockbuster prepared to take a chance.
As a result, Twelve Monkeys is a raucous energy comedy that is still the closest sci-fi has ever been to One Flew Over the Cuckoo's Nest's wild chaos. This stuff is the peak for a mid-nineties Hollywood film with Bruce Willis as the lead.
This is the first of M. Night Shyamalan's work to appear on this list, and it is arguably some of his best directorial efforts.
The Sixth Sense is about a young Philadelphia boy (played by Haley Joel Osment) who has the ability to communicate with spirits and is a timid child psychologist (played by Bruce Willis). While this isn't the standard Philadelphia film when you think of films from that area, Shyamalan, a Philadelphia native, has made an effort to film almost every film in his filmography in Philadelphia aside from 2021's Old, which was shot in the Dominican Republic.
At points, The Sixth Sense reminded me of a horror flick. Throughout most of the film, it causes the audience to fear for Cole. One of the most brilliant twist endings I've ever seen. Haley Joel Osment, Toni Collette, and Bruce Willis performed admirably in the final two moments, which were beautifully written and delivered.
Not just the last few scenes, but the entire film was fantastic, and of all of his films to date, this one feels like the most fleshed-out (maybe aside from Signs) and from start to finish is one of the best paranormal thrillers of the last thirty years.
Philadelphia is very much a sports town through and through. It is also a city that, through everything, holds their perseverance and toughness high. They are a city and a fanbase that wear their emotions on their sleeves and want to push through the hard times. In short, that is what the film Invincible is about.
It follows Vince Papale (played by Mark Whalberg) is a 30-something-year-old bartender who overcomes the impossible to play for the Philadelphia Eagles in 1976. This film includes two of the more famous locations in Philadelphia – Franklin Field and Pat's Steaks, two must-visits on any trip to the city.
This film was entertaining, and it was based on a true story. It took a lot of liberties, but it's still a motivating picture. It is based on the true tale of Vincent Papale, who tried out for the Philadelphia Eagles and made the team. The film did a fantastic job of emphasizing the value of having friends to lean on. Take a look at Papale's tale. It's a good one, and the film does a fantastic job of capturing the essence of his narrative.
The football sequences were well-done, and you could nearly feel the impact of the hits at times. It is a tremendous feel-good film.
The Lovely Bones is arguably the most spiritual journey of the movies set in Philadelphia on this list. It comes from visionary director Peter Jackson and follows the murder of Susie Salmon (played by Saoirse Ronan) and how she watches over her family and her murderer from purgatory.
It is one of the more interesting narratives both in the grand scope and from the narrator's point of view; it just comes across as one of Jackson's more interesting choices as a storyteller. Like many of the films on this list, much of it was shot in various locations throughout the city.
Each time I watch this film, it feels as heart-wrenching as the last. Peter Jackson has such a knack for finding the balance of hope and despair, often balancing them both within the same scene, and that is on full display. It is as gorgeous as a film of this magnitude can get, and it's fairly well-written with a cast on top of their game. It is a perfect blend for a film like this.
Creed is arguably the most famous film set in Philadelphia of the 2010s. It follows the journey of Adonis Creed's son, Adonis Johnson (played by Michael B. Jordan), and his own personal journey as a boxer. It shows us the dynamic lifestyle of his son as well as what Rocky Balboa has been up to all of these years later.
If there was one film that I would nominate as THE Philadelphia film, it would be this. Everything about this film feels authentic to the city from the style to the heart to the soundtracks.
This is one of my favorite films ever made and likely one of, if not my favorite, sports films of all time. I think that Ryan Coogler's directing sticks out in this one, and it feels like someone who has dumped all of their heart into making a project that is authentic to both Philadelphia and the Rocky franchise.
It has some of the best boxing sequences of any film out there, and the cast delivers some truly great performances, highlighted by Sylvester Stallone's best performance of his career.
Until Creed, Silver Linings Playbook is the film that felt like it was the main Philadelphia film of the 2010s. It has all of the themes that have become standard when talking about Philadelphia films. It's dramatic, somewhat centers around sports, and is all about overcoming various obstacles.
It is all about Pat (played by Bradley Cooper) trying to combat his mental health and recent divorce from his wife, and Tiffany (played by Jennifer Lawrence) is also trying to live with mental illness and grieve her recently deceased husband. There are so many sequences filmed in Philadelphia, and more so than any film on this list, it does a great job of capturing the majestic feel of inner-city Philadelphia.
Since first seeing this back in 2012, it has been one of my favorite films to revisit. I think that it has a lot of high-quality things to say about mental health in this country and how people choose to live with it, and that every person's battle, even if with the same mental illness, is an entirely different battle. It is all about overcoming obstacles and persevering, and I think more so than any other film on this demonstrates the difficulty of overcoming life obstacles, including dealing with various setbacks.
It is the ultimate feel-good film and is highlighted by stout performances by the entire cast.
This is the second M. Night Shyamalan's films on this list, and it feels like one of his more misunderstood and harshly critiqued projects in his career. Glass follows the main characters of Split and Unbreakable and, in many ways, is Shymalan's take on superhero films in the modern era, even if these are more like supervillains.
It takes a look at the three main characters in this trilogy of his and breaks down their dynamics in a very entertaining way. As mentioned before, most of Shyamalan's work has been set in Philadelphia, and that is the same here.
While I'll be the first to admit that Glass is far from a perfect film, it is nonetheless an entertaining watch. I think the idea of deconstructing comic book films is a very interesting and unique angle to take, especially for a filmmaker of this magnitude. There are some great performances throughout this final chapter of a trilogy, and it easily has the best set pieces of any Shyamalan film.