Films have the potential to be things of beauty. They have the ability to transport audiences to other worlds, planets, continents, or even just a new city – and movies set in San Diego are no exception.
San Diego, California, is one of the most captivating and beautiful (and underrated) locations to which films can transport their audiences. This city is known for its beautiful scenery, the ocean fronts, and serves as one of the most prominent centers for naval training.
Many times throughout the history of film, there have been stories that were put to the screen that shows off the warmth that can be felt when they are watching a film that takes place under that gorgeous California sun. There are many reasons that so many films are shot in San Diego. It has all of the beauty that other California cities have, but doesn't always get the love that ones like Los Angeles get.
Of all the California cities we have visited, this continues to be this hidden gem that is just hidden in plain sight filled with sky, surf, sun, and spirit.
And it is these emblematic elements that have attracted (and continue to attract) storytellers throughout the history of modern cinema and today the spirit of San Diego has been immortalized in different films resulting in a wonderfully intricate and excellent array of movies set in San Diego.
We love this because one of the reasons why we watch movies is that they are an excellent way to travel to different places while staying at home – and to determine if a destination elicits that oh-so-important spirit of wanderlust in us before ever investing in a ticket there.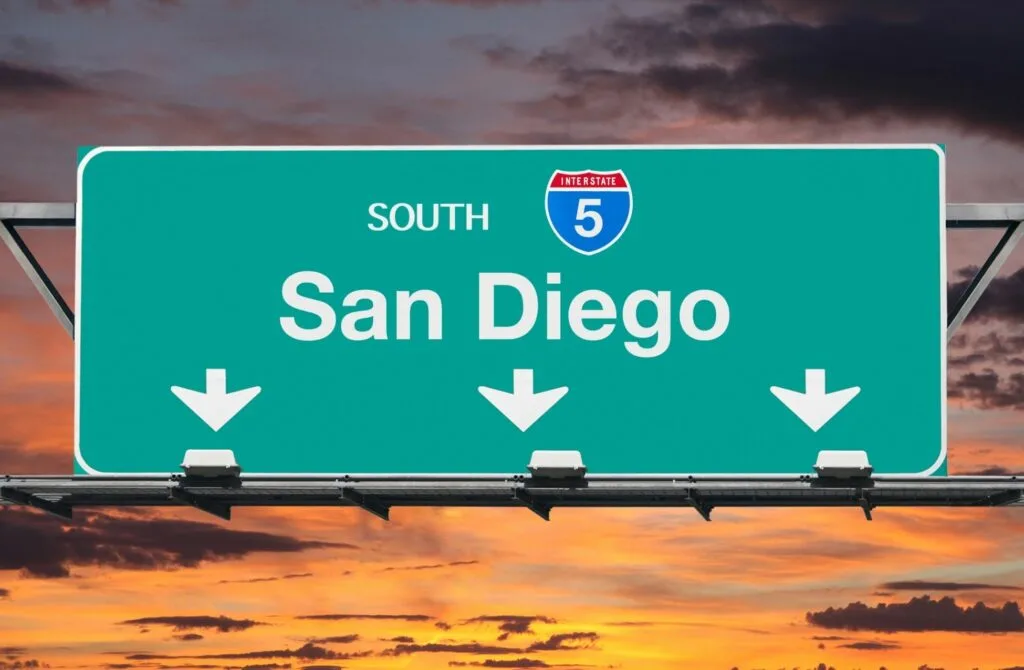 This is what motivated us to visit Las Vegas, Brazil, and Greece – among many other places. Then there are those glorious moments you can step out in a real-world location and feel spontaneously dispatched back inside an iconic movie frame (thus the abiding popularity of visiting Middle Earth / New Zealand or James Bond's Skyfall).
When it comes to San Diego, these films will have you counting the days until you can eat your way around Little Italy, traverse the behemoth Midway Museum or explore all the other unique things to do in San Diego for yourself.
In the following paragraphs, we dive into some of San Diego's best cinematic pieces and why they deserve to be watched, as well as some of the locations featured and the reasons to visit them. From auteur pieces to Hollywood hits, we share with you a list of titles to get to know this magical city and discover these enigmatic locations (that you then may be able to visit on your next trip!)
Wondering where to watch? It depends on where you live in the world and which streaming services you have. We link to the streaming service we watch on in each case - be it Netflix, Amazon Prime, Apple TV+, or elsewhere.
You can get one month free of Amazon Prime (or a 6-month trial for students) of Amazon Prime and also get immediate access to FREE Two Day shipping, Amazon Video, and Music. While you won't be charged for your free trial, you'll be upgraded to a paid membership plan automatically at the end of the trial period - though if you have already binged all these, you could just cancel before the trial ends.
Apple TV+ also has a one-week trial, and Hulu has a one-month trial (which can be bundled with Disney!). Another option might be using a VPN to access Netflix titles locked to other regions. Netflix is now available in more than 190 countries worldwide and each country has a different library and availability. US Netflix is (understandably) one of the best.
While we wish everything could just be in one place - for now, it seems these are the best streaming platforms to watch on.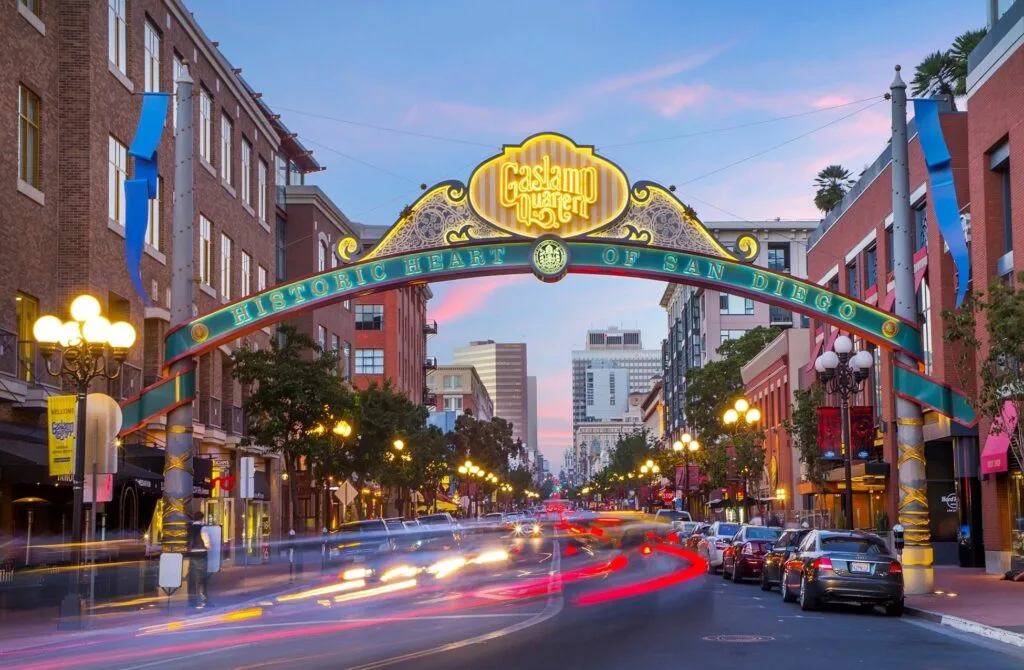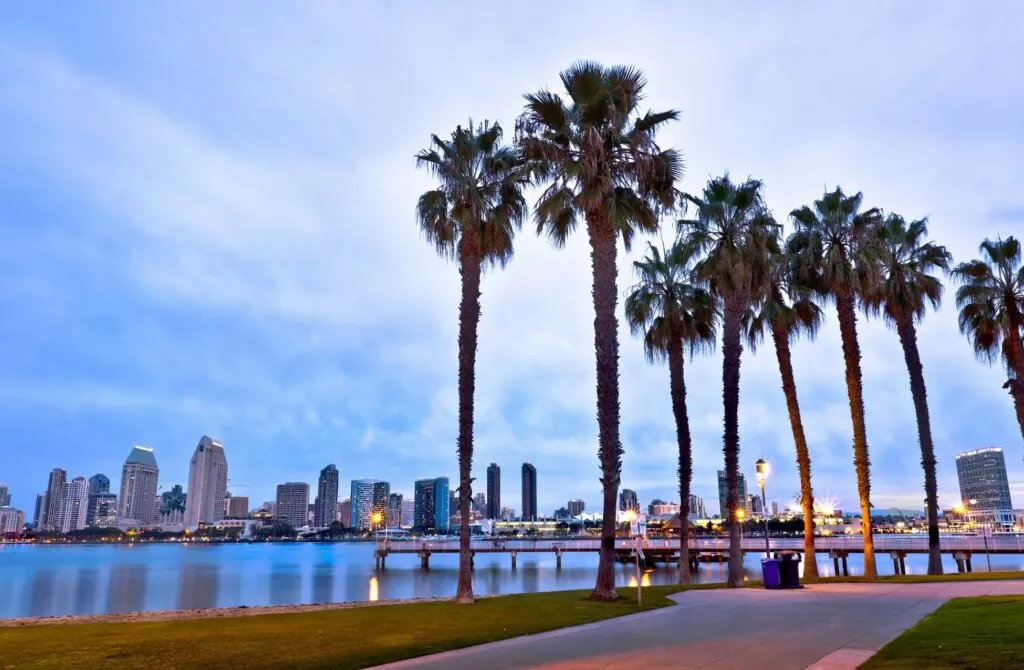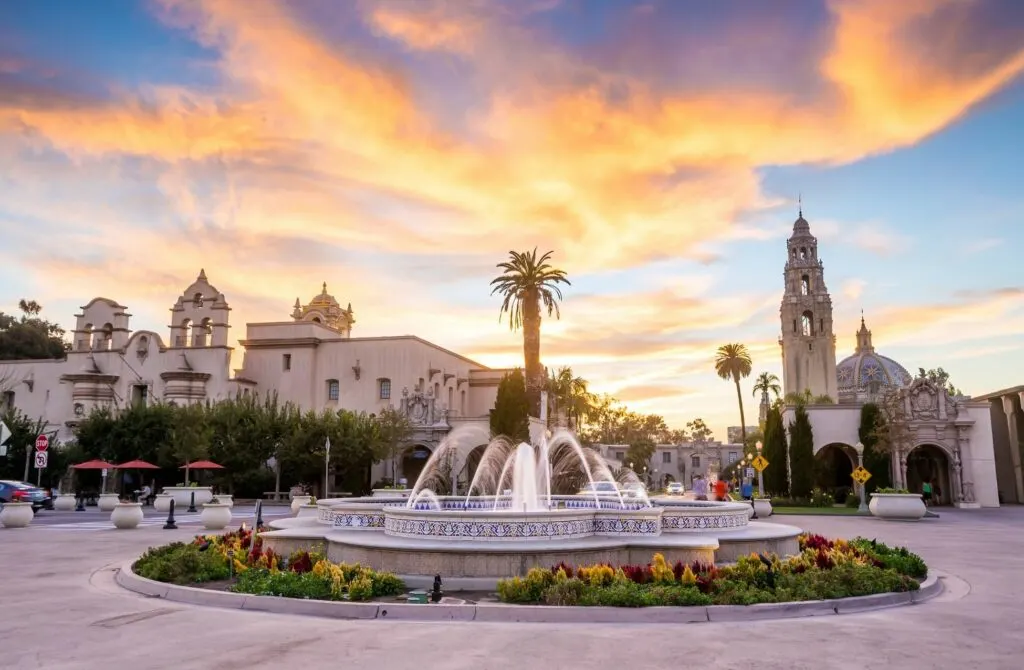 In terms of films that are based solely in San Diego, there are many films (like Citizen Kane) that had a lot of their filming done in San Diego, even if the setting of the story isn't in San Diego so we are going to include them.
Citizen Kane, a 1941 classic drama considered by many critics to be one of the finest films ever produced, was shot in several sites across Balboa Park. The novel was inspired by various real-life figures, including media magnate William Randolph Hearst.
There isn't a ton to say about Citizen Kane as a film that hasn't already been said a million times before, but it remains one of the few near-perfect films out there. It feels like it is the first major film to have such a great script and screenplay, and eighty years later, it holds up on such a high level; it is a classic in every way imaginable and continues to stand the test of time.
While this is a film that does take place in Chicago, most of the cinematography is shot in San Diego – mainly Hotel Del Coronado. Some Like It Hot is about two Chicago musicians, Joe and Jerry, who, after witnessing the St. Valentine's Day slaughter, have a desire to get out of town and away from the mobster responsible, Spats Colombo.
They're anxious to get out of town, but the only opportunity they've found is with an all-girl band headed to Florida. They arrive at the railway station dressed as substitute saxophone and bass performers, Josephine and Daphne. Sugar Kane Kowalczyk, who sings and plays the ukulele, really enjoys being with the females, and Joe, in particular, works out to pursue her, while Jerry/Daphne is courted by Osgood Fielding III, a millionaire.
Some Like It Hot is one of the most entertaining and entertaining movies I've ever watched. Easily among the top five most amusing films of all time. Every single joke is spot-on. Every. Single. One. Wilder and Diamond did an incredible job with the story, producing something genuinely unique and inspiring. It's a fascinating, brilliant, inventive, and hilarious adventure.
The characters are personable, well-developed, and have unrivaled chemistry, thanks in part to Jack Lemmon, Tony Curtis, and Marilyn Monroe's outstanding performances.
Freaky Friday is a film that is another film that doesn't necessarily take place in San Diego. It shows off the natural beauty of Mission Bay, which has always been a must-see spot in San Diego every time I have visited. It follows a mother and daughter duo who argue over everything, including what she wears, who she likes, and what she wants to do when she grows up. Annabel, on the other hand, despises Tess's fiancé. They both receive a glimpse of how the other feels, thinks, and lives after a mystical fortune cookie flip their personalities.
This is one of those films in which you know exactly how it will finish right from the start. Still, the film is well-made, and the conclusion is well-crafted, leading to a predictable and mushy but still appropriate conclusion. Essentially, this is a well-made teen-no-worries comedy with a completely ridiculous and unoriginal narrative but a lovely mood and characters.
As a lighthearted comedy, the film works nicely and contains some enjoyable moments. It's not a film that will make you laugh out loud, but it will make you feel wonderful and joyful.
Hardcore follows Jake Van Dorn, who is a businessman from the American heartland who, like most of his countrymen, has strong Calvinist beliefs. Van Dorn employs a private detective to track for his teenage daughter who went missing on a church youth convention trip to California. His daughter is discovered in a low-budget X-rated film as a consequence of the inquiry. Van Dorn resolves to personally fetch her back, and in the process, he learns about the pornographic underground.
This is a terrifying image of the pornography industry depicting just about everything you can imagine in that sordid world. This plot revolves around locating a girl from a religious household, and the father, played by George C. Scott, is portrayed as a zealot. He's described as a ruthless and heartless individual. Scott, on the other hand, isn't all awful because he's still a committed parent who went to great measures to reclaim his daughter.
While other San Diego and Southern California films show off the glitz and glamour of those who live there, Hardcore shows off how harsh the reality of industries there can be.
Top Gun, a 1986 classic, made Tom Cruise a Hollywood hero and celebrity. While battling his own personal issues and indulging in a heated, sexual engagement, brash and overconfident hotshot Navy fighter Lt. Pete Mitchell aka Maverick strives for Top Gun status against classmate Val Kilmer aka Iceman. It is a film that nearly perfectly encompasses everything that audiences have come to love with films from the 80s.
While Top Gun is known as the thrill ride of a film and takes a look at the Naval influence on the city; what does not get highlighted nearly enough is the beautiful locations around San Diego that enhance the film on such a high level. Top Gun is one of the few films that are both based in San Diego and filmed in the same location in which it is based.
Some of the terrific locations they film at include Miramar Naval Air Station, Kansas City Barbeque, and the Post Loma Coast Guard Lighthouse. These can all be seen as spots featured within the film, and over the years, they have become some of the very best tourist attractions to visit when on vacation in the Southern California city, especially if you are a big Top Gun fan.
Easily one of the best movies set in San Diego – ever – and one that has enduring popularity to this day.
This film takes place four years after Jurassic Park's genetically modified dinosaurs went berserk; multimillionaire John Hammond surprises chaos expert Ian Malcolm by disclosing that he has been raising new dinosaurs at a secret location. In this action-packed thriller, Malcolm, his paleontologist ladylove, and a wildlife filmmaker undertake an expedition to study the venomous lizards' natural behavior.
It's not simple to follow up a huge movie with a quality sequel. It is not impossible, though, if all of the components are in the appropriate location. Steven Spielberg returned to the director's chair four years after the huge success of Jurassic Park in an attempt to improve the series and add to his already illustrious reputation. Was he successful? No, according to the majority of reviewers. However, I admire Mr. Spielberg for putting out an amazing effort and delivering yet another crowd-pleaser, despite the fact that it fell short of the lofty expectations.
What I really like about this film is the aspect that it takes place in San Diego. Often, disasters in films take place in either New York City or Los Angeles, so it is refreshing to see one take place elsewhere.
Ocean Beach is a laid-back neighborhood in San Diego with a 1970s hippie feel in the air, making it the ideal backdrop for the 2000 award-winning comedy-drama film Almost Famous. The film follows a young journalist as she grows up and reports on a rock band named Stillwater, which is modeled on the real-life Allman Brothers.
Cameron Crow, a former San Diegan who worked as a young writer for Rolling Stone and as a music critic for the San Diego Union-Tribune, wrote the script. Filming took place at the historic San Diego Sports Arena, as well as the world-famous Newport Avenue in Ocean Beach.
The visuals produced and sentiments exhaled result in a magical event, releasing dreams to their purest forms and advancing the quest for communal empathy. Few films can give me such a cathartic and nearly out-of-body experience, but Almost Famous never fails to show me mankind and its vast nuances. This is a stunning film.
Traffic is an examination of the drug war in the United States of America from several views. When the new director of the Office of National Drug Control Policy finds that his well-educated daughter is misusing cocaine in their nice suburban house, the battle becomes personal for him.
In Mexico, a flawed but honorable cop offers to testify against a powerful general working with a cartel, while in San Diego, a drug lord's sheltered trophy wife is forced to understand her husband's merciless business after he is jailed, putting her luxury existence in jeopardy. The Rancho Bernardo Inn, Balboa Park Botanical Garden, San Diego Marriott Hotel and Marina, Hall of Justice, La Jolla, and even a real-life automobile explosion in downtown San Diego were all used as filming locations.
The way Traffic tells its tale serves to present a very, very bleak image—a picture of futility in our government's efforts to control the illegal drug trade. You can't help but be drawn into their message that what we're doing today isn't working because of the film's great artistry. Clearly, the movie is attempting to make a political point. Your thinking will undoubtedly be challenged throughout the run time of this award-winning film.
Bruce Almighty follows the story of Bruce Nolan, who works as a 'human interest' television reporter in Buffalo, New York (although much of this is filmed in San Diego near Harbor Island), but despite his good ratings and the affection of his lovely fiancée, he is unhappy. He fiercely mocks God at the conclusion of the worst day of his life, and the Almighty replies by bestowing all of God's supernatural abilities upon Bruce.
Carrey's pitch-perfect performance stays in character (which, fortunately, is him) and dominates and lends mood to the movie moment after scene, as you presumably know from hearing about it in the first place. Whether they accept it or not, Carrey's character was written or reworked just for him. Without him, the comedy would be flat since humor is only half-implemented.
However, without Carrey, it would feel like a re-make of It's a Wonderful Life. The film feels wonderful, has a pleasant atmosphere, treats the subject matter responsibly and better than expected.
Anchorman is arguably the most famous San Diego film out there. The story follows Ron Burgundy, who is the top-rated newscaster on San Diego's male-dominated Channel 4 in the 1970s. Veronica Corningstone is more than just a sex object when she joins this news station; she wants to be a news anchor. And, unlike Ron Burgundy's "funny joke," she isn't joking. The enmity between them grows as Ron becomes increasingly envious of her celebrity.
Everything is played with a straight face in Anchorman, and it's completely ludicrous. The language, physical humor, narrative, and spontaneous bursts of lunacy combine to make this picture a winning combination for me. It's pointless to analyze this film because it's insane in every manner, and it reminded me a lot of Police Squad and Airplane.
I typically enjoy Ferrell, so that helps, but it was Carell's schticky foolishness that had me laugh the most. He pulls off a prank, but boy does he pull it off brilliantly.
The Longest Yard is about Paul Crewe, a pro quarterback, and Nate Scarboro, a former collegiate champion and coach, who are both serving time in the same prison. When Crewe is asked to assemble a squad of convicts to face the guards, he enlists the services of Scarboro to coach the inmates to win in a football game that has been 'rigged' to go in a different direction.
Peter Segal's directing emphasizes comedy and personalities, but he also lends a sprightly zing to the proceedings. The sports sequences are vibrant and fast-paced, and his ensemble performs admirably. Sandler plays the main part with restraint and maturity, allowing his supporting cast to have fun. He's an excellent anchor for a cast that includes the flamboyant Chris Rock, Burt Reynolds, and several NFL players.
Despite its hamfisted, toolish aims, The Longest Yard is an enjoyable comedy. Though the sports comedy's testosterone-heavy style may turn off some viewers, it has enough skills, chuckles, and intensity to make it all work.
Paranormal Activity is about Katie and Micah who are increasingly frightened by what purports to be a supernatural presence shortly after relocating into a suburban tract home. They install video cameras all across the house with the intention of obtaining evidence on tape, however, they are unready for the horrific events that follow.
For as popular as this film was in the 2000s, it does not seem like a lot of people know that it takes place in San Diego. It doesn't highlight the beauty of the city as much as other films, but it does highlight what suburban life in San Diego is like.
In the current era, Paranormal Activity revolutionized the horror genre. With a minimal budget and great practical effects, this film brought together new ideas to create something wonderful. In every way, Paranormal Activity is terrifying, and it lets you suspend your disbelief long enough to believe the sounds you hear down the corridor or the footsteps you see on the screen.
You'll be looking over your shoulder and afraid to sleep at night after seeing this movie. The film's genuine tones and skillful editing help to bring reality home. You nearly forget you're watching a work of fiction.