San Diego is full of different districts, each with their own distinct personality and vibe. Little Italy is elegant, with pedestrianized streets and buzzing outdoor seating lining the roads. It's also, unsurprisingly, where you go in San Diego to get a good meal.
So how did Little Italy get there? As generations of Italian families moved to the West Coast, they set up near the sea to make money from fishing. From the 19th century to the seventies the tuna industry flourished here, earning SD the nickname of the 'tuna capital' of Western America. After the demise of that commerce, the area gentrified to become the attractive and welcoming place it is now.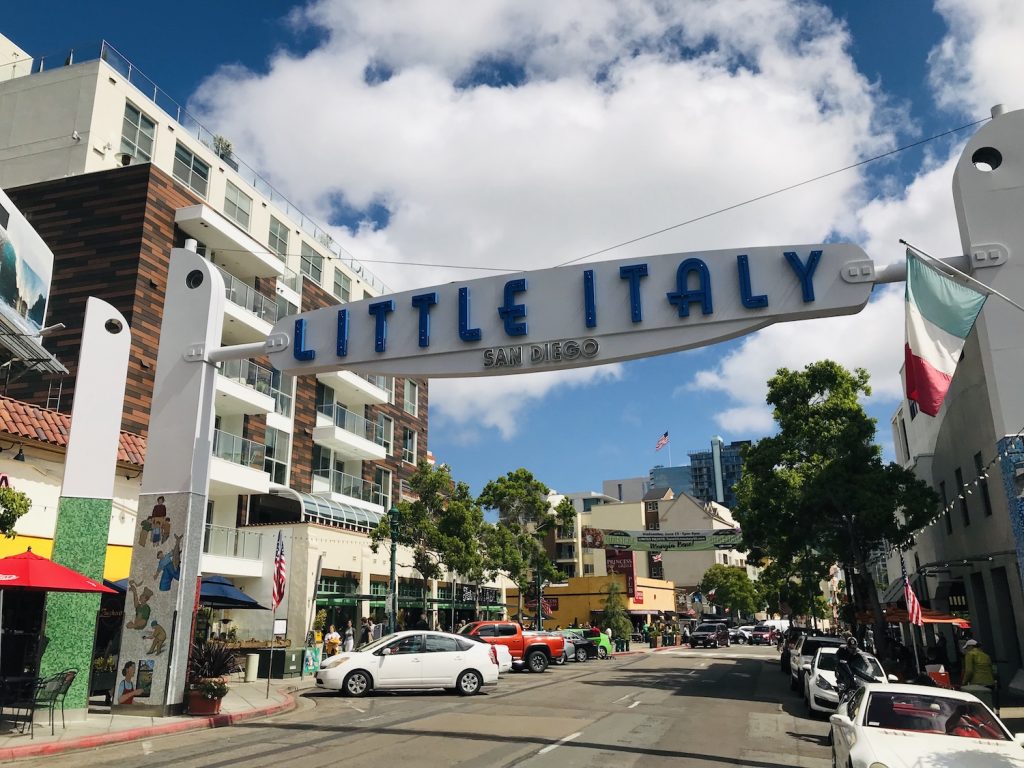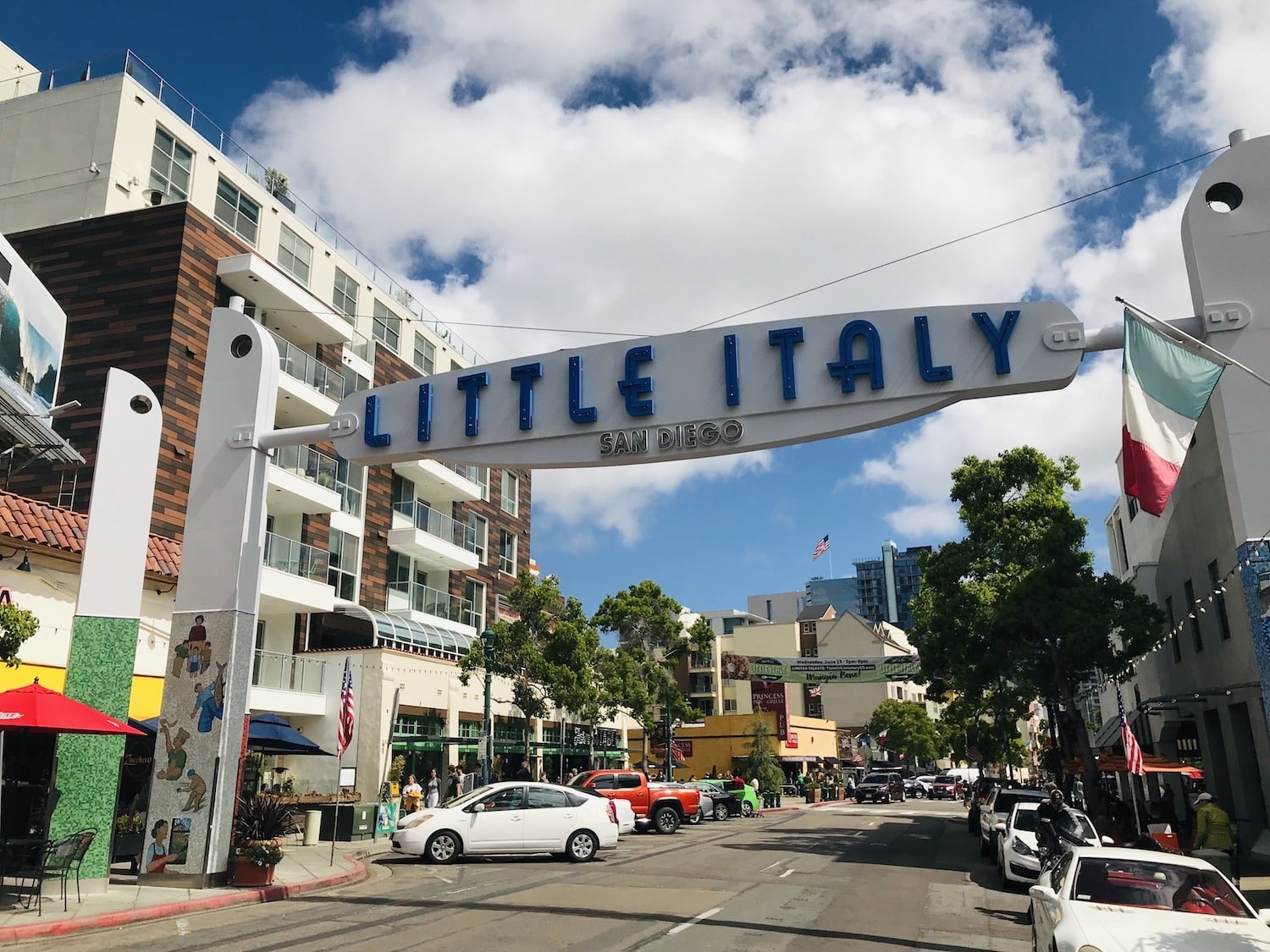 Its most picturesque spot is the Piazza della Famiglia, the 10,000 square foot plaza that forms the heart of the area and is where everyone comes to meet. It's got such a feel of a European neighborhood; you'd almost swear you'd be transported to Rome. You'll be even more convinced of teleporting when you visit the weekly Little Italy Mercato – a farmers' market bursting with fresh produce and food stalls.
If you don't fancy cooking for yourself, don't worry. You have an incredible pick of restaurants. Not for nothing has Kettner Boulevard gained the nickname of 'Top Chef Alley'. This is where the most vibrant food and drink scene in the city can be found, so if you're in San Diego, why eat anywhere else?
You're spoiled for choice, which means it can be difficult to choose where to go (not the worst problem to have, we know!). We thought we'd help out with some suggestions on the best restaurants in Little Italy, San Diego. Why not try all 10 and let us know your thoughts?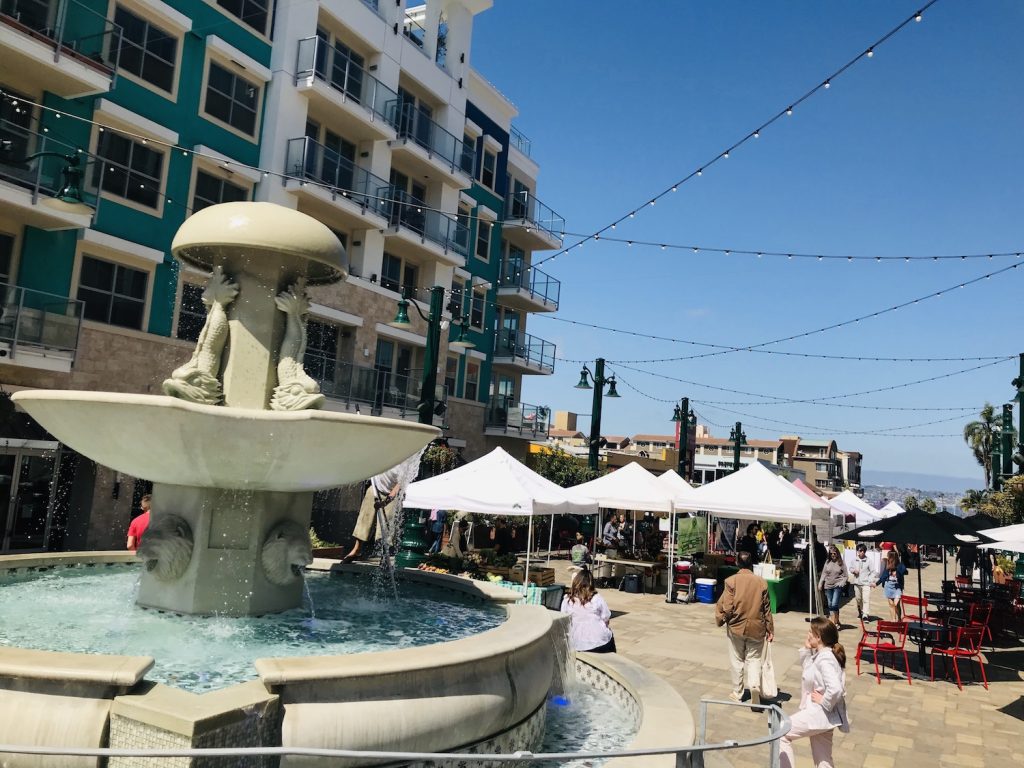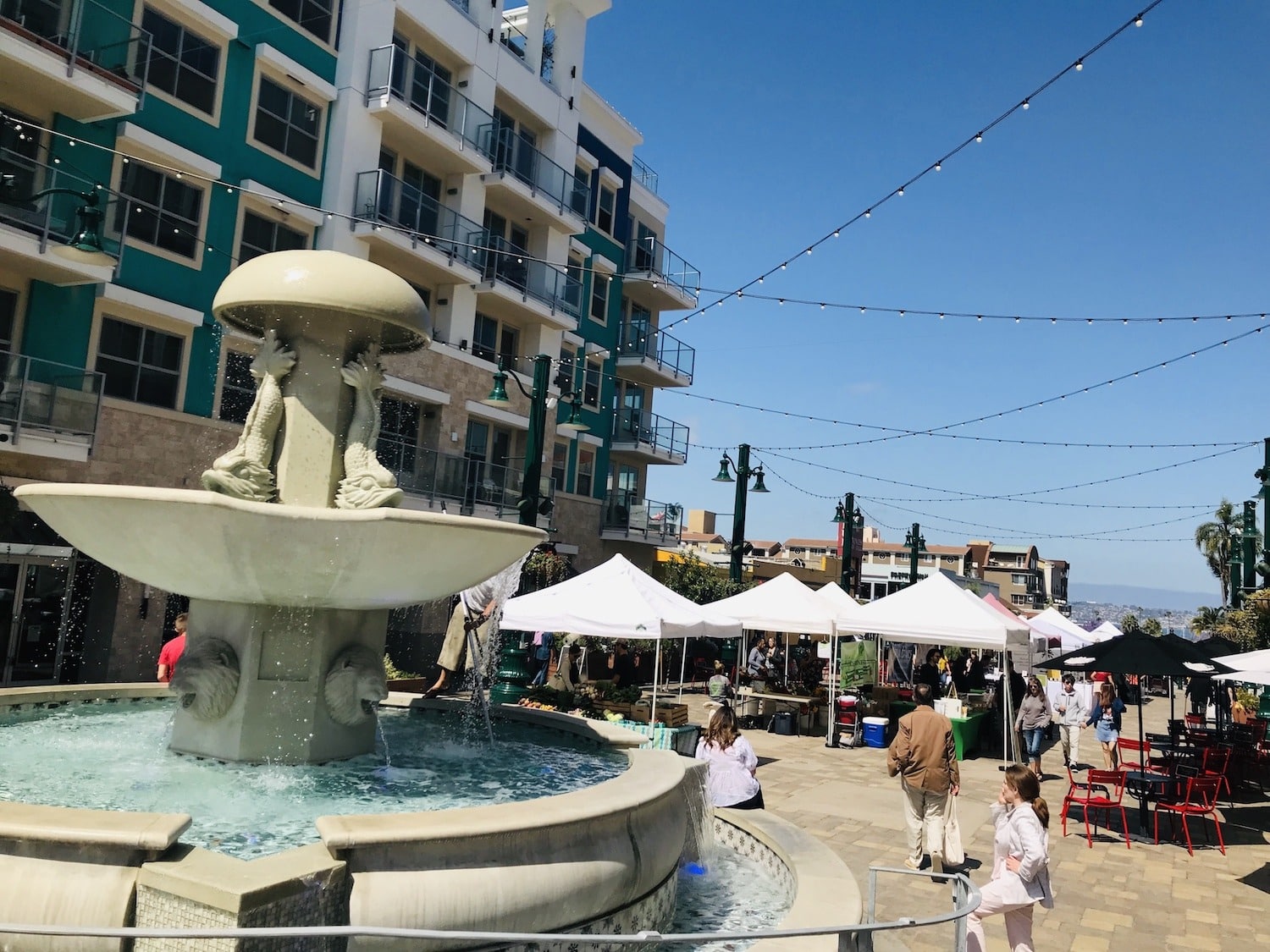 When you walk into this jewel of a restaurant on Columbia Street, it seems like the food couldn't possibly live up to the panoramic view of the city and its harbor through its vast wall-length windows. Sitting on the bar seats facing out, you can drink in the sunset over the skyline with the hanging lanterns creating ambiance behind you. Luckily, the food definitely delivers as well – as do the drinks!
The restaurant styles itself as next-level bar food and it's definitely the perfect place to start a night out. Share some succulent fish tacos or spicy chicken wings alongside a bottle of wine; alternatively, fill up on the 'rasta pasta' or deconstructed chicken pot pie. We loved the chicken and kale salad as the perfect combination of healthy and flavourful, further confirming our belief that nowhere does salads like California.
Wash it all down with a Jala-Berry Margarita and daily Happy Hour Specials, then head out on the town! Part of the amazing Porto Vista Hotel, our favorite hotel in Little Italy…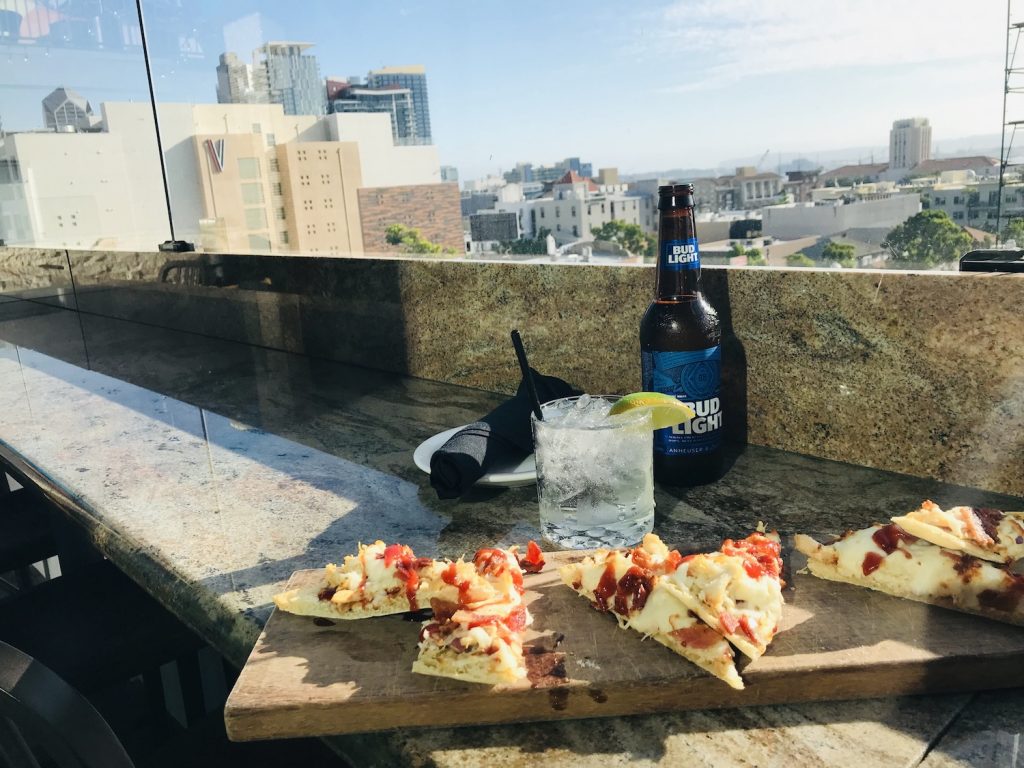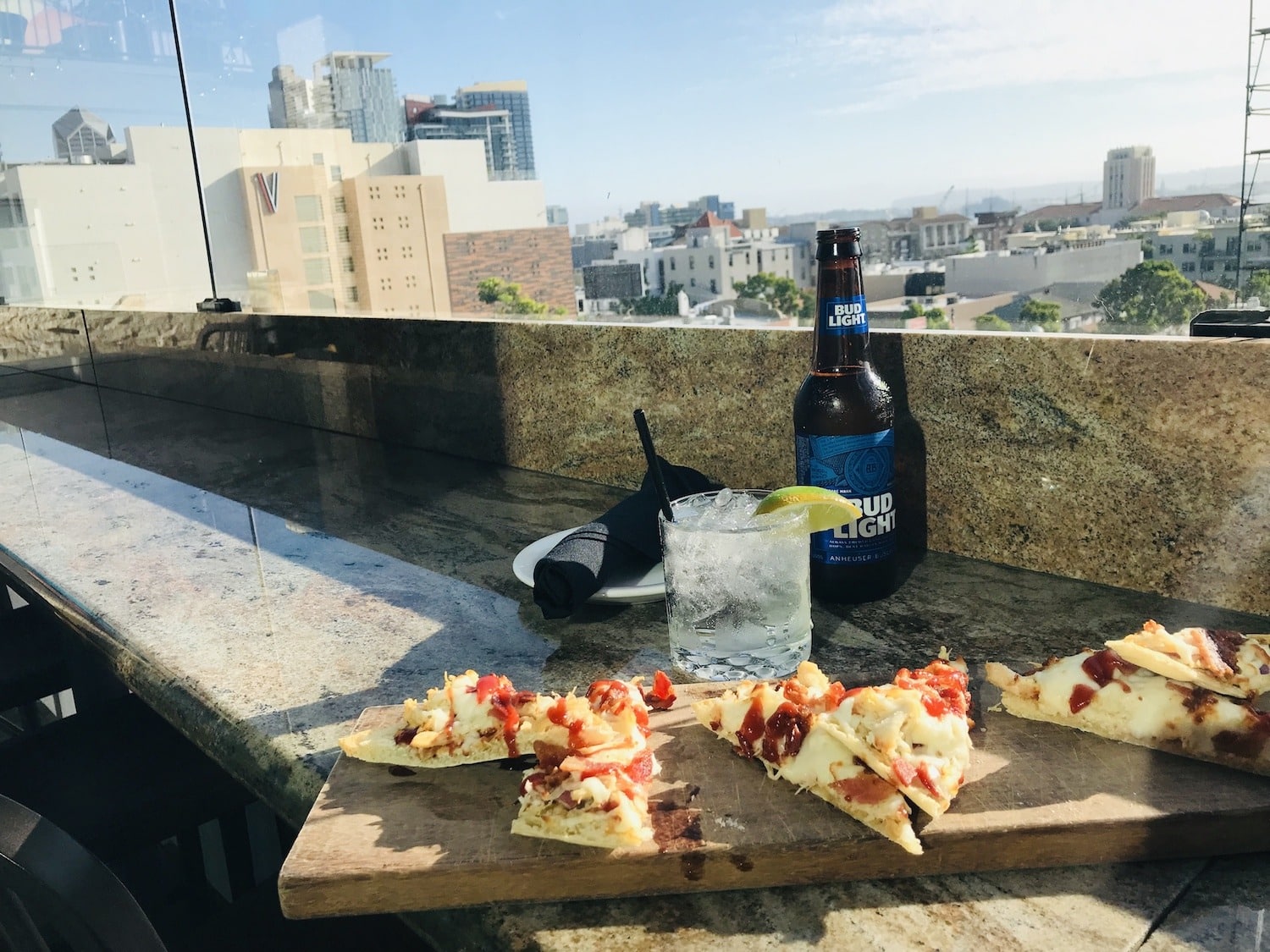 If you love experiencing food at its most creative, renowned chef Richard Blais' west coast restaurant is the place for you. At Juniper and Ivy, the team never sit back and relax – the menu is constantly changing and the food is constantly surprising. It's high-end American food with a twist, small plates, and plates of pasta that you can enjoy with a drink and some good conversation.
Expect dishes like whole roasted duck with spiced honey and spring vegetables, baja yellowtail with shark sauce and sunflower crèmeux with dark chocolate ice-cream, to name but a few. The passion for innovative food and quality ingredients shines through in every item on the menu. The bright surroundings with modern wooden furniture make it the ideal backdrop for a romantic meal – or for a long, drawn-out meal with friends. So is it any wonder this is one of our best restaurants in Little Italy San Diego?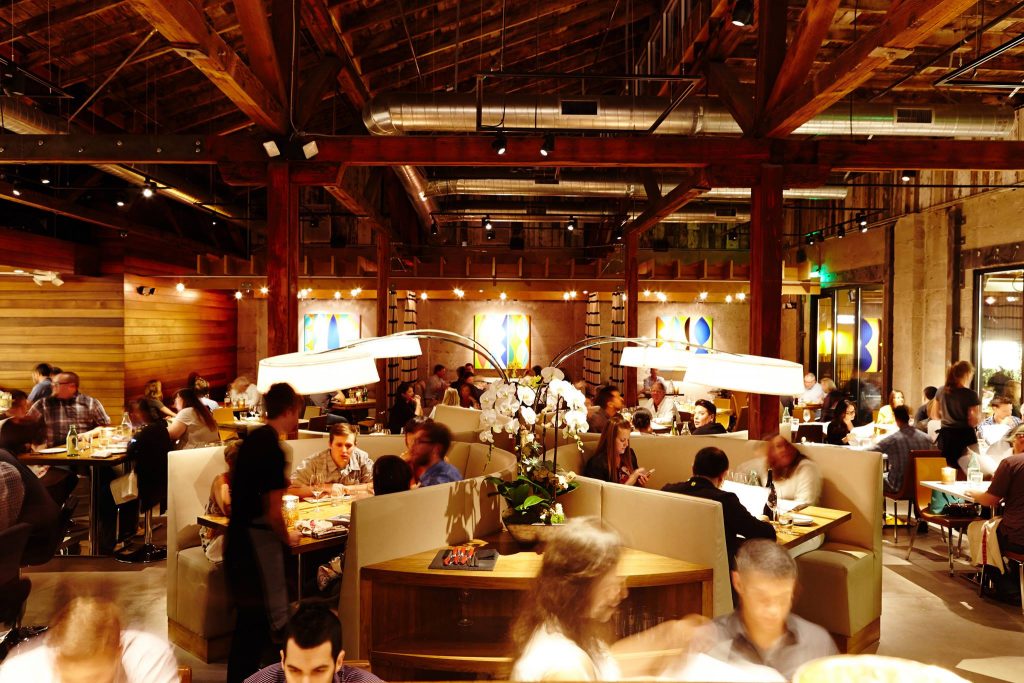 One of the stars of 'Top Chef Alley', Herb & Wood is the brainchild of Brian Malarkey, working together with pastry chef Adrian Mendoza to ensure all aspects of the meals on offer are perfect. The spacious outdoor and indoor areas are beautifully decorated in a welcoming style and there are abstract portraits on the walls.
Daily changing menus have some spectacular options, with high points particularly in the pasta section with the famous oxtail gnocchi practically making you weep with joy! We also loved the brunch menu where you can gorge on large plates, sip a coffee with a small plate of burrata and prosciutto toast or have a breakfast pizza from the restaurant's outdoor pizza oven.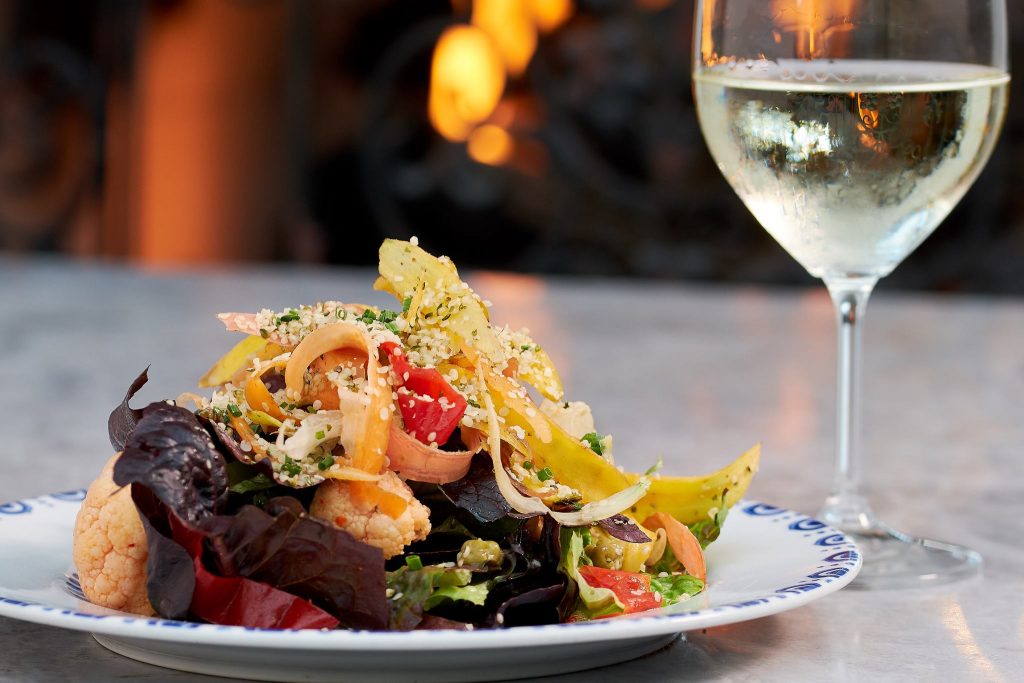 As much as people make fun of it, we're suckers for a hipster restaurant in a converted warehouse with a spectacular design. With copper-topped bar and tables, elegantly tiled floor, nautical touches and a piranha wall, every seat in Ironside Fish and Oyster is the best seat. And then there's the food.
From the epic raw bar bursting with fresh oysters, mussels, crabs and more, all waiting for you on their bed of ice. The dishes coming out of the kitchen are equally as tempting, with the 1lb lobster rolls taking pride of place. Some of the most exciting seafood you'll eat. Oh, and did we mention the scrumptious cocktails? Book a table now (then book your ticket to San Diego!).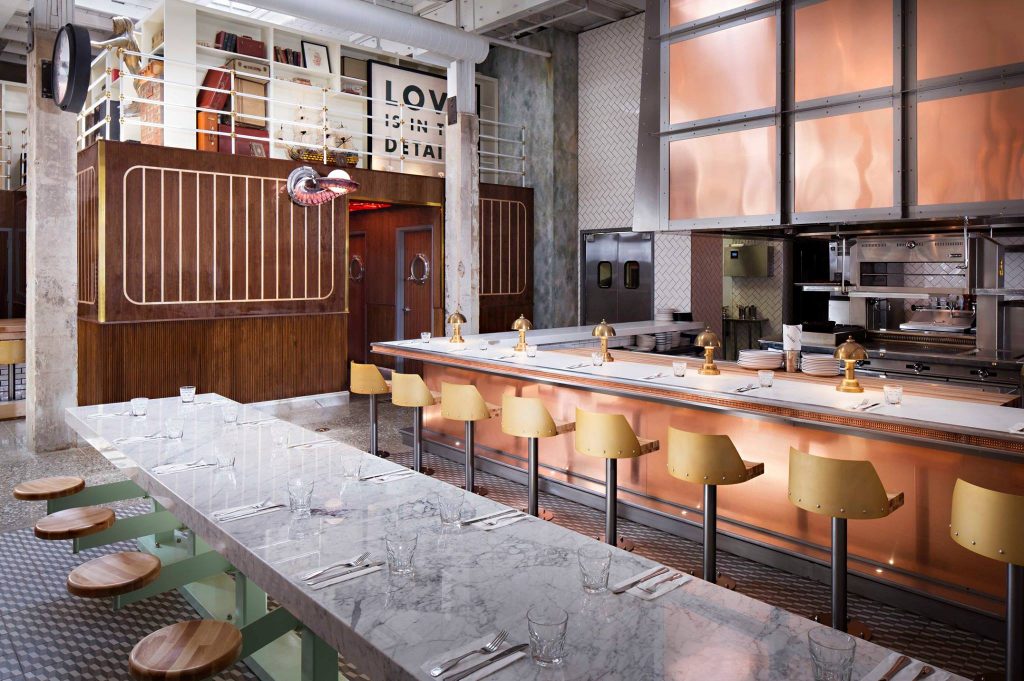 This might be breaking tradition, but this Japanese restaurant has definitely made it onto the list of the best restaurants in Little Italy. This has got a lot to do with the incredible décor – it's designed like an abandoned Tokyo subway and there's a giant cherry blossom tree – but its popularity is down to the imaginative food.
Based on the concept of an izakaya (a Japanese pub), Cloak and Petal serves small, sharing plates of sushi and sashimi, Jidori chicken wings and Wagyu steaks. Beer, sake and Japanese whisky – up there with the best of Osaka or Toyko – are on offer aside from a thirst-inspiring cocktail list.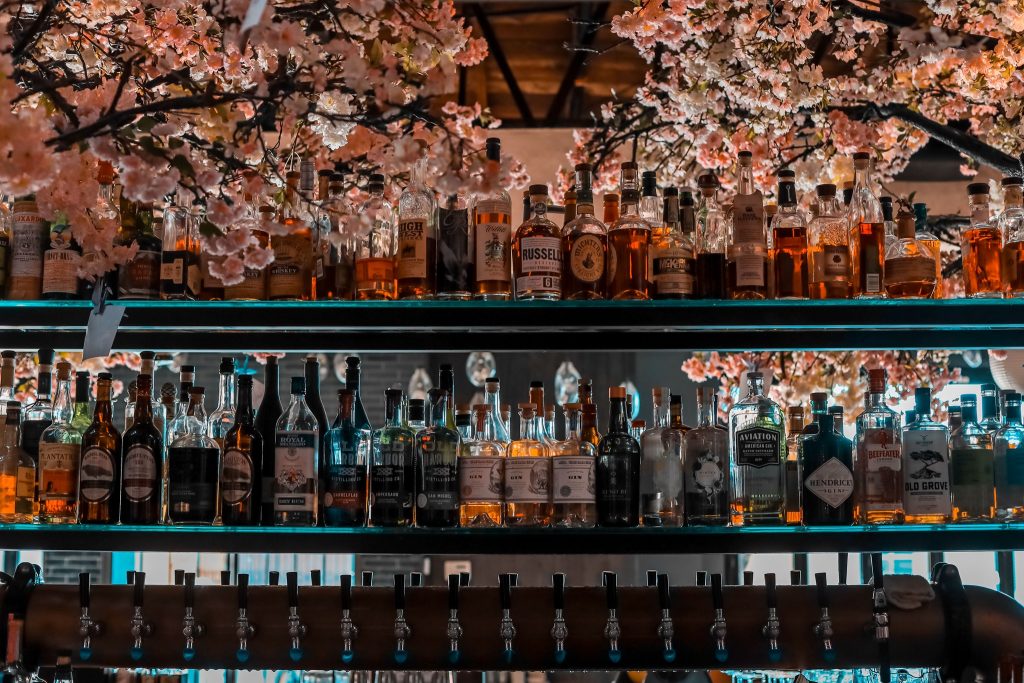 We're not usually prone to extreme statements (ahem), but food halls might be one of the best developments in eating ever – and this amazing one in Little Italy only strengthens our belief! It's a social experience where you can choose between six different food stations or watch the demonstrations at the mobile chef's area.
It goes without saying that there's a station devoted to the 'Milano Pizza Experience', Ambrogio 15, where we could easily stay an entire evening. But then you'd be missing out on the tacos, Maine lobster and Asian dumplings available at other stations. Finish any meal off with gelato from Bobboi Natural Gelato, then head to the well-stocked bar.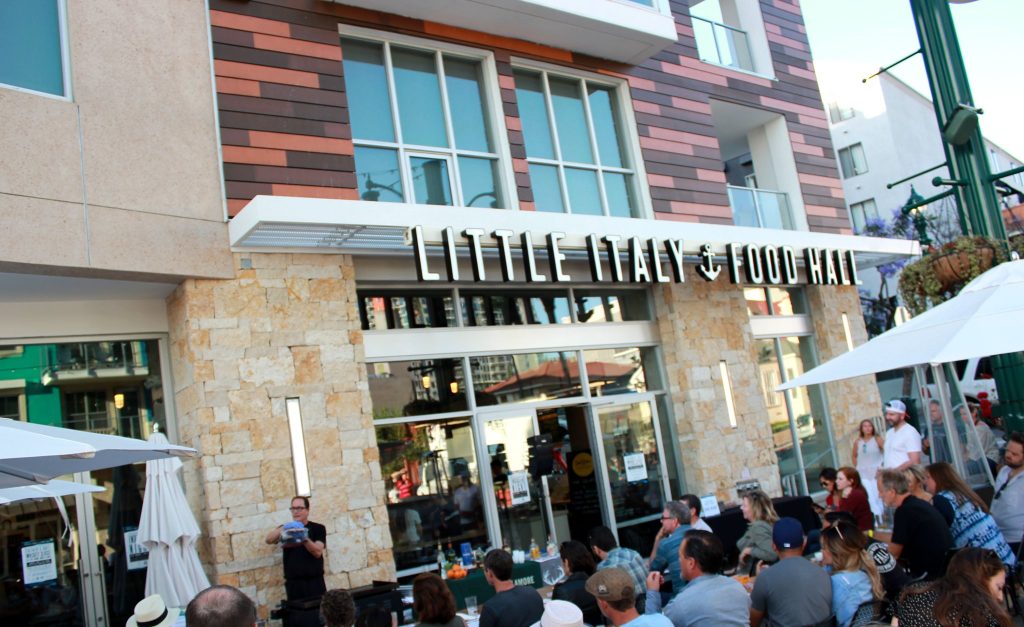 We know we said we love the salads in California, but sometimes you crave a succulent meaty burger – if you get that feeling while exploring Little Italy, then this New Zealand restaurant in a historic craftsman house. They've updated this old house in a pretty quirky way, with grazing sheep on the ceiling and sleek furnishings, not to mention the bar! Sure it's not quite as good as a trip to Queenstown or a day out in the NZ wineries – but it also doesn't require a 12-hour flight…
The burgers are 100% organic and come in every variation you can imagine. The 'Hogs and Heffers' was a favorite of ours, as was the 'Lil Bitties' if you want a smaller challenge. There are some great salad options too, so veggies will find their heart's desire as well. Add to this a laid-back atmosphere and sangria outdoors and you'll never want to leave what is easily one of the most beloved and best restaurants in Little Italy San Diego!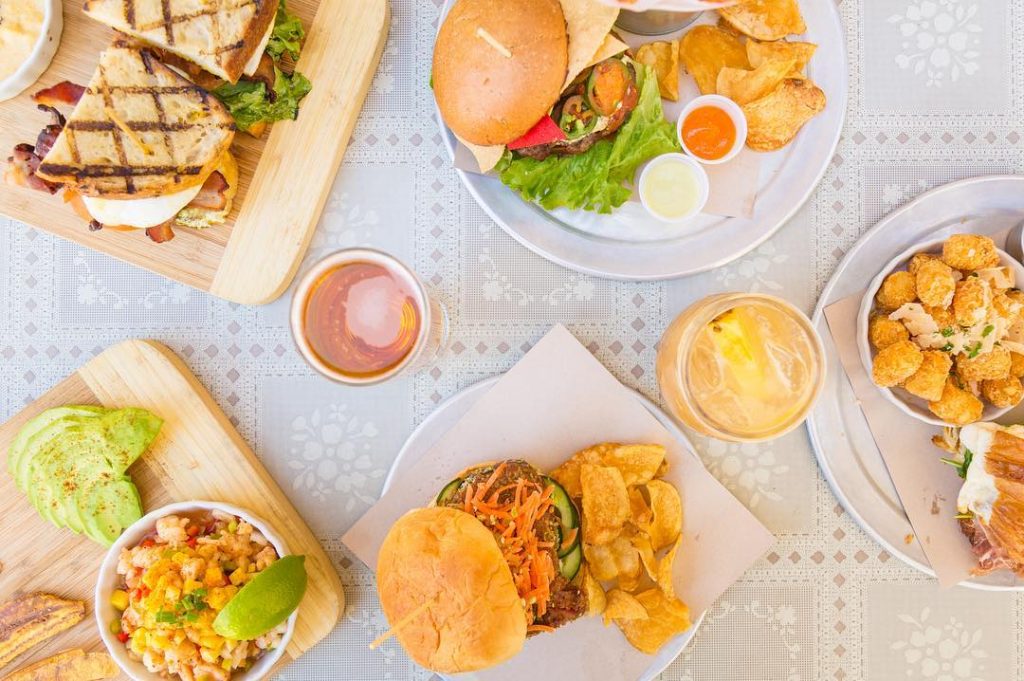 One of the best restaurants in Little Italy is this 'food-to-fork' spot that aims to be the local neighborhood eatery – a place where locals and visitors can enjoy fresh food and good conversation. We'd say it succeeds in this aim! Once you stop gawking at the 1940s tractor in the bar, you can sit now in the welcoming and colorful atmosphere to sample recipes originating in the owners' Sicilian heritage.
The brunch menu is mouth-watering and it's pretty much impossible to choose between the tiramisu French toast and the heirloom tomato frittata. If you come for dinner you can gorge on perfectly-cooked and flavored pizza along with a range of sides and starters.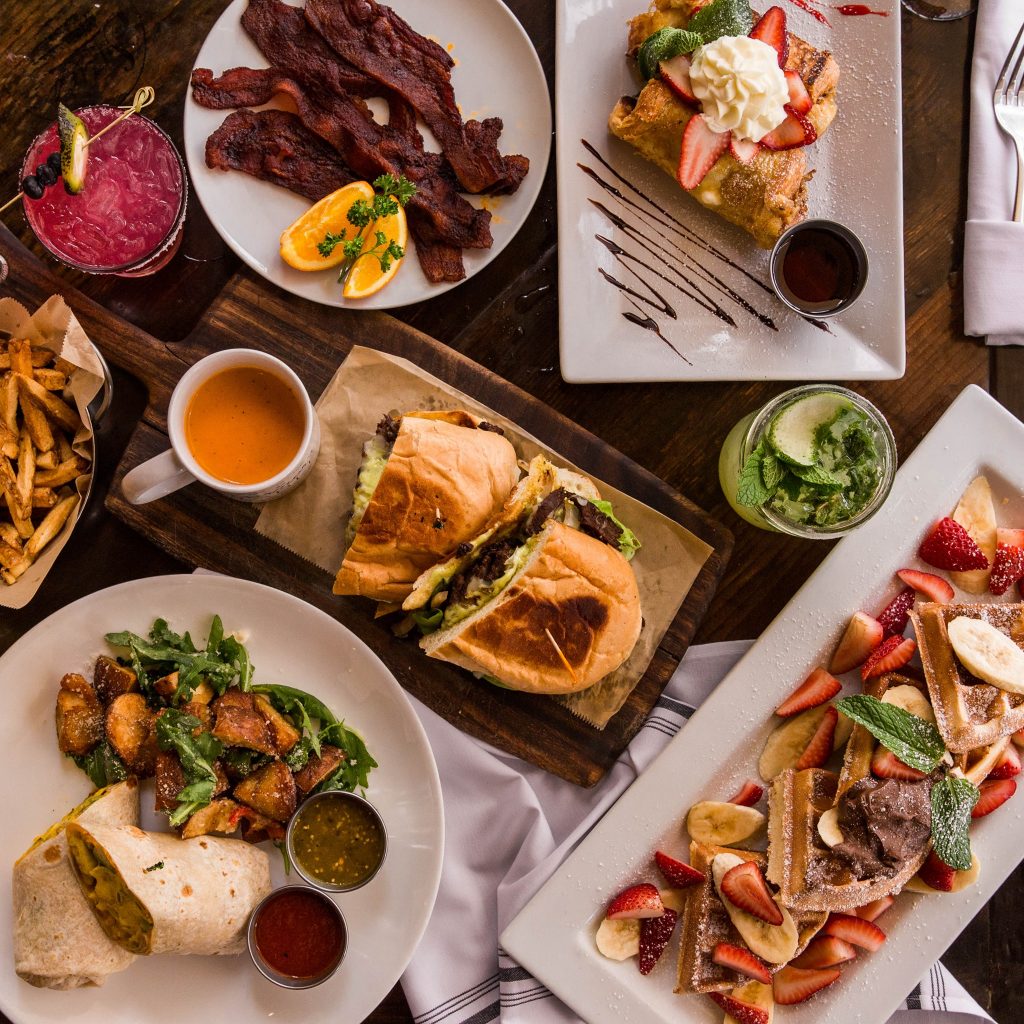 When Born and Raised opened in 2017, it already had 2000 reservations. This level of popularity has continued since then, and no wonder. This grand venture pulls no punches and definitely isn't understated. 250 seats in a lavish dining area designed with mid-century and art deco features, Born and Raised aims to perfect the traditional steakhouse fare.
Tableside carts prepare dishes like beef tartare and shrimp Louis while diners watch, while a vast selection of steak awaits. Settle into the buttery leather booths and watch all the comings and goings, safe in the knowledge that an epic meal will soon be served to you, all washed down with classic cocktails.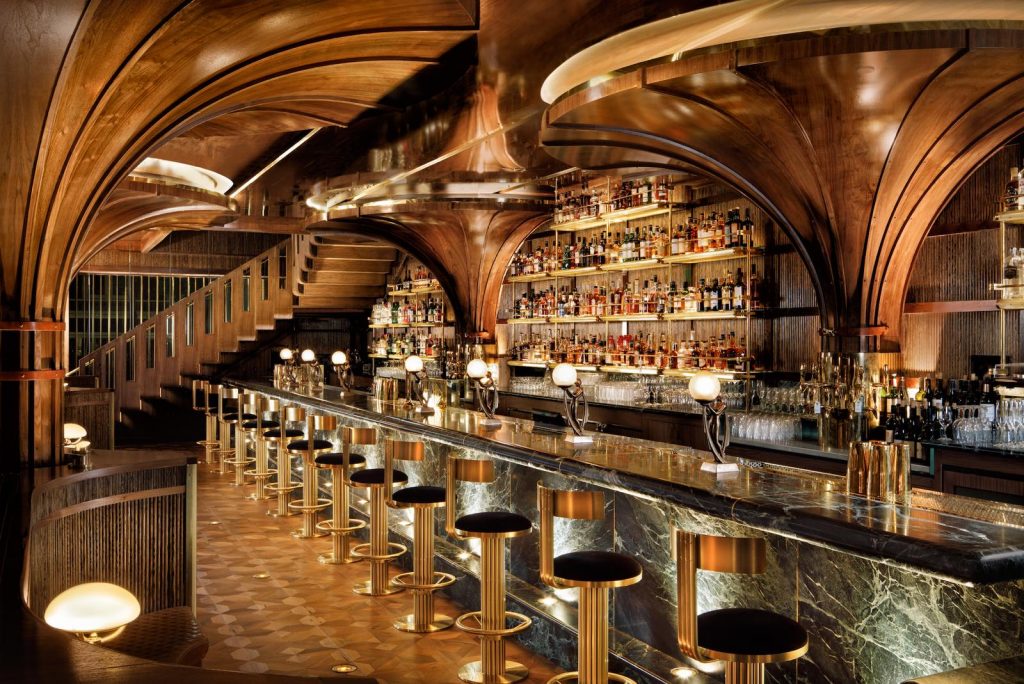 Right on Top Chef Alley, the Kettner Exchange is at the pinnacle of Little Italy's conversion to sophisticated food hot spot. It's a luxurious environment with a nautical twist playing tribute to Congressman William Kettner, the gentleman who brought the Navy to SD. The indoor dining area downstairs is intimate and cozy while the upstairs is spacious with windows over the harbor. The rooftop bar is the icing on the cake.
The extensive menu brings international flavors to American classics, with options like Mary's chicken Teriyaki and Vietnamese-inspired fried chicken. You won't find that in Hanoi or Hoi An, trust us! Pizza that's actually a tortilla with fresh tuna is another treat. Sit back, relax and enjoy the taste bud treats here.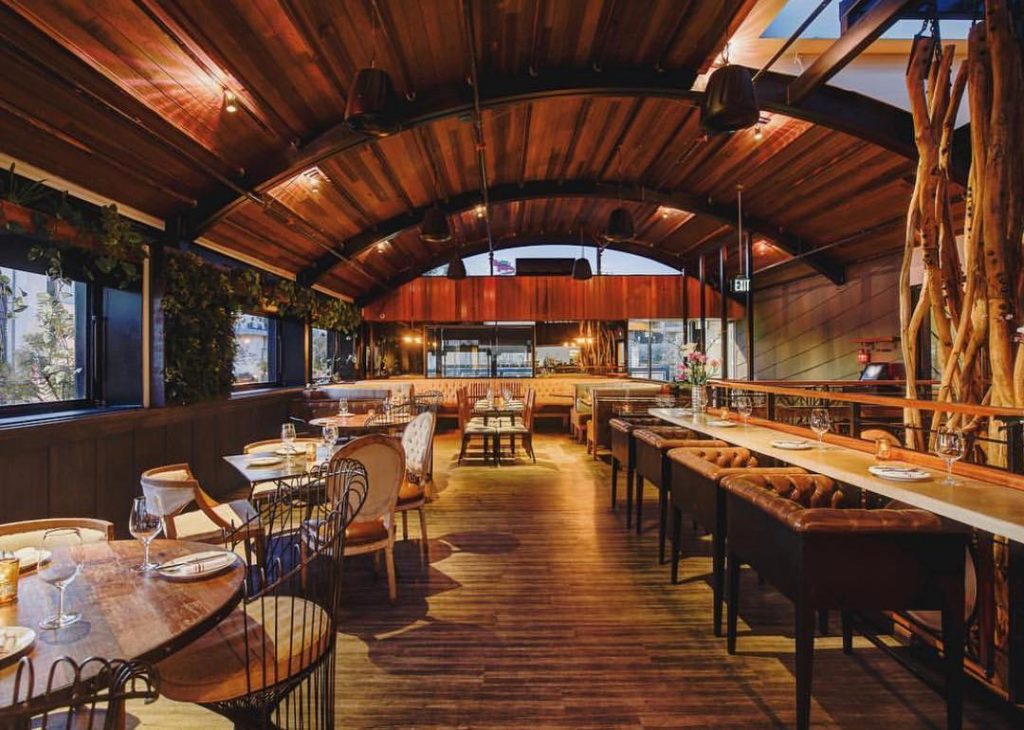 Further Things To Consider Before Any Adventure
Now you're all set and prepared to explore our big wide world, why not sort out everything else out all in one go? If necessary for your travel plans make sure you have brought proper travel insurance, protected your privacy by getting a secure VPN, compared all the top hotel booking sites to find just what you're after, reserved an unbeatable rental car price and - of course - booked the best flight deals!
Or maybe just forget it all and go for a last-minute cruise or effortless tour instead?
Many budget travelers (including me) indulge in worldwide airport lounge access, so we can experience luxury while still slumming it in economy. Naturally, we would never leave home without a more general travel guide since we couldn't possibly cover everything here!
Just add an adventurous attitude and plenty of smiles - they go a long way - and that about covers it all! Now go out, find your own path and don't forget to share your best inspiration stories with me on Facebook, Twitter, and Instagram...I'd love to hear from you!