There are certain special cities across the United States that have managed to cultivate their own enigmatic atmosphere and culture. Atlanta, Georgia, is one of those cities, and movies set in Atlanta typically manage to translate the unique atmosphere within the city to the big screen in a way that few places can ever match.
Sometimes that atmosphere is one of historical importance, sometimes it is this blending of different cultures, and other times it is the feeling of unhingedness and wall-to-wall excitement that infiltrates the city's air. The only thing you can ever say for certain after watching these films is that Atlanta is never boring.
After all, Atlanta is not only a major economic and cultural center, with an important hub of air traffic, but it also has diverse streetscapes, heritage homes, a rich history, and an illustrious creative arts scene. A generous film incentive scheme (the nation's largest) saw Georgia hand out $870 million in subsidies to productions in 2019 – more than California's $330 million and New York's $420 million combined.
These desirable traits have attracted (and continue to attract) storytellers throughout the history of modern cinema, and today the spirit of Atlanta has been immortalized in various films. As a result, we have a wonderfully intricate and excellent collection of movies set in Atlanta from which we can dive into.
We love this because one of the reasons why we watch movies is that they are an excellent way to travel to different places while staying at home – and to determine if a destination elicits that oh-so-important spirit of wanderlust in us before ever investing in a ticket there.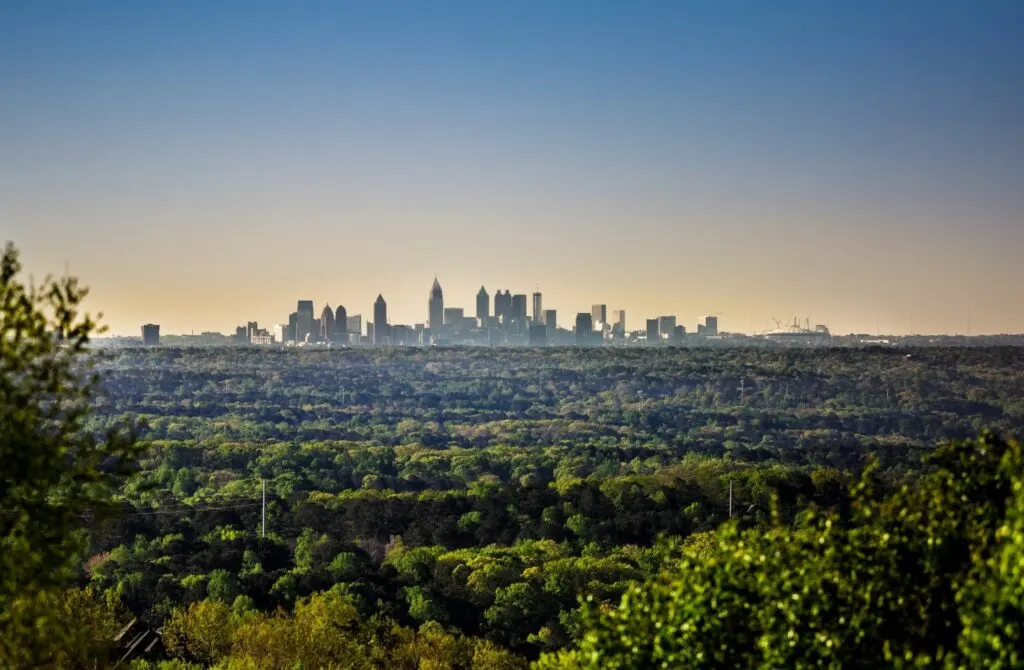 This motivated us to visit Chicago, Australia, and Japan – among many other places. Then there are those glorious moments you can step out in a real-world location and feel spontaneously transported back inside an iconic movie frame (thus the enduring popularity of visiting Middle Earth / New Zealand or James Bond's Skyfall).
These are twelve films that perfectly nail life in Atlanta in a plethora of ways.
Wondering where to watch? It depends on where you live in the world and which streaming services you have. We link to the streaming service we watch on in each case - be it Netflix, Amazon Prime, Apple TV+, or elsewhere.
You can get one month free of Amazon Prime (or a 6-month trial for students) of Amazon Prime and also get immediate access to FREE Two Day shipping, Amazon Video, and Music. While you won't be charged for your free trial, you'll be upgraded to a paid membership plan automatically at the end of the trial period - though if you have already binged all these, you could just cancel before the trial ends.
Apple TV+ also has a one-week trial, and Hulu has a one-month trial (which can be bundled with Disney!). Another option might be using a VPN to access Netflix titles locked to other regions. Netflix is now available in more than 190 countries worldwide and each country has a different library and availability. US Netflix is (understandably) one of the best.
While we wish everything could just be in one place - for now, it seems these are the best streaming platforms to watch on.
Gone With The Wind is a film that comes from a very different time in both the United States and human history.
During the late 1930s, there was a lot of romanticization of slavery (especially in the southern part of the United States) and – trigger warning – this film a ton of southern propaganda. It follows the story of a spoiled daughter of a wealthy plantation owner and how she and others are figuring out how to navigate through life during the American Civil War and Reconstruction periods.
While this is a film that has admittedly aged very poorly by today's standards, it is a film that gives an authentic look at the past. It lends an eye to what America looked like back then, how it felt like a country about the reunification of a country after the greatest test in its existence.
It's an extremely well-crafted piece of art from a time period that feels so distant and foreign to audiences, but it does a remarkable job transporting those who watch it back in time. Much of it is filmed near Atlanta and throughout the South, and it shows what this area of the country looks like.
This film does a great job of showing the diversity of Georgia and how it includes both booming cities like Atlanta but also expands the surroundings and shows off the adventurous outdoors of the South.
Its plot is pretty simple and is one that has gained in popularity over the years – it follows a handful of businessmen from Atlanta as they journey the Georgia wilderness dead set on seeing the Cahulawassee River before it gets turned into a lake. It is easily one of the very best adventure films from the 1970s and is at its best when showing off the duality of Georgia's city with its outdoors.
John Boorman's iconic examination of nature's brutality, man's cruelty, and conscience, Deliverance, is a film based on and characterized by its tensions. The battle between man and nature evolves into a fight between man and man, man vs. self, and nature versus man. It's a lyrical development of how human war and devastation only lead to human demise.
Thematic poetry of its conflicts is inscribed big throughout Boorman's journey, which is couched in a heavy-toned, terrifying adventure drama. It is a perfect film to check out if you are of the adventurous type and planning a big trip to Atlanta or other parts of Georgia.
Driving Miss Daisy has to be one of the more charming movies set in Atlanta that will appear on this list. It is about two individuals who could not be more different and develop one of the more unique and endearing friendships over a two-plus decade period.
Hoke Colburn (played by Morgan Freeman) is a chauffeur for Daisy Werthan (played by Jessica Tandy). The more the story progresses, the more you find yourself falling more and more in love with their dynamic, and the theme that our differences are not as great as our similarities is one that always seems to work, even if it is one that is sometimes overdone.
While this is a pretty generic film that we have seen both before and since, and it is a little Oscar-baity, it hits all the points that one wants in a film. It feels like a perfect length, has dynamic performances by Freeman and Tandy, who have fantastic chemistry, and it has a story that can be related to on so many levels.
While it tells a great story, it also does a fantastic job of showing off Atlanta and the surrounding area – most of it was filmed there, and of this era of filmmaking, it shows off the city better than all other films in the 1980s (and maybe ever).
This is the first film that entirely nails the essence of the culture of Atlanta and the modern South. It's a film that follows a street drummer that is originally from Harlem and enrolls in Atlanta A&T University, where he will be a part of their marching band via the drumline. Devon Mills (played by Nick Cannon) gets put through the wringer as he is trying to adapt to new surroundings and a new way of life throughout the entirety of the runtime.
Drumline isn't difficult to watch since it follows a pretty simple narrative arc that is characteristic of its era. This isn't, however, a terrible thing in the least. Drumline is a lot of fun. The film has an infectious excitement about it that you can't help but feel. Drumline's plot is kept interesting from beginning to end by the enthusiasm for music that runs through it.
As someone who can't seem to get my mind around the complexity of music theory, it feels almost impossible not to be completely engrossed in the discussion. It is a film that does such a great job of showing what the culture of Atlanta and the modern-day South is truly like – it hones in on what it is like to live there in such an accurate depiction.
ATL is yet another one of the movies set in Atlanta that just nearly perfectly encapsulates what it is like to live and grow up in that inner city of Atlanta.
It follows four friends as they graduate and shows what they have lived through and the trials and tribulations that have led each of them to this moment. It is a great addition to the coming of age genre, and while those have been done ad nauseam, this is the first one to take place in the city of Atlanta, and it does so exquisitely.
ATL is simply a near-perfect film. It does the coming of age story as well as any other film, if not better. The characters feel like they have been written and performed with care and compassion that could have easily not been the case. You can tell that the people telling this story wanted it to be authentic to the city of Atlanta, and that's exactly what it is.
This film is one that might hit a little too close to home based on what we as a society have lived through the last couple of years.
Contagion is about an epidemic of an airborne virus that spreads throughout the United States. It is not just the virus that spreads, but so does fear, panic, and mass hysteria. A massive chunk of this film takes place in downtown Atlanta as a big part of the setting is at the CDC headquarters, and Steven Soderbergh does a tremendous job of highlighting what that downtown feeling is like in a realistic way.
Some of the most meticulously studied, skillfully edited montages of the decade appear here – all in service of a rhythmic structure that moves with the same callous clinical contempt for human life as a viral disease. The high-profile casting creates a false sense of security for the audience. It feels like nobody is safe throughout this film, no matter how big of a movie star they are.
It is gory and unhinged in terms of how over the top it is from start to finish, and if nothing else, Contagion is fascinating to watch for a look at how everyone saw a pandemic playing out prior to 2020. Spoiler alert: the president of the US does not have musings about ingesting bleach.
This is a much different Atlanta film compared to the ones that have already appeared on the list. Flight follows an alcoholic pilot, Whip Whitaker (played by Denzel Washington), who miraculously lands a doomed plane in the countryside that is on the outskirts of Atlanta. It then spends most of its runtime having the variety of characters examine if pilot Whitaker is at fault as he tries to navigate his life full of addiction.
I know I'm in the minority when I say Flight is really great. I think it's a solid film with one of Denzel Washington's best performances. At the very least, it is among some of my favorite performances. I think it's a grounded (get it!), emotional, and very relatable story at times. It's someone who has their life spiraling out of control and coming to grips with that reality. It has heavy themes that deal with someone who is trying to overcome their past and move in the direction of life without relying on alcohol – for whatever reason, these types of films speak to me.
It also does a pretty outstanding job of highlighting what the setting is like near Atlanta, even if it isn't directly in the city.
Selma follows one of the most influential and important American figures of the 1900s, Dr. Martin Luther King Jr. (played by David Oyelowo), and his march to Selma, Alabama, to try and grant equal rights to all.
While this is not a film that takes place entirely in Atlanta, a big chunk is filmed there, and it is the city that King was from. It's one of the more historical films on this list, and it nails most of it through its depiction of what happened during this groundbreaking period of time.
Selma has a multitude of flawless performances that are heaped in unity here, with David Oyelowo being the essential ingredient that brings the past to life. Given the customary sentimentalized standard of biopics, Selma avoids most clichés, with DuVernay's cinematic flair for slow-mo set-pieces occasionally undermining the brutality's power.
The greatest blunder is cramming the entirety of a highly charged era into two hours, with the deaths of characters as crucial as Malcolm X and John F. Kennedy reduced to tangential banter as if they were nothing to King or the story. This isn't to say I'm not thankful for the film's existence; nevertheless, I'd rather suggest Ava DuVernay's other film, 13th, which is a totally respectable documentary depiction of black persecution rather than an overtly religious replica.
This feels like Atlanta's version of The Town. It is a group of convicts and corrupt cops who plan the murder of a police officer in order to be able to pull off their biggest job yet. It has the same strokes of The Departed, The Shield, and The Town, and even though it is not quite as great as any of those, you can see all the potential here.
It has an absolutely loaded cast, and director John Hillcoat once again creates such an interesting world that we get to live in for a couple of hours. The way he creates Atlanta is so perfect and one of the more interesting looks at the city.
There are a few twists and turns in Triple 9 that you can quickly figure out, but there are a couple that will take you off guard. It's a film with a lot of known actors, a 1970s cop action-drama atmosphere placed in the present day, great action, and maybe a few too many subplots.
It is, nonetheless, incredibly watchable and entertaining. At the end of the day, that's all that counts to me in this circumstance; it was exactly what this kind of film needed to be. No less, no more.
Edgar Wrights Baby Driver is about a man known as Baby (played by Ansel Elgort), a driver who gets employed by a heist boss to help them execute a series of jobs. After a few things take a turn for the worst, Baby is trying to figure out how he can balance his hectic work life with his personal love life and even his love life. It does one of the more remarkable jobs of showing off the beauty of Atlanta through a series of stunning cinematography shots.
Baby Driver is as incredible in the theaters as it is watching it on your couch. The cast is essentially perfect in their roles, the soundtrack is absurdly good, and the cinematography puts you right in the middle of the action. It's honestly one of my favorite heist/crime films, and each watch is just as fun as the previous one.
While the casting choices have not aged the best, at the moment, this film is just the ultimate thrill ride where the music feels like it is one of the characters in the best way possible.
Game Night follows the story of when Max's (played by Jason Bateman) brother Brooks (played by Kyle Chandler) throws a murder mystery party complete with fake thugs and federal investigators; Max and Annie's monthly gaming night receives a boost. It's all intended to be part of the game when Brooks is abducted. As the contestants work to solve the case, they discover that neither the game nor Brooks are what they appear to be.
Over the course of one tumultuous night, the pals quickly find themselves in over their heads as each twist leads to another unforeseen turn. It does a spectacular job of showing off a different type of life – a life of suburbia in Atlanta.
Everyone has wonderful chemistry, there are a lot more laughs than the trailer suggests, and the narrative is also fairly intriguing. There are various emotional subplots that give the tale additional weight, and the direction at times is Edgar Wright-esque.
It's a cool film with allusions abound, and the soundtrack is also quite terrific. It's simply one of the great surprises of a film in recent years.
Everyone is entitled to a wonderful love tale, and that is essentially what this film is about. It's a bit more problematic for the main character, seventeen-year-old Simon Spier (played by Nick Robinson), who has yet to inform his family or friends that he's gay and has no idea who the anonymous classmate he's fallen for online is. It's a story that resonates with many, and much like a film like ATL, it examines what it is like to grow up in a place like Atlanta.
Love, Simon is a fantastic and frequently flawless coming-of-age romantic comedy for the twenty-first century. Making a realistic coming-out tale may appear to be a daunting undertaking, but director Greg Berlanti succeeds admirably and handles it as it should be. It's the same as any other regular relationship. Simon, the primary character, is a fantastic, dynamic, engaging, and likable individual. His performance and those of the other cast members expertly capture the comedic, uncomfortable, and frightening dramatic moments that come with high school.
At the very least, one of the great young adults in this ensemble will resonate with you. The film's tone also effectively captures what it's like to be a teenager. It's lighthearted, carefree, and amusing, yet it's also satisfyingly tragic when it's needed. The final 30 minutes are a roller coaster of emotions that will test your ability to keep a dry eye.