Cuba is a wonderous island full of treasures and unimaginable beauty. From the beaches and gorgeous countryside to the food and music, the country offers many splendors for those who visit.
In terms of artistic productions, Cuba is right up there as well. The Cuban government is famous for fomenting the arts, and its film industry is one of the most prolific in the Spanish-speaking world. With the Cuban Institute of Art and Cinema and the International School of Cinema and Television, they were always bound to have some great cinematographers.
However even knowing this, we were still shocked by the depth and breadth of the wonderfully intricate and excellent array of movies set in Cuba that have immortalized the spirit of the proud nation. Not that we are complaining. In fact, we couldn't be happier because one of the reasons why we watch movies is that they are an excellent way to travel to different places while staying at home – and to determine if a destination elicits that oh-so-important spirit of wanderlust in us before ever investing in a ticket there.
And these extraordinary movies set in Cuba did just that.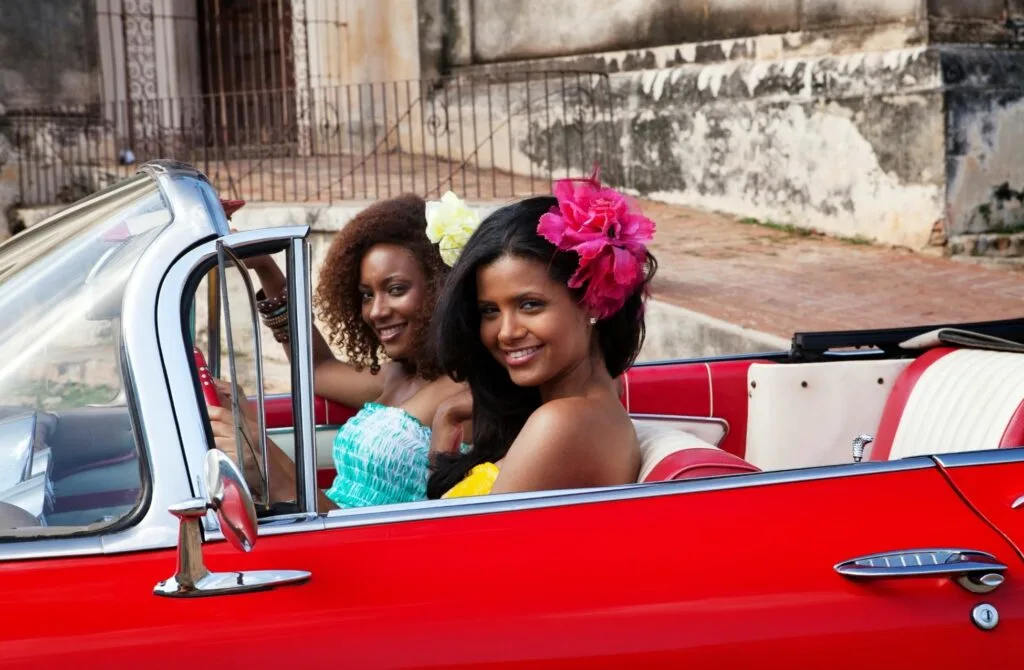 After all, this is what motivated us to visit Montana, Chile, and Italy – among many other places. Not to mention there are those glorious moments you can step out in a real-world location and feel spontaneously transported back inside to an iconic movie scene (thus the abiding popularity of visiting Middle Earth / New Zealand or James Bond's Skyfall).
In the following paragraphs, we'll go over some of the must-see Cuban films for anyone who's interested in Cuba's art and history. With their beautiful locations and capturing stories, they will inspire audiences from all over the world to visit the island.
Wondering where to watch? It depends on where you live in the world and which streaming services you have. We link to the streaming service we watch on in each case - be it Netflix, Amazon Prime, Apple TV+, or elsewhere.
You can get one month free of Amazon Prime (or a 6-month trial for students) of Amazon Prime and also get immediate access to FREE Two Day shipping, Amazon Video, and Music. While you won't be charged for your free trial, you'll be upgraded to a paid membership plan automatically at the end of the trial period - though if you have already binged all these, you could just cancel before the trial ends.
Apple TV+ also has a one-week trial, and Hulu has a one-month trial (which can be bundled with Disney!). Another option might be using a VPN to access Netflix titles locked to other regions. Netflix is now available in more than 190 countries worldwide and each country has a different library and availability. US Netflix is (understandably) one of the best.
While we wish everything could just be in one place - for now, it seems these are the best streaming platforms to watch on.
House for Swap [Se permuta] (1985) is a comedy directed by Juan Carlos Tabío. He had previously directed nearly thirty documentaries, before approaching fiction. House for Swap is a film about Gloria, a woman who decides to switch houses, so she can move from her neighborhood to a nicer one. This film marks Rosita Forne's return to the big screen, an actress who was considered a superstar during the 1960's.
Gloria's goal is to improve her family's social status and keep her daughter Yolanda away from her boyfriend. The film shows the difficulties of moving houses in the socialist Cuba of the 1980s, as Gloria begins a long chain of exchanges, involving countless houses and people, while never bothering to ask for Yolanda's opinion, something that will create troubles for the whole family.
In this film, we get to see different parts of La Havana (Cuba's capital), as the characters try to relocate. They start living in Guanabacoa, one of the oldest settlements in the area, going back to the Spanish Conquest. The neighborhood still preserves the atmosphere of traditional Cuban towns, so much that its downtown is considered a National Monument, and it's well worth visiting. In this region, there are many historical buildings, such as the Santo Domingo Convent or the Hermitage of Potosí.
In House for Swap, Gloria is tired of this ancient neighborhood and wants to live in a modern flat in Vedado instead. This region was heavily developed during the 1950s and has a modernist architecture, that complements the older colonial buildings. The more antique buildings are usually destined for government use, while the newer ones are either for commercial or residential use.
Vedado is the political and commercial capital, and in certain areas, it looks very similar to an American city like Atlanta or Miami, with its high towers and skyscrapers. Watching the film, it's easy to understand why Gloria would want to live there, but the more nostalgic viewers may fall in love with Guanabacoa and its rich history instead.
It's very common nowadays to see love triangles on screen. Usually, the viewers can easily predict which of the love interests will end up with the protagonist. However, Havana Eva (2010), by Fina Torres, raises the stakes. Even though the plot revolves around an intense love triangle, in this film, it's never certain who Eva will choose, or if she will choose at all.
Eva is a seamstress in modern-day Havana, who has been with her boyfriend, Angel, for several years. The couple is trying to build a house, but Angel, who's in charge of the construction, makes little to no progress. This slow process puts a strain on the relationship, as Eva grows tired of Angel's unfulfilled promises. In this frustrated state, she meets Jorge, an architect who spots her leaving work and asks her to show him the city while he takes photographs.
Eva is soon charmed by this new potential lover and is forced to reconsider her relationship with Angel. Havana Eva is charged with romance and sensuality from start to finish. Both Pakriti Maduro, who plays Eva, and Yuliet Cruz, who plays her crazy friend, Teresa, seduce the audience as well as the male characters. The actors show a lot of chemistry, a necessary element since all of them become involved with one another at some point.
Amongst the many movies set in Cuba, it is perhaps Havana Eva that does the best job of showcasing a fun and lively Havana. In the tours Eva gives to Jorge, we can see the beautiful architecture and important landmarks, while the night scenes where she and Teresa go clubbing really sell the city experience. The town is full of activities for everyone, whether you like sightseeing, learning about the country's history, going to museums or partying all night long.
After watching Havana Eva, you'll fall in love with the city and be ready to visit time-warped Cuba in all of its tropical magnificence!
Death of a Bureaucrat [La muerte de un burócrata] (1966), by Tomás Gutiérrez Alea, is a Kafkian tale about a worker who passes away in an accident, and the bureaucratic hell this brings upon his widow and nephew. In the spirit of proletarian sympathy, his coworkers bury the man with his union card; however, it turns out the widow needs this ID in order to claim her pension.
The nephew decides to help, and he tries to retrieve the card, but to do so he will need to conquer thousands of government rules, each more ridiculous than the previous one. This series of obstacles creates a hilarious story that accurately reflects the country's political climate at the time, poking fun at the new system that the Communist bureaucracy put in place.
The film is excellent for many reasons, but it's mainly the relatability of the protagonist's frustration that makes it such a compelling piece to watch. Who hasn't battled with useless paperwork or seen their goals get further and further away due to an endless bureaucratic process?
Gutiérrez perfectly captures the universal paradox of the bureaucratic machinery: it's supposed to create order and regulate our lives, so that we can accomplish our objectives easily, but, in the end, it becomes a steeplechase, impossible to navigate. Even though many workers die in this film, bureaucracy proves impossible to kill. In fact, the characters don't even have names, emphasizing the impersonality and coldness of the government's treatment. The characters are continually dehumanized, becoming nothing more than the roles they perform: worker, widow, nephew.
Death of a Bureaucrat is a great film to watch to get started on Cuban cinema. It transmits the atmosphere of the time that followed the Revolution in a satirical way, and it's exemplary of the creativity and talent that abounds in Cuban filmmakers.
Cecilia (1982), by Humberto Solás, is a period piece based on the famous novel Cecilia Valdés, by Cirilio Villaverde.
Set in the 19th century, the story focuses on Cecilia and Leonardo. Cecilia is a descendant of black women, who have had children with white men. Because of this heritage, she is white-passing. She falls in love with Leonardo (played by Imanol Arias), who is white and a plantation owner's son. Cecilia hopes that because of her fair skin, she might be able to marry Leonardo, however, due to this colonialist society's racist ideals, their relationship might never flourish.
This film is very interesting because it approaches serious topics, such as those of colonialism and racism in Central America, but, at the same time, it keeps the viewer hooked on Cecilia and Leonardo's love story. Much like the present-day telenovelas, Cecilia is filled with passion, treason, and unexpected plot twists that will make the audience gasp.
This is one of the best movies set in Cuba to watch if you want to explore some of the island's history and understand the historical causes that made the country what it is today. When we are not submerged in the chaos going on in the perfectly recreated Havana of the 1930s, the movie exhibits the beauties of the Cuban countryside.
Despite the tragic history of the plantations, in the film, we can also appreciate its wonderful colors and textures. Nowadays, these areas are some of the most productive for the Cuban economy.
Buena Vista Social Club (1999) is a documentary film, by German director Win Wenders. The story begins in 1996, when musician and producer Ry Cooder traveled to Cuba, interested in African-Caribbean rhythms. In this trip, Cooder met an assortment of older musicians -all over the age of sixty-, who had been famous in their time but had now been long forgotten.
In Buena Vista Social Club, Wender shows us Cooder's second journey, when he returned to Cuba. There, he reunited Compay Segundo, Eliades Ochoa, Joachim Cooder, and Ibrahim Ferrer to record the album "Buena Vista Social Club", which went on to win multiple awards, including a Grammy. The band then traveled to Germany, where they played two live shows, and finished the tour in New York, with a presentation at the Carnegie Hall.
This is an outstanding film to watch if you're interested in learning about Cuban music. On the island, many cultures have converged for centuries. The Native, the African, the Spanish, and the North American, all combine to create a unique musical experience. Wenders focuses on the nostalgic aspects of this Cuban musical tradition, that had remained obscure for most of the world for many years. But, thanks to Cooder's ear and will to reunite all these wonderful musicians, we get to rediscover the sounds of a nation.
Through Wender's lens, the viewer gains access to different parts of La Havana, both the Havana of the 1990s, as well as the splendorous Havana of the 1950s, when musicians thrived in their art. Despite the display of misfortune and subjacent political conflicts, the Cuban people seem to light up every time they hear the instruments playing and are able to dance to the fun rhythms of the island. It is a feeling that many of the best Cuba tour companies seek out as people from around the world still come here in search of its uniqueness.
Sniffing Mom [Lucas como Sara] (2018), by Day García, is an incredibly original dramatic comedy. It explores mothers and sons' relationships, through psychedelia and humor. Lucas, the son, accidentally inhales his dead mother's ashes. Besides the obvious conflicts that sniffing your own mother could create, he begins to have flashbacks to Sara's life in the 1980s. And the worst part is that he travels back to the night when he was conceived.
This film is hilarious from start to finish, while also achieving some emotional moments, especially when Lucas grieves and reflects on her mother's life. Through the film, we follow Lucas and his father on a road trip, in which they were supposed to scatter Sara's ashes. Even though they don't get to do this, we still get to see the different parts of Cuba to which they travel.
While in Sara's body, Lucas experiences her nights as a dancer in a cabaret and, later on, she and her friends partying on the beaches of Havana. Both in the past and in the present, the nightlife is shown as a constant flow of energy, music, and dancing.
Sniffing Mom places Lucas in the midst of this incessant party, that replicates the feelings of his own chaotic life. By going back in time, he'll realize he must mature to be able to face the loss of his mother and his girlfriend's pregnancy. But, before he can go back to his life, he'll need to be born once again.
The Days of Water [Los días del agua] (1971), by Manuel Octavio Gómez, is based on the true story of Antoñica Izquierdo, played by Idalia Anreus. The film was nominated for many international awards and Anreus won the FIPRESCI award for her performance.
Antoñica was a peasant girl who lived in Pinar del Río in 1936 and was believed to have healing powers that she channeled through water. She captured a following of believers, that asked her to perform different kinds of miracles. However, she was also exploited by politicians and conmen, who used her to their own benefit, to gain power or money.
The movie was shot in natural Cuban landscapes. Through the film we can see different regions of the Pinar del Río province, such as Valle de Viñales, which was declared a National Park in 1999 and later pronounced a World Heritage site by UNESCO. For nature lovers, this park is a dream come true, with its dense vegetation and varied wildlife, it's a charming place to go for a hike or just sit and admire the landscape. In Valle de Viñales, we can also find the Prehistory Mural ("Mural de la prehistoria").
In spite of its name, it's not a mural of prehistoric paintings, but a 1960's art piece, painted in the stone of the Pita Mogote hill. It was designed by Leovigildo González Morillo, who learned the technique from Mexican muralist, Diego Rivera.
Gómez masterfully integrates the wonderful scenery into the plot, in particular the bodies of water that populate the shots become fundamental for Anotñica's journey. By setting the story in the recent past, the film shows an intelligent reflection on the Cuban society of the past and the historical facts that led to its current state.
Also shot in the Pinar del Río province, Campesino (2018), by Mia Tate, follows amateur photographer Carl Oelerich, as he interacts with the people of Viñales. Viñales is known for its tobacco production, with the peculiarity that they still grow it the traditional way, with human labor at every step of the process, instead of machinery. This is the tobacco used in the world-famous Cuban Habanos.
Tate takes a deep dive into the lives of the farmers that live and work in this area, and Oelerich's photographs are a key element in the discovery of their identity.
Carl has spent the last fifteen years capturing the people of Viñales in images, nevertheless, their relationship is still ambiguous. Are they only subject and object of study? Can there be a bond between them despite their cultural differences and language barrier? At which point does an artistic project evolve to become a friendship?
Tate asks these questions through the film, as we get to know the different farmers and their stories. There are ninety-year-old cowboys, salsa dancers, and brilliant young minds among them, and both Oelerich and Tate manage to capture their essence in pictures.
Campesino is a love letter to Viñales and to all Cuban farmers, and it certainly inspires me to travel there and meet the characters personally. In addition to the beautiful tobacco plantations, which can be visited, in this area, you can also find some wonderful beaches to spend the day, such as Cayo Jutías or Cayo Levisa.
Molasses [Melaza] (2012), Carlos Lechuga's debut, is a bittersweet tale about a couple trying to stay together during trying times. They live in the town of Melaza, whose economy once revolved around sugar production. However, after the factory where molasses was produced is closed, the neighbors find themselves with nothing to do.
This closure shakes the town's economy, and our two protagonists, Mónica and Aldo, must find ways to make ends meet, with a young daughter and a mother in a wheelchair that relies on them. Despite all the hardships, Mónica and Aldo are deeply in love and will do anything to stay together fighting the adversities.
Lechuga was inspired to make this film by the real town of Pueblo Textil, a community created by Fidel Castro, where they installed a textile factory. While the town of Melaza doesn't really exist, there are many sugar cane plantations in Cuba, since the warm climate is perfect for this type of crop.
Molasses looks deep into Cuba's economical structures and the impact of communist politics in small rural communities. The director creates a dense atmosphere that emulates molasses' consistency, with a gorgeous rural landscape that echoes the character's despairs and hopes.
Papa: Hemingway in Cuba [Papa, Hemingway en Cuba] (2015) is the first Hollywood film to be shot in Cuba since 1959. Directed by Bob Yari (who had previously produced Academy Award films like The Illusionist), it tells the story of Ed Myers, a Miami journalist who travels to Havana to meet with the renowned American writer, Ernest Hemingway. While these encounters take place, the Cuban Revolution begins to take form.
Ed visits Cuba several times and befriends the Hemingway family. During these visits, he gets to know the writer he had so deeply admired in-depth and must face the hard task of meeting one's idol. Is he the person he always thought he would be? How can he reconcile the idea of Hemingway that filters through his writing with the real-life person?
As these thoughts race through Ed's mind, he's also trying to become a better writer and struggles to find his own voice. Earnest will take on the task of mentoring him, but at the same time, we are witnesses to the deterioration of his mental health, something that will lead him to commit suicide in 1962.
A lot of the scenes in Papa take place inside Hemingway's home in la Habana, the Finca La Vigia, which is located on the outskirts of the city. It was in this residence that he wrote two of his most famous works: For Whom the Bells Toll and The Old Man and the Sea. The house was expropriated by the Cuban government in the 1960s and it's currently a museum, that anyone can visit.
It's said that the writer's wife, Mary, had to fight the government to retrieve some of his manuscripts and other art pieces that were left in the house when they returned to the USA. The rooms were preserved just as they were in the 1960s, so you can get a glimpse of Hemingway's life through his belongings, as well as the Hemingway yacht, parked outside the building.