There are certain locations for films that can be the perfect setting for all genres or capture a unique feel. Montana is one of those states that are completely versatile when it comes to filming. It is perfect for westerns, can be the location for crime thrillers, historical drama, and even can be the starting point of major blockbusters.
Thus movies set in Montana are quickly becoming well-known and celebrated amongst cinephiles, and for a good reason. It is unquestionably one of the more gorgeous-looking states, and often the majestic landscape here serves as a character on its own on the big screen.
It is these emblematic elements that have attracted (and continue to attract) storytellers throughout the history of modern cinema and as a result, the spirit of Montana has been immortalized in different films resulting in a wonderfully intricate and excellent collection of movies set in Montana.
We love this because one of the reasons why we watch movies is that they are an excellent way to travel to different places while staying at home – and to determine if a destination elicits that oh-so-important spirit of wanderlust in us before ever investing in a ticket there.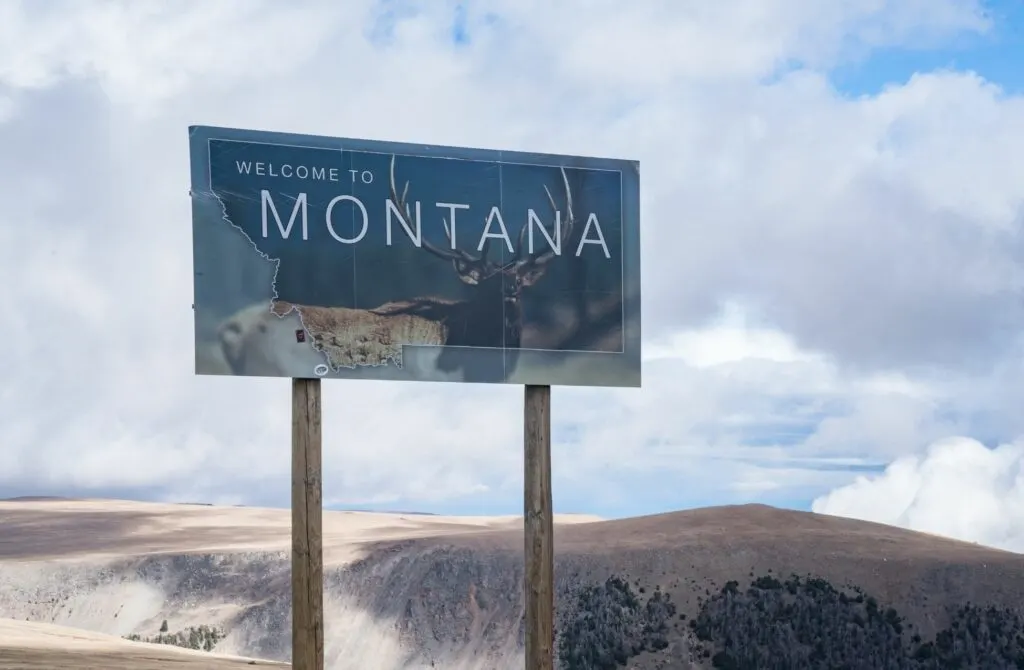 This is what motivated us to visit Cuba, Egypt, and Philadelphia – among many other places. Then there are those glorious moments you can step out in a real-world location and feel spontaneously transported back inside to an iconic movie scene (thus the abiding popularity of visiting Austria due to The Sound Of Music or James Bond's Skyfall).
These are just twelve films that use Montana and its natural beauty to their advantage, and after watching any of these, it will instantly want the audience to go and visit the state.
Wondering where to watch? It depends on where you live in the world and which streaming services you have. We link to the streaming service we watch on in each case - be it Netflix, Amazon Prime, Apple TV+, or elsewhere.
You can get one month free of Amazon Prime (or a 6-month trial for students) of Amazon Prime and also get immediate access to FREE Two Day shipping, Amazon Video, and Music. While you won't be charged for your free trial, you'll be upgraded to a paid membership plan automatically at the end of the trial period - though if you have already binged all these, you could just cancel before the trial ends.
Apple TV+ also has a one-week trial, and Hulu has a one-month trial (which can be bundled with Disney!). Another option might be using a VPN to access Netflix titles locked to other regions. Netflix is now available in more than 190 countries worldwide and each country has a different library and availability. US Netflix is (understandably) one of the best.
While we wish everything could just be in one place - for now, it seems these are the best streaming platforms to watch on.
Little Big Man feels like one of the more important movies set in Montana. It is based on the 1964 novel by Thomas Berger, which examines the story of Jack Crabb (played by Dustin Hoffman), who was once raised by Native Americans and fought in wars against General Custer.
It is very much a revisionist history-type story of that period in time and, in a way, feels like Forrest Gump long before Forrest Gump. While it is not a story that is based entirely in Montana, a huge portion of it was filmed in Montana, and it does a remarkable job of showing off the beauty that the state has to offer.
It shows the Old West's inherent, relentless violence, particularly against Native Americans, in a sweeping and uncompromising style while still managing to have an unmistakable streak of amusement. While there is some amusing humor and well-executed action, it is smoothly blended amid horribly shown tragedies. In particular, the Battle of Washita River displays some heart-stoppingly brilliant use of sound.
Hoffman portrays Jack Crabb, alias Little Big Man, an unlikely hero who is seldom evincing any control over his surroundings.
Director Terrance Malick is one of the very best directors in terms of making his films look so effortlessly naturalistic, almost to the point where they feel like a documentary aesthetically. There could not be a better filmmaker to help transport the audience into the world of Montana in the 1950s. His 1973 epic, Badlands, follows the Starkweather-Fugate killing spree in the Dakota badlands throughout the 1950s.
This is a film that is wonderful in every single way imaginable. For a story that deals with such intense subject matter, it is one that feels so warm and welcoming. It feels almost impossible that this is Malick's directorial debut, and it is often pointed to as one of the most influential films of all time.
It boils down to an engrossing American image propelled by stunning imagery, inventive music, and two standout performances by Martin Sheen and Sissy Spacek.
This is a film based on Norman Maclean's true story; A River Runs Through It is cinematographically breathtaking.
The film follows Norman and his brother Paul as they go through life and grow up in the wild West of Montana in the 1920s, and how their passion for fly fishing keeps them together despite their different living situations. Like many of the films on this list, it has a huge emphasis on using the natural beauty of the state of Montana (it's truly one of the great underrated gems of the continental United States); the scenery at times feels like a character by itself.
This is a Robert Redford film that meanders, occasionally loses its path but ultimately gives you what you need at moments and leaves you wanting more at other times. When you take it as a sum of its parts, it's an excellent film, with some wonderful performances, some beautiful life lessons, via author Norman Maclean's simple but profound words.
It's hard to come up with a more well-crafted and encompassing film than this, especially given Mark Isham's versatile and seductive score acts as the icing on the cake.
Okay, admittedly, this might be a stretch for movies set in Montana, but here is the case – the first parts of Steven Spielberg's dinosaur epic takes place at a dig site in the fictional city of Sankeater, Montana, and it sets the stage for the magic that is about to unfold on screen. It shows off the importance of the state of Montana in terms of paleontology and the discoveries of the past and is the perfect vessel to launch the film from – it helps the film feel grounded and relatable.
For those that are unaware, Jurassic Park is a film that follows the rich entrepreneur John Hammond (played by the brilliant Richard Attenborough), who is trying to create a theme park by using advanced genetics from fossils to bring dinosaurs back to life.
It is often hard to accurately describe Spielberg's impact on the world of cinema. He has the ability to make every film he creates feel like this magical entity that shouldn't feel possible, and he does so with nearly every film he touches, with Jurassic Park feeling his most magical. With an idea like bringing dinosaurs back to life, it could have been a concept that would have been easy to mess up, but Spielberg and crew treat it with a certain amount of sincerity and grace, which makes it feel like the best possible version of this story.
With the filmmaker's touch as well as that brilliant John Williams score, this is a film that instantly transports the audience, whether it is at a dig site in Montana or at a fictional theme park running from a dinosaur.
Legends Of The Fall follows Colonel William Ludlow (played by Anthony Hopkins) quits the Army, going to a distant section of Montana, after becoming tired of the US government's betrayals of Native Americans and the atrocities committed against indigenous peoples. He establishes a ranch and raises his family with the help of One Stab (played by Gordon Tootoosis), a Cree acquaintance.
It is yet another film that feels extremely important, to tell the truth of western United States history in the most authentic way possible, and is a great Montana historical drama.
A vast, epic soap opera narrative that reminds me at moments of a six-hour TV mini-series from the 1980s based on a dense novel your mother read. The performances elevate it above casual enjoyment. When the film came out, Brad Pitt was newly crowned the new Prince of Hollywood, and he is fantastic here. He needs to be because Tristan is the center of the film.
Pitt gets you in the emotions in one particularly startling sequence.
John Quincy Archibald is a parent and husband whose son is diagnosed with an enlarged heart and then learns that his HMO insurance won't cover a transplant. As a result, he resolves to hold a hospital full of patients hostage until his son's name is added to the donation list.
This is yet another different type of Montana film as it has just a few scenes set there, but they are some of the more critical and crucial scenes towards the beginning of the film.
John Q is a scathing indictment of the American insurance system. While the first half is genuine, grounded, and emotional, the second half devolves into a disjointed hostage situation kept together only by Denzel Washington's incredible performance.
However, the most alarming aspect of this video is that, twenty-plus years later, US health care is still much the same as it was when it was originally published.
This film follows an open-range cattleman known as Boss Spearmen (played by Robert Duvall) in 1882. He is attempting to move a herd across the country with the help of Charley Waite (played by Kevin Costner), Mose (played by Abraham Benrubi), and Button (played by Diego Luna.
It's a film that is not just about ranching but simultaneously tackles the themes of remorse through the point of view of Charley, who was assigned to killing civilians during The American Civil War. It's one of the best portrayals of ranch life and PTSD/soldier remorse from the 2000s.
Open Range is a sweepingly romantic and brutal Western and revels in classic Western clichés filled with pertinent passions and concerns, portraying an old-fashioned drama with contemporary verve. It's a brilliantly filmed and put-together film that deserves to be included in the pantheon of great Western films.
Shooter is about a marksman who learns of a conspiracy to assassinate the president, who, while living in exile, is enticed back into action. He is eventually double-crossed and blamed for the assassination attempt, and he goes on the run to find the true killer and figure out who put him up and why. It is one of the very few movies that feature Montana, a spy thriller, and it does an excellent job of setting the stage in a genre that can easily be seen as overdone.
Shooter is a political thriller with a twist. It does not, however, take sides. Rather, it sends the notion that all politicians are rotten to the core regardless of a political party. These kinds of films appeal to me since they don't alienate anyone and enable the viewer to relax and enjoy the trip. I
t is legitimately one of the better political action thrillers in recent memory.
Despite the name, Nebraska is a film that takes place mostly in Montana. It follows a son who agrees to take his father on a road trip from their home in Montana to Nebraska to claim a million-dollar sweepstakes prize. His father is aging, has further become an alcoholic, and struggles to keep it together in his late stages of life.
It is a beautifully shot film and is entirely set in black and white, which for whatever reason really tends to highlight the beauty of Montana and the open road that the father and son go on.
This is easily one of my favorite movies set in Montana – it means a whole lot to me. It shows the struggles of a dysfunctional family and a son that is desperately trying to salvage a relationship with his father in the most heartwarming way possible. It's not a film that beats around the bush, and it feels important in the ways that it shows that these types of father-son relationships do exist and that they are not always sunshine and rainbows.
It has some brilliant writing, music, and performances It is a must-watch if you need a feel-good film or want a film that shows off Montana differently.
The Revenant has recently become known as the film that won Leonardo DiCaprio his long-anticipated Academy Award. It follows Hugh Glass (played by DiCaprio), who is a frontiersman in the 1820s, and his path to revenge when his counterpart John Fitzgerald (played by Tom Hardy) kills his son and leaves him for dead in the woods.
We consider it as one of the great movies set in Montana even as it spans many states in the West, including Montana.
It films it in such a beautiful and naturalistic way that it is hard to not fall in love with the cinematography and it is hard to find a film that is as bleak, cold, intense, gorgeous, and ultimately rewarding as this one. Each frame is as perfect as the previous, and the cinematography is jaw-dropping with every single viewing.
It's a tremendous story about survival, fatherhood, and ultimately revenge. It does tend to drag in stretches, but it feels hard to top when it's at its peak.
This film is an adaptation of author Ted Chiang's short story, The Story of Your Life (which is excellent, go read it!) from filmmaker Denis Villeneuve.
It is about a group of aliens that come to earth, and nobody is sure why they are here, and a group of scientists and professors are tasked with trying to communicate with them to figure out their motives for being on earth. Much like all of Villeneuve's work, it is majestically shot and captures the beauty of the plains of Montana in a way that is hard to replicate.
In short – Arrival is a film that examines the importance of language and even considers what it is like to weaponize such a thing. It would do a remarkable job of portraying how different societies on earth would work with each other (or, in some instances, work against each other) if an alien invasion happened.
It has a poignant and emotional performance from Amy Adams, where throughout, often without saying a word, she lets the audience know through her eyes that she is filled with fear and determination. Then it leaves you pondering the philosophical idea that if you knew the tragic outcome of a situation, would you at all change it? It's a masterpiece of the highest form in the science fiction genre.
The Power of the Dog is about Phil Burbank (played by Benedict Cumberbatch), who is a charming rancher who instills terror and awe in people around him and those who work for him.
When Phil's brother returns home with a new wife and her son, he torments them until he is introduced to the possibilities of love and compassion. Jane Campion is the director behind this one, and she does such an incredible job of capturing the gorgeous scenery around the film and really highlights why so many fall in love with the Montana views.
Since this is such a new release, this review will refrain from any heavy spoilers, but it's quite an excellent film. While it is a slow burn at first, it does eventually progress; it's such a mesmerizing film. Definitely one of the most visually appealing films of 2021 – though it was actually filmed in New Zealand. It has great performances all around, but Kirsten Dunst's acting, in particular, stole the show for me. Her depiction of her characters' descent into an alcohol-fueled terror is quite remarkable.
If you're able to, try and see this on the big screen as that will lead to the best viewing possible in my eyes.