When you think of Egypt, films are not something that usually comes to mind first. Still, quite a lot of movies set in Egypt exist or were filmed there at least partially.
It's actually not that surprising either really, considering Egypt has some beautiful and unique backdrops for a director to film his or her scenes in. For instance the Pyramids of Giza, Cairo's busy downtown area, or the scenic desert. Not to mention its ruins, locations of natural beauty and impossibly rich history which can be mined for inspiration.
And it is these emblematic elements that have attracted (and continue to attract) storytellers throughout the history of modern cinema and today the spirit of Egypt has been immortalized in different films resulting in a wonderfully intricate and excellent array of movies set in Egypt.
We love this because one of the reasons why we watch movies is that they are an excellent way to travel to different places while staying at home – and to determine if a destination elicits that oh-so-important spirit of wanderlust in us before ever investing in a ticket there.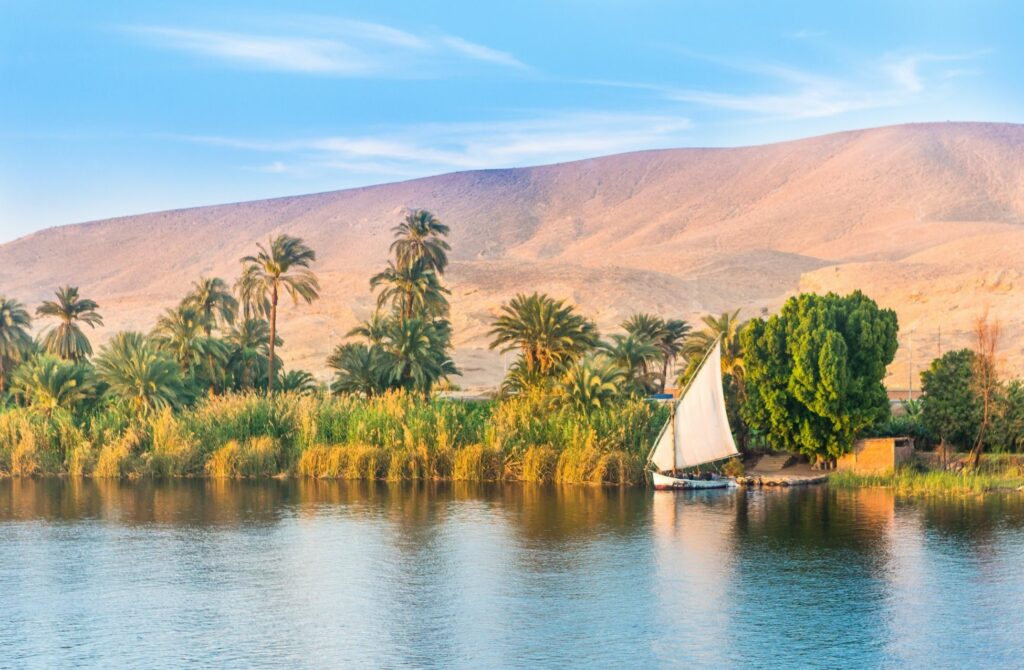 This is what motivated us to visit Cuba, Australia, and Montana – among many other places. Then there are those glorious moments you can step out in a real-world location and feel spontaneously dispatched back inside an iconic movie frame (thus the abiding popularity of visiting Middle Earth / New Zealand or James Bond's Skyfall).
In this article, we will discuss ten films that had either important scenes filmed in the land of the pharaohs, or were shot almost completely on location there.
Wondering where to watch? It depends on where you live in the world and which streaming services you have. We link to the streaming service we watch on in each case - be it Netflix, Amazon Prime, Apple TV+, or elsewhere.
You can get one month free of Amazon Pride (or a 6-month trial for students) of Amazon Prime and also get immediate access to FREE Two Day shipping, Amazon Video, and Music. While you won't be charged for your free trial, you'll be upgraded to a paid membership plan automatically at the end of the trial period - though if you have already binged all these, you could just cancel before the trial ends.
Apple TV+ also has a one-week trial, and Hulu has a one-month trial (which can be bundled with Disney!). Another option might be using a VPN to access Netflix titles locked to other regions. Netflix is now available in more than 190 countries worldwide and each country has a different library and availability. US Netflix is (understandably) one of the best.
While we wish everything could just be in one place - for now, it seems these are the best streaming platforms to watch on.
Malcolm X is an American biographical drama film about the African-American activist Malcolm X. The movie was directed and co-written by Spike Lee, and stars Denzel Washington, Angela Bassett, and Albert Hall. It tells the story of Malcolm X (Washington), who calls himself the angriest Negro in the country.
Unlike Martin Luther King, as a militant black Muslim leader, he preaches the radical liberation of the black population. And so he becomes public enemy number one. His movements are being monitored by the FBI, CIA, and various other intelligence agencies. Malcolm X hates white people until he goes on a pilgrimage to Mecca.
Some filming on Malcolm X was done in Egypt's capital Cairo, as part of the story is set there. The Great Mosque of Muhammad Ali Pasha can be seen in the movie, it is a mosque located in the Citadel of Cairo.
Flatfoot in Egypt is an Italian comedy film directed by Steno and starring Bud Spencer, Enzo Cannavale, and Baldwyn Dakile. It is the fourth and final chapter in the Flatfoot film series. The movie tells the story of Commissioner 'Flatfoot' Rizzo (Spencer) who must solve the kidnapping of the daughter of an American oil tycoon and a scientist who has discovered a new way to discover oil wells. With his small protégé and his clumsy aide, he follows the trail to Egypt.
Bud Spencer is one of the heroes of Italian cinema, he and Terence Hill rose to stardom when they starred in the first-ever comedic spaghetti western in 1970. Many films with this comedic duo followed, and eventually, they started starring in solo films as well. Typical in these movies is the humor, and the cartoonish, slapstick fights.
Most of Flatfoot in Egypt was actually shot in Egypt, but not that much is known in terms of actual locations, besides that most filming was done at El-Wahat el-Bahariya, a depression and a naturally rich oasis in the Western Desert of Egypt, located approximately 370 kilometers away from Cairo.
Jumper is an American science fiction action film directed by Doug Liman and starring Hayden Christensen, Samuel L. Jackson, and Rachel Bilson. It is somewhat loosely based on the Steven Gould novels of the same name published in 1992.
The story revolves around David Rice (Christensen), who discovers at a young age that he is a jumper, meaning he can teleport himself from one place to another. He uses these special powers to give himself a luxurious life. However, the Paladin organization led by Roland Cox (Jackson) is hunting all jumpers, because they believe only God may have the power to be in any place at any time.
Jumper was filmed in many countries and cities including Rome in Italy and Tokyo in Japan, too many to list them all here. One of the filming locations includes Giza, the second-largest city in Egypt after Cairo, and the capital of Giza Governorate. This is the only Egyptian location that can be seen in the film, but because it does feature the Great Pyramid of Giza and the nearby Great Sphinx of Giza on the movie poster, we just had to include it in this list of movies set in.
Fair Game is a political drama film directed by Doug Liman and starring Naomi Watts, Sean Penn and Bruce McGill. The movie is a co-production of the United States and the United Arab Emirates.
It tells the story of Joseph Wilson (Penn), who is sent to Iraq by the CIA to write a report on possible weapons of mass destruction located there. Wilson finds absolutely nothing of the kind in Iraq, publishes his report in the New York Times, and writes that he feels the United States' invasion of Iraq was illegal. This exposes the identity of his wife, Valerie Plame (Watts), who is a CIA agent.
Fair Game was filmed in various countries and cities, including the capital of Egypt, Cairo. While several scenes were filmed there, no real well-known landmarks appear on screen. Additional scenes were filmed at the Cairo University, which is located in Giza, immediately across the Nile from Cairo.
Transformers: Revenge of the Fallen is an American science fiction action film directed by Michael Bay and starring Shia LaBeouf, Megan Fox, and Josh Duhamel. It is the second installment in the Transformers film series. The film picks up after Transformers (2007). The battle on Earth is over, but the one in the universe has just begun. When Sam Witwicky (LaBeouf) learns the truth about the ancient origins of the Transformers, he must accept his fate and join Optimus Prime and Bumblebee in their epic battle against the Decepticons, who are back stronger than ever and plan to destroy our world.
Transformers: Revenge of the Fallen was shot mostly in the United States, with some shooting also being done in other countries like France, Jordan, and Egypt. The production crew spent three days shooting in Egypt in two locations. The first being the Giza Pyramid Complex, which is the site on the Giza Plateau in Greater Cairo, that includes the Great Pyramid of Giza, the Pyramid of Menkaure, and the Pyramid of Khafre, along with their associated pyramid complexes and the Great Sphinx of Giza.
The second location where cameras rolled on Transformers: Revenge of the Fallen was the city of Luxor, a city located in southern Egypt and the capital of Luxor Governorate. Filming on the movie was supposed to be a secret, but in an interview producer, Lorenzo di Bonaventura later stated pretty much everyone in Egypt knew what was going on.
Death on the Nile is a British mystery film directed by John Guillermin and starring Peter Ustinov, Jane Birkin, and Bette Davis. The movie is based on the famous Agatha Christie novel of the same name published in 1937.
The film tells the story of the cruise ship S.S. Karnak which is sailing the Nile. Almost everyone aboard has a reason to want to see wealthy heiress Linnet Ridgeway dead. Among other things, her jewels are coveted by the elder Mrs. Van Schuyler, her maid is angry at not getting her promised raise, and writer Salome Otterbourne faces a lawsuit brought on by Linnet. When Linnet is found dead, it is up to the Belgian detective Hercule Poirot to unravel this mystery.
Death on the Nile was filmed on various locations in Egypt. One of those locations was Cairo, the capital and largest city of Egypt. Cameras also rolled at the Great Pyramid of Giza, the oldest and largest of the pyramids in the Giza pyramid complex, and at the nearby Great Sphinx of Giza.
Other scenes were filmed in Aswan, a city located in the south of Egypt, and the capital of the Aswan Governorate, and in Luxor, a city located in southern Egypt and the capital of Luxor Governorate. The temples of Abu Simbel and Karnak can also be seen in the film.
Cairo Time is a romantic drama film directed by Ruba Nadda and starring Patricia Clarkson, Alexander Siddig, and Elena Anaya. The film is a co-production between Canada, Ireland, and Egypt. Cairo Time won the award for Best Canadian Film at the Toronto International Film Festival 2009. The movie is about Juliette Grant, who travels to Cairo to meet her husband Mark, only to be told that he has been delayed in Gaza. Mark sends his Egyptian friend Tareq, a police officer, to pick her up and keep her company. But a romantic affair suddenly develops between the two.
Cairo Time was mostly shot on location in Cairo, and quite a few well-known landmarks from the city appear in the film. The conversation at the pyramid blocks was filmed at the Great Pyramid of Giza, while later shots were filmed at the nearby Great Sphinx of Giza. Some scenes were filmed at the Shepheard Hotel, which is actually the second hotel to occupy that spot, after the original building, called Shepheard's Hotel, burned down in 1952 during the Cairo Fire.
The desert scenes were filmed at El-Wahat el-Bahariya, a depression and a naturally rich oasis in the Western Desert of Egypt, located approximately 370 kilometers away from Cairo, which has been used by many other movies set in Egypt as it is a visually stunning locale.
The Spy Who Loved Me is a British James Bond film, the tenth in the Bond series, directed by Lewis Gilbert and starring Roger Moore, Barbara Bach, and Curd Jürgens.
In the film, the British discover that someone has found a sophisticated way to make submarines untraceable to radar and offer this technology to the highest bidder. An international crisis erupts when a submarine carrying 16 nuclear weapons disappears during a routine cruise. The British Secret Service sends special agent James Bond (Moore) to find the submarine before it can fire its missiles.
James Bond films are usually filmed in various countries and cities (thus our rather extensive list of the best James Bond locations) and The Spy Who Loved Me is no exception. And it so happens Mister Bond also visits Egypt in this adventure. He starts his investigation with a visit to an old friend who invites him into his desert tent oasis, run by lots of beautiful belly dancers. The oasis had been set up some 30 kilometers south of the capital Cairo at the monument site of Saqqara. Bond then heads to downtown Cairo where he visits an oriental mansion. This building holds the Gayer-Anderson-Museum these days and it is located next to the Ibn Tulun Mosque. He then proceeds to the Great Pyramid of Giza, and the nearby Great Sphinx of Giza.
He also visits the city of Luxor, and the Karnak Temple Complex which is located nearby Luxor. The last Egyptian location in the film is Abu Simbel, a temple close to the Sudan border. On a side note, Bond also visited Egypt in Diamonds Are Forever (1971), but the Cairo casino scenes are actually filmed on a set and not in the real city.
Cairo Station is an Egyptian drama film directed by Youssef Chahine and starring Farid Shawqi, Hind Rostom, and Youssef Chahine.
The film revolves around Qinawi, an impoverished newspaper vendor, who has a stand-in Cairo's chaotic central station. He develops an infatuation with the free-spirited Hannuma, who dodges the authorities to peddle soft drinks to passengers. When he faces rejection, Qinawi's obsession becomes very dangerous as he falls into a state of insanity.
All exterior shots in Cairo Station were filmed in Egypt's capital Cairo. The interiors were not filmed in a studio, as one might expect, but on location at Ramses Railway Station, which actually is the main railway station of Cairo. The station's name is derived from the Ancient Egyptian Pharaoh Ramses II.
Land of the Pharaohs is a American epic drama film produced and directed by Howard Hawks and starring Jack Hawkins, Joan Collins and Dewey Martin.
The film tells the story of Pharaoh Khu-fu, who in ancient Egypt acquired more and more wealth and slaves after each battle won. He becomes obsessed with his gold and wants to take it with him into his second life after his death. Unfortunately, the pyramids are looted time and again by grave thieves. To put an end to this, the pharaoh enlists the help of one of his slaves, architect Vashtar. He agrees to find a solution on the condition that his compatriots are released when the pyramid is completed. Meanwhile, the pharaoh marries the beautiful princess Nellifer. She too appears to have a great interest in gold and she devises a plan to steal the pharaoh's wealth.
Exteriors for Land of the Pharaohs were filmed in Egypt, in the capital Egypt, while interiors were done inside a studio in Italy. Two very well-known Egyptian landmarks appear in the movie. One being the Unfinished Obelisk, which is the largest known ancient obelisk, it is located in the northern region of the stone quarries of ancient Egypt in Aswan. And the second is the Unfinished Northern Pyramid of Zawyet El Aryan, which is the term archaeologists and Egyptologists use to describe a large shaft part of an unfinished pyramid at Zawyet El Aryan.
We hope this list of movies set in Egypt has made you curious about that country with its big desert and many pyramids. Maybe you have already decided to take the trip and enjoy the many ancient treasures, the gushing Nile, the vast deserts, and the warm sun. Watching some of the movies on this list will surely prepare you for that trip.