A lot of movies are filmed on location in Romania, including many movies you might not expect. A large part of the reason for this is that Romania's capital Bucharest is home to Bucharest Film Studios, Europe's largest and longest established film studio, and as a result, we are lucky to have such a plethora of movies set in Romania to choose from.
Romania has beautiful and varied scenery, and the costs of filming there are relatively low. So it comes as no surprise more and more producers and directors find their way to Dracula's home. In this article, we are going to take a look at ten movies that were filmed in Romania, or at least partly. So feel free to read, and watch along, and see if you can spot these Romanian locations.
But first, why travel via cinema – and by extension, watch movies set in Romania? Because wanderlust can take grip at any time, and nothing compares to an on-location movie when it comes to transportive experiences that may be done from home. These films frequently feature magnificent cityscapes, inspiration geographies, and diverse cultures, and they motivate us to travel to new places or relive our experiences when we return home.
In these Romanian films, the destination becomes the star.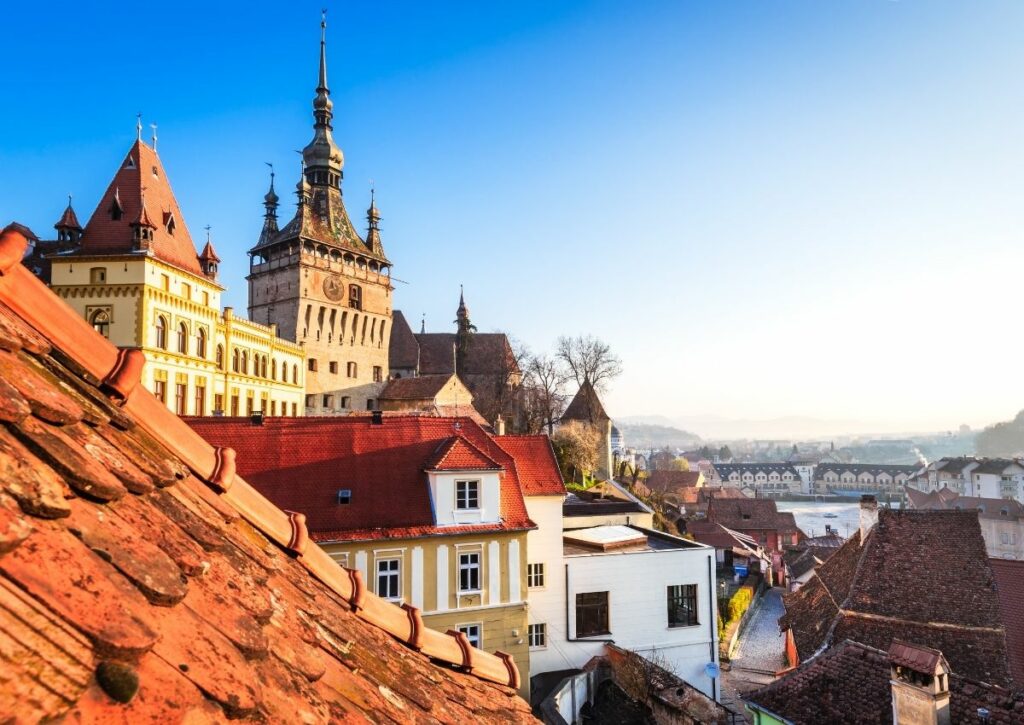 Although not all of these films are happy – tragedies and misery are as unavoidable in cinema as they are in life – each one provides panoramic vistas of the mysterious Land of Dracula.
These Romanian films have narratives that rely on their settings as much as their main protagonists, and as a result, spectators get a glimpse of this iconic country through the director's eyes. To honor the concept of cinematic travel, we have also assembled lists of our favorite films shot in some of our all-time favorite travel destinations: Sweden, Miami, Mexico, Ireland, China, Japan, Norway, and Israel.
It will be a brief but enjoyable journey, regardless of which film you choose, and will have you wanting to book a ticket on the next flight out to visit the Danube Delta, the many UNESCO sites, and other iconic things to do in Romania.
Wondering where to watch? It depends on where you live in the world and which streaming services you have. We link to the streaming service we watch on in each case - be it Netflix, Amazon Prime, Apple TV+, or elsewhere.
You can get one month free of Amazon Pride (or a 6-month trial for students) of Amazon Prime and also get immediate access to FREE Two Day shipping, Amazon Video, and Music. While you won't be charged for your free trial, you'll be upgraded to a paid membership plan automatically at the end of the trial period - though if you have already binged all these, you could just cancel before the trial ends.
Apple TV+ also has a one-week trial, and Hulu has a one-month trial (which can be bundled with Disney!). Another option might be using a VPN to access Netflix titles locked to other regions. Netflix is now available in more than 190 countries worldwide and each country has a different library and availability. US Netflix is (understandably) one of the best.
While we wish everything could just be in one place - for now, it seems these are the best streaming platforms to watch on.
Ghost Rider: Spirit of Vengeance is an American superhero film directed by Mark Neveldine and Brian Taylor, and starring Nicolas Cage, Ciarán Hinds and Idris Elba. It is a sequel to Ghost Rider (2007).
The movie is about Johnny Blaze, better known as 'The Ghost Rider' (Cage), who is hiding in Eastern Europe as he struggles to suppress his curse. Blaze is recruited by a cult to face the Devil who plans to take human form.
Ghost Rider: Spirit of Vengeance was partly filmed on location in Romania. Some famous Romanian landmarks appear on screen as a result, like the Corvin Castle, a Gothic-Renaissance castle located in the city of Hunedoara.
Some scenes were filmed on the Transfăgărășan, a well-known paved mountain road crossing the southern section of the Carpathian Mountains. Filming was also done in the city Târgu Jiu, which is the capital of Gorj County in the Oltenia region, in Sibiu, a city in Transylvania, and in Romania's capital Bucharest.
The Keeping Room is an American Western film directed by Daniel Barber and starring Hailee Steinfeld, Sam Worthington and Brit Marling.
The movie tells the story of three women from the south of America, two sisters and an African-American slave girl, who live without men in the aftermath of the Civil War. They are forced to protect their home from an attack by a group of soldiers who are ahead of the fast-approaching Union Army.
The Keeping Room was filmed on location mainly in the village of Poienari, which is a part of the Poienarii de Argeș commune located in Argeș County, Muntenia. Some other famous Romanian scenery also appear in the film, like the Carpathian Mountains, and parts of the historical region Wallachia. Some filming was also done at Bucharest Film Studios.
Cold Mountain is a war film written and directed by Anthony Minghella and starring Jude Law, Nicole Kidman and Renée Zellweger. It is a co-production among the United States, United Kingdom, Romania and Italy.
The movie tells the story of three people in the context of 1860s in America, who's physical and psychological survival depends on their connection among them. There is the soldier of the Confederacy, who is wounded on the battlefield and returns to his beloved. On his way to Ada, he meets all kinds of people. In her return, Ada is no longer the delicate woman she was before the war. Ruby comes to the aid of the girl, teaching Ada the laws of survival.
The movie was shot almost entirely in Romania, around Romania's capital Bucharest and in Brașov, a city in Transylvania and the administrative center of Brașov County. All mountain scenes were filmed in the Carpathian Mountains. Some filming was also done in the village of Potigrafu located in the commune of Gorgota in Prahova County, Muntenia. And in Reci, a commune in Covasna County, Transylvania.
Modigliani is a drama biographical film written and directed by Mick Davis and starring Andy Garcia, Elsa Zylberstein, and Omid Djalili. It is a co-production among the United States, France, Germany, Italy, Romania, and the United Kingdom.
The movie tells the story of the rivalry between two great artists living in the Paris of 1919. Modigliani (Garcia) and Picasso (Djalili) are two men whose jealousy is driven by their brilliance, their arrogance, and their passion. It is also the story of the greatest love tragedy in art history: Jeanne Hebuterne, a beautiful young Catholic woman, falls in love with Modigliani, a Jew, much to her father's dismay.
Modigliani was filmed entirely in Romania. Exterior filming was done in and around Romania's capital Bucharest, while interiors were shot at Bucharest Film Studios, Europe's largest and longest established film studio.
Mirrors is an American supernatural horror film directed by Alexandre Aja and starring Kiefer Sutherland, Amy Smart and Paula Patton.
The movie revolves around Ben Carson (Sutherland), who is working as a security guard at a shopping mall. One night, Ben discovers something strange about a mirror in a store and soon finds out that it is something evil. Ben becomes curious and tries to discover the origin of this evil. He learns that the evil in the mirror are murderous reflections bent on revenge. Ben then sets out to fight the truth and origin behind this evil.
Mirrors was filmed partly in and around Romania's capital Bucharest. The main shooting location was the Romanian Academy of Sciences building, while some interior shots were filmed at the Castel Film Romania studios, located in the village of Izvorani, which is part of the Ciolpani Commune, Ilfov County.
Dying Of The Light is an American psychological thriller film written and directed by Paul Schrader and starring Nicolas Cage, Anton Yelchin, and Alexander Karim.
The movie revolves around Evan Lake (Cage), an office-bound CIA agent who is forced into early retirement when he begins to show signs of dementia. At the same time, he discovers that the jihadist Muhhamed Banir is not dead, as has been presumed to be for two decades. When Banir is about to undergo an experimental medical treatment, Evan sets out to find him.
A large part of Dying of the Light was filmed on location in Bucharest, and a lot of landmarks and buildings from the city appear throughout the movie. Like the famous Grozavesti Bridge, which can be seen during the car chase scenes. The Politehnica University of Bucharest and the Palace of the Parliament also appear on screen. The Henri Coandă International Airport was used as a filming location, as well as the Union of Romanian Architects building, which in the film is the Headquarters of S.R.I.
A Princess for Christmas is a 2011 American TV comedy film directed by Michael Damian and starring Roger Moore, Katherine Elizabeth McGrath, and Charlotte Salt.
It tells the story of Jules Day (McGrath), whose life is turned upside down when she is forced to care for her nephew Milo and niece Maddie. Her life is in chaos, but she is determined to give the children a merry Christmas. Jules, Milo and Maddie travel to Europe at the invitation of a lost relative (Moore) where they will celebrate Christmas at Castleburry Hall. When Jules meets the charming Prince Ashton, staying at the castle gets a whole lot more fun.
This made for television Christmas movies was for a large part filmed on location in Romania. Shooting took place in and around Romania's capital Bucharest. Castleburry Hall is actually Peleș Castle, a Neo-Renaissance castle situated in the Carpathian Mountains, near Sinaia, in Prahova County. The famous Bragadiru Palace located in Bucharest was also used as a filming location, while interiors were filmed at the Bucharest Film Studios.
Youth Without Youth is a fantasy film written, produced, and directed by Francis Ford Coppola and starring Tim Roth, Alexandra Maria Lara, and Bruno Ganzbased. The movie is a co-production among the United States, Romania, France, Italy and Germany, and is based on the book of the same name by Romanian author Mircea Eliade. It remains one of the most arresting movies set in Romania ever.
The film is about Professor Dominic (Roth), who is living in Bucharest pre-World War II when he is struck by a strange flash of light during a thunderstorm. He is badly burned, but he recovers fast. It turns out that the flash has turned him into another man, who is much younger. Because of the change he goes on the run and faces an uncertain future.
Youth Without Youth was filmed in various countries around the world, including Romania. The Ana Aslan Foundation building located in Bucharest, was used for the hospital scenes. The railway scenes were filmed at Gara Piatra Neamt, the main railway station in the residence of Neamț County. The Constanța Casino, a defunct casino, located in Constanța, and the Danube Delta, a large river delta can also be seen in the film.
What Happened To Monday is a science-fiction film directed by Tommy Wirkola and starring Noomi Rapace, Marwan Kenzari and Glenn Close.
It is a co-production among the United Kingdom, France, and Belgium. When genetically engineered food leads to a genetic abnormality that then leads to mass births of multiples, the government decides to allow only one child per family and freeze multiples by the Child Allocation Bureau, led by Nicolette Cayman, until a solution to the problem becomes available.
A large part of What Happened to Monday was filmed on location in Romania. The main filming locations were Constanța, the oldest continuously inhabited city in Romania, and Bucharest. The shipyard and Old Town of Constanta can both be seen in the movie.
From Bucharest you can spot the National History Museum of Romania, the National Theatre Bucharest, the National Library of Romania, and Bucharest's Old Town region called Lipscani.
The Zero Theorem is a science-fiction film directed by Terry Gilliam and starring Christoph Waltz, Mélanie Thierry and David Thewlis. It is a co-production among the United Kingdom, Romania, France, and the United States. The movie is about a computer hacker who has set himself the goal of discovering the reason for human existence. However, he is constantly interrupted during his work by the Management. This time they send a teenager and a lusty lover to distract him.
The Zero Theorem was filmed on location in and around Romania's capital Bucharest. Some of the more well-known locations from the city that appear in the movie are the Carol I Park, a public park named after King Carol I of Romania, and the Carol Park Mausoleum that is located inside the park. We also see the Romanian Athenaeum, a concert hall located in the center of the city, as well as the Icpe Solar Park, an experimental base with outdoor component in renewable energy.
We hope you enjoyed reading all about these great movies set in Romania. It might even inspire you to one day take a trip there. If you decide to go, you will get to enjoy everything that Romania is famous for. Like the Carpathian Mountains, tasty wine, salt mines, sculptor Constantin Brancusi, medieval fortresses, Dracula's castle, the Black Sea, and much more. So pick a movie from our list, and get inspired today.