Norway has provided amazing locations and beautiful scenery to filmmakers around the world throughout the years. Some of the biggest blockbusters in cinema history were movies set in Norway, or at least partly films there.
Great actors like Daniel Craig, Mark Hamill, Matt Damon, Michael Fassbender, Rebecca Ferguson, Harrison Ford, and Tom Cruise have all visited Norway to shoot iconic scenes in their films. In this article we are going to take a look at some of the great movies that were filmed on location in Norway.
And with Hollywood blockbusters, Norwegian slashers, and epic James Bond films and filming locations, this list has something for everybody to watch and discover Norway with.
But why travel via cinema – and by extension, watch movies set in Norway? Because wanderlust can take grip at any time, and nothing compares to an on-location movie when it comes to transportive experiences that may be done from home. These films frequently feature magnificent cityscapes, inspiration geographies, and diverse cultures, and they motivate us to travel to new places or relive our experiences when we return home.
In these Norwegian films, the destination becomes the star.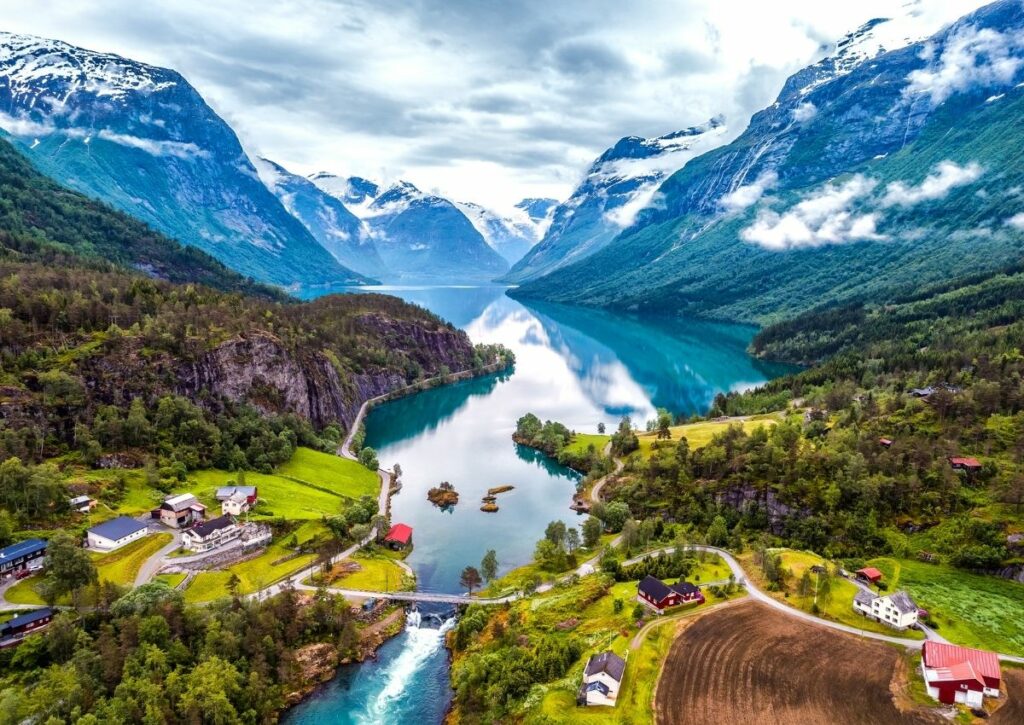 Although not all of these films are happy – tragedies and misery are as unavoidable in cinema as they are in life – each one provides panoramic vistas of the magical Land Of The Midnight Sun.
These Norwegian films have narratives that rely on their settings as much as their main protagonists, and as a result, spectators get a glimpse of this iconic country through the director's eyes. To honor the concept of cinematic travel, we have also assembled lists of our favorite films shot in some of our all-time favorite travel destinations: San Francisco, Mexico, Ireland, France, Cuba, Spain, and Australia.
It will be a brief but enjoyable journey, regardless of which film you choose, and will have you wanting to book a ticket on the next flight out to visit Bergen, Oslo or go wild camping in Norway while ticketing of the many (many) natural wonders on offer in this Nordic wonderland.
Wondering where to watch? It depends on where you live in the world and which streaming services you have. We link to the streaming service we watch on in each case - be it Netflix, Amazon Prime, Apple TV+, or elsewhere.
You can get one month free of Amazon Pride (or a 6-month trial for students) of Amazon Prime and also get immediate access to FREE Two Day shipping, Amazon Video, and Music. While you won't be charged for your free trial, you'll be upgraded to a paid membership plan automatically at the end of the trial period - though if you have already binged all these, you could just cancel before the trial ends.
Apple TV+ also has a one-week trial, and Hulu has a one-month trial (which can be bundled with Disney!). Another option might be using a VPN to access Netflix titles locked to other regions. Netflix is now available in more than 190 countries worldwide and each country has a different library and availability. US Netflix is (understandably) one of the best.
While we wish everything could just be in one place - for now, it seems these are the best streaming platforms to watch on.
No Time to Die is a British / American James Bond film directed by Cary Joji Fukunaga and starring Daniel Craig, Rami Malek, and Léa Seydoux. It is the 25th entry in the James Bond series of films.
The movie is about James Bond (Craig), who has left his turbulent life as a secret agent behind and is now living a quiet life in Jamaica. His peace is short-lived however when his old friend Felix Leiter from the CIA shows up asking for his help. It leads Bond on the trail of a mysterious villain armed with a dangerous new technology.
No Time to Die was partly filmed on location in Norway and so we think it deserves to feature as one of the best movies set in Norway. The scenes on the frozen lake were shot at Langvatnet, a lake located in the municipality of Gildeskål in Nordland County. Another filming location was the Atlantic Road, a unique stretch of road which takes you right out to the ocean's edge. It is arguably the most famous road of Norway. T
he cabin scenes were filmed in Hakadal, a village in the northern part of Nittedal municipality in Akershus. The cabin was built specifically for the film and is no longer there. Additional filming was done in Åndalsnes, a town located in Rauma Municipality and part of Møre og Romsdal county, and in Norway's capital Oslo.
The Snowman is a psychological thriller film directed by Tomas Alfredson and starring Michael Fassbender, Rebecca Ferguson and James D'Arcy. It is an international co-production among the United Kingdom, United States, Sweden, and Japan.
The film is about Harry Hole (Fassbender), a chief detective of a specialized crime unit, who investigates a woman's disappearance during winter's first snowfall. He fears an elusive serial killer is back at work again, and with the help of a brilliant new colleague, the agent links cases from decades ago to this grisly new case. They must track down the unscrupulous culprit before it starts snowing and he strikes again.
A large part of The Snowman was filmed on location in Oslo, and features some well-known locations from the city. Like Restaurant Schrøder, located in Waldemar Thranes gate 8 at St. Hanshaugen. And Holmenkollbakken, a large ski jumping hill located at Holmenkollen.
Another famous building seen in the film is the Fram Museum, located on the peninsula of Bygdøy. A few scenes were also shot outside of Oslo, for instance at the Henie Onstad Kunstsenter, which is an art museum located at Høvikodden, in Bærum municipality in Viken county.
Ex Machina is a British science-fiction film written and directed by Alex Garland and starring Domhnall Gleeson, Oscar Isaac, and Alicia Vikander.
The movie revolves around Caleb, a 26-year-old programmer who works for the world's largest Internet company. He wins a competition to spend a week in the country home of Nathan, the company's reclusive CEO. When Caleb arrives at the remote location, he discovers that he must take part in a strange and fascinating experiment in which he encounters the first true artificial intelligence, housed in the body of a beautiful robot girl.
A small portion of Ex Machina was filmed on location in Norway, and the term 'in the middle of nowhere' certainly applies to the location that was used. The house Caleb travels to is actually the Juvet Landscape Hotel Norway, located in a remote part of a remote village in a remote region of Norway.
The hotel is part of the village Valdal which is located in Fjord municipality. The building is embedded in a breathtaking landscape with an amazing view from the modern and individually designed chalets. The Briksdal glacier located in the municipality of Stryn in Vestland county also briefly appears on the screen.
Dead Snow is a Norwegian horror/comedy film directed by Tommy Wirkola and starring Jenny Skavlan, Charlotte Frogner, and Ane Dahl Torp.
The movie is about a group of friends on their way to a cottage in Øksfjord. Armed with skis and a large supply of beer they are ready for a weekend full of fun. Sara knows her way around the mountains very well and travels ahead of the group choosing a different route. But when the group still arrives ahead of her no one thinks anything of it. That soon changes however when their cottage gets surrounded by a battalion of frozen and bloodthirsty German zombie soldiers.
Dead Snow was filmed on location in Alta, the most populated municipality in Finnmark in Troms og Finnmark county. The other filming location was the municipality of Målselv, which is also part of Troms og Finnmark county. The film was nominated for, and won several national and international awards, and has grown quite the cult following since its release.
A sequel followed in 2014, which was filmed in Iceland instead.
Downsizing is an American science-fiction film directed by Alexander Payne and starring Matt Damon, Christoph Waltz, and Hong Chau.
In the movie, as a solution to overpopulation and climate change, Norwegian scientists are devising a way to shrink organic matter. For financial reasons, a lower-middle-class couple decides to try the experiment. Once shrunk, they can live a luxurious life with their savings in a reduced human world, where they waste less land and food and produce less waste.
Downsizing was filmed partly on location in Norway, at the Trollfjord located in Hadsel Municipality in Nordland county. Another arctic fjord that was used as a filming location is Tysfjorden also situated in Nordland county. Additional filming took place in and around Bergen, a city and municipality in Vestland county on the west coast of Norway. The city is historically known as Bjørgvin.
Cold Prey is a Norwegian horror slasher film directed by Roar Uthaug and starring Ingrid Bolsø Berdal, Rolf Kristian Larsen and Tomas Alf Larsen.
In this film, a group of five snowboarders are looking forward to a spectacular descent in the mountains of Norway. But when one of the friends breaks a leg while hiking to their destination the fun ends quickly.
Because their car is too far away to get back to and it starts getting dark they decide to break into an abandoned ski resort to find shelter for the night. Not the best of ideas, because unbeknownst to them a psychopath armed with a pickaxe lives in the basement of the building and he doesn't like strangers entering his home.
Cold Prey was filmed on location in Norway in very cold and harsh weather conditions, at the peak of Jotunheimen, a large mountainous area located in southern Norway which is part of the long-range known as the Scandinavian Mountains.
Filming took place in and around Leirvassbu, a staffed lodge with a hut of the Norwegian Trekking Association. The entire cast and crew also stayed there during the entire production and helicopters had to fly the 20 tons of equipment needed for filming to the top of the mountain.
The Wave is a Norwegian disaster film directed by Roar Uthaug and starring Kristoffer Joner, Ane Dahl Torp, and Eili Harboe. It was Norway's official submission for the Academy Award for Best Foreign Language Film at the 88th Academy Awards.
The premise for this film is that eighty years ago a number of villages in Norway were swept away by a huge tidal wave caused when a mountain wall collapsed. It caused a lot of damage and casualties in the fjords. When an experienced geologist realizes that a similar new disaster is inevitable, his worst nightmare comes true. With less than 10 minutes to respond, he will have to do everything he can to save as many people as possible.
The main filming location for The Wave was the Geiranger Fjord, located in the Sunnmøre region of Møre og Romsdal county, which is part of the Stranda Municipality. Another location that was used was the Havila Hotel Geiranger, situated in the center of Geiranger and directly adjacent to the fjord.
Trollhunter is a Norwegian dark fantasy film in the 'found footage' style, directed by André Øvredal and starring Otto Jespersen, Hans Morten Hansen, and Tomas Alf Larsen.
The movie is about three students that enter the Norwegian woods to film a documentary on a bear poacher. When they find their first body and the wounds do not make any sense, the poacher admits that he actually tracks and kills trolls for the Norwegian government.
Filming on Trollhunter took place in the forests and mountains of Western Norway, in places like Årdal, a municipality in Vestland county, Volda, a municipality in Møre og Romsdal county, and part of the Sunnmøre region, and Sogndal, a municipality located in Vestland county.
Fun fact: The final scene of the movie features a clip of former Norwegian Prime minister Jens Stoltenberg speaking about an oil field outside Norway called the Troll Field, which was edited in a clever way making it look like he is speaking about the existence of Trolls in Norway.
Mission: Impossible – Fallout is an American action film written, produced, and directed by Christopher McQuarrie and starring Tom Cruise, Henry Cavill, and Rebecca Ferguson. It is the sixth installment in the Mission: Impossible film series.
The movie is about Ethan Hunt (Cruise) and his IMF team, who must race against the clock after a mission went wrong. They are joined by Ilsa Faust and Julia Meade who help them complete their new mission. During their adventure, there is a constant threat of nuclear terrorism. In addition, Hunt is haunted by his past and the choices he made in his life. Then August Walker shows up, a new colleague with whom Hunt's team will have to work together.
The battle scene at the end of Mission: Impossible – Fallout between Hunt and villain John Lark was filmed on location at Preikestolen, a steep cliff which rises 1,982 ft above Lysefjorden, located near the Western part of the fjord, and on its Northside, in the municipality of Strand in Rogaland county.
The next installment in the Mission: Impossible series of films which is set to be released in 2023 was also partly filmed on location in Norway in places like the village of Hellesylt, the city of Åndalsnes and at The Troll Wall, so you can also expect it to feature on future movies set in Norway lists.
Tenet is a British / American science-fiction film written and directed by Christopher Nolan, and starring John David Washington, Robert Pattinson, and Elizabeth Debicki.
The movie is about a secret agent who is part of a team that must prevent a third world war. They must save the world from destruction by traveling through a twilight world of international espionage. An important part of the operation is the mysterious keyword Tenet.
A few scenes in Tenet were filmed on location in one of Oslo's most famous buildings: The Oslo Opera House, the home of the Norwegian National Opera and Ballet, and the national opera theatre in Norway. Or to be more precise, it was filmed on the roof of this building. Another famous building in Oslo that appears in the film is The Thief Hotel, which is located at Tjuvholmen near the Astrup Fearnley Museum.
Another location that was used is Olav Selvaag's place, a place in Oslo named after Olav Selvaag, a civil engineer and building contractor who has been of great importance for housing development in Oslo in the post-war period. Additional filming was done in the neighborhood Tjuvholmen in the borough Majorstuen. It is located on a peninsula sticking out from Aker Brygge into the Oslofjord.
We hope reading our article has inspired you to take a look at some of these movies set in Norway and enjoy these stunning Norwegian locations on your screen. And they are even better in person, so why not visit Norway, and enjoy its fjords, the capital Oslo, the Lofoten Islands, and all the other great places the country has to offer. And when you're there you just have to try Norway's famous salmon and heart-shaped waffles. See you there!