Kyoto, Japan's ancient capital, unveils a world where time yields to tradition. A city renowned for its stunning temples, tranquil gardens, and picturesque streets, it suspends you in a rhythm of contemplative beauty.
As you step into this enchanting time capsule, your choice of retreat significantly enriches your experience. The best hotels in Kyoto transcend the boundaries of exceptional service and luxury, unveiling a profound immersion into Japan's cultural and hospitable heart.
Envision a sanctuary radiating modern opulence amidst Kyoto's historic temple district. Here, an architectural tribute to Japanese aesthetics enfolds you, weaving stories from a tranquil 12th-century pond garden into your stay. Your room—a spacious haven adorned with state-of-the-art amenities—echoes Kyoto's timeless charm.
While you immerse yourself in the beauty and tranquility of this exquisite retreat, consider other fun things to do in Kyoto, such as exploring the iconic Fushimi Inari Shrine with its thousands of vibrant torii gates, indulging in traditional tea ceremonies, or taking a serene stroll through the Arashiyama Bamboo Grove.
Kyoto holds a wealth of cultural treasures and experiences, promising a journey that is both enriching and unforgettable.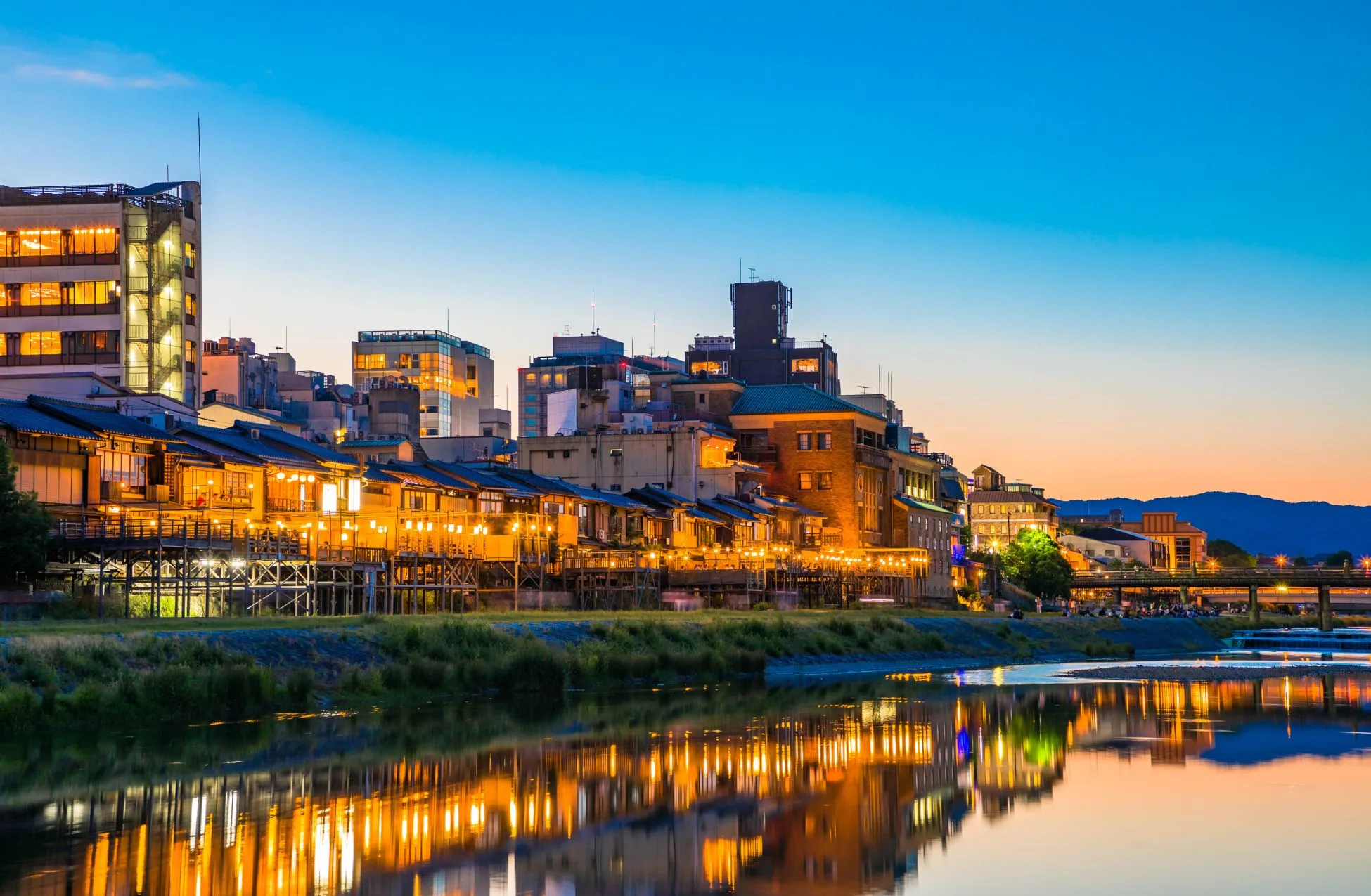 Additionally, don't miss our traveller's guide to the Kyoto Fox Shrine, where you can discover the intriguing history and fascinating folklore surrounding this unique and lesser-known gem of Kyoto's spiritual landscape.
In-house dining venues, home to revered culinary traditions, serve up authentic Kyoto flavors, all within the hotel's warm embrace.
Picture a remarkable hotel, where ryokan-inspired design unfurls as an exquisite masterpiece along the scenic Kamogawa River. Graceful architecture and serene surroundings harmoniously combine to curate an atmosphere of refined elegance.
Every detail—from the soothing simplicity of rooms to the art collection meticulously selected— breathes life into an unforgettable luxury experience.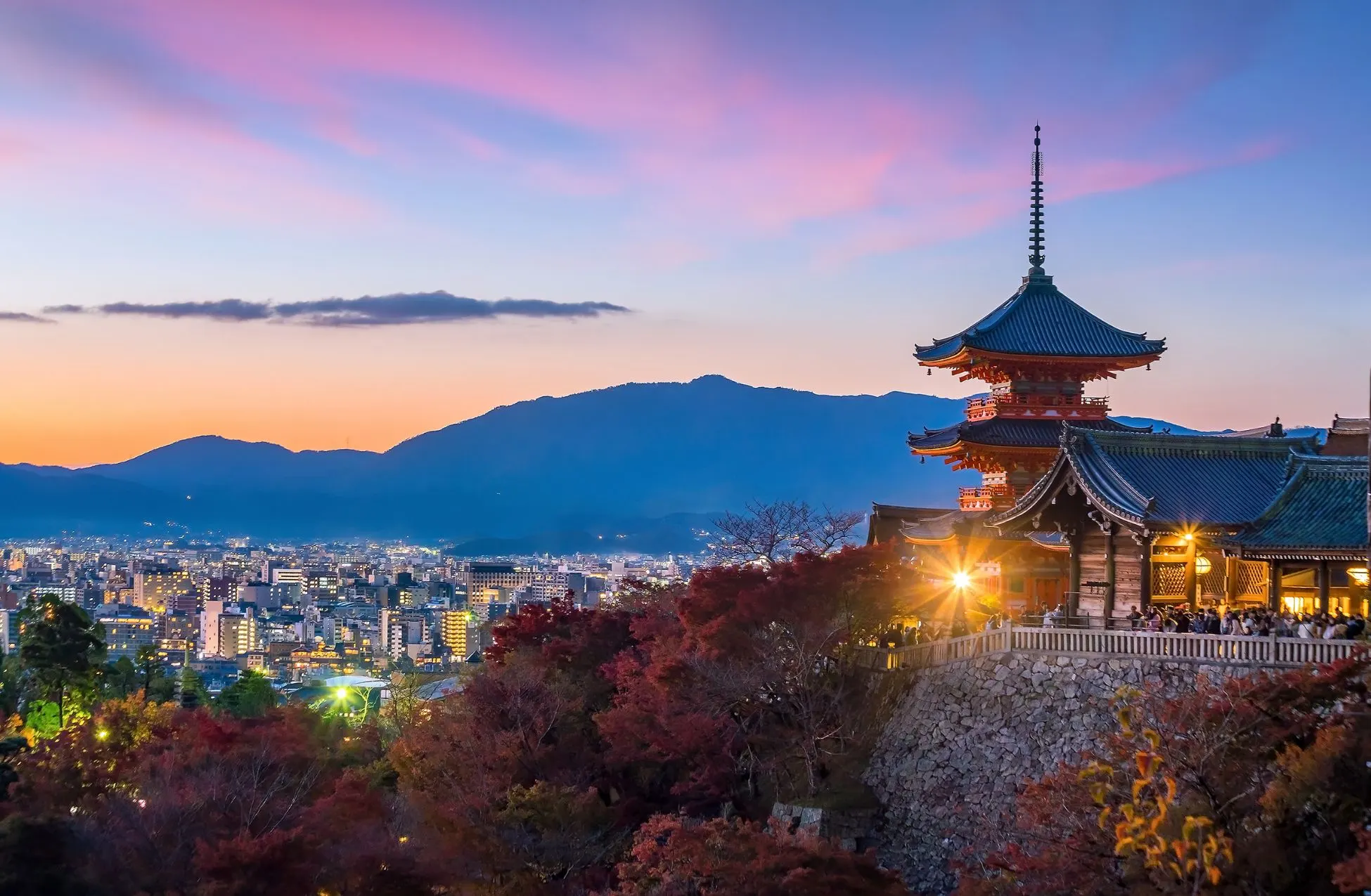 Now, imagine a quintessential ryokan, where the echoes of history dating back to 1818 invite you to explore Japanese culture and hospitality. Each room is a museum of its own, adorned with designs from the late Edo to Showa periods.
Here, multi-course feasts showcasing the finest seasonal local cuisine masterfully crafted by expert chefs, provide the perfect epilogue to your day.
Each of these extraordinary Kyoto hotels tailors a distinctive, enriching experience, leaving an indelible memory of your journey through this mesmerizing city. Whichever you choose, rest assured that an unforgettable getaway awaits you in the heart of Japan's most captivating destination.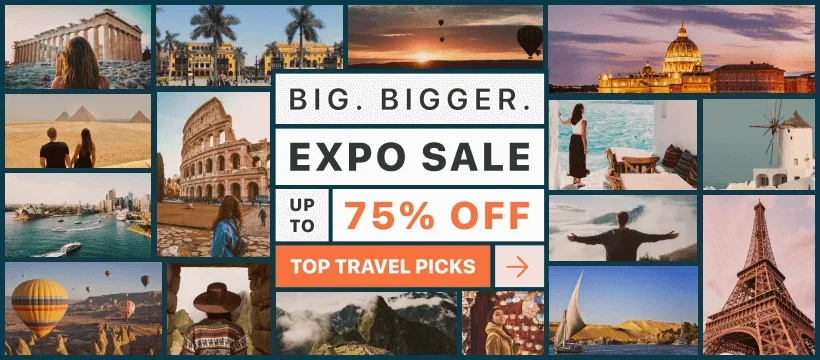 Luxury Hotels In Kyoto
Kyoto, the enchanting city of temples and gardens, boasts some truly exceptional luxury hotels that capture the essence of this historic destination. With their stunning designs, unparalleled service, and exquisite locations, these hotels ensure a memorable stay in the heart of Japan's cultural capital.
Let us take a journey through some of the finest luxury hotels Kyoto has to offer.
The Ritz-Carlton, Kyoto, nestled serenely along the enchanting Kamogawa River, presents an exquisite fusion of traditional elegance and modern sophistication. The hotel's architecture effortlessly blends with the surrounding neighborhood, paying homage to the city's rich cultural heritage.
Each sumptuous guest room provides a private haven adorned with delicate craftsmanship, evoking the essence of a Kyoto ryokan. A feast for all senses awaits at the hotel's refined culinary establishments, offering delectable Japanese and international flavors.
For an invigorating retreat, the serene spa facilities and indoor pool provide an ambience of tranquility and rejuvenation. The Ritz-Carlton's prime location also offers seamless access to the iconic attractions that grace this ancient city.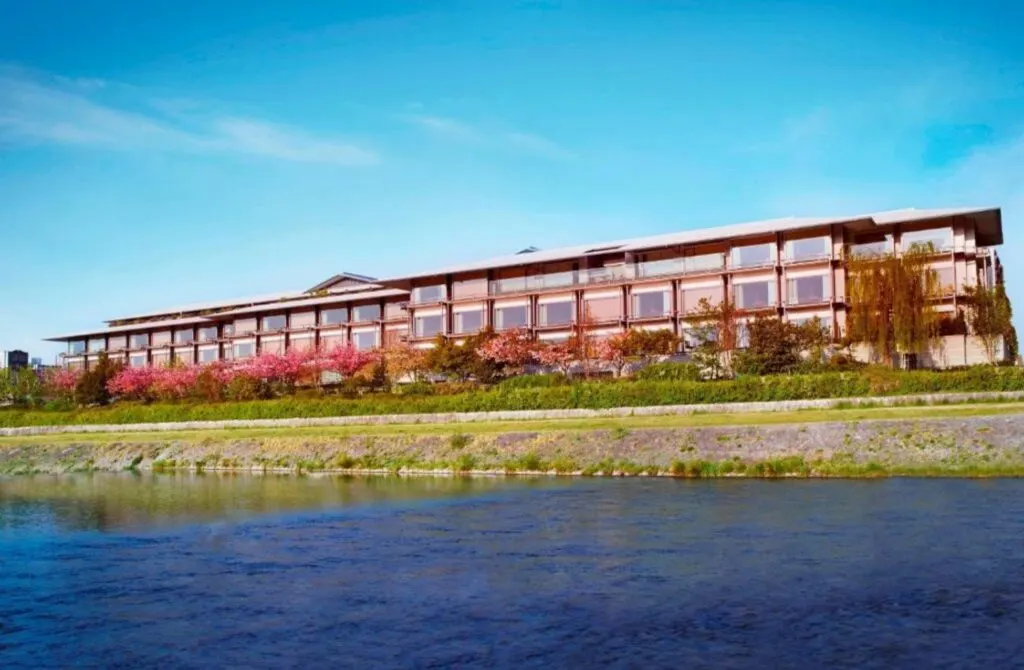 In the heart of Kyoto, just moments from Kyoto Station, the Four Seasons Hotel Kyoto delivers a sublime experience of modern luxury infused with traditional Japanese aesthetics. This architectural masterpiece, set amidst a breathtaking 800-year-old pond garden, transports guests to a realm of serenity and enchantment.
The hotel's meticulously designed rooms celebrate the beauty of Kyoto's heritage, featuring an exquisite blend of traditional and contemporary elements. Indulge in the tantalizing culinary delights at the vibrant on-site restaurants, showcasing authentic local and international cuisine.
To elevate your experience, pamper yourself with a soothing treatment at the hotel's luxurious spa, featuring hot springs and a vitality pool.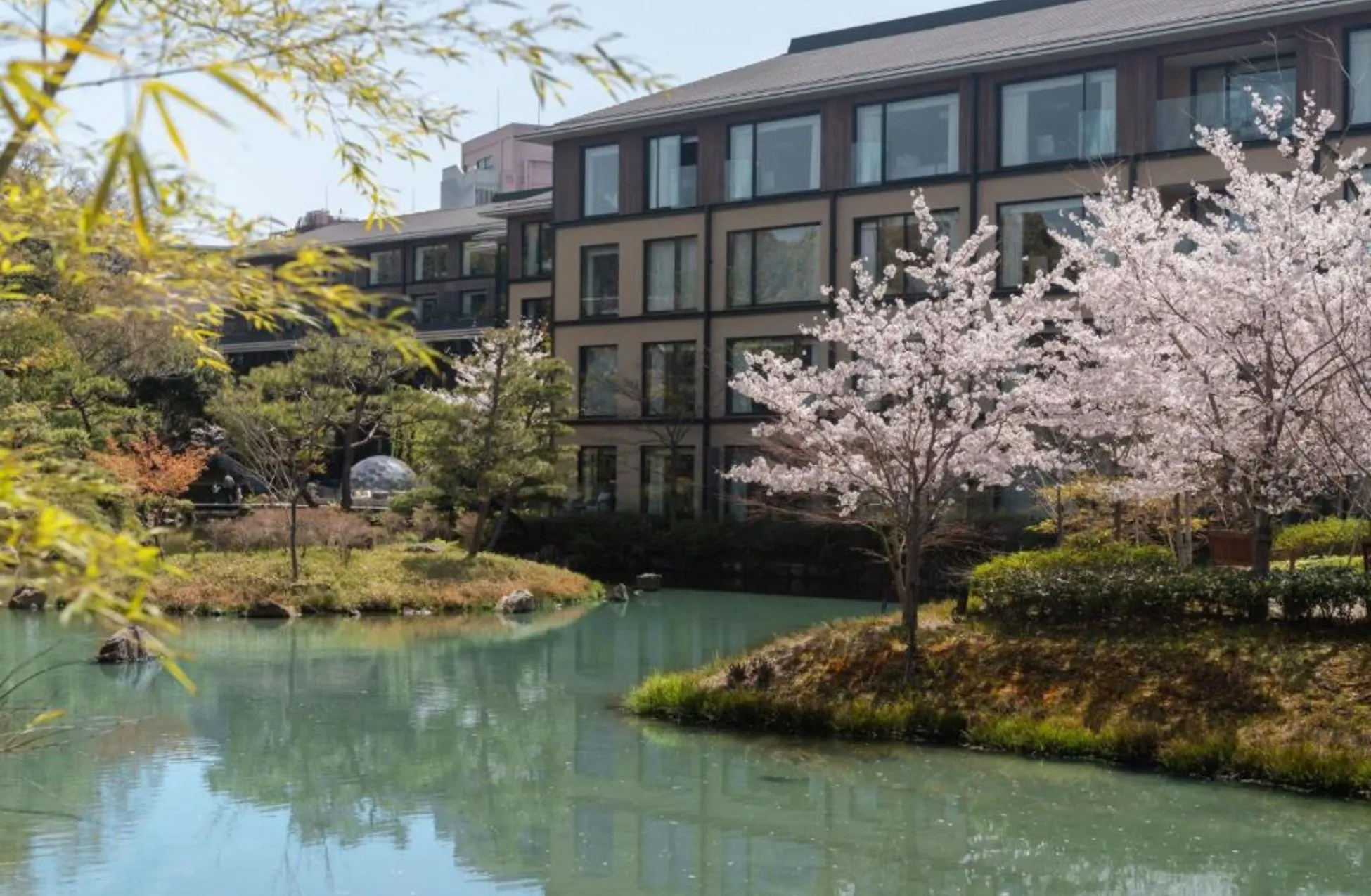 Located in the peaceful and picturesque northern Kyoto, Aman Kyoto is a sanctuary of tranquility that effortlessly combines the charm of a traditional Japanese ryokan with the contemporary elegance of a luxury hotel.
Designed by renowned architect Tadao Ando, the property is nestled within a secluded forest offering mesmerizing views of the verdant surroundings. The minimalist design of each suite allows the natural beauty of the landscape to take center stage, creating a harmonious balance between indoor and outdoor spaces.
Aman Kyoto's signature restaurant, offering exquisite seasonal cuisine, invites guests to savor the authentic flavors of Japanese gastronomy. The hotel's exceptional spa facilities promise unparalleled relaxation with a range of rejuvenating treatments inspired by traditional Japanese wellness rituals.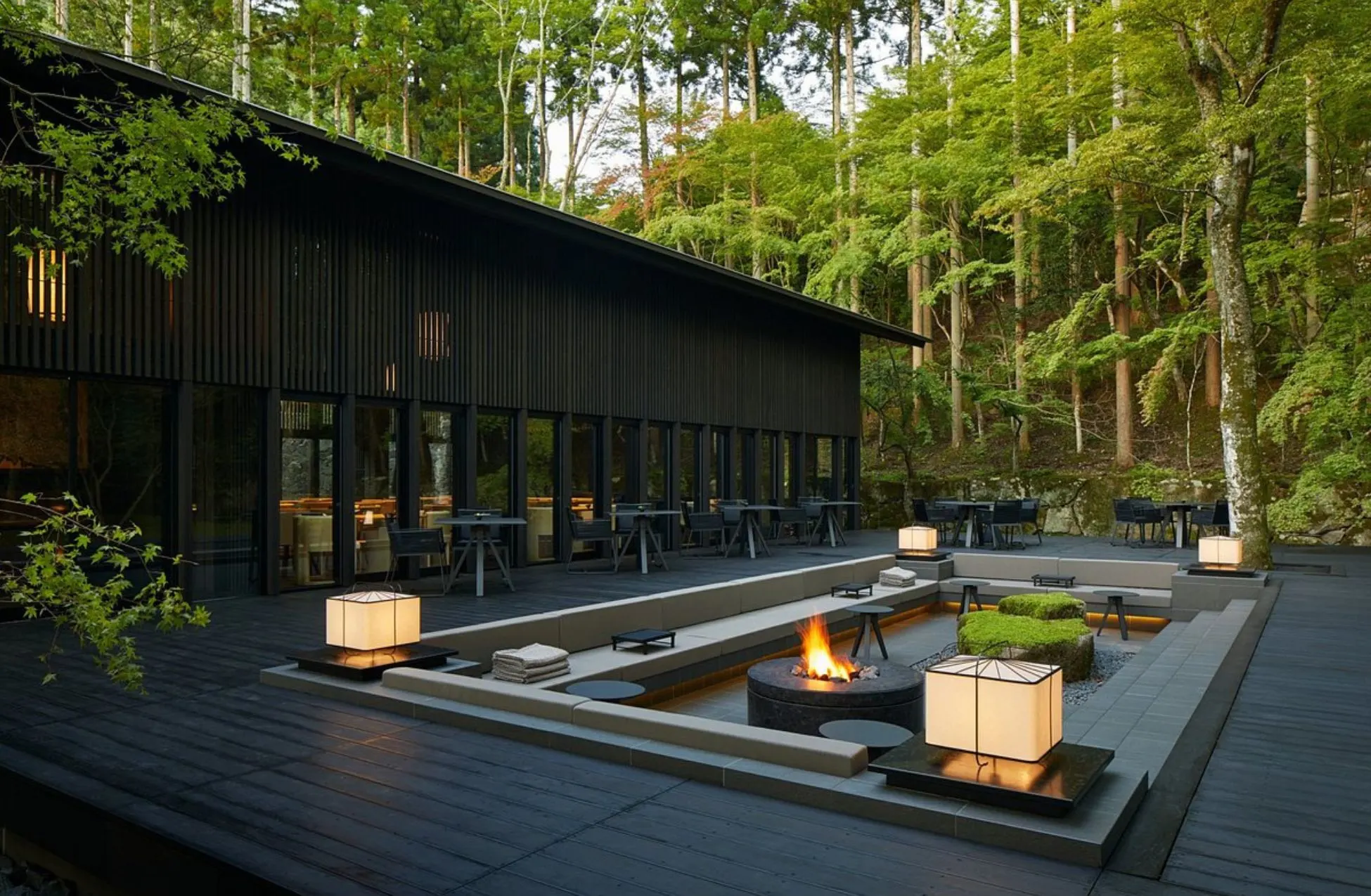 Hoshinoya Kyoto, perched on the serene banks of the Oi River, offers an idyllic retreat from the bustling city, accessible only by a traditional wooden boat. This enchanting hideaway embodies the elegance and charm of a classic ryokan, enveloped within the tranquil ambiance of a lavish riverside villa.
Each guest room reveals an intimate sanctuary, showcasing the delicate nuances of Japanese design with all the modern luxuries discerning travelers desire. The hotel's exclusive dining experience unfolds an exceptional culinary journey, featuring innovative Japanese cuisine crafted from the freshest seasonal ingredients.
Immerse yourself in ultimate relaxation at the Hoshinoya Kyoto's serene spa, which boasts a unique selection of personalized treatments designed to nurture the body and soul.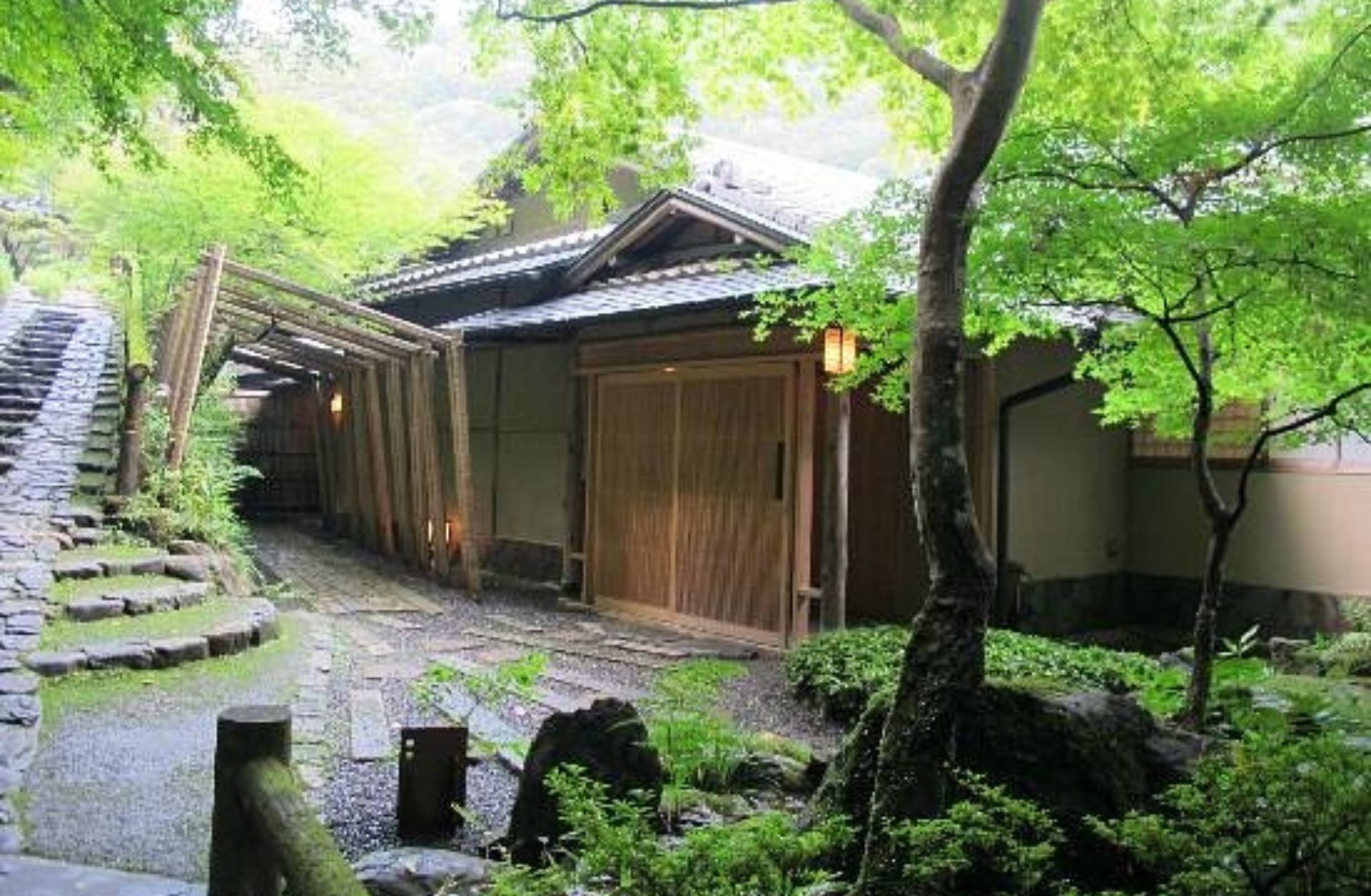 Each of these transcendent luxury hotels in Kyoto promises an unparalleled experience steeped in extraordinary grace and refinement, leaving an indelible memory of your time in this magical city.
Mid-Range Hotels In Kyoto

Kyoto, an enchanting and culturally rich city, offers a vast array of mid-range hotels for the discerning traveler. With a focus on comfort, style, and convenience, these hotels deliver an experience that will leave a lasting impression.
As you relax and plan on how to travel in Tokyo, consider staying in one of Kyoto's delightful mid-range hotels, which offer the perfect blend of affordability and luxury.
And when you venture to Tokyo, don't forget to try cute things to do in Tokyo Japan, from visiting whimsical animal cafes to exploring colorful neighborhoods like Harajuku and taking insta-worthy photos with adorable characters at kawaii-themed shops.
Both Kyoto and Tokyo promise a delightful journey through Japan's captivating culture and charming attractions.
Hotel The Celestine Kyoto Gion sits right in the heart of the vibrant Gion district. This exquisite hotel exudes an air of sophistication and charm, from its enchanting exterior to the tastefully decorated interior.
The Celestine is perfectly positioned for guests to explore the city's winding streets, discover the magic of traditional tea houses, and be captivated by the timeless beauty of geisha performances. It's just a short stroll away from the bustling areas of Kawaramachi and Pontocho, offering countless bars and restaurants for every taste.
Immerse yourself in the essence of Kyoto by staying at this exceptional hotel, rich with character and allure.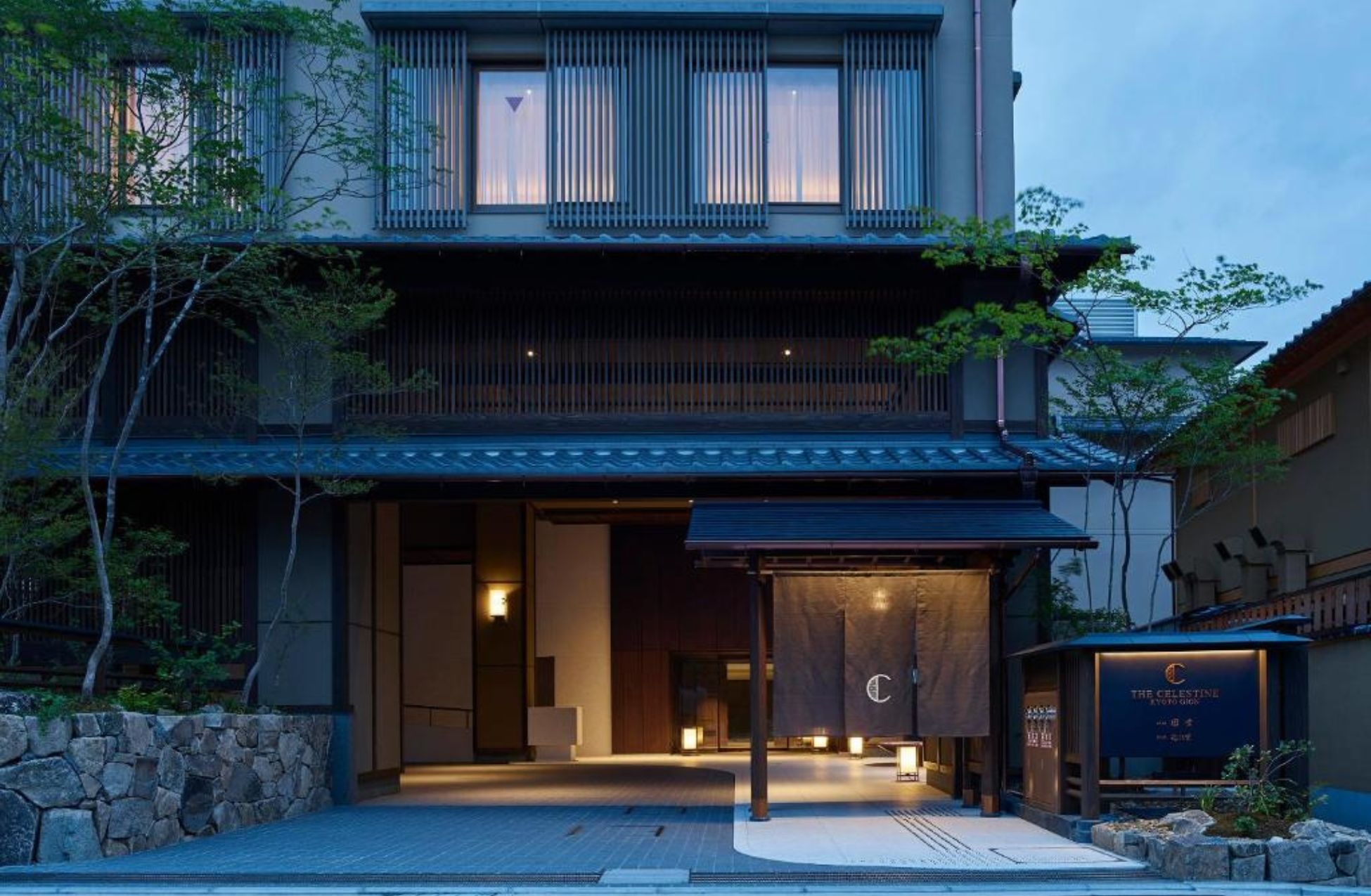 Cross Hotel Kyoto is another fantastic choice for travelers looking for modern elegance combined with exceptional service. Set in the dynamic heart of the city, this contemporary hotel offers close proximity to the main attractions and transport hubs, making it an ideal base to explore Kyoto's rich history and culture.
Guests can expect luxurious rooms with state-of-the-art amenities, ensuring the utmost comfort during their stay. With stylish design elements and a true appreciation for the city's spirit, Cross Hotel Kyoto promises an unforgettable stay for anyone visiting this captivating city.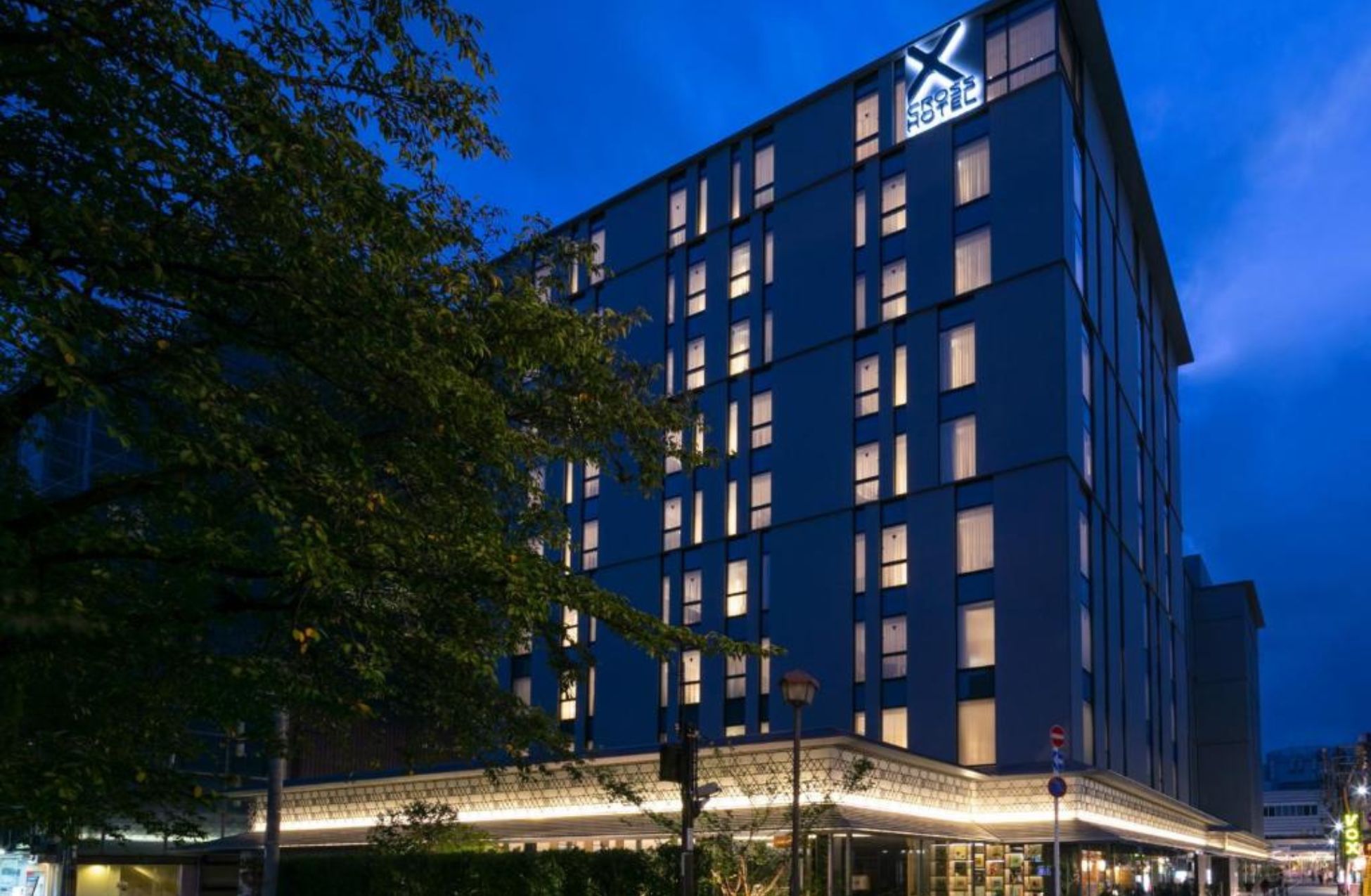 Hotel Granvia Kyoto, located within the awe-inspiring Kyoto Station Complex, delivers elegance, sophistication, and an unparalleled level of service. This architectural marvel boasts a striking blend of modernity and tradition, creating an atmosphere that is both welcoming and visually stunning.
Upon entering, guests are greeted with a splendid grand staircase, setting the stage for the sumptuous experience to follow. With its comprehensive range of facilities, fine dining options, and impeccable service, Hotel Granvia Kyoto reflects the city's reputation for excellence, and offers an outstanding mid-range hotel choice.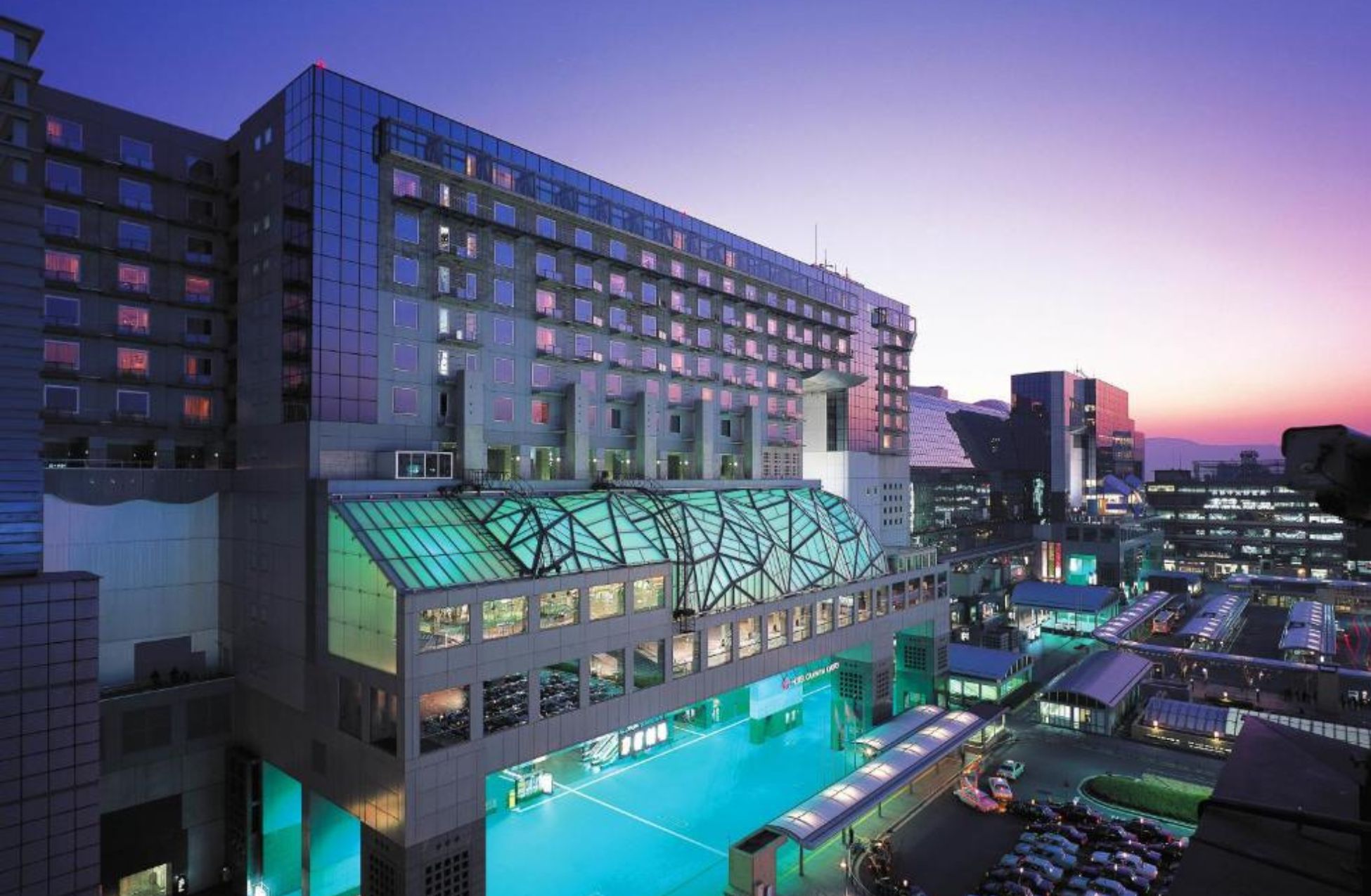 The Thousand Kyoto is a beautiful hotel that captures the essence of Japanese aesthetics in its elegant and refined design. With magnificent rooms designed to showcase the harmony between traditional and modern elements, guests are treated to a luxurious and soothing ambiance during their stay.
Located in the Shimogyo-ku district, this stunning property provides easy access to the city's most famous attractions. The attentive and warm staff at The Thousand Kyoto genuinely embody the spirit of omotenashi, ensuring guests experience the very best of Japanese hospitality.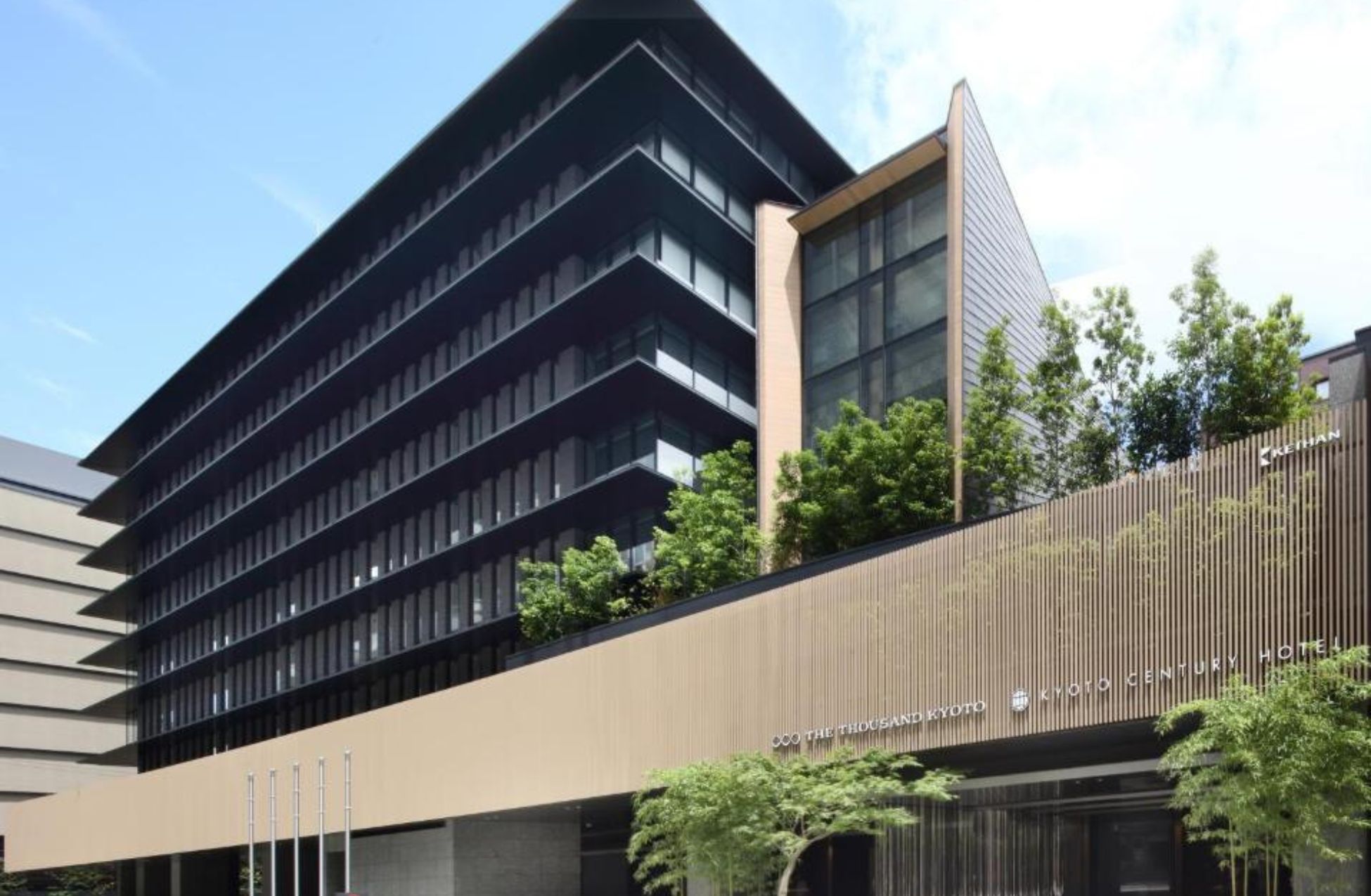 Whether you are a seasoned traveler or a first-time visitor to Kyoto, these mid-range hotels ensure an experience that is nothing short of exceptional.
With their prime locations, impeccable service, and tasteful designs, a stay at any of these fabulous establishments will undoubtedly enhance your journey and leave you longing to return to the enchanting city of Kyoto.
Boutique Hotels In Kyoto
Kyoto, the enchanting cultural capital of Japan, is home to a myriad of boutique hotels that offer a distinctive blend of traditional and modern luxury. Among them, a few stand out for their impeccable design, attention to detail, and incomparable location.
Sowaka, a beautifully restored traditional machiya tucked away in the historic Gion district, will transport you to a realm of unparalleled serenity. The moment you step into this luxurious haven, you'll be immersed in pure Japanese elegance.
The hotel's exquisite design weaves together modern amenities with traditional elements, such as tatami flooring and intricate wooden lattice windows, offering an authentic and unforgettable experience.
Guests can also indulge in world-class kaiseki cuisine at the on-site restaurant, La Bombance Gion, while marveling at the artistry and craftsmanship of kimono-clad maiko and geiko.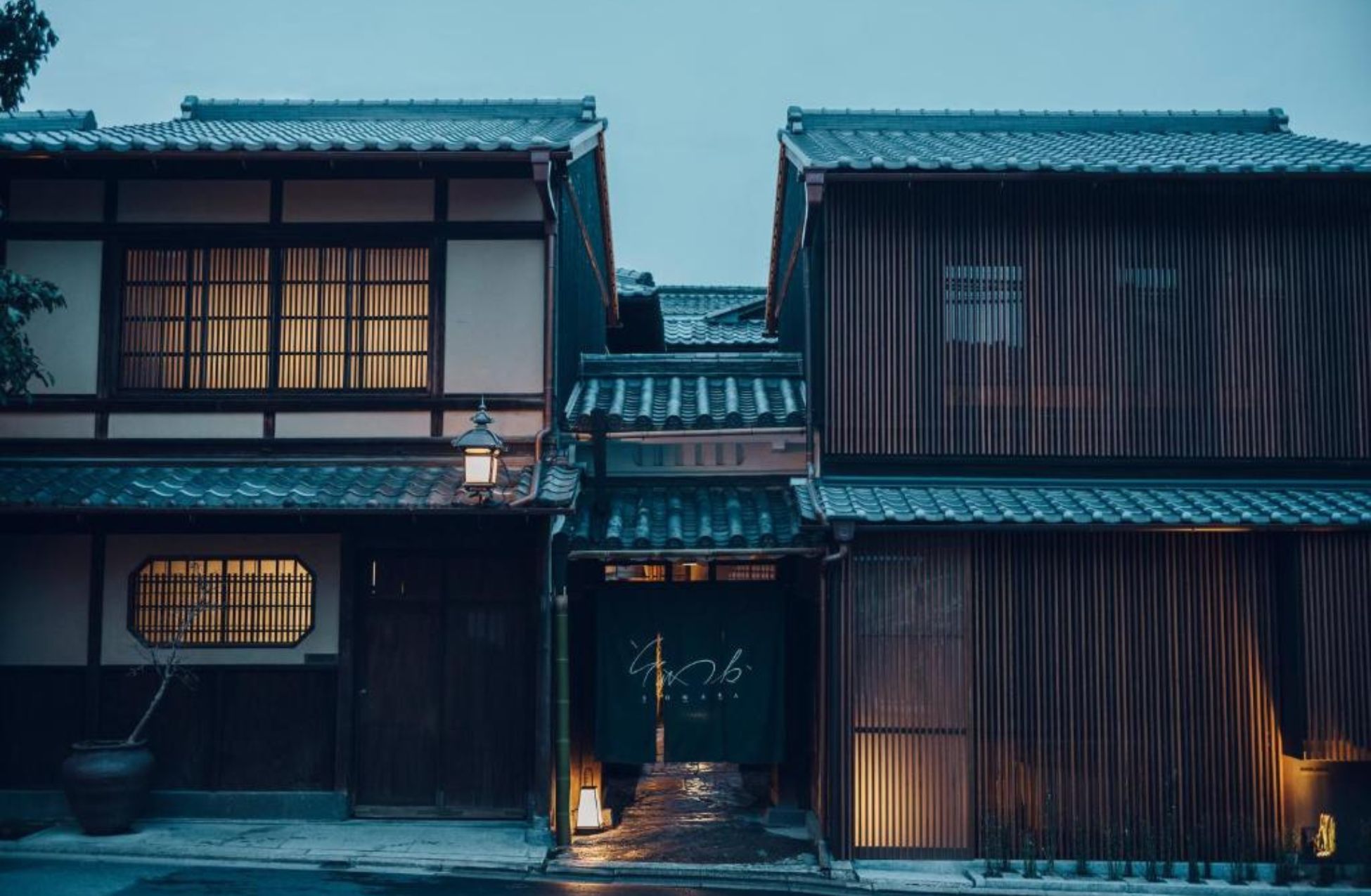 The Shinmonzen beckons the discerning traveler with its sumptuous blend of contemporary design and time-honored Japanese aesthetics. Situated in the heart of Kyoto, a stone's throw away from the Nishiki Market, this chic boutique hotel offers easy access to the city's vibrant culinary scene.
Encompassing a mere 22 pieces, the artfully crafted guest rooms boast exquisite materials such as gold leaf, handmade washi paper, and lustrous lacquerware. These elements are thoughtfully integrated into the rooms, creating a visual masterpiece that soothes and captivates the senses.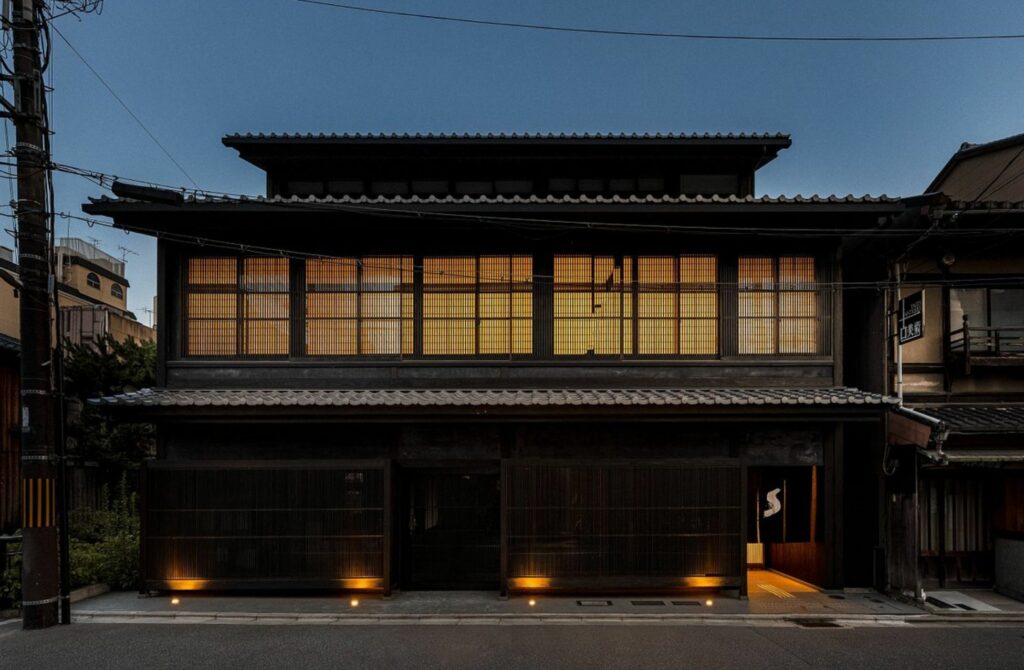 For those seeking a touch of urban sophistication, Solaria Nishitetsu Hotel Kyoto Premier is the perfect choice. Situated near the iconic Kamo River, this luxurious boutique hotel is a treasure trove for design enthusiasts.
The minimalist architecture is complemented by distinctive Japanese touches, such as a serene teahouse, rooftop terrace with breathtaking city views, and dedicated kimono showroom. Guests can also marvel at the Roku Kyoto—a cutting-edge installation that blends art and technology to create an interactive experience that aficionados will not forget.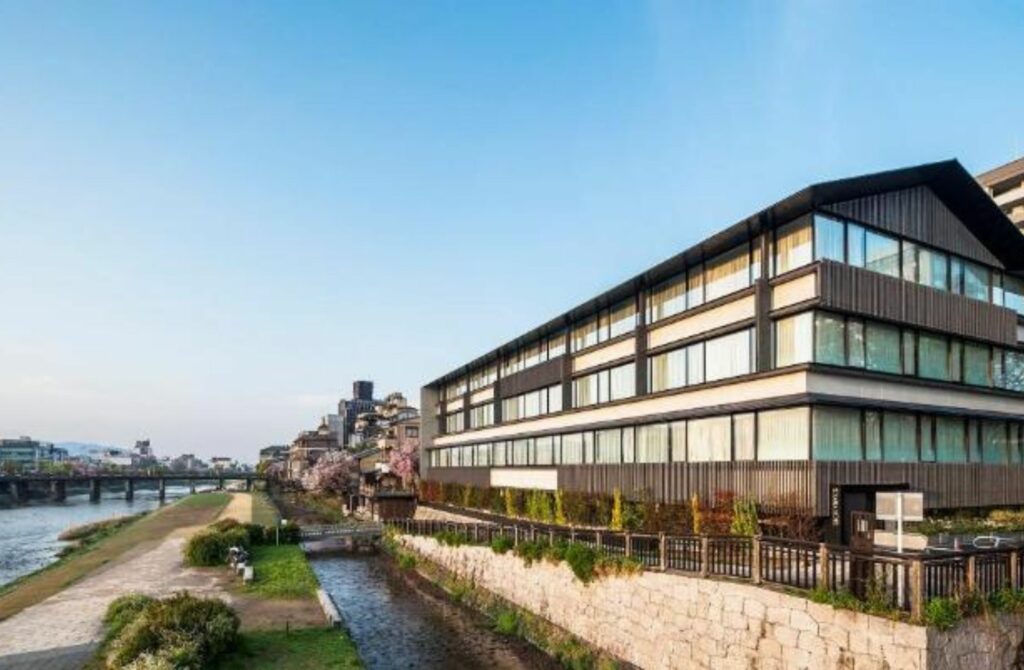 Enveloped in rich history and abounding with stunning design details, these Kyoto boutique hotels will undoubtedly leave an indelible impression on the most discerning traveler. Each of these properties exudes an aura of warmth, sophistication and exceptional service that is certain to make any stay in Kyoto truly unforgettable.
Budget Hotels In Kyoto
The mesmerizing allure of Kyoto captivates travelers, and finding the perfect place to stay can be delightful yet challenging. For those seeking exceptional value, comfortable accommodations, and an inspiring experience, look no further than these budget-friendly hotels in Kyoto.
Amber House is an exemplary fusion of tradition and modernity. Nestled in the heart of the city center, this charming abode welcomes guests with its signature warm amber glow. Inside, a harmonious balance of Japanese and Western design elements provides a serene and rejuvenating atmosphere.
You'll stay connected and up to speed with the free Wi-Fi, ensuring your journey in Kyoto is perfectly chronicled and shared. Step outside and find yourself immersed in the enchanting culture and history of Japan's ancient capital; Amber House is an ideal retreat that will leave you breathless and longing to return.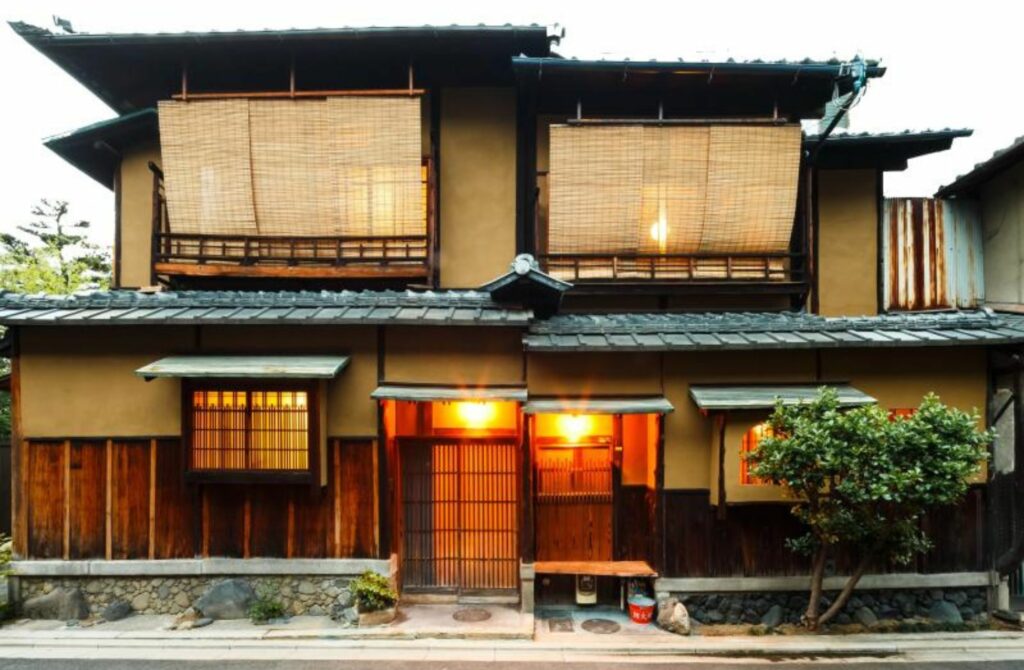 Indigo House offers the ultimate getaway for the artistically inclined and unconventional wanderer. With its chic, avant-garde design and sophisticated interior, Indigo House promises a unique experience unlike any other. Delight in the bold color palettes and inviting spaces that playfully showcase the artistic prowess of Kyoto's creative community.
Complete with free Wi-Fi and thoughtfully curated amenities, Indigo House artfully blends elegance and functionality, while its central location ensures that you're always at the heart of this vibrant city's dynamic pulse.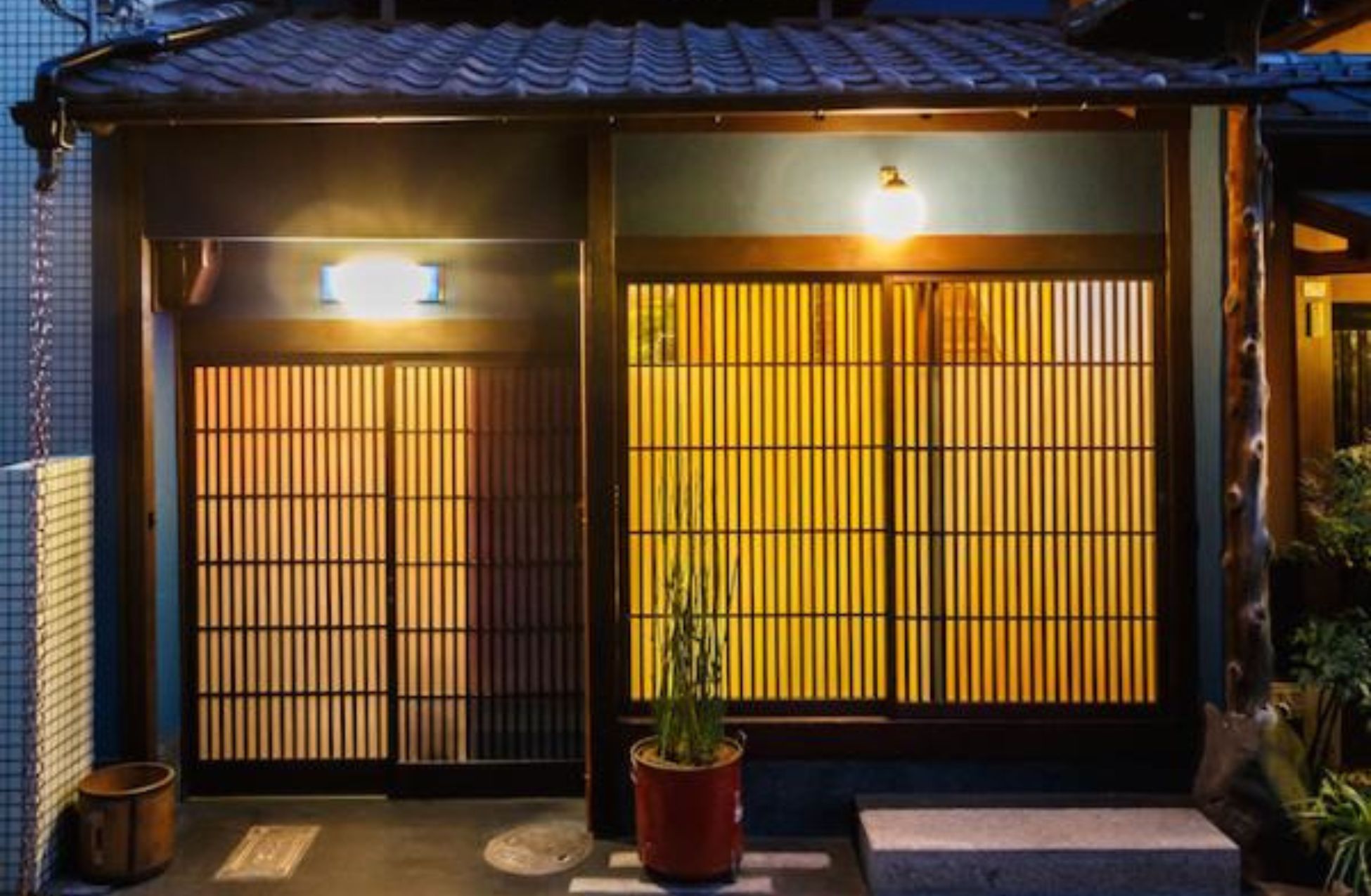 In Kyoto's famed Gion district, Gion House welcomes guests to experience the very essence of classic Japan. This quaint haven of tranquility and understated luxury captures the charm and allure of the bygone era.
Traditional wooden architecture with stunning attention to detail and authentic tatami flooring is complemented by modern comforts and conveniences, such as free Wi-Fi. You will feel like a true denizen of Kyoto, strolling in the picturesque surroundings, and interacting with the city's rich cultural heritage.
Gion House defines the epitome of budget accommodation in Kyoto while offering a once-in-a-lifetime experience of stepping back in time.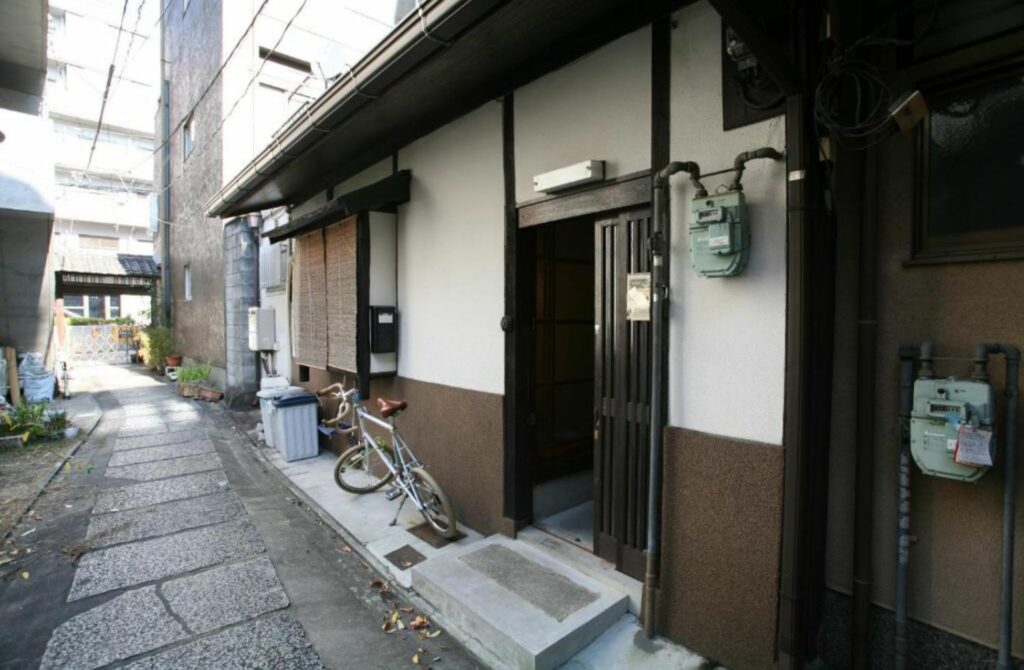 Each of these superb budget hotels in Kyoto allows you to experience the city's allure at an affordable price. Unparalleled in their design, amenities, and dedication to excellence, these establishments invite you to embark on a thrilling journey through Japan's ancient capital.
With so much to offer, one might think they are only dreaming, but rest assured—these enchanting budget havens await your arrival!
Hotels With A View In Kyoto
Nestled amidst the picturesque scenery of ancient Kyoto, several hotels offer not only top-notch accommodation but also an inspiring view of the city's most iconic landmarks. These establishments combine the grace of Japan's rich cultural heritage with the breathtaking vistas surrounding them. So, let's explore some of the most stunning hotels with a view in Kyoto.
Eco And Tec Kyoto, a family-favorite hotel boasting balconies that overlook the city, provides the perfect spot for families to enjoy Kyoto's unique atmosphere. The hotel's design seamlessly integrates the rich Japanese aesthetics with contemporary living, making it truly one-of-a-kind.
Situated in proximity to Kyoto's top sightseeing spots, guests can easily explore renowned places such as the Golden Pavilion and the majestic mountain views on offer. Being a stone's throw away from an onsen, families can indulge in the therapeutic benefits of traditional Japanese hot springs while admiring the intricate beauty of Kyoto's landscape.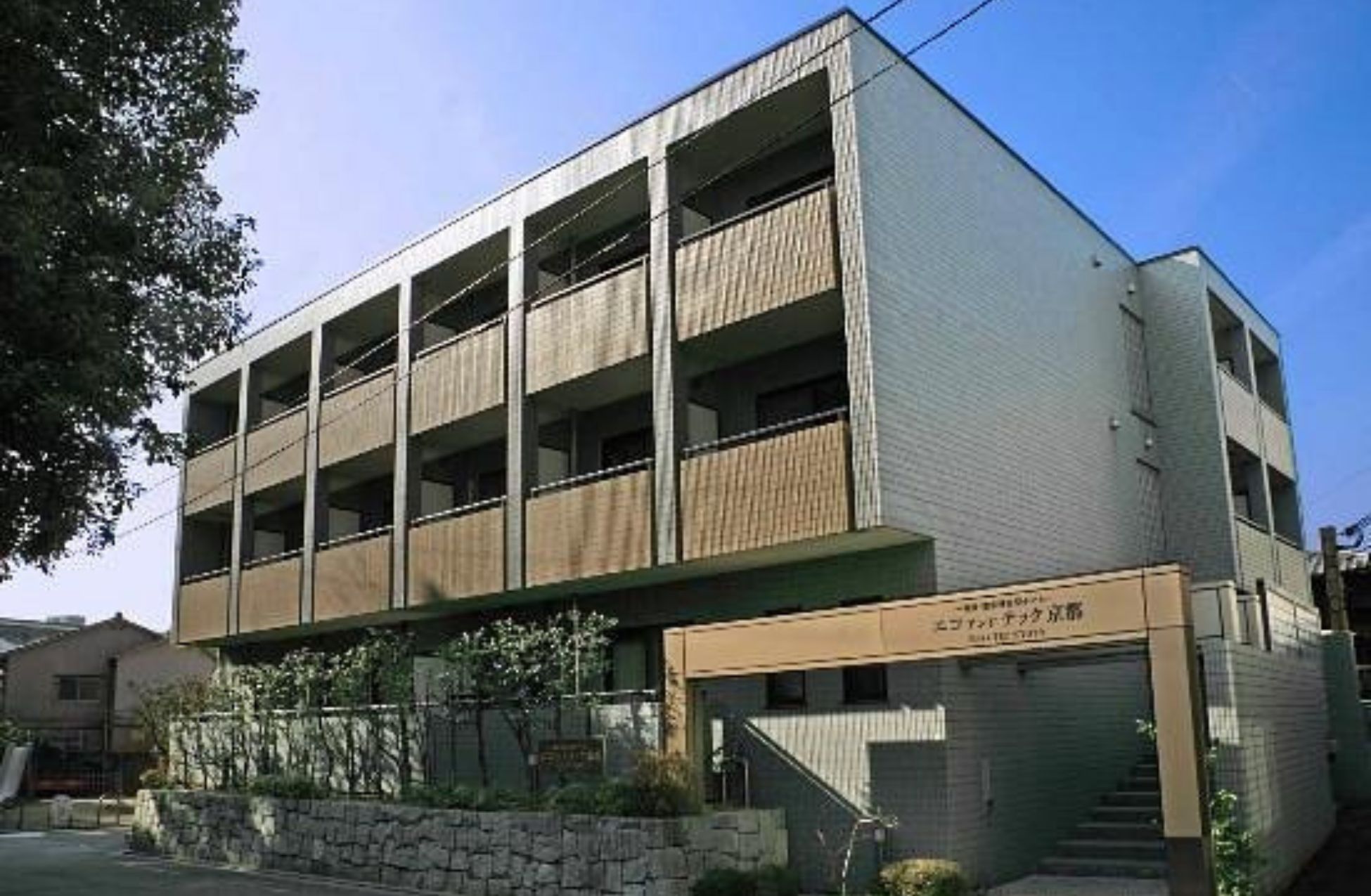 Tomoya Residence Hotel Kyoto Nijo Takakura, a five-star boutique hotel, offers an unmatched blend of luxurious accommodation and breathtaking views. The hotel's architecture harmoniously blends with the surrounding scenery, providing a sanctuary for those seeking a peaceful retreat.
As you wake up in the morning, the view from your window will leave you in awe, inspiring you to explore the city's timeless beauty further. Delight in a sumptuous dinner at the hotel's kaiseki restaurant, where the intricacies of Japanese cuisine come to life.
And with the bustling geisha district nearby, immerse yourself in a world of vibrant colors and enchanting performances to fully appreciate the cultural richness of Kyoto.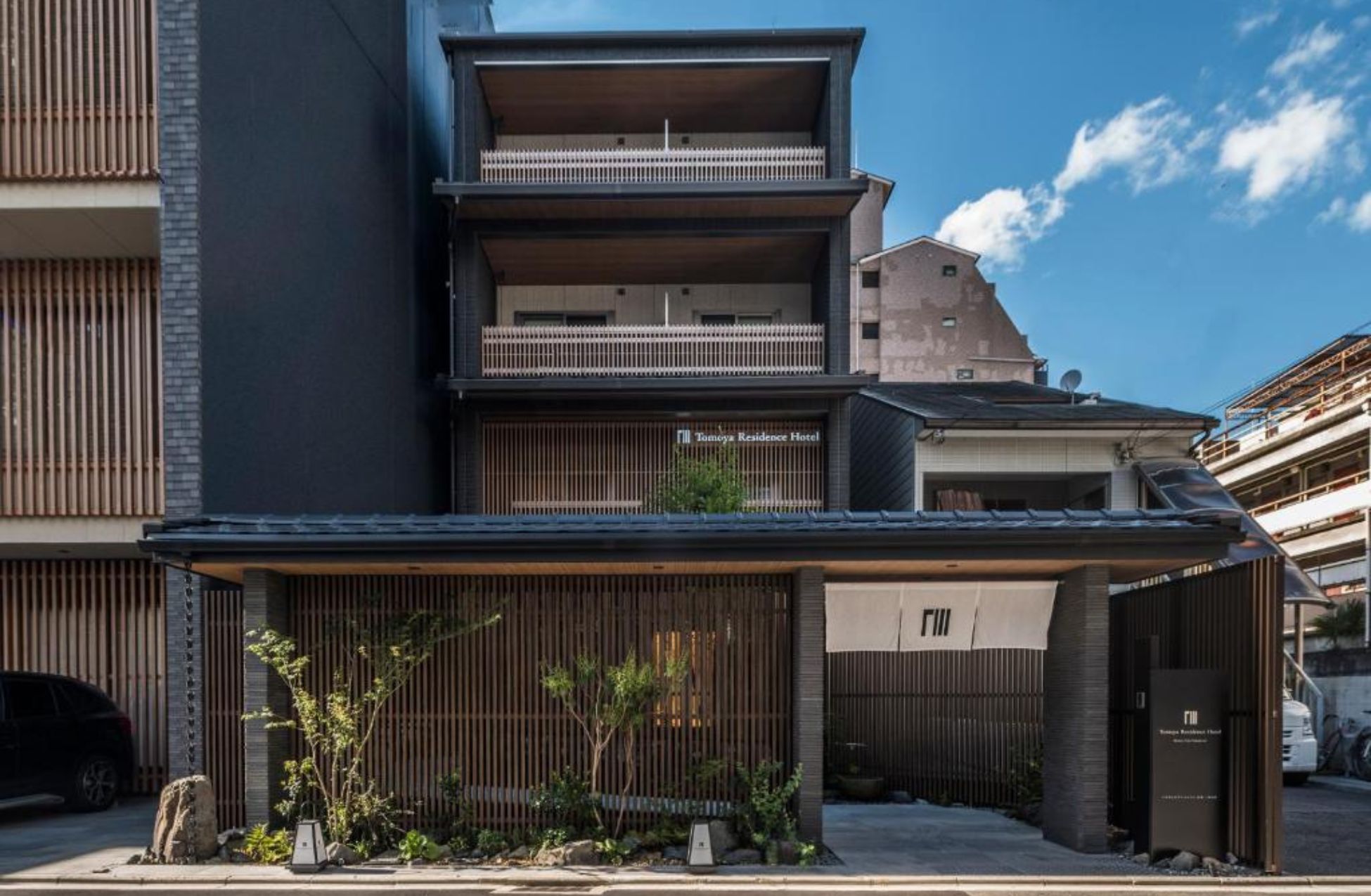 When it comes to the best hotels with a view in Kyoto, the choices are endless. From majestic mountain landscapes to the serenity of the city's sacred temples and shrines, these hotels offer a truly unforgettable experience.
With exceptional hospitality, world-class amenities, and a taste of Kyoto's distinctive culture woven into every aspect, you'll be left with memories to cherish for a lifetime. Book one of these incredible hotels today, and prepared to be captivated by the allure of Kyoto's breathtaking views.