Embarking on a journey to Lexington, Kentucky means diving deep into a unique blend of Southern charm and modern vibrancy. The best hotels in Lexington not only offer comfort after a day's exploration but also seamlessly meld with the city's rich culture and history.
Nestled amidst the famed bluegrass region, Lexington is often celebrated as the "Horse Capital of the World." As you stroll through the city streets, the scent of fresh hay might waft through, a reminder of the horse farms that dot the outskirts.
Meanwhile, the rhythmic beats of bluegrass music draw you into local bars, where stories of the past intermingle with the hopes of the present.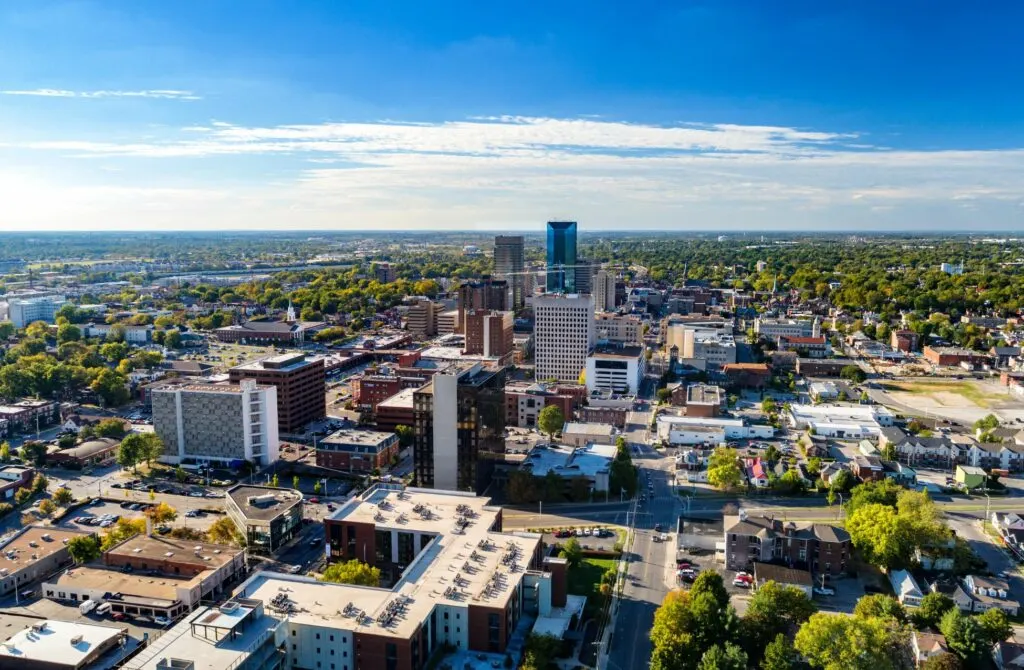 But Lexington isn't just about horses and music. Its downtown teems with art galleries, theaters, and boutique shops, offering a taste of contemporary life infused with tradition. Food enthusiasts revel in the city's culinary delights, from gourmet Southern classics to innovative global fusion.
Additionally, the allure of UNESCO world heritage sites in the USA adds to Lexington's multifaceted charm.
However, the success of your Lexington experience hinges on choosing the right accommodation. Your temporary abode should be a sanctuary, reflecting the city's essence while catering to your comfort and needs.
Whether you're drawn to a place that evokes the grandeur of old Southern mansions or a sleek, modern retreat, discovering the right fit can elevate your stay from ordinary to extraordinary.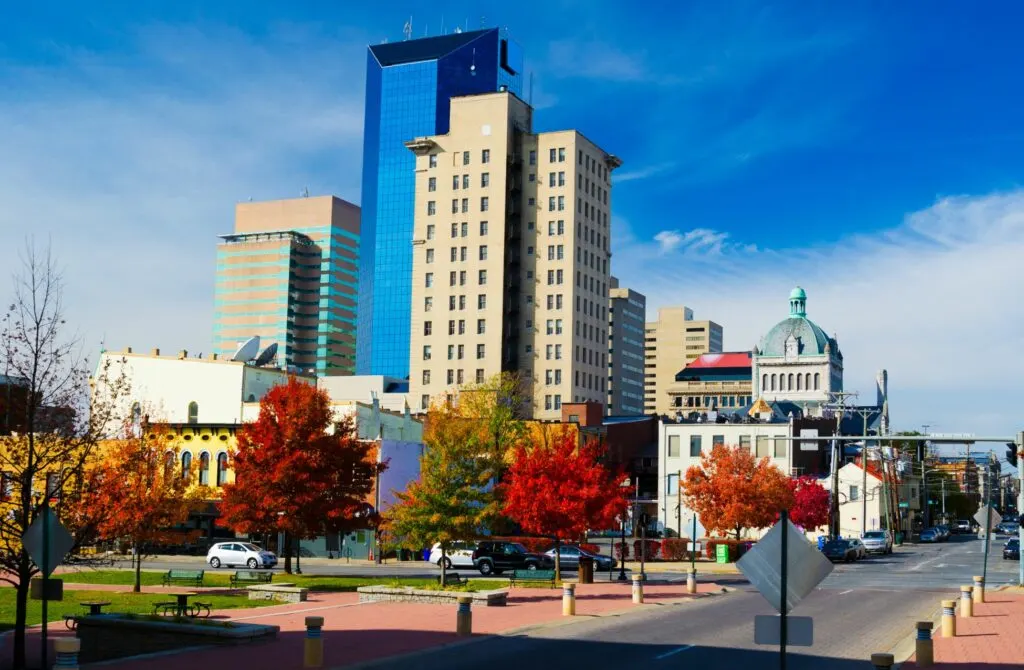 The right hotel doesn't just offer a bed; it offers an experience. It serves as both a refuge from the hustle and bustle and a gateway to the city's wonders. And in a city as multifaceted as Lexington, ensuring that your accommodation aligns with your vision of the perfect trip is paramount.
In Lexington, the promise of adventure awaits at every corner. Our guide on USA tours for unforgettable adventures can further enhance your journey, and with the right choice in accommodation, you'll be perfectly poised to embrace all that this enchanting city has to offer.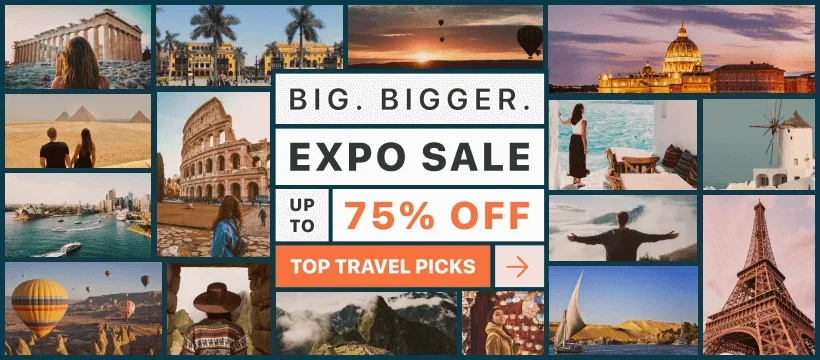 Luxury Hotels In Lexington
Lexington, Kentucky, offers a variety of upscale accommodation options for travelers who appreciate top-notch amenities and service. In this section, we will delve into four exquisite luxury hotels that promise an unforgettable stay. Each of these hotels is stunningly designed and delivers exceptional service, making them perfect choices for your Lexington adventure.
21c Museum Hotel Lexington is a unique and sophisticated property that art enthusiasts are sure to enjoy. This boutique hotel features a contemporary art museum on its premises, adding a touch of elegance and excitement to your stay.
Located in the heart of downtown Lexington, you're just steps away from the vibrant city center, where you can explore amazing sights and experiences in the heart of the Bluegrass State. The hotel offers a range of top-notch facilities, such as a fitness center and a specially curated art collection that creates a sophisticated atmosphere.
Your comfortable guest rooms include plush bedding and high-quality amenities to ensure a truly delightful stay.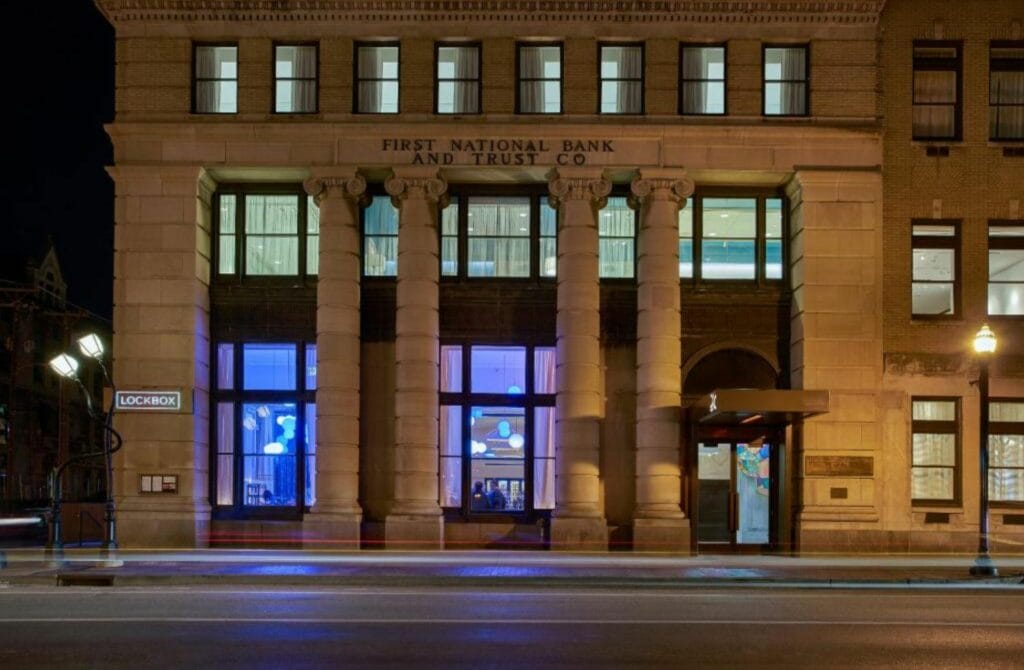 Hilton Lexington Downtown is another fantastic option for those seeking luxury in the heart of the city. This Hilton property boasts an unbeatable location near the Lexington Convention Center and Rupp Arena, which makes it perfect for both leisure and business travelers.
The hotel also offers a fitness center and an indoor pool, providing you with ample opportunities for exercise and relaxation. As you step into your stylish and well-appointed room, you'll immediately feel at home with features like cozy bedding, modern furniture, and thoughtful amenities.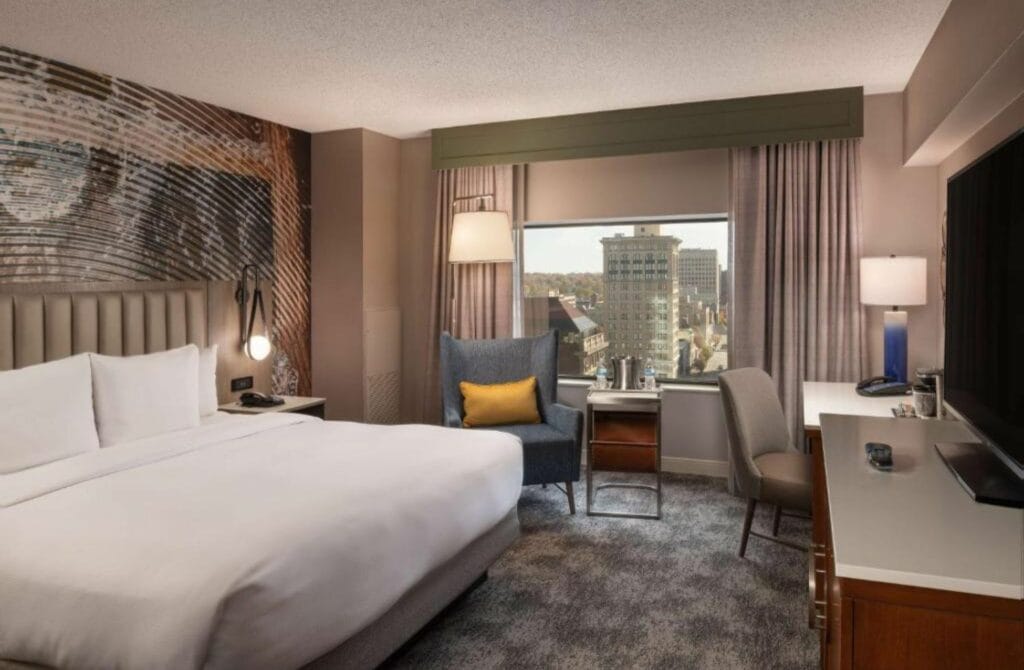 The Origin Hotel Lexington is a trendy and chic property that is perfect for visitors seeking a more intimate, boutique experience. With its stylish rooms and luxurious linens, the hotel offers an outstanding level of comfort and sophistication.
Nestled in the heart of the city's premium racehorse and bourbon scenes, you'll be ideally situated to explore the thriving local culture. The hotel's commitment to exceptional service and facilities, such as its fitness center, ensure that you'll have an unforgettable stay.
Finally, The Campbell House Lexington, Curio Collection By Hilton brings a unique blend of Southern charm and modern luxury to the table. This iconic Lexington establishment has been meticulously renovated and updated to ensure that you can enjoy the best of both worlds.
As you meander through the property's lush gardens and stunning event spaces, you may find yourself feeling transported back in time. The guest rooms at The Campbell House are stylishly decorated and equipped with all the comforts a discerning traveler could want, including high-quality linens and designer toiletries.
The hotel is located a short distance from downtown Lexington, allowing you to indulge in the city center's vibrant atmosphere while still enjoying a tranquil retreat.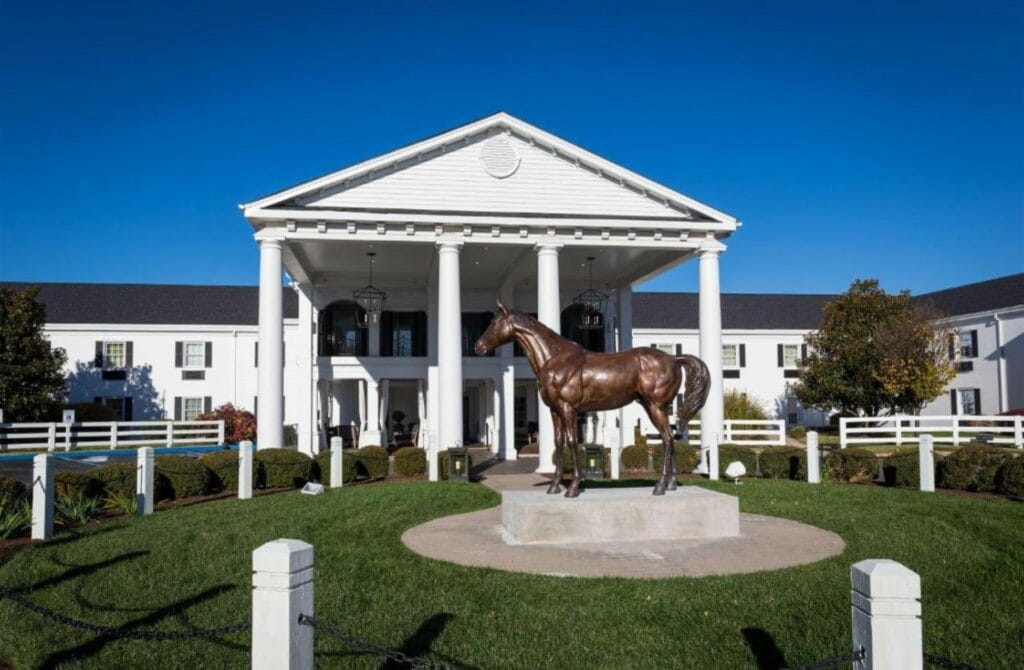 Each of these four luxury hotels in Lexington, Kentucky, offers an unparalleled experience that promises to make your visit memorable. With their prime locations, exceptional amenities, and excellent service, you can't go wrong with any of these remarkable options as your home away from home.
Boutique Hotel In Lexington
The Sire Hotel is a charming boutique hotel that captures the essence of Lexington's rich history while offering you a luxurious and unforgettable experience. Located in the heart of downtown, this hotel is the perfect place to immerse yourself in Kentucky's vibrant culture.
As you step into the elegantly designed lobby, you'll be greeted by warm and friendly staff who are eager to cater to your every need. The hotel's comfortable rooms provide a perfect blend of modern amenities and historic charm, ensuring a relaxing haven to return to at the end of the day.
Just a few steps away, you'll find some of Lexington's most popular restaurants and bars, providing plenty of options for dining and entertainment.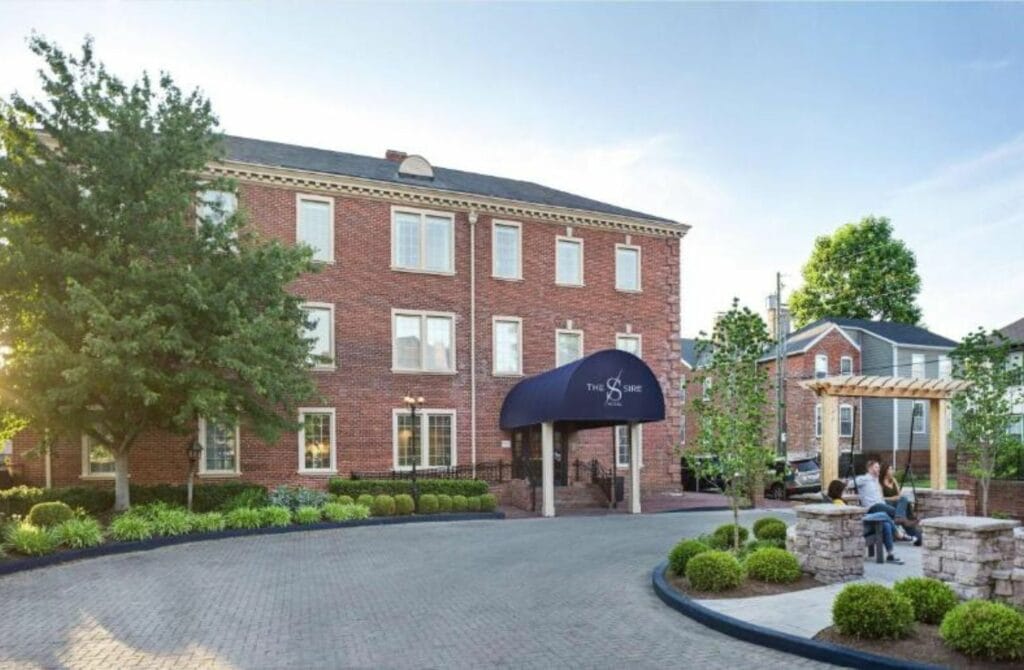 So, during your visit to Lexington, this exquisite boutique hotel as your perfect home away from home, immersing yourself in the city's charm and vibrant atmosphere while enjoying the finest accommodation Kentucky has to offer.
Mid-Range Hotels In Lexington
When visiting Lexington, you will be delighted to find an array of exceptional mid-range hotels that provide a fantastic balance of luxury and affordability. Here are some top choices for your stay in Lexington, all of which offer unique amenities, prime locations, and warm hospitality.
Doubletree Suites By Hilton Hotel Lexington welcomes you with a charming blend of Southern hospitality and modern elegance. Located near the University of Kentucky, this hotel boasts spacious suites adorned with classic furnishings, all designed for your comfort.
Indulge in the delightful dining options on-site, enjoy complimentary Wi-Fi, and experience a warm chocolate chip cookie upon arrival – a signature touch that truly feels like home.
Furthermore, this location has a unique appeal, making it intriguing for enthusiasts of cinema. Its picturesque surroundings and well-appointed interiors have qualities reminiscent of settings often seen in movies set in the US, adding an extra layer of fascination to its identity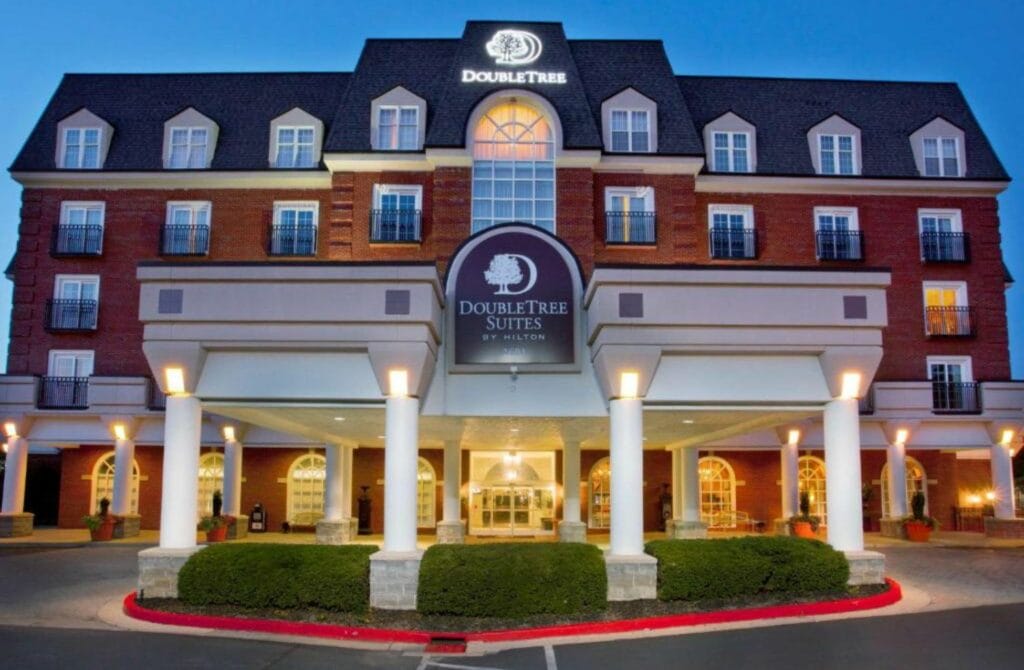 Hampton Inn Lexington Medical Center is nestled in a premier location close to the University of Kentucky and bustling downtown area. This delightful hotel caters to both leisure and business travelers, offering state-of-the-art facilities such as a fitness center and versatile meeting spaces.
The complimentary hot breakfast is a great way to start your day, while the convenient access to various medical facilities in the area makes this the ideal choice for those in town for appointments or visiting loved ones.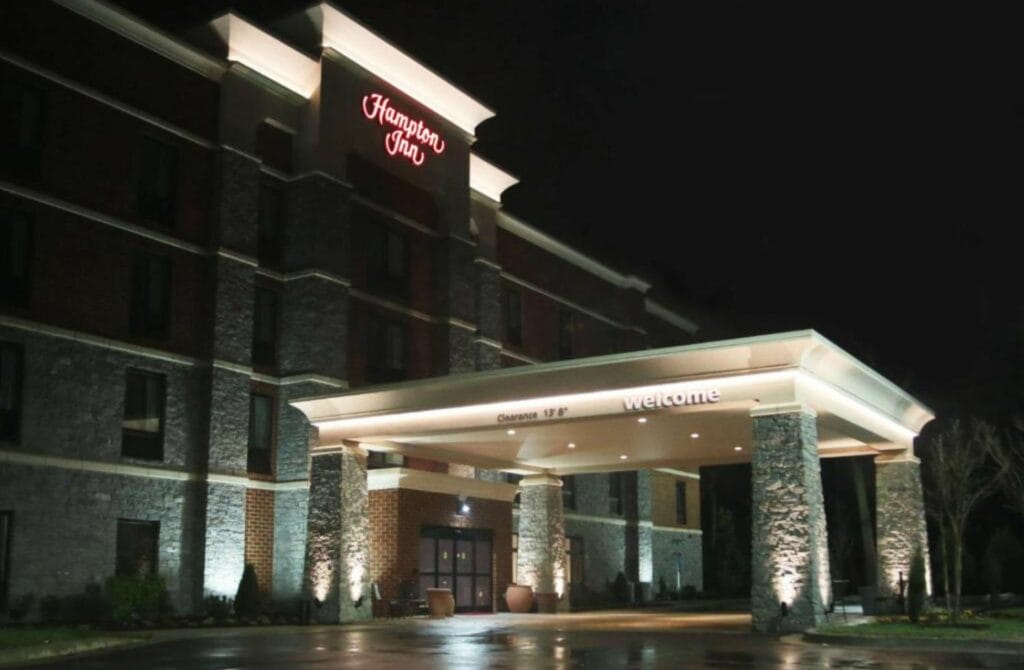 Immerse yourself in Lexington's vibrant cityscape with a stay at Hyatt Place Lexington. This contemporary hotel boasts distinctive façades and chic interiors reflecting the city's rich history and culture. Enjoy the complimentary airport shuttle services, taking you to the hotel in style, while free Wi-Fi keeps you connected during your stay.
Luxurious rooms with plush bedding and a 24/7 Gallery Menu ensure your stay is as pleasurable as possible, giving you plenty of reasons to return to this Hampton Inn.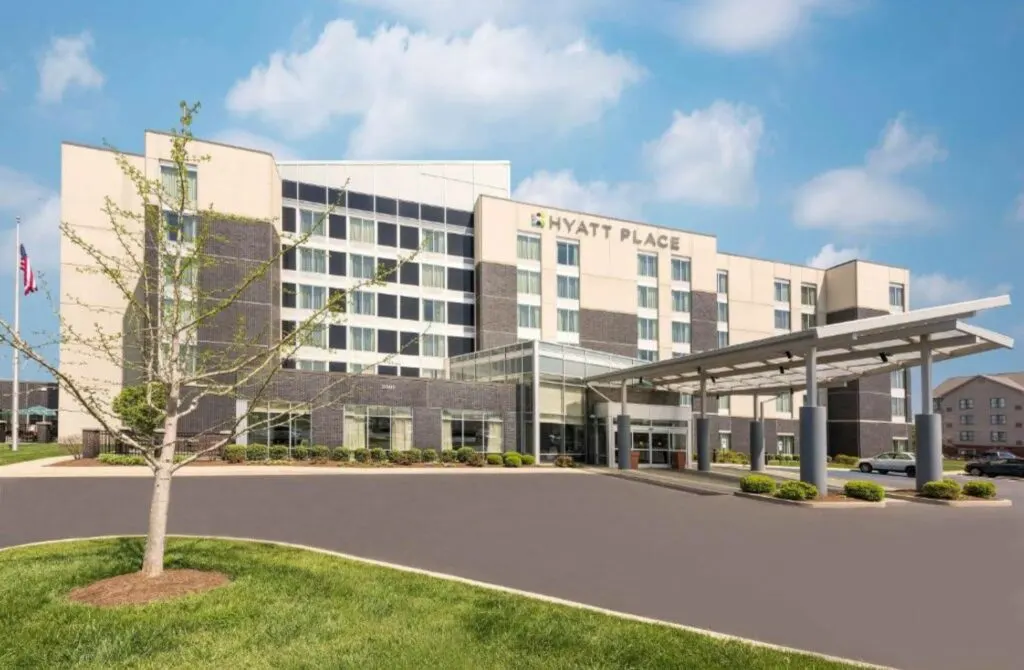 Embassy Suites By Hilton Lexington UK Coldstream impresses guests with its contemporary design and exceptional on-site amenities. Located near the University of Kentucky, you'll find yourself in a prime location every step of the way.
Stay connected with free Wi-Fi in their beautifully appointed suites while taking advantage of their complimentary breakfast and nightly evening reception featuring snacks and beverages. This hotel's flawless service will have you raving about your time spent in Lexington.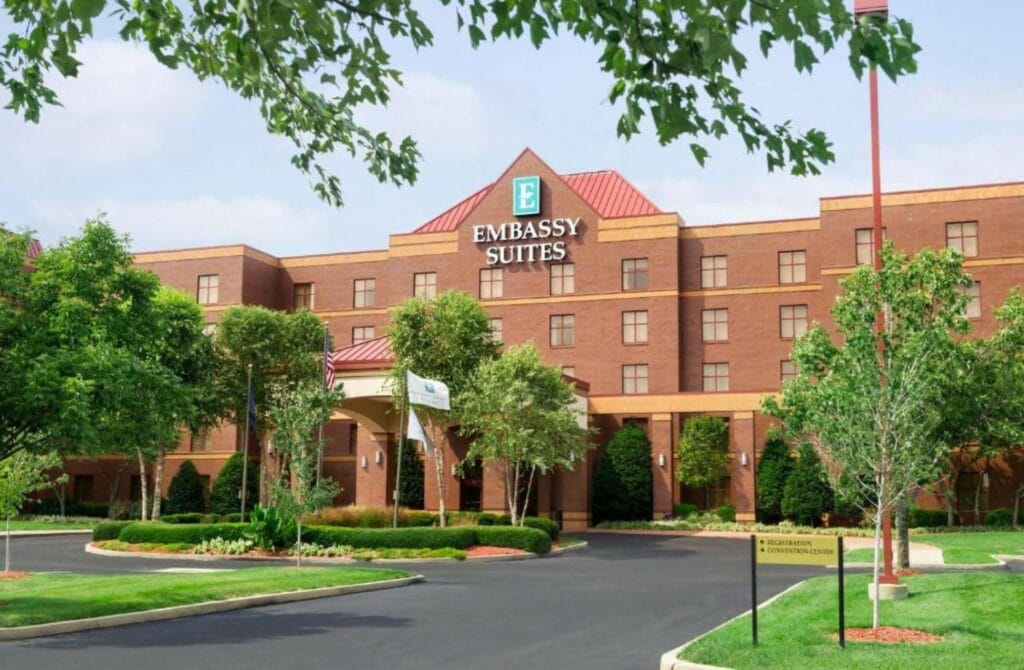 Each of these hotels guarantees unparalleled service, modern amenities, and ultimate comfort during your visit to Lexington. As you explore the charming city, be sure to indulge in the exceptional mid-range accommodations available – your perfect getaway awaits!
Budget Hotels In Lexington
If you are looking for budget-friendly accommodations in Lexington, Kentucky, look no further. These affordable options provide comfortable lodging for your Lexington stay without breaking the bank.
Embassy Suites By Hilton Lexington Green is an ideal choice for friends and family embarking on a road trip. You'll find this welcoming hotel nestled near Lexington Green, a popular shopping area. Each of the hotel's well-appointed suites offers ample space for you to stretch out and relax after a day of exploring the city.
As a guest, you'll enjoy free parking and a variety of amenities, such as an on-site restaurant and fitness center. Prices for this appealing option are quite reasonable, making it a great choice for travelers on a budget.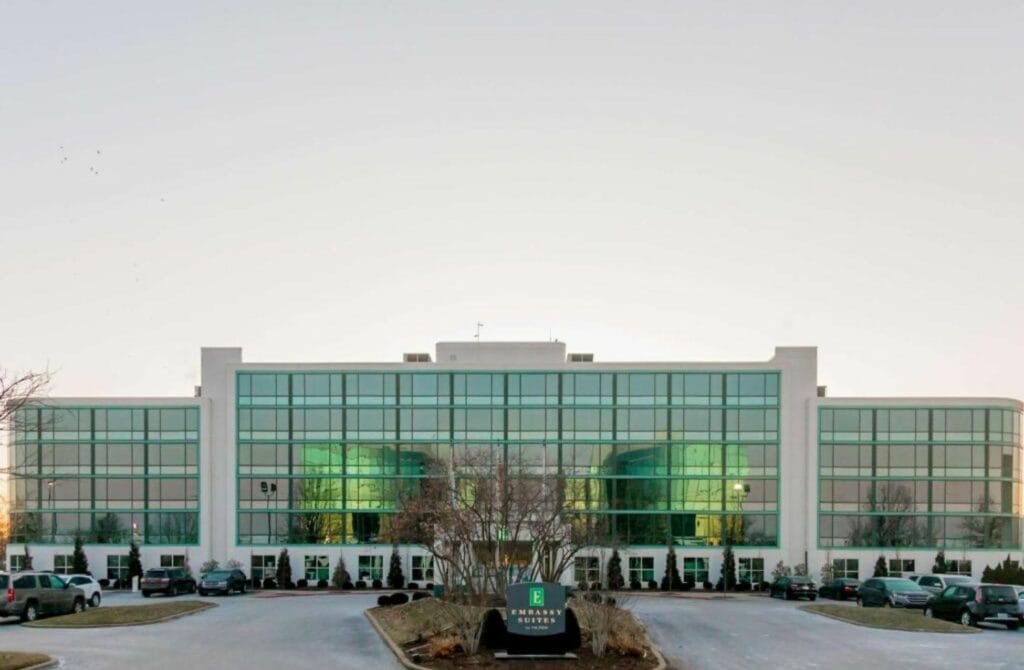 Located just a short drive from Downtown Lexington and the University of Kentucky, Holiday Inn Express & Suites Lexington Downtown Area-Keeneland offers an excellent location and affordable prices. Combining the convenience of an indoor pool with the accessibility of free Wi-Fi, this hotel is tailor-made for family vacations or business trips.
Its vibrant design and comfortable furnishings make it a perfect home away from home.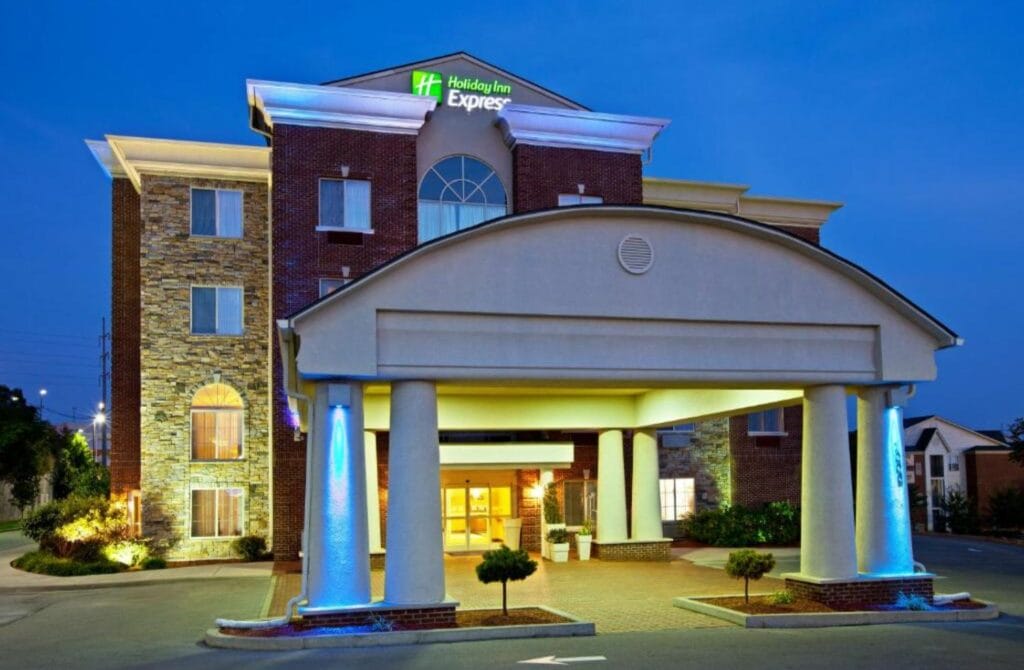 Quality Inn Of Lexington is another budget-friendly option. This hotel's well-maintained rooms and modern amenities are sure to please. Its convenient location off Route 60 provides easy access to Lexington's many attractions. After a day of sightseeing, guests can unwind in the inviting atmosphere of the hotel's lounge or take a refreshing dip in the outdoor pool.
With prices starting as low as $71 per night, Quality Inn of Lexington is an outstanding value.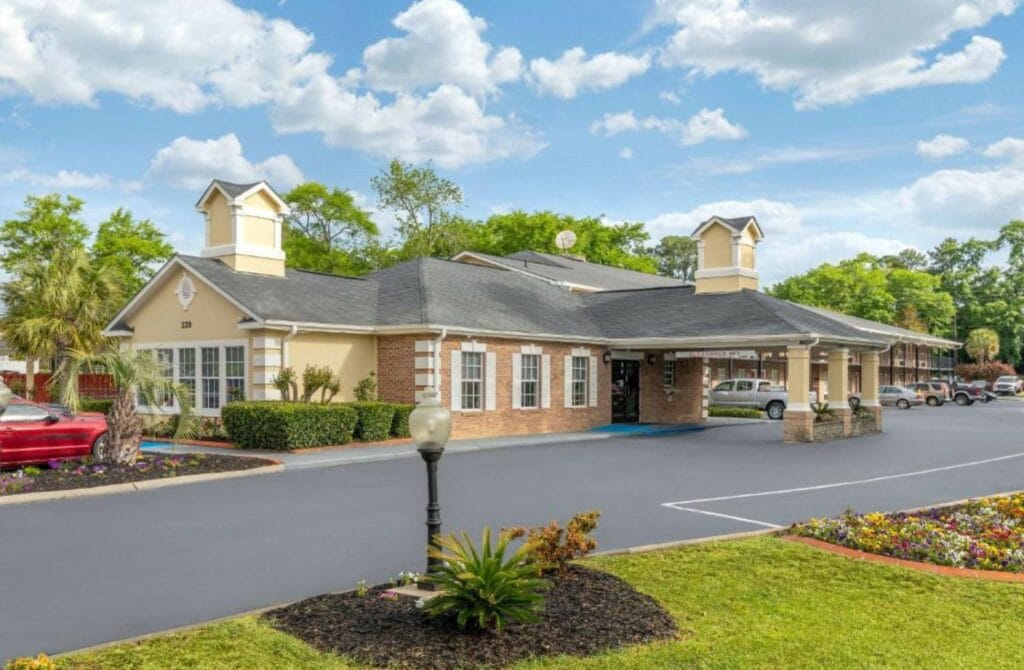 Bluegrass Extended Stay offers guests the perfect mix of comfort and convenience. This hotel's extended-stay accommodations provide additional space and a homely feel at an affordable price, starting at just $62 per night. Its excellent location on Richmond Road provides quick access to many of Lexington's key attractions.
Guests can take advantage of the hotel's convenient kitchenettes and laundry facilities during their stay.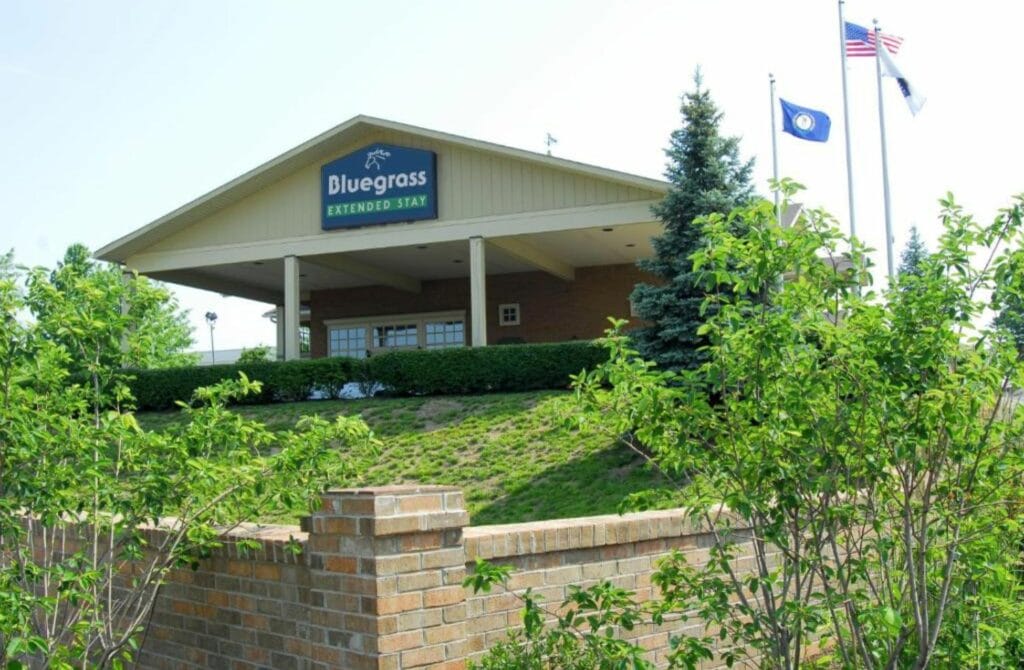 All of these options offer a fantastic balance between comfort and affordability, allowing you to enjoy your Lexington stay without worrying about overspending. Consider one of these budget-friendly hotels for your next visit to Lexington, Kentucky, and experience all that this beautiful city has to offer.