Tulum, an idyllic town perched on Mexico's Riviera Maya, boasts of more than just pristine beaches and a soothing ambiance. The best hotels in Tulum are keynotes in the symphony of your experience.
Each adding a unique rhythm to your visit, harmonizing with the town's stunning white sands, lush jungle backdrops, and ancient Mayan ruins.
Think of your accommodation in Tulum as the frame to a perfect picture. Each hotel is an opportunity to immerse yourself deeper into the local vibe—a chance to walk barefoot on cool tile floors, to fall asleep with the whispering sea as your lullaby, to taste the freshness of locally sourced cuisine right on your doorstep.
As you explore the captivating beauty of Tulum, don't forget to discover the vibrant activities and experiences waiting for you in the city. From exploring ancient ruins to swimming in cenotes and enjoying the vibrant nightlife, there are countless things to do in Tulum Mexico.
The right hotel, be it a luxury resort or a charming beach bungalow, is the difference between simply visiting Tulum and truly living it.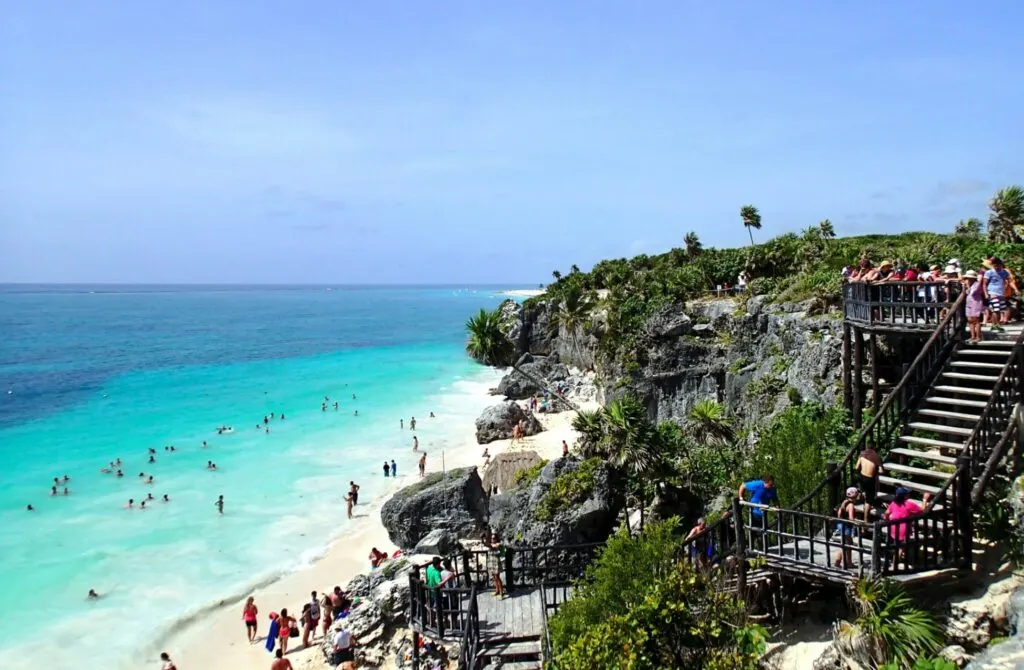 Visualize this—your sun-kissed skin cooled by the gentle breeze wafting from the Caribbean Sea. You sip a refreshing beverage made from the freshest local fruits while lounging under the tropical sun. This scene unfolds in the arms of a hotel where tradition meets luxury, a fusion of modern amenities and authentic Mexican aesthetics.
Or perhaps you'd prefer an all-inclusive stay that goes beyond relaxation, embracing well-being in its entirety. You wake to the meditative hum of the jungle, beginning your day with a yoga session or a rejuvenating spa treatment. This is not just a hotel, it's an oasis of tranquility that combines Tulum's natural beauty with sustainable living.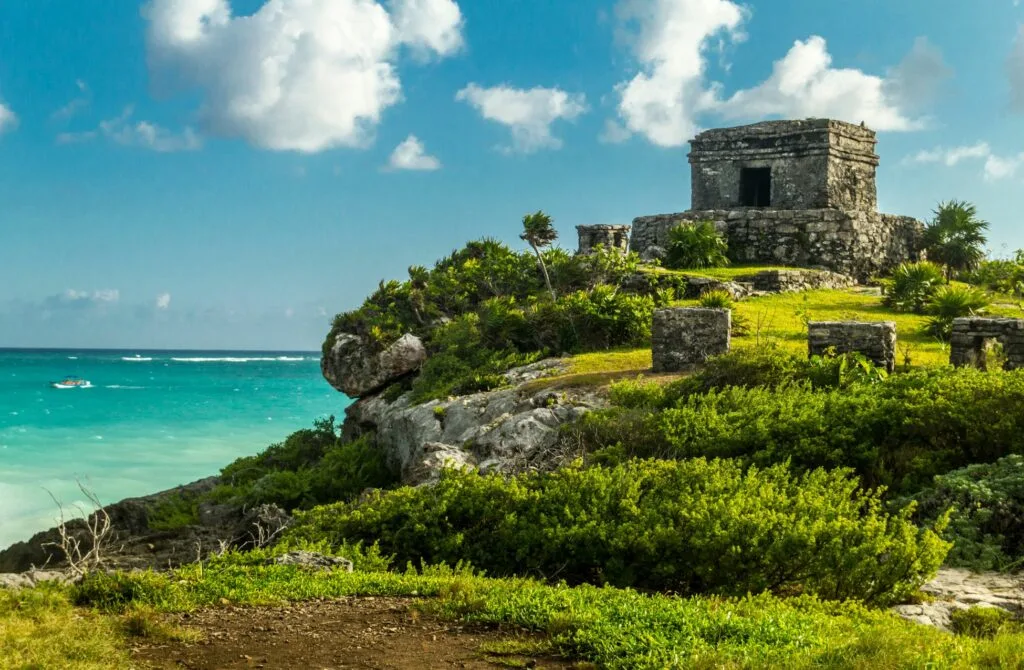 For those seeking a more stylish retreat, picture a hotel where design pays homage to nature—contemporary structures intertwined with natural elements. Your day might involve unwinding by an infinity pool, a wellness session at a renowned center, or savoring nutrient-rich dishes sourced locally.
This is more than a stay—it's an experience woven into Tulum's fabric.
The magic of Tulum lies in its diversity, reflected in its accommodation options. From the luxury of La Zebra Beach Hotel, the serenity of Amansala Eco-Chic Resort and Spa, to the stylish retreat at Sanará Tulum, each hotel in Tulum is a unique note in your travel melody, promising memories to cherish for a lifetime.
Experience Tulum not as a tourist, but as an honorary resident, welcomed by the warm embrace of its finest hotels.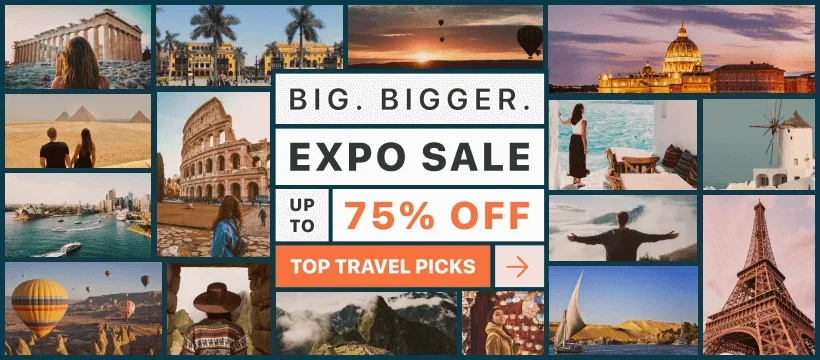 Luxury Hotels In Tulum
Tulum, a breathtaking destination on Mexico's Yucatán Peninsula, offers visitors a stunning Caribbean coastline, unparalleled beachfront luxury, and world-class experiences. Dive into the tranquil waters of upscale hotels catering to discerning travelers with exclusive features, from private plunge pools to adults-only retreats.
Swim with whale sharks from Tulum and embark on an unforgettable adventure, encountering these gentle giants in their natural habitat. As you journey through Tulum's elite accommodations, indulge in the lavish lifestyle of these exceptional establishments.
La Valise Tulum is a captivating gem nestled in the heart of Tulum's idyllic beach scene. This opulent hotel pampers guests with tailored beachfront villas, providing a harmonious balance between modern design and natural elements.
Vivacious tropical surroundings paired with free WiFi, complimentary breakfast, and ample parking make La Valise Tulum an irresistible choice.
As the sun sets on this Mexican paradise, allow the rhythmic waves of the Caribbean to carry you into sweet serenity.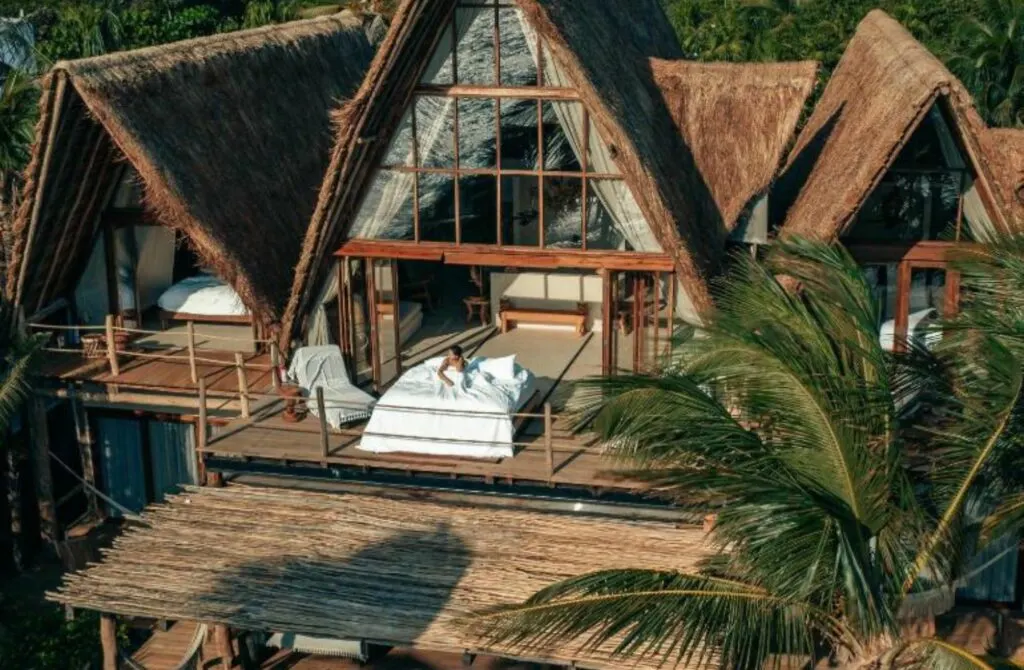 Be Tulum Hotel embodies blissful, beachfront extravagance, inviting you to revel in the enchantment of Tulum's renowned coast. Experience pure indulgence in this sophisticated adults-only property, where posh accommodations meet fine-living and tranquility.
The hotel's intuitively designed spaces offer dazzling ocean views and private pools, while the on-site yoga studio fosters inner peace.
At Be Tulum, experience a lavish sanctuary where discerning travelers come to unwind and reconnect with nature.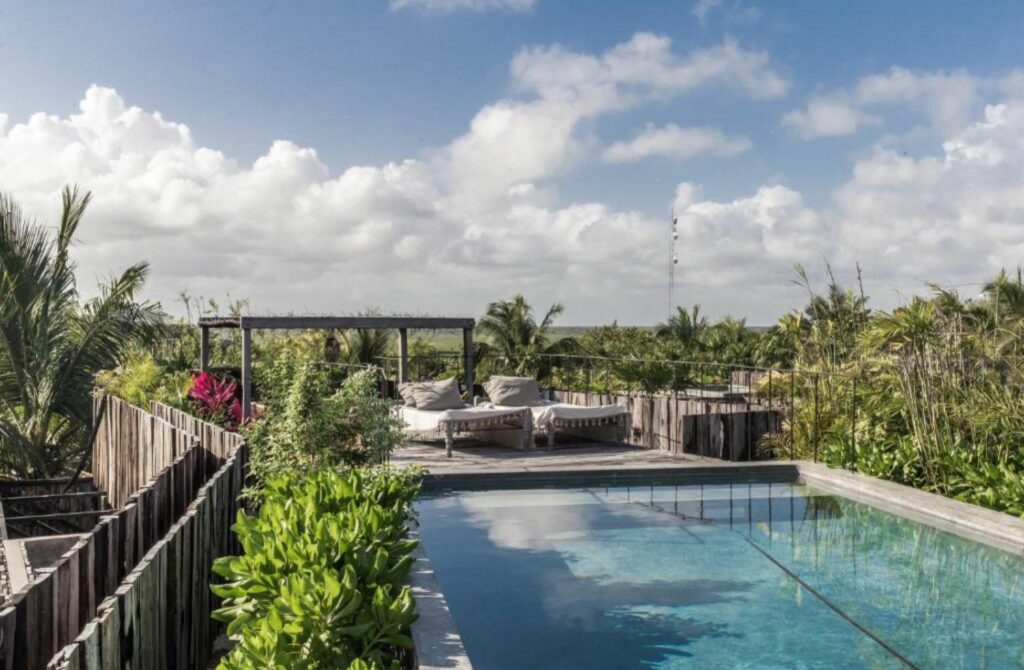 Hotel Esencia dazzles with its sumptuous setting on the shores of the Riviera Maya. Once a private estate, this lush property has evolved into an unparalleled haven for VIPs and honeymooners alike. Pristine, white-sand beaches and the enchanting Sian Ka'an Biosphere Reserve lie just beyond the hotel's doors, beckoning adventure and romance.
Each lavish room comes complete with free WiFi, a private plunge pool, and showstopping views. Hotel Esencia is a dreamy escape to timeless luxury amid the Yucatán Peninsula's unspoiled beauty.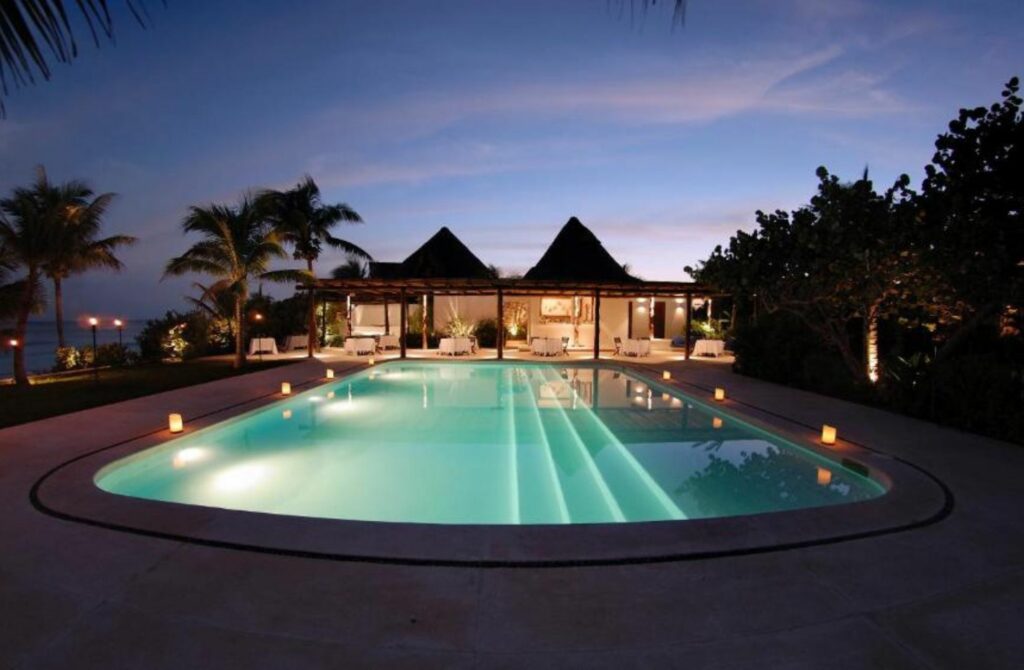 Casa Malca is an exquisite masterpiece of art and architecture, taking its place among Tulum's most prestigious hotels. This exclusive retreat offers a striking backdrop for both relaxation and adventure, with a focus on sustainable living.
Its prime location near the mesmerizing Coba and the renowned Sian Ka'an Biosphere Reserve provides countless opportunities for exploration.
Inside, each opulent villa delivers the ultimate in tranquility, adorned with lush fabrics and elegant design. Casa Malca invites you to experience the true essence of luxury in Tulum while leaving a minimal environmental footprint.
As you indulge in the grandeur of these luxurious Tulum hotels, know that every exquisite detail has been carefully curated to deliver an unforgettable experience. Embrace the allure of sun-kissed beaches, divine accommodations, and unparalleled amenities as you prepare for the ultimate vacation in Mexico's breathtaking Caribbean oasis.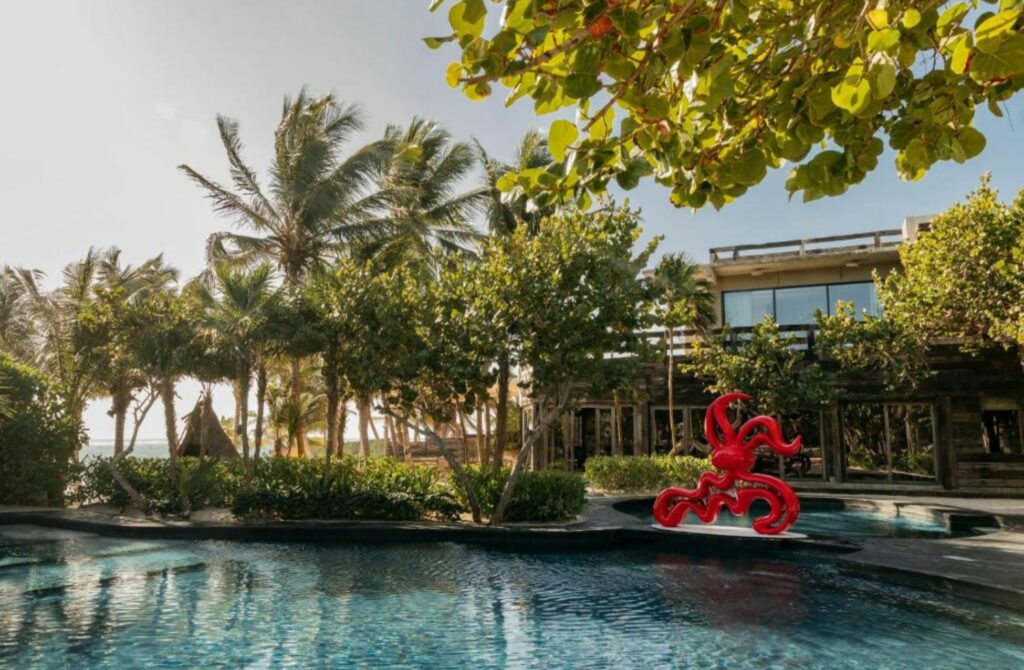 Boutique Hotels In Tulum
Nestled within the enchanting mix of pristine beaches, vibrant cenotes, and lush jungles, Tulum truly offers a magical allure that makes it one of Mexico's top tourist destinations. A tantalizing treasure trove of boutique hotels, each with their unique charm and grandiosity, await those longing for that thrilling yet intimate vacation experience.
La Zebra possesses a vibrant atmosphere that excites the soul. Overlooking the stunning Caribbean Sea, guests are enveloped in the dazzling beauty of the beach. This luxury hotel boasts a remarkable selection of amenities, including an exquisite on-site restaurant that takes advantage of local ingredients to create an unforgettable gastronomical experience.
With a reputation for embracing the sensuous allure of nature, La Zebra is an excellent choice for both couples and families, seeking to immerse themselves into the enchanting world of Tulum. While there, take a refreshing dip in a nearby cenote, or bask in the sun at the hotel's elegant beach club.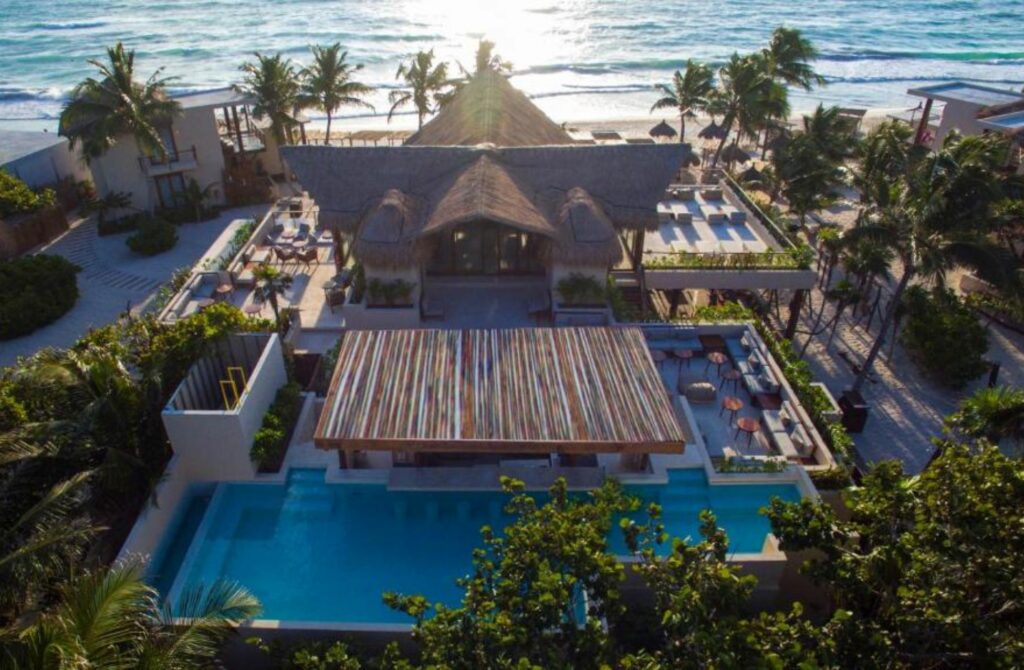 Last, but certainly not least, the remarkable Tulum Treehouse beckons with the allure of a secluded, intimate retreat among the verdant foliage. This magnificent abode artfully combines architectural ingenuity with the captivating beauty of nature, allowing it to seamlessly blend into its surroundings.
Boasting sumptuous accommodations with open terraces, exquisite wooden furnishings, and airy living spaces, Tulum Treehouse is where luxury meets serenity. Indulge in a world of enchantment, where your every whim is catered to, and luxurious amenities like air conditioning are thoughtfully woven into the experience.
Each one of these spellbinding boutique hotels in Tulum presents unique selling points and enthralling opportunities to immerse yourself in the rich tapestry of culture, mesmerizing natural beauty, and enthralling history that makes Tulum a true paradise on earth.
No matter which hotel you choose, you're bound to embark on a captivating adventure that will leave you exhilarated and yearning for more.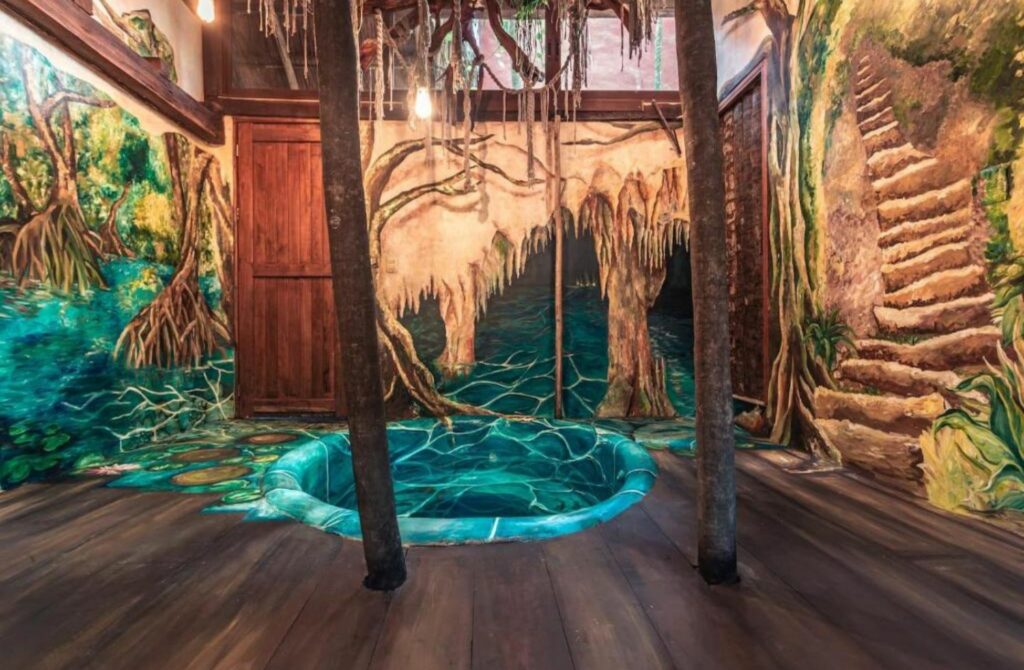 Budget Hotels In Tulum
Tucked away in the enchanting land of Tulum, several exceptional budget hotels are eager to host travelers with a flair for surf, adventure, and the ancient Mayan civilization. Visiting in December, one can revel in slighter crowds and the most delightful weather.
Here, we present a handful of specially curated, pet-friendly budget hotels that will ensure a spectacular experience without breaking the bank.
Awakening to the refreshing scent of nature, Hotel Posada 06 Tulum offers an unrivaled sanctuary for weary travelers. This rustic boutique hotel flaunts a tranquil atmosphere, with only twelve rooms situated right in Tulum's bustling Centro. While positioned in the heart of the town, the hotel's ambience exudes serenity.
The mesmerizing Tulum Ruins are within easy reach, making Hotel Posada 06 an ideal base for explorers. After a day of basking in Tulum's beauty, immerse yourself in the hotel's serene pool—the best remedy for tired limbs.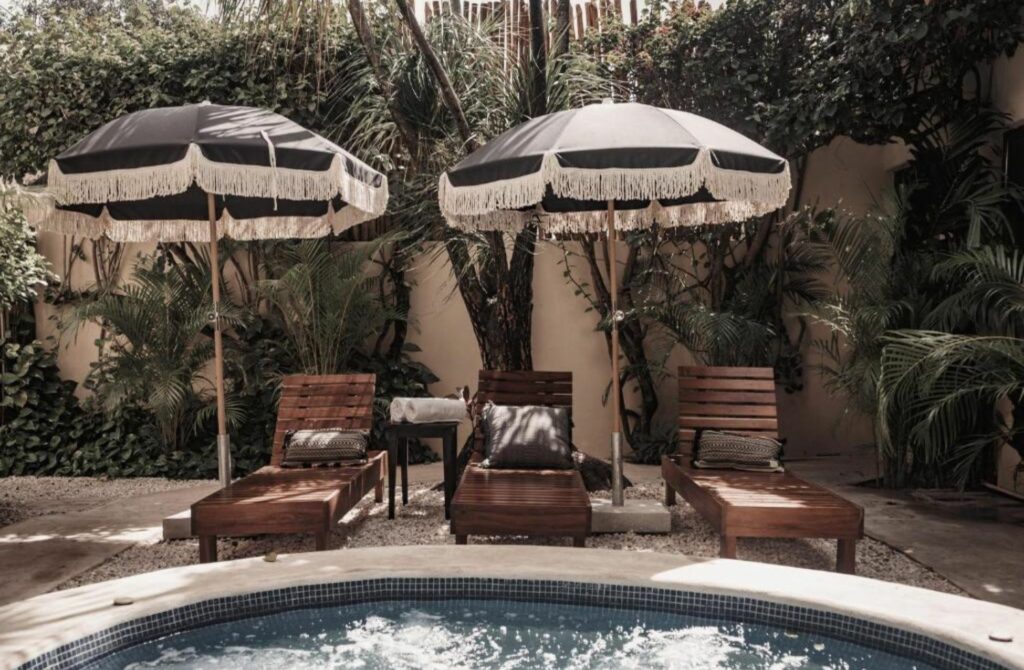 For surf enthusiasts, look no further than the Villa Matisse Tulum—a surfer's paradise just steps away from the beach. Offering splendidly decorated private bungalows with air conditioning, guests are invited to unwind in the lap of tranquility. The hotel is conveniently situated 8 km (approximately 20 minutes by car) from the mystical Tulum Ruins.
Villa Matisse spoils guests with impeccable service and a host of activities, such as surf lessons and yoga classes. Open your heart and soul to the rhythm of the ocean, at the very doorstep of your tropical haven.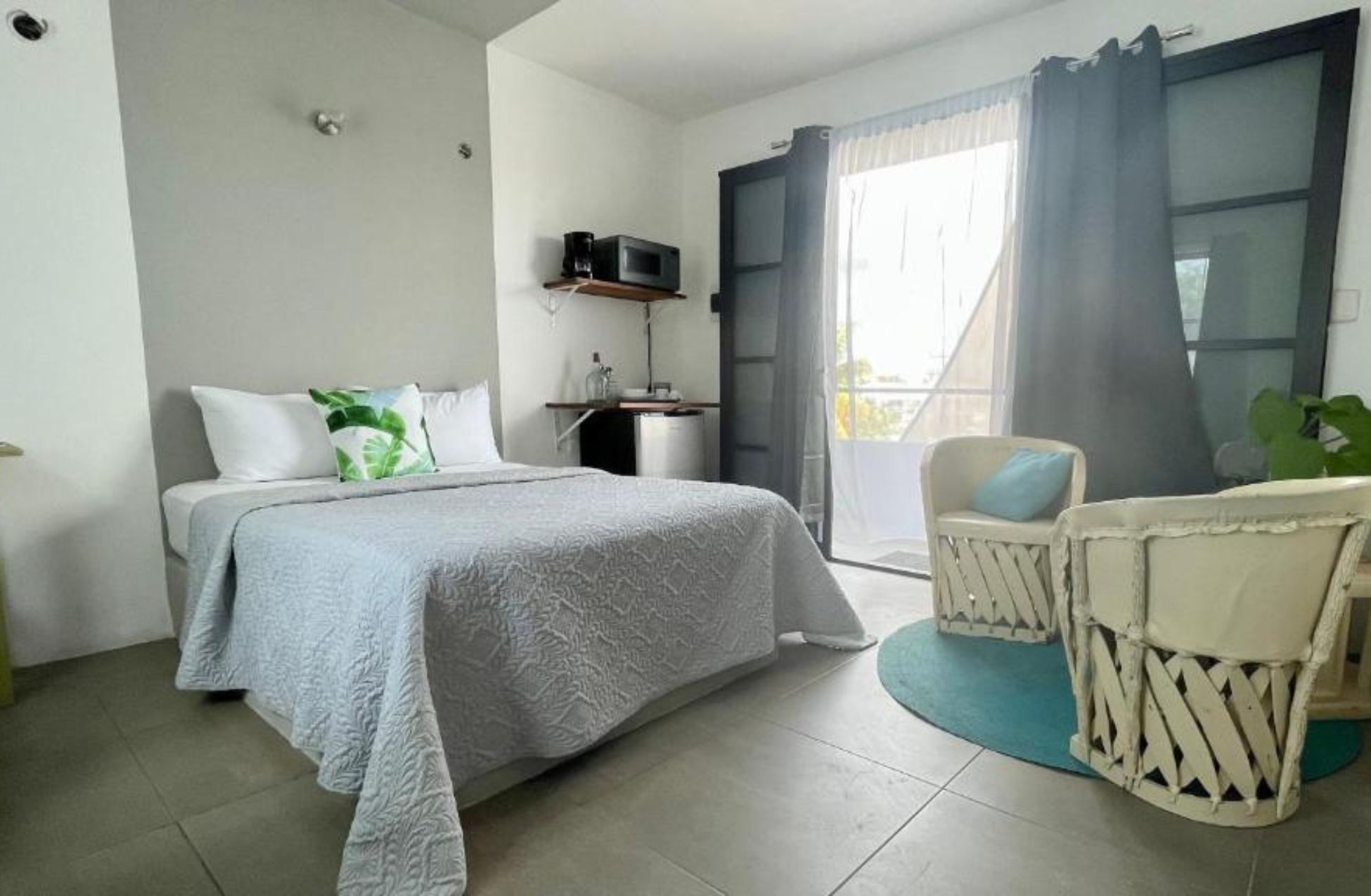 Venture into the heart of Tulum, where you'll find Coco Hacienda Tulum, a quaint and inviting sanctuary that effortlessly blends modern convenience with the town's rich history. This idyllic retreat is perfect for visitors seeking a unique experience, with each room thoughtfully designed, incorporating natural elements and traditional craftsmanship.
Pets are most welcome at Coco Hacienda, allowing you to share your unforgettable escapade with your cherished companions. Merely a 15-minute drive from the captivating Tulum Ruins, this hotel presents a splendid combination of comfort, accessibility, and rejuvenation.
Each of these budget hotels offers a breathtaking experience in Tulum, with tantalizing proximity to the ruins, surf, and a myriad of adventures. Escape the ordinary, and embrace the extraordinary at these enchanting accommodations, as you create cherished memories in this magical destination.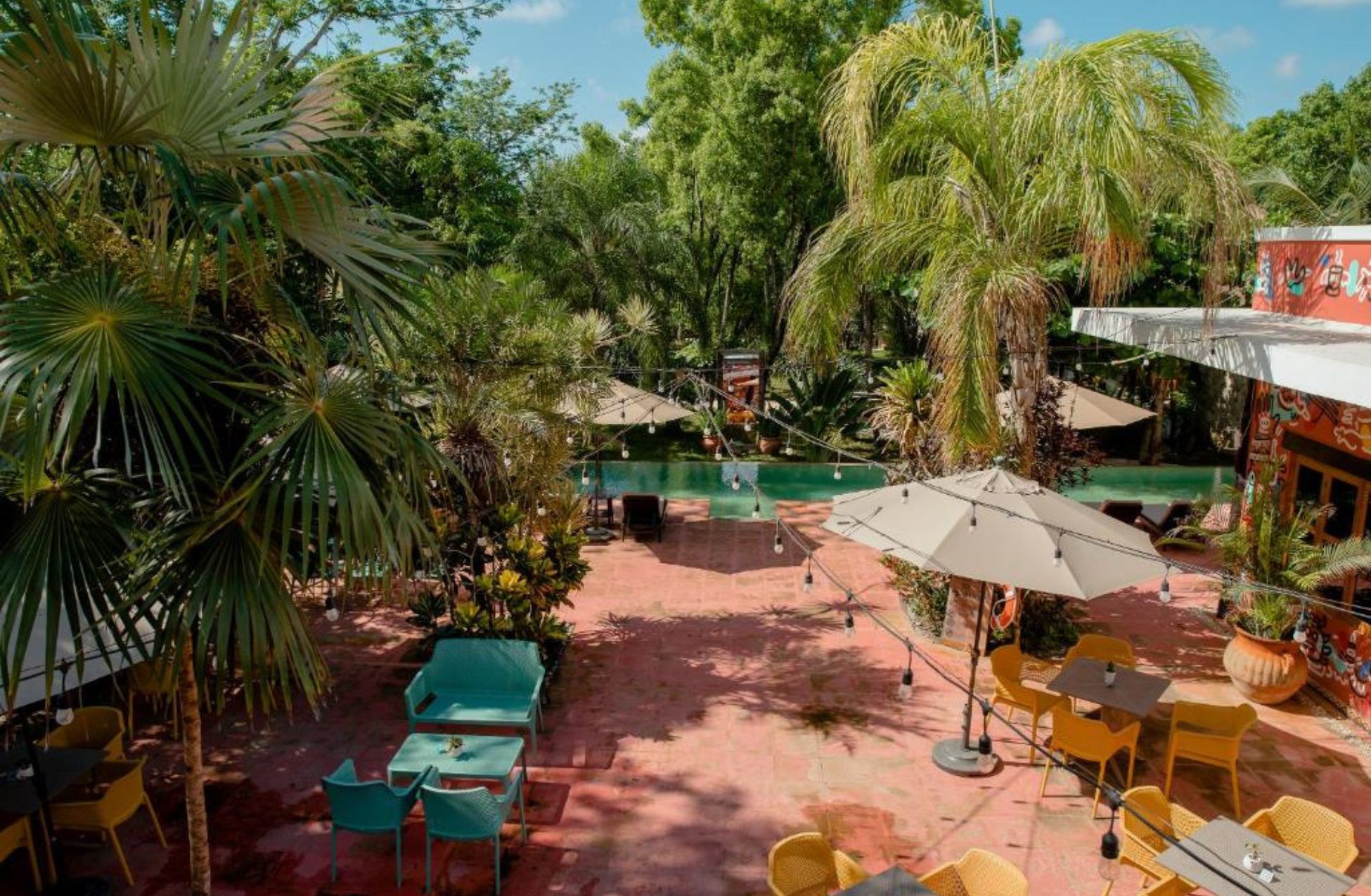 Eco Hotels In Tulum
Nestled on the stunning coastline of Tulum, in the majestic Riviera Maya region of Mexico, lies an exquisite selection of eco-friendly hotels. These eco-resorts take luxury, sustainability, and hospitality to another level, harmonizing with nature and allowing you to immerse yourself in this vibrant and magical destination.
Azulik Hotel takes eco-consciousness to new heights as an architectural masterpiece. This enthralling retreat, built with native materials and resting on wooden stilts, blends seamlessly with the jungle. Stay in Azulik's treehouse-like villas, fitted with private outdoor hot tubs, which offer you an unrivaled experience of reconnecting with nature.
This serene sanctuary not only overlooks the sparkling turquoise waters of the Caribbean, but also provides you with a chance to explore the mystic cenotes and Mayan ruins nearby. With a wellness center offering meditation, yoga, and healing sessions, Azulik Hotel embodies the symbiotic relationship between luxury and sustainability.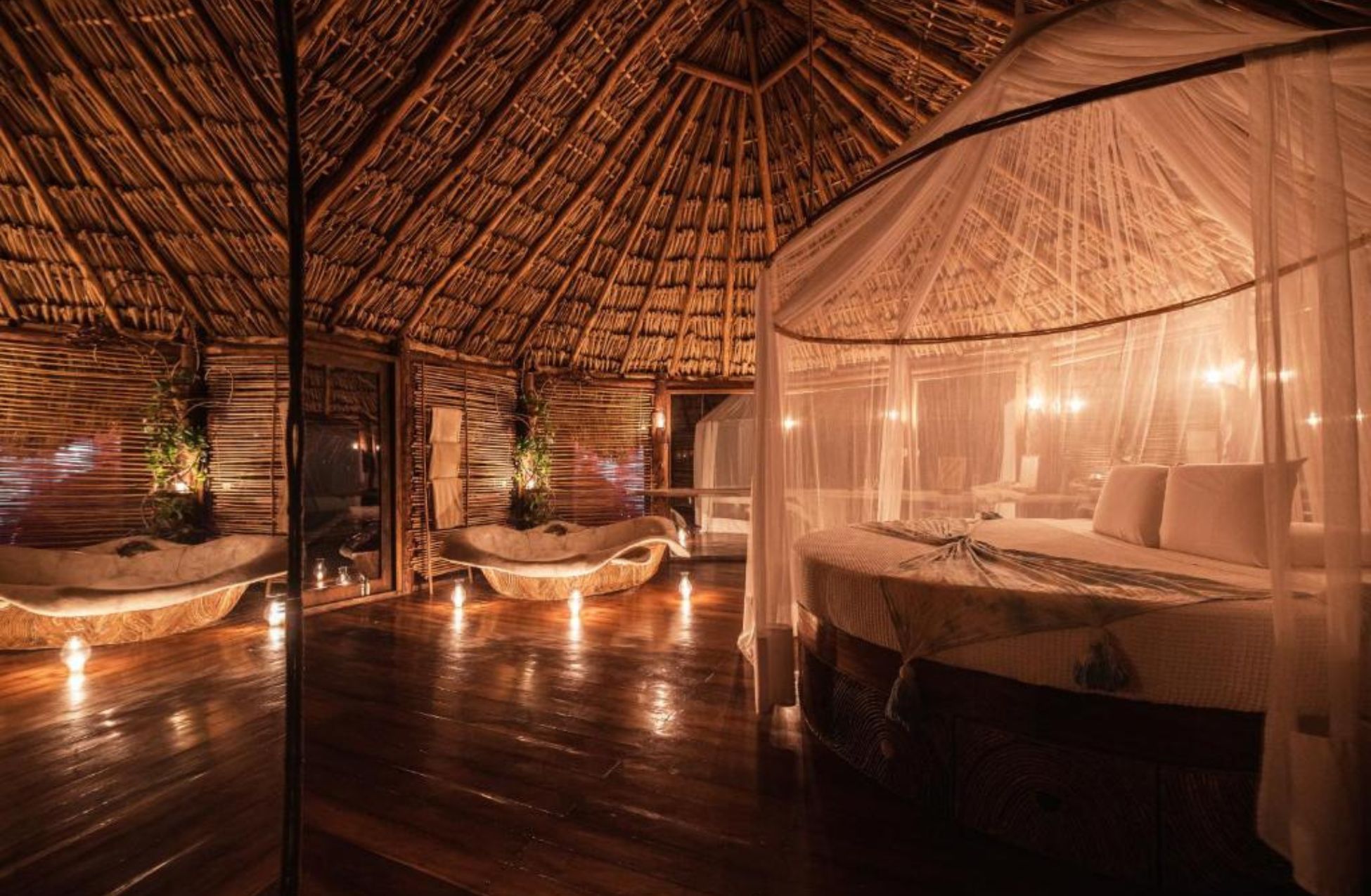 Discover Papaya Playa Project, a breathtaking eco-resort featuring private beach access, striking ocean views and a meticulously designed on-site Roca restaurant. Effortlessly combining sustainable structures with contemporary Mexican design, Papaya Playa offers an enchanting experience rivaled by few.
Bask in the sun by the dazzling infinity pool, or find serenity in the eco-resort's tranquil meditation spaces.
Scenic mangroves, cenotes, and ancient Mayan ruins on your doorstep are waiting to be explored, allowing you to savor all the natural treasures Tulum has to offer.
For a refreshing change of pace, indulge yourself at their holistic spa that offers a range of rejuvenating treatments, truly reflecting their dedication to the fine balance between luxury and Mother Earth.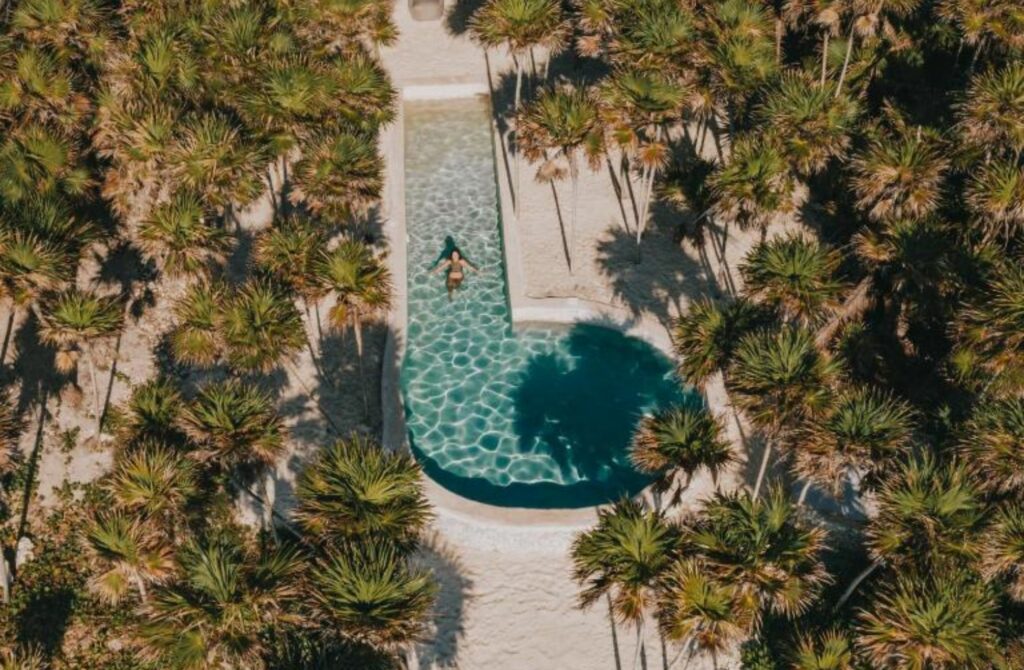 Embark on your journey to Tulum, and embrace the sustainability, sophistication and excitement these eco-hotels exude, creating a truly unforgettable experience.
These hand-picked properties offer the finest amenities, accentuated by their commitment to environmental conservation, allowing you to indulge in the best of Mexican hospitality while contributing to the preservation of our beautiful planet.
Hotels With A View In Tulum
Tulum, the enchanting paradise nestled on the shimmering coast of Mexico's Yucatan Peninsula, is a dream destination for those seeking mesmerizing views and unforgettable experiences, including scuba diving in Tulum's crystal-clear waters.
Allow us to introduce you to a selection of Tulum's finest hotels with stunning vistas that will take your breath away. From luxurious beachfront resorts to eco-friendly jungle retreats, these accommodations provide the perfect backdrop for your Tulum adventure.
Fall in love with the awe-inspiring panoramas at Mezzanine, a stylish hotel located at the gateway of the breathtaking Tulum beach strip. This extraordinary oasis offers an unparalleled view of the turquoise Caribbean waters, promising an experience that will linger in your memory long after you return home.
With only nine rooms, Mezzanine presents a surprisingly intimate ambiance where personalized service reigns supreme. The contemporary design of the hotel seamlessly harmonizes with its natural surroundings, allowing guests to relish in the unique beauty of Tulum.
Start your day with a yoga class to reinvigorate your mind, body, and soul, and then, when the sun goes down, indulge in the culinary delights at the hotel's world-renowned Thai restaurant before heading out to immerse yourself in Tulum's lively bar scene.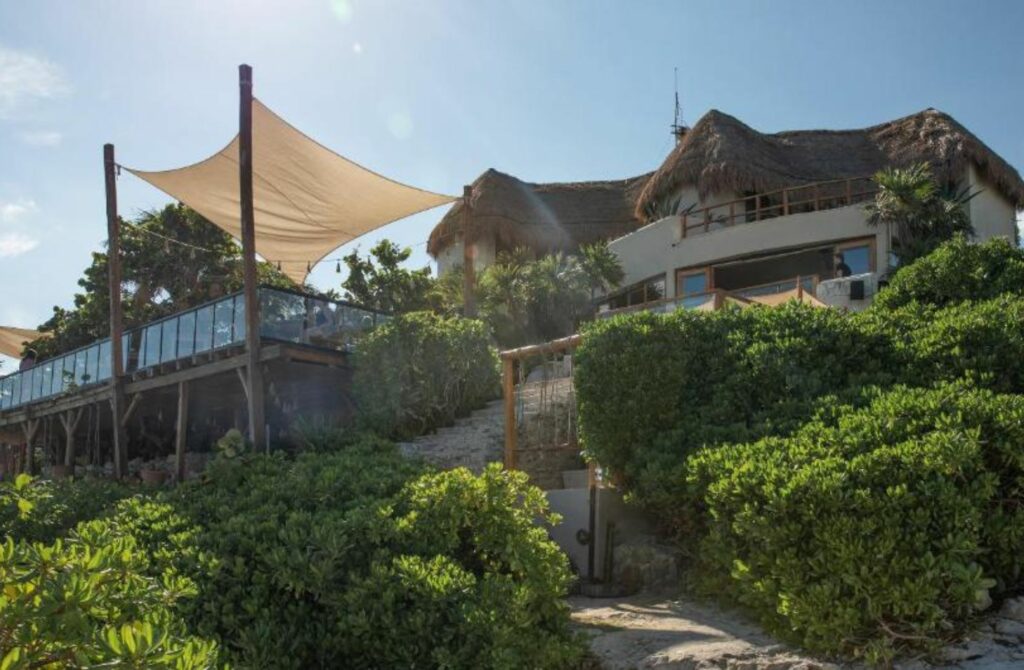 Situated on the tranquil Soliman Bay, Jashita is an idyllic retreat that promises serenity and unparalleled vistas in a stunning natural setting. This boutique hotel prides itself on offering luxurious accommodation while maintaining a commitment to sustainability and respect for the environment.
Unwind in splendidly decorated suites that evoke the essence of Tulum, each with a private terrace boasting spectacular views of the bay or the lush tropical gardens surrounding the property. Embark on an invigorating journey of self-discovery, as Jashita's yoga classes connect you with the natural beauty that envelops the hotel.
After recharging your spirit, venture out on one of Jashita's bikes and experience the vibrant pulse of Tulum's nightlife, or indulge in an unforgettable adventure as you explore the dramatic landscape of the nearby Mayan ruins.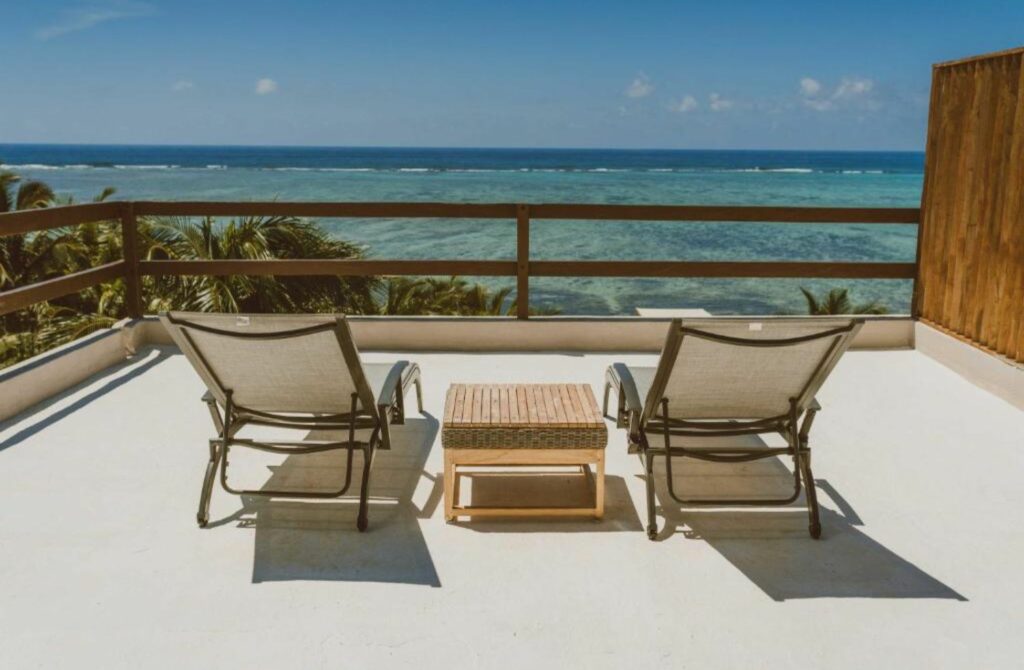 These exceptional hotels with a view in Tulum are bound to elevate your vacation to the level of extraordinary. As you soak in the breathtaking panoramas and indulge in the luxurious amenities, you'll no doubt realize that these are the magical moments that will remain etched in your memory forever.