Venice has a lot to offer for both national and international filmmakers. The country has modern cityscapes as well as being well known for its wonderful canals and beautiful architecture. It is also known for its broadly artistic culture, so it will come as no surprise that there are so many wonderful movies set in Venis.
Many have said it before and many shall say it again: Venice is one of the most beautiful cities in the world. The Serenissima, the Queen of the Adriatic, the City of Water, of Bridges and Canals, are just a few names Venice has been known by throughout history.
Everyone saw something different in this charming place, but all were in agreement on one thing: its beauty is timeless.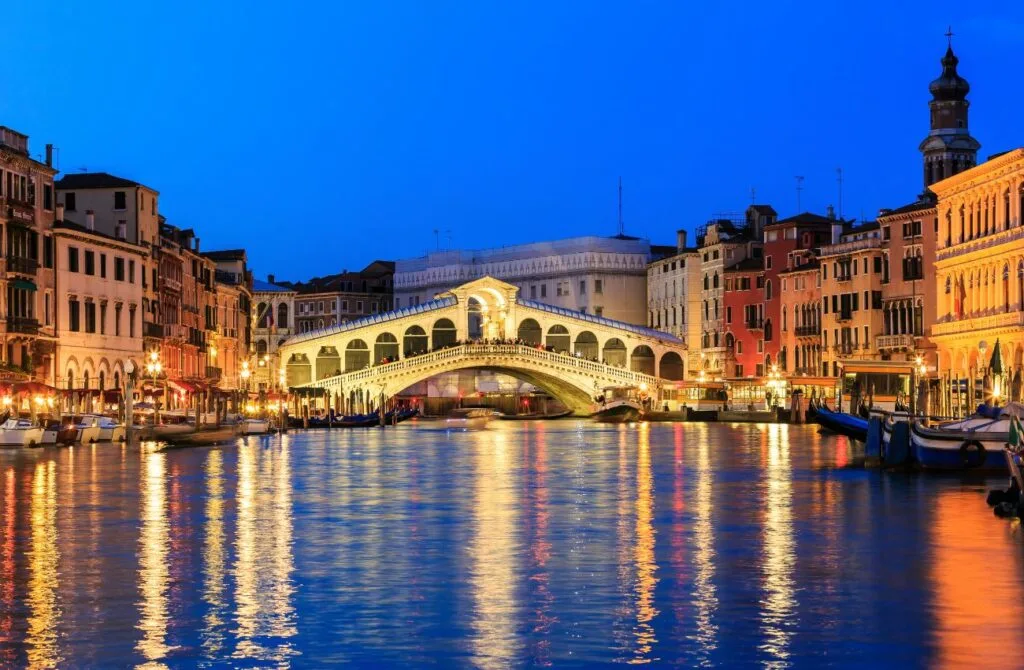 It isn't only a majestic kind of beauty, the one you'd feel if you saw the city floating over the water, but also one that has to do with culture. This city has witnessed many painters, writers, musicians, and architects. Lots have wanted to leave their mark there for the whole world to see.
The city is home to over 300 churches and many gorgeous palaces. There are over 50 museums and galleries and they attract millions of tourists each year. You'll find countless paintings, sculptures, tapestries, glassworks, and mosaics everywhere.
And there's also beauty in the way that people inhabit the city. Venice has a charming community that welcomes tourists (perhaps a little too much), sharing the history of the city in all kinds of ways. But when the sun goes down is when the city truly shines: its vibrant nightlife has no match anywhere else in the world.
With all that being said, it's no surprise that the streets and canals of Venice have been the setting for some of the most memorable movies ever made. One of the most iconic locations in the world, there have been many movies that take place in this city over the years.
These Venetian films have narratives that rely on their settings as much as their main protagonists, and as a result, spectators get a glimpse of this iconic city through different director's eyes. To honor the concept of cinematic travel, we have previously also assembled lists of our favorite films shot in some of our all-time favorite travel destinations: Vermont, Rome, Greece, Italy, Ireland, San Francisco and Scotland. And now we add Venice to this list.
In order for these films to really portray Venice as accurately as possible—with all its beautiful architecture and historical significance—it takes more than just knowing where everything is located on Google Maps; they require an understanding of what makes the city special. Each film in this list will give you a reason to appreciate the unique site that is the Floating City.
Wondering where to watch? It depends on where you live in the world and which streaming services you have. We link to the streaming service we watch on in each case - be it Netflix, Amazon Prime, Apple TV+, or elsewhere.
You can get one month free of Amazon Prime (or a 6-month trial for students) of Amazon Prime and also get immediate access to FREE Two Day shipping, Amazon Video, and Music. While you won't be charged for your free trial, you'll be upgraded to a paid membership plan automatically at the end of the trial period - though if you have already binged all these, you could just cancel before the trial ends.
Apple TV+ also has a one-week trial, and Hulu has a one-month trial (which can be bundled with Disney!). Another option might be using a VPN to access Netflix titles locked to other regions. Netflix is now available in more than 190 countries worldwide and each country has a different library and availability. US Netflix is (understandably) one of the best.
While we wish everything could just be in one place - for now, it seems these are the best streaming platforms to watch on.
What better way to start than with what is perhaps the most iconic depiction of Venice in a film? Death in Venice is a captivating film written and directed by Luchino Visconti, one of Italy's most renowned filmmakers.
Based on a homonymous 1912 book by German writer Thomas Mann, it's the story of an aging composer known as Gustav von Aschenbach (Dirk Bogarde). Afflicted with a serious heart condition, he visits Venice in order to have some rest. But it's there where he'll meet his doom.
While he's staying at one of Venice's most elegant resorts, the Grand Hôtel des Bains, Aschenbach meets a young boy named Tadzio (Björn Andrésen) and, in his deliriant state, develops an obsession with him.
This obsession doesn't turn sexual, but it is quite disturbing (and probably was seen as such even upon its release). Yet the film's focus isn't on this weird aspect of Aschenbach's obsession, but rather on all the signs of his coming death, with the boy playing the part of a metaphorical figure of sorts.
Many have praised the film for its treatment of the subject of death, as well as for the incredible performance that Bogarde gives. But for those interested in visiting Venice, the film will offer you an incredible look at its architecture.
Its lingering and mesmerizing shots of the city are one in a kind, shot in a way that filmmakers don't do anymore. Death in Venice is a film that, although it has its problems, it's always worth a watch.
Adapting one of Daphne du Maurier's lesser-known short stories, Don't Look Now is a psychological thriller that can hold the candle to even the best thrillers of today.
It follows a distraught couple who visit Venice in order to clear their head after the untimely death of their only daughter. However, they will find that letting go is much harder than they thought it would be, particularly when the possibility of their daughter haunting them becomes more and more real.
Even though it had a pretty good reception when it was released, people's appreciation for this film has only grown with time. Today it's thought to be one of the best examples of a film that was ahead of its time.
Not only due to its expressive editing or use of unconventional narrative scenes, but also for its depiction of sexual acts that weren't usually shown on film. The film caused quite a controversy as it was one of the very first depictions of cunnilingus in mainstream cinema.
Don't Look Now was directed by Nicholas Roeg and featured some incredible performances by Donald Sutherland and Julie Christie. They manage to portray their fear and sorrow so well that you'll be feeling just as they do. It makes this already chilling film all the more poignant.
Don't Look Now is an amazing experience that gets better the more and more you think about it.
Well-known for making some of France's most iconic comedy films, French director Georges Lautner manages to turn Venice into a theater for the absurd and the result is hilarious.
The director is known for masterfully mixing serious plots related to crime, spies, and mobsters with the most ridiculous of comedy bits, something that will inspire many other comedy directors when crafting some of the most beloved comedy film franchises today (like Austin Powers and Johnny English, among others).
This mix of comedy and thriller makes the film unpredictable in the best of ways: you'll never know what's about to happen and you'll be surprised to know that each scene will be funnier than the last.
Le Guignolo follows Alexander Dupre (Jean-Paul Belmondo), a low-level criminal who is released due to his good behavior. However, the first thing that Alexander decides to do with his newfound freedom is to swindle a whole array of people, making them think that he's a prince.
Taking advantage of everyone that crosses his way, he finally meets his match: the beautiful swindler known as Pamela Eagleton (Mirella D'Angelo). After trying to cheat each other and failing, they decide to become partners in crime.
While traveling to Venice, Alexander will be witness to a cold-blood murder on the plane and become involved in a hilarious spy mission.
A remake of a 1969 film of the same name, The Italian Job is one of the best heist films to be made in recent years. While most remakes aren't usually as good as the original, in this case, is the opposite.
Director F. Gary Gray took the comedic premise of the British edition and turned it on its head, making a captivating thriller that shows a more realistic and engaging approach to the heist movie genre.
The idea to set the movie in Venice, instead of Turin, also brought a new element to the table and made the whole premise much more interesting in comparison.
The Italian Job follows a group of criminals as they take revenge on their old partner. One year before the events of the film, John Bridger (Donald Sutherland), one of the best safecrackers to ever live, organized a heist in Venice, gathering a team of professionals from all around the world.
However, one of them, Steve (Edward Norton), killed John and ran away with the prize, leaving them to be captured.
When the remaining crew finds Steve's location, they decide to steal that which was stolen from them. Among this crew is Charlie (Mark Whalberg), a close friend of John, and Stella (Charlize Theron), John's daughter who is just as talented as her father.
Summertime is a classic of American romance: the film where a lonely yet charming singleton meets the love of her life while traveling through the beautiful canals of Venice is one for the ages.
If you haven't gotten the chance to watch this amazing film, you should give it a try. You'll quickly realize why this romance became an instant classic upon its release.
The film was directed by David Lean, one of the best American filmmakers to ever live. Responsible for jewels like Lawrence of Arabia and Doctor Zhivago, Lean is known for his perfectionist style and passion for storytelling.
While Summertime isn't regarded as his best film, he's said time and time again that it's his favorite. And that's due to the fact that he loves the city of Venice, so he tried to portray its enormous beauty as best as he could. It's safe to say that he did a great job at this.
Summertime follows Jane Hudson (Katherine Hepburn), a secretary who has finally had the chance to fulfill her only dream: to visit Venice. At first, she's static to finally be in the beautiful city. But her joy diminishes as she realizes that she's as lonely in Venice as she was in Ohio.
When she meets the charming owner of an antique shop in the city, she starts to discover what it's like to love someone. Renato de Rossi (Rossano Brazzi) will show her the city of Venice with all its secrets while the two of them fall in love.
All the way from Denmark comes this delightful movie about finding love in the city of Venice. Italian for Beginners was made by Lone Scherfig, one of the most renowned female Danish directors, who was nominated for an Academy Award in 2009.
The film was inspired by the book "Evening Class", by Maeve Binchy, who was credited in the film after pointing out the similarities between it and her book.
One of the most interesting things about Italian for Beginners is that it was made according to the principles of the "Dogme 95", a film manifesto that stated that movies should be made with video cameras, without music, and using only natural lighting. To put it simply: it said that movies should be as close to natural life as possible.
For many films, this proved to be a really bad choice, but in Italian for Beginners it works really well. Since the film is shot so naturally, seeing it is like watching real-life footage of the beautiful city of Venice, offering a much more true-to-life representation of the city.
The film follows six single people living in Copenhagen who are trying and failing at connecting with other individuals. All their stories are tied together by the fact that they are all taking Italian classes for different reasons.
The movie sees them changing their lives and culminates when the whole class takes a trip to Venice. One could say that, by the end, the Serenissima will be the place where friendships are made, relationships are mended and love is born.
Have you ever wondered where the word "Casanova" comes from? You're in luck because this film will answer that question and more. Fellini's Casanova was one of the last films made by the great Italian director Federico Fellini.
it's a historical drama that tells the story of Giacomo Casanova (Donald Sutherland), an intriguing real-life figure who spend his time enjoying the pleasures of sex during Venice's heyday.
Fellini's Casanova was written with Casanova's very own diaries as source material. This adventurer and writer native of Venice wrote a detailed description of his life during the 18th century.
This isn't as common as it may seem: his account is one of the most valuable resources we have to know what life in Venice was like at that time. That's why this film is a must-watch for any history buff, as well as for anyone interested in the story of this magnificent city.
The film follows the life of Casanova and his various sexual exploits as he enjoys his place in Italy's high society. It features some of the most beautiful depictions of the famous Venetian carnivals, where the whole city would dress with masks and party for days on end.
It's a great film, although some may find it too raunchy and sexual. Fellini's Casanova received much praise from critics and today it's considered to be one of Fellini's best works.
The Comfort of Strangers is a captivating psychological thriller masterfully told through the eyes of Paul Schrader.
While his name may not ring any bells, you've surely seen some of the movies he was responsible for writing: he was behind such hits as "Taxi Driver" and "Raging Bull". He has gained quite some recognition due to his most recently directed films, but he's been a key part of Hollywood for quite some time.
Based on a novel by acclaimed British writer Ian McEwan, The Comfort of Strangers tells the story of a couple who find themselves in a twisted game orchestrated by a charming man they meet in Venice. Having traveled to Venice in order to rekindle their lost passion, they are constantly stalked through the city's streets and bridges.
They visit some of the most stunning monuments in the city, but one can never shake the sensation that they are being watched. When the watcher finally reveals himself, it turns out to be a charming fellow named Robert (Christopher Walken). The couple spends some time talking with Robert but ends up feeling weirded out with him and leave. However, that won't be the last they see of Robert.
If you're familiar with the timeless tales that were penned by the master of all poets, William Shakespeare, you probably have a pretty good grasp on what The Merchant of Venice is about. However, this is one of Shakespeare's least talked about plays, at least when compared to "Romeo and Juliet", "Hamlet" or "Macbeth".
As you may imagine, the story takes place in the city of Venice during the 16th century. It follows a merchant known as Antonio, a respected man who has a small fleet of ships.
One day he's approached by his friend Bassanio, who wants to travel to France in order to marry Portia. He asks Antonio for money, but he hasn't any at hand. So, Antonio decides to ask Shylock, a spiteful and greedy man, who agrees but with one condition: if Antonio doesn't repay, Shylock will be able to take "a pound of flesh" from Antonio.
While it does leave a lot of the original story out, this 2004 adaptation does a great job at actualizing some of the more problematic aspects of the play. For example, the character of Shylock has long been referenced as a harmful stereotype of a Jew.
As said before, he's shown to be as greedy and evil as can be. However, the director of the film, Michael Radford, had much love for the character and managed to show him not as a stereotype, but as a human person with many flaws.
All in all, The Merchant of Venice is a great adaptation of the classic story. One could say that it stands as one of the best Shakespeare film adaptations to date. What really makes this film great hasn't yet been talked about: it's its cast. The two leads, Jeremy Irons and Al Pacino do such a great job at portraying Shakespeare's characters that you'll think they have been ripped right out of the page.
The Wings of the Dove, by Iain Softley, follows the life of Kate Croy (played by the great Helena Bonham Carter), a young woman living in London during the 1910s.
After the death of her mother, Kate was taken under the wing of her wealthy aunt. While Aunt Maude (Charlotte Rampling) does love Kate, her wish is only to marry her to a wealthy man so she doesn't have to suffer the struggles of not being rich.
But Kate isn't interested in any rich man: her love is held by Merton (Linus Roache), a young journalist who she's not allowed to see. However, the fateful meeting with Milly, a wealthy orphan who is stricken with Kate's personality, will see her leaving London behind and visiting Venice both with her new friend and her forbidden lover.
The film is an adaptation of a novel of the same name by Henry James. However, the novel focus isn't on Kate, but rather on Milly. It was, in fact, one of James' least liked books and this adaptation is widely considered to be an improvement over the source material.
Yet what critics and audiences loved the most about The Wings of the Dove wasn't its story, but rather its performances. It was one of the very first films where Bonham Carter had a lead role. Her mesmerizing performance took the acting world by storm, earning her several awards and an Academy Award for Best Actress nomination.
Brideshead Revisited is another adaptation of a literary classic where the city of Venice takes center stage. The homonymous novel by Evelyn Waugh, written in 1945, tells the long story of Charles Ryder's life and his time spent with Sebastian and Julia Flytes, his two wealthy friends who live in a beautiful palace known as Brideshead Castle.
The book tells Charles' story from his years as a young student at the University of Oxford in the 1920s to his time as a World War II veteran in the 1940s.
With some hiccups, the adaptation by Julian Jarrold manages to fit this enveloping slow burn into the size of a feature-length movie very well. The highlight of the film is Matthew Goode's performance as Charles, which shows some wonderful changes throughout the year.
Yet fans of the city of Venice will most likely find the film's depiction of the city to be even better: as Ryder visits Sebastian (Ben Whishaw) and Julia (Hayley Atwell) in Venice, they spend some wonderful time in the city. Naturally, the city is the place where Charles will declare his love to Julia in a truly memorable scene.
Staying Connected While Travelling
In today's increasingly connected world, staying online while traveling has become essential for a seamless experience. That's where eSIMs come into play, revolutionizing the way we access mobile networks during our global adventures. Say goodbye to hunting down local SIM cards at the airport; eSIMs provide instant activation the moment you land, sparing you the fortune usually spent on international roaming and allowing you to genuinely travel like a local (without getting hopelessly lost!).
With eSIMs, tasks like restaurant recommendations and reservations, up-to-the-minute public transport instructions, checking opening hours, and accessing further information become a breeze. And, of course, sharing your journey on social media is easier than ever. To stay connected wherever you roam, consider using either Airalo or Holafly. Airalo boasts the most extensive range of destinations worldwide, offering smaller data bundles tailored to your needs, while Holafly provides unlimited data packages and fantastic EU data deals.
So why wait? Embrace the future of travel connectivity with eSIMs and make your next journey effortlessly smooth.
Further Things To Consider Before Any Adventure
Now you're all set and prepared to explore our big wide world, why not sort out everything else out all in one go? If necessary for your travel plans make sure you have brought proper travel insurance, protected your privacy by getting a secure VPN, compared all the top hotel booking sites to find just what you're after, reserved an unbeatable rental car price and - of course - booked the best flight deals!
Or maybe just forget it all and go for a last-minute cruise or effortless tour instead?
Many budget travelers (including me) indulge in worldwide airport lounge access, so we can experience luxury while still slumming it in economy. Naturally, we would never leave home without a more general travel guide since we couldn't possibly cover everything here!
Just add an adventurous attitude and plenty of smiles - they go a long way - and that about covers it all! Now go out, find your own path and don't forget to share your best inspiration stories with me on Facebook, Twitter, and Instagram...I'd love to hear from you!