Vermont has a lot to offer for both national and international filmmakers. The country has fabulous natural landscapes, as well as being well known for its small-town charm and pastoral scenery. So it will come as no surprise that there are so many wonderful movies set in Vermont.
There are plenty of beautiful sights and stories to tell around the many places that make up the United States. But sometimes it feels like we always see the same thing. There are lots of films and TV series set in New York, as well as many that take place in the state of California. Yet it isn't every day that you get to see on your screen the lush forest and snowy valleys of one of the most charming states in the country, Vermont.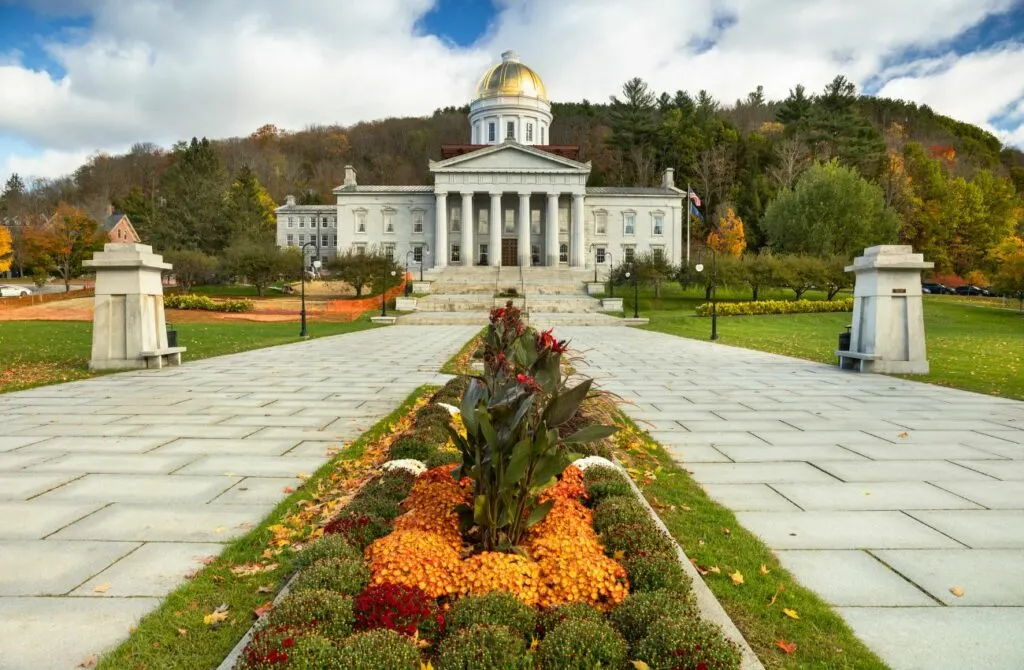 This homely state has some of the biggest natural landscapes, but it also is home to a very small amount of people (it is, in fact, the second-to-last least populated state). This combination makes it the perfect place for lovers of nature.
For some, it may seem like a rough place to live. But if these movies will teach you something, it's that Vermont can become anyone's home. A unique destination, no doubt, Vermont shines through the eyes of these filmmakers who have managed to capture a little of its immense beauty.
Wondering where to watch? It depends on where you live in the world and which streaming services you have. We link to the streaming service we watch on in each case - be it Netflix, Amazon Prime, Apple TV+, or elsewhere.
You can get one month free of Amazon Prime (or a 6-month trial for students) of Amazon Prime and also get immediate access to FREE Two Day shipping, Amazon Video, and Music. While you won't be charged for your free trial, you'll be upgraded to a paid membership plan automatically at the end of the trial period - though if you have already binged all these, you could just cancel before the trial ends.
Apple TV+ also has a one-week trial, and Hulu has a one-month trial (which can be bundled with Disney!). Another option might be using a VPN to access Netflix titles locked to other regions. Netflix is now available in more than 190 countries worldwide and each country has a different library and availability. US Netflix is (understandably) one of the best.
While we wish everything could just be in one place - for now, it seems these are the best streaming platforms to watch on.
These Vermont films have narratives that rely on their settings as much as their main protagonists, and as a result, spectators get a glimpse of this iconic country through the director's eyes. To honor the concept of cinematic travel, we have also assembled lists of our favorite films shot in some of our all-time favorite travel destinations: Indonesia, Hong Kong, Amsterdam, Tokyo, Mexico City, Poland, and Italy.
Dead Poets Society is one of the greatest films ever made. It moved both audiences and critics alike. It features some truly captivating performances: from the late and great Robin Williams, of course, but also from the boys.
Even though it was the first feature film for many of them, they still did an incredible job. It's a film that stands through the test of time and its themes and messages are still relevant to this day. It also happens to be set in a remote fictional boarding school in Vermont.
Set in 1959, the film follows Todd (Ethan Hawke), a shy boy who is sent to an elite conservative boarding school known as the Welton Academy.
While he's quite nervous about meeting new people and dealing with the pressure that going to the academy entails, he quickly finds himself enjoying his time there. That's thanks to Neil (Robert Sean Leonard), Todd's roommate who makes him part of his friend group. Yet it isn't just Todd's life that's about will change.
During the first day of school, all the boys get to know the new English teacher, John Keating (Robin Williams), an unorthodox and free-spirited man who loves poetry and hates the strict rules that the academy imposes.
It's thanks to him that the boys start to learn what poetry is, with many of them starting to love poetry too. Todd starts writing poetry and Neil discovers his love for theater, going out for an audition and getting a part in a play.
Dead Poets Society captures something beautiful about art and has lots to say about the role that it plays in the lives of young boys.
Starring Liam Neeson, the film tells the story of the titular Ethan Frome, a disheveled old man living in a cold town in Vermont, and the misfortunes that made him who he is.
It's an adaptation of a 1911 book of the same name written by Edith Wharton, who also penned The Age of Innocence and was the first woman to ever win a Pulitzer Award. Like the original novel, the film is a tragic depiction of the clash between love and duty.
The film was directed by John Madden. You may be familiar with him due to his work on The Best Exotic Marigold Hotel (2012) and Shakespeare in Love (1998), the latter of which earned him an Academy Award for Best Picture. While Ethan Frome was his first movie, his talent to portray deep characters and tell moving stories was present from the very beginning.
The beginning of the film finds Ethan Frome living in isolation in the fictional town of Starkfield. When the new town reverend (Tate Donovan) decides to get close to Frome, the audience will learn his tragic story.
Ethan Frome is actually about a love triangle: while Ethan is taking care of his sick wife, Zeena (Joan Allen), he falls in love with his cousin-in-law, Mattie (Patricia Arquette). Little by little the film will reveal what became of the two women and what part Ethan played in their fate.
Although you may have not heard about The Spitfire Grill, by Lee David Zlotoff, this 1996 quiet character portrayal stands as one of the best dramatic features to come out of Vermont. It tells a story of redemption, compassion, and sacrifice.
The film stars Allison Elliot as a woman recently released from prison and trying to find her place in the world. This was Elliot's first-ever feature role (just one year before her work on The Wings of the Dove, which would get her a nomination for a Screen Actors Guild Award).
After being released from prison, Percy (Elliot) finds herself with no prospects nor a place to go. The road will take her to a small insular town, where the café known as "The Spitfire Grill" is looking for a new waitress.
While the people in the town are suspicious of Percy's past, she's taken in by the café owner, Hanna (Ellen Burstyn). The film will see Percy finding her place in the town and changing everyone's opinion of her.
Although The Spitfire Grill didn't get much mainstream attention, it received plenty of praise in the indie festival circuit, charming audiences and critics alike. In fact, the film was voted the best film at the Sundance Film Festival that year, winning the Audience Award.
Before I Sleep, by Aaron and Billy Sharff, is a contemplative film. It looks back on the life of its main character, Eugene Devlin (David Warner), an old American poet who now lives as a recluse in a town in Vermont.
The film shows his life in the present and the struggles he has to deal with now, like his distant relationship with his daughter and the sickness that threatens his life. But it also dives deep into his past: as Eugene reflects on the life he has led, we see him as a child, as a teenager, and as a grown man.
Each time he's played by a different actor, but all of them do a great job at portraying the different stages in Eugene's life. While the poet deals with the hurts of the present, he'll find himself remembering things he had buried deep in his mind. Yet the film will show that one can find peace and redemption not in the past, but in the present.
The best part of Before I Sleep is its talented cast. It features actors who have had long and praised careers, like Warner, as well as less known faces like the young Eugene Simmons. Perhaps the most surprising part is that of Phoebe, Eugene's teenage lover, who is played by English star Bonnie Wright (who you may know as Ginny in the Harry Potter series).
Northern Borders was directed by Jay Craven, one of the most prominent directors from Vermont.
What makes Craven films so special is that they show that he's truly proud of being a Vermonter. Most of his films take place in the many charming locations of the state and he usually casts local actors who he's built a powerful working dynamic with.
This also shows in the stories he chooses to direct: Northern Borders is the latest in his many adaptations of Howard Frank Mosher's work. Also coming from Vermont, the late Mosher wrote much foundational fiction set in the state, with his most famous novel being Where the Rivers Flow North. This book was, in fact, also adapted by Craven in 1993 as his first feature film.
Set in 1956, the film tells the story of a young boy named Austen (Seamus Davey-Fitzpatrick) who finds himself in the care of his grandparents (who are played by the talented Bruce Dern and Geneviève Bujold).
While the boy doesn't particularly hate his elders, he soon finds life with them to be pretty rough. Not only is he forced to work on the farm, but he also is expected to act as an intermediary between the two.
It turns out that his grandparents don't talk to each other even though they have been together for over five decades. Young Austen will find solace, however, in a girl from school named Theresa who'll show him another way of living life.
What Lies Beneath is a star-studded supernatural thriller that takes place in a lake house in Vermont. The story follows a strained married couple whose life begins to turn into chaos when a supposed ghost starts haunting their house.
The film not only stars Michelle Pfeiffer and Harrison Ford in the role of the couple, but it also features Robert Zemeckis at the directorial helm. For those unaware, Zemeckis is probably responsible for some of the best movies you've ever seen.
Not only did he write and direct all three Back to the Future films, but he also was behind the great Who Framed Roger Rabbit and Forest Gump, the latter of which earned him the Best Director and Best Picture Academy Awards. Suffice it to say, What Lies Beneath is dripping with talent.
As said before, the film finds Pfeifer and Ford portraying a married couple who have drifted apart after their daughter left for college. Claire is a retired concert cellist who starts to get paranoid about their neighbors, another married couple, who are constantly fighting.
When the wife disappears, she's sure that her neighbor was the one that killed her. Then she starts seeing a ghost by the lake. Her husband, Norman, a scientist who doesn't care for the supernatural, dismisses her worries.
It turns out that her neighbor just was traveling and everything was a false alarm. That is until Claire discovers that her husband has been hiding a dark secret from her.
We Have Always Lived in the Castle, by Stacie Passon, is an adaptation of the famous 1962 mystery novel of the same name by writer Shirley Jackson. For those unaware, Jackson is one of the most prolific and acclaimed women in American Literature.
While her works took different forms depending on the story she was telling, she always chose to frame them in a horror and mystery genre. You may be familiar with her disturbing short story "The Lottery", or perhaps with the highly regarded 2018 adaptation of her 1956 horror classic The Haunting of Hill House.
The story sees two young orphans living in their old family manor with their uncle. While uncle Julian (Crispin Glover) is sick, teenager "Merricat" Blackwood (Taissa Farmiga) takes care of him and his sister, going out to the village every week to buy food and supplies.
Her older sister, Constance (Alexandra Daddario), hasn't left the house in almost seven years, ever since the death of their parents. The thing is, Constance is believed to be their parents' killer, so she is now hated by the whole town. Even Merricat suffers this hate: whenever she goes outside, both children and adults alike harass her.
Everything takes a turn for the worse when Charles (Sebastian Stan), an estranged cousin, arrives intending to take the family fortune for himself.
The final film by acclaimed American director George Roy Hill, Funny Farm stands as one of his funniest films. And that's saying a lot, considering that, during his short time as a director, Hill made several comedies that are now considered classics.
The film is an adaptation of a novel of the same name by Jay Cronley, known for writing humorous novels that were turned into successful films. It packs some hilarious comedy bits and gags set in Townshend, one of the most charming towns in the state of Vermont.
Perhaps the best part of the film is the fact that it stars Chevy Chase. Filmed during the height of his success, Funny Farm was one of the last of Chase's films to be well received by the public.
The eighties had been the best decade for Chase: he starred in Caddyshack, Three Amigos, and several of the National Lampoon's Vacation films in just a couple of years. As said, Funny Farm was the last of these series of successful films that would have Chevy Chase at the helm and it captures the best of his comedic talent at the time.
The film follows Andy Farmer (played by Chase), a writer living in New York who one day decides to pack everything and take his family to a small town in Vermont. You may wonder why. Like many writers, he thinks that a change of scenery will be the perfect thing to inspire him while he writes his next book.
Yet nothing goes as he expected: the town turns out to be not very friendly towards him and his family and all kinds of craziness ensues.
The Survivors, by the well-known comedy-director Michael Ritchie, tells the story of two men from New York who become friends in order to survive the pursuit of a hitman. The film stars two legendary comedy stars from two different times.
First, there's Walther Matthau, who appeared in tens of comedies ever since his debut during the fifties. Most notably, he developed The Odd Couple (1968) together with his partner Jack Lemmon. Then, there's Robin Williams you're probably familiar with thanks to his many comedic and dramatic roles during the eighties and nineties.
The film puts these two talented comedy stars together and the result is one of the funniest comedies ever made, even though it never became as successful as some of the movies the two of them did individually.
The Survivor follows Sonny (Matthau), a war-veteran gas station owner whose gas station has exploded, and Donald (Williams), an executive at a big company who just got laid off.
The two of them meet while looking for work at the unemployment line. They meet again at a local diner and decide to eat together. When a robber tries to rob the place, Donald is shot. He survives, but this event will cause the robber (Jerry Reed) to chase the two men and try to kill them.
How do they deal with it? At the behest of Donald, the two of them enlist in a survivalist school in Vermont where they'll be taught to defend themselves. Donald's training and preparation will be their only defense when the hitman goes after them.
Super Troopers, by Jay Chandrasekhar, is a comedy film following four Vermont state policemen (or, as they are known in the state, "troopers"). You'll be quickly introduced to the troopers and their wacky antics: they spend so much time playing jokes on each other and making fun of other troopers that their station is at risk of being closed.
When the police chief antagonizes them just as a woman is murdered in their jurisdiction, the troopers decide it's time to stop doing nothing and begin an investigation. The thing is, they may have forgotten how to be good policemen.
Super Trooper is a hilarious film. And it's made all the better thanks to its cast: the four troopers have lots of chemistry and experience with each other. This is, in fact, because they all come from the Broken Lizard comedy troupe, which is headed by Chandrasekhar himself.
If you find yourself wanting more once the film ends, you'll be delighted to know that in 2018 the group returned with a sequel: Super Troopers 2. Interestingly enough, the sequel was crowdfunded. Meaning that it got made thanks to the love and support of the fans of the original Super Trooper.
Starring the great British actor Colin Firth, Hope Springs sees the charming town of Hope in Vermont becoming the stage for a love triangle. This romantic comedy was directed by Mark Herman and based on a novel by the famous Charles Webb.
While not many people have heard about this film, it did have a good run in the United Kingdom, gaining several positive reactions from critics. It truly is a shame, because Hope Springs paints one of the most beautiful depictions of Vermont ever put to film. The town turns into an autumnal paradise through the eyes of the director, the perfect setting for this love story.
The film follows an English painter by the name of Colin who, after his fiancée breaks up with him, decides to travel to a place that will give him hope for the future. So, he decides to spend some time in Hope, Vermont.
While in the town, he becomes acquainted with the locals, who quickly take a liking to him after seeing the beautiful paintings of the town he produces. Among the locals is Mandy (Heather Graham), who takes more than a liking to Colin.
When everything seems to be going great, Colin's ex-fiancée shows up in Hope, asking for him to come back to her.
Vermont Is for Lovers is an indie documentary directed by John O'Brien. While his fame isn't international, O'Brien is one of the most notable filmmakers to work from and for Vermont.
Even though recently he has left filmmaking to pursue a career in politics (he now holds a seat in the Vermont House of Representatives), he has directed several films that were key to the state's portrayal in media, including the one we're talking about right now.
Vermont Is for Lovers follows a couple from New York who wants to get married in the quiet town of Tunbridge, in Orange County, Vermont. The film follows them as they arrive in the town and chronicles their wedding.
All the while, O'Brien shows many excerpts of interviews with residents of the town who talk about their marriages (à la When Harry Met Sally…). What's best about the film is that it features an honest portrayal of Vermont.
It shows Vermonters and their way of life: most of them are easy-going and some are very colorful characters. It also shows the beautiful landscapes that any town in the state has. By the end of this film, you'll be convinced that Vermont truly is for lovers.
Staying Connected While Travelling
In today's increasingly connected world, staying online while traveling has become essential for a seamless experience. That's where eSIMs come into play, revolutionizing the way we access mobile networks during our global adventures. Say goodbye to hunting down local SIM cards at the airport; eSIMs provide instant activation the moment you land, sparing you the fortune usually spent on international roaming and allowing you to genuinely travel like a local (without getting hopelessly lost!).
With eSIMs, tasks like restaurant recommendations and reservations, up-to-the-minute public transport instructions, checking opening hours, and accessing further information become a breeze. And, of course, sharing your journey on social media is easier than ever. To stay connected wherever you roam, consider using either Airalo or Holafly. Airalo boasts the most extensive range of destinations worldwide, offering smaller data bundles tailored to your needs, while Holafly provides unlimited data packages and fantastic EU data deals.
So why wait? Embrace the future of travel connectivity with eSIMs and make your next journey effortlessly smooth.
Further Things To Consider Before Any Adventure
Now you're all set and prepared to explore our big wide world, why not sort out everything else out all in one go? If necessary for your travel plans make sure you have brought proper travel insurance, protected your privacy by getting a secure VPN, compared all the top hotel booking sites to find just what you're after, reserved an unbeatable rental car price and - of course - booked the best flight deals!
Or maybe just forget it all and go for a last-minute cruise or effortless tour instead?
Many budget travelers (including me) indulge in worldwide airport lounge access, so we can experience luxury while still slumming it in economy. Naturally, we would never leave home without a more general travel guide since we couldn't possibly cover everything here!
Just add an adventurous attitude and plenty of smiles - they go a long way - and that about covers it all! Now go out, find your own path and don't forget to share your best inspiration stories with me on Facebook, Twitter, and Instagram...I'd love to hear from you!