Whether you are heading to Dublin for a weekend getaway or exploring this ancient city for longer you will, of course, want to explore some of the best Pubs in Dublin.
Dublin, and Ireland at large, are known for leprechauns, four-leaf clovers, and PUBS. If you lucky enough you may be there for St. Patricks Day which is probably the most Irish thing you can ever do, and of course its best celebrated…in a PUB.
I think you start to get the picture here.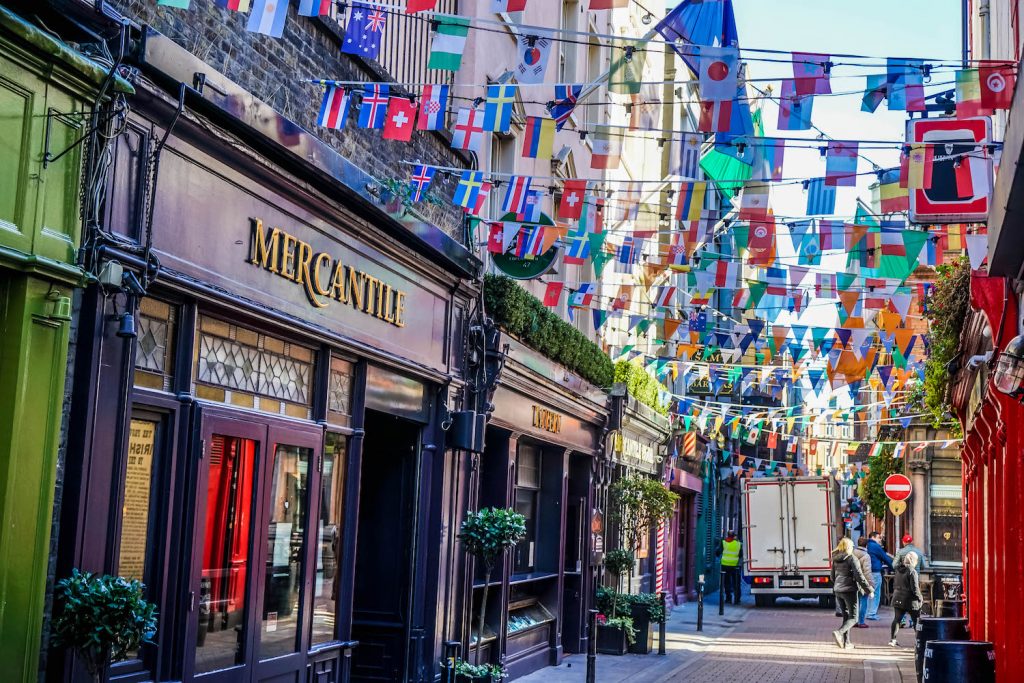 So after my recent visit, and being shown around by two enthusiastic locals, I decided to put together a list of the best pubs in Dublin. Obviously, this list has no formal criteria but tries to bring together a variety of different pub cultures from the old-timey with flower boxes to modern with glass and famous DJs.
You could even try to do them all in one day, a pint at each perhaps? Now that would be an epic Dublin Pub Crawl… Now I've said this, I probably need a disclaimer about accepting no liability or something I guess. You could also try visit all the famous pubs used in movies set in Ireland.
Either way, here you go, the best pubs in Dublin – as curated by a local. It is presented in no particular order. Enjoy!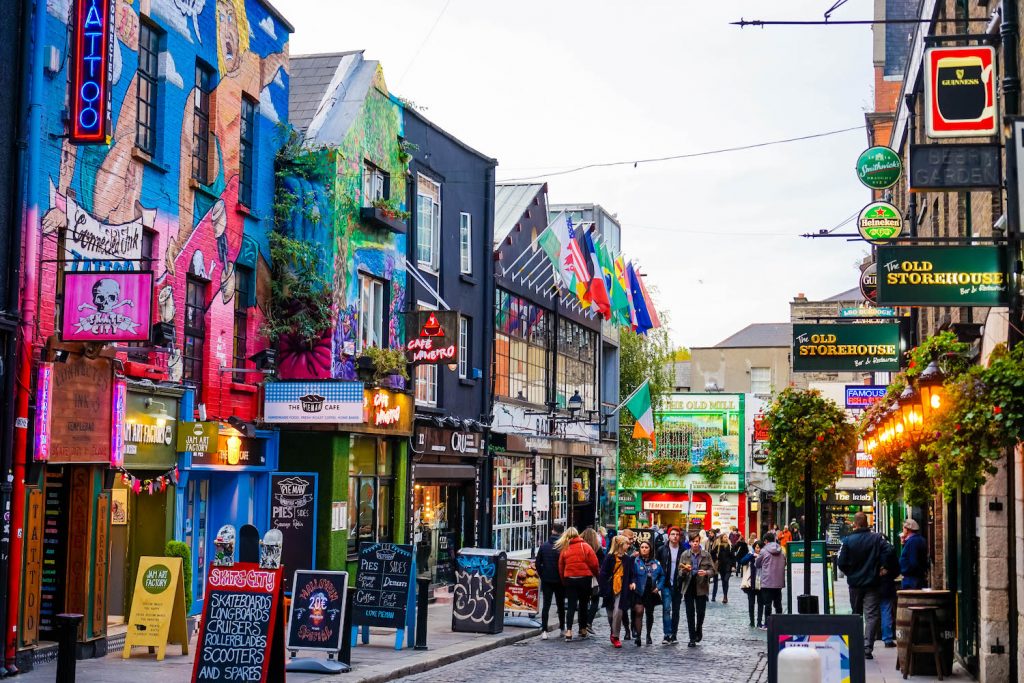 The 9 Best Pubs in Dublin You 100% Need To Visit Before You Leave!🍻
#1. Hogans
One of the most popular bars in Dublin. It is a spacious bar with an upstairs room and a large selection of beer presented in typical Victorian surroundings.
Its popular with locals, especially students, and has a very 'unpretentious' vibe. You can sit back here and watch a game or on the 3 days a year its sunny in Dublin – enjoy the sun with its outdoor seating.
Hogans Pub Address: 35-37 South Great George's Street, Dublin 2, Ireland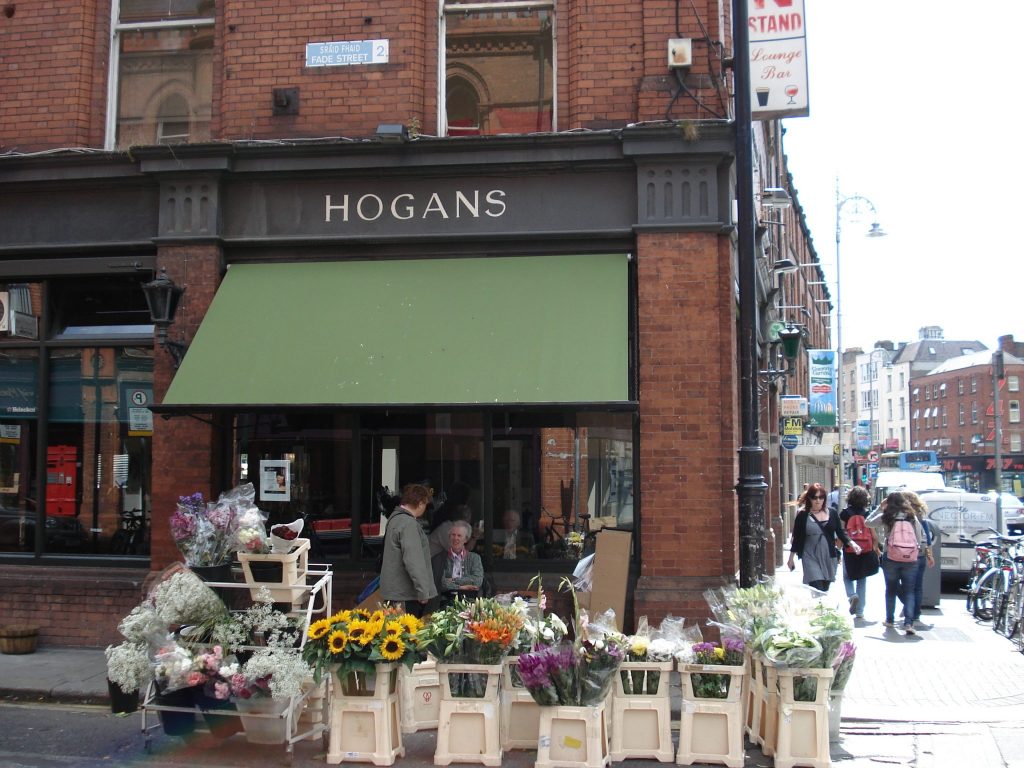 #2. Sophies
A glasshouse restaurant, come nightclub, where the weather is their wallpaper. The vibe changes significantly from a laid-back sunrise through a buzzing sunset. Fine dining Italian during the day but at night when the lights go out it turns into one of the hippest spots in Dublin.
Trendy D sets, slightly pricey drinks and a 'seen-and-be-seen' scene. It also has one of the best views in Dublin and a party until the sunrise mentality – especially on a Saturday night when it is very gay-friendly!
Sophies Bar Address: 33 Harcourt St, Saint Kevin's, Dublin 2, Ireland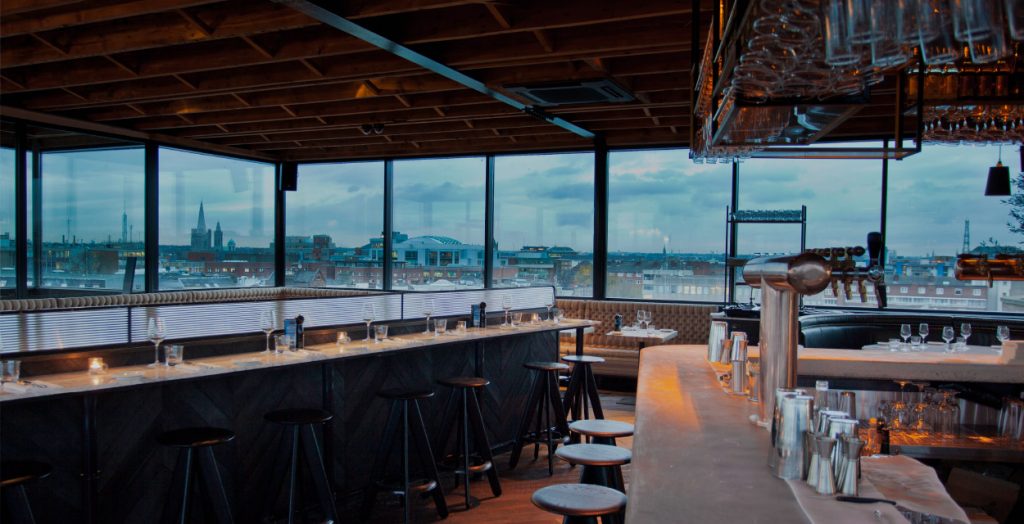 #3. The Dean
One of the least traditional on the list – A boutique hotel whose lobby turns into a pumping hipster bar. Pints and cocktails flow thick and fast, good conversation is the name of the game here.
A guest DJ is on decks during the weekend to serve up soundtracks so obscure you will feel just like one of the in-crowd. Not your average Dublin, but this is where the young and beautiful congregate these days. Times are changing and so are the best local pubs in Dublin!
The Deans Address: 33 Harcourt St, Saint Kevin's, Dublin 2, Ireland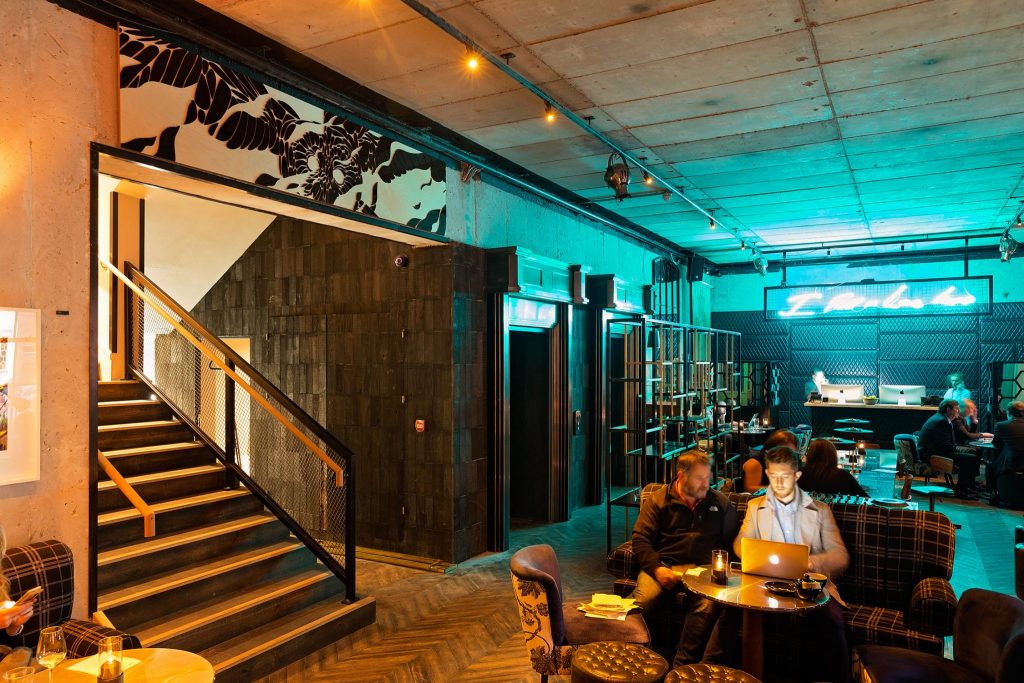 A gorgeous Victorian pub with wrought-iron chandeliers, old barrels, ceiling-high mirrors and enough history to fill a library.
This is probably Dublin's best preserved Victorian pub – and everything here is of authentic Victorian origin. Finding it is akin to discovering a rare treasure as it is concealed through a narrow passageway but when you enter a world of old culture and values wash over you.
Quentin Tarantino was once refused a pint from the Stag's Head. He tried to pull the 'Do you know who I am?' card, but was rebuffed by the staff because it was after hours and one rule applies to all.
A perfect place to chat and mingle, let the Irish fawn over a tourist and of course – Try a pint of the famous Guinness.
The Stags Head Address: 1 Dame Ct, Dublin 2, Ireland
#5. Fagans
A fantastic local, with authentic flower-boxes and a menagerie of people who get one and off the number #16 outside. It has a carvery out back for those looking for a basic pub meal, otherwise, there is a hum in the air as people chat the afternoon away. No music, no fuss – Just good bear in a beautiful old surrounding.
Its located close to Croke Park if you are going to catch a game or a concert, and is the least likely to find a tourist here given its location – and so deserves its place on any Dublin Pub Guide. Be sure to strike up a conversation with your neighbor, it's very friendly.
Fagans Address: 146 Drumcondra Rd Lower, Drumcondra, Dublin 9, Ireland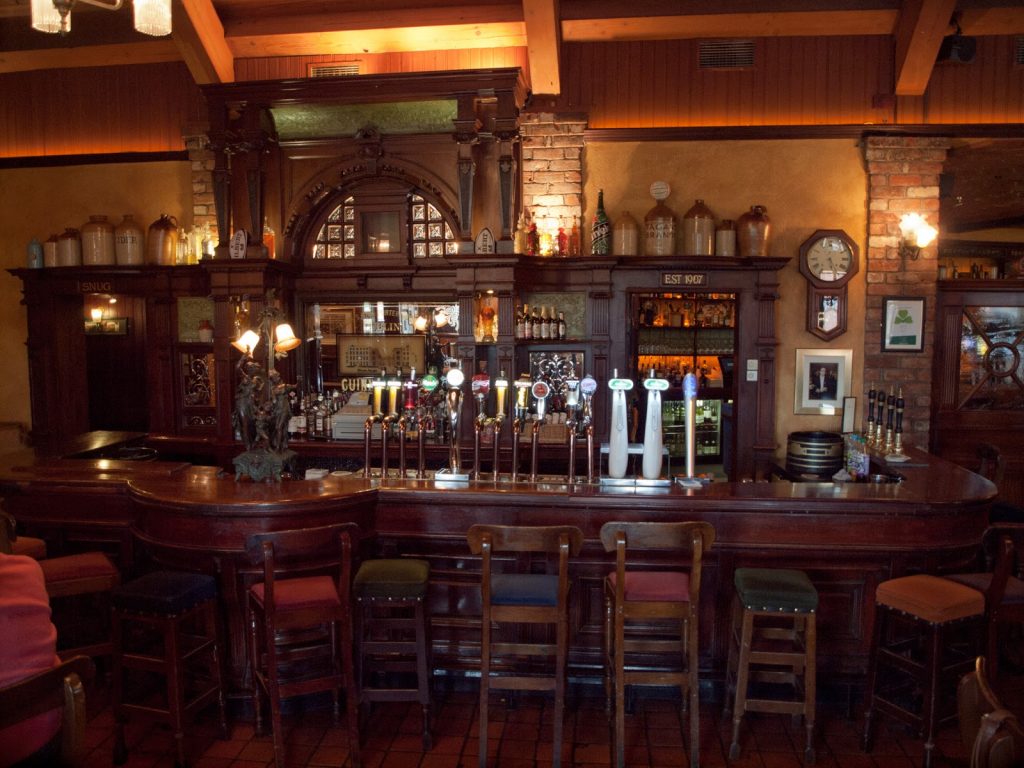 #6. 57 The Headline
Another local pub with a nice vibe and almost guaranteed to be tourist free. It's first and foremost a craft Beer Bar with 24 Craft Beer taps and a huge range of Gin & Tonic. They have a great taster for beers and of course, Irish Whisky.
Did you know: Dublin has one pub for every 1906 people (was 700 in 1924), most of whom cram in on Paddy's day!
Not my thing but the guys behind the bar really know their stuff and have an amazing attitude. The food here is also really good and quite cheap compared to other places on this list. Get ready to laugh and enjoy Irish hospitality.
57 The Headline Address: 156-57 Clanbrassil Street Lower, Merchants Quay, Dublin 8, D08 HC79, Ireland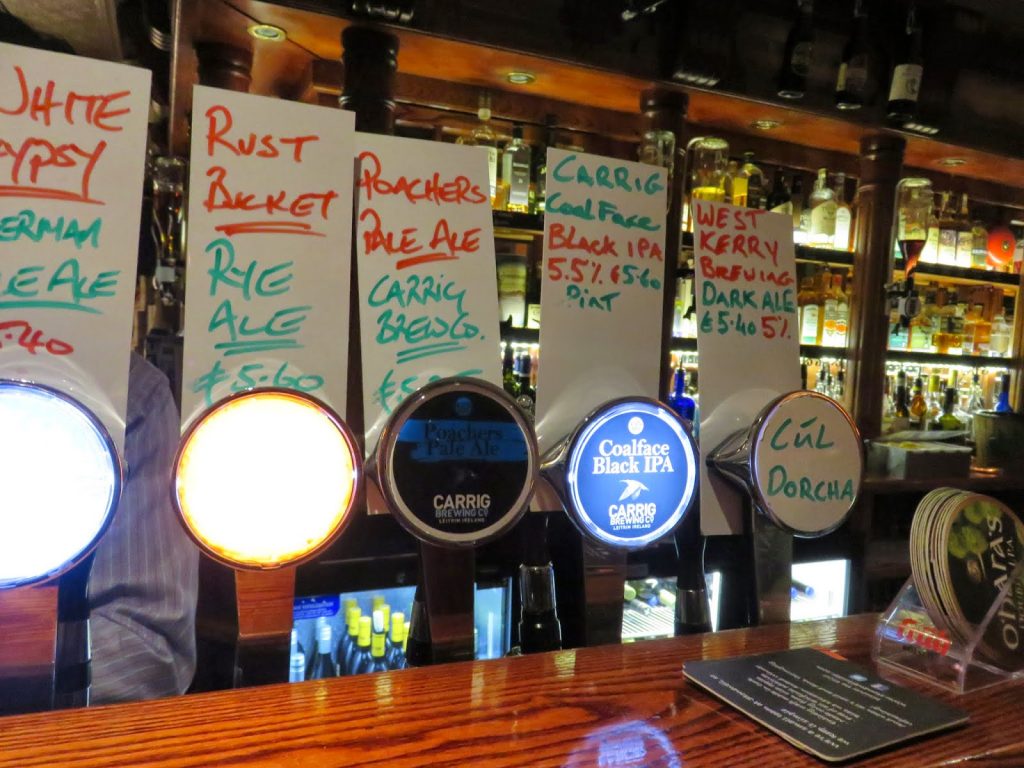 #7. Grogans
Grogans is a bit of an institution. A local pub in the heart of the city with all manner of characters coming and going. A sampling of Dublin's citizen all in one place.
It has a lively buzz and intensity of an authentic Dublin city pub, but this place really shines for its outdoor seating. Grab a pint and head to the curb – People watching is the name of the game here, and I promoise you will see some incredible things.
When it gets cold, Grogans is also one of the few bars left where your conversation needn't compete with a wide screen TV or stereo.
A varied clientele and good-humored, friendly staff you can be sure of a warm welcome every visit. Of course, if booze is not your thing why not use those hangover-less mornings to head out of town and try the traditional afternoon tea experience at the world-famous Ashford Castle!
Grograns Address: 15 South William Street, Dublin 2, Ireland
#9. The George
One for our LGBT friends out there – and rainbow allies!
Haven't you heard? Ireland and Dublin are changing. Gay marriage, legal abortions, and a fabulous new gay scene.
The George is deserving to be on any list of the best pubs in Dublin but let us be clear: it is not just any bar or any gay bar. The George is the first port of call for young gay people in Ireland, it is the venue where gay and straight people mix together.
A historic institution close to Temple Bar, inside you, will not only find a friendly welcome but a stylish front bar with velvet-clad barstools, affordable drinks and lots of events always going on from karaoke to bingo and drag shows.
Later at night, there is also a club room for pumping DJs and live bands. Check out this gay guide to Dublin for further advice.
The George Address: South Great George's Street South Great George's Street, Dublin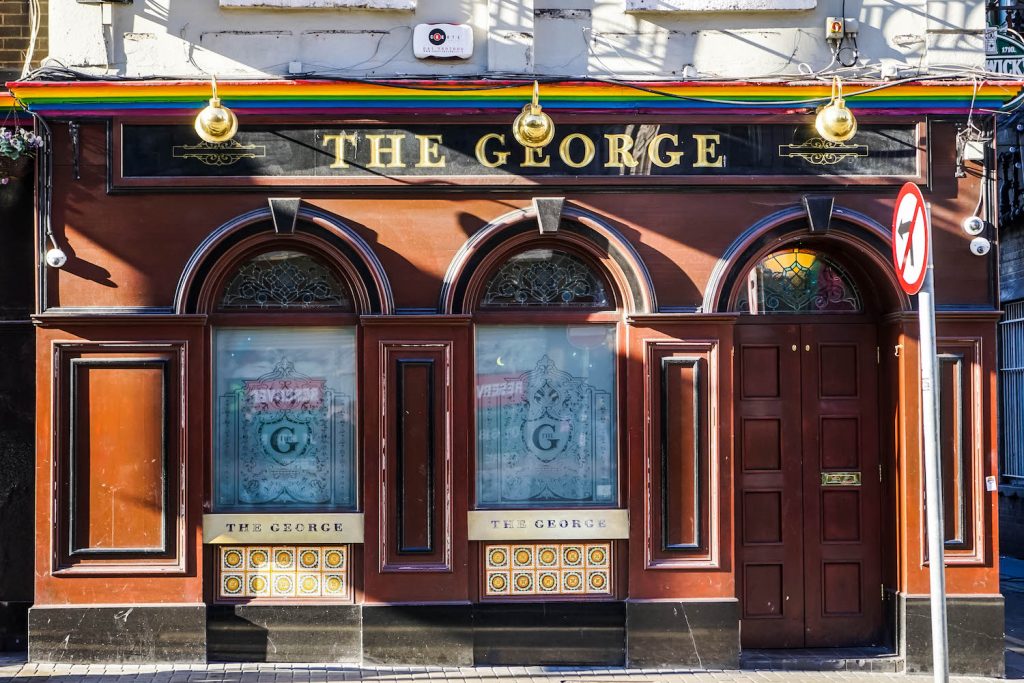 #10. Gravity Bar @ Guinness Storehouse
Ok, so locals are probably going to gasp at this recommendations but sometimes you have just got to embace your inner tourist. And what better place to do that then enjoying a perfectly poured pint of the black stuff sitting high above Dublin's historic rooftops?
And at the home of Guiness now less. Enjoy fabulous 360° views across the city's magnificent skyline after finishing a tour of this famous Dublin Brewery which produces the best tasting Guinness in the world. It might not technically be one of the best museums in Dublin, but hey – its one of the most fun!
It all has to do with the local water, but as you will find out quickly in Dublin, Guinness has a slightly different taste in almost every pub – it has something to do with the lines. Every Dubliner will have a different opinion, but honestly: with views like this, and a story to match, how can you do wrong with Gravity Bar.
Lines can get extremely long, so be sure to book your Guinness tour in advance to avoid waiting when you arrive!
The Gravity Bar Address: Guinness Storehouse, St. James Gate, Dublin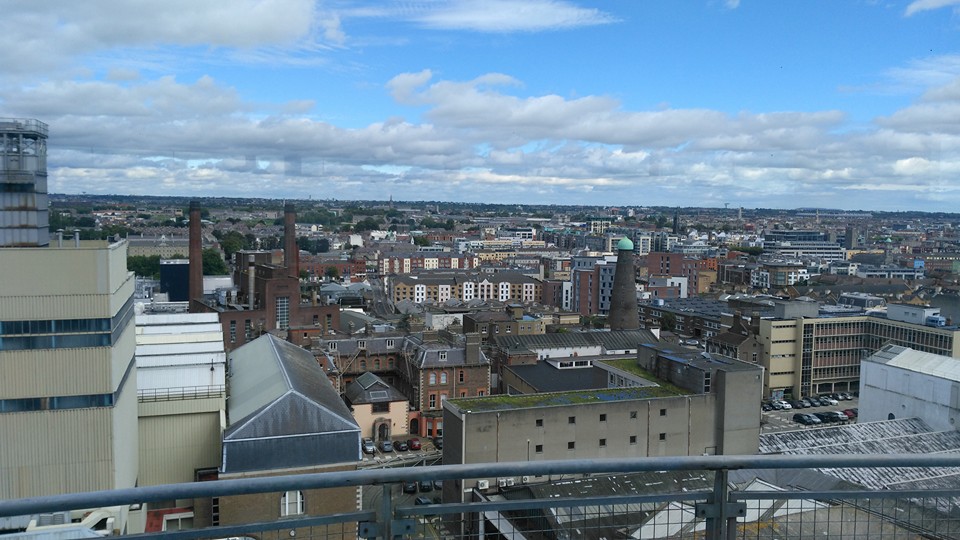 So there you have it …. The Top Local Dublin Pubs! Let me know which ones you prefer, and if you have any other pubs that cannot be missed, please let us know! I truly believe these are the eight best pubs in Dublin to drink the night away, but I am always happy to go back and try out other suggests!
Oh – and if drinking is not your thing?
You might also consider this Dublin literary tour for book nerds and library lovers!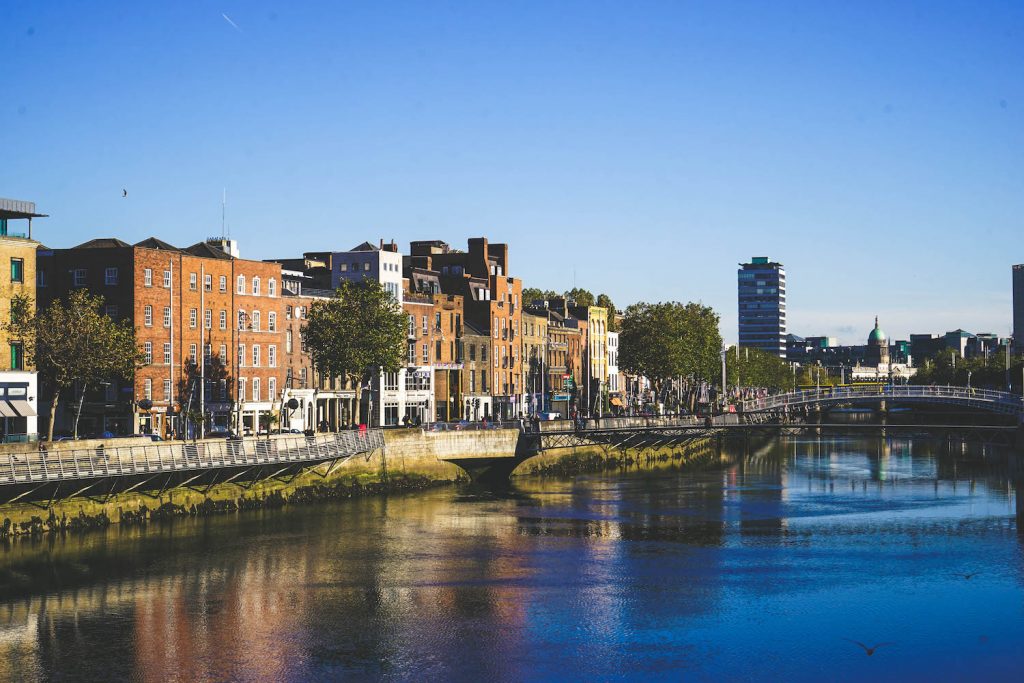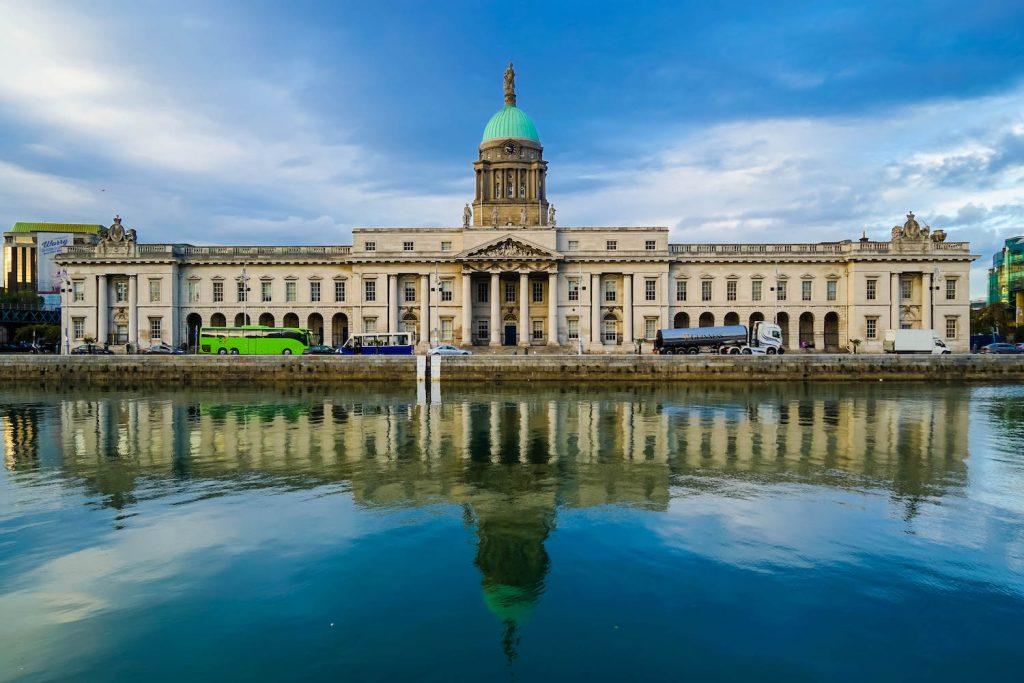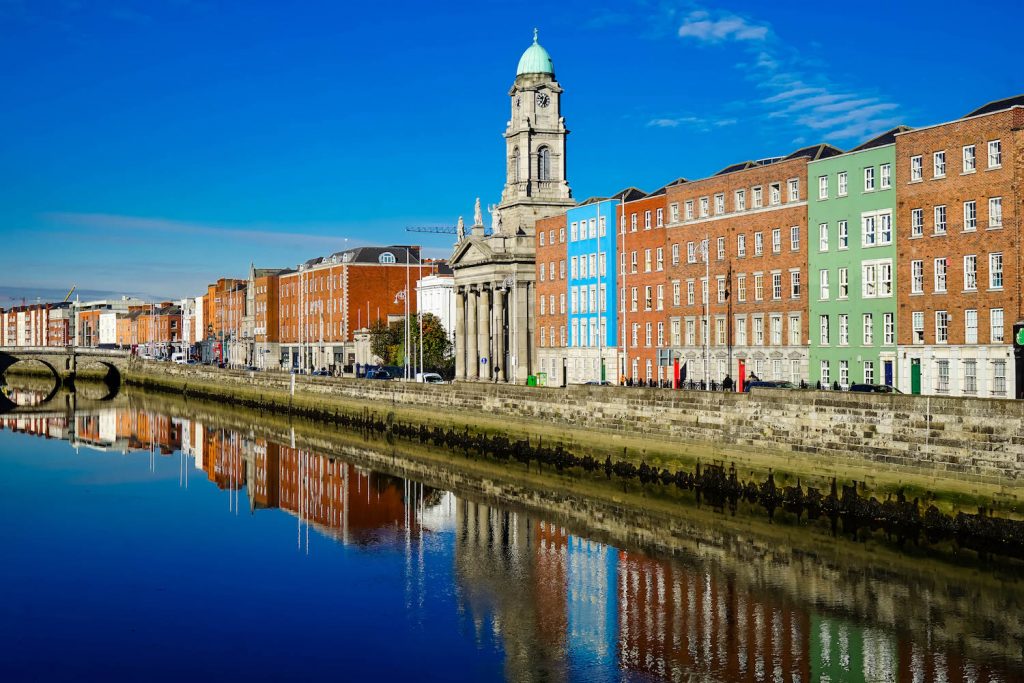 Further Things To Consider Before Any Adventure
Now you're all set and prepared to explore our big wide world, why not sort out everything else out all in one go? If necessary for your travel plans make sure you have brought proper travel insurance, protected your privacy by getting a secure VPN, compared all the top hotel booking sites to find just what you're after, reserved an unbeatable rental car price and - of course - booked the best flight deals!
Or maybe just forget it all and go for a last-minute cruise or effortless tour instead?
Many budget travelers (including me) indulge in worldwide airport lounge access, so we can experience luxury while still slumming it in economy. Naturally, we would never leave home without a more general travel guide since we couldn't possibly cover everything here!
Just add an adventurous attitude and plenty of smiles - they go a long way - and that about covers it all! Now go out, find your own path and don't forget to share your best inspiration stories with me on Facebook, Twitter, and Instagram...I'd love to hear from you!