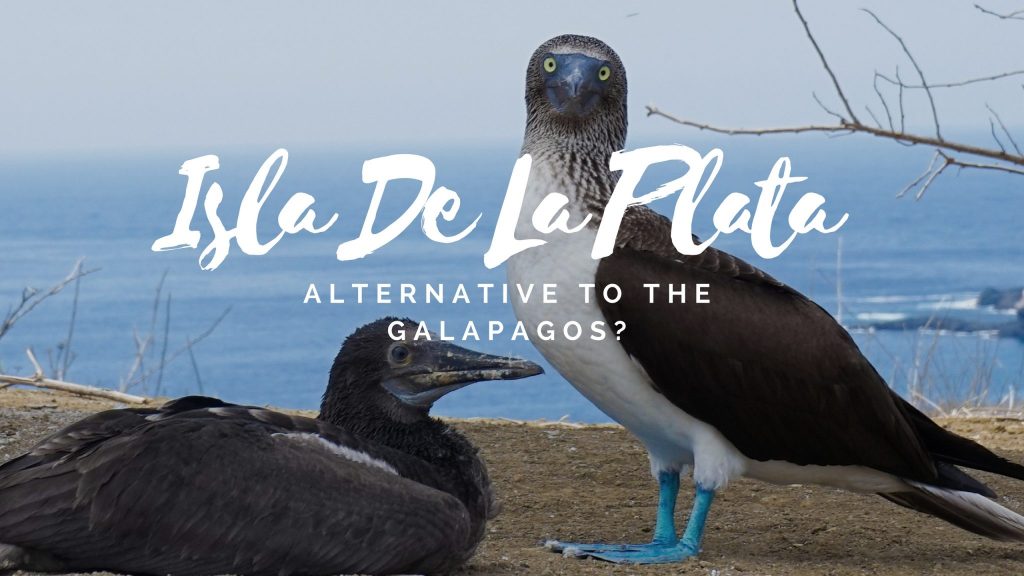 Located 600 miles of the Ecuadorian coastline are the Galapagos Islands, a series of islands known for their highly diverse and rich ecosystems and also known as being a rather pricey destination for your average traveler.
But fear not in your quest to see Boobies (the blue-footed sort of course!!) for there is another magical place, where any traveler of Ecuador can visit to see these odd little avians – for a fraction of the price!
… So, without any further ado, I introduce to you: the magnificent Isla De La Plata in Ecuador!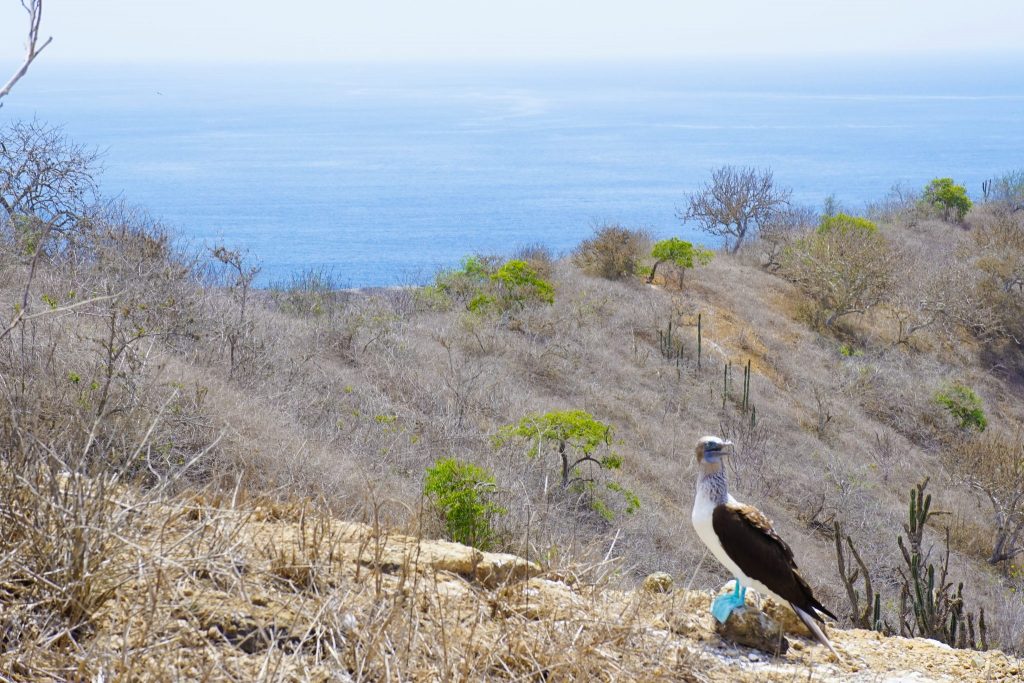 Isla de la Plata, a small, much less famous island off the central coast of Ecuador is also home to the Blue Footed Boobie – who knew the Galapagos didn't have a monopoly right?!
An uninhabited island featuring shrubland, tropical dry forest and pristine beaches which is famed for its large populations of rather inquisitive seabirds….
All sounding rather familiar?
Of course, it does – But how does Isla de la Plata Ecuador stack up to its more famous brother I hear you scream. Well, having also been to the Galapagos as well I wanted to give you my thoughts on both so you can compare for yourself. Sure, the Galapagos was probably always going to come out on top, but Isla de la Plata stands out as a surprisingly good alternative!
Isla De La Plata In Ecuador: Affordable Alternative To The Galápagos Islands? 🇪🇨
First off, the best thing is that its only 40 kilometers from the mainland, meaning that day trips out to the island to see these creatures is entirely possible for a minuscule fraction of the cost of even getting to the Galapagos.
However, of course, it's not going to be quite the same level of amazing with a lack of sea lions, iguanas and tortoises but its pretty damn good all the same. The most common departure point to Isla de la Plata, Ecuador, from the mainland, is the fishing town slowly turning tourist town of Puerto Lopez. It is also possible to depart from nearby Montanita or Manta with a shuttle included through the boat trip will be longer.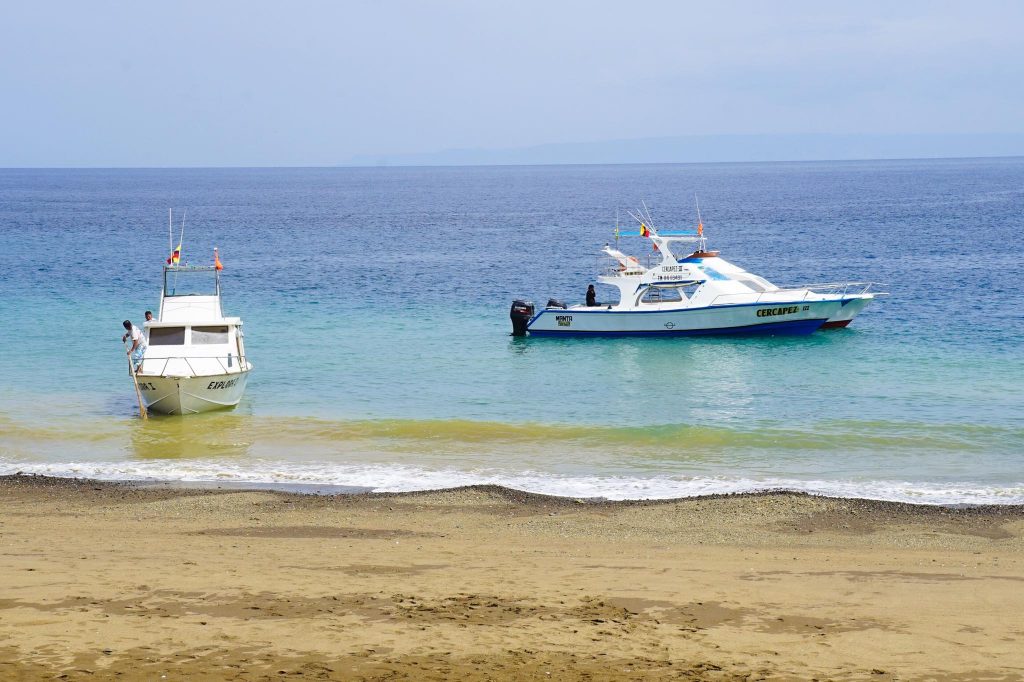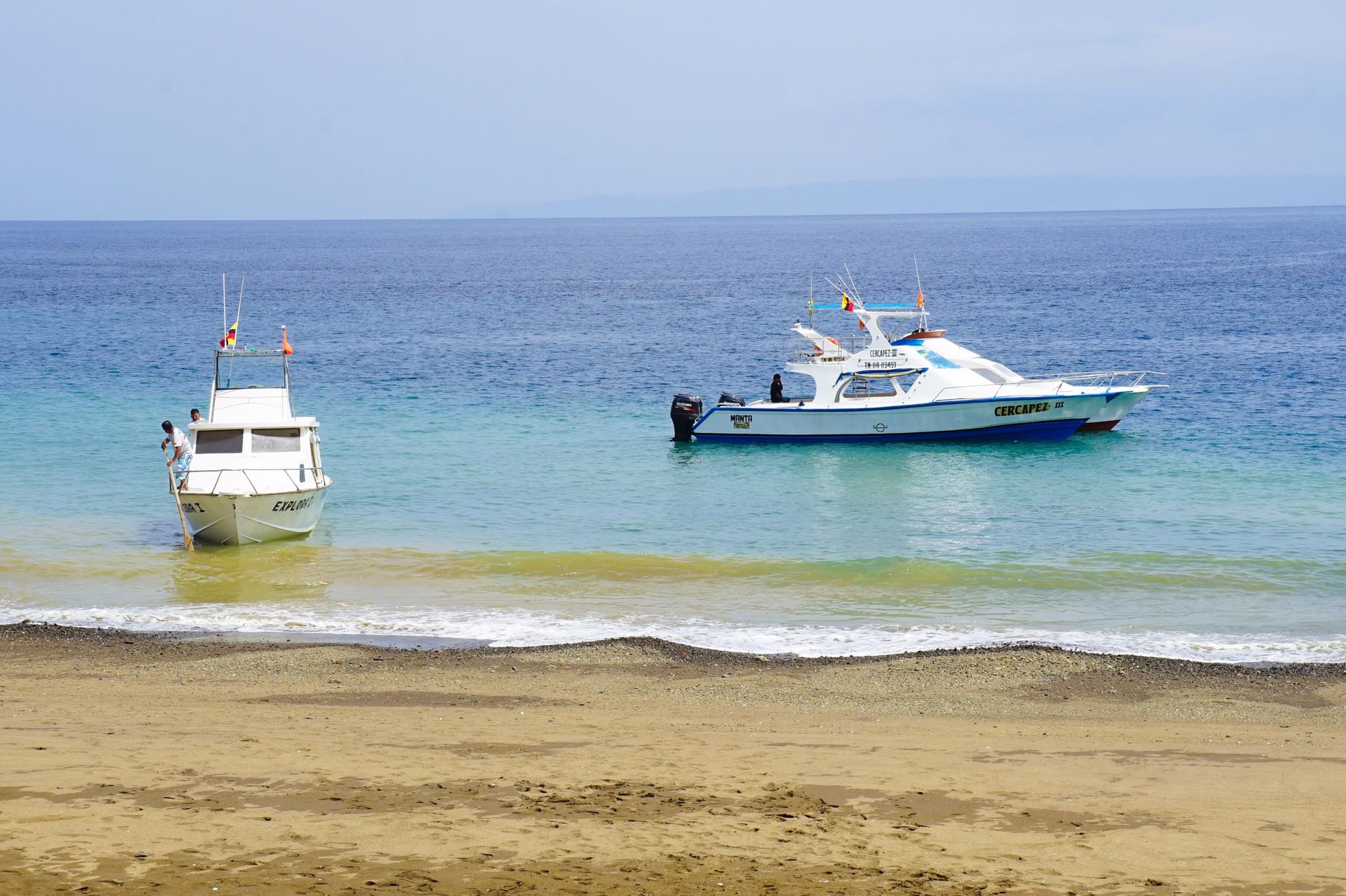 Puerto Lopez is an underrated destination with a great beachfront that also doubles as a great place to simply chill and enjoy the sun for a couple of days. Shortly after arriving and a bit of research we decided on a company to book our day tour. Prices usually vary between $25-$40 which probably depends mostly on how good your Spanish is as most companies offer pretty much the exact same itinerary.
I'd just go with the best deal.
Around 10 am the next day we headed down to the dock and boarded our boat with about 15 others. The trip out to Isla de la Plata takes around an hour so there is plenty of time to take in some fresh sea air and if you're lucky you may even be treated to a few Dolphins tagging along with the boat!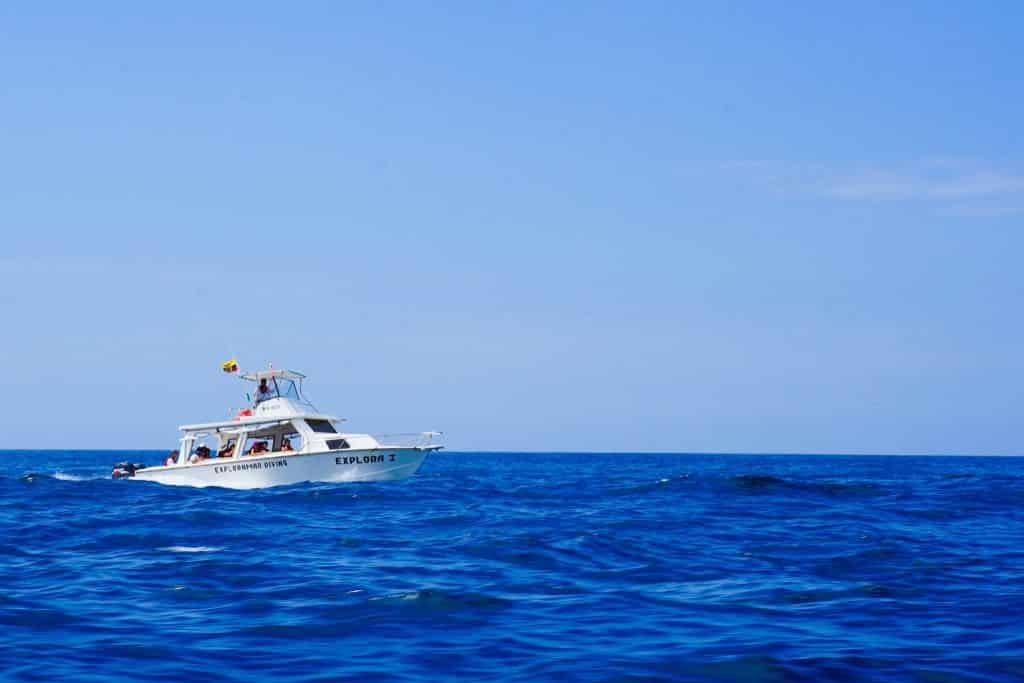 If you're there between late July and early October there could even be a bigger highlight, Humpback Whales!!!
Doesn't get much bigger than that let me tell you!
Around 500 – 2500 migrate through the area so consider the timing when planning your trip. As well as whales, Manta Rays congregate off the coast during the same time of year. If you're a diver it is possible to make trips from Puerto Lopez to dive with these magnificent creatures (for more great dive sites check out my Best Dive Sites in the World Guide!).
Unfortunately for us, we weren't around at the right time but the rest of the wildlife is still pretty amazing! On arriving at the bay in Isla de la Plata and clambering out of the boat (there is no dock!) we got a first taste of the island close up. A dry and hilly landscape rose up in front of us dotted with woody trees and desiccated scrub.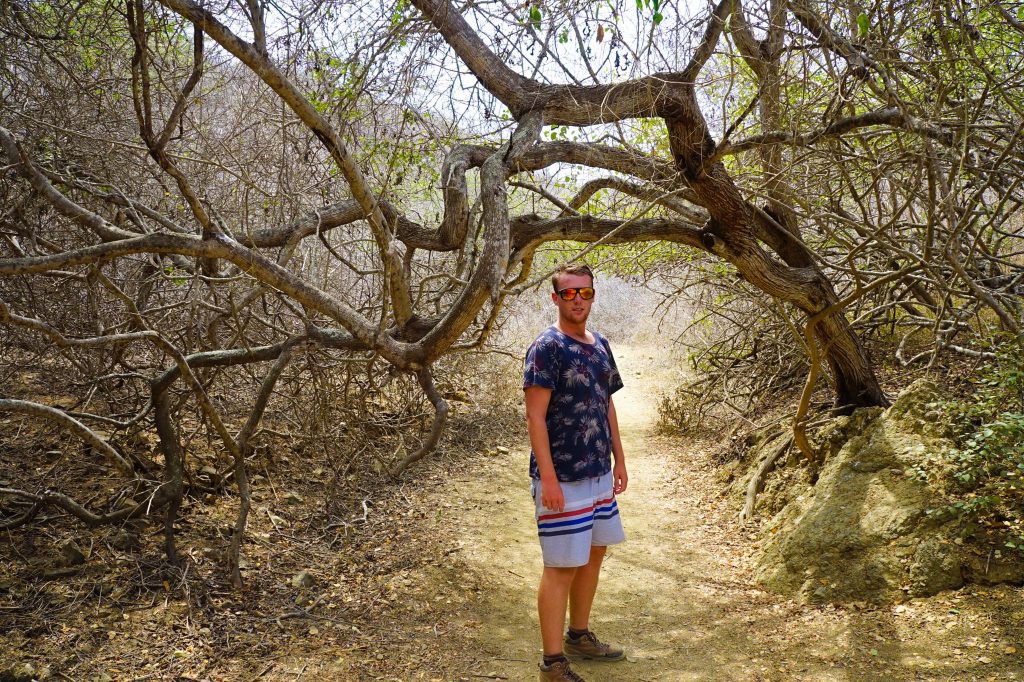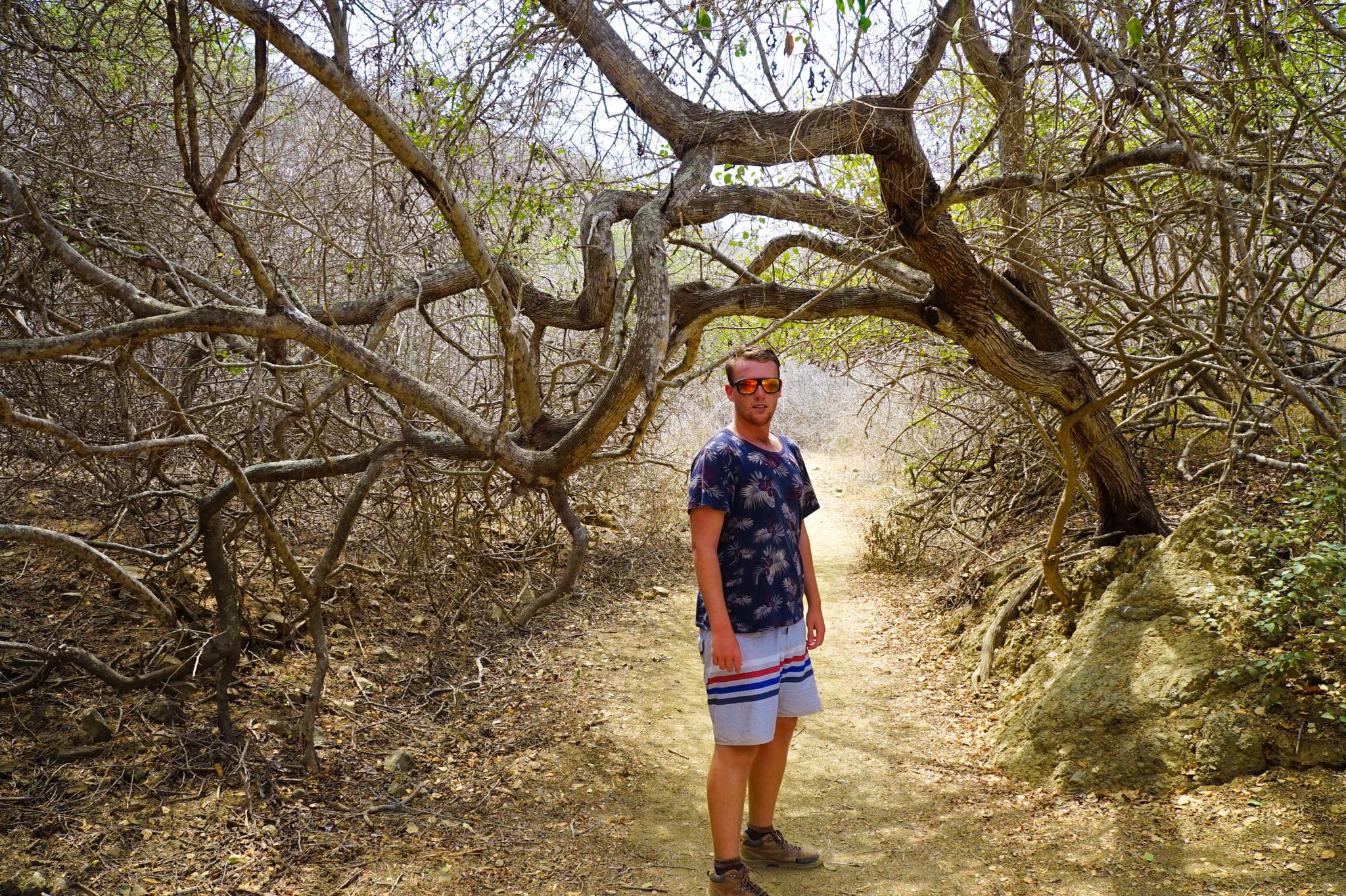 This is probably the biggest difference to the Galapagos where it's volcanic history has left it with a huge variety of environments ranging from bleak, lifeless rockscapes to tropical cloud forests surrounding the high volcanic craters.
But let's also remember the Galapagos is much, much bigger too!
Isla de la Plata, on the other hand, is part of the American continental shelf which drops deep into the Pacific Ocean only a few more miles away. While it's no longer attached its geology and fauna is decidedly mainland – beautiful in its own way, but not quite as exotic!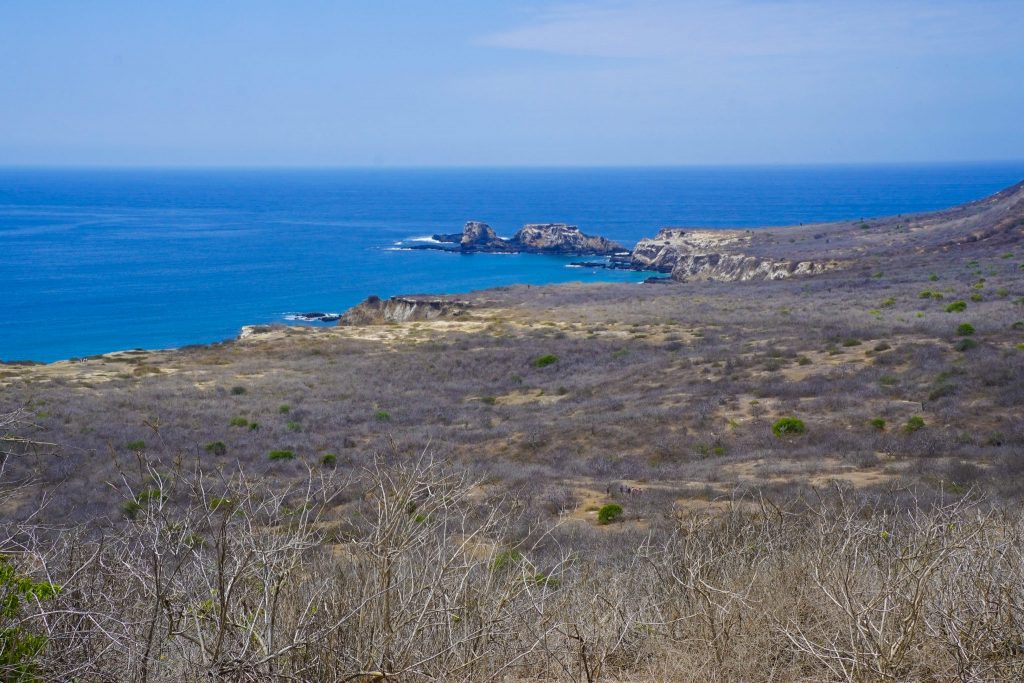 After our arrival, it was time to start the Boobie hunt!
Say it with me y'all! BOOBIES!
We had around 3 hours on dry land to explore. After the initial walk up the main hill, which I'll admit was a little tough in the heat and the 200 or so stairs, we arrived at the first viewpoint where our guide told us all about the unique environment and animals of the island.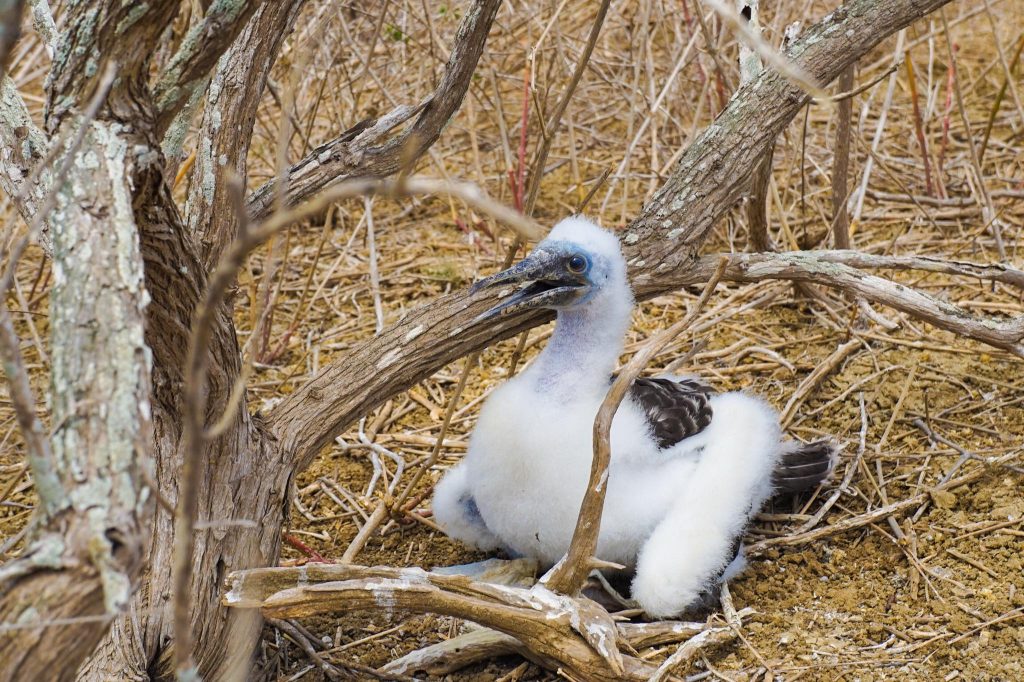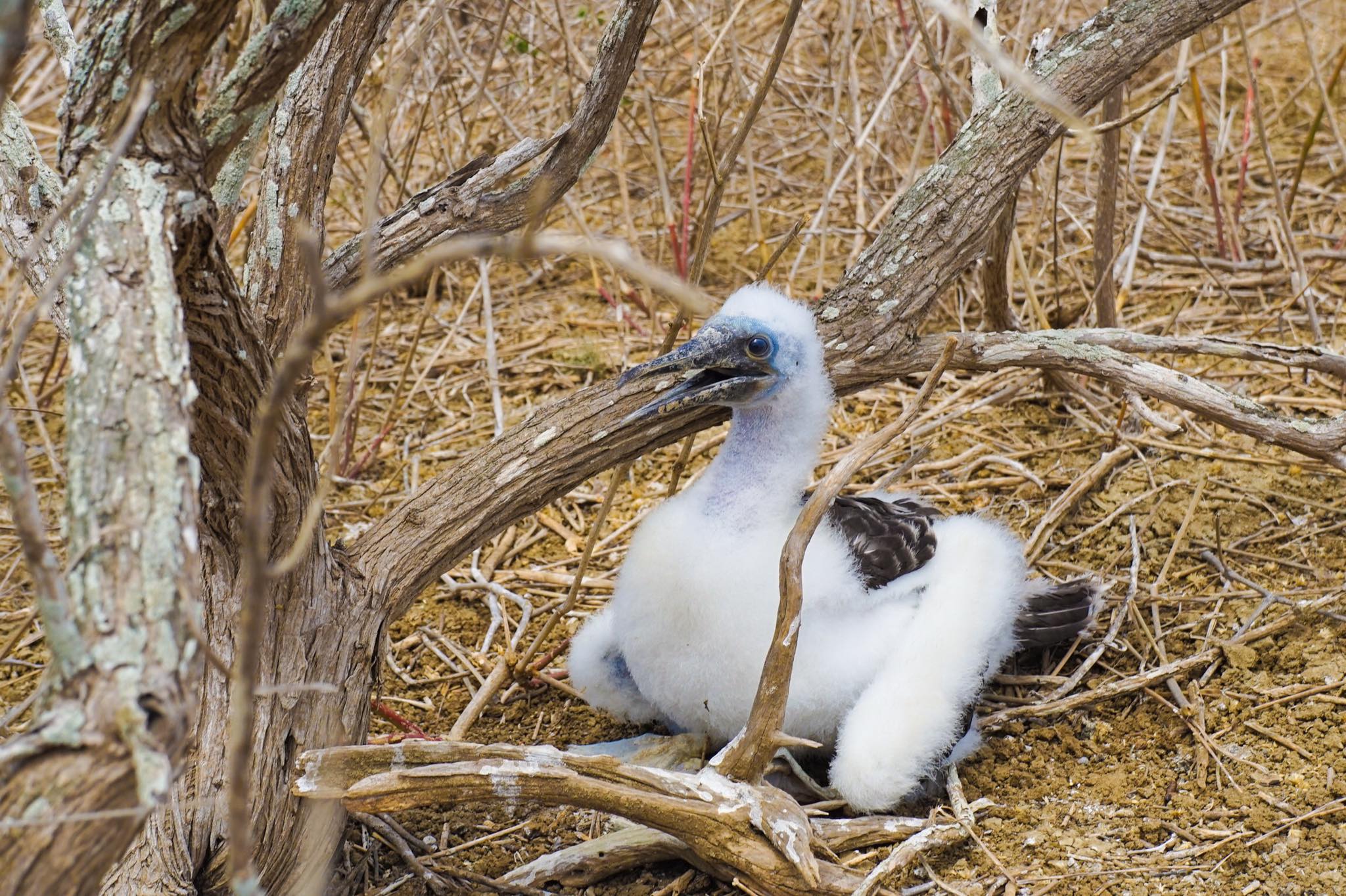 I wasn't really sure what to expect with the wildlife, or how easy or likely we were to see them, but our guide assured us this definitely wouldn't be a problem. And he wasn't wrong!
Within 2 minutes of walking along the track, we found a male Blue Footed Booby with its chick sitting smack bang in front of us with a picture perfect view behind it! It almost seemed unreal, it was as if someone had run ahead and placed them there.
Side note – if that is a job where do I apply!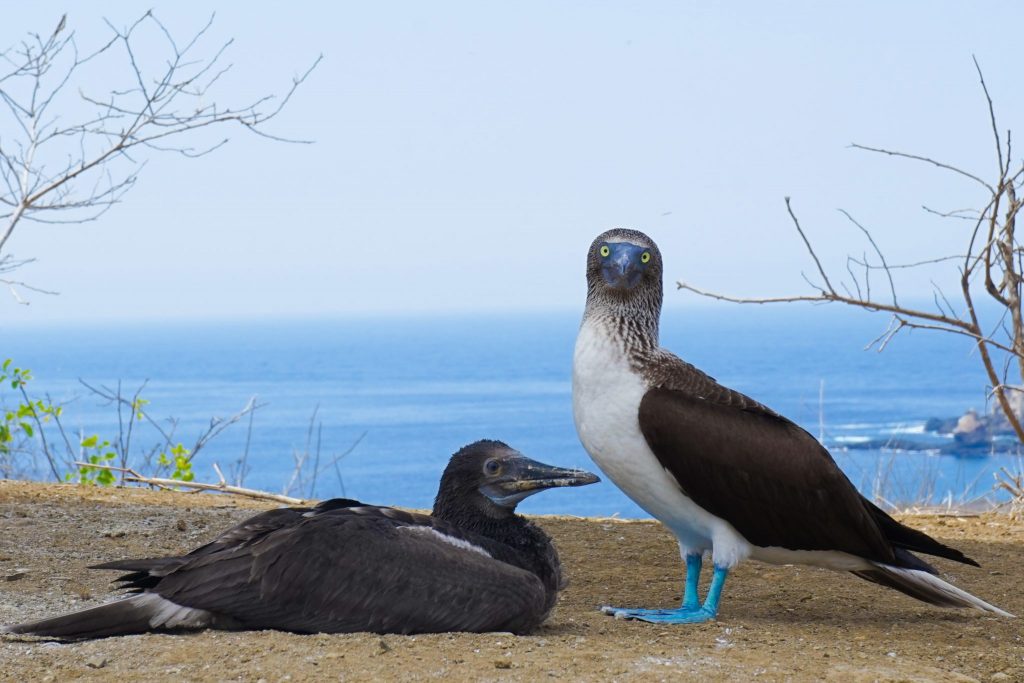 For the next few hours, it was non stop, the Boobies seem to love building their nest in the middle of the path and seem to treat it as their own personal highway. They don't get out of the way either and expect you to go around them while they happily pose for photos.
They're such weird little characters that you simply can't help but love them, from their bright googly eyes to the slapping sound their feet make when they walk.
If only we could get some to move to New Zealand! Along with the boobies you'll also see plenty of other birds including the famous Frigatebird. These guys don't mind you getting near their perch in the tree either though they have a much more menacing look to them!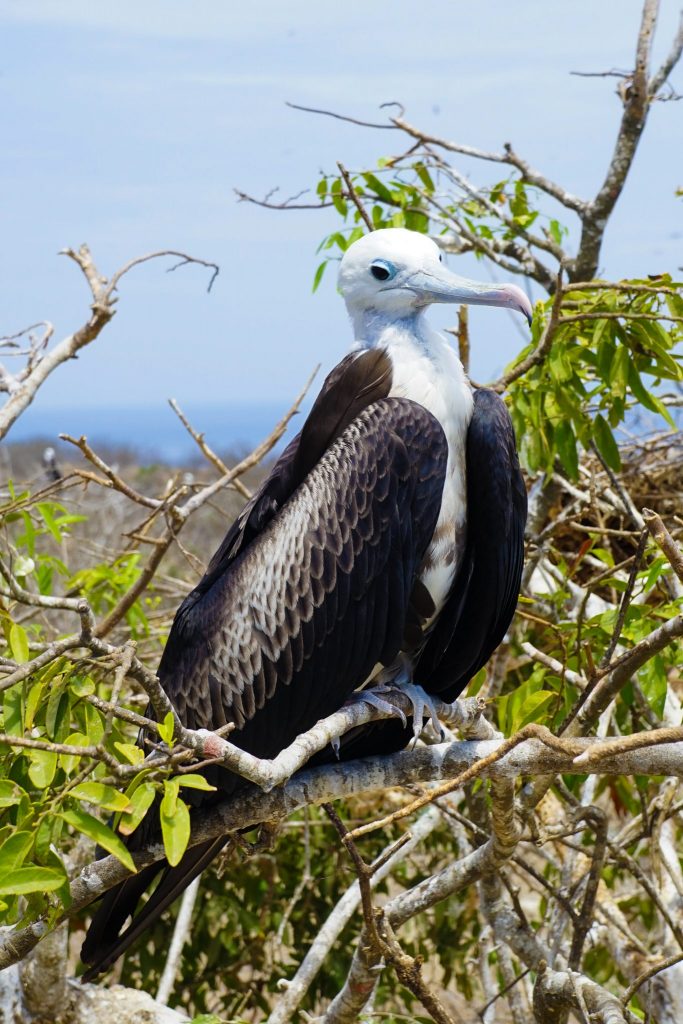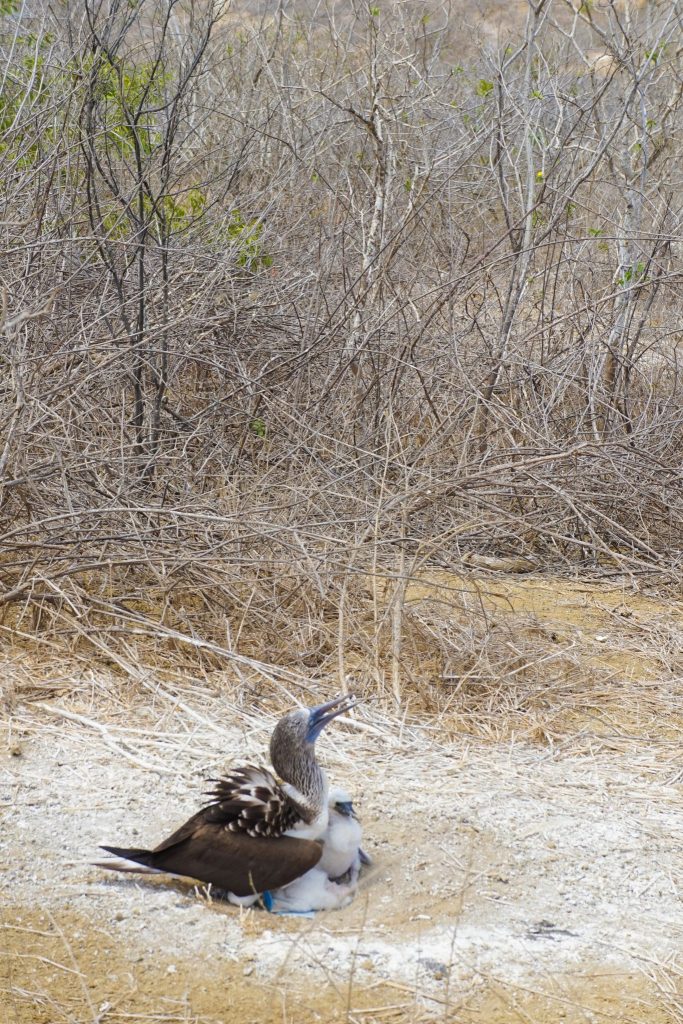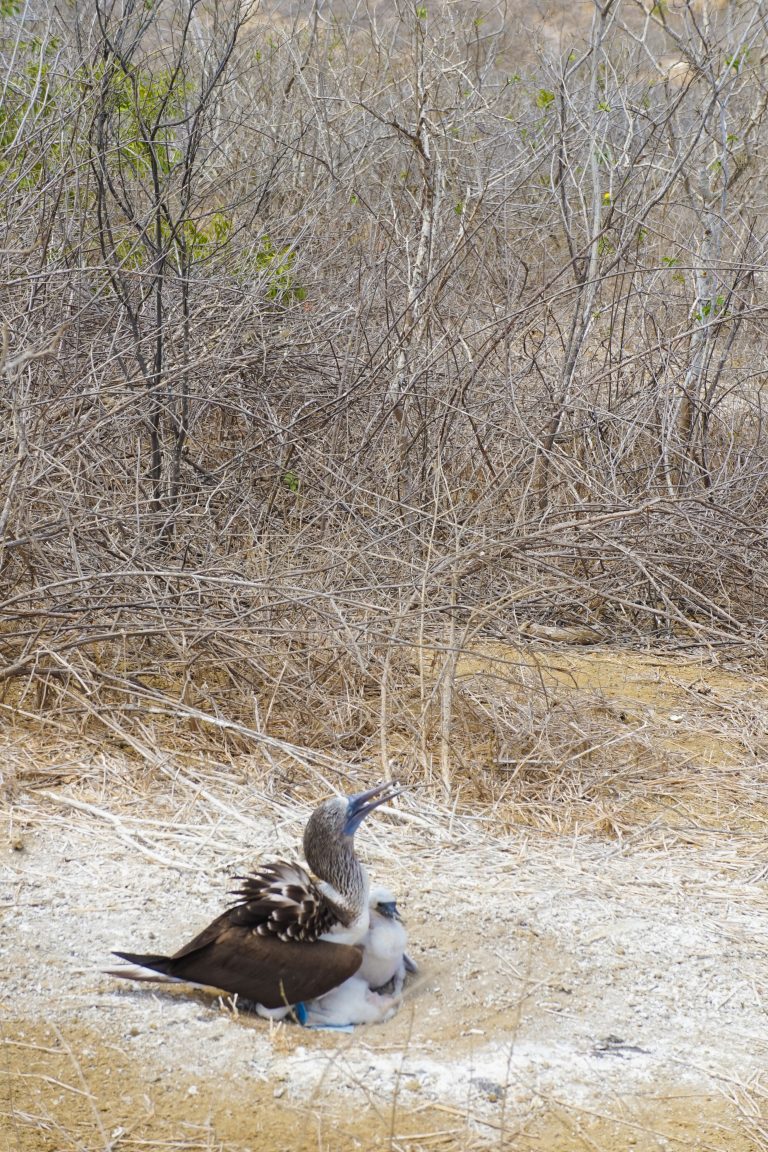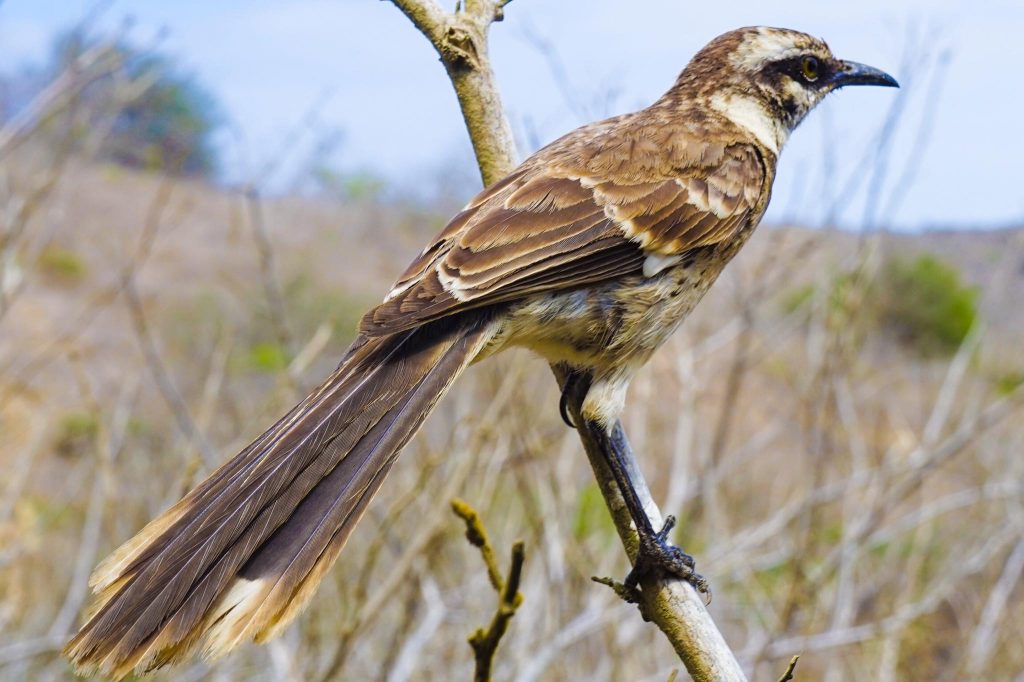 During their mating season, these birds inflate their large throat sacks, they look as if someone has stuck a giant red balloon to their necks. Trying to impress the females with their displays, only those with biggest and brightest balloon win! Nature is rather weird, isn't she…
The time just 'flew' by and many photos later we were back in the boat for the second half of the adventure.
Back on board, we were greeted by five curious turtles which decided to stop and paddle around while we took the opportunity to fill a bit more space on our cameras. Every now and then they lazily lifted their heads out of the water to see what all the fuss was about.
Eventually, they grew bored of us and left us and we too went to find some more excitement.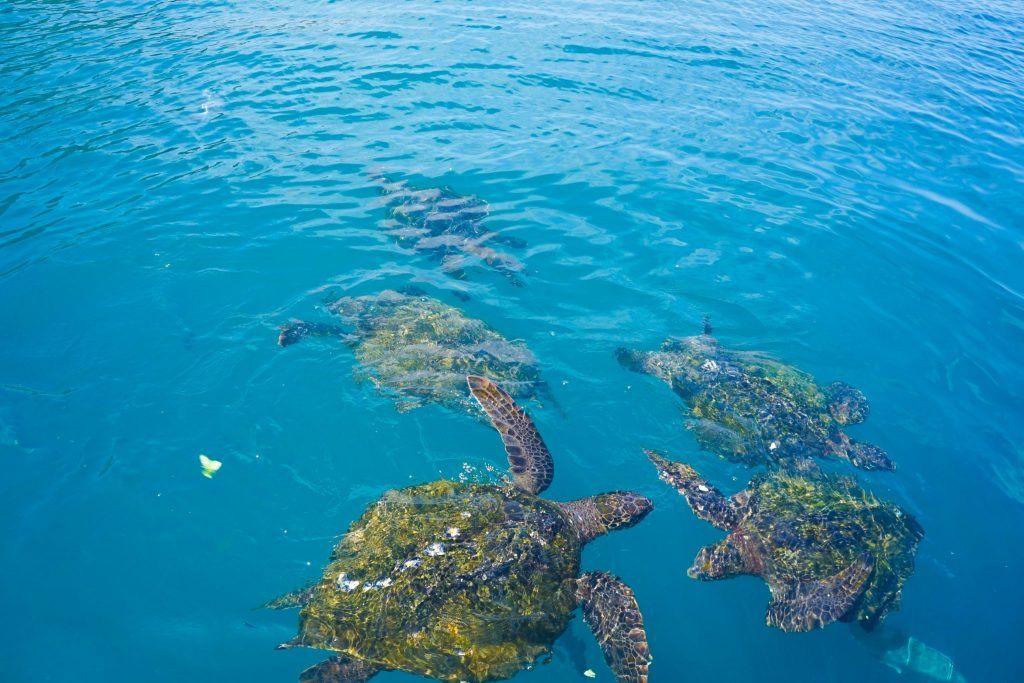 A few bays along and after a bit of light lunch we stopped at our snorkeling spot. And I kid you not, it was some of the best snorkeling in Ecuador!
Masks and snorkels were provided – which is a godsend as honestly packing light for South America was such a struggle. Also don't forget to take your swim gear as this is another great opportunity you don't want to miss.
After jumping in we found another turtle friend who didn't hang around so long this time but that wasn't a problem as there was plenty of other brightly colored fish around to draw our attention.
It was great being in the warm waters just watching a whole variety of tropical fish going about their fishy activities, barely noticing the strange thing floating above them. I almost had to be dragged away from the water, I didn't want to leave but we had to go, time to head back to the mainland!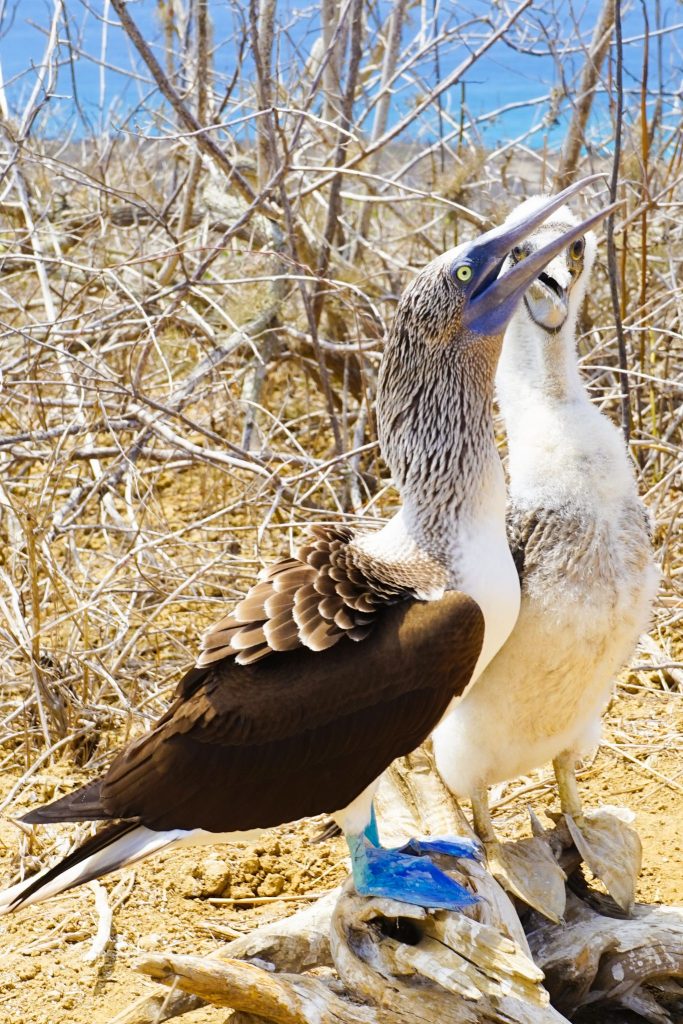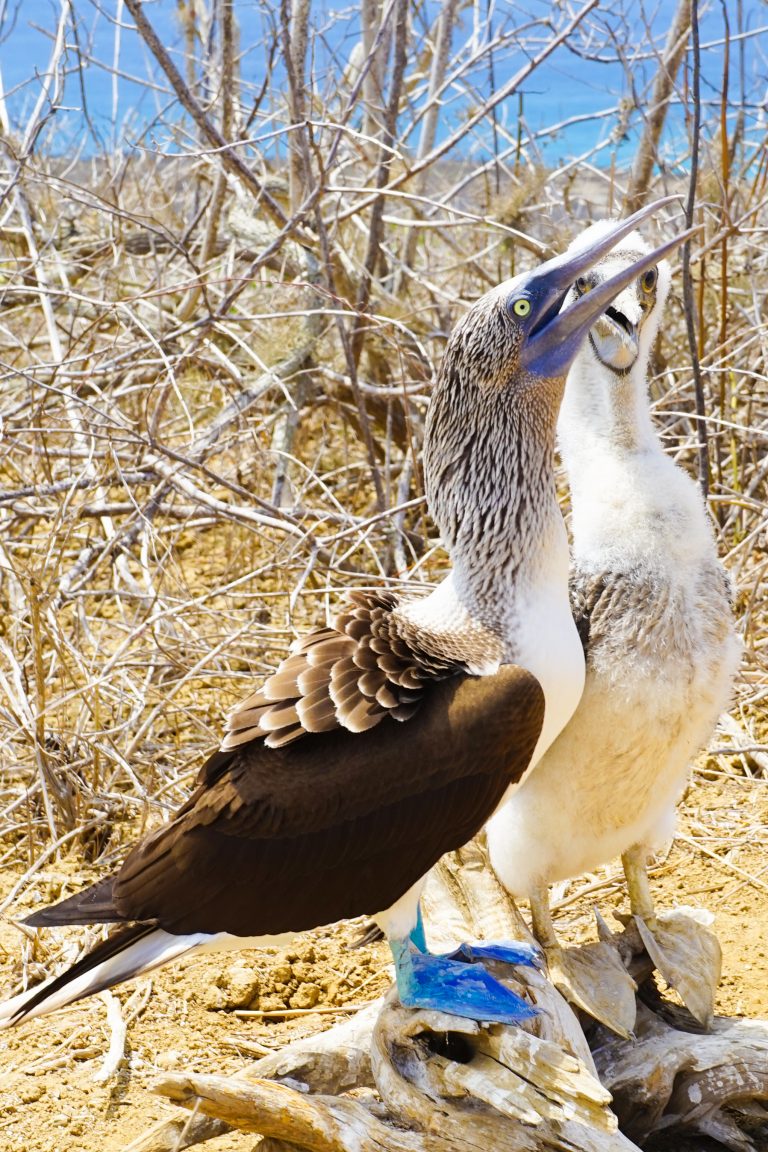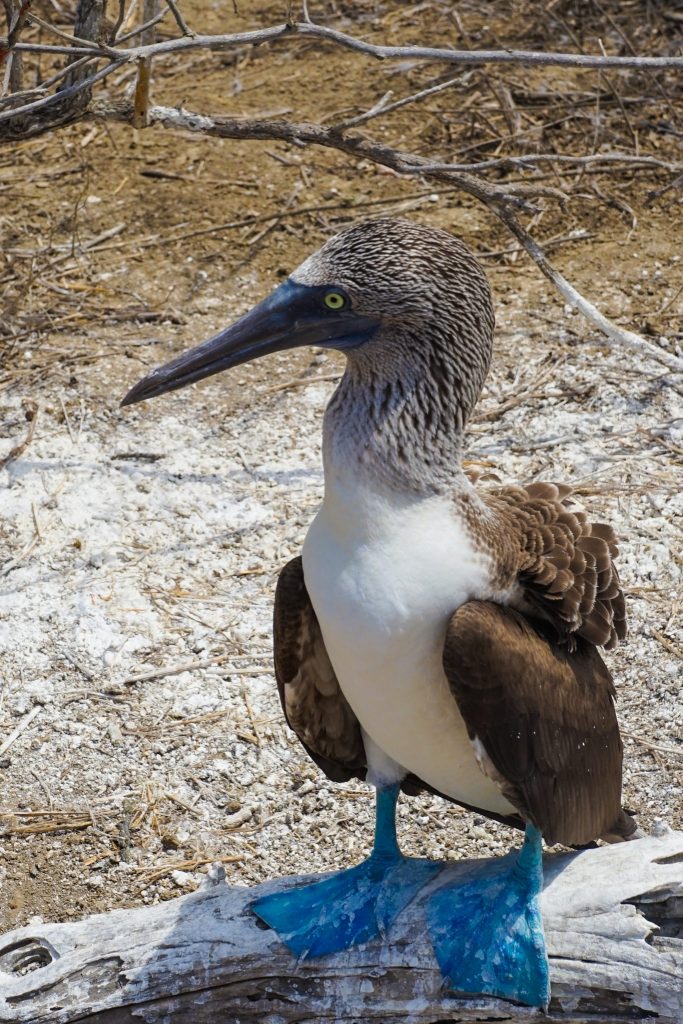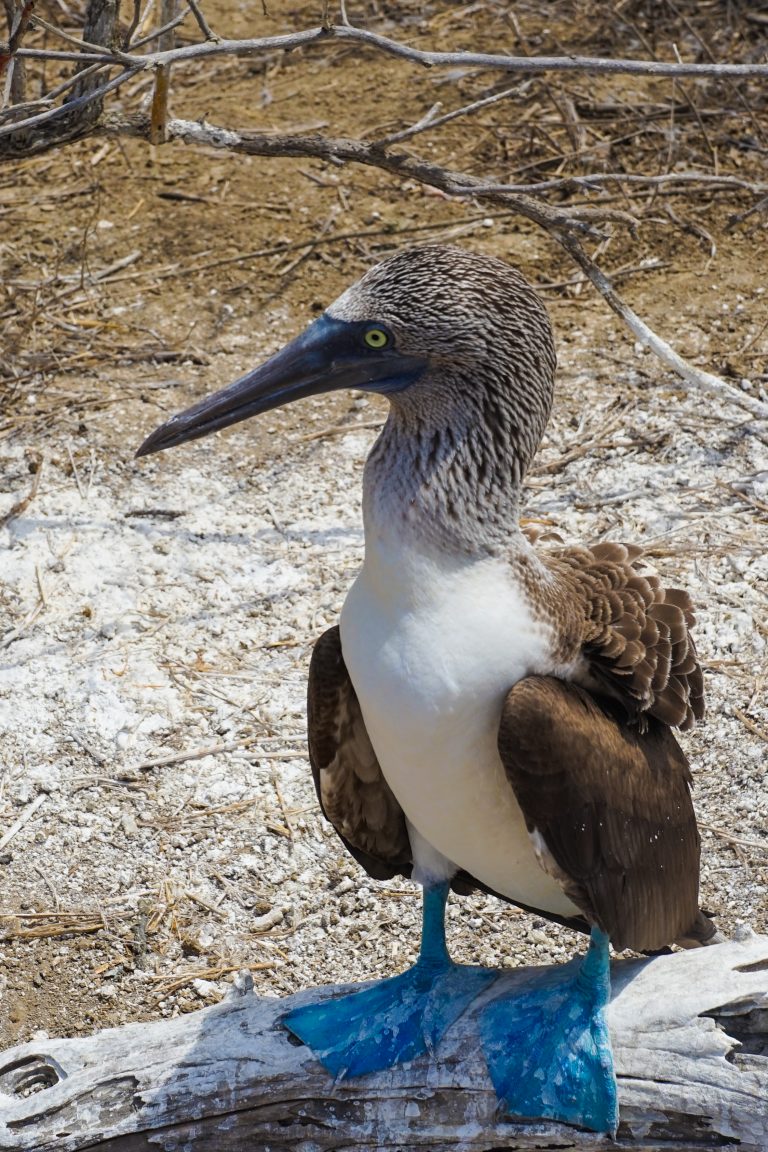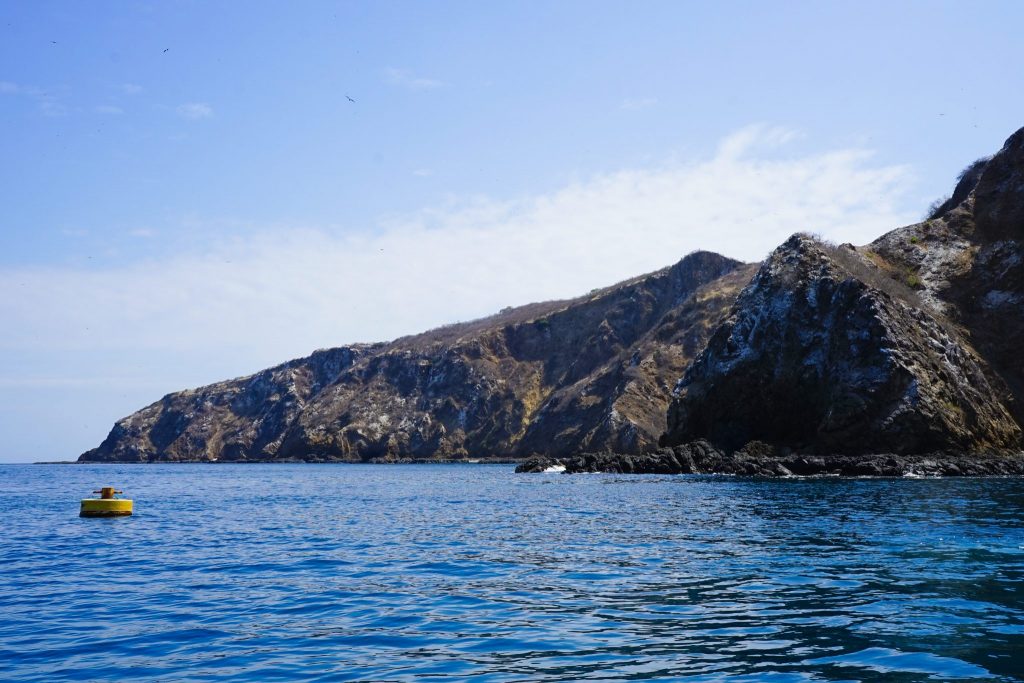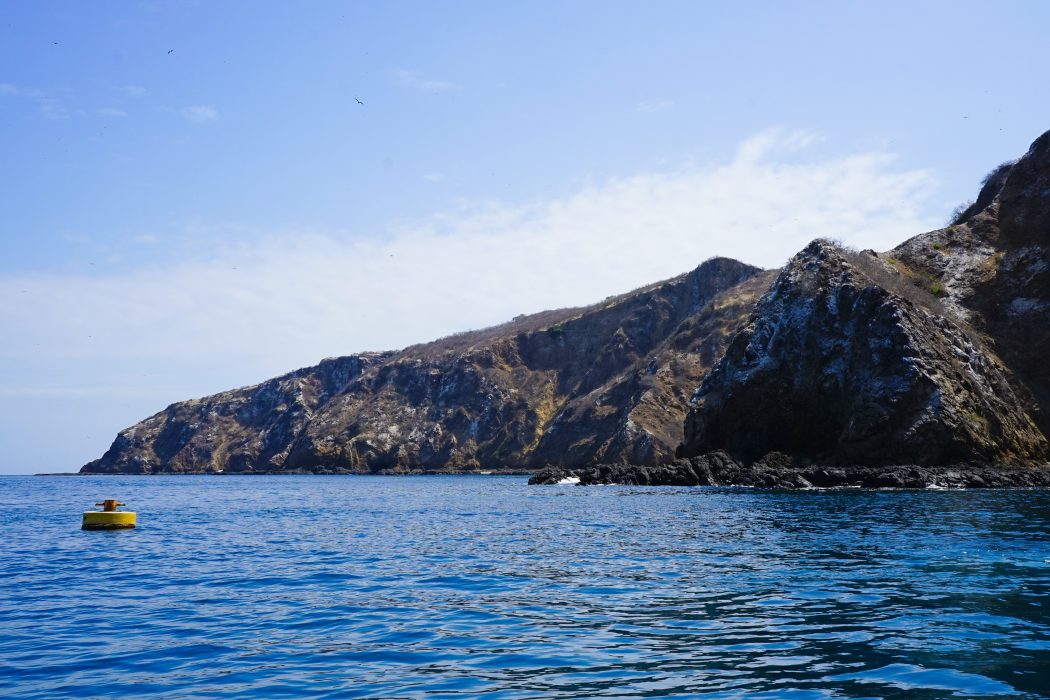 For a day trip that cost so little it certainly packed a punch and is a must do for any nature lover if you're around the area. But is it an alternative to the Galapagos?
Of course, the Galapagos is one of the pinnacles of animal environments in the world and a UNESCO World Heritage site but it also comes with a matching price which is out of reach for a lot of travelers. Isla de la Plata in Ecuador is a great alternative for those people on a budget still wanting to get close to nature – a Poor Man's Galapagos.
Or perhaps its also a great alternative for someone who doesn't have the time to get all the way out to the Galapagos, meaning they don't have to miss out completely.
Plus did I mention Boobies? You get to see Boobies!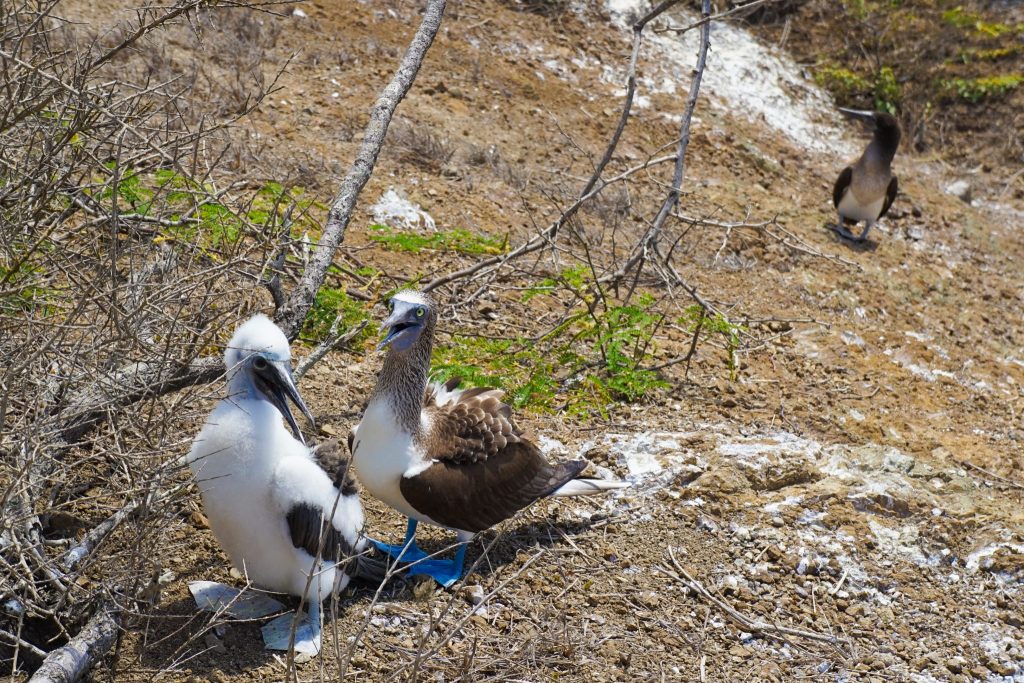 Further Things To Consider Before Any Adventure
Now you're all set and prepared to explore our big wide world, why not sort out everything else out all in one go? If necessary for your travel plans make sure you have brought proper travel insurance, protected your privacy by getting a secure VPN, compared all the top hotel booking sites to find just what you're after, reserved an unbeatable rental car price and - of course - booked the best flight deals!
Or maybe just forget it all and go for a last-minute cruise or effortless tour instead?
Many budget travelers (including me) indulge in worldwide airport lounge access, so we can experience luxury while still slumming it in economy. Naturally, we would never leave home without a more general travel guide since we couldn't possibly cover everything here!
Just add an adventurous attitude and plenty of smiles - they go a long way - and that about covers it all! Now go out, find your own path and don't forget to share your best inspiration stories with me on Facebook, Twitter, and Instagram...I'd love to hear from you!