The Olveston Historic Home is a nationally-renowned tourist attraction in Dunedin, on New Zealand's South Island, on the famed Otago Peninsula. Unquestionably, it is one of the city's most exceptional attractions, yet for some reason, the Olveston Historic Home Tour is an oft missed activity attended largely by in-the-know locals and travelers.
Built in the early 1900s for a wealthy businessman and philanthropist, David Theomin, the beautiful Edwardian house is one of the major draws for visitors to historic Dunedin. A paragon of architectural and decorative splendor, it is also home to a treasure trove of art, artifacts, and antique furnishings from the world over.
In 1966 The Olveston Home was bequeathed to the city and its people and was subsequently opened to the public – an act of great foresight that allows this treasure to still be accessible today (largely in its original condition). Tours of the Olveston Home can be easily arranged, and the home receives around 40,000 visitors each year.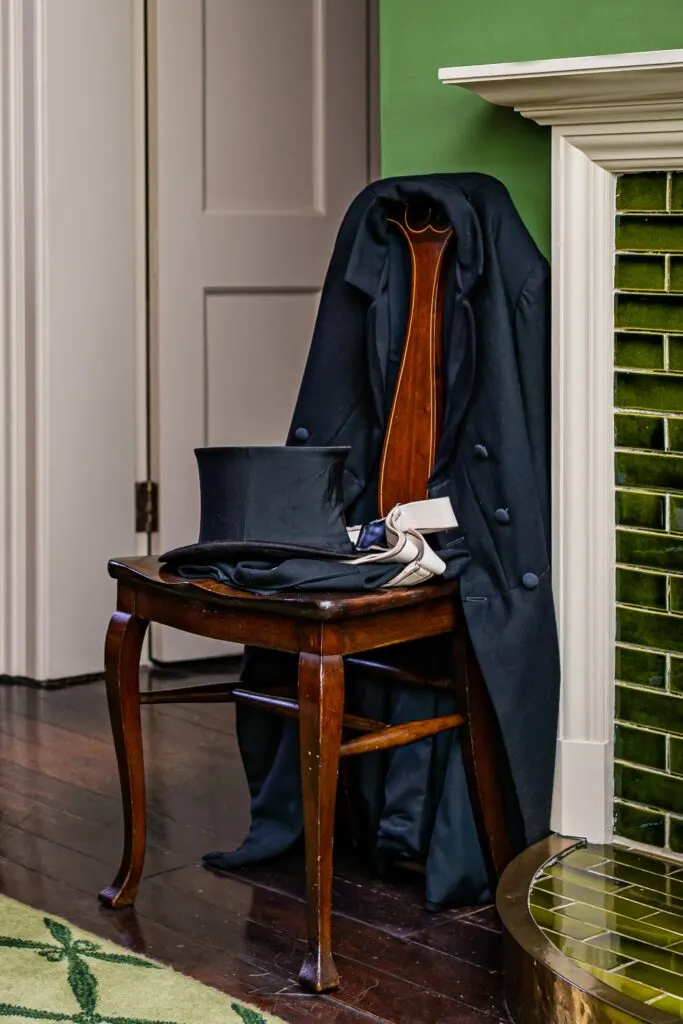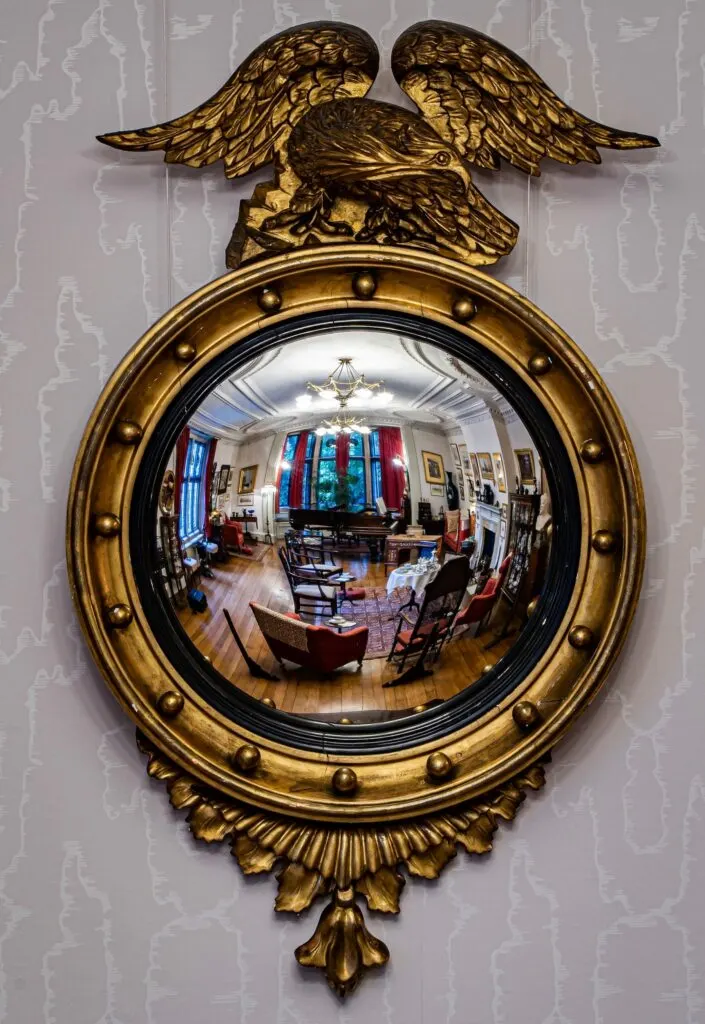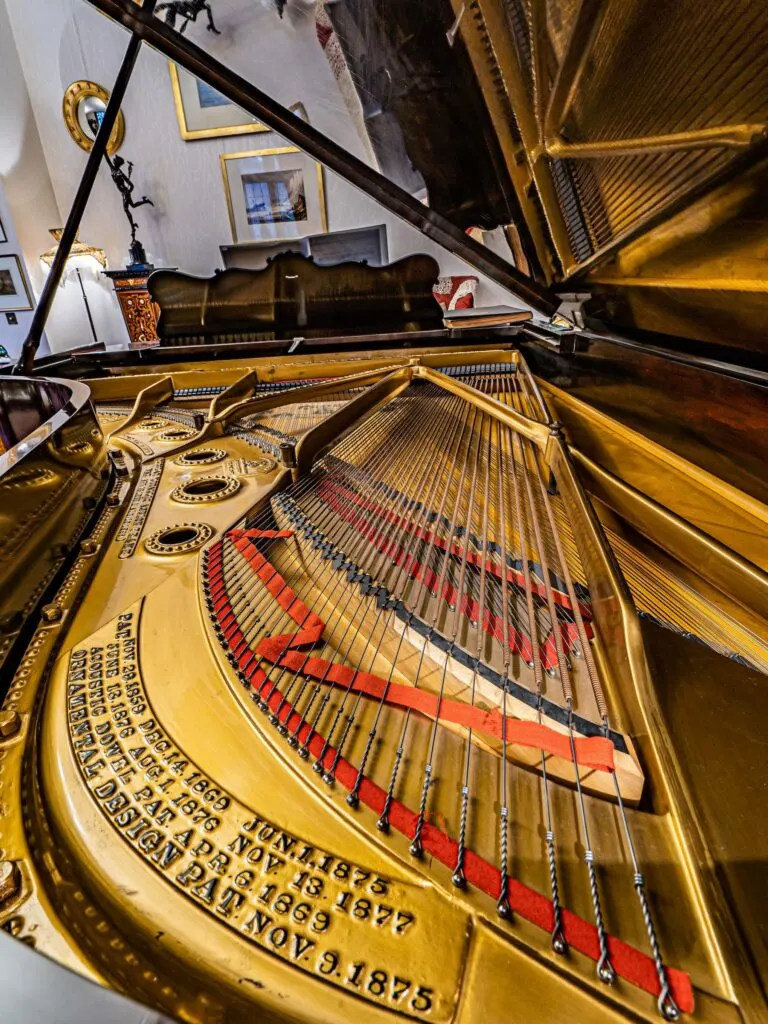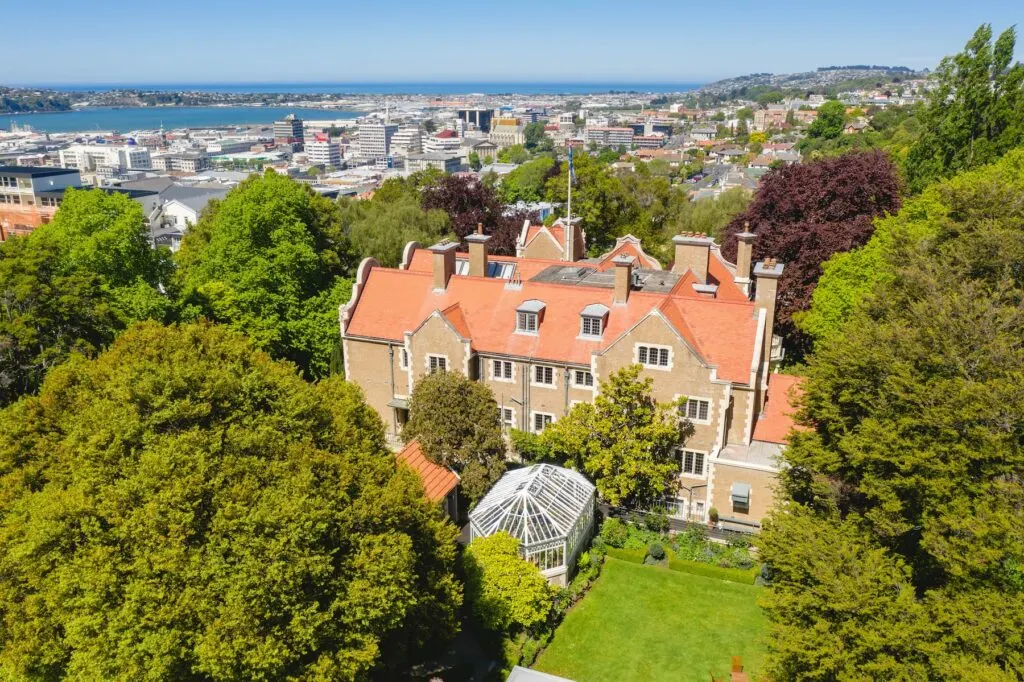 History Of The Olveston Historic Home
The Olveston House was built from 1904-1907 for English piano merchant David Theomin, who had moved to New Zealand with his family about 20 years prior.
Theomin was also a noted philanthropist and a prominent citizen of Dunedin, and the Theomin family were enthusiastic patrons of the arts, as is evident inside the Olveston House today. It was equipped with all the newest amenities available at the time, such as electric lights and central heating, all of which were powered by an electric generator.
In the years following its completion, the Theomins lived in the Olveston House and furnished it lavishly (a cliched term, but the only one really apropos here) with art and exotic furnishings. It was meant to be home for the Theomins thereafter, but sadly the two children, Edward and Dorothy, both passed away without heirs. Upon her death in 1966, Miss Dorothy Theomin left the house to the city of Dunedin, one final example of the generosity for which the family was equally known and beloved.
Today The Olveston House serves as a historical site, museum, and art gallery all rolled into one. It also acts as a giant time capsule giving current generations a glimpse into upper-class Edwardian-era life — a piece of living history as well as a tribute to the family who built it.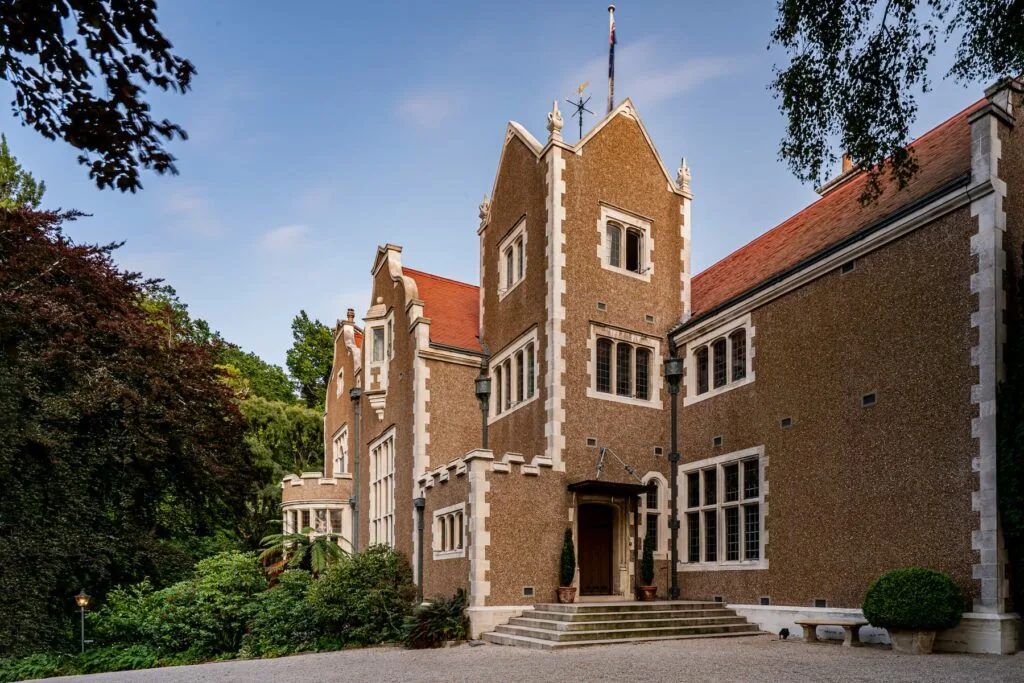 The Building
The Olveston House was built in the Jacobean style by legendary architect Sir Ernest George, and exemplifies the quintessential English country house. It is a brick structure with a Marseilles tile roof, consisting of 35 splendid rooms.
From a distance, it almost resembles a massive gingerbread house, with its deep brown-amber coloration (courtesy of local Moeraki gravel) and white trim (of Oamaru limestone). The house is surrounded by gardens and lush greenery, and there is also a resplendent orchid/tropical plant green house that would be worth a visit in its right!
It has been called the finest historic home in the country, and manages to attain at once an air of charm, elegance, and grandeur. That is probably why it was used for many of the interior shots on the recent New Zealand film, The Royal Treatment (which is well worth a watch on Netflix before visiting Dunedin).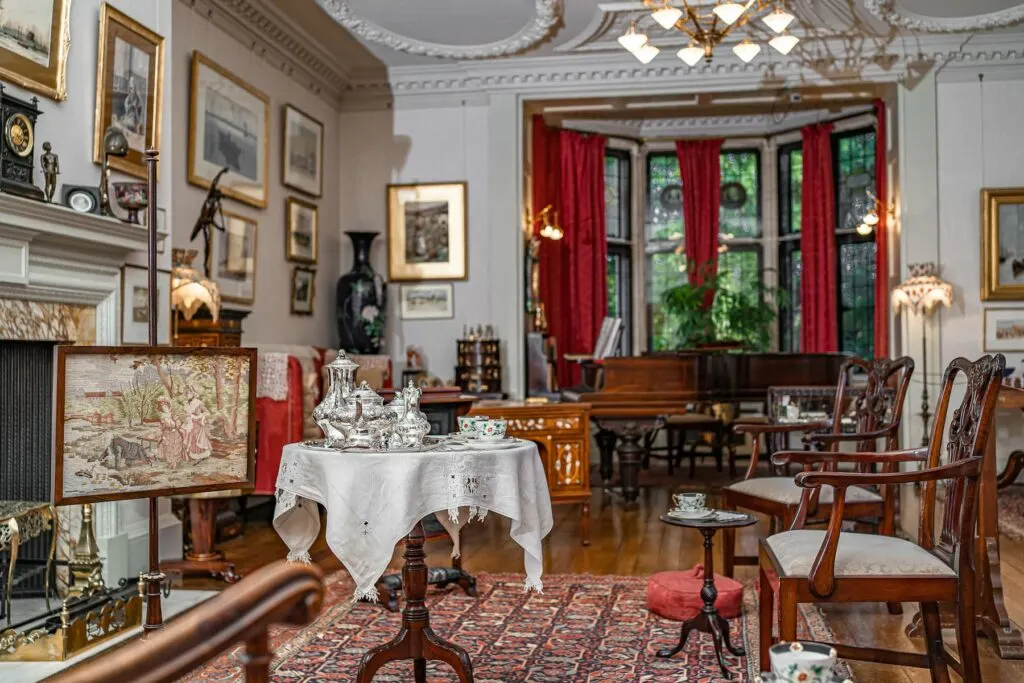 Rooms Of The Olveston Historic Home
The Olveston House boasts 35 exquisitely decorated and furnished rooms — all of them with their original contents — that show off the Theomin family's immaculate taste and passion for visual flair and sophistication. Please note that the following is just a sampling of what the Olveston House has to offer.
The Great Hall was one of the homes' focal points; you could say it was the social hub of the house. It is adorned with a beautifully ornate hessian wall covering and, again, many paintings (the family had collected about 250 paintings from American, European, and New Zealand artists). Antique chairs and ottomans furnish the room, and it is all accented with a richly colored carpet that suggests oriental inspiration.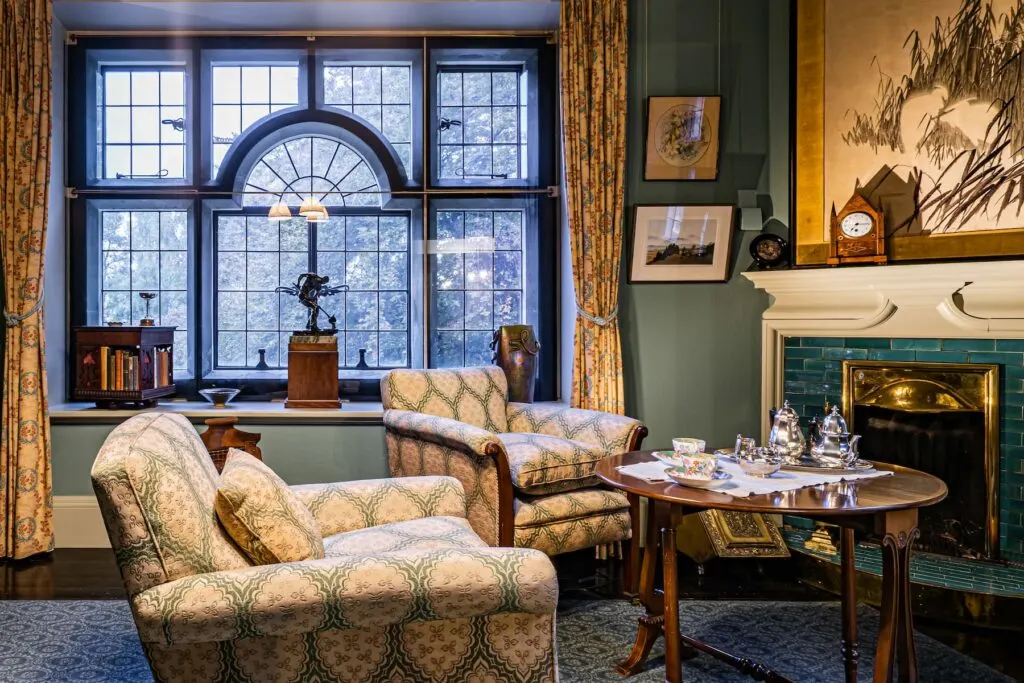 The vestibule looks like a small armory, with an array of weaponry serving as decoration. Here visitors will be met with a display of buckler shields and a wall of spears, halberds, lances, and Japanese naginatas. A rack with Japanese samurai swords featuring tantos, wakizashis, katanas, and nodachi swords is also on display, along with antique firearms like North African muskets and flintlock pistols mounted on the walls.
The drawing-room, which was a social space where the family would have tea together, or could be used as a reception room, is highlighted by a Steinway piano, which was surely one of the patriarch's favorite possessions (as mentioned earlier, he was a piano merchant, among other things). The room also has a lot of knick-knacks from the family's travels, as well as some stained glasswork on the windows. There is a marble bust of the family matriarch, Marie Theomin, in the room, along with a statue of Mercury in one corner.
The spacious billiards room was built to accommodate a rather large table at 12.5 by 6.25 feet — and weighing in at an incredible two and a half tons. The room also boasts a silk tapestry from Spain. Other decorations in this room include paintings of family pets and oriental vases mounted on plinths. Gorgeous copperware bric-a-brac is placed along the fireplace mantle and window sills.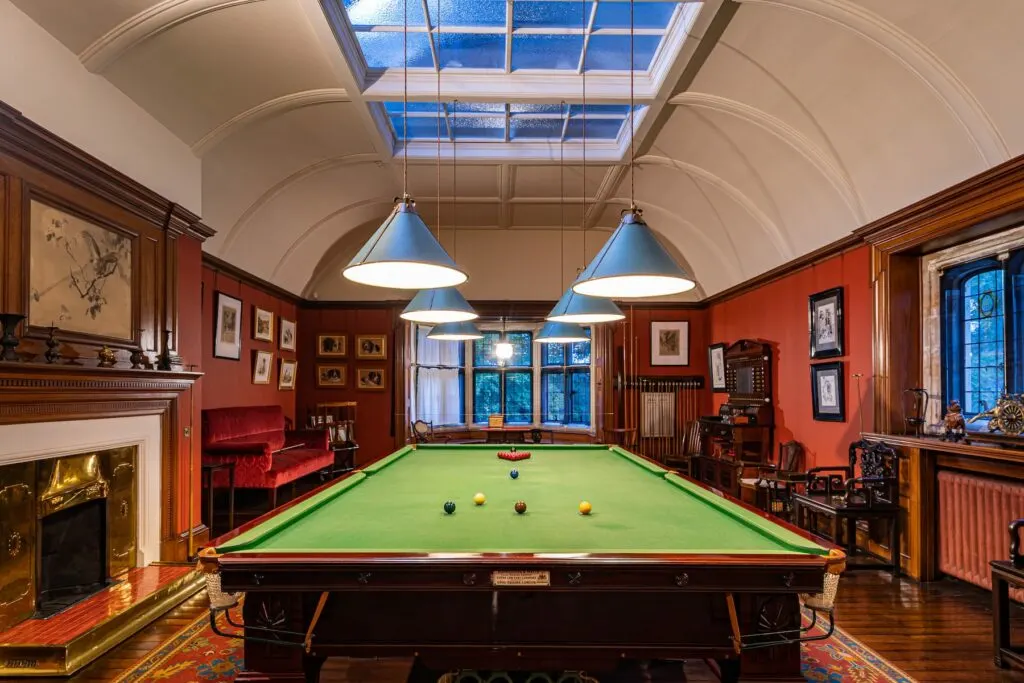 The library contains all-original books from the family's collection — mostly contemporary fiction of that time. It also has one of the house's whopping 28 fireplaces; one can just imagine curling up in the room's leather recliner with their favorite book next to a lazy, crackling fire with a gentle rain beating outside the window. The library is also lavishly carpeted and wallpapered, and like with pretty much the rest of the house, there are paintings adorning the walls (mostly portraits) and fine ceramics along the mantelpiece and atop the bookshelves.
Outside await the property's acclaimed gardens. This luscious green haven of tranquility looks out on Dunedin's green belt and features a verdant lawn, rhododendrons, and several protected tree species. There is also a greenhouse on the property.
In the garage sits the family car: the 1921 Fiat, which the family took on many excursions throughout the South Island. The car had been abandoned after the passing of David, Edward, and Marie in a short span, and had sat neglected on a derelict farm for decades before being rediscovered in 1994 and restored. It is now back in its rightful home and is accessible for view by visitors to Olveston.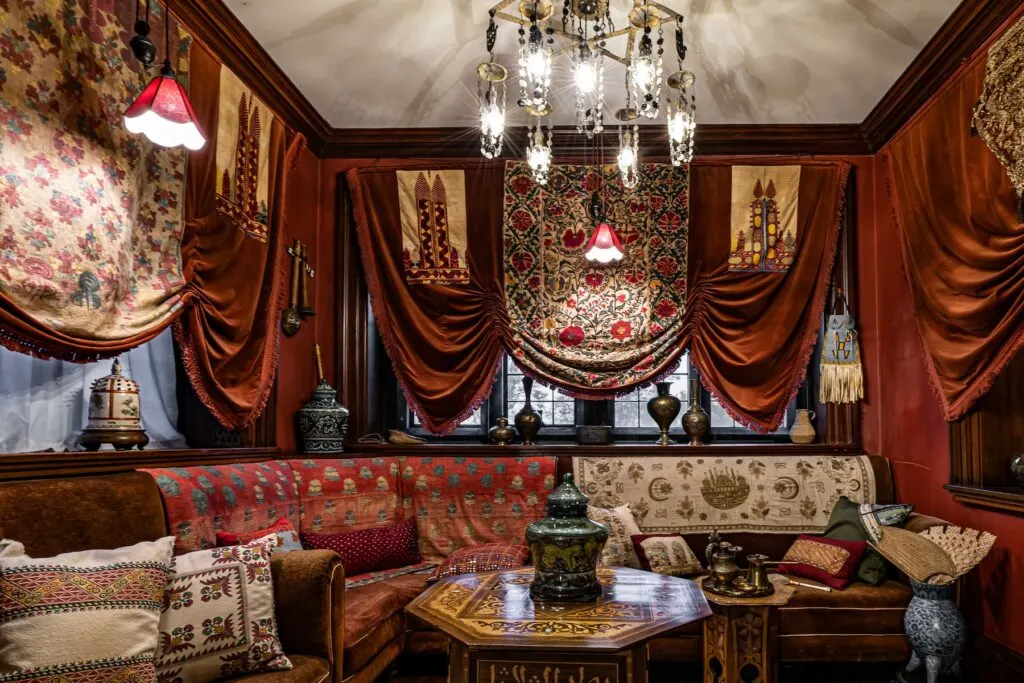 Olveston Historic Home Tours
The Olveston House is only accessible via paid guided tour. It is open 364 days out of the year (and sometimes even on Christmas Day with a prior arrangement). Discounts are available for New Zealand seniors and students, as well as residents of Dunedin. Bigger discounts apply for school-age children, and infants are allowed free of charge.
Several tours are operated every day, and they are available in English, German, French, Dutch, Japanese, and Chinese (both Mandarin and Cantonese). Tours are 1 hour and can accommodate up to 15 people. Private 2-hour tours are also on offer; they give visitors a more complete and in-depth look into the estate, covering the garden — which has been designated a "Garden of National Significance" as well as the Theomin family car, a 1921 Fiat 510 Tourer. 2-hour tours also afford a greater appreciation of the mansion's outer architecture. Morning or afternoon tea is also available with these longer tours.
And there are specialty tours on offer from time to time as well, such as the "Behind the Ropes" tour (which allows a glimpse at household treasures and heirlooms that are normally tucked away, and which most visitors never get to see), art, and architecture tours, and a garden tour. The special Family Tour focuses on the history of the remarkable Theomin family and their passion for the arts and for collecting.
There is also a gift shop on the premises, where visitors can pick up a nice memento if they so choose. These range from soaps and tea towels to stationery and greeting cards, an Olveston House Guidebook, and even paper models of the house. Gift vouchers can also be purchased; they make wonderful gifts, especially for that cultured friend or family member who loves art and all things beautiful. The Olveston House is also available as a function venue, and we could think of no more splendid place to host your next dinner party or private soiree.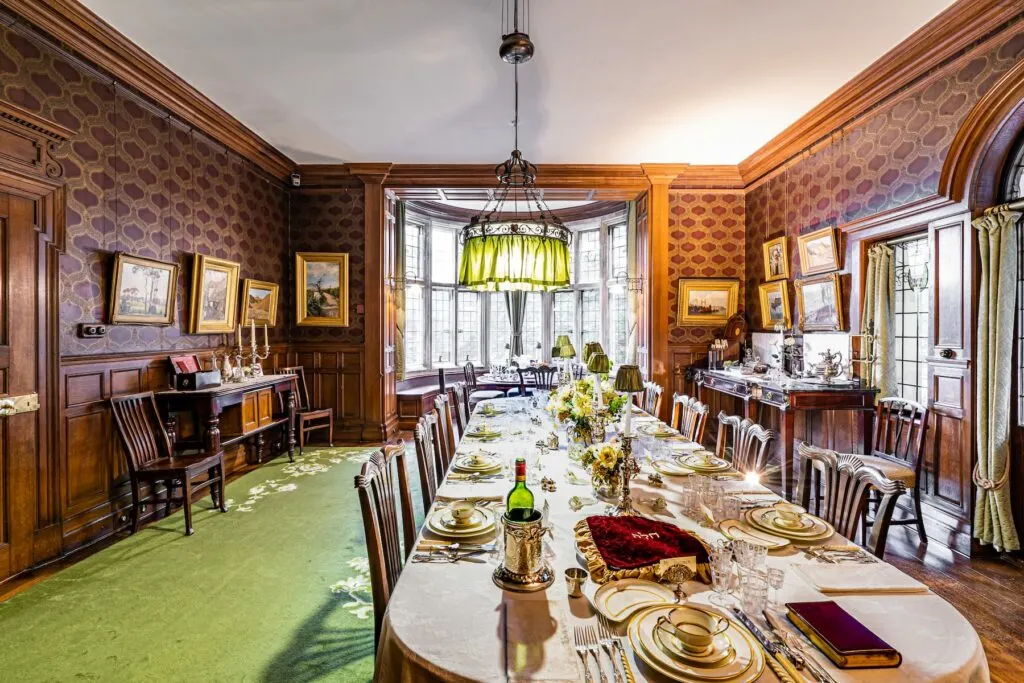 Location Of The Olveston Historic Home
The house is located at 42 Royal Terrace, Dunedin, on the north side of the city. The house is within walking distance of Dunedin's Octagon Plaza. It is adjacent to Dunedin's green belt, with Dunedin Botanic Garden, Robin Hood Park, Lan Yuan Chinese Garden, The Otago Art Society, The Dunedin Museum of Natural Mystery, The Otago Museum, and The Dunedin Public Art Gallery all very close by. The closest luxe hotel in Dunedin would be EBB-Hotel, however, it is a short walk from all central city accommodation options.
If visitors to the Olveston Home feel the need to duck around the corner for a quick bite or refreshment, they will certainly not be hurting for choice, with several fine establishments close at hand. Joe's Garage Dunedin is a fine cafe with a friendly atmosphere and a menu geared toward speed and convenience. Eureka Cafe and Bar has a deck for al fresco dining, or if the weather isn't cooperative, guests can enjoy a meal or a drink by the barside fireplace.
Ombrellos Kitchen & Bar claims to be "The home of the best craft beer in Dunedin," which is no mean statement given that Dunedin is known for its craft beer and holds a Craft Beer & Food Festival each year in October. Buddha Stix Dunedin offers Asian fusion fare. And Emerson's Brewery and The Good Earth Cafe round out the list of fine nearby establishments.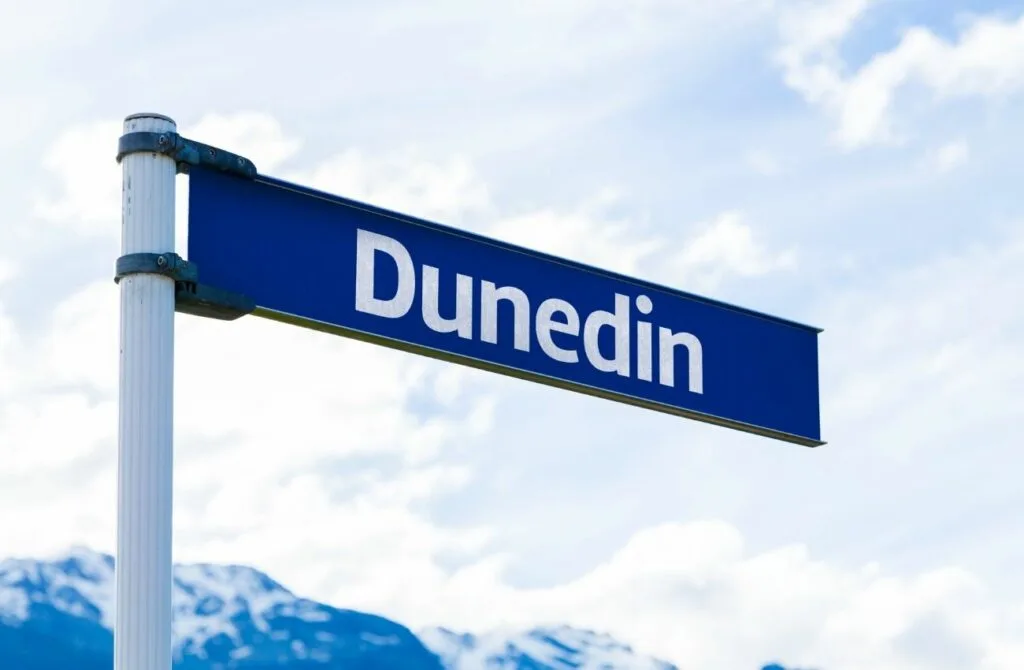 Final Thoughts On The Olveston Historic Home Tour
This beautiful house in Dunedin has it all: a fascinating history, stunning architecture, a great location, and loads of eye candy adorning its rooms. Someone once said that it was the finest historic home in the Southern Hemisphere, and we'd be hard-pressed to disagree with that assertion.
You will surely find nothing like it in Auckland or Christchurch, and once you visit you will agree that it rightfully deserves a spot as one of the top things to do in New Zealand. So book early and plan your trip around an Olveston Historic Home Tour to avoid missing out today!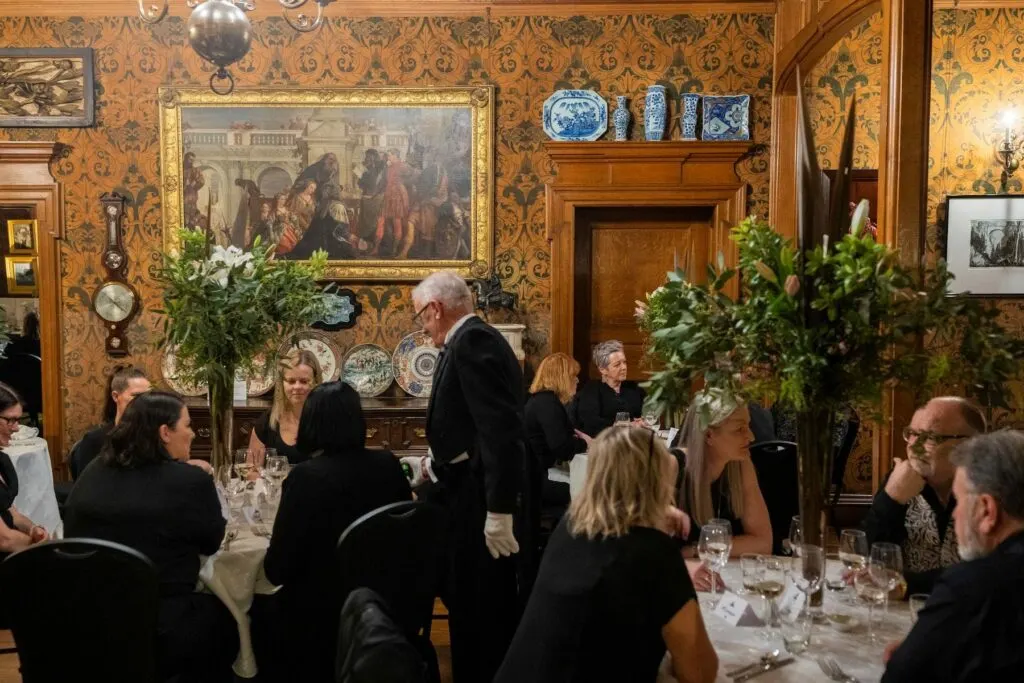 Staying Connected While Travelling
In today's increasingly connected world, staying online while traveling has become essential for a seamless experience. That's where eSIMs come into play, revolutionizing the way we access mobile networks during our global adventures. Say goodbye to hunting down local SIM cards at the airport; eSIMs provide instant activation the moment you land, sparing you the fortune usually spent on international roaming and allowing you to genuinely travel like a local (without getting hopelessly lost!).
With eSIMs, tasks like restaurant recommendations and reservations, up-to-the-minute public transport instructions, checking opening hours, and accessing further information become a breeze. And, of course, sharing your journey on social media is easier than ever. To stay connected wherever you roam, consider using either Airalo or Holafly. Airalo boasts the most extensive range of destinations worldwide, offering smaller data bundles tailored to your needs, while Holafly provides unlimited data packages and fantastic EU data deals.
So why wait? Embrace the future of travel connectivity with eSIMs and make your next journey effortlessly smooth.
Further Things To Consider Before Any Adventure
Now you're all set and prepared to explore our big wide world, why not sort out everything else out all in one go? If necessary for your travel plans make sure you have brought proper travel insurance, protected your privacy by getting a secure VPN, compared all the top hotel booking sites to find just what you're after, reserved an unbeatable rental car price and - of course - booked the best flight deals!
Or maybe just forget it all and go for a last-minute cruise or effortless tour instead?
Many budget travelers (including me) indulge in worldwide airport lounge access, so we can experience luxury while still slumming it in economy. Naturally, we would never leave home without a more general travel guide since we couldn't possibly cover everything here!
Just add an adventurous attitude and plenty of smiles - they go a long way - and that about covers it all! Now go out, find your own path and don't forget to share your best inspiration stories with me on Facebook, Twitter, and Instagram...I'd love to hear from you!