Make an amaretto sour with bourbon for something classy, upscale, and full of contrasting flavors! Amaretto is an Italian liqueur, mostly made from almonds. This spirit is believed to have come from Saronno, Northern Italy.
According to legend, in 1522, a church in this town commissioned frescoes to be painted by an artist who studied under Leonardo da Vinci. He needed a model to paint the Madonna, so he asked a young widow. She gave him apricot kernels that were soaked in brandy to thank him.
However, there's nothing to confirm or deny this slice of history. Perhaps it's best to enjoy amaretto without giving it too much thought. And that's fairly easy since most amaretto features between 21% to 28% ABV.
As for the amaretto sour, we can trace it to the United States around the 1970s. This was when Italian liqueurs became a fixture in the New World. Back then, it was common for most bars to have a sour mix at the ready. Whiskey sours were very popular during this time, but someone must have needed to explore what would happen if amaretto were added or subbed in for the whiskey.
So, the amaretto sour seems to have come about from this period. Depending on who makes it, you may get a bit of bourbon or whiskey in there. And if you can't stand those spirits, it's perfectly fine to omit them. However, this drink's tangy, sweet, and tart taste and the hint of almond from amaretto seem even more balanced with the addition of bourbon.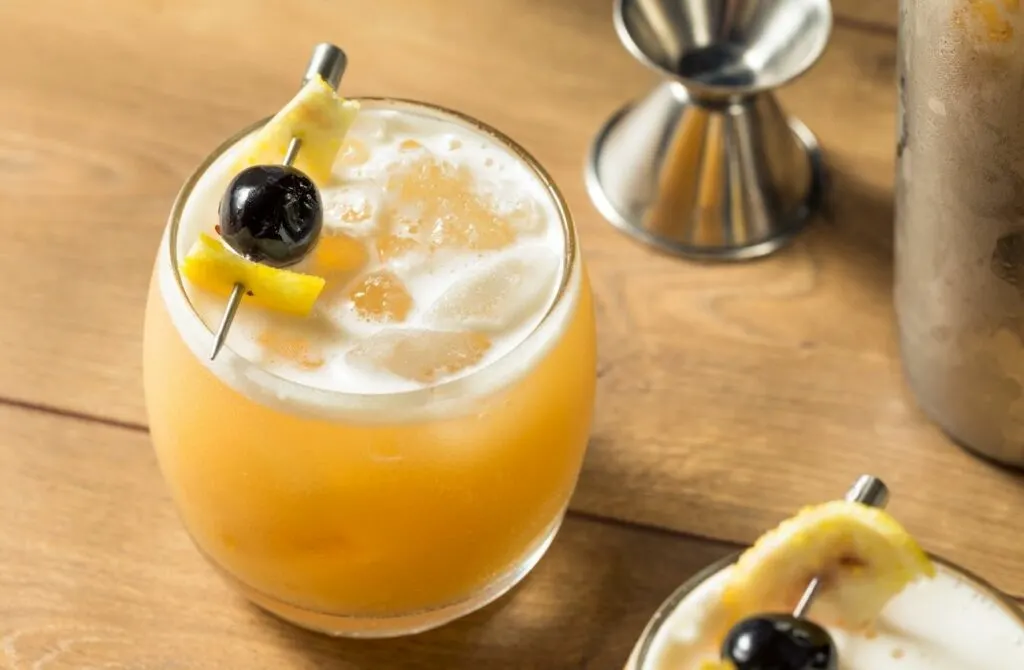 Sure, there's nothing wrong with a pure amaretto sour. But the bourbon addition adds something to it. Besides a higher alcohol content, that is! The taste is more refined than overly sweet for a balance of flavors.
You'll need amaretto and bourbon to make an amaretto sour with bourbon. You'll also need freshly squeezed lemon juice, rich simple syrup, and egg white. Garnishing with maraschino cherries and lemon creates the perfect presentation for this cocktail.
Yes, you read that correctly… there's an egg white in this recipe. The egg white adds a textural element to this drink with a white and frothy layer on top. Trust us, you don't want to miss it! Serve this for happy hour at your house or a dinner party. It has something for everyone for guys' or girls' nights because it's very balanced in flavor, making it a drink everyone will adore!
If you don't have bourbon or Amaretto on hand, you can get these delivered – along with beer, wine, and other essentials in under 60 minutes using a service like Drizly, covering 1500+ cities in the US.
And if you like this, you will probably also like the classic Prohibition-Era Aviation Cocktail Recipe or the Prohibition-Era White Lady Cocktail recipe (which also uses the double-shake egg white technique!)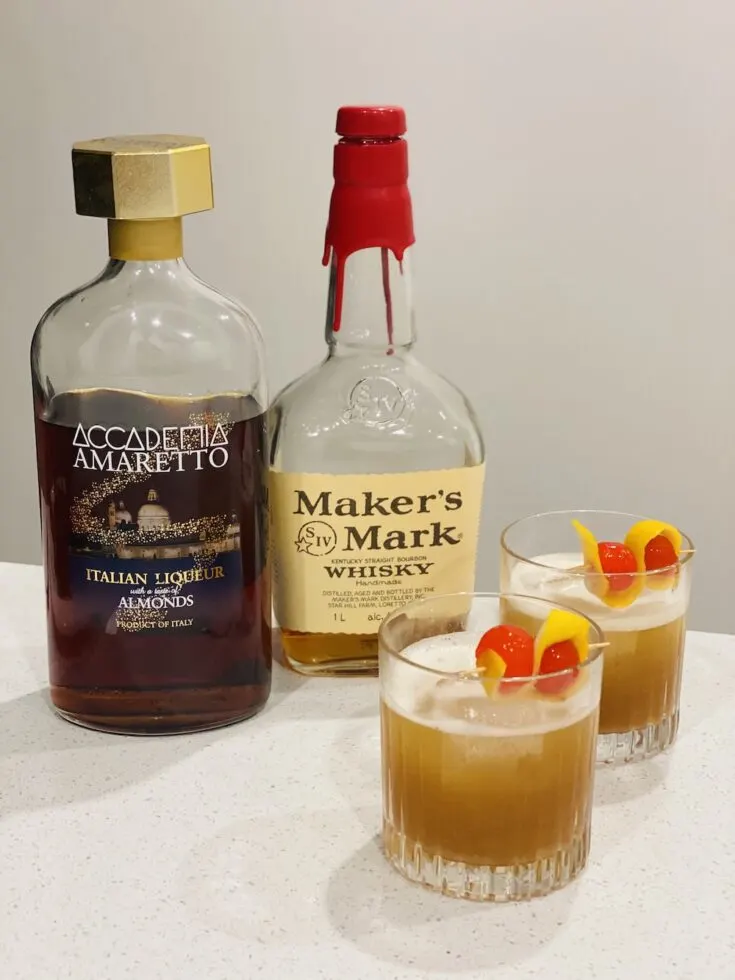 Yield:

1 cocktail
Classic Amaretto Sour with Bourbon Recipe
Sometimes you want something a little sweet, a little more refined, a little - different.
Ingredients
1 1/2 ounce amaretto liqueur
2/3 ounce bourbon
1 ounce fresh-squeezed lemon juice
1 teaspoon simple syrup
1 egg white
2 dashes Angostura bitters
lemon peel and maraschino cherry to garnish
Instructions
Shake all the ingredients in a shaker without ice for 15 seconds.
Add ice and shake for additional 30 seconds.
Strain into a glass (the foam will collect on the top).
Garnish with a cocktail cherry and lemon peel.
Notes
The first shake (without ice) is crucial as it gives the protein in the egg time to form foam, rather of being diluted by the ice. The second shake (with ice) then chills the drink and reinforces the foam. The result is the thick, white frothy layer at the end - making the perfect Amaretto Sour with Bourbon.
[/sc]