In 1916, a German bartender would make history by creating the classic aviation cocktail. Hugo Ensslin was a German immigrant helming the bar at the Hotel Wallick in New York City. This was where this lovely lilac-hued cocktail debuted just prior to the Prohibition.
Naturally, the name was inspired by the recent trends at the time for taking to the skies. It was merely 13 years after the Wright Brothers successfully flew Kitty Hawk in the sky, and by 1914, airplanes had already become far more sophisticated. The drink aimed to capture that dream with the often mystical colors of the sky.
Just like the beginnings of aviation itself, this classic cocktail had a tumultuous past. It features the more-rare crème de violette liqueur which adds a lovely floral taste along with a splendid color that brings a touch of refinement. The elusive liqueur posed some troubles, for it was often omitted as it was rarely stocked as such, many versions of this classic cocktail endured without this key spirit.
For four decades, this cocktail was largely made without it, save for the few purists committed to the craft of preserving this legendary libation. To make it in its original capacity, it requires gin, crème de violette, maraschino liqueur, fresh lemon juice, simple syrup, and a brandied cherry for the garnish. With the absence of the crème de violette, though, many people believed this was the way to create the aviation cocktail.
How could that happen? When Harry Craddock, a London bartender, published The Savoy Cocktail Book in 1930, he left out this key ingredient. Was it forgotten, or did he simply not like it? Perhaps we'll never know, but the recipe he published in this book made for a tart drink that lacked the splendid hues of the sunset sky's fading light.
Crème de violette is usually based on brandy and gets that gorgeous color from violets. It was made in Europe starting in the 1800s, and even the US produced it a bit too. However, it was a far rarer spirit than most, and then after Prohibition, it completely vanished until 2007 when Eric Seed, an importer, rescued this treasure from obscurity.
Now that it's easier to find crème de violette, you can make a classic aviation cocktail, too. If you don't have gin or crème de violette on hand, you can get these delivered – along with beer, wine, and other essentials in under 60 minutes using a service like Drizly covering 1500+ cities in the US.
However, a word of caution – to preserve this treasured cocktail, you should adhere to the measurements with careful precision. Neglecting to do so could make the lemon overpower the drink or result in something that tastes like the potpourri from your guest bathroom.
Finally, a note on the fresh ingredients: the lemon juice. For years, we have traveled the world and wondered how the same cocktails could taste so vastly different. A mojito in Cuba tastes nothing like that of one in Copenhagen, for example. We originally chalked this up to the romance of an exotic locale, the view, the scent of the air – or the longing for home, but then we realized it actually might come down to something far more tangible: the fresh ingredients.
While spirits are largely standardized around the globe, citrus grown in Lisbon will taste nothing like those grown in Hong Kong. And the same goes for many other fresh ingredients.
For this reason, it is hard to make blanket statements regarding quantities required, and we recommend tasting the lemon first to make sure it isn't a great deal acidic or sweeter than normal. You might even want to test a few various strengths for your Light & Bubbly Lavender Collins Recipe and add a little more or less lemon, depending on your desired taste. The same goes for the lavender.
Other citrus-inclusive cocktails like the Lavender Tom Collins or Prohibition-Era White Lady Cocktail have the same issue, but don't be put off. Over time, you will become an expert in your local lemon strength – if you are not already!
To complete, you ideally would have a branded cherry or a purple pansy, which adds the perfect garnish to this visually pleasing cocktail. Toast to the good times ahead with those you love, or simply spoil yourself with a concoction that rewards you for all your efforts.
Choose a cocktail glass and let the classic aviation cocktail lift up your spirits. It's a wonderful drink to mix together for company on any occasion – or for a bougie night in watching French films! Ooh la la …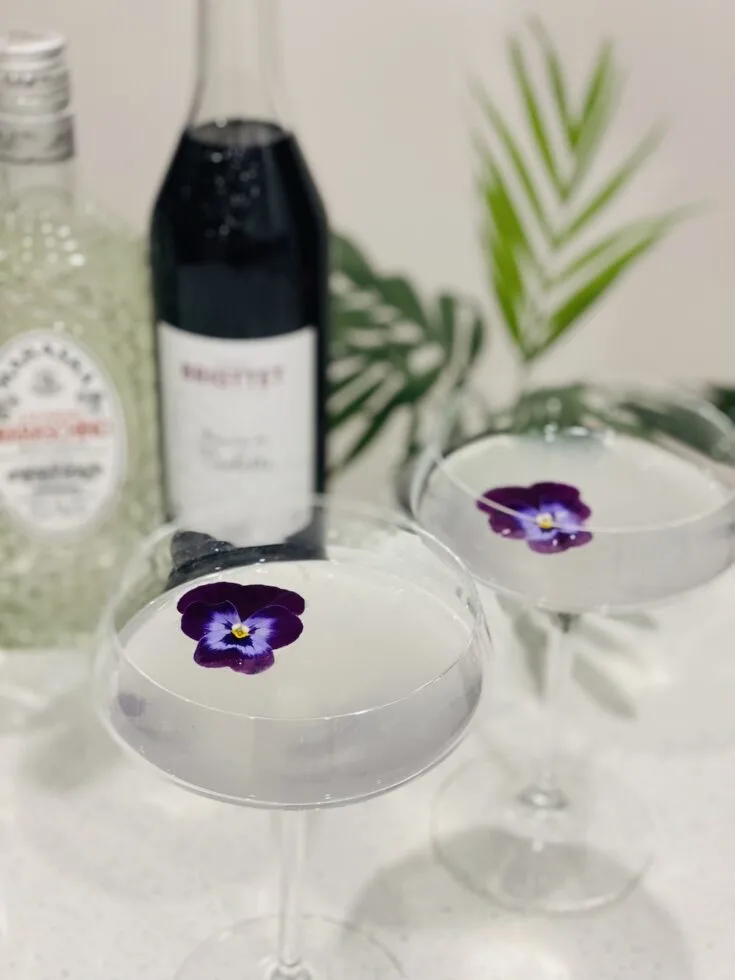 Yield:

1 cocktail
Prohibition-Era Classic Aviation Cocktail Recipe
A classic cocktail to let your spirits soar higher than the Wright Brothers.
Ingredients
2 ounces Plymouth gin
3/4 ounce fresh lemon juice
1/2 ounce maraschino liqueur
1/4 ounce crème de violette
1 brandied cherry (or purple pansy) to garnish
Instructions
Shake all ingredients over ice until the shaker is cold then strain into a chilled coupe glass.
Garnish with purple pansy or brandied cherry
Notes
Brandied cherry is the typical garnish for the Classic Aviation Cocktail, however, we love the modern, floral twist of a purple pansy too much to pass up.
[/sc]