The refreshing libation known as the Pimm's spritz is one that brings to mind Wimbledon and summer sporting events of the UK. But it's one that anyone can drink for a burst of cooling bliss and is particularly adored on the hottest of days.
Originally sold as a medicinal drink, James Pimm first produced it in 1823. He was the owner of a bar in London, offering it as a tonic. It became so popular, that's how Pimm's No. 1 Cup came about. Later on in 1865, Pimm sold off the bar to Frederick Sawyer. But nothing of excitement came until 1880 when it was sold to Horatio Davis who started bottling and distributing the spirit.
The beautiful thing about Pimm's is that it boasts 25% ABV but can be mixed to your ideal strength. It blends in such a way that you can find satisfaction in any libation without doing yourself in. That's why a Pimm's spritz is an ideal summer drink as it takes the best of the Pimm's cup and harmoniously joins it with the feel of an effervescent spritz drink.
Served chilled with Pimm's, prosecco, and lemonade, this drink might make you rethink that Bloody Mary order for Sunday brunch. It comes with slices of cucumber that soak up the flavors for a revitalizing mid-drink snack. The mint sprigs add a refined touch so it's more like a sparkling lemonade with a kick that ranges from light to strong, depending on how you mix it.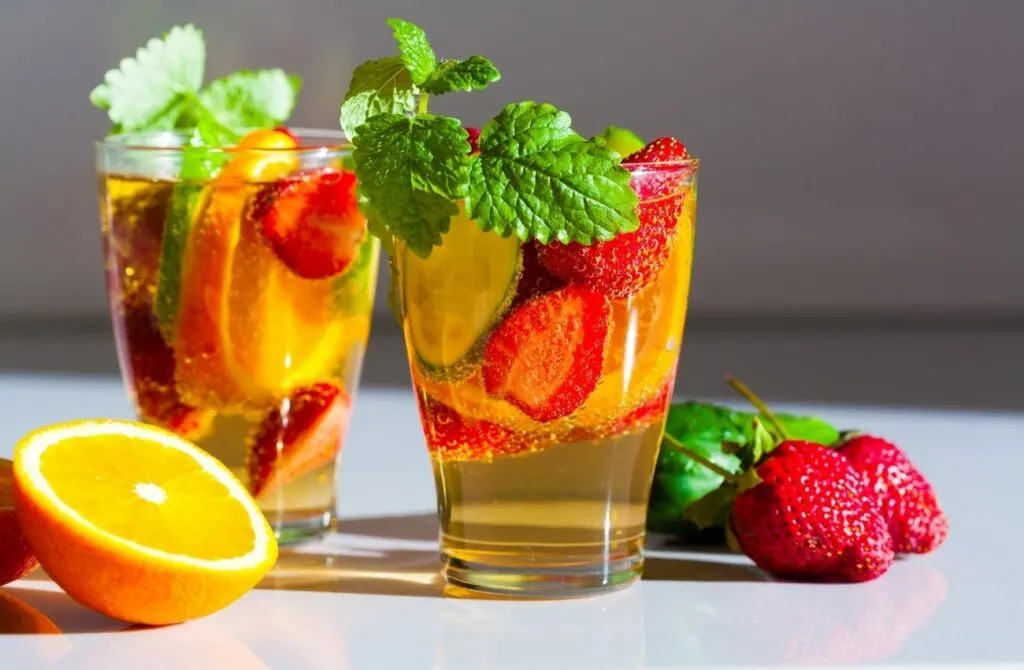 Because you have the ability to make it stronger or weaker to your desires, it really makes for the ultimate summer cocktail. The Pimm's spritz is a great one for those that tend to favor wine but want something that feels cooler and more quenching than a chilled glass of wine. It will have you dreaming of long hot days in Cornwall and the Jurassic Coast, and transport you instantly to the most iconic of British landmarks…. the summer garden party!
The mix of lemonade and prosecco, or any sparkling wine you choose, gives it that wine-drink fizzy fun of a white wine spritzer while the Pimm's gives it a solid punch that brings the flavors full circle. You can have wine any time, so why not make a mid-day refreshment that goes with the thrills of sporting events, barbecues, pool parties, and mingling under the sun?
To make a Pimm's spritz, you'll of course need Pimm's No. 1 Cup, prosecco, and lemonade, all chilled. Plentiful ice assures it stays at the optimum temperature while the cucumber and mint sprigs give a stunningly highbred presentation for those dignified gatherings. Of course, even without others to enjoy it with, the Pimm's spritz will surely quench your desires for a cooling cocktail on a hot, summery day.
Oh and if you don't have any Pimm's on hand, you can get these delivered – along with beer, wine, and other essentials in under 60 minutes using a service like Drizly covering 1500+ cities in the US.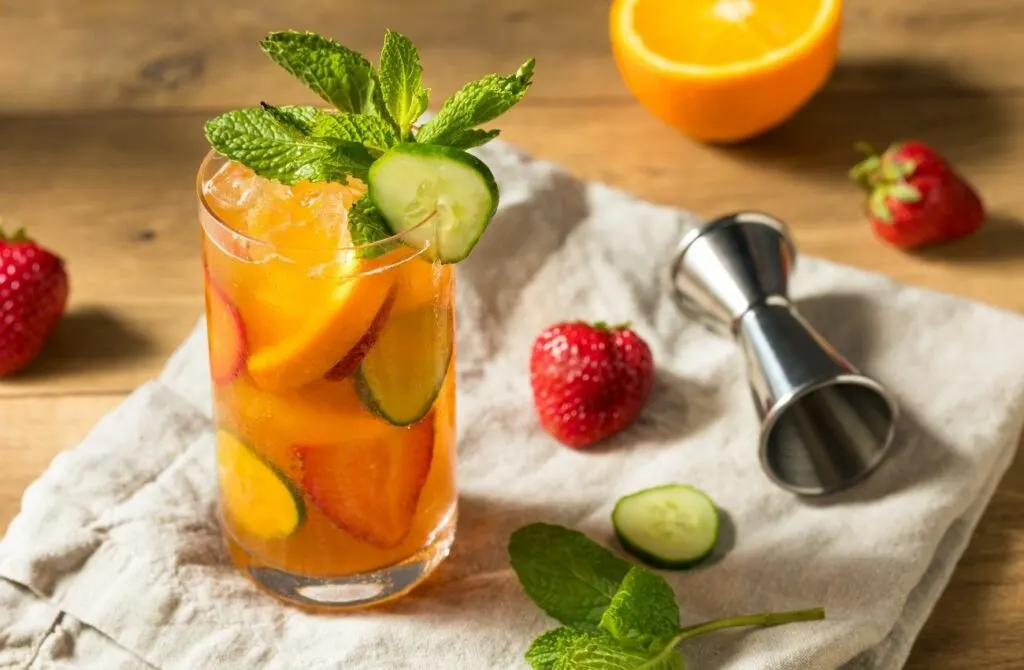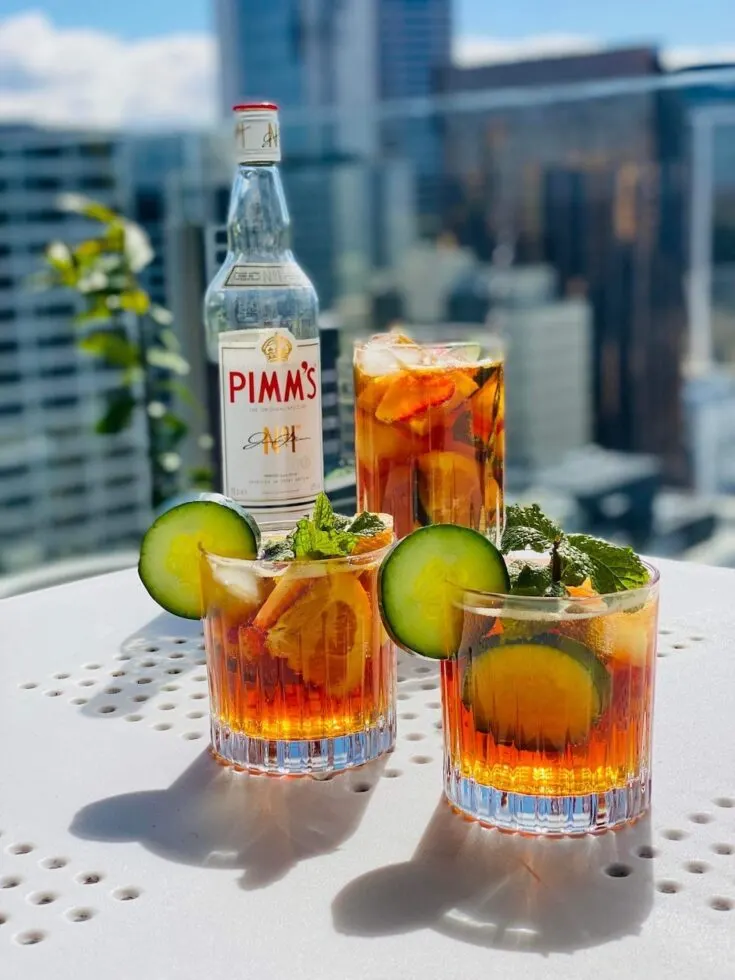 Yield:

1 cocktail
Refreshing & Fun Pimm's Spritz Recipe
Sometimes you want something a little sweet, a little more bubbly, a little - fun.
Ingredients
30ml Pimms
60ml chilled prosecco/sparkling wine
90ml lemonade
Sliced Strawberries,
Sliced Cucumbers
Sliced Orange
Spring of Mint
Ice
Instructions
Fill a glass with ice
Add sliced strawberries, cucumber, and orange.
Pour over the Pimm's and Prosecco and top up with lemonade.
Garnish with a sprig of mint and a cucumber wheel.
Notes
This Pimms Spritz recipe is best enjoyed on hot summer days for one glass, but it is almost better to make in a pitcher for sharing. Just double/triple etc., ingredients for desired serving.
[/sc]