There's no place like New York City. The buildings, the lights, the non-stop hustle and bustle, everything about it is unlike anywhere else in the world. If you've never been to the city, I can't recommend enough visiting at least once in your lifetime. But when you go, the hotel you stay at will play a big part in your overall experience. So, where should you stay?
As you can imagine, New York City has what seems like a million hotels to choose from. I'm going to take a stand and say that Hyatt Place in Times Square is one of the best accommodation options. Hyatt hasn't become the well-known company it is today by offering cruddy rooms and rude service. No, no, no. The hotels are clean and consistent and have excellent amenities.
I'm going to break down the ins and outs of it all with this Hyatt Place New York City Times Square Review and let you know why I enjoyed my stay there. So, let's go!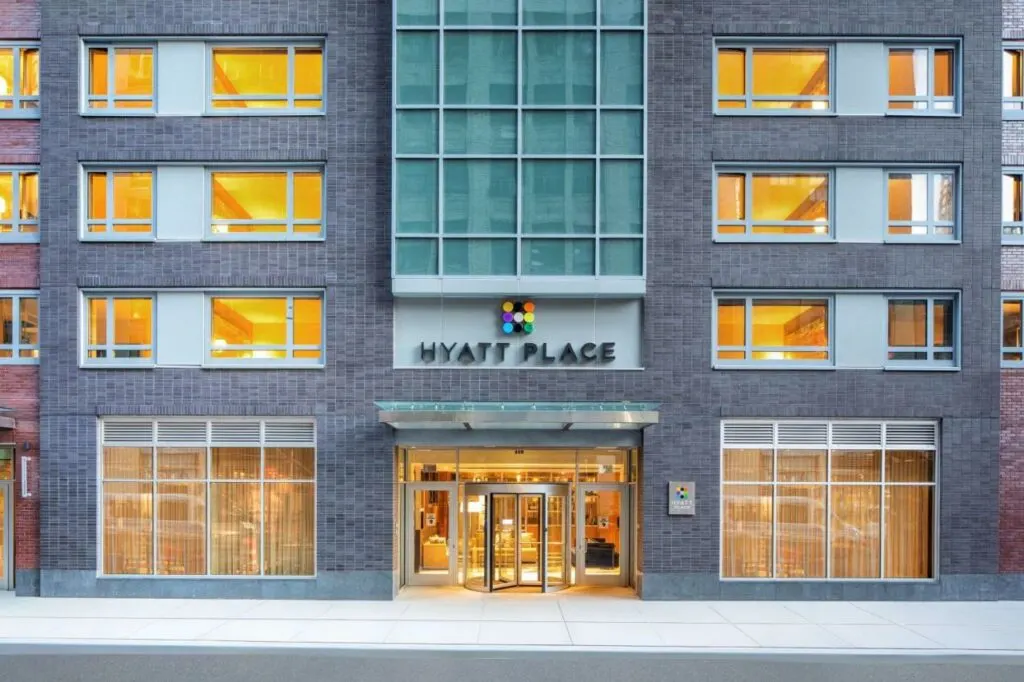 Hyatt Place New York City Times Square Location
Getting around New York City can be horrendous with a capital H. Location is a big deciding factor when I'm looking for a place to book a trip. When I realized there was a Hyatt Place right next to Times Square, well, picking it was a no-brainer.
The hotel is just a quick 5 to 10-minute walk from the main section of Times Square, so there's no need to hail a cab to take you into all the action. Just around the corner from the property, plenty of great restaurants and bars are waiting for you to enjoy. If you've been to the city before, then you know a 5-mile car ride could take a lifetime, and that's no fun.
Even closer to Hyatt Place, you'll find a subway stop. The subway is the key to efficient transportation. When I wanted to head over to Brooklyn, I popped out of the hotel, walked a few blocks, bought a subway ticket, and–bam!–I was in Brooklyn just like that.
When it comes to location, it's pretty hard to beat this Hyatt Place! You'll feel like you are walking on the set of an NYC movie every time you leave the hotel, and so many of the best New York City attractions are on your doorstep…
Hyatt Place New York City Times Square Accommodation
Hyatt rooms are fine-tuned creations that never disappoint. The Times Square property lives up to the brand name and offers wonderful places to call home for a few nights. There are 520 rooms in the building, and each one has a classic, modern design that Hyatt is famous for. You can choose between rooms with a single king mattress or two double mattresses.
If you feel like getting the most out of the experience, you can book specific rooms that have brilliant views of downtown New York City. Don't worry about being kept up by bright lights because you'll be able to pull down blackout curtains for a great night of sleep.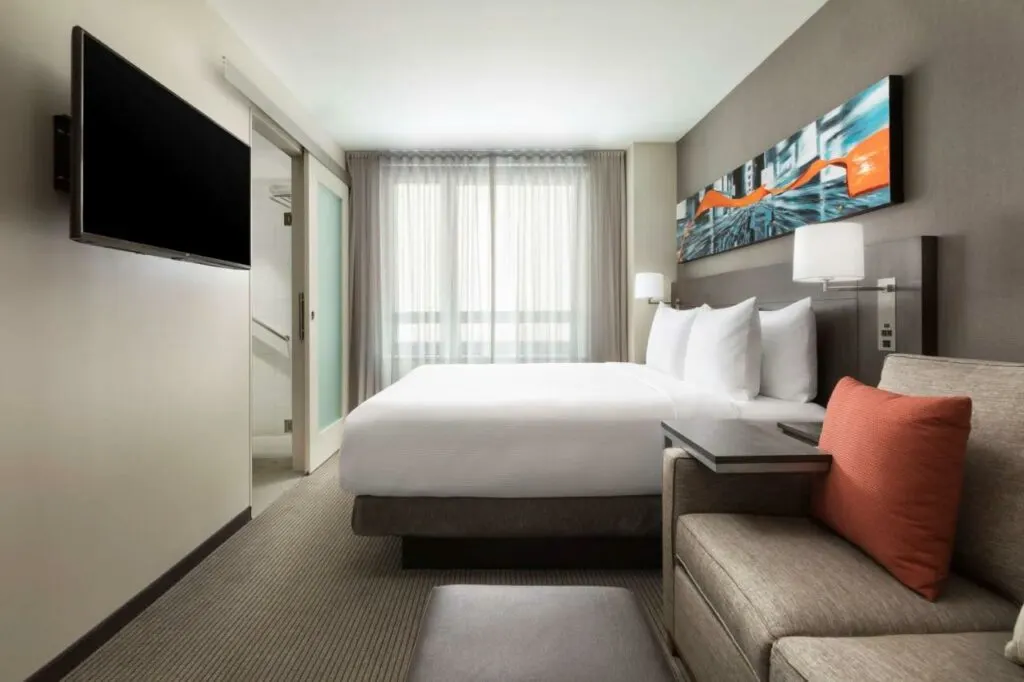 Inside the rooms, you'll be stocked up with cozy mattresses, a mini-fridge, a flatscreen TV, a coffeemaker, and more. I spent most of my time out exploring the city, but each time I came back to my room for a midday nap or at the end of the day, I felt right at home in the room. They say New York City is the city that never sleeps, but I left the hotel feeling fresh and recharged each day.
If you're flying into the city and don't want to deal with packing soaps, shampoos, lotions, and conditioners–they take up a lot of packing space–Hyatt provides KenetMD bath toiletries that aren't too shabby.
Some hotel products leave your hair and skin feeling dry, but that wasn't the case at this property. The products can at least hold you over until you have a chance to run to a store to get your go-to hair and skin products, but you may just choose to use them.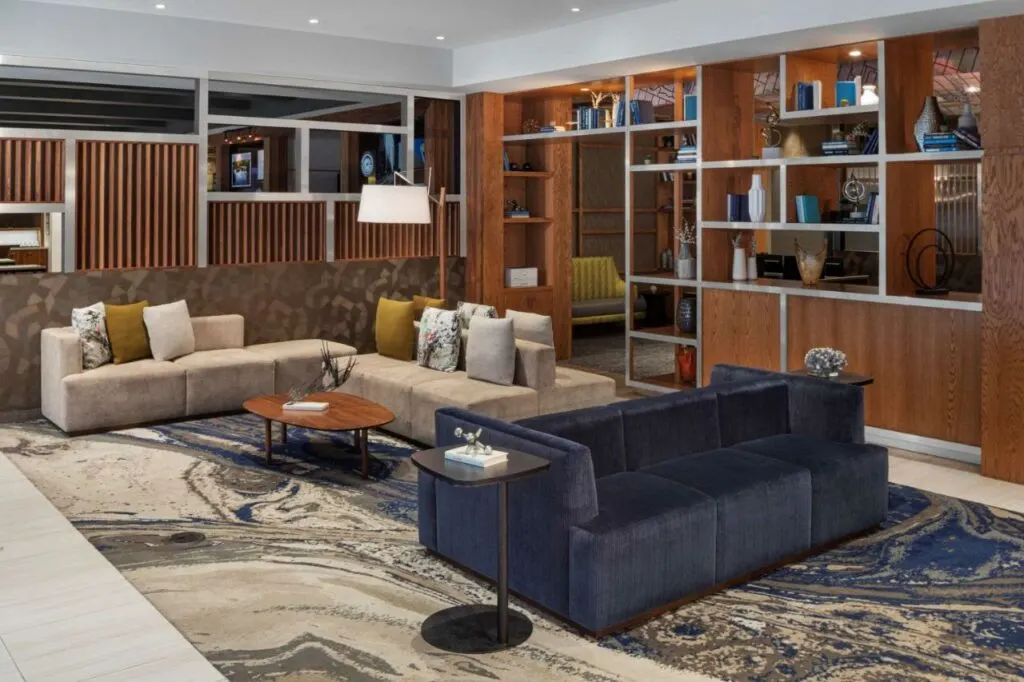 On-site Dining @ Hyatt Place New York City Times Square
I appreciate hotels that offer on-site dining. Even If I don't choose to eat there, it's nice to know there's a place to grab a bite to eat if something's preventing me from going out. I'm not going to suggest that Hyatt Place New York has better dining options than the world-class eating establishments in the city. But I will say that you'll be pleasantly surprised.
In the morning, you can head downstairs for the free breakfast. The staff sets up a little breakfast bar with cage-free eggs, fruits, granola, potatoes, and other breakfast classics. It's a great way to start your day before exploring the city. Oh, and a free breakfast always tastes better than a paid-for breakfast, right? New York City is expensive, so I was more than happy to save a few bucks each morning.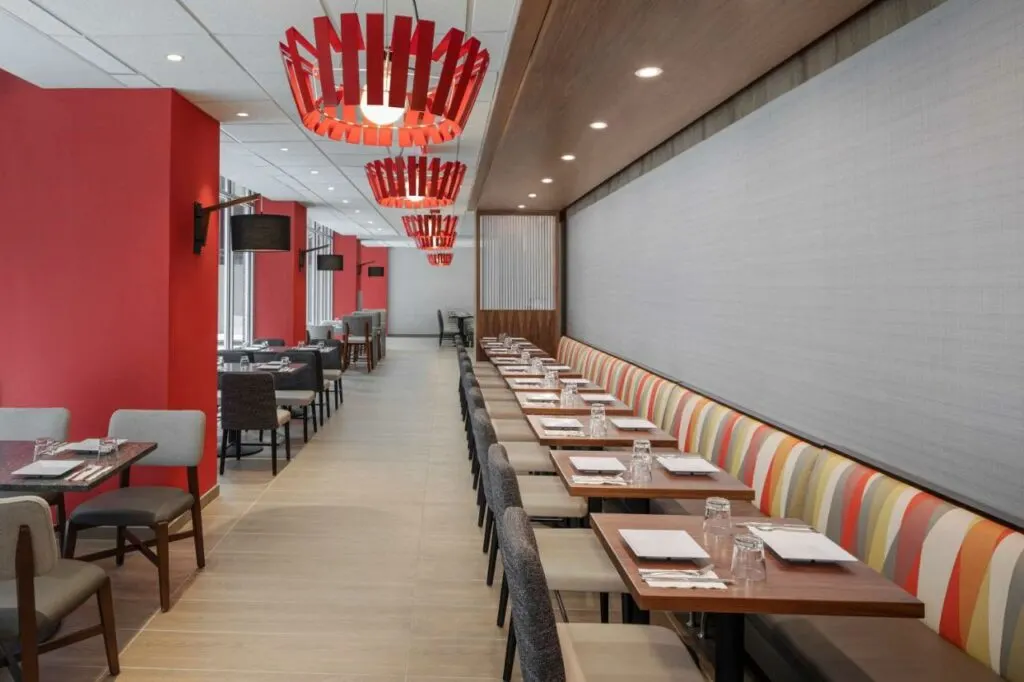 Over at the lobby bar, you'll have access to The Placery the hotel's on-site restaurant. I dined there the first night I arrived and had a few cocktails throughout the duration of my stay. The food, I must admit, hit the spot. I chowed down on a classic burger and fell asleep that night, full and happy. There are loads of other great menu items that will accommodate everyone if you're traveling in a group.
Of course, if you need a late-night snack, there's a section in the lobby for quick grab-and-go options. I may have helped myself to a candy bar or two–sue me.
Hyatt Place New York City Times Square Amenities
I knew I would have to get work done during my trip to NYC, and I made good use of the workstations on the property. The business center is a great area to put your head down for a few hours, respond to emails, or print out boarding passes with the printers.
You're almost guaranteed to do a lot of walking in the city, but if you're feeling up for it, the hotel has a nice fitness center. You'll have everything you need to get a nice pump and work off all the good food you've been eating.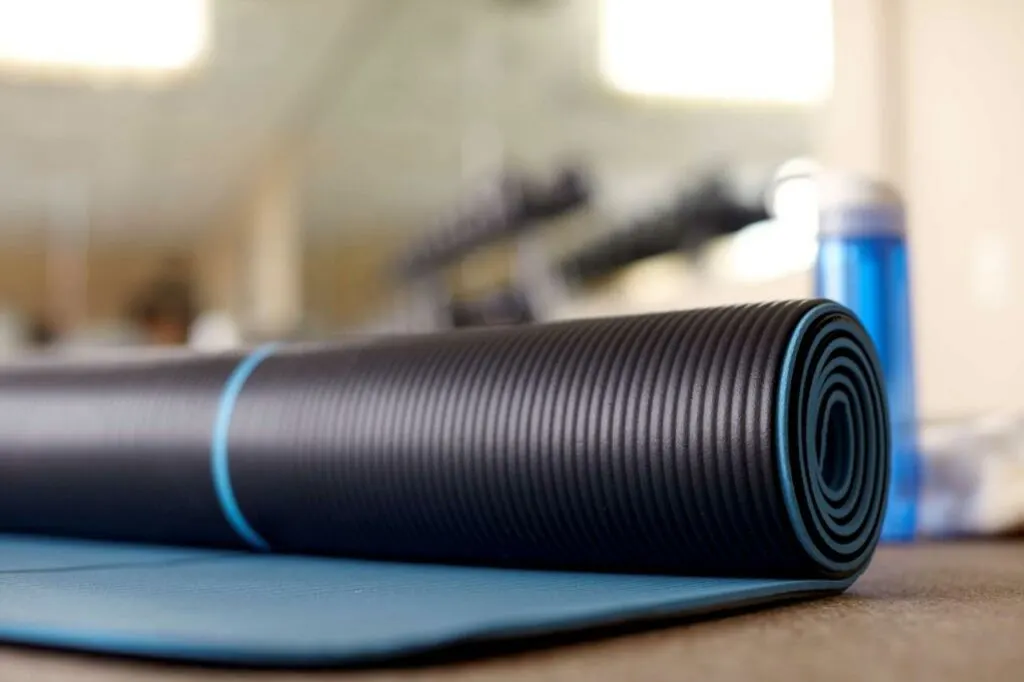 Hyatt Place New York City Times Square Review Final Thoughts
New York City feels like the center of the universe. Walking through the city will leave you with eyes the size of saucers and an understanding of why so many people visit the Big Apple. Choosing an accommodation option that's close to the action will seriously enhance your trip, and Hyatt Place New York City/Times Square checks all the boxes.
It might not make this list of our favorite luxury hotels in Manhattan, but it is a fabulous and affordable option at a location that is second to none. So, enjoy your trip and make the most out of it!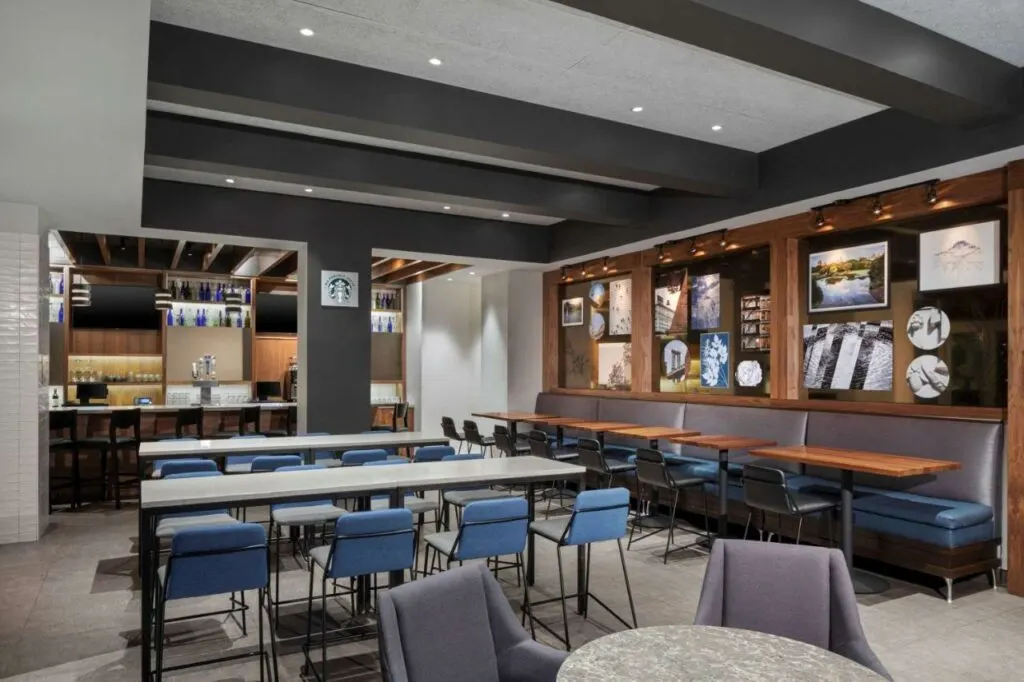 Staying Connected While Travelling
In today's increasingly connected world, staying online while traveling has become essential for a seamless experience. That's where eSIMs come into play, revolutionizing the way we access mobile networks during our global adventures. Say goodbye to hunting down local SIM cards at the airport; eSIMs provide instant activation the moment you land, sparing you the fortune usually spent on international roaming and allowing you to genuinely travel like a local (without getting hopelessly lost!).
With eSIMs, tasks like restaurant recommendations and reservations, up-to-the-minute public transport instructions, checking opening hours, and accessing further information become a breeze. And, of course, sharing your journey on social media is easier than ever. To stay connected wherever you roam, consider using either Airalo or Holafly. Airalo boasts the most extensive range of destinations worldwide, offering smaller data bundles tailored to your needs, while Holafly provides unlimited data packages and fantastic EU data deals.
So why wait? Embrace the future of travel connectivity with eSIMs and make your next journey effortlessly smooth.
Further Things To Consider Before Any Adventure
Now you're all set and prepared to explore our big wide world, why not sort out everything else out all in one go? If necessary for your travel plans make sure you have brought proper travel insurance, protected your privacy by getting a secure VPN, compared all the top hotel booking sites to find just what you're after, reserved an unbeatable rental car price and - of course - booked the best flight deals!
Or maybe just forget it all and go for a last-minute cruise or effortless tour instead?
Many budget travelers (including me) indulge in worldwide airport lounge access, so we can experience luxury while still slumming it in economy. Naturally, we would never leave home without a more general travel guide since we couldn't possibly cover everything here!
Just add an adventurous attitude and plenty of smiles - they go a long way - and that about covers it all! Now go out, find your own path and don't forget to share your best inspiration stories with me on Facebook, Twitter, and Instagram...I'd love to hear from you!