New York City isn't world-famous for nothing. The densely packed cement jungle has been the center of cultural trends since the 19th century and shows no signs of slowing down. I've had my fair share of trips to the Big Apple, and I decided to spice things up during my last visit and booked a few nights at Walker Hotel Tribeca.
New York City isn't world-famous for nothing. The densely packed cement jungle has been the center of cultural trends since the 19th century and shows no signs of slowing down. I've had my fair share of trips to the Big Apple, and I decided to spice things up during my last visit and booked a few nights at Walker Hotel Tribeca.
Hotels in New York City can be hit-or-miss. Some are too far from downtown; some are old and decrepit; some just don't capture the city's culture. Maybe I have high expectations, but –come on–visiting the city isn't your average vacation, and your accommodation should feel special. Well, I'm happy to report that Walker Hotel Tribeca exceeded my expectations. From the location to the rooms, everything was stellar.
I know choosing the right hotel can be a challenge; New York City is expensive, and you don't want to get stuck in some dull hotel. We have already rounded up our favorite luxury Manhattan hotels, but these can be a little pricey, so, I'd like to provide you with alternatives in this in-depth Walker Hotel Tribeca Review to help you make your decision. Ready?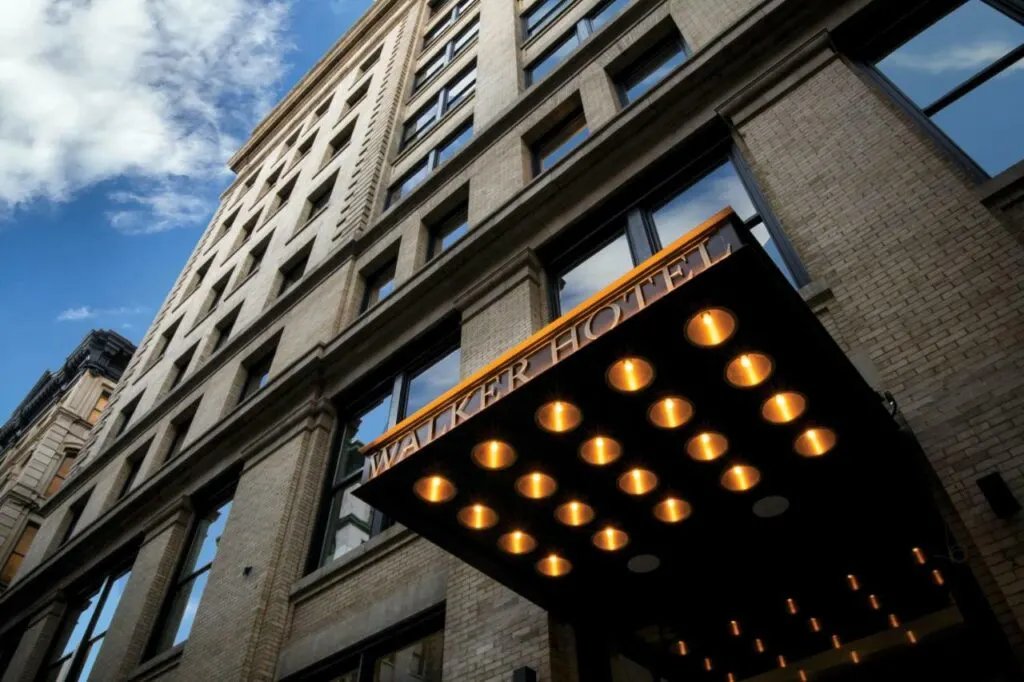 About the Walker Hotel Tribeca
Walker Hotel Tribeca is one of two hotels under the Walker Hotels umbrella. It's a lovely boutique accommodation option that offers an authentic stay. Walker Hotels' goal with the Tribeca property is to help guests experience the past, present, and future of New York City.
The building was built in 1899 and still has that well-known Renaissance Revival style seen throughout the city. I love staying in historic buildings, especially in New York. Although it's been thoroughly renovated, it still puts your face to face with a part of history.
The owners of the hotel did a great job designing the interior of the building in a modern, luxurious way but still managed to keep the vintage charm. The hotel has a very New-York look, with brick walls, low leather sofas, and black staircases. If you're an out-of-towner experiencing the city for the first time, this property will give you a great feel for what New York City is all about.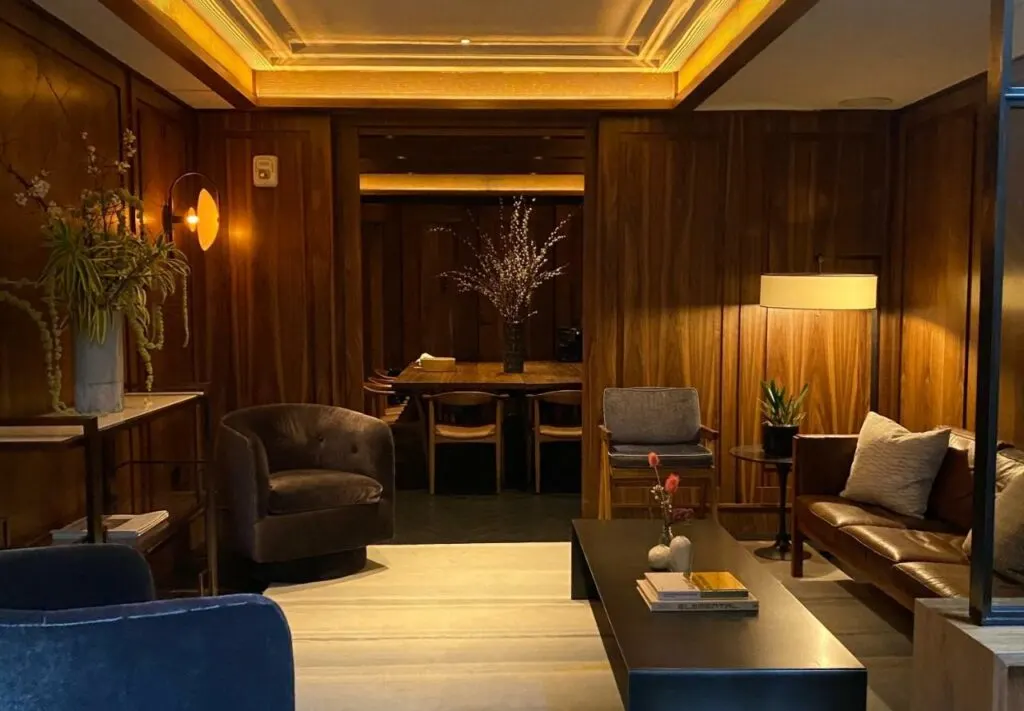 The Neighborhood
Before I booked my trip at the hotel, I first checked its location on the map. When I saw the property was pushed up next to SoHo in Lower Manhattan, I knew it had real potential. In New York City, location is everything. If you stay too far from downtown, paying for public transportation or driving through the hellacious, bumper-to-bumper traffic is a pain.
The ideal spot to stay in the city is anywhere within walking distance of all the action. That way, you don't need to rely on a vehicle to get from point A to point B.
SoHo is known for being the artsy portion of the city, with lots of galleries, boutiques, and artisanal restaurants. The streets are quite lively, and I spent hours just walking through the neighborhood, taking in all the sights and sounds. Despite the persistent energy in SoHo, it's much more relaxed than the area around Times Square, which brings in all kinds of hecticness–still a place everyone should see at least once.
Let's move on in this Walker Hotel Tribeca Review to what the rooms are like, but I'll talk about specific activities you can do that are just a stone's throw away from the hotel.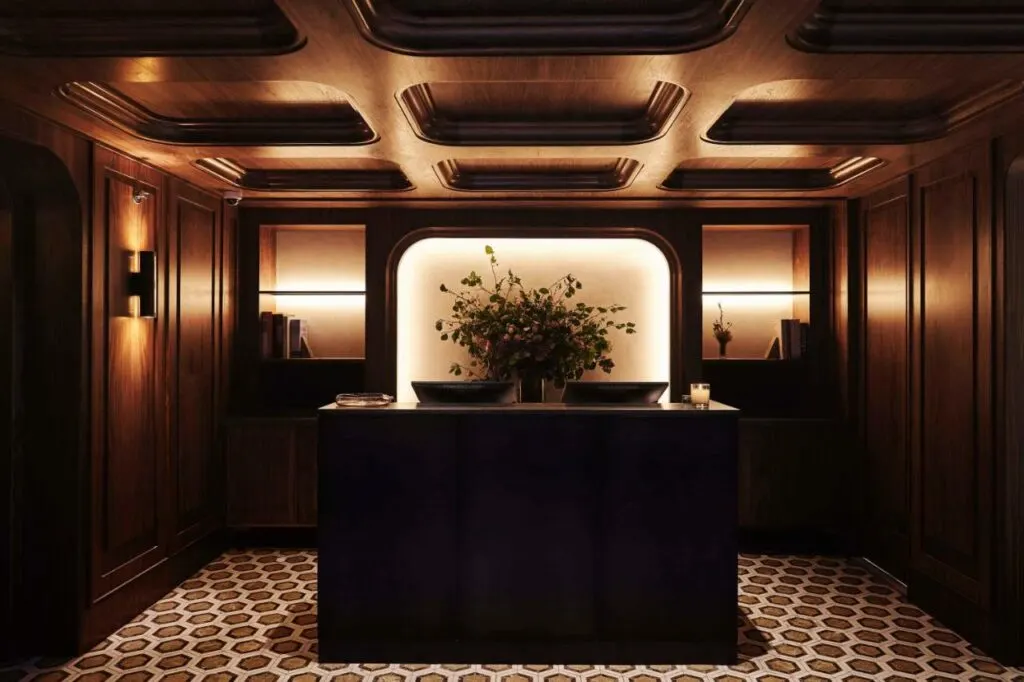 The Rooms in Walker Hotel Tribeca
The rooms in the Walker Hotel Tribeca are, in classic New York fashion, smaller than traditional hotel rooms. However, with that being said, you have a few different options to choose from, which range in size. Keep in mind that each room style only comes with one bed and is meant to accommodate one to two people.
So, if you're traveling with kids or were hoping to have someone sleep on a pullout couch, that's going to happen here. But what it lacks in space, it makes up for in offering a truly unique experience in a historic building.
You can pick rooms with full to king mattresses and square footage that ranges from 130 to 240. I personally stayed in the Walker Full options because I was traveling along and didn't need the extra space.
The mattress was as comfy as a mattress can get, and I slept like a baby each night. My favorite part that really captured the historic vibe of the building was the white brick wall at the end of the room. The bricks made it all feel vintage, and I'm a sucker for all things vintage.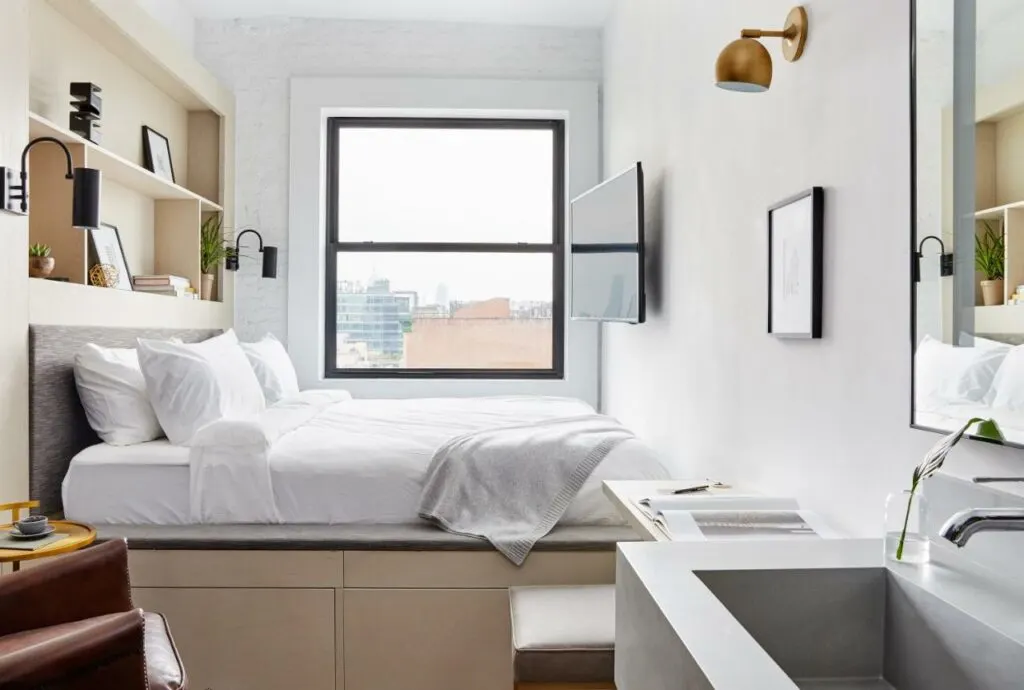 Although the room was small, it was well-decorated with modern furniture. There was a little leather chair in the corner, a nightstand, a desk, and a sink. For whatever reason, I didn't think there would be anywhere to work in the room, but I was pleasantly surprised.
I was able to get a few things done at the desk each day before heading out into the city. Oh, and you can require a coffee maker, which I, of course, did. No way was I going to risk experiencing New York City not being fired up on caffeine.
Although the room itself feels rustic, the bathroom certainly does not. It is finished with marble, which looks quite classy, I must say. The rain showerhead felt amazing after a long day of walking through the city, and the water pressure felt just right. I can't tell you how many janky hotel showers I have experienced in my life, but that was not the case at the Walker Hotel Tribeca.
So, if you stay at the property, don't expect giant suites. But that's not the point of this hotel, and I guarantee you'll love everything about the room you stay in!
On-Site Dining @ Walker Hotel Tribeca
The Walker Hotel Tribeca has multiple on-dining options to choose from that you must try! Before we talk about the delicious food and drinks at the bars and restaurants, know that you can order small bites to eat in the lobby. You'll find a great seating area that's perfect for relaxing with a book or chatting with friends.
New York City buildings make good use of their cellars, and this hotel is no different. Saint Tuesday is an on-site sub-cellar cocktail bar. The venue has an amazing environment, which will make you feel like you're stepping back into the time of speakeasies.
It stays open daily, always with live music, from 6 pm to 2 am, so you'll have plenty of time to sit back and drink in the experience. Having such an exciting cocktail bar just below the hotel is a huge plus for the hotel.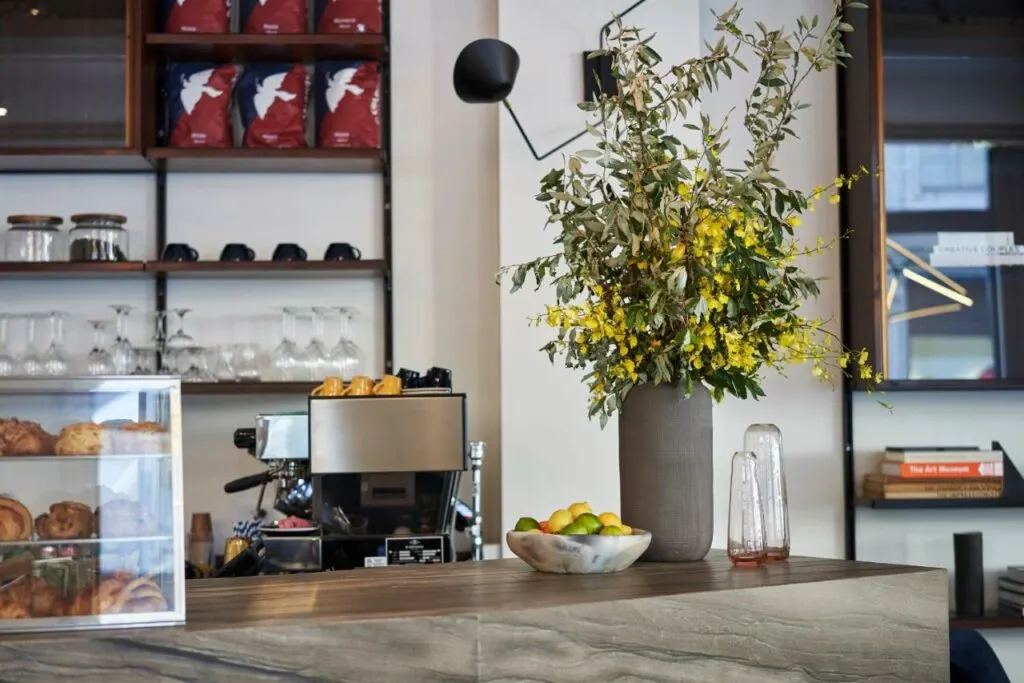 At the opposite end of the building is the Happy Be Rooftop Bar. The bartenders are experts at their craft and can whip up outstanding drinks. You'll have a stunning view of the city from the rooftop and plenty of opportunities to meet new faces.
I don't want to tell you how to live your life, but happy hour is from 4 pm to 6 pm, so grab a drink and watch the sun dip behind the city buildings.
There's also a wonderful coffee shop in the lobby of the hotel called Blue Bottle Coffee. It's the perfect place to grab a drink to go before heading out into the city.
Keep your eyes peeled for an update on a new restaurant being built in the hotel. If it's anything like the on-site bars, you can expect the food to be out of this world.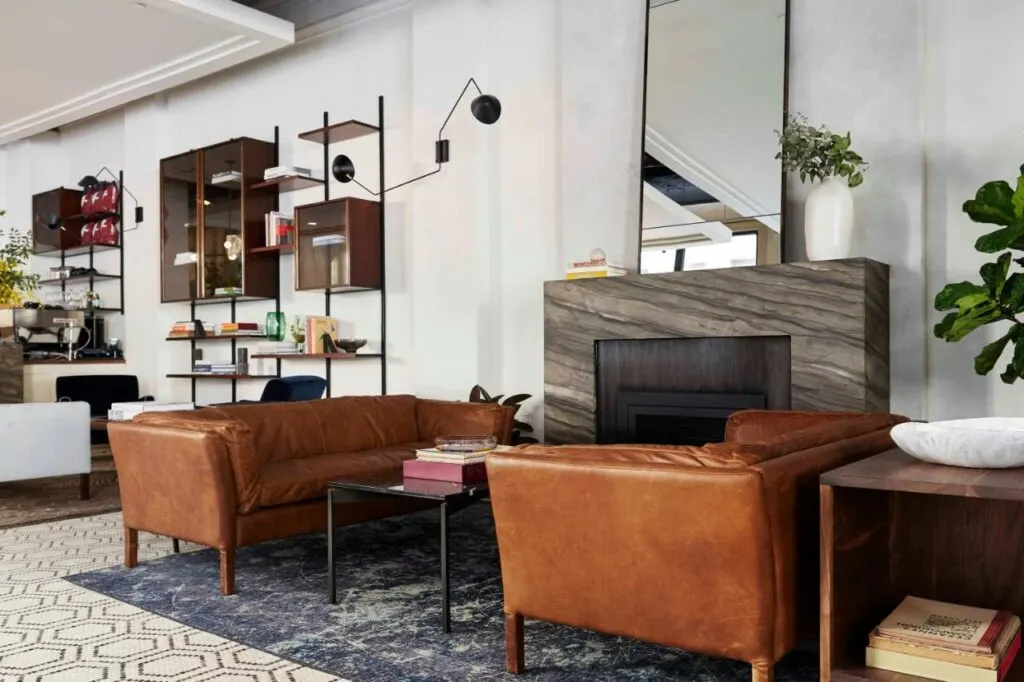 Walker Hotel Tribeca Fitness Center
You won't have to worry about falling off your gym schedule because the hotel has a fitness center. The hotel has placed a few restrictions on the facility, and guests will have to book a time to use it. Guests traveling together can use the fitness center at the same time; otherwise, it's one person at a time.
The hotel hasn't suggested when these restrictions might be lifted, but you shouldn't have a problem reserving a spot. Once it's your turn to hit the gym, you'll relish having the whole place to yourself.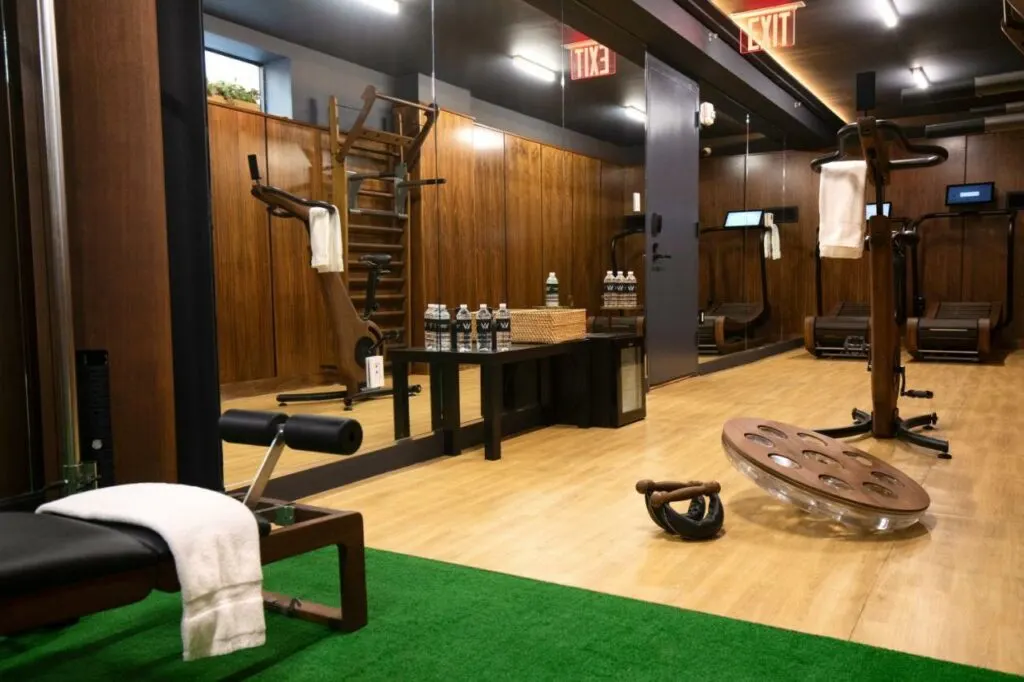 Places to Visit Nearby Walker Hotel Tribeca
From the hotel, you'll be within walking distance of many of the main attractions in New York City – and just stepping out onto the street outside, you'll feel like you have walked into a New York film. Only a few miles away is the infamous Wall Street, where the world's most important stock exchange is located. Or you can head over to Canal Street to walk through Chinatown, which is always full of energy.
I personally love history and was thrilled to know the New Museum and Tenement Museum were easily accessible. If you want to get a true bird's eye view of the city, take a 2.5-mile walk to the Freedom Tower, where you'll have views from 1,250 feet in the sky.
New York City has no shortage of fascinating attractions to experience, and you'll have no problem filling up your day with awesome activities.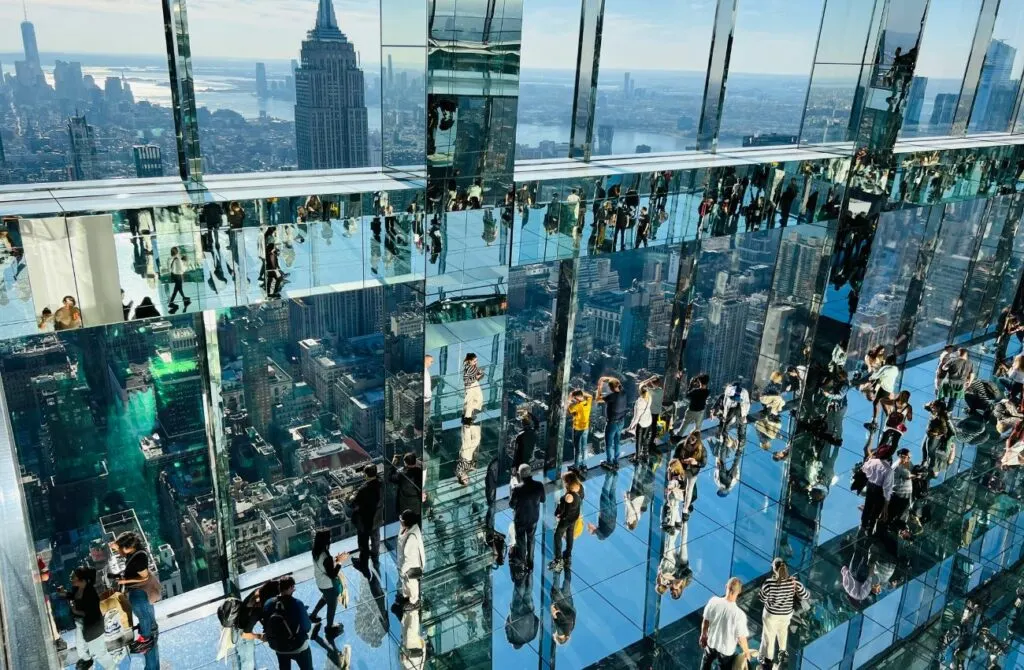 Final Thoughts on The Walker Hotel Tribeca Review
When you go to New York City, it's crucial you pick the right accommodation option. With so many hotels to choose from, the whole process can get a bit stressful. So let me tell you that the Walker Hotel Tribeca is a phenomenal place to stay.
It'll put you in the heart of the city and give you an authentic experience that you'll always remember. Safe travels!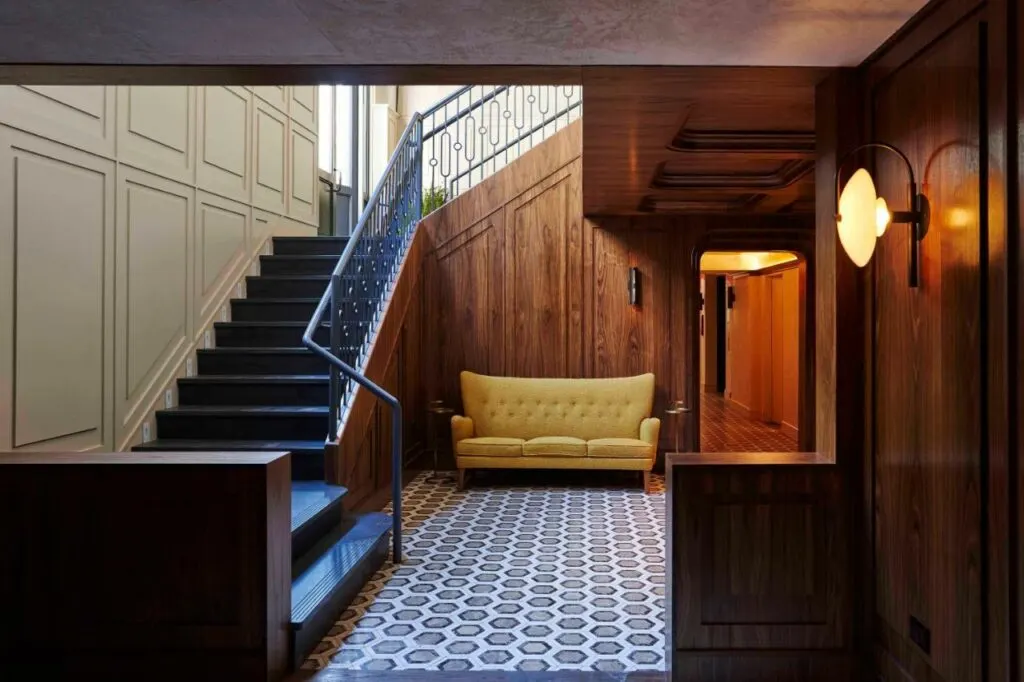 Staying Connected While Travelling
In today's increasingly connected world, staying online while traveling has become essential for a seamless experience. That's where eSIMs come into play, revolutionizing the way we access mobile networks during our global adventures. Say goodbye to hunting down local SIM cards at the airport; eSIMs provide instant activation the moment you land, sparing you the fortune usually spent on international roaming and allowing you to genuinely travel like a local (without getting hopelessly lost!).
With eSIMs, tasks like restaurant recommendations and reservations, up-to-the-minute public transport instructions, checking opening hours, and accessing further information become a breeze. And, of course, sharing your journey on social media is easier than ever. To stay connected wherever you roam, consider using either Airalo or Holafly. Airalo boasts the most extensive range of destinations worldwide, offering smaller data bundles tailored to your needs, while Holafly provides unlimited data packages and fantastic EU data deals.
So why wait? Embrace the future of travel connectivity with eSIMs and make your next journey effortlessly smooth.
Further Things To Consider Before Any Adventure
Now you're all set and prepared to explore our big wide world, why not sort out everything else out all in one go? If necessary for your travel plans make sure you have brought proper travel insurance, protected your privacy by getting a secure VPN, compared all the top hotel booking sites to find just what you're after, reserved an unbeatable rental car price and - of course - booked the best flight deals!
Or maybe just forget it all and go for a last-minute cruise or effortless tour instead?
Many budget travelers (including me) indulge in worldwide airport lounge access, so we can experience luxury while still slumming it in economy. Naturally, we would never leave home without a more general travel guide since we couldn't possibly cover everything here!
Just add an adventurous attitude and plenty of smiles - they go a long way - and that about covers it all! Now go out, find your own path and don't forget to share your best inspiration stories with me on Facebook, Twitter, and Instagram...I'd love to hear from you!