New York has a lot to offer for both national and international filmmakers, as it has both modern cityscapes as well as historical architecture. It is widely regarded as the cultural, financial, media, and entertainment capital of the world, so it will come as no surprise that there are so many wonderful movies set in New York.
The most famous city in the world is bound to have tons of things to offer. Even those farthest away from New York know about it: this big metropolis where dreams come true and the fate of entire cultural industries is decided.
Yet there are still many things left unsaid about the city, and films are a perfect way to express that which can't be said. All genres of stories have been told in the city. But it still hasn't lost its charm: modern filmmakers manage to show new things that nobody had noticed before in this place.
New York is a place with many voices that want to be heard. With each of these movies, you'll get closer to the city and its people. By the end, you are going to know this unique city as well as the most typical New Yorker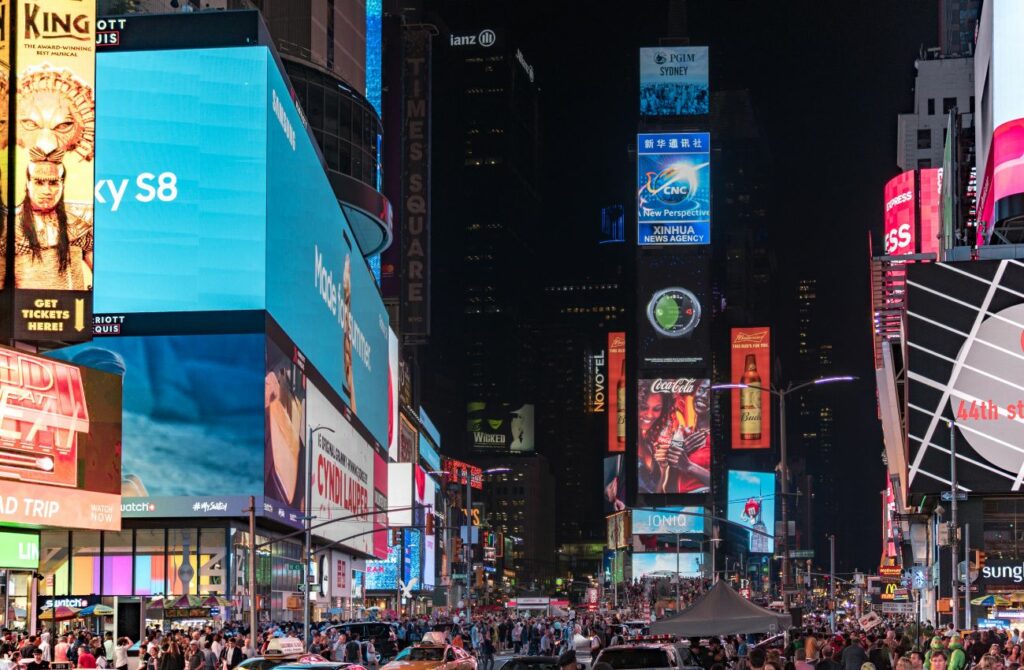 These New York films have narratives that rely on their settings as much as their main protagonists, and as a result, spectators get a glimpse of this iconic country through the director's eyes. To honor the concept of cinematic travel, we have also assembled lists of our favorite films shot in some of our all-time favorite travel destinations: Romania, Italy, Mexico, Ireland, Australia, Japan, Alaska, and Israel.
Wondering where to watch? It depends on where you live in the world and which streaming services you have. We link to the streaming service we watch on in each case - be it Netflix, Amazon Prime, Apple TV+, or elsewhere.
You can get one month free of Amazon Pride (or a 6-month trial for students) of Amazon Prime and also get immediate access to FREE Two Day shipping, Amazon Video, and Music. While you won't be charged for your free trial, you'll be upgraded to a paid membership plan automatically at the end of the trial period - though if you have already binged all these, you could just cancel before the trial ends.
Apple TV+ also has a one-week trial, and Hulu has a one-month trial (which can be bundled with Disney!). Another option might be using a VPN to access Netflix titles locked to other regions. Netflix is now available in more than 190 countries worldwide and each country has a different library and availability. US Netflix is (understandably) one of the best.
While we wish everything could just be in one place - for now, it seems these are the best streaming platforms to watch on.
The overarching and profound influence that The Godfather has had on cinema from all over the world can't be understated. This film, together with its two sequels (one in 1974 and another in 1990), is a landmark in the crime genre, and the filmmaking techniques used in its making have been applied in all kinds of films.
The Godfather tells the story of the Corleone crime family, who are not the most powerful but do have a lot of push in the local mafia politics. Its most notable members are Vito Corleone (Marlon Brando), the don and head of the family, and his son Michael (Al Pacino).
Filmed almost exclusively in New York, the film treats the city like a character, depicting every inch of its streets, of its people, with just the right historical buildings as a backdrop for the crime drama.
When the real-life building wasn't appropriate, the production department built one, taking into account that it would have to fit seamlessly in the New Yorker Landscape. The film wouldn't be the same if it were set in another city. There isn't a better way to experience New York in 1945 than through The Godfather.
If there's a filmmaker that knows New York like the very palm of his hand, it's Martin Scorsese. The film captured the spirit of a time, one that was much darker than today: with the Vietnam War ongoing, lots of people were starting to feel displeased with the country they were living in.
Perhaps that's why it was so well received. It won awards all over the world, including the Palme d'Or at Cannes (although it did not win any Academy Awards. To this day it's considered one of the best films ever made.
The film follows Travis Bickle (Robert De Niro), a taxi driver working the night shifts with a dark past: Travis was a veteran of the Vietnam War who was honorably discharged due to his PTSD. As he explores New York taking passengers from all over the city, we see his mental state deteriorate, going so far as to become psychopathic.
Taxi Driver offers a darker take on New York: one filtered through the eyes of a deranged person. Still, it's one of the most famous depictions of the city, seen entirely through the window of a taxi. It´s dark and somber. But, back in the seventies, that was also a part of New York.
If The Godfather was the foundational film for the crime and gangster genre, this film takes this style to its greatest expression. Another classic New Yorker film directed by Martin Scorsese, this time the story of crime and darkness goes beyond fiction. Goodfellas is based on the book Wiseguy, which chronicles the life of infamous mob associate, and later FBI informant Henry Hill.
It´s a story that belongs in 1950s Brooklyn, when a young Hill (Ray Liotta) began working for a local Italian-American mobster and met those who would become his allies in the times to come: Jimmy Conway (Robert De Niro) and Tommy DeVito (Joe Pesci). The three of them rise to the top of the New York crime food chain, but that's when things get harder than ever: they become targets, both of the other mobsters and of the FBI.
Goodfellas doesn't paint the prettiest picture of New York, but one can't deny that it's a love letter to its most hidden side. The entire film takes place in the city, with a great part being set in many different locations where crimes can be hidden away.
Yet the film's most iconic shot is not in one of these locations: the long shot that takes Henry and his date from the car in the street to their table at the Copa Long nightclub, going all the way through the kitchens without cutting away. The shot was filmed in the famous New York cabaret known as Copacabana, with has been a staple of the city's nightlife ever since the 1940s.
One of Alfred Hitchcock's most famous films, Rear Window takes place in one of the many apartment buildings found in Greenwich Village, Manhattan. Beyond all its significance in popular culture and the cinematic proficiency with which it was made, the film is actually very entertaining.
More than fifty years later, the stories that Hitchcock told still manage to move us. With a filmography as good as Hitchcock's, it's no little thing to say that Rear Window is regarded as one of his best.
The film tells the story of L. B. Jefferies (James Stewart), a photographer who was in an accident and has been bound to a wheelchair for a time. Alone in his apartment in New York, he has taken to watching his neighbors through the window.
This voyeuristic hobby turns sour when, after hearing a woman scream, he sees one of his neighbors coming and going sneakily through the courtyard.
Worried for his neighbor's wife, Jefferies enlists his friend Lisa (Grace Kelly) in his attempt to discover the mystery of the scream. Rear Window tells a tense story that will keep you on the edge of your seat while never leaving that iconic apartment in New York.
The original Ghostbusters is regarded as one of the funniest films ever made. Though lots of people remember it to be a wacky comedy about trapping supernatural entities, it's actually a very smartly written film, with many jokes that surely went over the heads of the kids and teenagers that watched it when it was released.
Starring the film follows a group of parapsychology professors that finally stumble upon a supernatural phenomenon, which gets them fired from Columbia. While Egon (Harold Ramis) and Ray (Dan Aykroyd) want to continue to investigate, Peter (Bill Murray) thinks that this is their perfect opportunity to get rich.
They establish the Ghostbusters, ghost exterminators that will end up saving the whole city from annihilation.
A popular tourist spot in New York, the fire station where the Ghostbusters set up their headquarters can be found in the neighborhood of Tribeca: fans constantly visit 14 North Moore Street in order to take a picture with the iconic station, which is still working today.
The ghostbusting phenomenon is so big that the station now bears a Ghostbuster badge on its front. Any fan of action comedies will surely enjoy this comedic masterpiece.
This iconic superhero movie paved the way for the more modern takes on the genre that can be seen in the last decade and a half. Spider-Man sees director Sam Raimi, who before had only worked on horror and thriller films, tackling one of the most famous comic book characters ever: the nerdy boy from Queens who's bitten by a genetically-modified spider and thus becomes a superhero.
This story, that resonated so much with comic book readers, hadn't found much success beyond the pages. It wasn't until 2002 Spider-Man that the whole landscape of action-adventure blockbusters changed.
Set in New York City, Spider-Man follows Peter Parker (Tobey McGuire) as he tries to find his way in high school and, after being bitten by a "super-spider", then tries to find his way as a superhero with powers like no other.
Like Spider-Man himself, the film is New Yorker through and through. The home where Peter lives with his uncle and aunt it's a real house from Queens, his hometown. Of course, Peter and his classmates visit Columbia University, a staple of the city's educational and intellectual activities, being one of the best schools in the world. One of the city's most famous buildings is featured in the film: the wedge-shaped Flatiron Building, where the offices of the Daily Bugle are located.
This wonderful romantic comedy sees Cher falling in love with a young Nicholas Cage in a story about romance, family, and tradition. If you're not so sure about Cher's acting chops, you should totally see this movie.
Her performance as Loretta Castorini earned her an Academy Award for Best Actress (the film also won Best Original Screenplay). Moonstruck was directed by the talented Norman Jewison, who was also behind several other celebrated films, like In the Heat of the Night and Fiddler on the Roof.
The film tells the story of Loretta (Cher), a widow in her thirties who gets proposed to by her boyfriend who's about to leave for Sicily. She accepts, only with the condition that they follow Italian tradition strictly.
And so, Loretta finds herself personally inviting her boyfriend's estranged brother to the wedding. Yet, as she gets to know Ronny (Nicolas Cage), she finds that maybe this is the brother she should be with.
Moonstruck is a film deeply embedded in the culture of Italian descendants living in New York. There are many scenes that stand out as truly representative of the city, but Loretta and Ronny's opera date at the Lincoln Center for the Performing Arts is definitely at the top of the list.
Directed by Rob Reiner and written by Nora Ephron, experienced creatives in the art of romance stories, When Harry Met Sally… is one of the best romantic comedies ever to be made.
This film famously poses the question of whether men and women can be friends and, by the end, doesn't quite give an answer to that. Still, the journey that we take through this film makes the latter parts become much more touching and moving. It's a film that, by the end, it's sure to put a smile on your face.
Set in 1997, the film follows Harry (Billy Crystal) and Sally (Meg Ryan), two graduates of the University of Chicago who are on a ride to New York. This is the first time they met, and it doesn't end well. Yet fate would have it so that they would meet again and again, leading them to develop a friendship, and then something more…
One of the most iconic spots in New York film tourism is Katz's of New York City, a delicatessen where Harry and Sally have lunch and she, famously fakes an orgasm. The famous line by Estelle Reiner, "I'll have what she's having", can be found in a sign hanging over the very table where the scene was filmed.
A tragic tale retold; West Side Story is a romantic drama musical that brought a whole new level of entertainment to the genre. First conceived as a Broadway musical in 1957, it was created by Jerome Robbins, a famed dancer, and choreographer, who took inspiration from Romeo and Juliet to craft this captivating story.
For the making of the movie, Robbins collaborated with the outstanding Robert Wise. The result was an outstanding film that won ten Academy Awards, the most wins ever for a musical.
Set in the 1950s, the film tells the story of two rival gangs in West Side New York. While the Jets dare the Sharks to fight after an upcoming dance, Jets co-founder and ex-member Tony finds himself falling in love with Maria, who is sister to the leaders of the Sharks.
You'll have to find out whether these star-crossed lovers meet a fate as tragic as Romeo and Juliet, or not. West Side Story is truly a New Yorker film. The film's essence is embedded in this city. In fact, the standout scene in the movie is the love declaration, which happens in an iconic New York fire escape next to Maria's window.
This comedy movie from the 2000s had a very bad reception by critics and audiences alike, yet now stands as one of the best of the decade.
The story of Uptown Girls, directed by Boaz Yakin, follows Molly Gunn (Brittany Murphy), the daughter of a dead rock legend and inheritor of his huge wealth, who suddenly finds herself penniless and completely lost due to an embezzling committed by her accountant.
This is how Molly becomes a nanny for "Ray" (Dakota Fanning), an eight-year-old who's a little neurotic, as well as a little bit of a hypochondriac. At first, Ray is completely closed off from everything not orderly. Yet Molly is dedicated to showing Ray how to have fun.
The title of Uptown Girls refers, of course, to the uptown of Manhattan, where one can find the most elegant and rich places in New York. While there are plenty of Uptown sights in the film, the most interesting place shown is the Bow Bridge, which crosses the beautiful lake at Central Park.
Built entirely out of cast iron, the bridge is one of the most stunning sights that can be found in the whole park. In the film, it's seen in the scene where a desperate Molly visits and ends up jumping into the lake.
Frances Ha is a comedy-drama film that tells a fascinating story of a struggling dancer that carries some good punches. The film didn't have the most uproarious of welcomes, but it was indeed praised by critics and liked by audiences. It wasn't until several years later that the film would garner the cult following that it has today.
This is, in part, due to the career that its director and actress had after it. It's true that Noah Baumbach had a long career before Frances Ha, but it wouldn't be until Marriage Story that he would become renowned. The same goes for his partner (both in life and in writing), Great Gerwig, who wouldn't see huge success until the release of Lady Bird and Little Women.
Set in NYC, the film follows the life of Frances Halladay (played by Gerwig), a struggling dancer about to turn thirty who learns that her roommate and best friend, Sophie (Mickey Sumner), is moving with her boyfriend.
This means that Frances would be living alone in her Brooklyn apartment, but she doesn't have enough money to pay the rent on her own. Angry with Sophie, the film sees Frances relocating to Chinatown and trying to get her life together once and for all.
Do the Right Thing is a comedy-drama film entirely created by the extraordinaire filmmaker Spike Lee. He not only wrote, produced, and directed the film, but he also acted in it.
The film follows Lee's character, Mookie, as he delivers pizzas in a racially tense Brooklyn neighborhood. As the film goes by, we get to meet the picturesque residents of this place and get a sense of what binds them together as a community. By the end of this film, this community will be shaken by several tragedies.
The movie is set on Bedford-Stuyvesant, a neighborhood in Brooklyn with a very high percentage of African-American population. The place where Jay-Z was born, Bedford-Stuyvesant had never been portrayed in a film before: it's not only the neighborhood, of course.
Do the Right Thing is a provocative film that founded a whole new way for African-American creatives to express their own life experience. And it did so at a time when racial tensions were still high. Spike Lee managed to tell an enchanting story while, at the same time, painting a vivid picture of what black New Yorkers go through in their day-to-day lives.
This 2014 dramatic film took the film world by storm with its powerful performances, distinct visual style, and thrilling narrative. Birdman was directed by Alejandro G. Iñárritu, the acclaimed Mexican filmmaker responsible for films like Babel and The Revenant.
One of the many reasons the film made such an impression on people at the time was its complete success at the Oscars. Out of nine nominations, the film won in the most sought-after categories: Best Picture, Best Director, Best Original Screenplay, and Best Cinematography.
Of course, these weren't the only awards the movie received. It's no surprise then that Birdman is considered one of the best films of the past decade.
The film tells a story that intermixes with the real life of the actors. This is most true for Michael Keaton, who plays Riggan Thomson, a forgotten actor who had many years before played the titular superhero, Birdman.
This plot point is meant to mimic Keaton's own life, since he himself had played Batman in the nineties. Beyond this meta side story, the film sees Riggan struggling as he tries to mount a play, but his Birdman alter ego incites him to make blockbusters again.
Birdman offers perhaps the most realistic take on New York City: we see it as this melting pot of cultural products and cultural criticism. And so, the film offers many depictions of the most important sites for entertainment in the city, like the real 1927 built St James Theater where most of the movie takes place.
Yet the most iconic sight of this kind that New York has to offer is, without a doubt, the intersection known as Times Square, which features tons of advertisements for upcoming shows, movies, songs, and every kind of entertainment you can imagine.
Further Things To Consider Before Any Adventure
Now you're all set and prepared to explore our big wide world, why not sort out everything else out all in one go? If necessary for your travel plans make sure you have brought proper travel insurance, protected your privacy by getting a secure VPN, compared all the top hotel booking sites to find just what you're after, reserved an unbeatable rental car price and - of course - booked the best flight deals!
Or maybe just forget it all and go for a last-minute cruise or effortless tour instead?
Many budget travelers (including me) indulge in worldwide airport lounge access, so we can experience luxury while still slumming it in economy. Naturally, we would never leave home without a more general travel guide since we couldn't possibly cover everything here!
Just add an adventurous attitude and plenty of smiles - they go a long way - and that about covers it all! Now go out, find your own path and don't forget to share your best inspiration stories with me on Facebook, Twitter, and Instagram...I'd love to hear from you!