Los Angeles has a lot to offer for both national and international filmmakers. The country has modern cityscapes as well as a strong sense of history with multiple world-class museums and iconic architecture. So it will come as no surprise that there are so many wonderful movies set in Los Angeles.
Los Angeles is the capital of entertainment. Ever since the beginning of the 19th century, this beachside paradise has been the hub for artists from all over the world.
Home to the most famous celebrities, the city has seen artists of all kinds creating some of the most influential pieces of entertainment ever made. And their work wouldn't be the same if they were to make it in a different place.
While not the place where cinema was born, Los Angeles is the city where moviemaking reached its greatest heights. And it was all thanks to its weather: the incredible year-round sunshine that L.A. is known for made it an ideal place to film movies.
But it goes beyond that. Los Angeles has a charm that calls on people with a dream. Stories of success, and failure, abound in the city. There's nowhere else in the world quite like it. The filmmakers in this list have managed to capture something of what makes Los Angeles a unique city.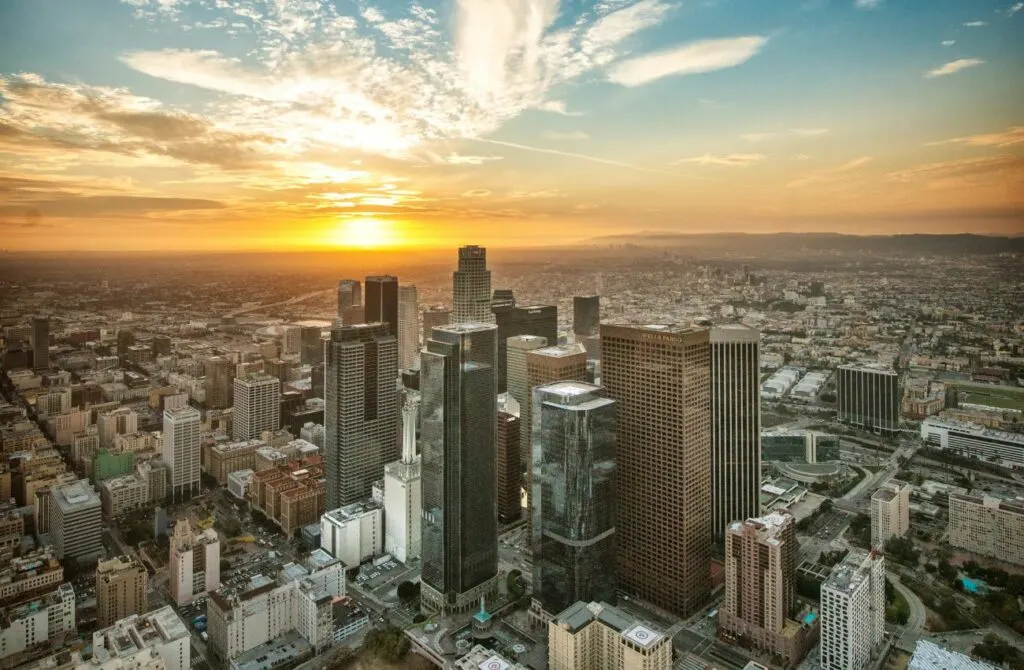 These Los Angeles films have narratives that rely on their settings as much as their main protagonists, and as a result, spectators get a glimpse of this iconic country through the director's eyes. To honor the concept of cinematic travel, we have also assembled lists of our favorite films shot in some of our all-time favorite travel destinations: Romania, Italy, Mexico, Ireland, Australia, Japan, Alaska, and Israel.
Wondering where to watch? It depends on where you live in the world and which streaming services you have. We link to the streaming service we watch on in each case - be it Netflix, Amazon Prime, Apple TV+, or elsewhere.
You can get one month free of Amazon Prime (or a 6-month trial for students) of Amazon Prime and also get immediate access to FREE Two Day shipping, Amazon Video, and Music. While you won't be charged for your free trial, you'll be upgraded to a paid membership plan automatically at the end of the trial period - though if you have already binged all these, you could just cancel before the trial ends.
Apple TV+ also has a one-week trial, and Hulu has a one-month trial (which can be bundled with Disney!). Another option might be using a VPN to access Netflix titles locked to other regions. Netflix is now available in more than 190 countries worldwide and each country has a different library and availability. US Netflix is (understandably) one of the best.
While we wish everything could just be in one place - for now, it seems these are the best streaming platforms to watch on.
Who Framed Roger Rabbit (1988) is a comedy film that combines live-action and animated characters. It was directed by Robert Zemeckis, the brain and muscle behind the Back to the Future franchise and great dramatic movies like Forrest Gump and Cast Away.
The movie presented quite a challenge, since live-action actors were expected not only to act alongside animated ones, but to interact with them. It's no surprise that Zemeckis was chosen to direct this challenging movie: he had already been pushing the envelope of what could be achieved mixing green screens and animation.
Who Framed Roger Rabbit won the Academy Award for Best Visual Effects, along with Best Film Editing and Best Sound Effects Editing.
Based on the 1981 novel Who Censored Roger Rabbit? The film is set in an alternative version of 1947 Hollywood, Los Angeles. One where cartoon characters are real actors working for the film studios and co-existing with live-action stars.
It follows private detective Eddie Valiant (Bob Hoskins), as he tries to prove that Roger Rabbit (voiced by Charles Fleischer), a cartoon, is not guilty of murdering his boss, after he discovered he was having an affair with Roger's wife, Jessica (Kathleen Turner). Zemeckis delivers an intriguing mystery without losing its hilarity with this goofy premise.
Who Framed Roger Rabbit does a great job poking fun at the hectic movie industry of Los Angeles during the forties. This was a time when Hollywood had begun to collapse: the studio system that had reigned until those days was based on a few big studios who were responsible for all the aspects of film making (like Toontown in the movie). But that model no longer was successful.
Audiences became uninterested, preferring smaller and more distinct movies, like the animated classics that Disney was producing at that time. Who Framed Roger Rabbit shows this moment in moviemaking history with both love and humor.
The Nice Guys (2016), by Shane Black, is an action film and a comedy set in 1977 Los Angeles. It stars Ryan Gosling as Holland March, an amateur private detective and single dad trying to make a living in the city, and Russel Crowe as Jackson Healy, a strong man who gets paid to intimidate March.
Since it's moderately profitable release, the film has become a cult classic due to its outstanding balance of humor, mystery, and heartfelt moments.
The film begins with the death of renowned adult film star Misty Mountains. Her aunt, an older woman who lived across the street from her, hires March to find her niece, who she claims is still alive (even though we've seen her die).
His only lead is Amelia Kuttner (Margaret Qualley), a friend of Misty's and the daughter of an eminent member of the Justice Department. Following the trail of Amelia leads the private detective down a rabbit hole of mysteries in the film industry and political corruption. Through this journey, he partners up with Healy after a rocky start to their friendship, one that left March with a broken arm.
The Nice Guys features several landmarks of the Los Angeles seventies era. Russel Crow's character, for example, lives on top of The Comedy Store, a legendary comedy club on Sunset Boulevard (still open and working today).
Bowling was the craze back then, as shown in the movie when March and Healy visit the Covina Bowl bowling alley in order to plan their next move.
Maybe the clearest sign of those days is the protest outside the City Hall: Los Angeles was the stage for several protests regarding environmental dangers and human rights during the sixties and seventies. The Nice Guys is a must-watch for anyone interested in this unique era of Los Angeles.
Ed Wood (1994), by Tim Burton, is a biographical comedy and drama film about the titular cult movie director. By the time he was approached by the writers of the movie, two young university students, Burton had just directed a string of successful blockbusters (Batman, Beetlejuice and Edward Scissorhands).
He became fascinated by the story of Wood, this forgotten filmmaker from the fifties who had been known for creating numerous low-budget genre films. Even though mainstream success always eluded him, Wood's movies became cult classics years after his death, with people constantly re-watching them due to their campy and eccentric nature.
The movie is set in 1952, when a young Ed Wood (played by Johnny Depp) is trying to be a part of the Hollywood film industry. He can't land a job, and every producer rejects his projects. But then he meets Bela Lugosi (Martin Landau): the Hungarian actor known for his portrayal of the title character in the 1931 Dracula had been living in obscurity in Los Angeles for quite some time.
Hollywood seemed to turn its back on Lugosi and Wood, so they became friends. Using Lugosi's faded star status, Wood manages to get a directing job. Ed Wood chronicles the movies that the filmmaker made during this time, including Glen or Glenda, Bride of the Monster, and, his most famous, Plan 9 from Outer Space.
Ed Wood portrays an iconic character in Hollywood's history. Even though his exploitation films (movies that chased after current trends) are poorly regarded, Burton manages to capture the beauty in what Wood did.
It shows the passion needed for any movie to be made, and it's a must-watch for any aspiring filmmaker. Like Wood's career, the movie proved unsuccessful but garnered quite a following with time.
L.A. Story (1991), by Mick Jackson, is a romantic comedy told through satire. The movie stars legendary comedian Steve Martin, (known for films such as Better by the Dozen and Father of the Bride), as a TV weather presenter who tries to find himself while navigating Los Angeles' social life.
L.A. Story was written by Martin himself, as an attempt to capture both what he hated and what he loved about this city. The movie features several cameos by stars that lived in Los Angeles at the time. The Los Angeles Times rated it as one of the best films set in the city.
The titular story is one of finding true love in a city where everyone is fighting for success. It follows weather presenter Harris Telemacher (played by Martin), who feels uncomfortable with his dumb job and his superficial girlfriend (Marilu Henner).
In a magical turn of events, Telemacher is convinced that the messages in a freeway traffic condition sign are meant for him: so he starts taking advice from the sign and trying to change his life.
L.A. Story is known for its charming portrayal of Los Angeles. It shows both the good and the bad in the city, using humor to expose the shallowness of some "los angelenos".
L.A. Story is also known for its thorough exploration of the city. The city's landmarks are all there: from Sunset Boulevard to Santa Monica Boulevard, from Venice Beach to the old Ambassador Hotel. It's as close as it gets to visiting the city. A love letter to Los Angeles, L.A. Story is a must-watch for anyone planning to visit.
Clueless (1995), by Amy Heckerling, is a coming-of-age comedy movie set in Beverly Hills. At first glance, this movie about vapid teenagers at the top of Los Angeles society may not seem like a must-watch. But Clueless actually packs some of the smartest and funniest scenes ever.
It's loosely based on the 1815 novel Emma by Jane Austen: the backdrop of high society Regency era England is expertly transformed into 1990s Beverly Hills, with all its glamour and shallowness. One of the best teen movies of all time, Clueless has a considerable cult following, as well as a spin-off TV sitcom and a book series.
The film follows Cher Horowitz (Alicia Silverstone), the daughter of a wealthy, gruff litigator (Dan Hedaya), living in a mansion in Beverly Hills. Everything is going well for Cher, who is the most fashionable and popular girl on school. She and her friend Dionne (Stacey Dash), also of high status, enjoy their lives going to the mall and gossiping.
One day, Cher's ex-stepbrother, Josh (Paul Rudd), comes to visit. He and Cher get along but are more prone to fight and mock each other than anything else. The movie will see good-natured Cher making mistakes and having to atone for them, getting over her prejudices and short-sightedness.
Clueless is an excellent movie for those interested in the luxury and glamour of Beverly Hills. Since the film features some of the hottest destinations in the city, it's perfect for getting acquainted with this side of Los Angeles.
Possibly the best destination shown in the movie is Rodeo Drive, the famous street adorned with palms where Cher and Dionne love to go shopping. This site has been featured in many films, but never like in Clueless.
Pulp Fiction (1994) is a seminal film directed by Quentin Tarantino. The movie is a black comedy consisting of several vignettes about different kinds of criminals in the city of Los Angeles. As the title implies, Pulp Fiction is constructed like the stories told in pulp magazines: short sequences with charming characters and graphic violence.
It's widely considered the best film made by Tarantino. Known for his punchy and humorous dialogue, the director delivered a film that reflects on his career and style. It met with major success at the box office, and glowing reviews.
While it did not win any Academy Awards, three of the actors were nominated for their performances, and the movie got the Palme d'Or award at the Cannes Film Festival.
The film follows three storylines. The criminal couple of "Pumpkin" (Tim Roth) and "Honey Bunny" (Amanda Plummer) get ready to rob a diner.
Two hitmen, Jules Winnfield (Samuel L. Jackson) and Vincent Vega (John Travolta) do the dirty work of mobster Marsellus Wallace (Ving Rhames) while they discuss the quality of fast-food in Los Angeles. Later, Jules takes Marsellus wife, Mia, to dinner (Uma Thurman).
A boxer getting too old for the job, Butch (Bruce Willis), is being hunted down by Marsellus after he betrayed him. He is ready to flee with his girlfriend Fabienne (Maria de Medeiros) but realizes he must recover the gold watch he inherited from his father.
Pulp Fiction is a much watch for anyone interested in the art of cinema. Its non-linear narrative, and stylized cinematography have influenced young and old filmmakers alike. This modern classic offers a thrilling adventure through the rougher parts of Los Angeles, without ever losing its wit and humor.
The Big Lebowski (1998) is another film about Los Angeles crime told through the lens of the black comedy genre. Directed by Joel and Ethan, the acclaimed Coen brothers, it tells the story of Jeffrey Lebowski (Jeff Bridges), also known as "The Dude". He is a lazy, idle bowler who finds himself in the middle of a dispute between a crime kingpin and a millionaire, who is also named Jeffrey Lebowski.
While the movie had a lukewarm reception upon its release, now it´s considered one of the best movies by the duo. Its eccentric comedy and delightful characters have been deemed iconic: the chill idiosyncrasy of the Dude inspired a philosophy known as "Dudeism", a form of transcendentalism based on people's inner goodness.
One of the best things about The Big Lebowski is its cast: a number of great comedic and dramatic actors collaborated with the Coen brothers to craft this cult classic.
The great Philip Seymour Hoffman plays Brandt, the assistant of the millionaire named Jeffrey Lebowski (who is played by prolific television actor David Huddleston). The Dude's bowling partners are played by John Goodman and Steve Buscemi. It also features unforgettable performances by Sam Elliot, Julianne Moore and John Tuturro.
The Big Lebowski is an homage to American crime novels, particularly those of the hard-boiled genre. The directors were inspired by the works of Raymond Chandler, a novelist from the early 20th century who wrote several crime stories set in Los Angeles during Prohibition.
The Long Goodbye, Farewell My Lovely and The Big Sleep have all been adapted to the big screen. With The Big Lebowski, the Coen brothers breathe new life into this classic genre by telling a hard-boiled story set in lax and progressive modern Los Angeles.
Tangerine (2015), by Sean Baker, is a comedy-drama film that dives deep into the life of two black transgender sex workers in Los Angeles. This movie took the Sundance Film Festival by storm: it was like nothing audiences had seen before.
Tangerine was made with very limited funds, yet it managed to excel in its cinematography, performances, and story. It even sparked the first Academy Awards campaign for actresses who were openly transgender. Although the Academy didn't nominate this movie for any prize, it won several awards at indie festivals all over the United States.
Tangerine is an indie film in every aspect. It´s a story about a significantly underrepresented minority told through whatever means the filmmakers could put together. You'll be surprised to learn that the movie was shot entirely using iPhones: in order to pay for the locations and the extras in the movie, Baker decided to use a combination of phone cameras and anamorphic lenses to achieve the movie's look.
And it goes beyond that. Several of the characters in the movie had no previous acting experience. The black transgender actresses who star in the movie, Mya Taylor and Kitana Kiki Rodriguez, had never been in a film before: the director had met them at the Los Angeles LGBT Center and was surprised by their talent. Yet their performances were lauded by audiences and critics alike.
Through Tangerine, the filmmakers address the intersectional oppression that black transgender sex workers face, even in a city as progressive and carefree as Los Angeles. It treats its subject matter with care and empathy. Tangerine is a great way to hear these often-unheard voices and get to know a social issue many people ignore. Its quietest moments are bound to put a tear in your eye.
Training Day (2001), by Antoine Fuqua, is a crime thriller that follows a day in the life of two narcotics officers of the Los Angeles Police Department (LAPD for short). It stars Denzel Washington as the veteran Detective Alonzo Harris and Ethan Hawke as the up-and-coming Officer Jake Hoyt.
Training Day received praise for its strong story and great acting. Due to their performances in this film, Hawke was nominated for the first time for an Academy Award (for Best Supporting Actor), and Washington won his second Oscar, this time for Best Actor.
Fans of crime and police thrillers will love this movie. The premise itself is great: since Jake is being considered for a promotion, he's sent for a one-day evaluation under the eye of Detective Alonzo. For twenty-four hours he joins the detective as he tries to catch the drug dealers that inhabit the bleakest places in Los Angeles.
We quickly realize that Alonzo is no ordinary cop: he instills fear in the streets. He protects the city by intimidating anyone who thinks he can bypass him. There are certain lines the young officer won't cross, even if it means losing his promotion. Jake will try to understand this Alonzo's outlandish methods to no avail.
With just a day worth of story, Training Day makes us empathize both with naïve Jake and jagged Alonzo. We see their values and morals clash as they get confronted by the harsh reality of the streets.
What sets Training Day apart from other crime movies is its authenticity: it was filmed in the underbelly of Los Angeles with the permission of the local gangs. It captures the complex problems of organized crime and police corruption in an unforgettable film experience.
Die Hard (1988), by John McTiernan, is one of the best action films ever made. Known for breathing new life into the genre, its influence cannot be understated. After its release, every action movie wanted to be like Die Hard.
However, none could capture a clash of wills like that of brilliant Hans Gruber (Alan Rickman) against unrelenting John McClane (Bruce Willis). The movie consolidated Willis as an action star and propelled the then-unknown Rickman to fame. Beyond being a smashing success at the box office, it also obtained four Academy Award nominations and won several awards.
Set in Los Angeles during Christmas Eve, it tells the story of a detective from New York who visits the city to get closer to his estranged wife and daughters. But when German terrorists crash her work party in the imposing Nakatomi tower, John McClane will fight against all odds to free her and her coworkers from the grasp of the terrorists.
While the LAPD tries to make a deal with the terrorists, McClane fights them one by one. The odds are against him, so he will use all his wits to outsmart the terrorists and save his wife. But he's no classic action protagonist: he makes mistakes and has to pay for the consequences of his actions.
The whole movie takes place in a skyscraper overlooking Los Angeles. The actual Nakatomi tower is known as Fox Plaza: it was finished in 1987 as a development by the film company 20th Century Fox.
Die Hard explores every inch of the modernist tower, to the point where the tower becomes a character in itself. Even though the iconic building is closed to the public, every year, thousands of movie fans visit the site where one of the best movies ever was made.
Staying Connected While Travelling
In today's increasingly connected world, staying online while traveling has become essential for a seamless experience. That's where eSIMs come into play, revolutionizing the way we access mobile networks during our global adventures. Say goodbye to hunting down local SIM cards at the airport; eSIMs provide instant activation the moment you land, sparing you the fortune usually spent on international roaming and allowing you to genuinely travel like a local (without getting hopelessly lost!).
With eSIMs, tasks like restaurant recommendations and reservations, up-to-the-minute public transport instructions, checking opening hours, and accessing further information become a breeze. And, of course, sharing your journey on social media is easier than ever. To stay connected wherever you roam, consider using either Airalo or Holafly. Airalo boasts the most extensive range of destinations worldwide, offering smaller data bundles tailored to your needs, while Holafly provides unlimited data packages and fantastic EU data deals.
So why wait? Embrace the future of travel connectivity with eSIMs and make your next journey effortlessly smooth.
Further Things To Consider Before Any Adventure
Now you're all set and prepared to explore our big wide world, why not sort out everything else out all in one go? If necessary for your travel plans make sure you have brought proper travel insurance, protected your privacy by getting a secure VPN, compared all the top hotel booking sites to find just what you're after, reserved an unbeatable rental car price and - of course - booked the best flight deals!
Or maybe just forget it all and go for a last-minute cruise or effortless tour instead?
Many budget travelers (including me) indulge in worldwide airport lounge access, so we can experience luxury while still slumming it in economy. Naturally, we would never leave home without a more general travel guide since we couldn't possibly cover everything here!
Just add an adventurous attitude and plenty of smiles - they go a long way - and that about covers it all! Now go out, find your own path and don't forget to share your best inspiration stories with me on Facebook, Twitter, and Instagram...I'd love to hear from you!