Hollywood is a place where dreams can come alive. It's where people go in search of stardom and where they try to make their childhood dreams become a reality. So it is no wonder there are so many remarkable movies set in Hollywood.
While it is full of life and bright lights, some very grim aspects of Hollywood need to be discussed more in society. Many of the classic films that we all know and love were first birthed as infant ideas somewhere in Hollywood.
But, why travel via cinema – and by extension, watch movies set in Hollywood? Because wanderlust can take grip at any time, and nothing compares to an on-location movie when it comes to transportive experiences that may be done from home. These films frequently feature magnificent cityscapes, inspiration geographies, and diverse cultures, and they motivate us to travel to new places or relive our experiences when we return home.
In these Hollywood films, the destination becomes the star.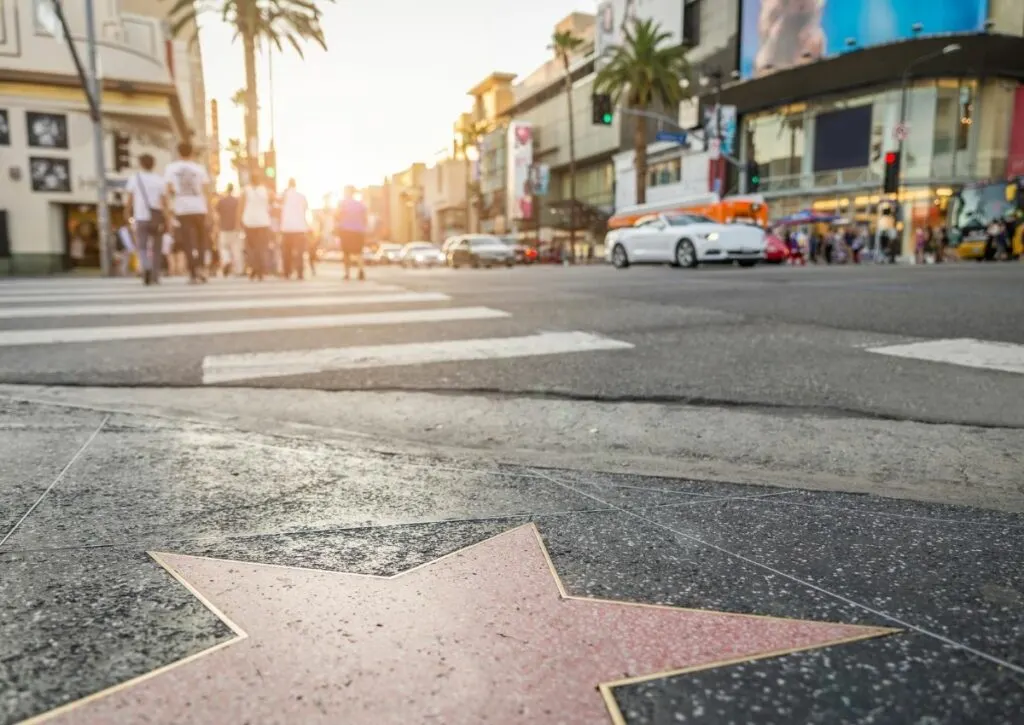 Although not all of these films are happy – tragedies and misery are as unavoidable in cinema as they are in life – each one provides panoramic vistas of iconic Tinseltown.
These Hollywood films have narratives that rely on their settings as much as their main protagonists, and as a result, spectators get a glimpse of this multifaceted destination through the director's eyes. To honor the concept of cinematic travel, we have also assembled lists of our favorite films shot in some of our all-time favorite USA travel destinations: San Francisco, Seattle, Alaska, Atlanta, Philadelphia, New Orleans, Pittsburgh, and Las Vegas.
It will be a brief but enjoyable journey, regardless of which film you choose, and will have you wanting to book a ticket on the next flight out! From romcoms to period pieces to bleak dramas, these are the twelve best films that are centered in Hollywood.
Wondering where to watch? It depends on where you live in the world and which streaming services you have. We link to the streaming service we watch on in each case - be it Netflix, Amazon Prime, Apple TV+, or elsewhere.
You can get one month free of Amazon Prime (or a 6-month trial for students) of Amazon Prime and also get immediate access to FREE Two Day shipping, Amazon Video, and Music. While you won't be charged for your free trial, you'll be upgraded to a paid membership plan automatically at the end of the trial period - though if you have already binged all these, you could just cancel before the trial ends.
Apple TV+ also has a one-week trial, and Hulu has a one-month trial (which can be bundled with Disney!). Another option might be using a VPN to access Netflix titles locked to other regions. Netflix is now available in more than 190 countries worldwide and each country has a different library and availability. US Netflix is (understandably) one of the best.
While we wish everything could just be in one place - for now, it seems these are the best streaming platforms to watch on.
This is one of those films that has been redone to death, but the original two versions of this story are as Hollywood as it gets.
This film is about Esther Blodgett (played by Janey Gaynor), an aspiring Hollywood actress. She meets Norman Maine (played by Fredric March), an older Hollywood actor, and helps catapult her to stardom. It is without a doubt one of the titular Hollywood films. When audiences typically think of a story of someone who moves to Hollywood to chase their dreams of fame, A Star is Born is the blueprint for such a story.
The original version of this film (there have been four renditions) shows how much life there is to a story like this. The most recent version of this film came out in 2018, and it's clear that there is a clamoring for films like this almost one hundred years later.
There is an argument that all four versions of this film are great, and that alone demonstrates that it has stood the test of time in an effortless fashion.
Sunset Boulevard is vastly considered to be one of the greatest films of the 1950s and the greatest films ever made. It's about Joe Gillis (played by William Holden), a struggling and downtrodden screenwriter who crosses paths with Gloria Swanson (played by Norma Desmond), an ex-silent film star. As the story unfolds, you see Gloria's true motives in true film noir fashion as she lures William into her frenzied fantasy world, where she imagines making her jubilant return to stardom.
It is a surprisingly layered film and not so black and white thematically as it seems on paper. It works in the most fantastical ways as a truly thrilling and exciting film noir-black comedy hybrid. However, once the film digs deeper, it reveals itself as a more traumatic and sad film. It examines our desires to, well be desired. It shows that as humans, our experiences in the same circumstances ultimately have different outcomes for each and every one of us. It shows that Hollywood and the entertainment industry have this cruel and unfortunate way of eating away at our souls and spitting us out to the extent that we are rarely the same when we come out on the other side.
It's a bonafide classic and remains one of the must-watch movies set in Hollywood all these years later for film fans or anyone interested in Hollywood as a whole.
This is another film that follows the story structure of somebody going to Hollywood to chase dreams and goals bigger than themselves (you'll notice this theme throughout this list). Candy Wednesday/Candy Hope (played by Candice Rialson) is an aspiring actress that is going to try and make it in Hollywood with an excellent action twist intertwined into the rather basic plot.
While Hollywood Boulevard is a film that follows the same basic structure as many aspiring actor/actress moves to Hollywood films, it does so in one of the more humorous and outrageous ways put to film. It's a film that does not take itself too seriously, but it still gets the point across while feeling a little bit like a spoof on this genre.
It tackles the ideas of trying to chase your dreams and making it big in Hollywood, all while tackling the bigger and bolder ideas of exploitation in the show business without trying to be smarter than it needs to be.
Pretty Woman sets the tone perfectly for the golden age of romantic comedies in the 1990s. The story centers around a destitute prostitute, Vivian Ward (played by Julia Roberts), who is hired by businessman Edward Lewis (played by Richard Gere) to be his escort to various social ad business functions over the next week.
It takes the classic comedic element of taking a serious topic and adding absurdity to it. It works in some of the most fabulous ways ever used in romcom filmmaking. The film is based in Hollywood and is one of those comedic films that will simultaneously make you laugh and get you swept up in the more severe emotions.
One of those films finds such a unique and genuine balance of comedy and drama that is often a rarity in filmmaking. It is such a different type of Hollywood film that every time you watch it or even think about it in the same real as these other Hollywood films, it offers a refreshing outlook on the sort of films based in Hollywood.
Pretty Woman is a film that has stood the test of time, and over thirty years later, it delivers in all of its intended ways and remains one of the most famous movies set in Hollywood.
The Coen Brothers have had a film career that has lasted over thirty years, and of all their films, Barton Fink is the one that simply does not get talked about enough. Yet, it is their one film that is the closest to a horror film, and it results in being one of the greatest psychological horror films of the 1990s.
This film takes place in 1941 and follows Barton Fink (played by John Turturro), a New York playwright who gets persuaded to move to Hollywood to write films. Upon moving there, he quickly realizes some of the true horrors of Hollywood and everything that happens within the industry.
This is without a doubt one of the most masterful pieces of screenwriting put to film in the last thirty years. It has absolutely terrific dialogue that helps build the story through tension. It is so effortless in the way it transforms into a dramatic thriller, one of the rarer genres that the Coen Brothers work in within their films, but they are so great at it.
When I first watched this, I had no real idea what it was supposed to be about, and when the credits began to roll, I was in awe of the greatness that transpired in front of me. Like most of the Coen's work, this was a masterpiece in every way imaginable and had some of the strongest themes of the horrors of Hollywood of any film on this list.
Mulholland Drive proves that more and more mystery films should take place in Hollywood. It is such a perfect setting, and director David Lynch and company do such a tremendous job with this story.
This is a film that has been analyzed to death to try and figure out what its true meaning actually is. Still, in simplest terms, it follows an aspiring actress, Betty Elms (played by Naomi Watt), who stumbles among an amnesiac woman (played by Laura Elena Harring) who is still recovering from a car accident.
Like most of David Lynch's films, this is one that is best described as a surrealist mystery, and part of the mystery is deciphering what it is actually about. It is a film that is done with such precision and meticulousness that it is hard not to fall in love with it as a work of art.
He is one of those filmmakers that takes such pride in the product that he creates, and in doing so, he creates a narrative that has multiple interpretations and is one of the more famous Hollywood films of the last twenty-five years.
The Artist film sets off the trend of the 2010s (and potentially 2020s) of high-quality films that pay tribute to Hollywood. This is the first of a few films that pay tribute to what is known as Old Hollywood. It is filmed in the style of black and white style films, or what is now known as part talkies.
It takes place between 1927 and 1932 with a massive focus on the growing relationship between an actress on the verge of stardom, Peppy Miller (played by Bérénice Bejo), and the older silent film star, George Valentin (played by Jean Dujardin). Through the age of these characters, you see the pivotal point in Hollywood as it changes from silent films into talkies (or what we know films as today) through the romance of these characters.
The Artist does a near-perfect job of capturing the essence of a distant era in Hollywood that feels like such a relic in society. It encompasses the aesthetic of the silent film era through the cinematography and production design, but also through the equally terrific lead performances.
This film instantly transports the audience to a different time period of cinematic history and United States history. It will leave you wanting to explore other films from this era of Hollywood, and if you do, you will discover some of the truly magnificent films ever made.
This is another installment from the Coen Brothers, and it is another one of their supremely underrated films. It is a fictional retelling of the real-life Eddie Mannix (played by Josh Brolin, who in the 1950s was working in Hollywood. His job in Hollywood is to discover and investigate what has happened to a star actor while filming a recent biblical epic for the film industry.
Hail, Caesar! is not nearly as dark and twisted as Barton Fink, but it is still another solid addition to films about Hollywood. It has some fantastic performances, mainly from George Clooney, Josh Brolin, and Scarlett Johansson. It is as charming and funny as the Coen Brothers films get.
In addition, the cinematography from the great Roger Deakins cements the period piece feel of a different era in Hollywood that audiences might not necessarily be familiar with.
It is safe to say that La La Land is one of the more beautifully constructed Hollywood films and films of the last decade. It is carefully and precisely sliced up into four acts and puts its audience through one of the best emotional rollercoasters in recent memory.
It is about two characters, Sebastian Wilder (played by Ryan Gosling) and Mia Dolan (played by Emma Stone). It follows their intersecting lives as they maneuver their ways through Hollywood and the great Los Angeles area. It shows these two individuals as they fall in and out of love and how even though they are together for most of the film, it perfectly demonstrates their individual wants and desires in life.
It holds no punches as it demonstrates these two individuals trying to accomplish their dreams and goals. It is another film that is dedicated to telling a story about people in Hollywood chasing dreams. While Sebastian is someone who wants to make it big as a jazz musician, Mia wants to make it as an actress.
This is yet another movie set in Hollywood that follows the aspiring actress trope that we have seen so many times in Hollywood films. However, the execution of this film feels like it is head and shoulders above all the other Hollywood films both in its storytelling, themes, and execution. It ultimately asks the question that we all must ask ourselves when chasing our dreams, "what if"?
Regardless of what you think about the films of Quentin Tarantino, it is hard to make the argument that his films are not, at the very least entertaining. Once Upon a Time… In Holywood is his tribute to filmmaking and Hollywood as a whole.
It follows the relationship and tail end of the career of actor Rick Dalton (played by Leonardo DiCaprio) and his stuntman Cliff Booth (played by Brad Pitt). It nails everything from an aesthetic point of view with 1960s Hollywood and feels like it is taking you in a time machine back to this era.
As mentioned before, this film is entertaining from start to finish. It has some tremendous performances, and every time you watch it, it engages you in a way that it might not have before. If you are someone that is a fan of Hollywood or filmmaking, this film is likely right up your alley. It is so carefully crafted and well put together that it is genuinely hard not to find something about it to love, even if it is just the production design alone.
It feels like Tarantino's love letter to films and Hollywood, and thematically speaking, it deals with someone who is at the end of their careers and trying to come to terms with what is next in their lives. These themes feel awfully relevant to Tarantino and the point that he is at in his personal career, and if you're a fan of his work, this is the entry that feels the most personal.
Mank is one of the more fascinating looks at the creation of what many believe to be the greatest film ever made, Citizen Kane. It is all about the writing process of Citizen Kane and screenwriter Herman J. Mankiewicz. Citizen Kane's creation has been vastly discussed and debated among film nerds for decades on who should get the credit, and Mank is the first film that addresses this in a film to this extent.
Much like many of the films on this list, it is a loving tribute to a different time period in the history of Hollywood. It is one that tells you its story straight and doesn't just give you a history of this time period in American history, but it also gives a lesson in American history. It's beautifully shot and constructed.
The rapid-fire approach in storytelling paints a vivid picture of the state of politics, journalism, and filmmaking (or at least film writing) during this time. It is yet another film that is a must-see for anyone who is a film fan or simply a fan of Hollywood-based stories and movies set in Hollywood.