The Steel City, aka Pittsburgh, Pennsylvania, has been home to some of the very best films ever made. It is easily one of the more underrated locations for a film to be set (and for people to plan a visit to on the east coast of the United States!). We plan to change that with this list of the best movies set in Pittsburgh.
Pittsburgh has films that are able to touch a wide range of genres, from zombie apocalypses to coming-of-age stories to intense sports dramas. It's a city that is as blue-collar as it gets, and the films set in this city resemble that to its very core.
But, why travel via cinema – and by extension, watch movies set in Pittsburgh? Because wanderlust can take grip at any time, and nothing compares to an on-location movie when it comes to transportive experiences that may be done from home. These films frequently feature magnificent cityscapes, inspiration geographies, and diverse cultures, and they motivate us to travel to new places or relive our experiences when we return home.
In these Pittsburgh films, the destination becomes the star.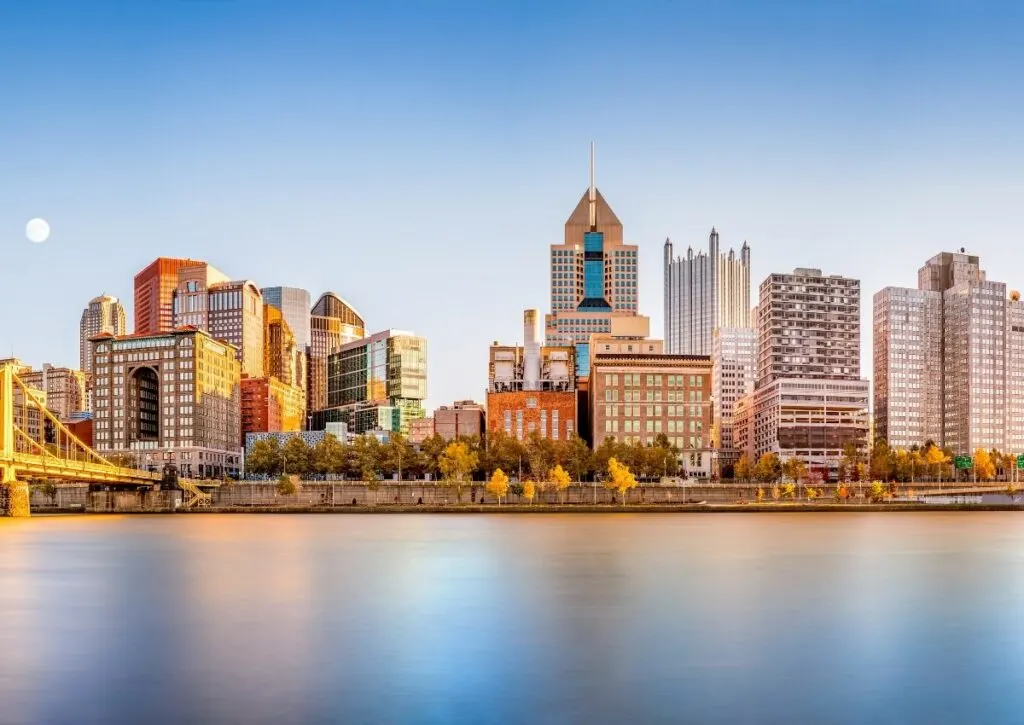 Although not all of these films are happy – tragedies and misery are as unavoidable in cinema as they are in life – each one provides panoramic vistas of the mighty Steel City.
These Pittsburgh films have narratives that rely on their settings as much as their main protagonists, and as a result, spectators get a glimpse of this iconic city through the director's eyes. To honor the concept of cinematic travel, we have also assembled lists of our favorite films shot in some of our all-time favorite USA travel destinations: Hollywood, San Francisco, Seattle, Alaska, Atlanta, Hawaii, New Orleans, and Las Vegas.
It will be a brief but enjoyable journey, regardless of which film you choose, and will have you wanting to book a ticket on the next flight out!
Wondering where to watch? It depends on where you live in the world and which streaming services you have. We link to the streaming service we watch on in each case - be it Netflix, Amazon Prime, Apple TV+, or elsewhere.
You can get one month free of Amazon Prime (or a 6-month trial for students) of Amazon Prime and also get immediate access to FREE Two Day shipping, Amazon Video, and Music. While you won't be charged for your free trial, you'll be upgraded to a paid membership plan automatically at the end of the trial period - though if you have already binged all these, you could just cancel before the trial ends.
Apple TV+ also has a one-week trial, and Hulu has a one-month trial (which can be bundled with Disney!). Another option might be using a VPN to access Netflix titles locked to other regions. Netflix is now available in more than 190 countries worldwide and each country has a different library and availability. US Netflix is (understandably) one of the best.
While we wish everything could just be in one place - for now, it seems these are the best streaming platforms to watch on.
The first entry on this list is widely considered one of the greatest works in the cinematic horror genre of all time. The Night Of The Living Dead is a zombie film from the original master of horror, George A. Romero.
The film shows off how great of a setting Pittsburg can be for a genre such as horror and specifically in the zombie sub-genre. It paints Pittsburgh's city and surrounding landscape in some of the most chilling and eerie shots ever filmed in the 1960s. This is one of the most prolific pieces of Pittsburgh's film canon in terms of pop culture.
It does things that feel so rare when talking about horror films made nowadays. It comes across as such an immersive experience. It draws you into the story in ways that only well-done stage productions have the ability to. It is a film that you feel the fear through the characters and how their emotions ooze out of the screen, and you even feel the false sense of safety and security that they feel throughout stretches of the film.
It is one of the most well-done films out there.
If you have never seen or heard of Slap Shot before, just think of the premise of Bad News Bears, but with a hockey team. It portrays a minor league hockey team that is trying to gain popularity in some of the most absurd ways imaginable, which typically devolve into some sort of violent mayhem. By the end of this film, you feel yourself falling in love with the loveable characters, and you are even rooting for this team to succeed just like the folks in Pittsburgh-Esque town are.
These types of sports comedies are such a pitch-perfect look at what life was like in that era. Some of the jokes feel a bit dated, but it works as a product of its time in such a great way. It shows how so much of American history is built on these old blue-collar factory jobs, and that is exactly what Slap Shot is.
As much as it is a very silly sports comedy, it is also a deep look at how these blue-collar towns are ones that put so much of their love and passion behind these sports teams, so when life gets hard, they still have two things – entertainment and hope.
Dawn Of The Dead is yet another film entry from director George A. Romero, and it's another near-perfect zombie-centered horror film. This is his second zombie film. While it doesn't have any returning character or fictional settings, it demonstrates how well he can frame a story about the zombie apocalypse.
When he films in the Pittsburgh area, it enhances the story and setting tenfold. Since this film comes out ten years after Night of the Living Dead, it naturally has better effects and, technologically speaking, comes across as the more well-rounded film.
It is without a doubt one of the more riveting and interesting zombie films ever made. Even watching this in 2022 feels just as effective as ever. It has a lot to say about ending the world and apocalypses and how individuals act in those intense situations. You can also see the hoe many horror films, specifically, zombie films, have since been inspired by George A. Romero and his work on Dawn of the Dead.
It's an inventive piece of art, easily one of the best movies set in Pittsburgh, and does so much with so little in the best ways possible.
The Deer Hunter is about a group of steelworkers in a town south of Pittsburgh that are changed by the Vietnam War. It comes from director Michael Cimino and has some of the best performances in any war film from Robert De Niro, Christopher Walken, and John Salvage. The three of them put in the performances that a film like this needs in the best ways possible.
Can a film simultaneously be underrated and perfectly rated at the same time? If so, I think The Deer Hunter fits the mold. I've never seen somebody say it is bad by any means, but when it comes to American war films made in the 1970s it is not the best.
It's yet another film that entirely hones in on this blue-collar mentality that these older steel manufacturing cities like Pittsburgh have prided themselves on throughout American history. It gives the audience a significant look at what these cities are all about and balances it with the horrors of far in some of the most efficient ways I've seen in a film.
This one might be a slight stretch when talking about Pittsburgh films, but I argue that it absolutely counts. While The Silence Of The Lambs takes place all over, so much of this 90s classic was filmed in Pittsburgh or the surrounding areas, and I think it demonstrates the beauty of the land ins some of the best ways out of any film on this list.
Silence of the Lambs is a crime thriller about a cannibal and serial killer, Dr. Hannibal Lecter (played perfectly by Anthony Hopkins), and his cat and mouse game of investigative chess with FBI agent Clarice M. Starling (played by Jodie Foster).
This is a film that feels so far ahead of its time that you could have told me that it was made yesterday, and I would believe you. It is one of the most masterfully directed and crafted films ever made. The director Jonathan Demme shows off every single one of his skills while creating this masterpiece, and while Anthony Hopkins and Jodie Foster are at the forefront of this one acting-wise, there is not a single weak performance throughout the entire story.
It doesn't stop at the performances either; everything from the design to the score to the writing is absolute perfection. This one is a must-see for die-hard film fans as well as folks that want a look at Pittsburgh and its surrounding area – even if the tale being told is such a dreary one.
This is arguably the most fun film on this list and one of the least dreary ones. Adventureland is a coming of age story about potential graduate student James Brennan (played by Jesse Eisenberg) who is getting ready to head to study abroad, but when he starts to struggle financially, he is forced to take a job working at an amusement park in Western Pennsylvania, near the Pittsburgh area.
It is a film that hones in on the fun adventure summer comedies that always seem to fare so well with wide audiences, and Adventureland is no different. It is such a fun and charming film that continues to hold up on every rewatch.
Adventureland is a film that in recent years has slipped under the radar of so many when talking about some of the best comedies of the last twenty or so years, but it certainly deserves to be in the conversation. By no means should it be considered a perfect film that does anything even remotely groundbreaking, but what it does do is pull you in with this wide sense of familiarity that we have come to love from films like this before.
While a city like Philadelphia has a sports film like Rocky, Pittsburgh has Warrior. This has got to be one of the more intense sports films made since the turn of the century. It is about a pair of semi-estranged brothers (played by Tom Hardy and Joel Edgerton) who are both mixed martial artists and have entered the same tournament.
Warrior features some great supporting roles from real-life mixed martial artists such as Dan Caldwell, Roan Carneiro, and Kurt Angle, giving it a very distinct and authentic touch. This film does such a remarkable job of demonstrating the grit and grind that people from a city like Pittsburgh tend to pride themselves on.
For a film that is so brutal and at times heart-wrenching to watch, it is also one of the most beautiful films about family dysfunction and trauma. It might be one of the most emotionally satisfying films I have ever seen; it's simply fantastic through its execution. It has a perfect pace and tone, and as the plot unfolds in front of your eyes, you see what these characters have been through and make it past all these issues; it hits you right in the soul.
It's a must-watch and one of the best movies set in Pittsburgh that excels at showing off the perseverance of people from the Steel City.
Stephen Chbosky's The Perks Of Being A Wallflower is a coming-of-age film based on his own novel of the same name. The film explores Charlie (played by Logan Lerman) and his complications with post-traumatic stress disorder, which he is unaware of for most of the film.
Along with dealing with those serious mental health issues, he tries to navigate high school and becomes close with his new friends, Sam and Patrick (played by Emma Watson and Ezra Miller). It is one of the more heavy-hitting coming-of-age stories, and I would be lying if I said it wasn't a film I struggle with making it through every time I watch.
This is a film where I related to so much of what these characters represent. They perfectly show what it is like to grow up and try and find your purpose in high school and through adolescence and dealing with trauma from childhood. I felt their anxiety of trying to find their purpose in the early stages of life and how they often felt lost.
It is accompanied by some quality writing, acting, and a complimentary score and soundtrack. It's another perfectly set Pittsburgh film within the genre.
Pittsburgh is almost as great of a setting for coming-of-age films as it is for zombie apocalypse films. It just feels like a perfect place for those stories to take place. Me And Earl And The Dying Girl follows Greg, who is sauntering through his senior year of high school, avoiding social engagements by any means necessary, all while secretly making strange films with Earl, his lone buddy. When his mother forces him to become friends with a classmate who has leukemia, however, both his anonymity and friendship are threatened.
The performances are all excellent, but Olivia Cooke stands out. Her performance is both devastating and genuine, and it will make you cry at times. Especially at the end, when she views the film, Greg produced for her in her final moments. It's beautifully crafted and heartbreaking.
The film's concepts about death are fascinating and deadpan throughout, but they never feel forced. Hearing such realistic poetry helped me get through a small period of depression in my life. It is one of those films that is made about kids, but it balances all of the more mature themes at such a high artistic level.
Fences is a period piece adaptation of the same name directed and starring one of the all-time great performers, Denzel Washington. The story takes place in 1950s Pittsburgh, and out of all the films on this list, this is the one that demonstrates the true class and race struggles that have plagued American society throughout its entire history and highlight it specifically in the city of Pittsburgh in an intricate and intense character study.
It has some of the very best performances of any play adaptation, and you feel for every single one of its characters. You feel fully immersed in their lives – the struggles and the triumphs. Sometimes it is one of the more difficult things to achieve when making a film that was originally a play in translating the original genius and ingenuity to the screen, but Fences certainly achieves that.
Throughout this film, it often feels like you are being transported straight into the class struggle the characters are dealt with in 1950s Pittsburgh – demonstrating how effective of a period piece it is.
Mr. Rogers is easily one of the most famous people from the Pittsburgh area, and in recent years there has been a resurgence in the film world paying tribute to him, whether it be feature films or documentaries. A Beautiful Day In The Neighborhood was one of the more recent adaptations to look at Mr. Rogers and his life of love, compassion, and sincerity, and it honestly feels like a warm hug of a film.
At its highest level, it is a film that demonstrates every single value that Fred Rogers portrayed through the television screen all those years. It is a film that makes Mr. Rogers feel as accessible as ever, and it honestly feels like he is right there in front of you again. It was a film that came in a time when the world needed a sincerely kind and good-natured film, and it delivered on every emotional beat that it tried to hit.
It's one of those films that will give you a glimpse at the subculture of Pittsburgh and dig a bit into one of its most famous celebrities.
Ma Rainey's Black Bottom is a tribute to the people who made jazz famous. But it's also a means to bring together two of our generation's finest performers – Viola Davis gives another fantastic performance, but it's Chadwick Boseman's last performance that truly binds the picture together. At its core, it follows these jazz musicians and their efforts to be the most perfect versions of themselves.
Even though I had some issues with the directing and tone of the writing, this film is worth seeing only for Chadwick's masterclass in acting and to hear his wonderful monologues, which give him an endless amount of life. Every second, you can see how much he enjoyed performing in his eyes, and it translates to the audience throughout the film. It's almost as though it's fate that his final part also happens to be the one that will make him famous.
Ma Rainey's Black Bottom is yet another of the best movies set in Pittsburgh that is a perfect ode to a different time in the Steel Cities history and examines the city's complicated history in the best of ways.