Stepping off a quiet side street in Oaxaca City into the entrance way of an unassuming blue house you immediately feel a sense of calm – a tranquil, open space where bespoke colourful furniture invites you in and elegantly curated pieces of art beg for your attention.
I had arrived at Nana Vida Boutique Hotel in Oaxaca, a labour-of-love sort of hotel where owner Gladys has clearly put her heart and soul into creating something unique and special – a beautiful hotel which not only seeks to give guests a pleasurable experience but also to tell the story of the many artists and artisans of the surrounding regions in Oaxaca!
What precipitates is an elegant place to relax and unwind with a slight tinge of contemporary art gallery, such is the calibre of the art here. Not simply cheap knock-offs, each piece is original and unique – and each room is gifted a subtly different regional theme conveyed through the art on display.
Be it through the furniture, the art, the textiles or -well even the home-made soaps – everything here leaves you inspired and intrigued….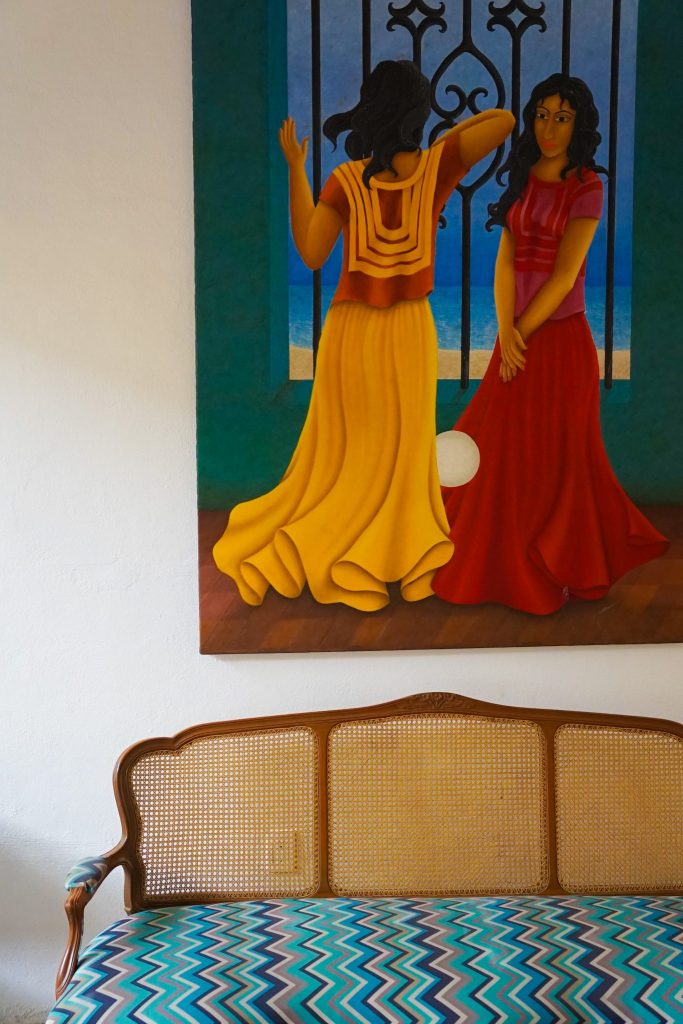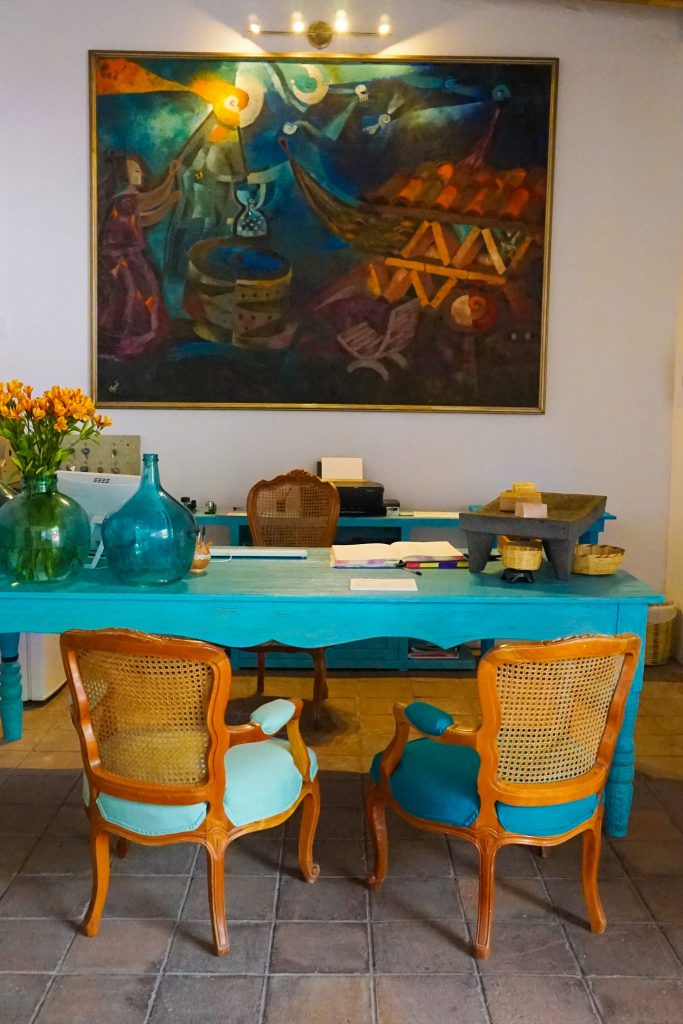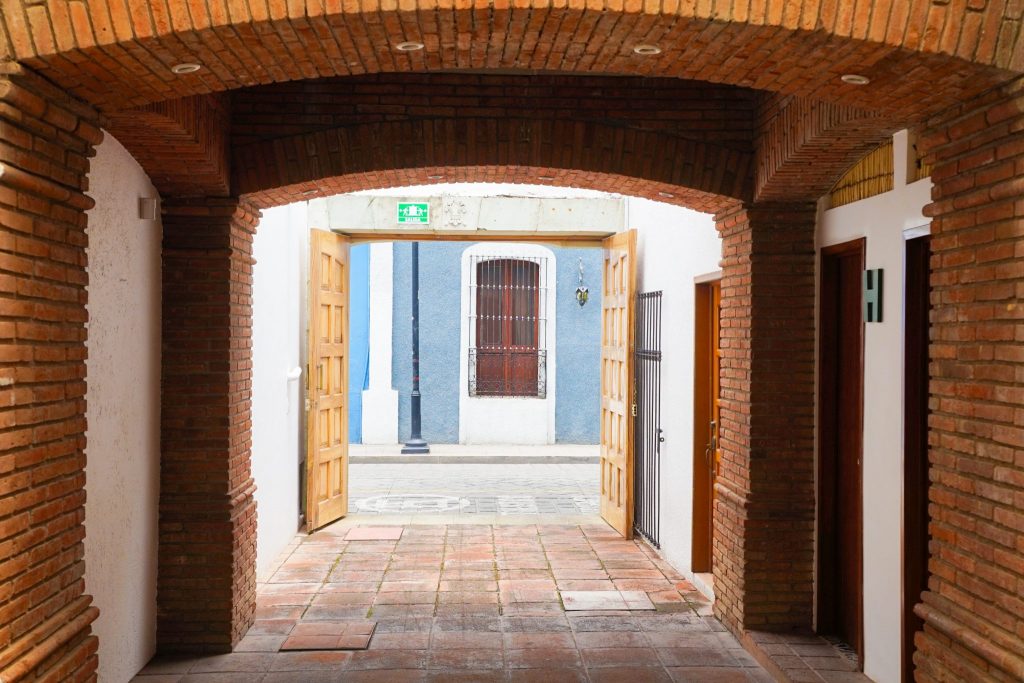 The Art At Nana Vida Boutique Hotel in Oaxaca City
What I loved about Nana Vida above all else were the staff and owners passion for art and supporting it's development and growth in the surrounding regions.
Oaxaca has become rather famed lately with Mexico and internationally for the work being done here and it's great to see the strong commitment to both big international artists and undiscovered local gems – many of which the owner has spent time developing personal one-on-one connections which explains the quality that is on offer.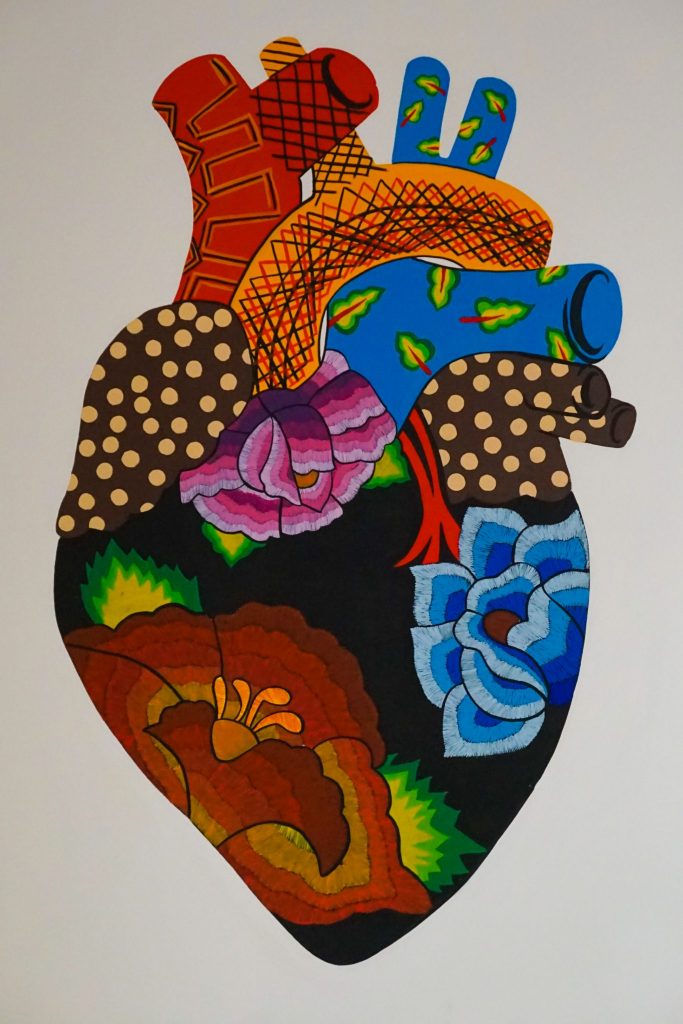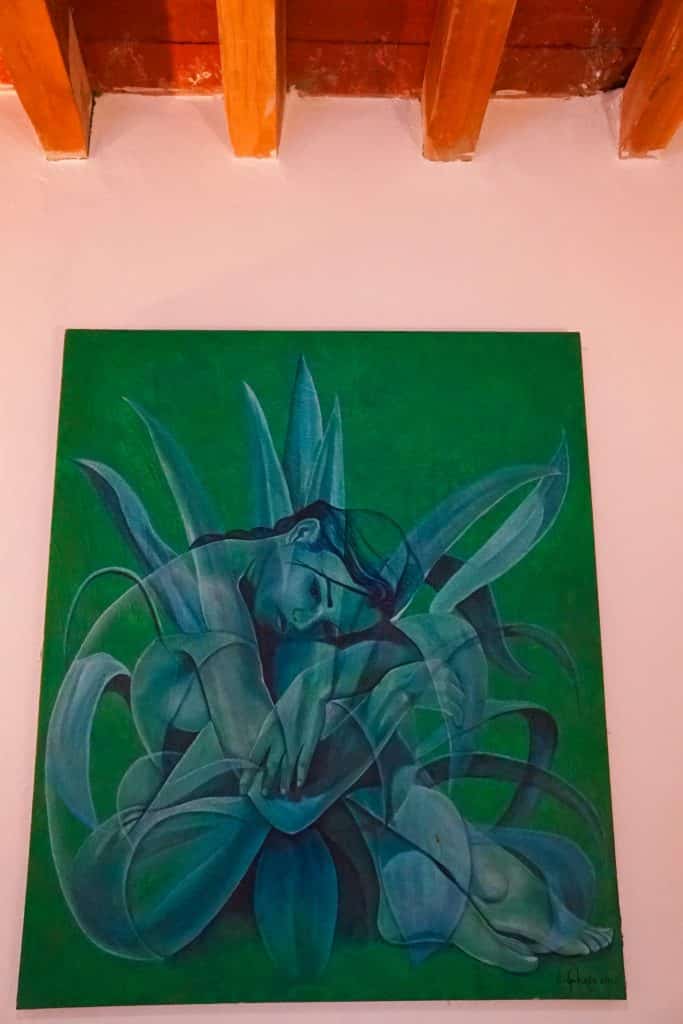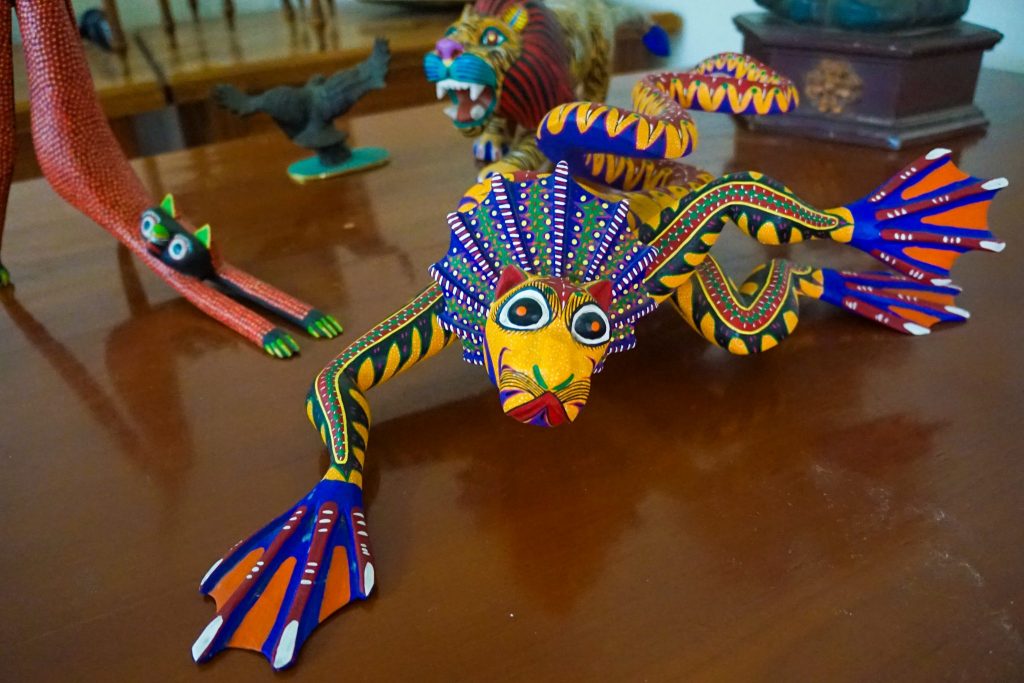 For those really in the know, or passionate to learn, there are paintings from Justina, Chu Huini, Degives, Irving Cano, Soid Pastrana, Didier Lopez Carpio and Andriacci on display here.
There's mixed black clay and agave lamp pieces adorning the bedsides from Chigoló, Alebrijes (brightly coloured Mexican folk art of fantastical creatures) from San Martín Tilcajete, colourful wool bed pieces from the Teotilan Valley and wonderful Clay Pots from Atzompan just to mention a few. Interested in any other pieces in particular – the staff are always happy to explain the history and process behind them, where they come from and even where to purchase your own if you so desire.
Trust me, if nothing else it's a great excuse to get out and explore the smaller towns in the Oaxaca Valley!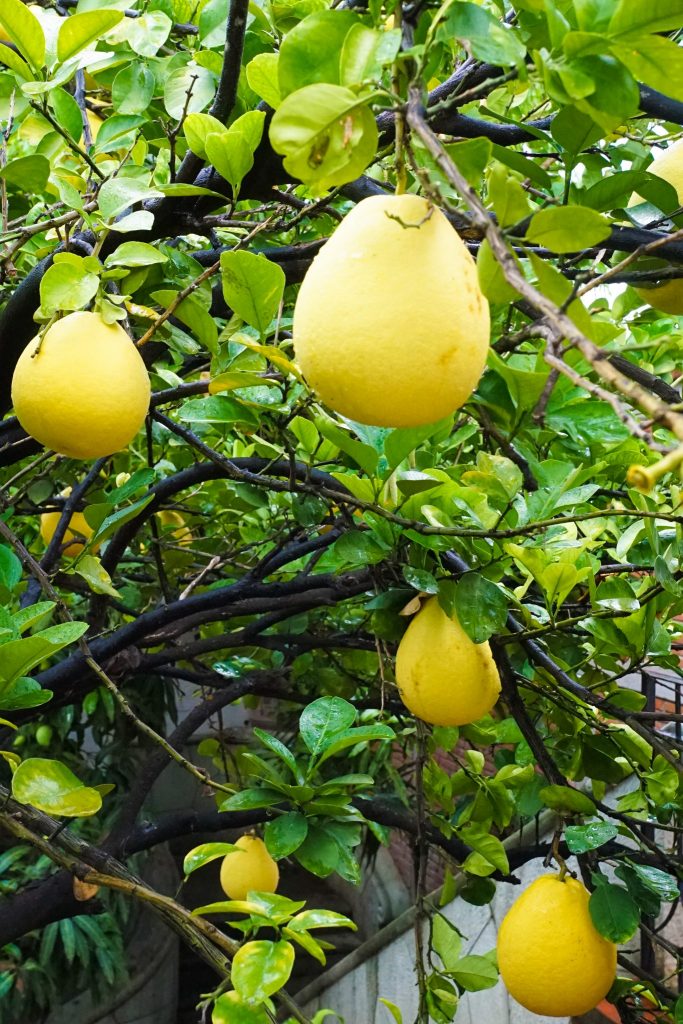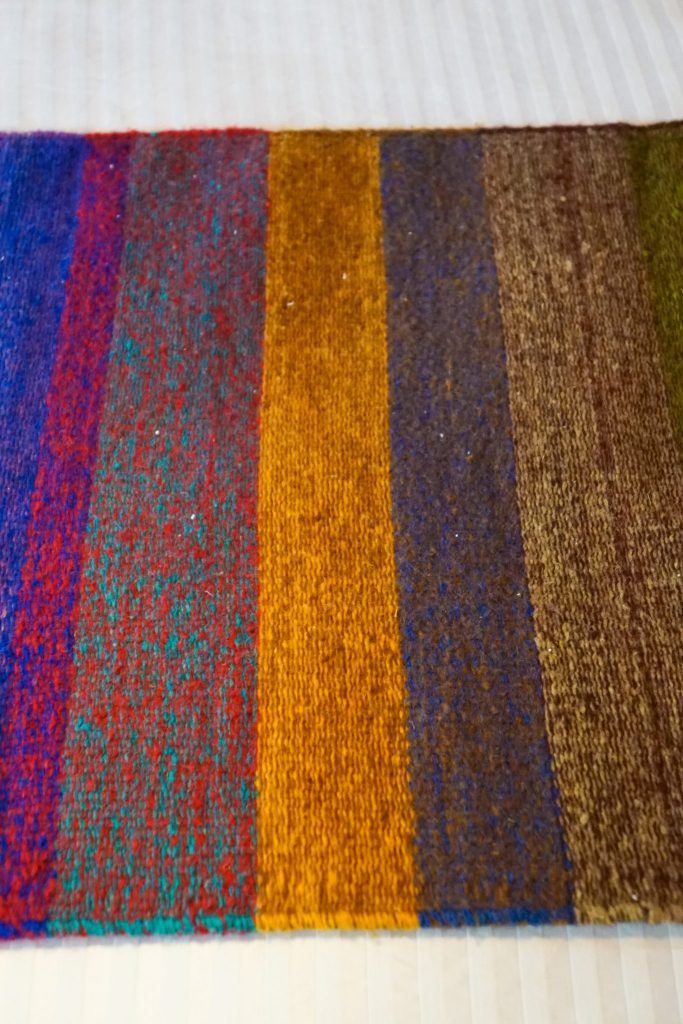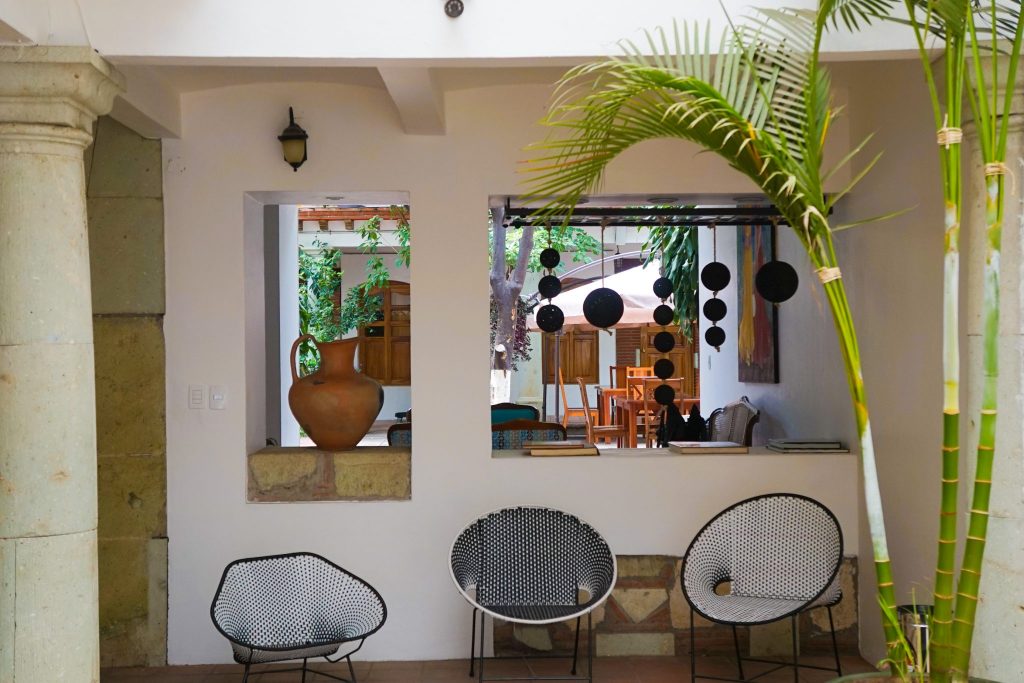 The Service At Nana Vida Boutique Hotel in Oaxaca City
Not only are the staff of Nana Vida Hotel exceptionally knowledgeable in art – they are also incredibly hospitable and truly made me feel welcome. From the first moment I walked in I immediately felt at home, and the staff struck that often sought but frequently missed balance of professionalism versus relaxed and friendly.
I especially loved the home-made soap offered in three delightful scents cut and wrapped personally for you on check-in, and was personally rather invigorated by my coffee-scented exfoliating scrub every morning!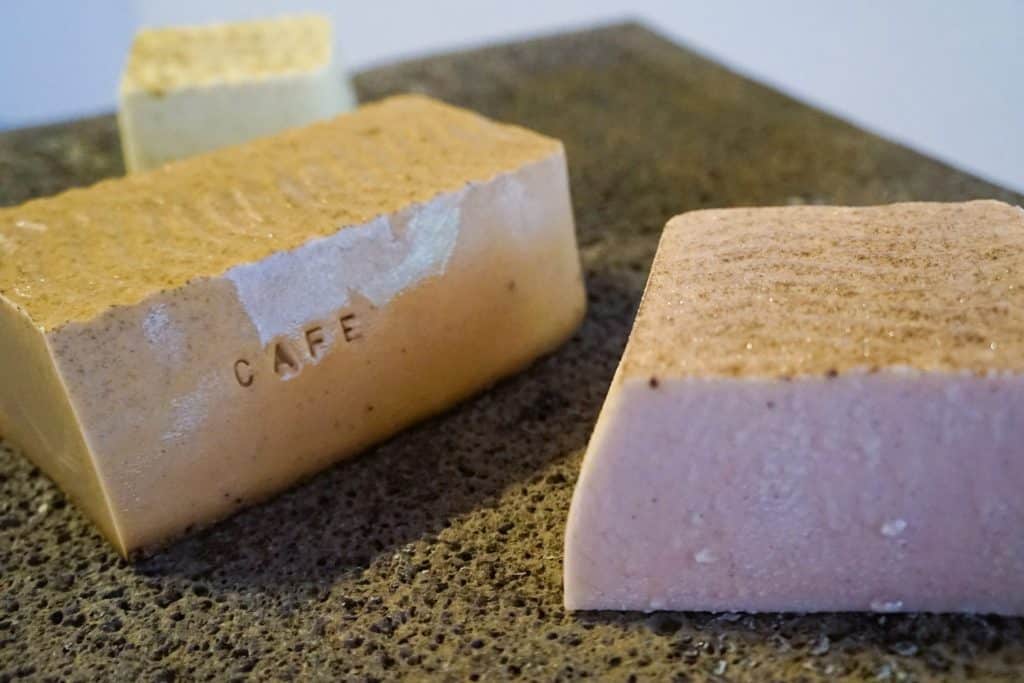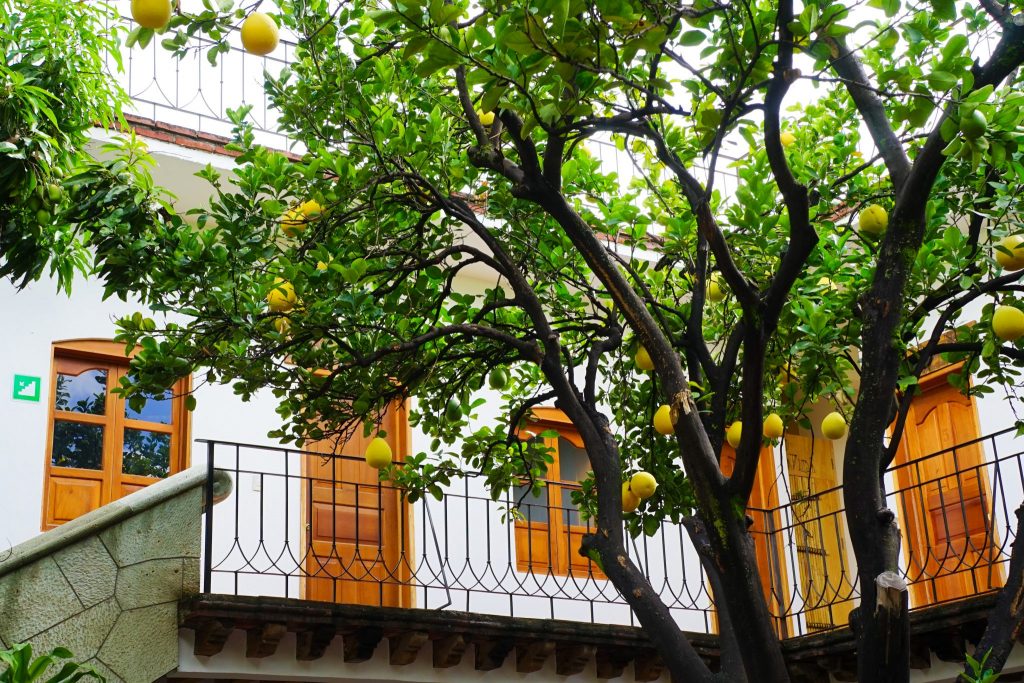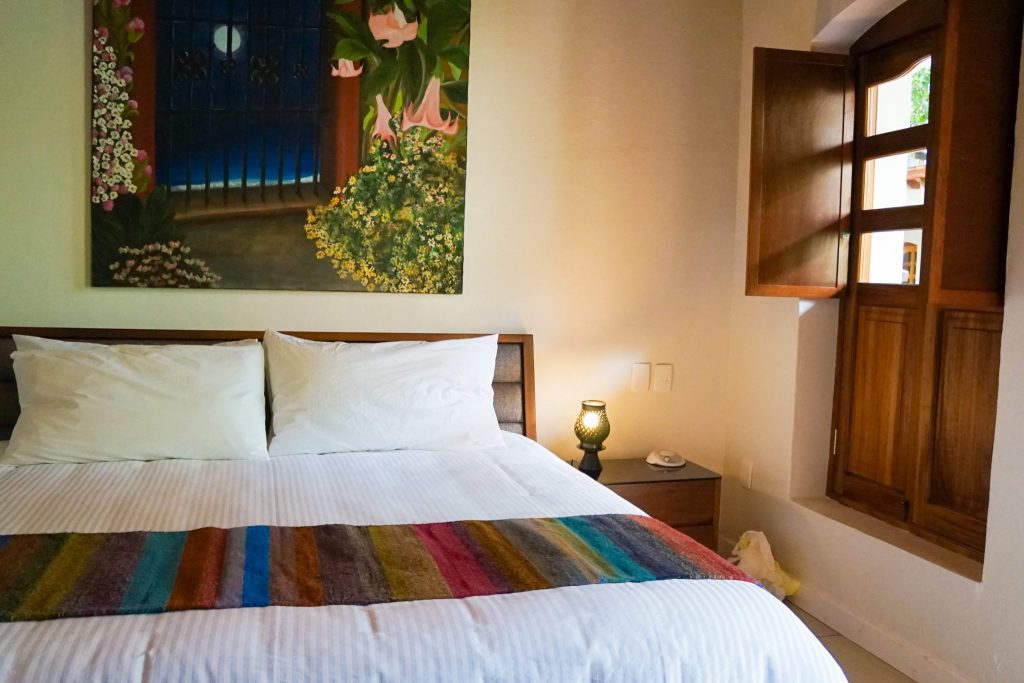 Jose, the afternoon receptionist was truly a gem and knew where everything was, including the best food, museums and coffee shops right down to the location and prices of collectivos heading to off-the-beaten track destinations out of town such a Mitla, 'a Magical Town' which I thoroughly enjoyed and Jose was even able to offer additional stops to make the day complete.
Not only this but everyday he seemed to eagerly await my return to check in on how the days adventure has progressed and to take note of any mishaps (there were none!) incase people asked in future.
I sadly fell ill during my stay here – I believe from my rather horrific night bus journey to get here from Palenque – and while I was then unable to try out any of the breakfast or coffee options in their quiet courtyard I did get a friendly wave from the kitchen staff every time I came and went so points for hospitality alone!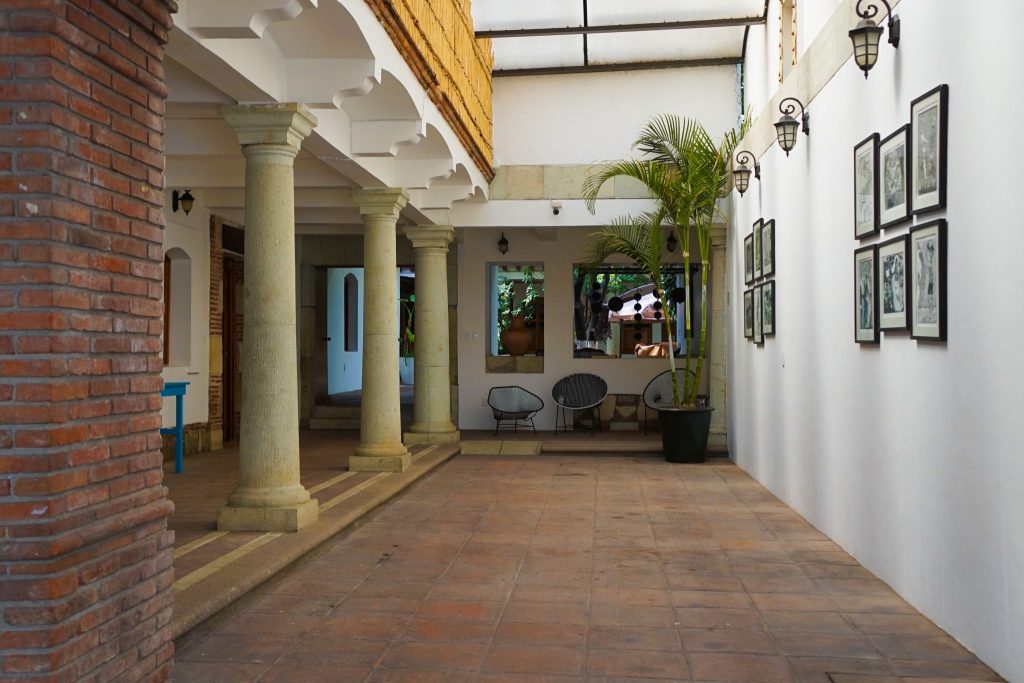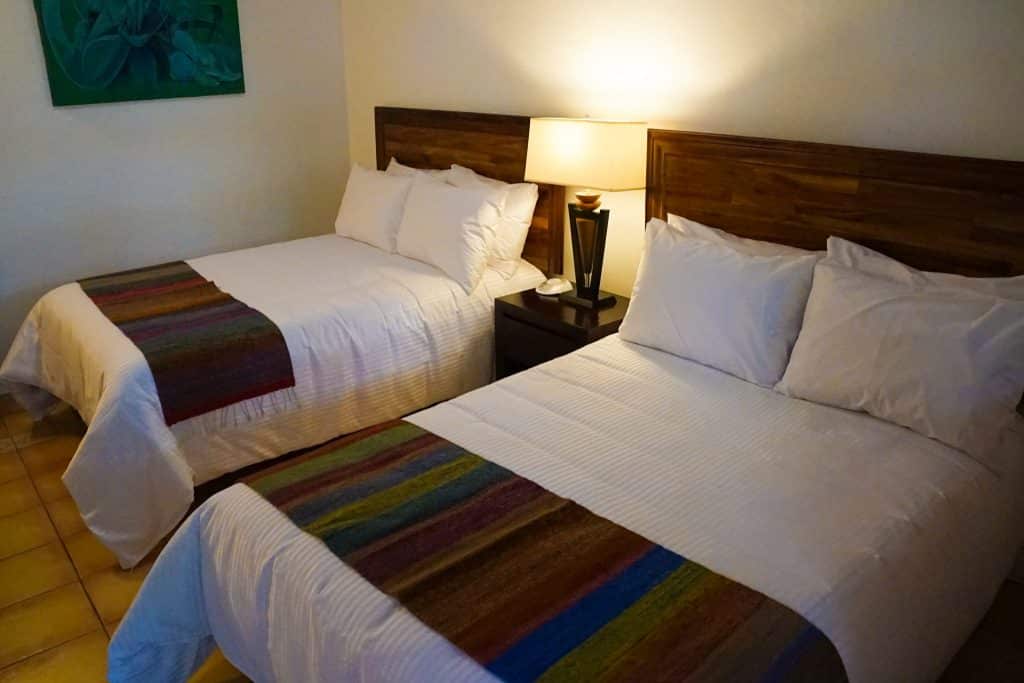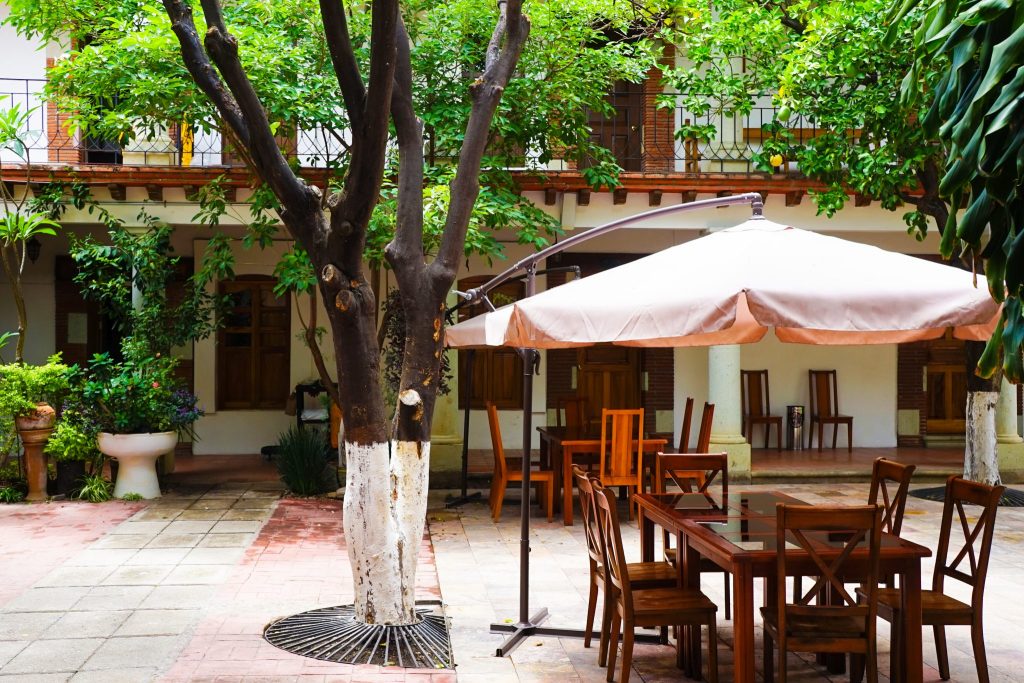 The Rooms At Nana Vida Boutique Hotel in Oaxaca City
With a variety of exclusive rooms arranged around the central courtyard NaNa Vida Hotel Boutique is large enough to seem happening but not to large so that everyone remains anonymous.
I frequently saw people reading in the sun, enjoy a cup of coffee in the shade or just exchanging a friendly smile and a wave on the way to and from various excursions of the day. Inside the rooms are beautifully appointed with each having its own unique display of local art, and therefore a different feel. Everything from the wicker overhead lights to the sound machine for an enhanced sleep were perfect – and the beds!
If you stay in the king rooms you could practically host a formal gathering on them they are so huge – and accompanied with fine, soft sheets you will struggle to leave every morning.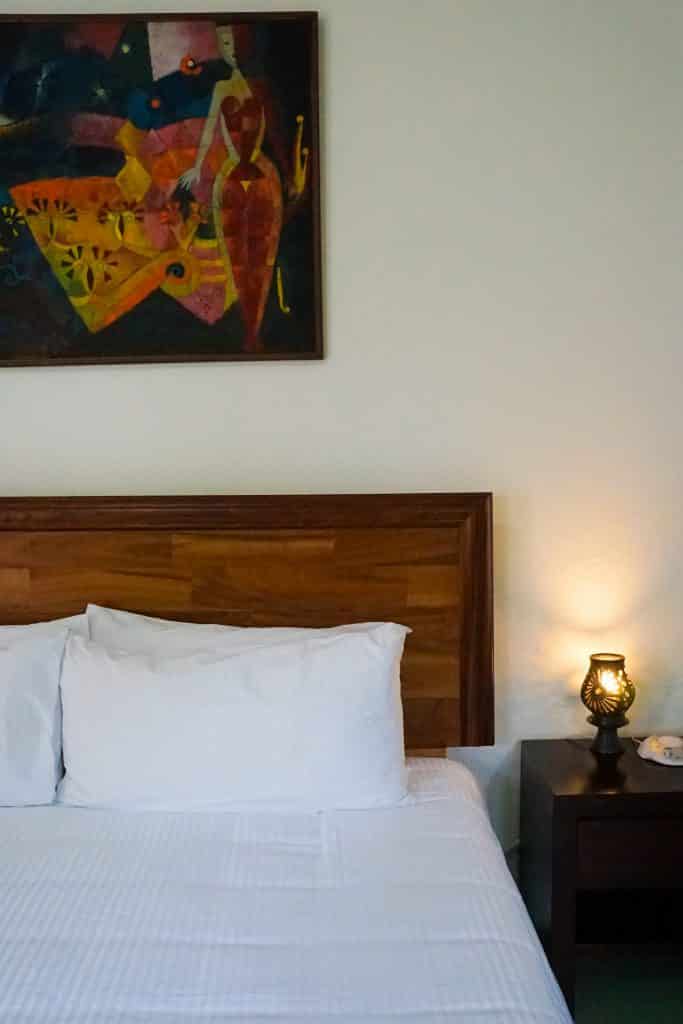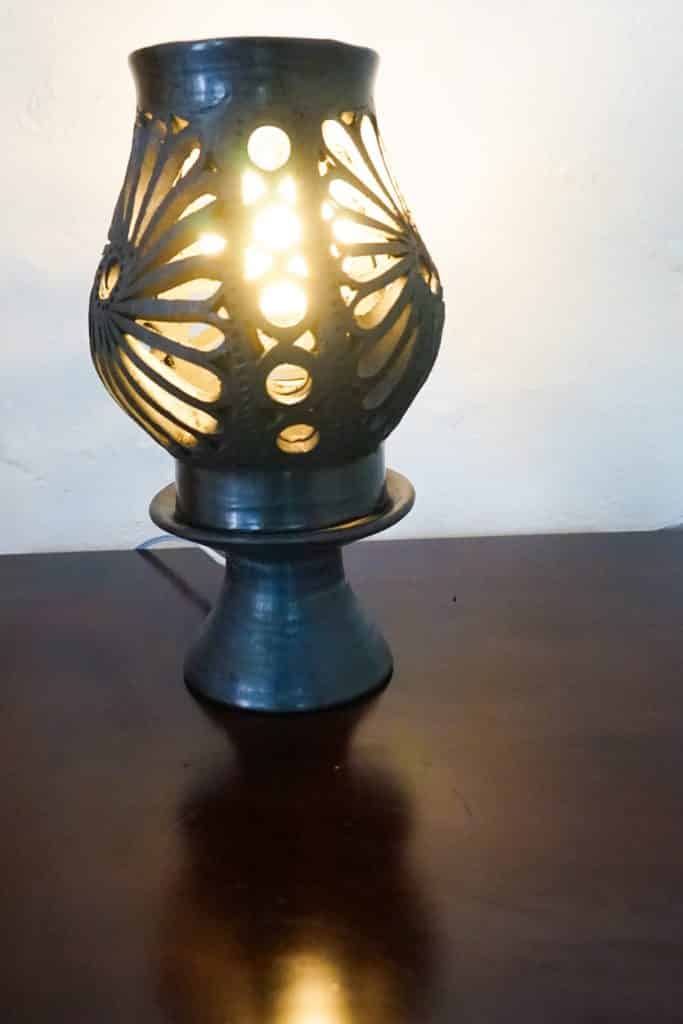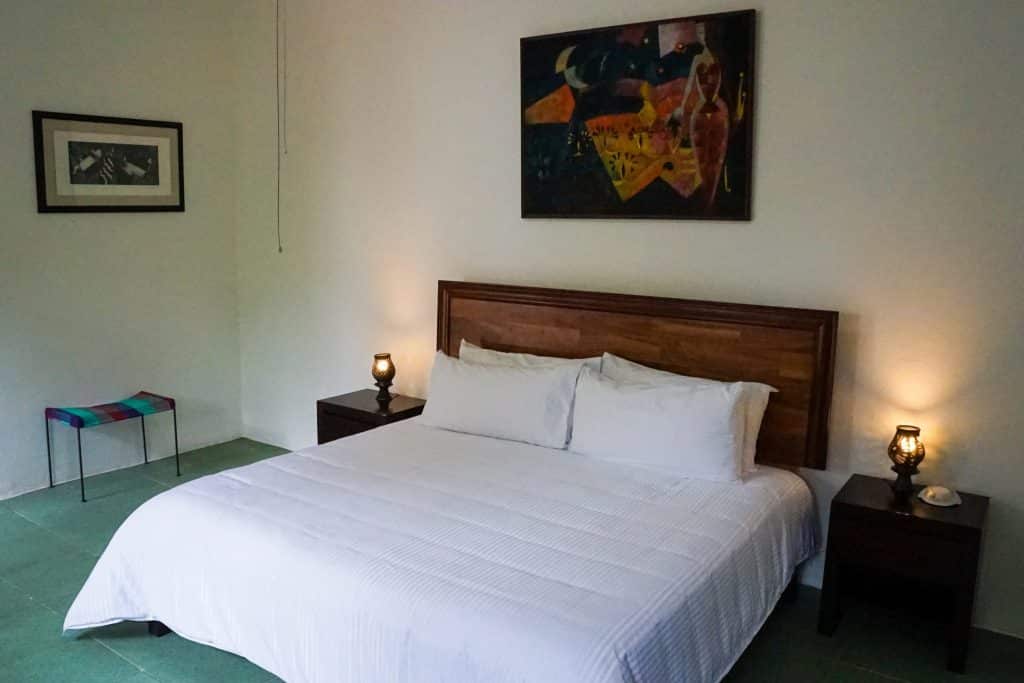 Wooden shutters on the windows also mean the rooms are very light and airy during the day but can be blacked out almost entirely if needed – proof of which was found when a polite knock at 11.30 am asked if I would like the room serviced (clearly I had needed the sleep!).
In the bathroom were of course a toiletries pack in addition to your bespoke soap, and a mountain of towels so large you could never possibly run out – which was great as that high pressure shower was awfully tempting. My only gripe here was that occasionally it would take a few minutes for the shower to warm – a common problem in all the hotels I stayed at in Mexico – but, rest assured it does!
Nana Vida have a combination of rooms in king and twin formation, in two categories: deluxe and suite. All are beautiful and of a high standard but the suite just offers that extra something with more space overall in the bedroom and an additional room separating the vanity room from the shower.
All are great options, but I loved the king suite as who can resist right?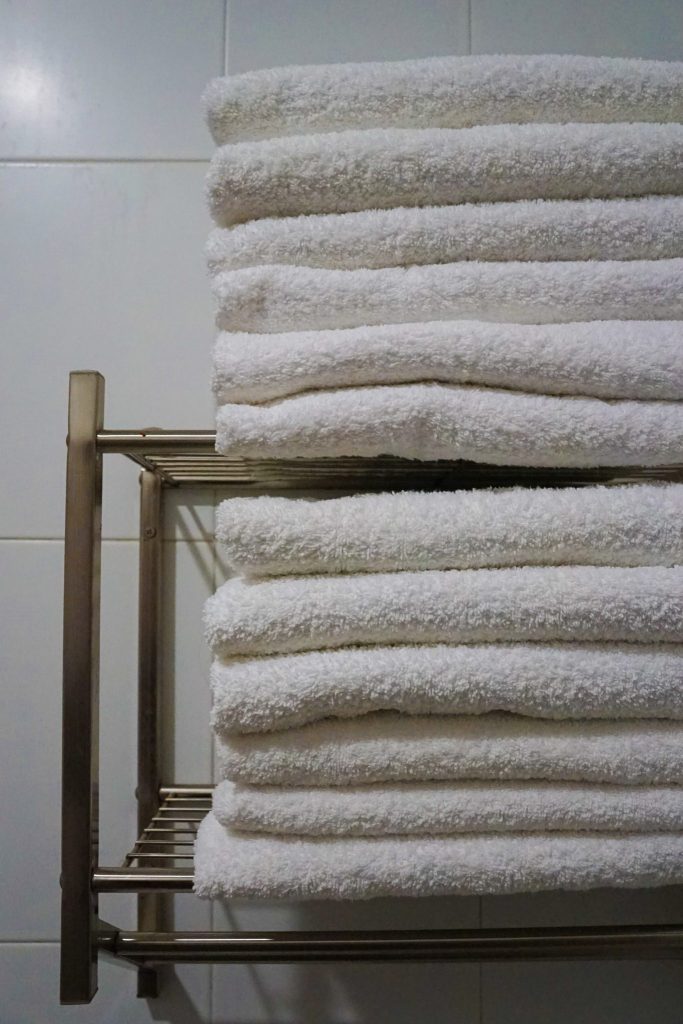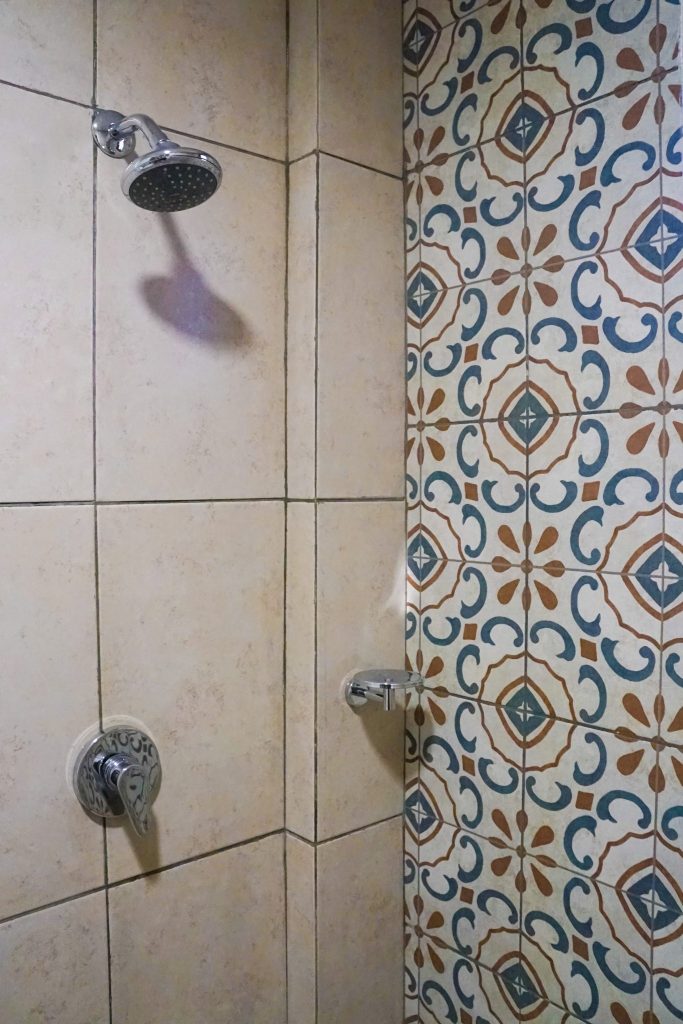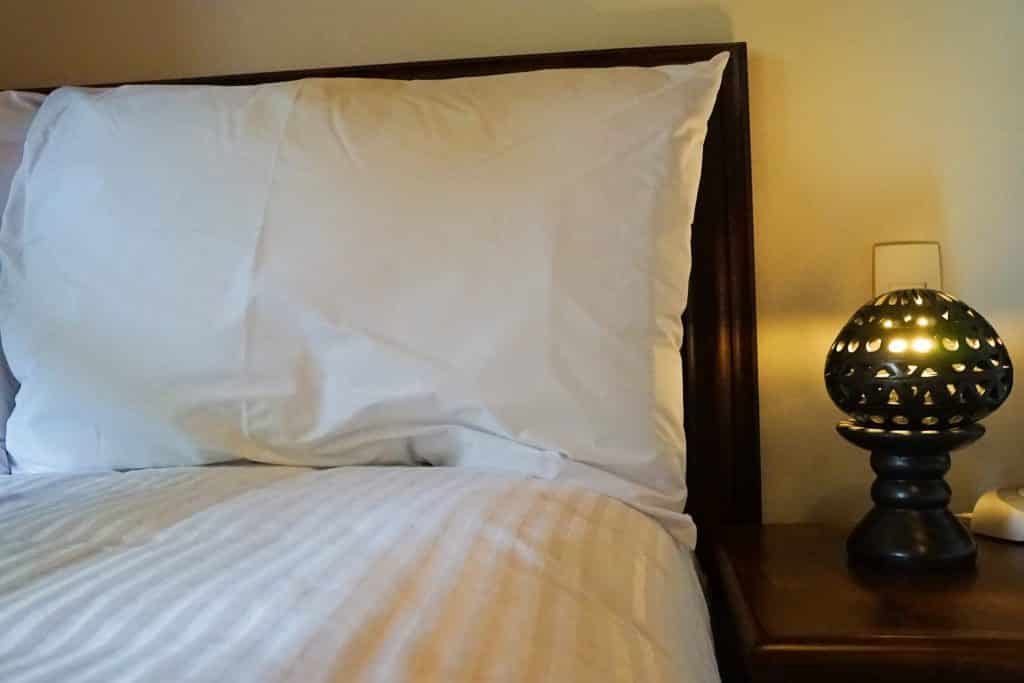 What To Do In Oaxaca City Mexico?
If you're wondering about whether it's worth making the trip to Oaxaca City – trust me, not only is it completely worth it… but will probably be a highlight of your entire trip!
Oaxaca City was announced the Mexican City of Culture for 2017 and it's not hard to see why! With a burgeoning gastronomical scene famed throughout Mexico, a picturesque colonial core of boutique shops and grand buildings protected by UNESCO, and of course its creative arts scene brimming with talent everywhere you look, it's surprising Oaxaca City is not more famous already!
World-class museums, a lively market, rooftop bars and of course the Monte Alban ruins complete the picture and you have a must-see destination with enough to easily fill a week on any travellers itinerary. A trip here can be as relaxed or as hectic as you make it, and that's without making day trips to the many attractions of the surrounding Central Valley – thought be the first place that crops were domesticated in the new world and thus where all new world civilisations originally began.
There are simply too many reasons to visit Oaxaca City to digest as a side piece so I also recommend reading my companion article: Reasons To Visit Oaxaca City now!
Further Things To Consider Before Any Adventure
Now you're all set and prepared to explore our big wide world, why not sort out everything else out all in one go? If necessary for your travel plans make sure you have brought proper travel insurance, protected your privacy by getting a secure VPN, compared all the top hotel booking sites to find just what you're after, reserved an unbeatable rental car price and - of course - booked the best flight deals!
Or maybe just forget it all and go for a last-minute cruise or effortless tour instead?
Many budget travelers (including me) indulge in worldwide airport lounge access, so we can experience luxury while still slumming it in economy. Naturally, we would never leave home without a more general travel guide since we couldn't possibly cover everything here!
Just add an adventurous attitude and plenty of smiles - they go a long way - and that about covers it all! Now go out, find your own path and don't forget to share your best inspiration stories with me on Facebook, Twitter, and Instagram...I'd love to hear from you!