Recently while trying to get to Borneo we ended up passing through Singapore, as so many people do, and decided to make turn our Singapore stopover into a short Singapore Stopover Holiday. I had been itching to visit Asia's Garden City-State for a while now but sadly being on a budget we could only manage 2 nights in a Singapore hostel (though you could also sleep in Singapore Airport).
But not too fear – a bit of research prep before and and a sturdy pair of shoes (we clocked up 35kms in one day!) meant we were ready to take on this city … I absolutely loved it and to save you the time I've put together our mini itinerary so you can get the quick highlights of Singapore – the gorgeous colonial gardens, ethnic neighborhoods, hawker stands with delicious food – and the new, the towering skyscrapers and of course the $3 billion dollar Marina Bay Sands complex with its incredible Gardens by the Bay!
So what did we do? Read on for our quick guide to a Short Singapore Stopover Holiday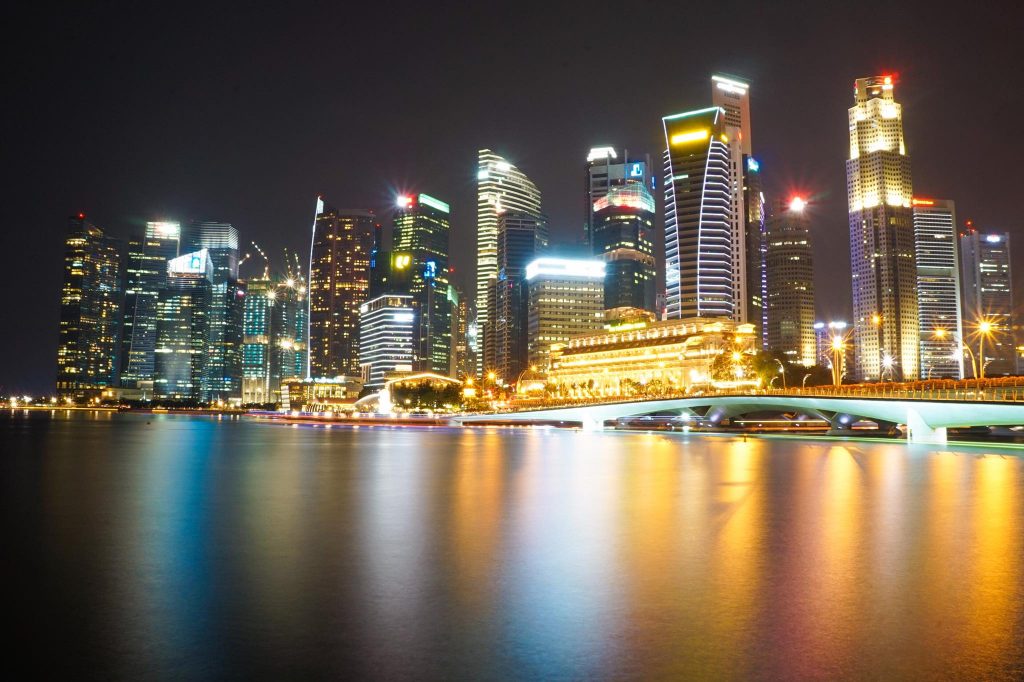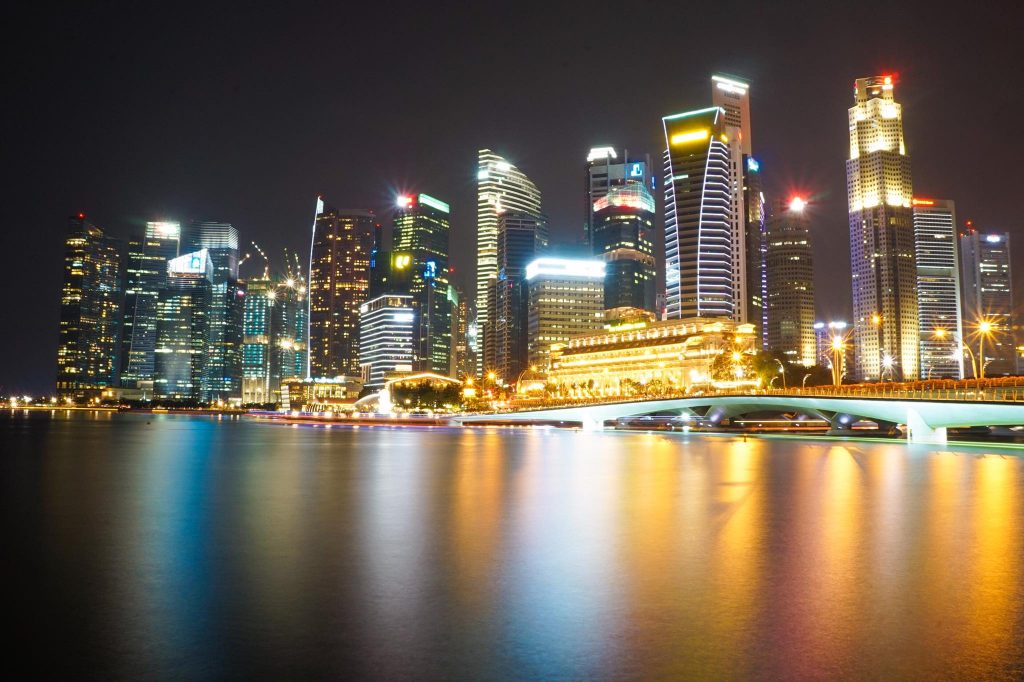 These lights will inspire you, make you feel brand new…Hmmm that might be another city! But is pretty accurate here aswell!
Our short Singapore Stopover Holiday becagan with a casual morning at the Singapore National Botanic Gardens, but if you are up earlier there is an incredible Asian brunch market at Tiong Bahru Market that you could check out, on the same metro line. The Gardens were made a UNESCO World Heritage Site in 2015, coinciding with the anniversary of 50 years of Singaporean Independence. What a nice present!
They have an incredible history dating back around 200 years and among other things were instrumental in the research and commoditisation of the commercial rubber crops that was used as exports and fuelled the profitability of the British Empire. So important to Queen Elizabeth was the research of Royal gardens that from the beginning till end of her rein Royal Gardens in the empire went from 11 to 200+… Today the Gardens continue their valuable work and were instrumental in pushing for Singapore to become the Garden City… 90% of citizens are now within walking distance of a park!
The gardens have a famous Orchid house ($5 SGD entrance – worth it considering everything else is free), one of the biggest collection of palm trees in the world, intact rainforest complete with gorgeous birds and a ménage of other features traditionally associated with Royal Gardens – well worth the visit and a great way to start the day!  If you are really interested in Orchid they also have daily tours leaving at 9,10,11 am and 4 pm in English – and if you still have not had enough, why not check out Chestnut Nature Park?
Havn't looked at accomodation in Singapore yet? Don't worry I've got all the best deals and price right here, and by booking in advance you can get the cream of the crop!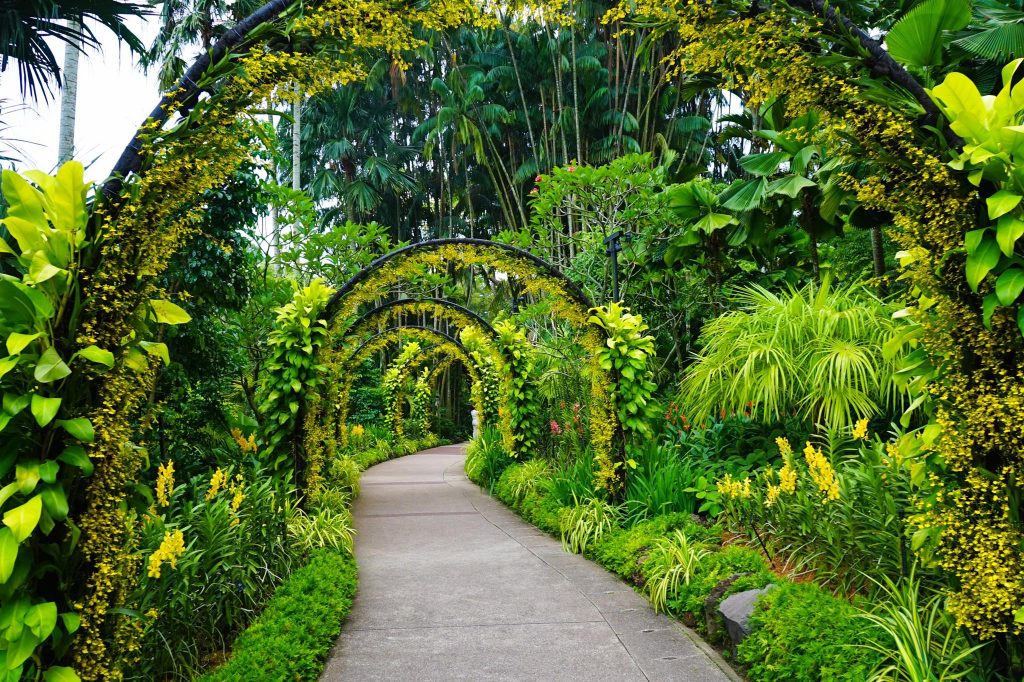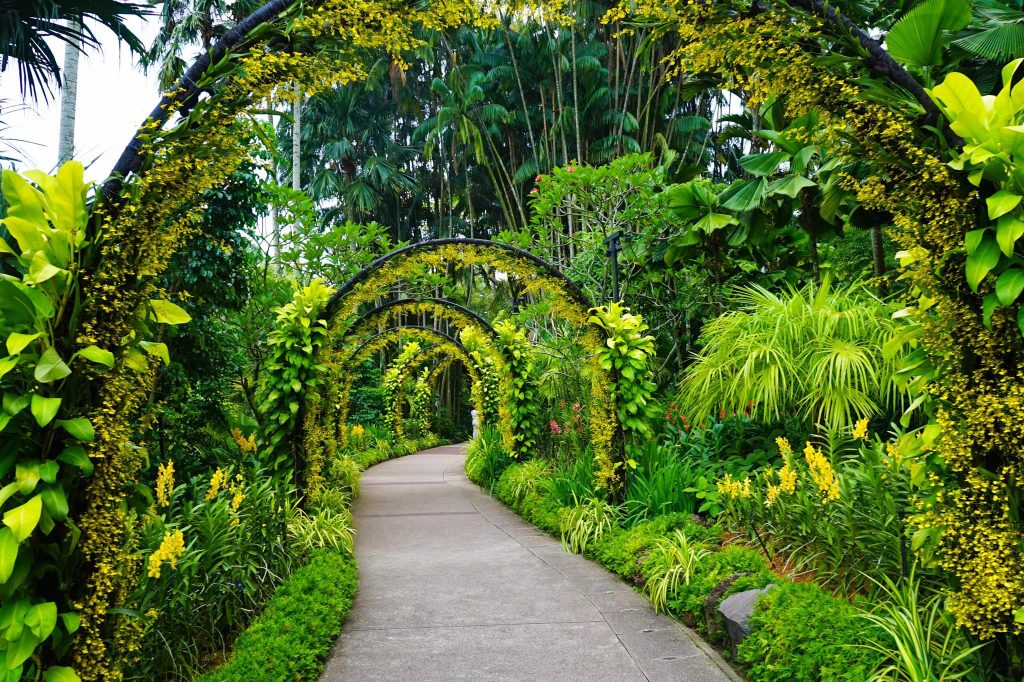 What, how, I'm mean come on…Is this even real?? [The answer is yes, and please don't ask how long I had to wait to get this picture]
We then headed to Little India (seriously how different is that!), which is conveniently on the same new metro line, were we enjoyed a scrumptious hawker stool lunch at the Tekka Center for only $5 SGD. A great introduction to the area and the locals flocking here is indicative of its quality. A generic three story complex so would be hard to miss from the outside but is 100% not to be missed – we just weren't willing to get too local and used knife and forks!  A bit out of our league for a short Singapore stopover holiday!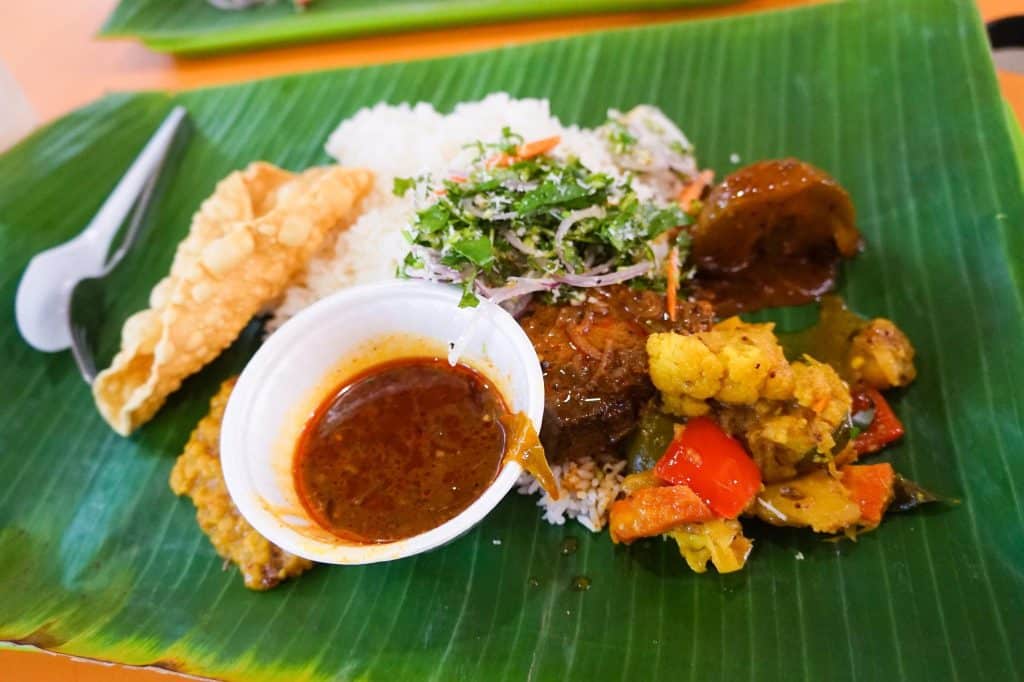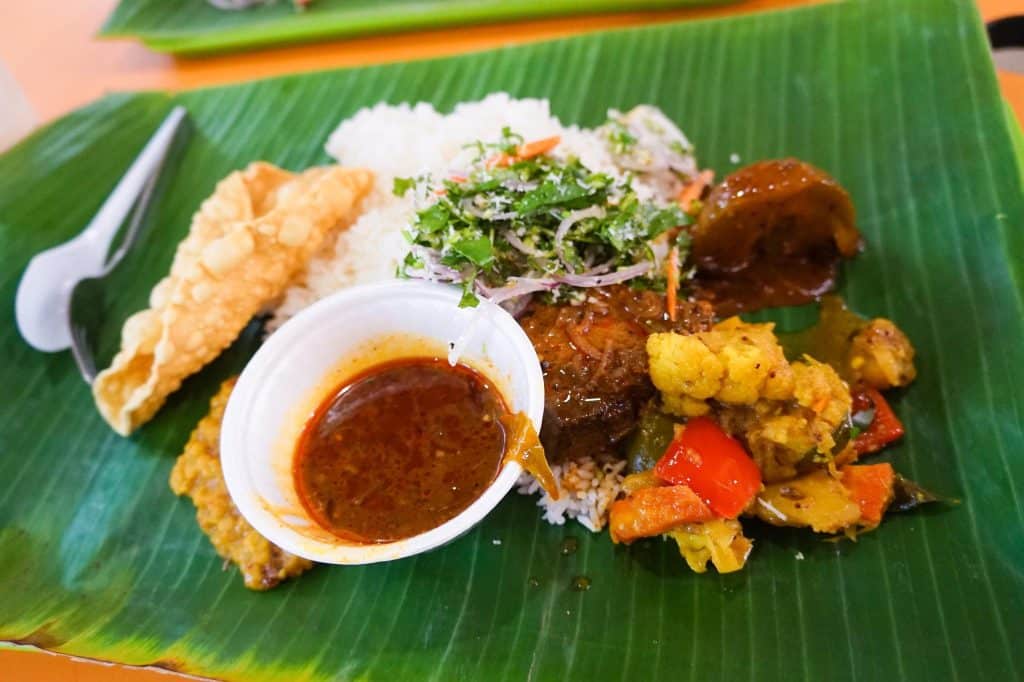 I wish I could remember what this was called – But whatever it was, it is as delicious as it looks!
Afterwards work off those calories with a meander around the streets peaking into gold stores and temples, and just take in the unique culture and vibe of the place. If you are interested in shopping Mustafa – a Singaporean institution – is located here and is 4 huge floors of everything you could imagine. Seriously packed to the rafters with barely space to move they have over 300,000 items with everything from drones to multi-vitamins. If you are more specifically needing some electrical needs meet, Sim Lim Square is nearby… 6 stores of hundreds of electronic shops with them lowest prices apparently in Asia… So I guess the world? I'm not convinced but was worth a look in (and has air con!) just be sure to battler hard as I was a tad ripped off. Never been good at that sort of thing! On the same street you will find the original Chilli Crab Bun at Red House Seafood if your peckish … It is a black bun so it even looks weird, but when your on holiday why not right!!  You won't find that in your tourist guide to Singapore
---
While you are in the region why not be inspired by this travel near Singapore: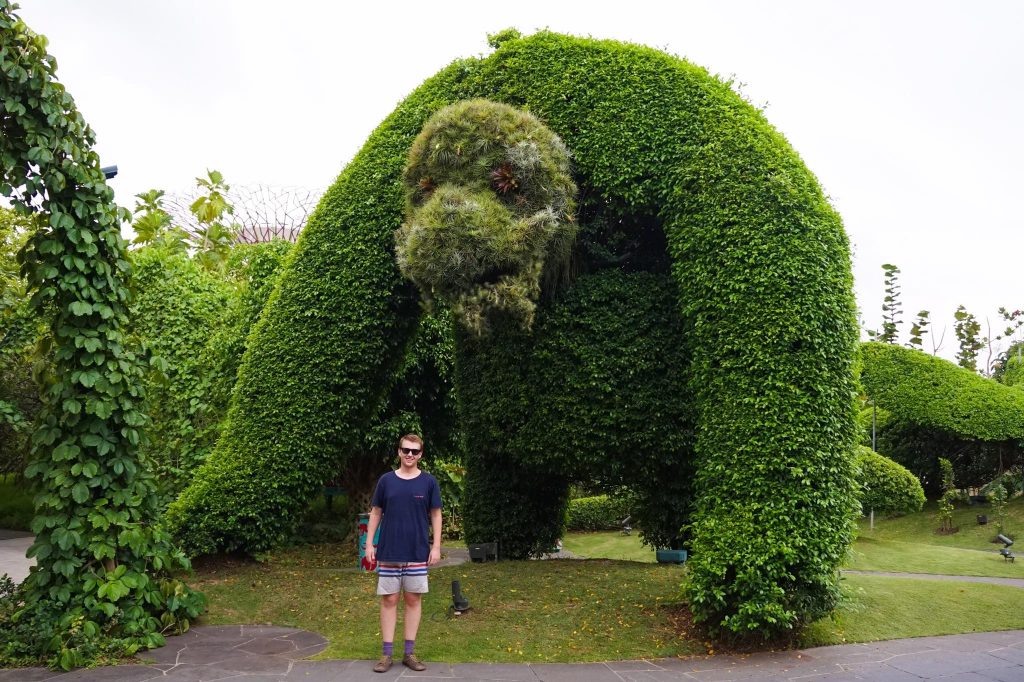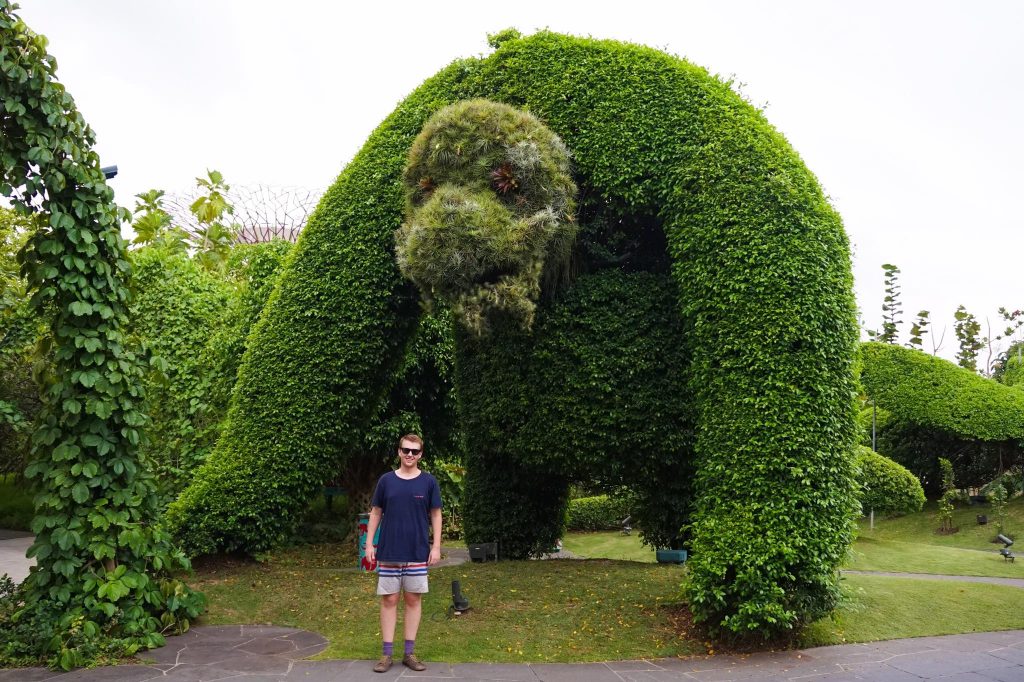 And while your at it, take photos with giant, oversized topiary…I think thats like a travel law or something.
Depending on the time of day you may want to check out the Singapore National Museum nearby or the cities historic fort but we were running low on time now so heading to the Marina Bay Sands mega complex and were not disappointed! You can pay to enter the Orchid Hot House and SkyTree walk here but we just enjoyed the stunning beauty of this carefully manicured urban environment –  felt a tad Disneyland-esque even (and I absolutely love all things Disney)! They have themed gardens, animal topiary – really it needs a decent few hours and is a good place to stay till sunset. Have a walk through the Marina Bay Building while your there, but it is more impressive from the outside – and if you want to go to the casino make sure to bring your ID. Apparently they bring in a $1 billion profit a year from the casino alone but I skipped it this time – Better to be happy with what you have to risk it all!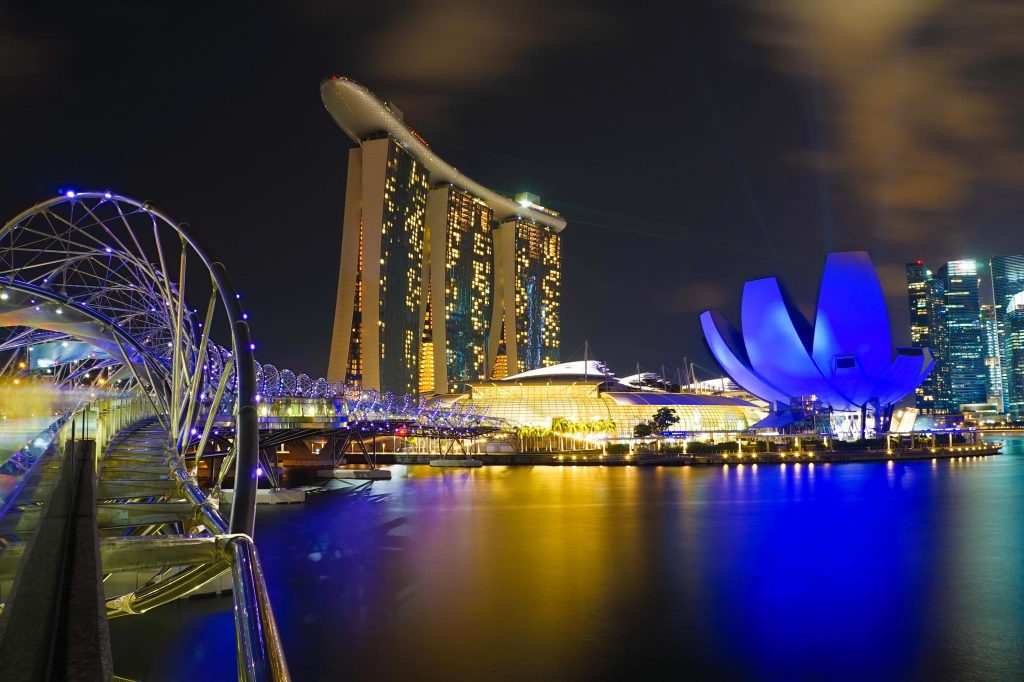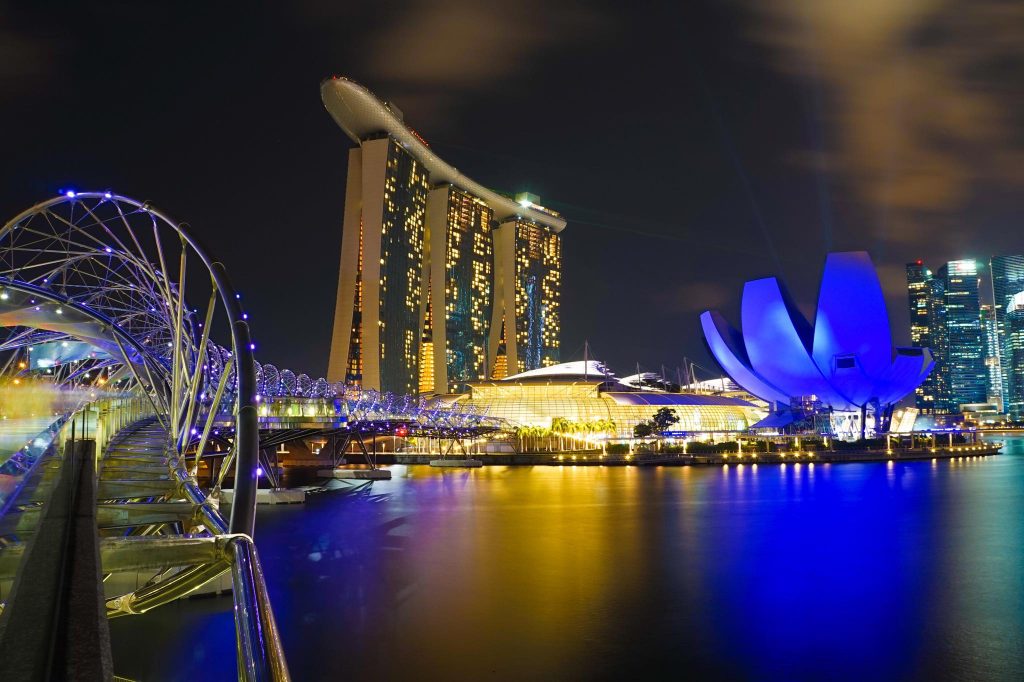 Have an extended stay in Singapore and looking for more to do? Check out these top Singapore experiences or this ultimate guide to everything in Singapore! With this many lights, I just want to give them all my money – Take it, take it all!
Now it's evening time there the Marina Promenade is nearby and the Makansutra Gluttons Bay hawker centre is calling – only a 5 min walk away! Grab yourself a meal and stroll along about 5 mins to see the famous Merlion, a mythical symbol of Singapore and a must take photo! Selfie anyone! Then settle in somewhere on the waterfront steps for a fabulous view of the Sands, they have a light show at 8pm which is nice if not a little underwhelming. Now the perfect way to finish the day is to head back, yes back, to the SkyTree Super Groove @ the Gardens By the Bay for the Garden Rhapsody Light Show; a free show at 8:45 pm which I can't really describe any other way than surreal – The Gardens are now officially in the rhelms of Disney with inflated kite "things" soaring above to a comical selection of music with dazzling lights and the oohh's and ahhh's of the audience. Breathtaking, good for ages 1 to 101 and a perfect end to a whistle-stop tour of Singapore!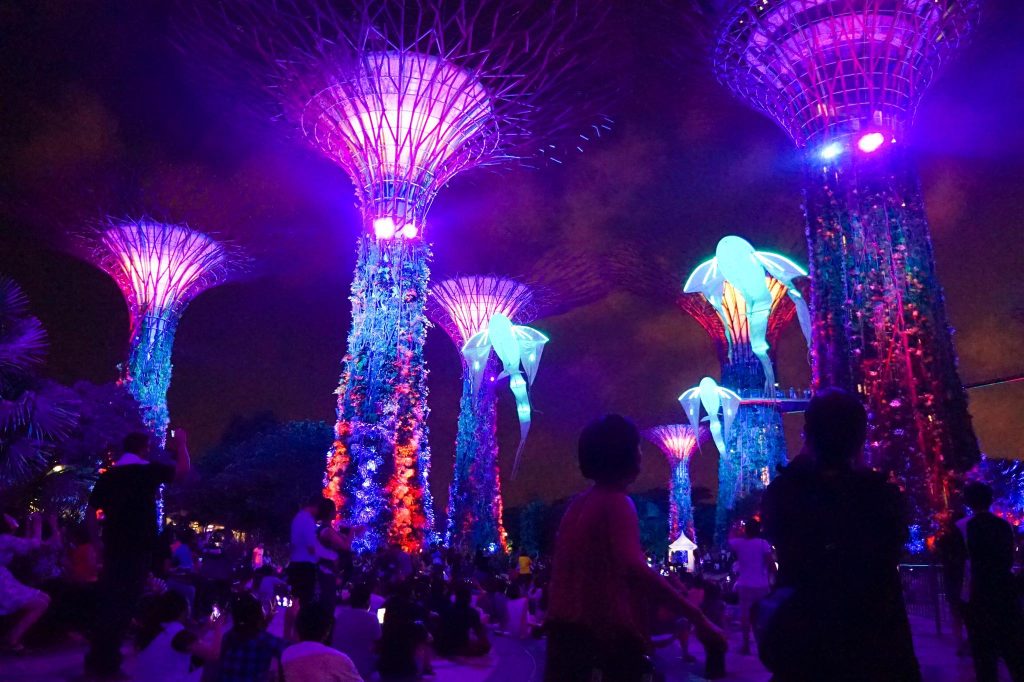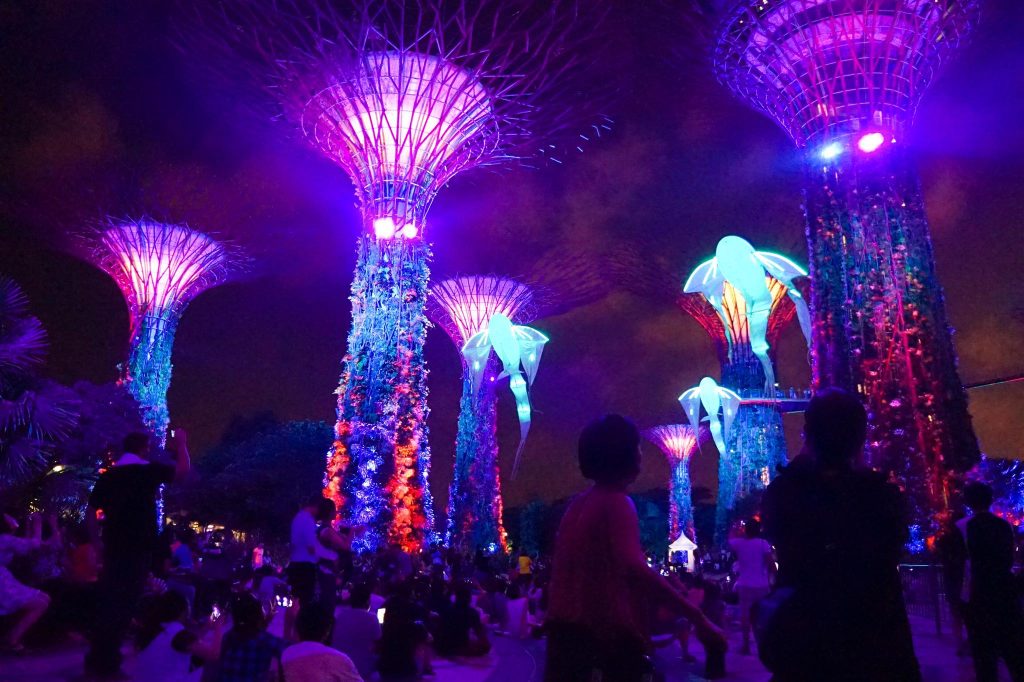 Simply incredible – Really if this doesn't convince you to go to Singapore, nothing will!
With this you will have enjoyed the bustle of hawker markets and local cuisine, the serenity and nature of the Garden City in the Royal Botanical Gardens, explored the quirky and uniqueness of Little India and seen the glory of New Singapore with its grand mega structures, soaring skyline and free entertainment at the Promenade and Marina Bay Sands – though you could always trying getting into the Marina Bay Sands Infinity Pool for free! 
---
Let me know if you have been and can think of any other must dos that would fit in on your short Singapore stopover holiday, or maybe something a bit undiscovered that is not in your typical tourist guide to Singapore? If you have some more time  why not check out these
20 cool things to do in Singapore
or take a peak at these
Singapore hotel deals
– with basic hotels and guest houses to luxurious hotels, there is something for everyone in the Garden City!
Further Things To Consider Before Any Adventure
Now you're all set and prepared to explore our big wide world, why not sort out everything else out all in one go? If necessary for your travel plans make sure you have brought proper travel insurance, protected your privacy by getting a secure VPN, compared all the top hotel booking sites to find just what you're after, reserved an unbeatable rental car price and - of course - booked the best flight deals!
Or maybe just forget it all and go for a last minute cruise or effortless tour instead?
Many budget travelers (including me) indulge in worldwide airport lounge access, so we can experience luxury while still slumming it in economy. Naturally, we would never leave home without a more a more general travel guide since we couldn't possibly cover everything here!
Just add an adventurous attitude and plenty of smiles - they go a long way - and that about covers it all! Now go out, find your own path and don't forget to share your best inspiration stories with me on Facebook, Twitter, and Instagram...I'd love to hear from you!