In Finland, the choice of accommodation is more than a practical decision; it's an integral part of your experience. The best hotels in Finland don't just offer a place to rest; they provide a gateway to a Nordic wonderland that's as diverse as it is captivating.
Finland's allure lies in its contrasts. In bustling Helsinki, modern architecture stands alongside historical landmarks, offering a unique blend of old and new.
The design district teems with creativity, from cutting-edge fashion to innovative art galleries, while outdoor markets buzz with activity, providing a taste of traditional Finnish cuisine.
Venture north, and the landscape changes. Lapland's serene wilderness invites you to escape the everyday. Here, the Northern Lights dance across the sky, a natural spectacle that mesmerizes and enchants.
The silence of the snow-covered forests is a balm to the soul, and whether you're dog-sledding, skiing, or simply soaking in the tranquility, the magic of winter is all around.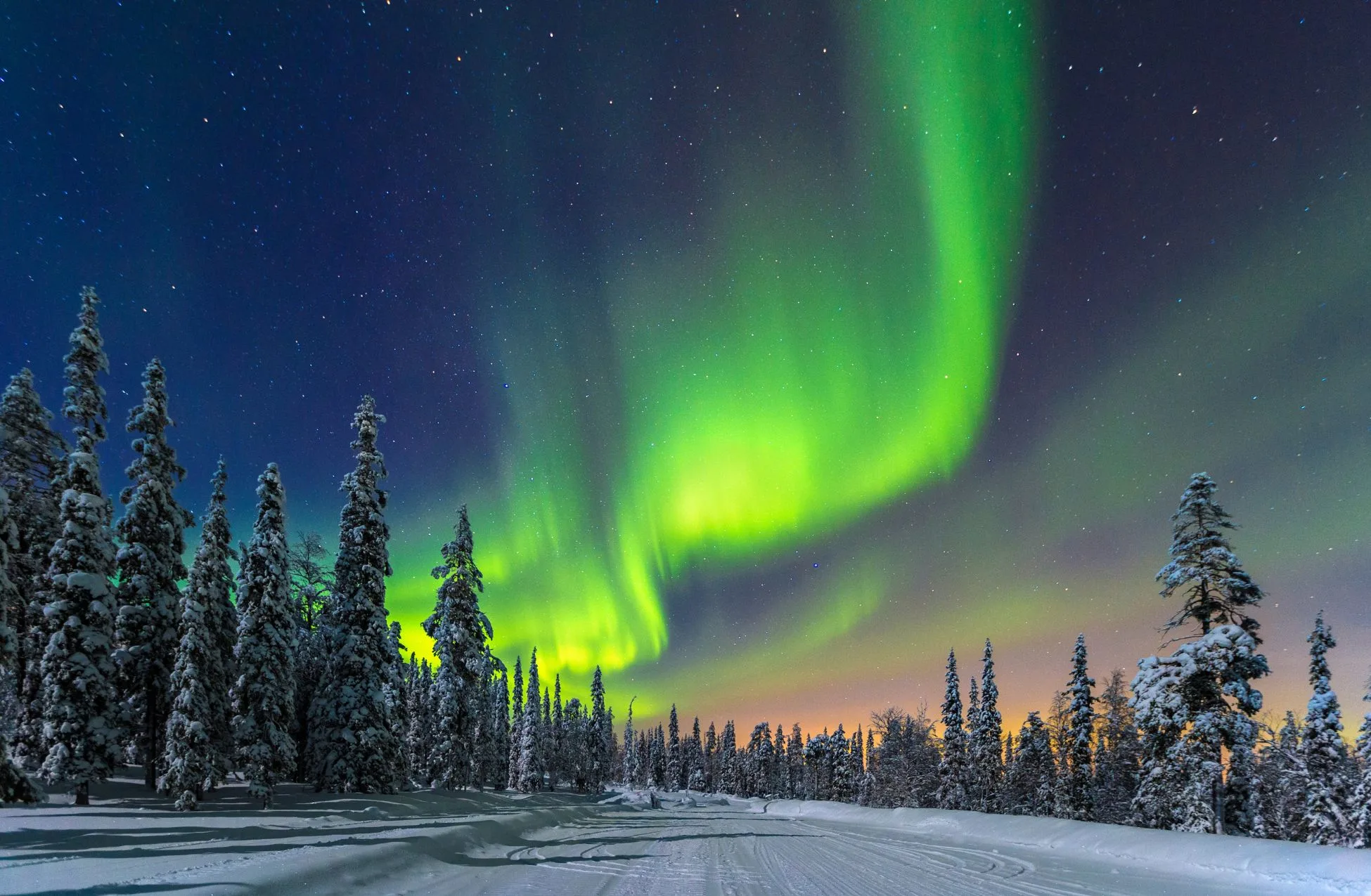 In the summer months, Finland's lakes and forests come alive. With endless daylight, the opportunities for adventure are boundless. Kayak across a mirrored lake, hike through lush green forests, or relax in a traditional sauna, feeling the gentle steam cleanse both body and mind.
Finland offers far more than its awe-inspiring nature. Its towns and cities effervesce with culture and history. Furthermore, while delving into this country's opulent cultural mosaic, make sure not to overlook the chance to engage in a plethora of things to do in Finland and delve into the local film scene.
Notably, this captivating nation has also served as the backdrop for an array of movies set in Finland, elegantly bringing its distinct allure to life on the silver screen.
Turku's medieval castle tells stories of a bygone era, while Tampere's industrial heritage is seen in its red-brick buildings now housing museums and restaurants. From coastal villages to bustling urban centers, there's a rich tapestry of life waiting to be explored.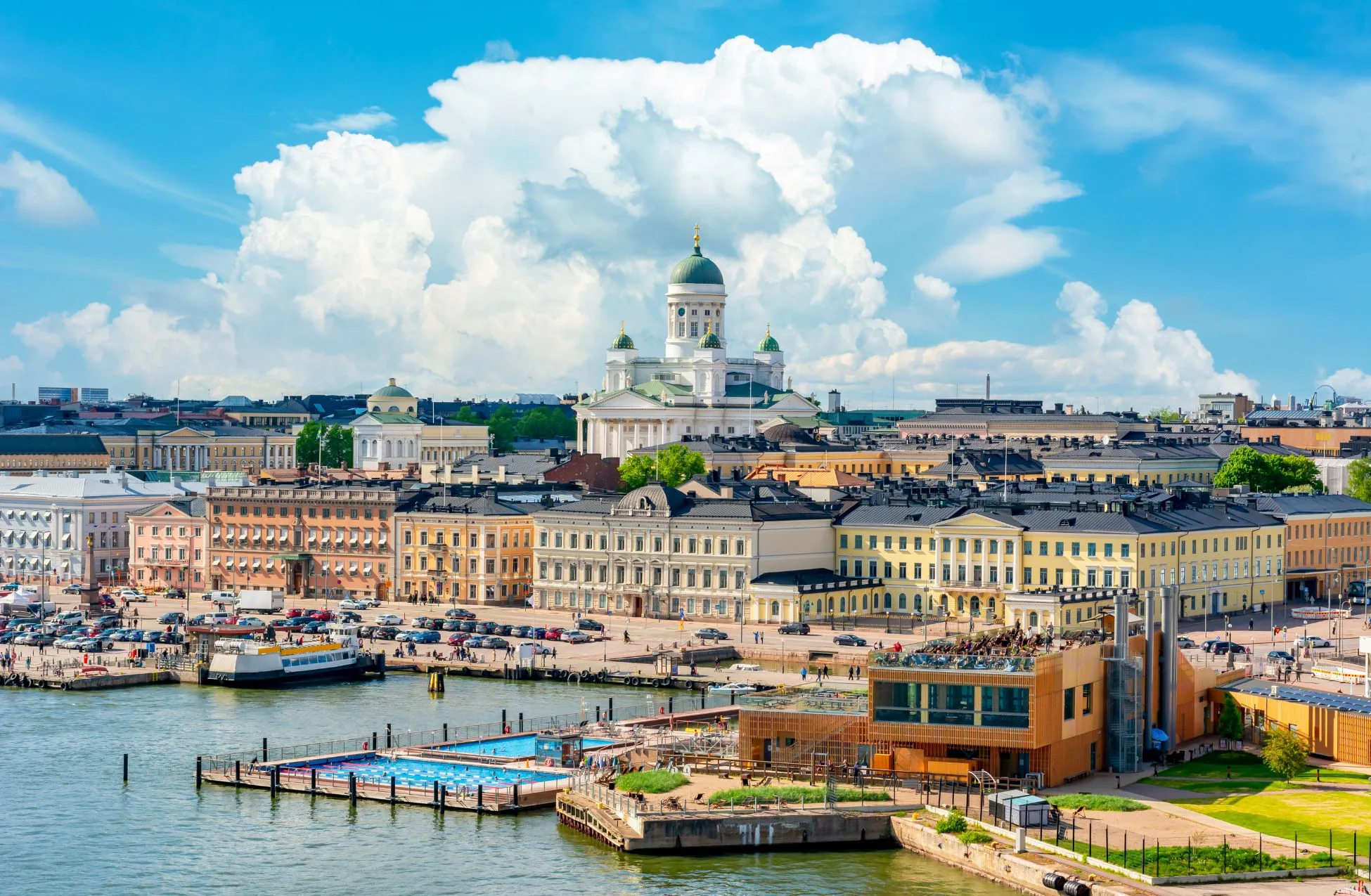 The right accommodation in Finland enhances all of these experiences. Staying in one of the best hotels means more than comfort and luxury; it means immersing yourself in the local culture and landscape. Whether it's a glass igloo under the stars, a chic city hotel, or a cozy cabin by the lake, the place you choose to stay becomes a part of your Finnish story.
Finland offers an embrace of unique experiences, from the thrill of winter sports to the charm of its vibrant cities. As you plan your journey, remember that where you stay will not only define your comfort but shape your adventure. Choose well, and let the best hotels in Finland be your guide to a land where enchantment lies around every corner.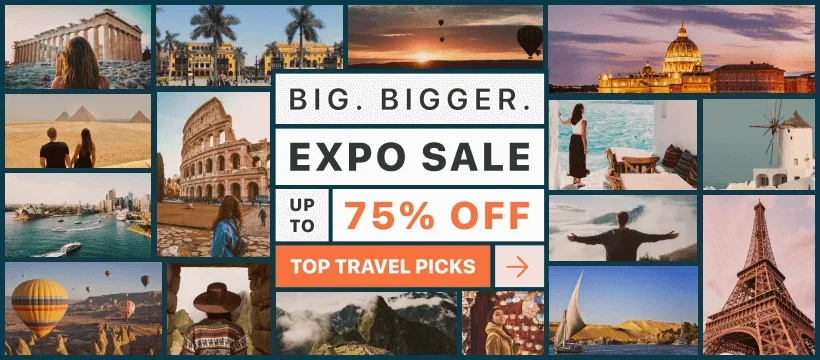 Best Luxury Hotels In Finland
Finland offers an exquisite selection of luxury accommodations, each providing top-notch service and world-class amenities. In Helsinki, your stay becomes unforgettable with hotels like Hotel Haven and Hotel Fabian.
For those looking to embark on Finland tours for unforgettable adventures, the country presents a myriad of opportunities to explore its captivating landscapes and engage in unique cultural experiences.
Hotel Haven is set near the south harbour, boasting a stylish design that attracts both travelling celebrities and those who appreciate premium services with homely touches. Lavishly furnished rooms provide free Wi-Fi, ensuring you stay connected during your visit.
In this haven, you can unwind with a drink at the elegant bar or dine in one of their on-site restaurants, offering a refined culinary experience.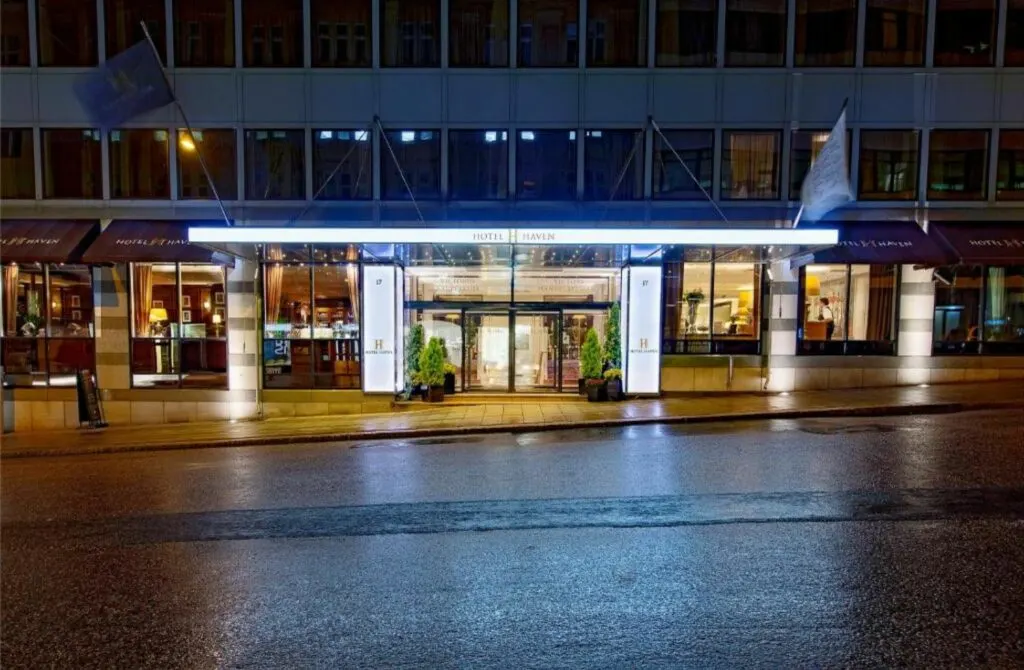 Hotel Fabian is another radiant gem in Helsinki, known for its warm, welcoming atmosphere and modern design. The spacious rooms provide all the comfort you desire, with plush amenities like free Wi-Fi and serene rain showers. Indulge in the hotel's excellent bar and restaurant options, where a mouthwatering meal or refreshing cocktail awaits.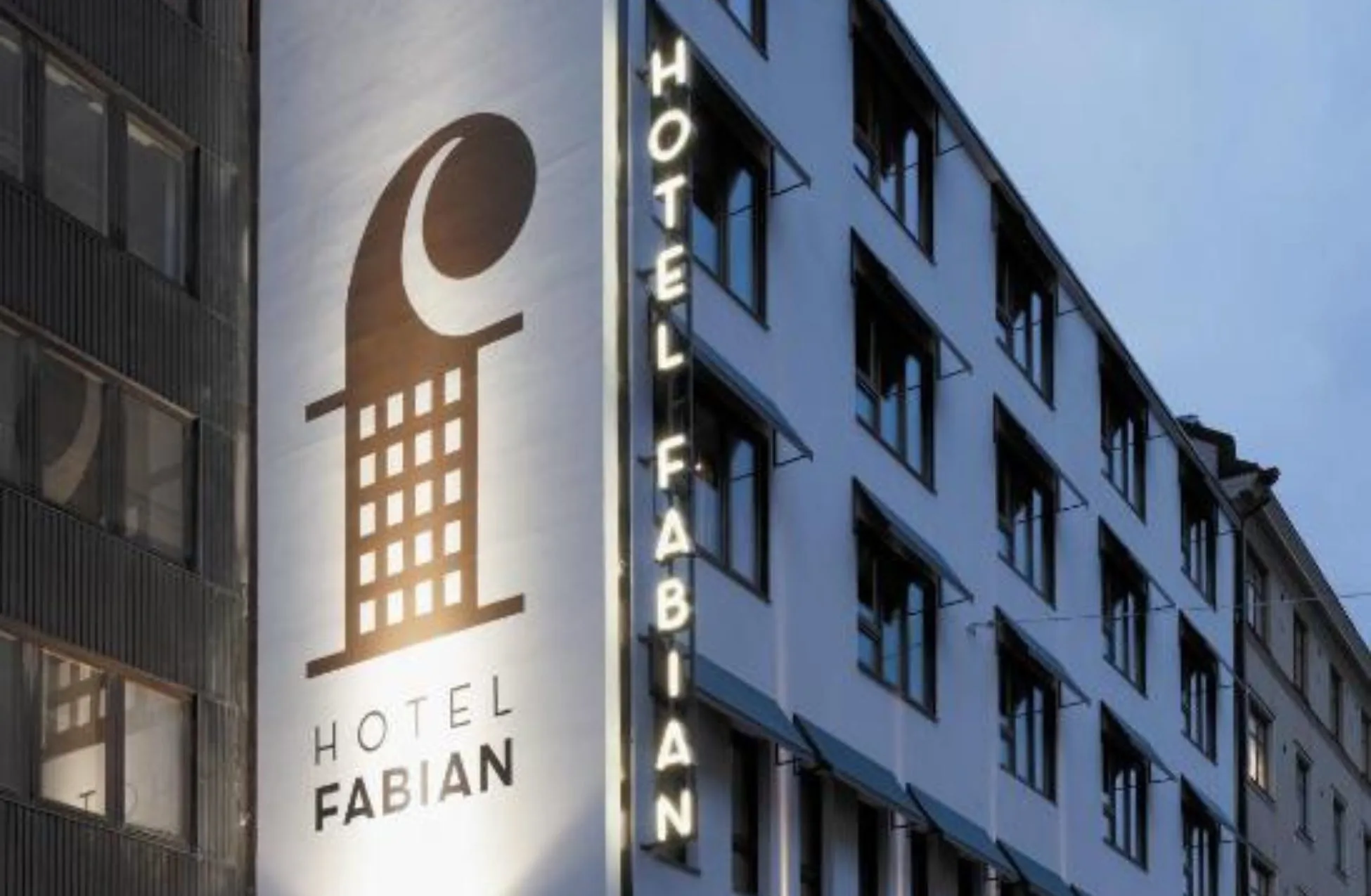 As you venture further into Finland, you may discover Hotel Lilla Roberts—an alluring accommodation situated in the heart of the capital. This marvelous establishment elegantly blends contemporary art with Finnish heritage, creating an atmosphere that is both stunning and intimate.
Among the lavish perks offered here, the luxury of a private sauna ensures your utmost relaxation, while the hotel's well-acclaimed restaurant and bar take care of your dining needs.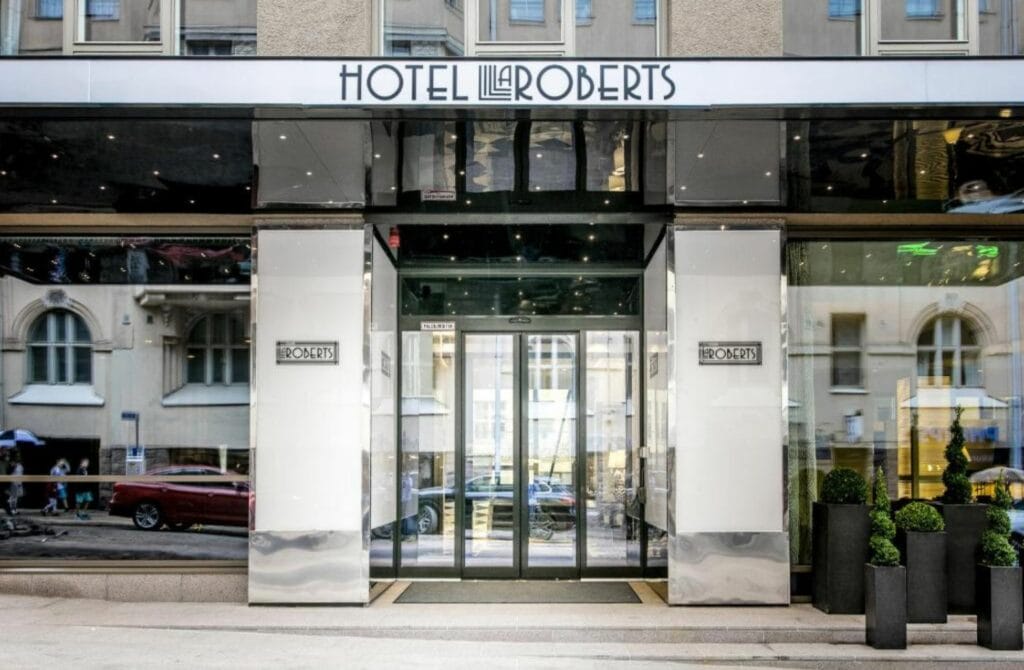 In Rovaniemi, the magic of staying in Arctic Light Hotel is unparalleled. This breathtaking hotel is located downtown and offers unparalleled luxury combined with exceptional design. Each room includes a cozy Arctic-themed interior, with complimentary Wi-Fi and modern amenities that will make your stay truly exceptional.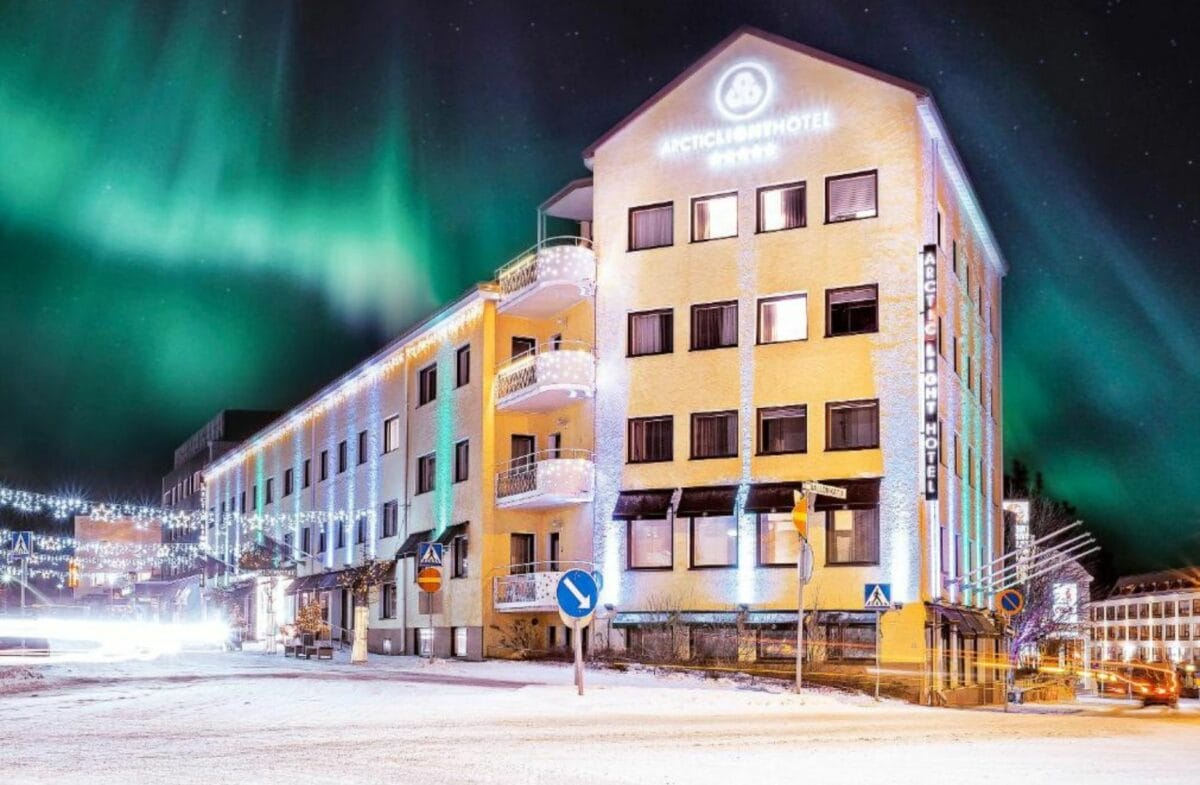 For those seeking a picturesque retreat closer to nature's wonders, Kittilä is home to Levi Spirit Villas. These luxurious villas are nestled amidst the pristine Lappish wilderness and offer the perfect space to unwind, with their own private saunas and remarkable views of the natural landscape.
This is a true haven for those who love the calm and peacefulness of nature, without compromising on luxury and comfort.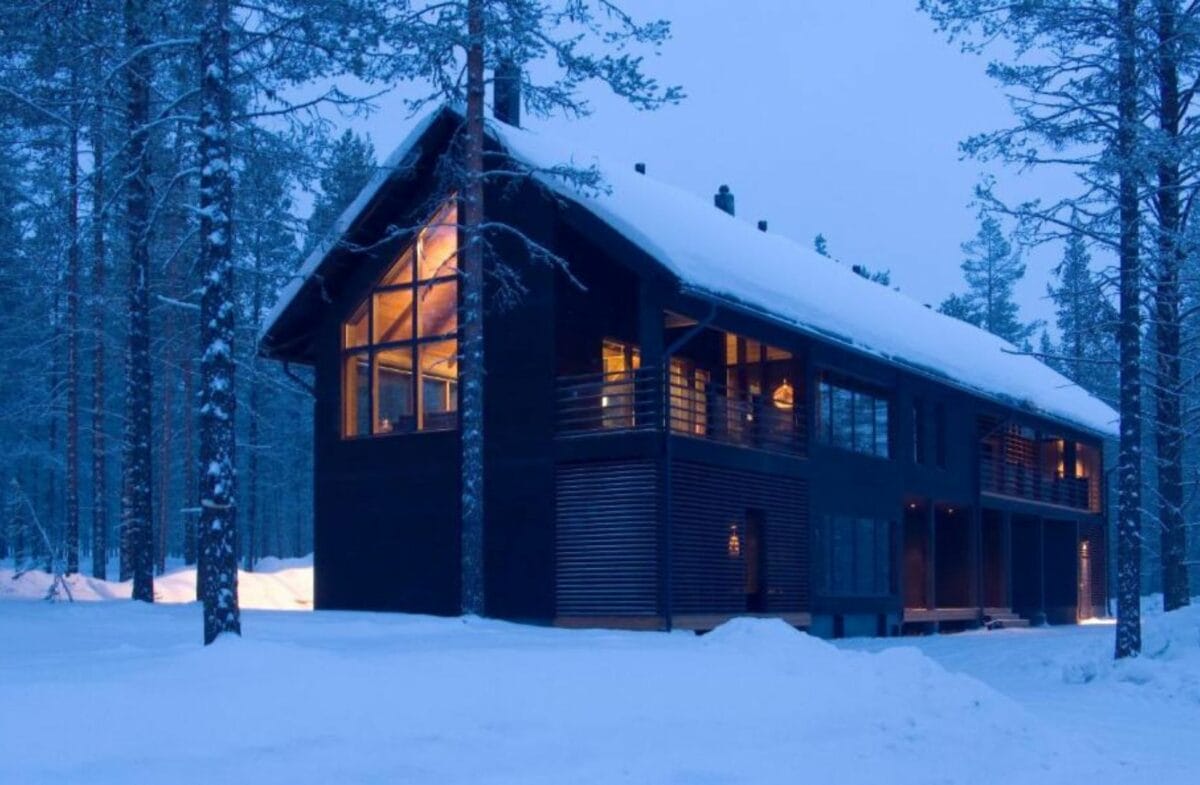 In Ylläs, Aurora Estate is another excellent choice for a sumptuous escape, surrounded by unspoiled Finnish nature. Beautifully designed rooms will envelop you in comfort, and the inviting atmosphere will make your stay an unforgettable experience.
It features a charming on-site restaurant and bar, which serves delectable local cuisine and ensures a memorable dining experience.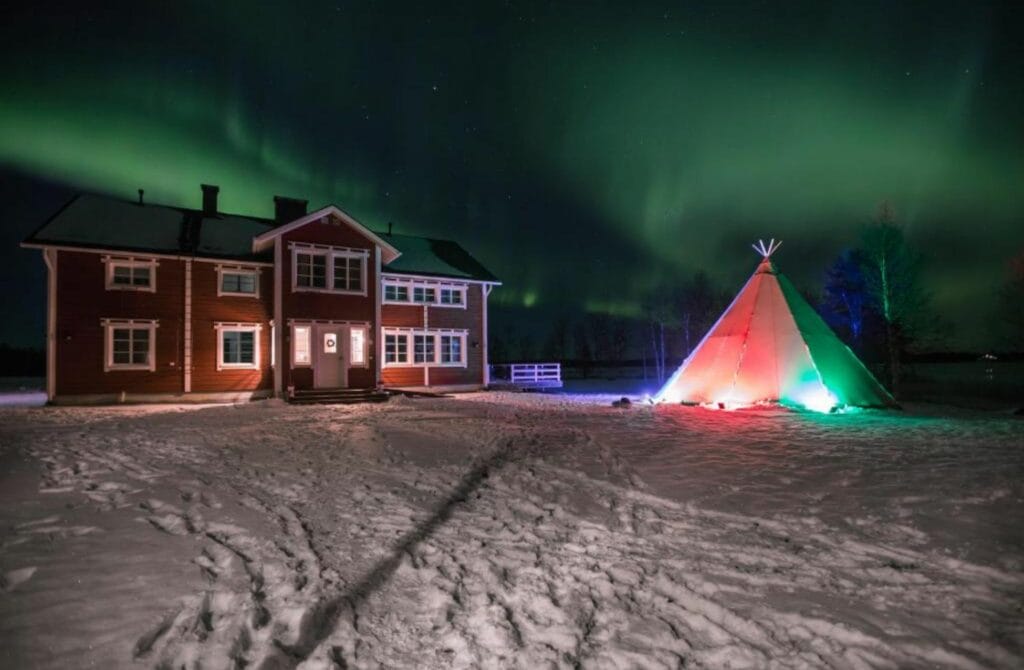 These luxury hotels in Finland each provide the perfect blend of modern facilities, captivating design, and authentic charm, making your stay a dazzling experience in comfort and style. So go ahead and pamper yourself while exploring this enchanting country.
Best Resort Hotels In Finland
When traveling to Finland, one of the first things on your mind is probably finding the perfect hotel to make your stay as enjoyable as possible. Luckily, Finland has no shortage of amazing resort hotels to suit every taste and desire.
From the snowy landscapes of Lapland to the bustling cities, these hotels offer top-notch amenities, beautiful design, and unique experiences you won't soon forget. Here are a few of the best resort hotels to consider for your next trip to Finland.
Kakslauttanen Arctic Resort is a magical destination located 250 kilometers north of the Arctic Circle, offering a spectacular view of the Northern Lights. World-renowned for its glass igloos, you'll be able to gaze at the dancing auroras from the comfort of your cozy bed.
This family-owned hotel also has access to exciting winter activities such as husky and reindeer safaris, snowmobiling, and cross-country skiing.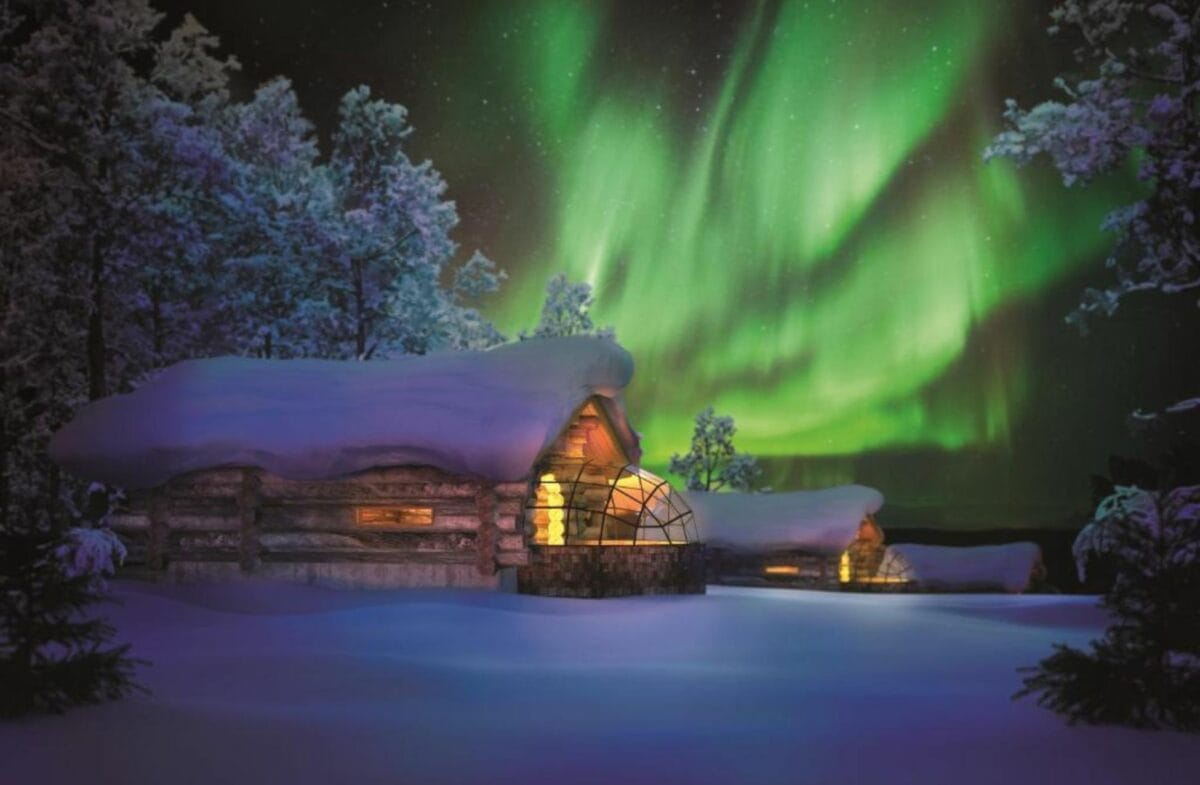 Another superb option in Lapland is the Arctic TreeHouse Hotel. These unique, cube-shaped suites provide unparalleled views of the surrounding Lappish forest and offer excellent Northern Lights viewing opportunities.
With free wifi and luxurious amenities, your stay here will be one of both relaxation and excitement as you explore the pristine wilderness of Finnish Lapland.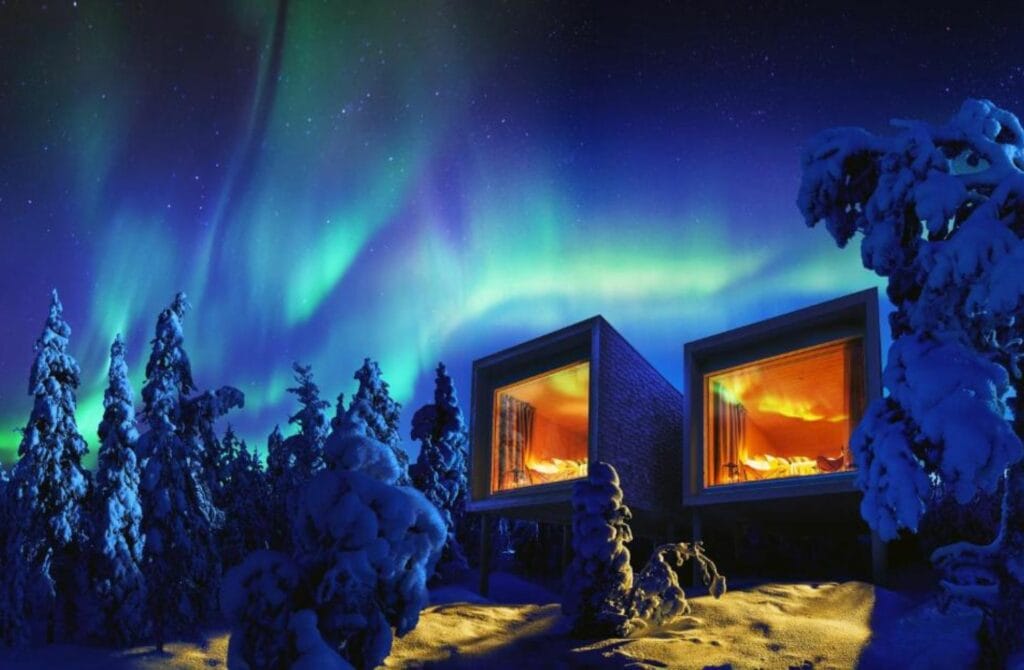 In the heart of Finnish Lapland lies the SnowCastle Of Kemi, a one-of-a-kind experience for travelers seeking a frozen wonderland. Each winter, the castle is rebuilt with a new design, showcasing magnificent ice sculptures and intricate snow art. The SnowHotel offers comfortable rooms with ice beds and warm sleeping bags, ensuring a cozy night's sleep.
This enchanting destination also includes an ice chapel, ice bar, and an exquisite fine-dining restaurant.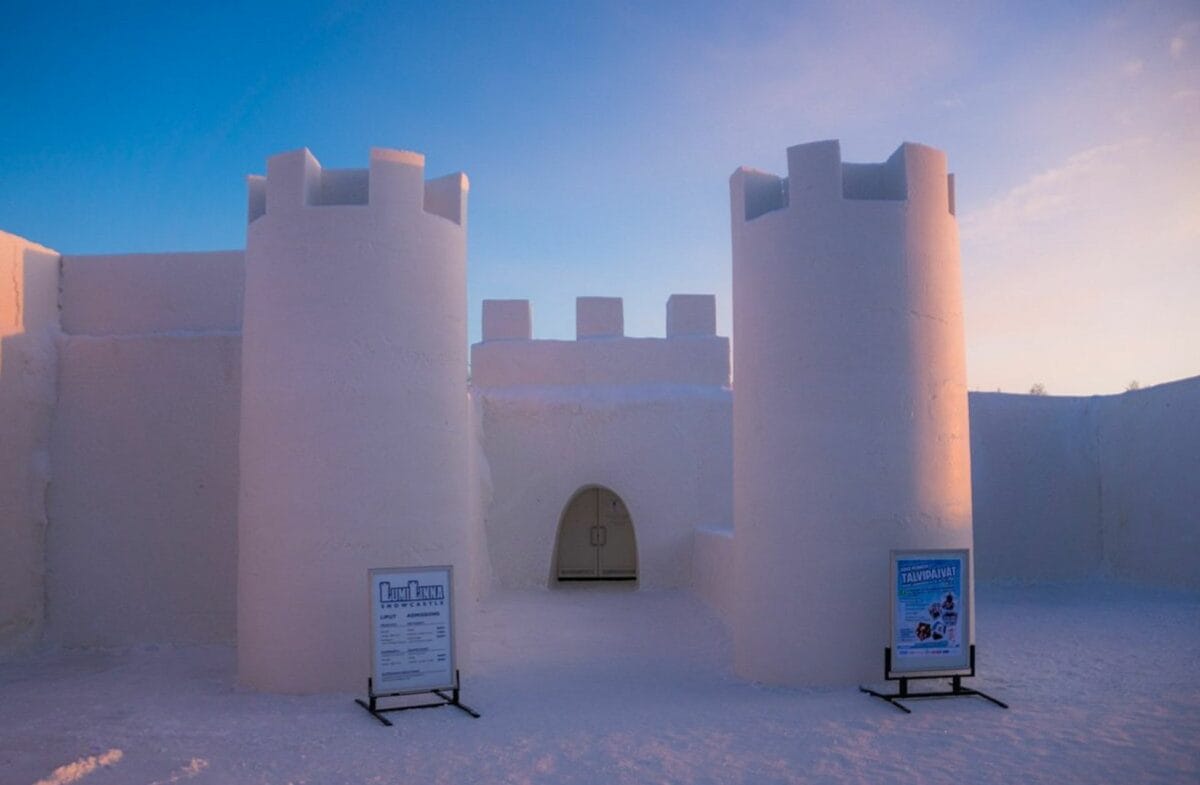 For a more traditional yet luxurious experience, consider the Hotel Kämp in the heart of Helsinki. This 5-star beauty boasts impressive history and timeless elegance since its establishment in 1887. It offers beautifully appointed rooms and suites with free wifi, plush bedding, and high-quality amenities.
Guests can also enjoy a rejuvenating spa experience, fine dining, and exclusive shopping in Helsinki's city center.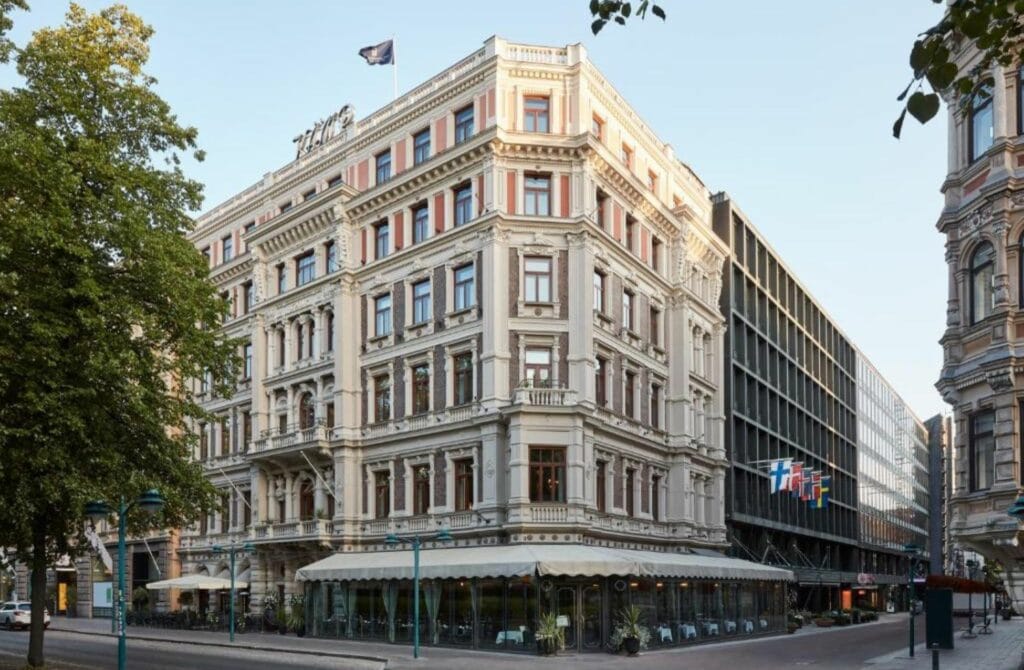 Nestled in the stunning woodland and lake region of eastern Finland, the Anttolanhovi Wellness Village provides a serene escape from the hustle and bustle of city life. With a focus on well-being, guests can indulge in spa treatments, take yoga classes, or simply soak up the tranquil natural beauty from their private cottage.
This expansive resort also offers various outdoor activities such as hiking, biking, and paddleboarding, making it an ideal destination for active travelers.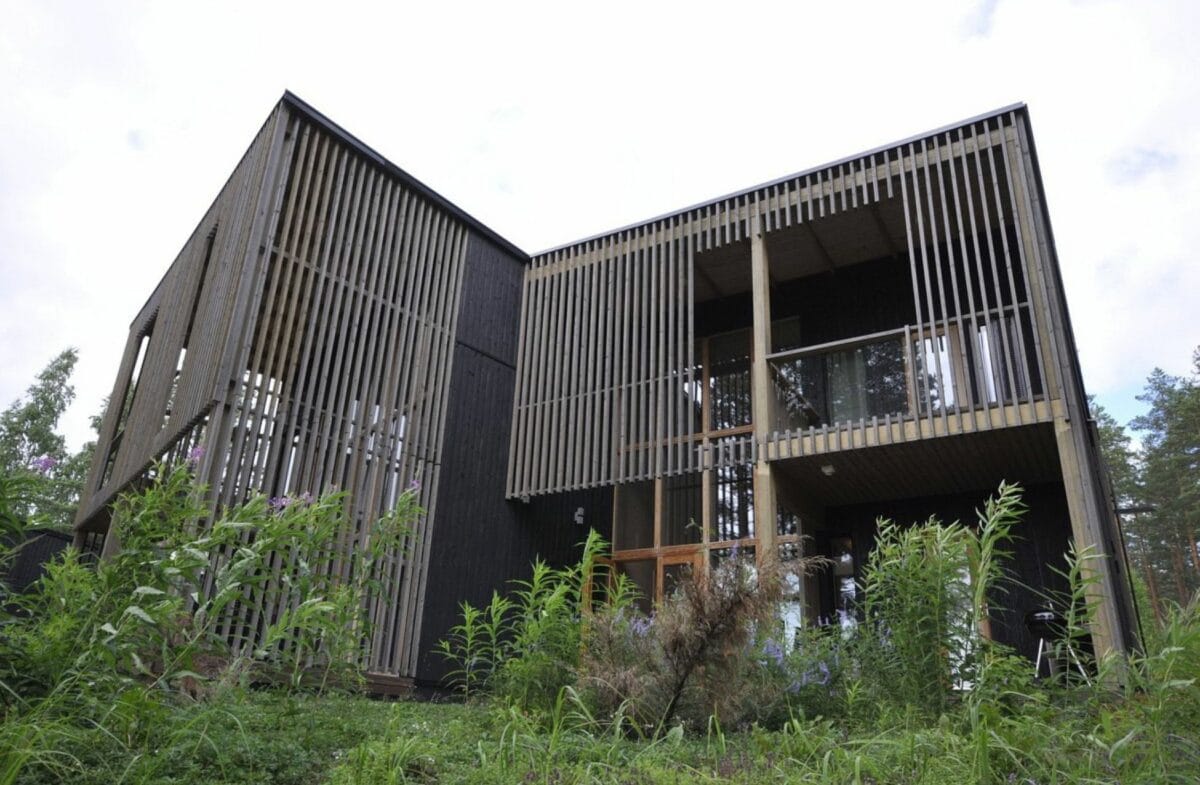 Finally, for those seeking adventure on the Finnish ski slopes, the Levi Panorama Hotel in the ski resort town of Levi is the perfect choice. With ski-in/ski-out access to the slopes, this 4-star hotel offers stylish and modern accommodations with breathtaking views of the surrounding mountains.
After a day of skiing or snowboarding, guests can indulge in the on-site spa or unwind with a delicious meal at the hotel restaurant.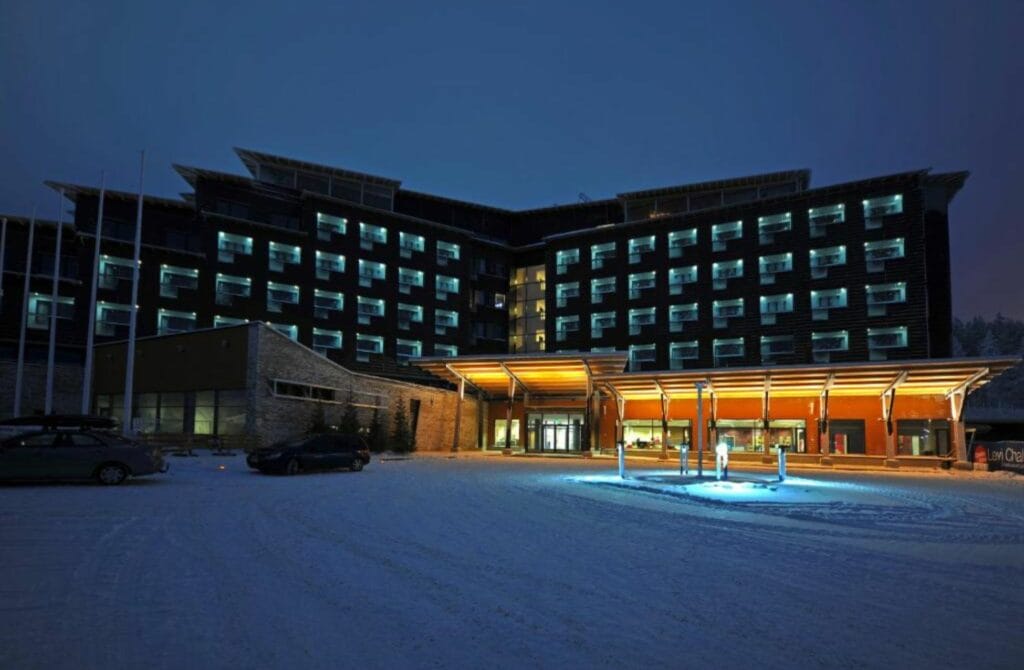 Each of these resort hotels possesses its distinct charm and caters to varying travel styles, all while providing world-class amenities and unforgettable experiences. When planning your trip to Finland, consider one of these remarkable hotels to make the most of your adventure in this beautiful Nordic country.
Best Eco Retreats In Finland
Imagine yourself surrounded by the pristine beauty of Finland, basking in the warmth of a cozy sauna or admiring the enchanting Northern Lights as they dance across the night sky. Delight in the luxuries of these eco-retreats dotted across the beautiful Finnish landscape, catering to the modern traveler in harmony with nature.
Haltia Lake Lodge is a gem nestled in Nuuksio National Park, just a 20-minute drive from Helsinki. This eco-friendly refuge is thoughtfully designed with wood and stone, adding a distinctly Nordic flavor to its already spectacular surroundings.
Immerse yourself in unique experiences such as a two-day kayaking safari, a guided spring birding trip, or even a snowstorm survival simulation.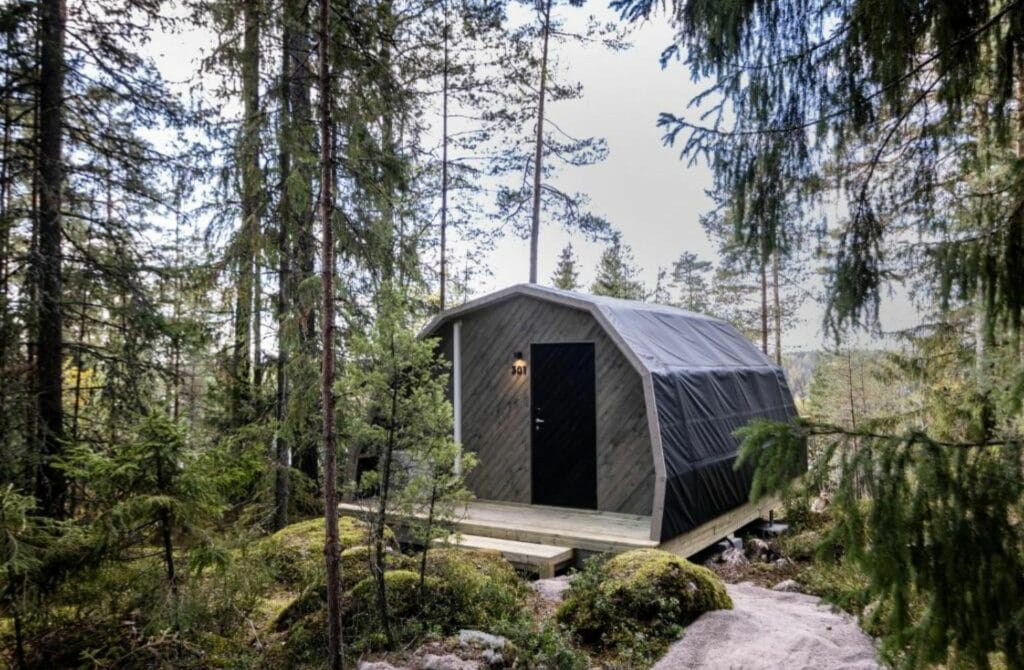 Another eco-friendly haven offering stunning river views and innovative design is Ollero Eco Lodge in Rovaniemi. An exquisite glass igloo puts you in the midst of nature while providing you the comforts of high-quality bedding and contemporary appointments.
The terrace, free private parking, and complimentary WiFi align with modern sensibilities, making Ollero the perfect blend of nature and contemporary luxuries.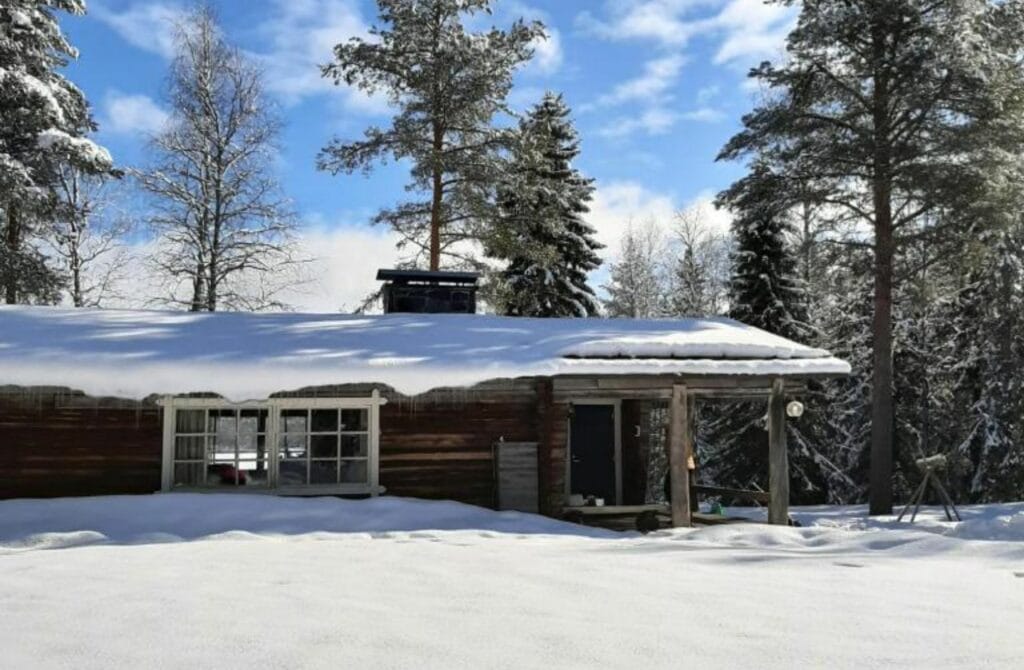 A visit to Hotel Haaga Central Park in Helsinki is a must for those looking to explore the city without departing from their dedication to sustainability. With comfortable rooms boasting calming, Nordic designs, a soothing spa area, and an indoor pool, Hotel Haaga lets you enjoy the tranquility of a retreat while having easy access to the bustling city life.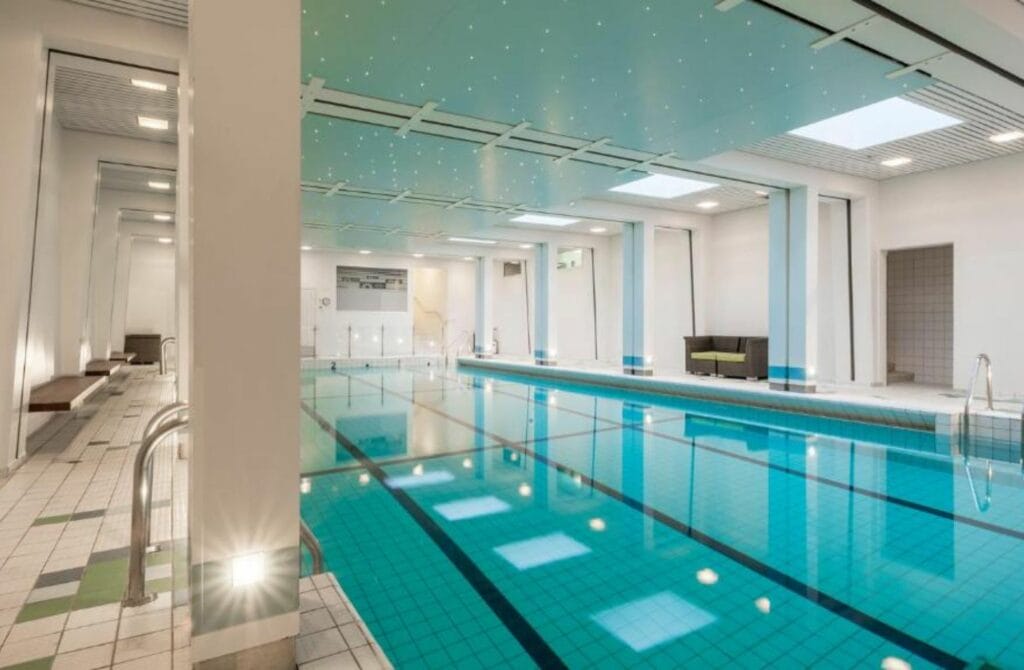 Further north, retreat to Hotel & Spa Resort Järvisydän, an eco-conscious resort offering all the delights of Finnish nature. Its log villas give you an authentic Finnish experience, complete with a private sauna.
The resort's the heart is a stunning spa based on Finnish mythology; immerse yourself in a sensual world, filled with relaxing spas, rejuvenating treatments, and captivating stories.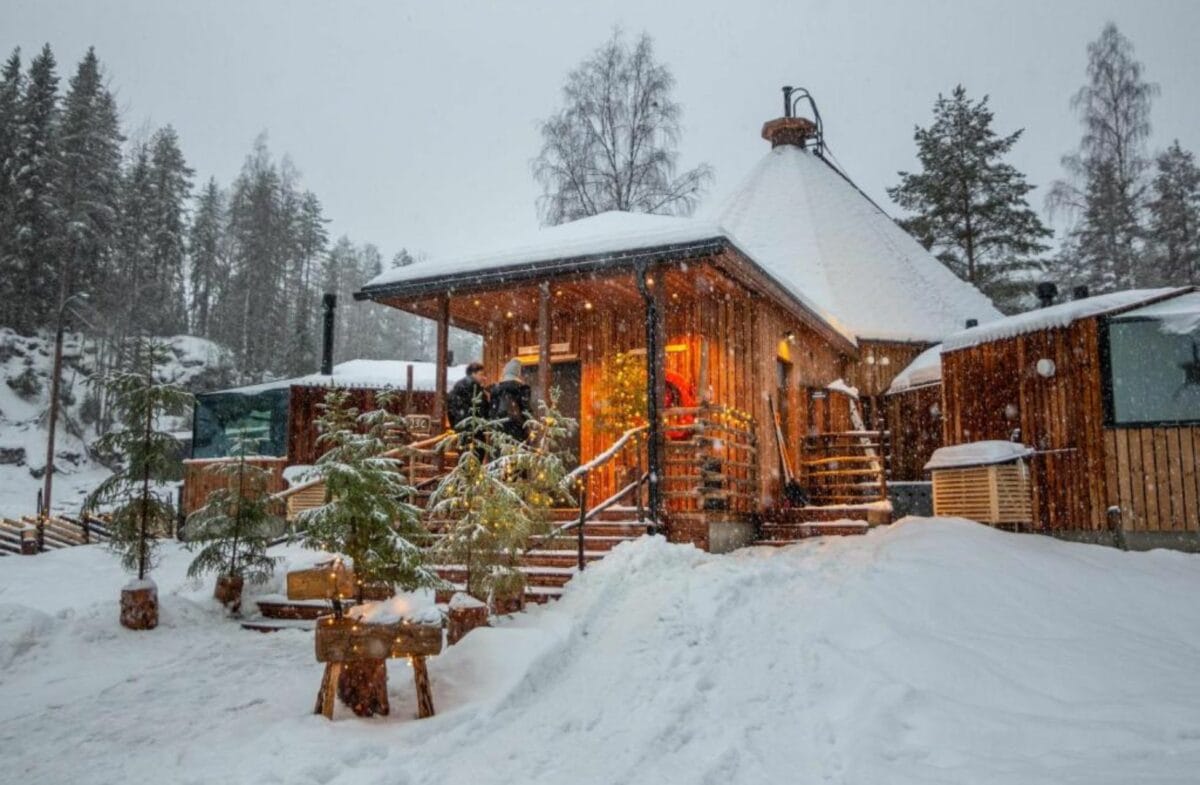 Remember that each of these best eco retreats in Finland awaits, ready to embrace you with their unique characteristics and luxurious amenities. So go ahead, indulge in an unforgettable Finnish adventure today.
Most Famous Hotels In Finland
Finland offers a plethora of remarkable hotels, each with its unique history, charm, and allure. Let's explore six of the most famous hotels in various locations across the country, perfect for a fantastic and unforgettable stay.
One noteworthy hotel worth considering is Hotel Katajanokka in Helsinki. This historical gem boasts exceptional design and comfort. Housed in a former prison, Hotel Katajanokka has transformed its unique structure into an exquisite boutique hotel.
Its services and amenities, such as the outstanding on-site restaurant and the serene private garden, blend seamlessly with the rich background, offering you a captivating experience.
Another marvelous choice is the Original Sokos Hotel in Rovaniemi, the gateway to Lapland. With its central location, this hotel is the perfect base for your Arctic adventures. After a day of exploring the enchanting Rovaniemi, retreat to your comfortable room, savoring the warmth of Finnish hospitality.
The impressive event facilities at the hotel cater to all your needs, making every moment memorable.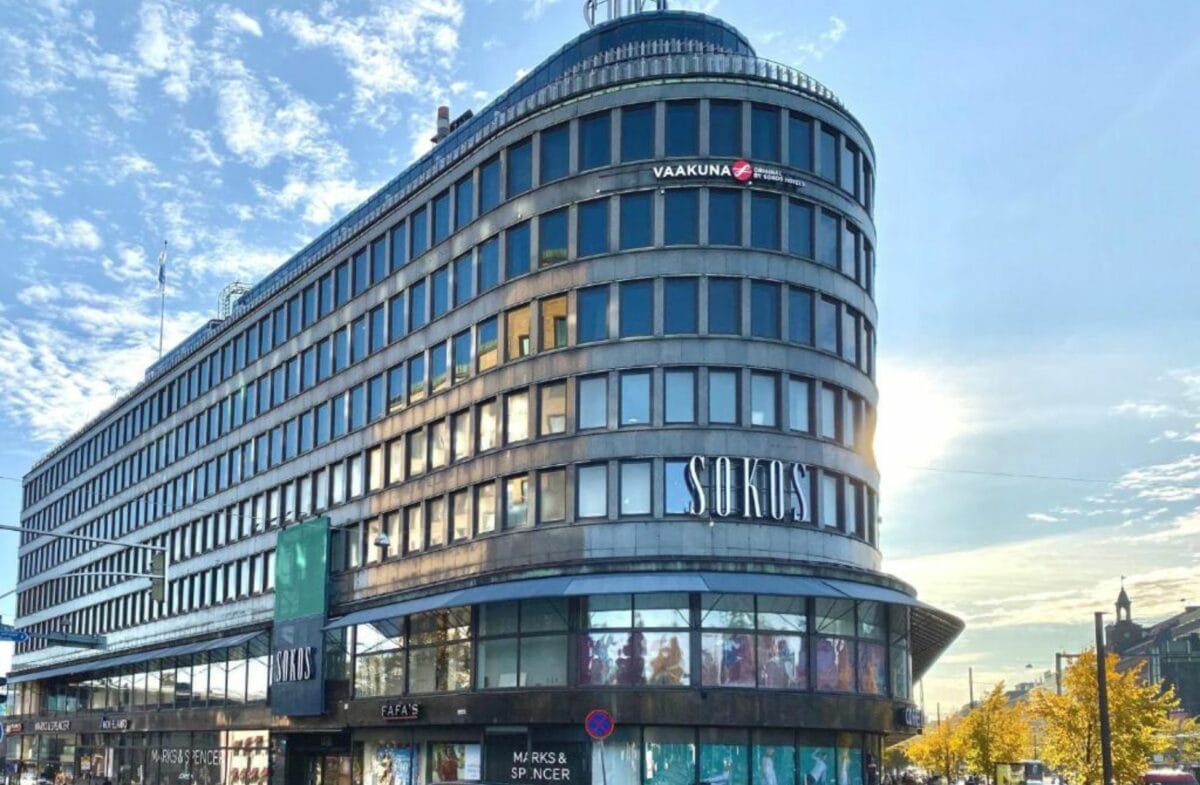 Venturing to Kittilä, you'll find Levi Hotel Spa, a haven for relaxation and rejuvenation. Nestled in the heart of Finnish Lapland, Levi Hotel Spa boasts an extensive spa and wellness center, offering a revitalizing experience amidst the pristine landscape.
The spacious rooms, top-notch restaurants, and exciting activities provide a well-rounded stay, ensuring you truly appreciate the magic of Finland's untamed beauty.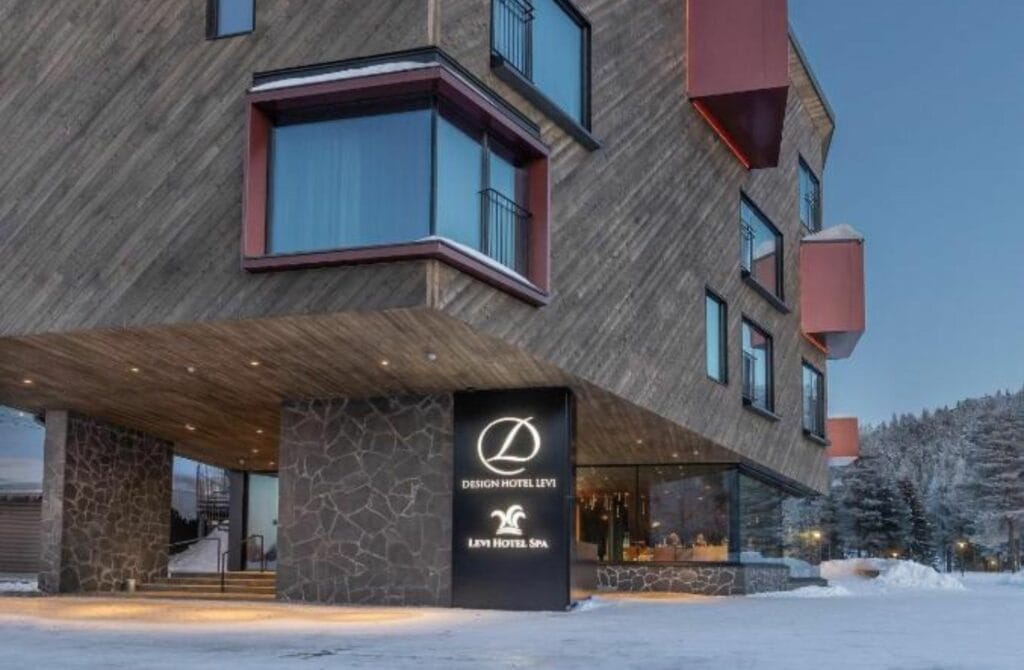 Finally, head to Vuokatti and immerse yourself in the beauty of nature at Vuokatin Aateli. These luxurious villas provide exceptional privacy and comfort in the midst of the picturesque Finnish forest. Fully equipped and exquisitely decorated, they offer a sense of home and a unique Finnish experience.
Enjoy the serenity as you explore the surrounding trails, indulge in spa treatments, and warm up by the fireplace.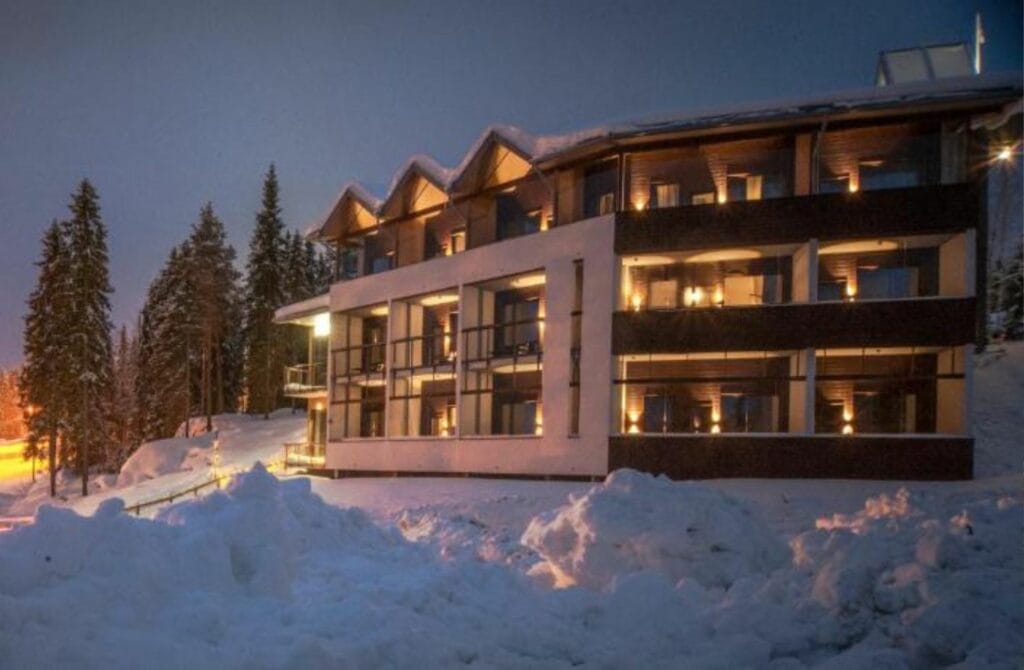 Each of these iconic Finnish hotels promises you an exceptional, unforgettable experience steeped in local culture, breathtaking landscapes, and luxurious amenities. All that's left for you to do is book your dreamed Finnish getaway!