Edinburgh has a lot to offer for both national and international filmmakers. The city is known for being one of the most beautiful in the world. It is also well known for its historic attractions and being a powerhouse for the arts and culture. So it will come as no surprise that there are so many wonderful movies set in Edinburgh.
Wherever you come from and whoever you are, Edinburgh has something for you. The magnificent capital of Scotland bridges both the old and the new, offering visitors from all over the world a whole array of beautiful things to see and captivating things to do.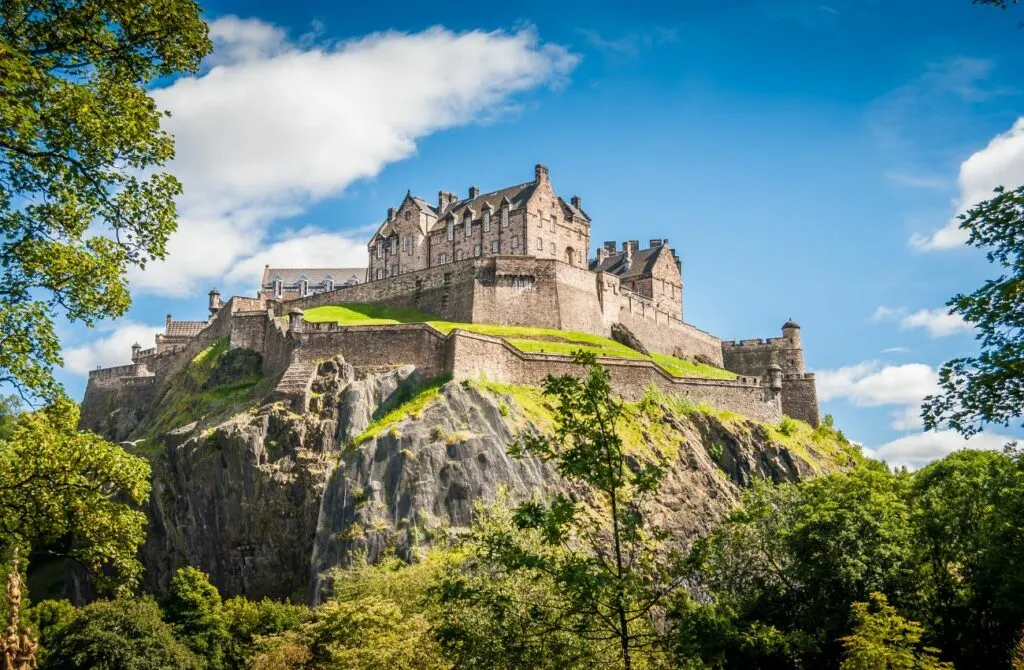 If you're a fan of medieval history, of the tales of brave knights and their wonderous adventures, Edinburgh's Old Town is the place for you. There you can lose yourself in its ancient streets and buildings, some of which date back centuries and centuries ago.
If you're more of a fan of the modern, the city's New Town will offer you that fun environment and buzzing nightlife that only the best cities in Europe have. And then there is the one-and-only EdFringe! Whatever it is, Edinburgh has something for you.
Even though the city has many great things to offer, it wasn't until a couple of years ago that it started to become a setting in movies. It wasn't until the massive hit that was Danny Boyle's Trainspotting in 1996 that the city became what it is.
Now, many filmmakers have gravitated to this charming town in order to set their fascinating stories: while some are big and epic, others are small and center on just a couple of Dunediners (people who come from Edinburgh).
These films set in Edinburgh have narratives that rely on their settings as much as their main protagonists, and as a result, spectators get a glimpse of this iconic city through the director's eyes. To honor the concept of cinematic travel, we have also assembled lists of our favorite films shot in some of our all-time favorite travel destinations: Dublin, Berlin, Toronto, Prague, Vermont and of course, Hollywood.
Wondering where to watch? It depends on where you live in the world and which streaming services you have. We link to the streaming service we watch on in each case - be it Netflix, Amazon Prime, Apple TV+, or elsewhere.
You can get one month free of Amazon Prime (or a 6-month trial for students) of Amazon Prime and also get immediate access to FREE Two Day shipping, Amazon Video, and Music. While you won't be charged for your free trial, you'll be upgraded to a paid membership plan automatically at the end of the trial period - though if you have already binged all these, you could just cancel before the trial ends.
Apple TV+ also has a one-week trial, and Hulu has a one-month trial (which can be bundled with Disney!). Another option might be using a VPN to access Netflix titles locked to other regions. Netflix is now available in more than 190 countries worldwide and each country has a different library and availability. US Netflix is (understandably) one of the best.
While we wish everything could just be in one place - for now, it seems these are the best streaming platforms to watch on.
If Trainspotting was the film to put Edinburgh on the map of mass media, Braveheart was the one to do so with Scotland. This amazing epic historical film stars Mel Gibson, who also took on the role of director, and will have you wanting to explore the Scottish Highlands yourself before the credits roll!
The film focuses on the character of Sir William Wallace, a historic Scottish warrior who fought during the last years of the 13th century for the independence of his country from British rule. One of the most interesting aspects of Wallace's story is that it came to be discovered in a poem by Blind Harry, a minstrel from the 1400s who recounted the spoken word story of this mighty warrior for future generations.
Braveheart is set at the end of the 13th century when the King of England (Patrick McGoohan) conquered the free lands of Scotland. As a young boy, William is forced to watch as the King executes both his father and brother for fighting against him in his conquest.
As a man, William has tried to live a quiet life away from the King's men. But when the love of his life, Murron (Catherine McCormack), is executed by English soldiers, he decides that he's had enough. Gathering a whole clan of Scots, William leads several raids against the men of the King.
The film will see Wallace forming an alliance with many unlikely allies. Chief among them is Isabella of France (Sophie Marceau), the King's daughter-in-law who first means to betray William but finally falls in love with him.
His quest to free Scotland will take him to medieval Edinburgh, where he'll be betrayed and finally captured by the English. However, his fight will live on, for his followers kept fighting and freed themselves of British rule.
Cloud Atlas may not be the first film one thinks about when it comes to movies set in Edinburgh. However, one of its many plotlines takes place in the old Scottish city.
It also is unique in that it offers one of the most interesting representations of the city in cinema so far. The particular way that the Wachowskis have of seeing the world reflects very strongly in every film they make, and it isn't different in the case of their portrayal of Edinburgh.
As said before, the film was made by The Wachowskis. This duo of transexual sisters has brought to the big screen some of the most interesting films ever made. Chief among them is, of course, The Matrix. But among them were also quiet classics like V for Vendetta or the Netflix series Sense8.
Cloud Atlas is perceived to be one of its biggest failures: it didn't manage to recoup the money invested in its budget and promotion. It also brought very divided opinions: while those who hated it couldn't say a good thing about the film, those who loved it could talk for hours about how good it was.
Cloud Atlas is an adaptation of a novel by the same name by sci-fi author David Mitchell. Like the book, the film tells a sprawling narrative that expands on six time periods where the same actors play different characters. This is the most controversial part of the film, so if you can look past it, you're in for a ride.
In these six eras the same "people" meet again and again through reincarnation, but each time their situation is different. There is a common throughline that has to do with which character has power over the other. Cloud Atlas explores the way that people treat others and whether people can change or not.
You may have not heard about this old British flick, but at the time of its release, it had much cultural impact, particularly around Scotland and Edinburgh. The Prime of Miss Jean Brodie is an adaptation of a novel of the same name that was released just a few years before by Muriel Spark.
The sudden success and praise for the book prompted filmmakers to make an adaptation. At that time, adaptations weren't as popular as today, although books were often used as inspiration for films. That's why the involvement of Jay Presson Allen as a writer was so important: this foundational female screenwriter was the perfect woman for the job of adapting a book like this.
Set in 1930s Edinburgh, the film follows Jean Brodie (Maggie Smith), a teacher at an all-girls school who is always trying to break the mold and be an inspiring figure for the young girls that study there. There is a particular group of girls which come to be called "the Brodie Set".
These four are Ms. Brodie's favorite students and she dedicates much of her attention to teaching them to make them rise above the others. The Brodie Set (Jenny, Mary, Monica, and Sandy) are the protagonist of the movie just as much as Ms. Brodie is.
The Prime of Miss Jean Brodie will see Ms. Brodie falling in love with the church's master of the choir, Mr. Lowther. When she starts to get all the things she wants in life, Ms. Brodie falls from her prime as a rumor spread by one of her favorite students makes her lose her boyfriend and most of her relationships.
As she tries to move on with her life, the members of the Brodie Set grow old and inherit the ideals that Ms. Brodie taught them, each in their own way.
When it was released back in 1981, Chariots of Fire became one of the most important British movies ever made. In part, it was due to how well-made it was: every shot, every scene, and every musical note seemed to be perfectly crafted for the part it was intended to play.
But it was also greatly praised for the fact that it brought such an inspiring true story to the big screen. Chariots of Fire was nominated for tons of awards from all over the world. Most notably, it won four Academy Awards and three British Academy Awards.
The film follows the events previous to the 1924 Olympics that were held in Paris, focusing on the experiences of the two British runners who trained for years in order to take part in this momentous event.
One of these runners was Harold Abrahams (Ben Cross), a Jewish man living in London who had to deal with much-unbridled hatred towards his ethnicity all through his life, but especially on the track. The other one was Eric Liddell (Ian Charleson), a Scot born while his parents were on a Catholic mission in China, but now living in Edinburgh, who plans to win the competition in order to honor God.
Plenty of scenes show Liddell training around the city of Edinburgh, showing what the place looked like back in the eighties.
The two athletes meet again and again on the track, with their first encounter being won by Liddell, but the second one by Abrahams. When the time for the big event comes, it turns out that the two of them won't be competing against each other. Instead, they'll each have to best the well-prepared American teams. Being set on their goals, they finally can achieve what they trained so hard for.
With much lower stakes and a smaller scale comes Hallam Foe, a charming coming-of-age drama that was well met by audiences and critics. An adaptation of Peter Jinks's first and only novel, Hallam Foe was directed by David Mackenzie, a very important Scottish filmmaker who you may be familiar with due to his critically acclaimed 2016 film Hell or High Water.
During most of his career, Mackenzie has tried to bring understated and unpopular books to the big screen, particularly those that come from his home country. And Hallam Foe is a perfect example of that trend in his work.
The film tells the story of Hallam (Jamie Bell) a young outsider who is slowly pushed away from his home in the Irish countryside. After his mother dies mysteriously and his sister leaves for college, Hallan has to deal with his distant father and manipulative stepmother (Claire Forlani).
When the woman seduces him and then blackmails him into leaving, Hallam departs for Edinburgh. It's in that city where his future shines brighter: he meets a cool girl (Sophia Myles) who gets him a job in the famous Balmoral Hotel in the center of Edinburgh. He even makes friends with the other hotel workers.
The film will see Hallam confronting the darkest parts of his soul: from the past that he's not willing to let go of as well as the things that he does know that they are wrong. Hallam Foe is a very unique coming-of-age in that it tells the story of a perturbed teenager who has to learn how to be normal.
It's a captivating experience, a testament to the interesting artistic voices that one kind finds in the city of Edinburgh.
Like the seminal film Trainspotting, this one is also based on one of Irvine Welsh's best novels. Filth is a film that was thoroughly influenced by the tone and filmmaking behind Trainspotting. And it's great.
Writer and director Jon S. Baird, who until then had worked on shows for BBC Television, did a great job at bringing Welsh's novel to life without sacrificing any of the elements that make it its own thing.
Filth follows Bruce Robertson (James McAvoy), a drug-addicted and bad-mannered detective in the Edinburgh police force. While he obtained the rank of Detective Sergeant due to his skills as a policeman, since then he's spent more time bullying people who he doesn't like than doing actual police work.
There is only one little ray of sunshine through the "filth" that it's his life: that of Mary and her son, a widow whose husband he failed to save. The film will see him trying to solve a crime as he deals with severe hallucinations caused by his unregulated medication.
Little by little the viewer will get to see what made Detective Robertson the way he is, but there are no easy answers in this film. Filth will be a hilarious ride for anyone who loves black comedies.
While Burke and Hare have a very different tone than Filth, this film is also considered to be a black comedy. For once, the subject matter is very grim: Burke and Hare were two serial killers that stalked the streets of Edinburgh in 1828.
There is an ironic twist in the true story, however, that surely was the inspiration for this film. These two murderers had an agreement with supposedly-respectable anatomist Robert Knox, who bought the dead bodies in order to use them during his lectures.
Set during the time of the real-life killings, the film follows Burke (Simon Pegg) and Hare (Andy Serkis) as they try to scam their way out of poverty. One night, they are asked to remove a corpse from an inn.
As they are doing the deed, someone tells them that they could sell him to Dr. Knox, who is always on the look for more cadavers. Realizing that they could make a lot of money from this, they use the weirdest of methods to obtain a corpse. They never kill a single person.
Burk and Hare marks the return to the big screen of legendary comedic director John Landis. The man behind such classics as The Blues Brothers and National Lampoon's Animal House brings back his A-game and shows that he's still got it.
From the talented and versatile Scottish director Michael Caton-Jones comes this coming-of-age that's half comedy and half drama. The film is based on the 1998 novel "The Sopranos", by Alan Warner, which was also adapted into a theater play.
While not the most technically or artistically daring film, Our Ladies is a fun comedy with a modern spirit that will show you some cool spots one can find around the city of Edinburgh along the way.
Set in 1996, the film follows five girlfriends who are tired of living in a tiny Scottish town and constantly being watched by the nuns at their Catholic school. When the opportunity to travel to Edinburgh arises, the girls don't even hesitate and join in on the choir's day trip.
Their adventure will take them to some of the most beautiful places that the city has to offer, as well as some of its worst. While they won't regret their experience there, they'll return to their school much wiser and calmer than before.
The best part of the film is, without a doubt, the five girls. Each one of the actresses does a splendid job at portraying their teenage rebelliousness while never being too obvious about it.
Director Lone Scherfig has brought many wonderful romantic dramas to the big screen, including An Education, for which she earned an Academy Award nomination. However, among her films, none hits as hard and is as touching as One Day.
Perhaps it has to do with the fact that she collaborated with David Nicholls for the making of this film. He's both a novelist and a screenwriter whose work tends to deal with how hard it's to love someone else when we don't love them, and other similar romantic yet dramatic themes.
It wouldn't be controversial to say that One Day, both the book and the film (he wrote both), are Nicholls's best work.
One Day follows two college classmates who have just graduated from the University of Edinburgh. On the eve the 1988's St. Swithin's day, find themselves spending the night together. This isn't your typical romcom night together, however. The two of them don't have sex, they just talk and cuddle.
After this enjoyable but awkward night, they decided to be friends. The film catches up with them during several St. Swithin's days throughout the years.
We get to see Emma's (Anne Hathaway) struggles as she tries to find a stable relationship and achieve her dream of becoming a writer. We also see Dexter's (Jim Sturgess) rise to fame as a famous TV presenter, as well as his fall when he becomes a cocaine addict.
The film will have them fight and make up throughout the years, constantly longing for a time when they can finally be together. In the end, the film goes back to where it all began, the charming city of Edinburgh. It's a beautiful ending that perfectly captures the changes that the characters have gone through.
What better way to finish off this list than with the movie that began it all. This influenced a new wave of locally produced films by and for Dunediners. It discovered Edinburgh to the world and made it a popular destination for cheerful tourists and bohemian artists alike.
Trainspotting is Danny Boyle's masterpiece. A thrilling film that's every bit a comedy as it is a drama. No critical reception could've predicted the influence that this movie would have, so when it was nominated for its screenplay, one could only be disappointed that it didn't receive praise in other categories.
For those who still haven't had a chance to watch Trainspotting, you should know that it's an adaptation of Scottish writing-extraordinaire Irvine Welsh's novel of the same name. Both the book and the film follow a character by the name of Mark Renton (Ewan McGregor).
He's a young adult with no job and a heroin addiction. While his friends, drug addicts and drug-free, are always there for him, Renton wants something different from life. That's why he decides to quit heroin, locking himself up in a room until the withdrawal period fades away.
Trainspotting will see him trying to become a part of normal society to no avail.
After a long silence regarding the fate of the Scottish gang, in 2017 Boyle returned to the streets of Edinburgh to direct a sequel: T2 Trainspotting. If you find that the first movie leaves you wanting more, you'll be able to dive back into the lives of these colorful characters and catch up with what they've been up to for this last twenty years.
Like all great sequels, T2 Trainspotting features the return of the original cast, who give their all in this amazing return to form from Boyle.
Staying Connected While Travelling
In today's increasingly connected world, staying online while traveling has become essential for a seamless experience. That's where eSIMs come into play, revolutionizing the way we access mobile networks during our global adventures. Say goodbye to hunting down local SIM cards at the airport; eSIMs provide instant activation the moment you land, sparing you the fortune usually spent on international roaming and allowing you to genuinely travel like a local (without getting hopelessly lost!).
With eSIMs, tasks like restaurant recommendations and reservations, up-to-the-minute public transport instructions, checking opening hours, and accessing further information become a breeze. And, of course, sharing your journey on social media is easier than ever. To stay connected wherever you roam, consider using either Airalo or Holafly. Airalo boasts the most extensive range of destinations worldwide, offering smaller data bundles tailored to your needs, while Holafly provides unlimited data packages and fantastic EU data deals.
So why wait? Embrace the future of travel connectivity with eSIMs and make your next journey effortlessly smooth.
Further Things To Consider Before Any Adventure
Now you're all set and prepared to explore our big wide world, why not sort out everything else out all in one go? If necessary for your travel plans make sure you have brought proper travel insurance, protected your privacy by getting a secure VPN, compared all the top hotel booking sites to find just what you're after, reserved an unbeatable rental car price and - of course - booked the best flight deals!
Or maybe just forget it all and go for a last-minute cruise or effortless tour instead?
Many budget travelers (including me) indulge in worldwide airport lounge access, so we can experience luxury while still slumming it in economy. Naturally, we would never leave home without a more general travel guide since we couldn't possibly cover everything here!
Just add an adventurous attitude and plenty of smiles - they go a long way - and that about covers it all! Now go out, find your own path and don't forget to share your best inspiration stories with me on Facebook, Twitter, and Instagram...I'd love to hear from you!