Berlin has a lot to offer for both national and international filmmakers. The city has fabulous modern cityscapes, as well as striking historical architecture. It is also well known for its vibrant cultural scene. So it will come as no surprise that there are so many wonderful movies set in Berlin.
Berlin is a city full of history. For this reason, the movies on this list are set in a variety of time periods: the Nazi regime, the Cold War, and the reunification period are all depicted in these stories. As the world and the country of Germany changed, so did the city of Berlin.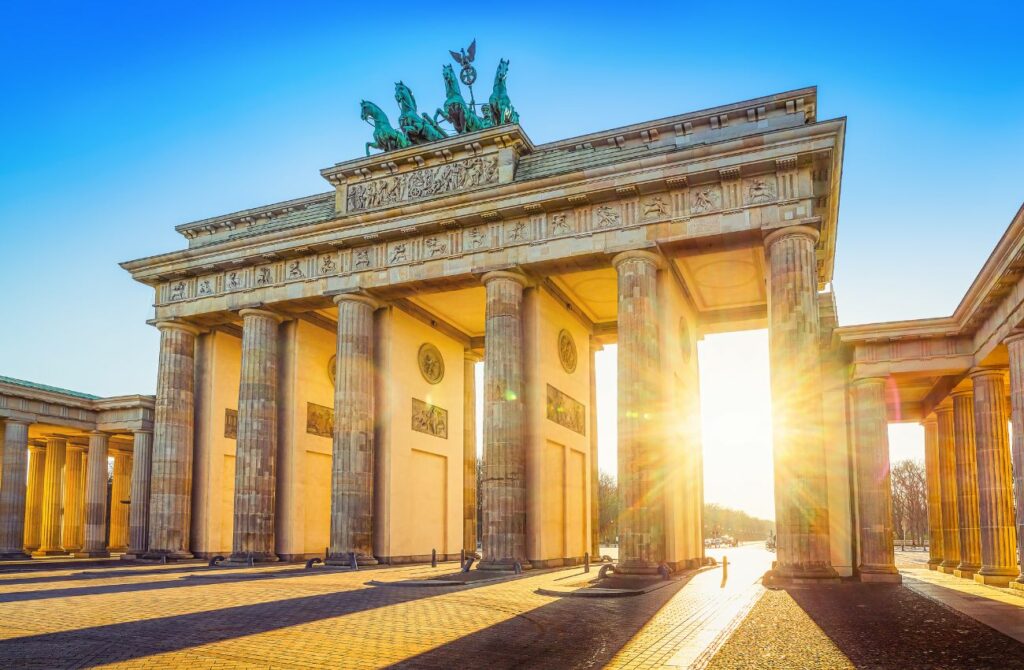 In the following films, we will find many different architectonical styles, monuments honoring diverse historical figures, and emblematic landscapes, where important political and social events took place.
Ranging from dramas to comedies to spy thrillers, films set in Berlin seem to offer something for everyone's taste. Whether you are looking for inspiration before your trip or want to travel through the power of images, we have gathered the best movies to watch for all Berlin enthusiasts in the following paragraphs. If they are not quite enough we also have a separate list of the best German films for you to binge-watch…
These films set in Berlin have narratives that rely on their settings as much as their main protagonists, and as a result, spectators get a glimpse of this iconic city through the director's eyes. To honor the concept of cinematic travel, we have also assembled lists of our favorite films shot in some of our all-time favorite travel destinations: Edinburgh, Dublin, Toronto, Prague, Vermont and of course, Hollywood.
Wondering where to watch? It depends on where you live in the world and which streaming services you have. We link to the streaming service we watch on in each case - be it Netflix, Amazon Prime, Apple TV+, or elsewhere.
You can get one month free of Amazon Prime (or a 6-month trial for students) of Amazon Prime and also get immediate access to FREE Two Day shipping, Amazon Video, and Music. While you won't be charged for your free trial, you'll be upgraded to a paid membership plan automatically at the end of the trial period - though if you have already binged all these, you could just cancel before the trial ends.
Apple TV+ also has a one-week trial, and Hulu has a one-month trial (which can be bundled with Disney!). Another option might be using a VPN to access Netflix titles locked to other regions. Netflix is now available in more than 190 countries worldwide and each country has a different library and availability. US Netflix is (understandably) one of the best.
While we wish everything could just be in one place - for now, it seems these are the best streaming platforms to watch on.
Based on the graphic novel The Coldest City¸ Atomic Blonde is an action thriller film, directed by David Leicht. Leicht had previously co-directed John Wick (2014), but Atomic Blonde is his first solo work. He was specifically requested as the director by Charlize Theron, who stars in the film as Lorraine Broughton, the atomic blonde in question.
Right before the Wall fell, on November 1989, an MI6 agent is murdered by a KGB agent called Yuri Bakhtin, who steals "The List". The List is a microfilm document hidden in a watch containing all of the agents' names, from the MI6 and the KGB.
Lorraine is then sent to Berlin to retrieve the document; however, she must deal with Satchel (played by James McAvoy), a chaotic double agent who's been a nuisance to the agency for years. In her quest to retrieve the List, Lorraine might get more than she bargained for when she begins a romantic affair with a rookie agent.
The film displays many iconic buildings in Berlin, such as the Kaiser Wilhelm Memorial Church. One of the agents is seen smoking outside this beautiful building, before going to a watch shop down the street. The Church is nicknamed the Hollow Tooth due to its peculiar shape.
It was originally built in the nineteenth century, but the structure was severely damaged during the war, so it had to be reconstructed in the 1960s. If you go inside, you will notice pieces of the old church, still intact, surrounded by more modern additions.
Another beautiful place shown in the movie is the Kino International Cinema, where Lorraine watches Stalker (1979). The building has a very peculiar style to it, so if you are planning to watch a movie during your trip, Kino is the way to go.
A Coffee in Berlin is Jan-Ole Gerster's debut film. The story follows, Niko, played by Tom Schilling, a young college dropout, as he roams around the city. The film doesn't have a plot as much as it is a collection of scenes and people Niko meets during the day.
We see him drive around with his taxi-driver friend, get scolded by his father for quitting law school, encounter an old school friend and try to reclaim money donated to the homeless. All through the day, the only constant is that Niko wants to drink a coffee.
However, this seems to be an impossible task: everywhere he goes they've run out, the machines are broken, or the coffee gets taken away from him at the last second. The movie may sound insubstantial, but, much in the style of Before Sunrise, it is one of those films where the protagonist is changed in a meaningful way by his interactions with other people.
A Coffee in Berlin won six awards at the German Film Awards, including Best Score, one of the most enjoyable parts of this piece, and it was met with high praise by critics. While maintaining a comedic tone, the movie manages to give commentary on today's youth and the refusal of some to fully grow up or take up responsibilities.
Gerster shows us a lot of the real Berlin. There aren't many touristic attractions depicted in the film, but we get to see the urban scene, such as the clubs, underground theater joints, and diners. The cinematography is beautiful even in the most run-down scenarios and it may inspire many to wander around the city aimlessly, just like Niko.
Good Bye, Lenin! is a tragicomedy directed by Wolfgang Becker. Our main character is Alex Kerner, played by Spanish-German actor Daniel Brüh, whom you may know as Fredrick Zoller, from Inglorourious Basterds (2009), Nicki Lauda, from Rush (2014), or Zemo from the Marvel Cinematic Universe.
The story is set in East Berlin in 1989, right before the fall of the Berlin Wall and Germany's unification. Alex is a young man who lives with his mother, Christiane, a devoted member of the Socialist Party. After seeing her son in an anti-government demonstration, Christiane falls into a coma.
While she's unconscious, the Wall falls and capitalism begins entering the country. Alex gets a job at a western company, selling satellite dishes, and begins dating one of his mother's nurses, whom he'd met previously at the protest.
However, eight months into the coma Christiane wakes up. The doctors warn the family that she's still very fragile and any shock might provoke another heart attack, so they orchestrate a sequence of lies to hide the fact that the Wall has fallen, and Germany is now a capitalist nation. This sets them on a path of lying and simulation that gets more and more difficult to sustain as the days go by.
The film was critically acclaimed, winning several awards for Best Film in Europe and a Golden Globe for Best Foreign Film in the United States. This is no wonder since it manages to dive into a complicated period of German history while maintaining the focus on individuals and keeping a lighthearted tone throughout.
It is a great movie to watch if you want to learn more about the country's reunification and see Berlin's physical and social transformation once the Wall fell. Many scenes were shot in Karl-Marx-Allee, a boulevard built by the German Democratic Republic during the 1950s.
It is emblematic of the period's architecture, which took inspiration from the Soviet Union's style. Since the reunification, many of the buildings have been restored and are visited by tourists from all over the world.
Quentin Tarantino is a director who needs no introduction. Inglorious Basterds is his sixth film and it is considered one of his best. It stars Brad Pitt, Christoph Waltz, Daniel Brühl, and Mélanie Laurent, among many other phenomenal actors.
The movie begins with a Nazi Officer (Waltz) interrogating a French farmer to learn whether or not he's hiding a Jewish family in his house. When the truth comes out, the Nazis try to kill the whole family, but one of the daughters, Shoshana (Laurent) gets away.
Years later, we see she is hiding in Paris and owns a cinema. Things get complicated when a Nazi soldier and movie star (Brühl) becomes infatuated with her and decides to host the premiere of his propaganda film at her establishment.
At the same time, a group of Jewish-American soldiers called "the Basterds" are operating, trying to kill and scalp as many Nazis as possible. Their paths will cross as they are recruited for a secret operation that will take them all the way to Paris.
Inglorious Basterds is a brilliant film with many iconic moments. One that the fans will remember is the strudel scene, in which Shoshana is put to the test during teatime at a German café. The place actually exists. It is called Café Einstein Stammhaus and it is located in Berlin.
If you sit in the library area, you will be in the exact same spot as the characters, and you can even order the strudel (but remember to wait for the cream). Another famous location is Fort Hahneberg, on the outside of the city. Originally built as a military fort, it has been used in films since the 1930s. Today it can be visited by tourists, and you can learn more about its history.
Cabaret is one of Bob Fosse's many masterpieces. It stars Liza Minelli as Sally Bowles, a young American singer who performs at the Kit Kat Klub. The story is set during the years of the Weimar Republic in Germany. As the characters experience a bohemia lifestyle in the city of Berlin, the ever-growing presence of the Nazi party becomes an overwhelming force that overshadows the careless fun.
Sally lives in a boarding house, and that is where she meets her romantic interest, an introverted academic called Brian Roberts. Despite her intentions to seduce him, he claims not to like women. However, Sally, Brian, and a baron called Maximilian von Heune will soon find themselves intertwined in a love triangle.
As is expected with any Fosse movie, the film contains several musical numbers. We owe Cabaret many iconic performances, such as "Mein Herr", "Maybe this Time" and "Cabaret". Liza Minelli of course steals the show -in fact, she won an Oscar for her performance-, but Joel Grey is also stunning as the Master of Ceremonies in the club.
The film was based loosely on a previous musical, but, after its release, the new version was adapted into a Broadway musical. This musical has been taken to the stage in Berlin as well. If you are a theater enthusiast it is a must-watch during your visit, since it is the Berlin musical.
If you're looking for an experience similar to the one in the film, there are also several cabarets tourists can visit. In these places, you can enjoy the performances of talented dancers and singers, for example in Tipi Am Kanzleramt, which hosts German as well as international acts, or Bar jeder Vernunft, located in a building that dates back to the days of the Weimar Republic.
Victoria, directed by Sebastian Schipper, is a thriller film, perhaps better known for being shot in a single continuous take. Laia Costa plays Victoria, a Spanish girl who moved to Berlin but doesn't speak much German.
One night, she goes clubbing, but as she exits the club she is asked by some men to join them. She decides to go with them, not knowing that one of the men, Boxer, is involved with a criminal who has just been released from jail. He is in imminent danger and asks for her help. Victoria surprisingly joins the men in their quest to protect Boxer. Where will the night take her?
Since the film consists of one single shot, all of the filming locations were close together. The café where Victoria works is actually called Wilhelm & Medné and it offers delicious vegetarian cuisine. The film ends with a climactic scene at a hotel nearby, which is in fact the Westin Grand Hotel. It is a big and luxurious building, located on Friedrichstrasse, a famous commercial street.
Germany, Year Zero is the third and final part of Roberto Rosellini's war trilogy. Rosellini is one of the most important directors in Italian neorealist cinema, a movement that focused on stories about the poor and the working class after the ravages of the Second World War.
In this film, as in the other parts of the trilogy, Rosellini used non-professional actors and filmed on location in Berlin. He intended to show the real struggles of the people who lived there after the city was bombed.
The main character is a little boy named Edmund Köhler, who lives with his sick father and his two adult siblings, Eva and Karl-Heinz.
They all do what they can to survive: Eva goes out with American soldiers to obtain goods; Karl-Heinz is unable to do much since he refuses to register for a ration card because he was a soldier and fought on the German side of the very end; Edmund tries to get by selling different items in the black market and tagging along young thieves, learning their ways.
The film shows the ruins of Berlin right after the War. Nowadays, the city looks wildly different, but it is still important to learn about its history and how much of it had to be reconstructed during the following period.
Since it was shot on location, the film is practically a historical document, which will be very interesting for anyone looking to learn more about the different states that the city had to go through in order to become what it is today.
If you enjoy films such as Eternal Sunshine of the Spotless Mind (2004) or The Butterfly Effect (2004), where linear plots are thrown out the window, then you'll love Run, Lola, Run. It was directed by Tom Tykwer and it won numerous awards in Europe as well as in the United States.
The story follows Lola, a young girl trying to save her boyfriend Manni. He is a small-time criminal whose job is to deliver a bag containing 100.000 Deutschmarks (a currency used in Germany before adopting the Euro).
Manni loses the bag in a subway station, so, when he realizes this, he calls Lola for help. She then begins a frantic run to somehow get that amount of money, in an attempt to prevent her boyfriend from being killed by his boss.
What is interesting about this story is that, once she receives the call, the movie is split into three parts or "runs". In each of the runs, we see the different outcomes of Lola's attempts to get the money. With every small change in her decisions or even the timing of other people, the chain of events is modified, so in each scenario, the characters suffer different fates.
The movie has captivated audiences so much, that many people try to imitate Lola's run through Berlin. One of the most important landmarks is Lola's apartment building, which is now an office building. This iconic structure is located only a few meters away from the Spree River and the Berlin Friedrichstraße station.
As she continues running, we see her crossing the Oberbaum Bridge to get to the other side of the river. This is a very emblematic bridge since it was built during the reunification period and it joins the Friedrichshain borough to the Kreuzberg borough, which was previously separated by the Berlin Wall.
Other important places depicted in the movie are the Deutsche Oper subway station, in Charlottenburg, where Manni loses the money, and the Deutsche Transfer Bank, where Lola's father works, which has now been turned into the Hotel de Rome.
The Lives of Others, directed by Florian Henckel von Donnersmarck, won the Academy Award for Best Foreign Language Film. The story is set in East Germany in 1983. It revolves around Gerd Weiler, a Stasi captain, who has doubts about whether a famous communist writer is loyal to the Party.
Weiler is ordered to spy on him and his lover Chista-Maria. As he spies on them, he begins to sympathize with them, and so his political loyalties will be put to the test when one of his superiors begins to show his desire for Christa-Maria.
While the film certainly falls into the espionage genre, it manages to stay close to the psychological development of its characters and doesn't rely so much on action-packed sequences.
One of the locations shown in the film is the beautiful building called Altes Stadhaus or "Old City Hall". It is a former administrative building, decorated with many sculptures, some of them depicting personified civic virtues and Greek deities. It is currently used by the Senate.
In the film, we can also see the Berlin-Hohenschönhausen Memorial, which used to be a political prisoner, but is currently a museum and memorial.
Hanna is an action film, by director Joe Wright, better known for his work in the period drama genre, with movies like Pride and Prejudice (2005) and Anna Karenina (2012). In this film, a young Saoirse Ronan plays a teenage girl trained by her father, Erik, an ex-CIA agent, to be an assassin.
Erik knows a secret that no one else can know, and that's why another CIA agent called Marissa, played by Cate Blanchett, is tracking them down to kill them. Once Hanna decides she is ready to confront Marisa, Erik activates a beacon to alert the CIA of their location and then disappears, after telling the teenager to meet him in Berlin. So, Hanna begins to show her abilities as she must make her way to the city, fighting every agent that comes her way.
One of the most prominent locations displayed in the film is the Berlin Velodrome, an indoor track cycling arena. In the film, this ends up being used as the CIA headquarters. However, in real life, it is home to many public events such as races and concerts and it was originally built when the city was being proposed as the host of the 2020 Olympics.
Another important location is the Spreepark, an abandoned amusement park. It was built in 1969 when it was called Kulturpark Planterwald, and it was the only amusement park in the German Democratic Republic.
It is a very strange place since it still holds the attractions and architectonical style of the 1970s, combined with the eeriness of an abandoned landmark. However, many people choose to visit it and become fascinated by its history and atmosphere. In Hanna, it becomes the perfect setting for the final confrontation between the two leading ladies.
Further Things To Consider Before Any Adventure
Now you're all set and prepared to explore our big wide world, why not sort out everything else out all in one go? If necessary for your travel plans make sure you have brought proper travel insurance, protected your privacy by getting a secure VPN, compared all the top hotel booking sites to find just what you're after, reserved an unbeatable rental car price and - of course - booked the best flight deals!
Or maybe just forget it all and go for a last-minute cruise or effortless tour instead?
Many budget travelers (including me) indulge in worldwide airport lounge access, so we can experience luxury while still slumming it in economy. Naturally, we would never leave home without a more general travel guide since we couldn't possibly cover everything here!
Just add an adventurous attitude and plenty of smiles - they go a long way - and that about covers it all! Now go out, find your own path and don't forget to share your best inspiration stories with me on Facebook, Twitter, and Instagram...I'd love to hear from you!